Did you know that failing to follow up can make you lose the majority of the potential sales?
Because in many ways, marketing is a game of building relationships by communicating the right things at the right time. Enterprises that nail this stay ahead of the curve. And there are many ways to do this.
The simplest yet most effective one is by sending WooCommerce follow up emails.
As a WooCommerce store owner, your job doesn't end with just sending the order confirmation and shipping details. You should go an extra mile and send periodic emails based on the customer's actions.
Let's learn how.
Use Retainful's hundreds of pre-built follow-up email templates and craft your own emails effortlessly.
What are WooCommerce Follow Up Emails?
WooCommerce follow up emails are automated messages you send as a response to customers' actions in the store – like a mail asking for feedback after purchasing the item or recommending a new product based on their purchase history or a purchase confirmation email.
There are more common triggers that determine when you should send the WooCommerce follow up emails as a response. The top occasions to send them are:
Abandoned cart
Post-purchase
Product availability
Purchase confirmation
Customer inactivity
Milestones
Browsing behavior
Account creation
Things get way easier with Woocommerce automated follow up emails. These triggers come in handy when sending WooCommerce automated emails. You just need to select what the trigger is and click 'Send.' 
How WooCommerce Follow Up Emails Increase Sales?
WooCommerce follow up emails are a great communication tool to drive customers to the store and make a purchase. They boost sales for your WooCommerce store in four key ways:
Want to put the potential of WooCommerce follow up emails to use and boost sales? Here are the 10 best follow up email examples and templates to get you started.
Let's see one email template at a time.
Top 8 Innovative Examples and Templates of WooCommerce Follow Up Emails
Order Confirmation Emails
More often than not, you would find yourself sending post purchase emails as follow ups. The most common is order confirmation emails. It reassures the customer that the order has been placed and serves as a reference point for order details. 
Here is one of the well-crafted WooCommerce follow up emails for order confirmation: 

Crocs has included all the right ingredients – order details, items purchased, shipping address, and helpful links like "Contact Us" and FAQs. These are essential for a good order confirmation follow up email for woocommerce.
Other than these, you can also include an estimated delivery date. 
It is safe to include a 'Cancel Order' button in case the customer entered the wrong details, purchased the wrong product, or having second thoughts. 
It is a nice touch that Crocs included a prelude to the next step "You will receive another mail once your product has shipped." You can include a link to track your order or a message like this. 
Here is a follow up email template you can use to craft your perfect order confirmation email:
Subject: Your [Brand Name] Order Confirmation – #[Order Number]
Hello [Customer's First Name],
Thank you for shopping with [Brand Name]! We're excited to inform you that we've received your order, and it's now being processed.
Order Details:
Order Number: #[Order Number]
Date: [Order Date]
Total: [Order Total]
Products Ordered:
[Product Image]
Product Name
Quantity: [Quantity]
Price: [Price]
Shipping Address:
[Customer's Name]
[Street Address]
[City, State, Zip Code]
[Country]
Expected Delivery Date: [Date]
You can track the progress of your order by visiting [Order Tracking Link] or logging into your account on our website.
Questions or Concerns?
Our customer service team is here to help! You can reach us at [Customer Service Email] or [Customer Service Phone Number].
Warm regards,
The [Brand Name] Team
Cart Abandonment Emails
The one occasion that needs a follow up email for WooCommerce the most is when a customer abandons the cart. You are just one step away from making that sale.
Here is a classic follow up email template for abandoned cart recovery.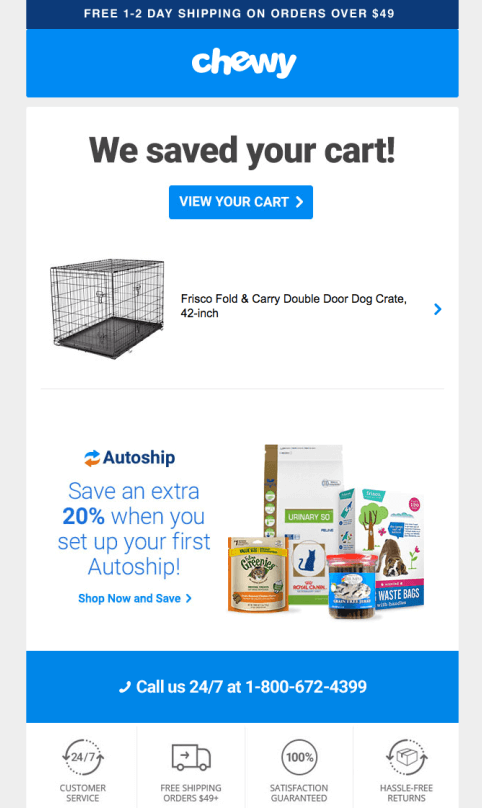 One of the most common reasons for abandoning the cart is the shipping cost. This email addresses this concern by including free shipping details and a special discount for a feature called Autoship.
The staples for any cart abandonment emails – a CTA to take the customer to the cart and the image of products in the cart.
Reinforce the services you offer – like 24/7 customer service and free shipping. At the bottom of the email, Chewy included four icons that do exactly this.
To address the genuine concerns that lead the customers to abandon the cart, include customer support details.
You can also create urgency using taglines like "Don't wait too long. Order today."
Here is a compelling WooCommerce follow up email template for cart abandonment.
Subject: Forgot Something? Your Cart is Waiting!
Hello [Customer First Name],
We noticed you left some items in your cart. Not sure about the final step? We're here to help.
Product Name 1  | Image 
Description
Price
Product Name 2 | Image 
Description
Price
[Button: Complete Your Purchase]
Why Shop With Us?
Fast Shipping: We ensure quick delivery right to your doorstep.
24/7 Customer Support: Got questions? Our team is always here to help.
Top-Quality Products: We guarantee the best in market quality.
Special for you: Use the code WELCOMEBACK10 at checkout to get 10% off your purchase!
Need assistance? Reach out to our support team at [support email] or call us at [phone number].
Regards,
[Your Company Name]
WooCommerce stores using Retainful are recovering an average of 30% of abandoned carts. Yours could be next.
Product Review Request Emails 
Feedback is a two-way street. By incorporating a request for review or feedback in the post purchase emails, you can get insight into improving your product, and the customer can feel heard and valued.   
Here is an example by Target.com.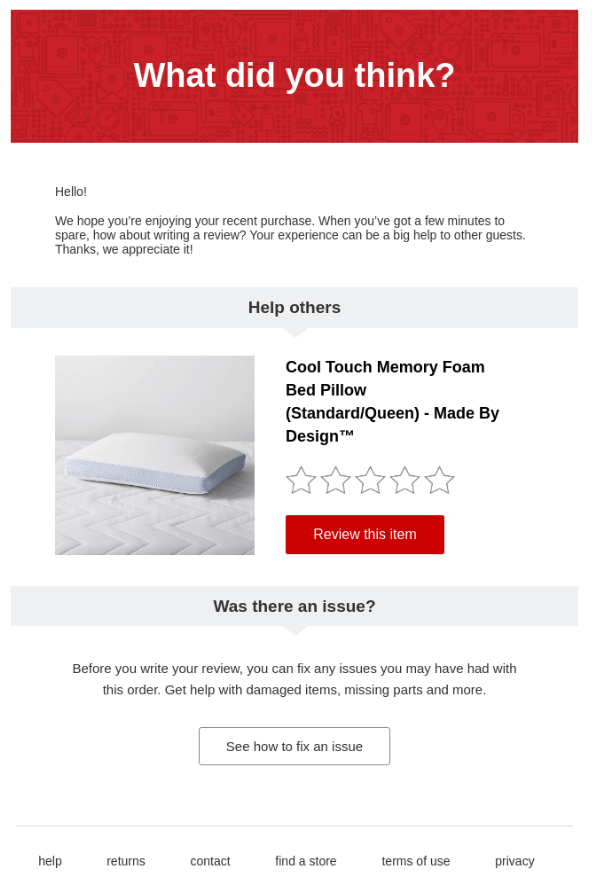 It is important to state the purpose of the review and why the customers' opinion matters. Here, Target's email says that the review will improve the service for other customers.
A clear Call-to-action and including how long it will take to complete are the key elements your WooCommerce follow up email should not miss.
If there are pressing issues about the product, the customer would like to convey it directly. So, including a link to customer support or a FAQ page would be a good practice.
A pro tip: You can also include an offer as an appreciation.
Here is a creative product review request email template for you. 
Subject: We Are All Ears [Customer's First Name]!
Hello [Customer's First Name],
We hope you're enjoying your recent purchase of [Product Name] from [Brand Name]. Your opinion means a lot to us and our community!
Could you take a few moments to share your thoughts?
Your feedback helps us ensure we're delivering the best possible products and also assists other customers in making informed decisions.
[Button: Write a Review]
By leaving a review, you'll also be entered into our monthly draw to win a [prize, e.g., "$50 store voucher"]!
Why Review?
Help Other Customers: Your insights can guide others in finding the perfect product.
Contribute to Improvements: We value your feedback to make continuous enhancements.
Win Prizes: Join our monthly review raffle and stand a chance to win!
Reviewing is quick and easy:
Click the "Write a Review" button.
Rate your product and share your thoughts.
Submit!
We truly appreciate you choosing [Brand Name], and thank you in advance for your time and feedback!
Warm regards,
The [Brand Name] Team
Exclusive Offers Emails
Exclusive offers are a great way to make customers feel special and grow loyalty. You can also create urgency and make the customer feel they are getting a unique deal that will not be available later.      
Here is one of the well-crafted WooCommerce follow up emails for sending an exclusive offer by Moo.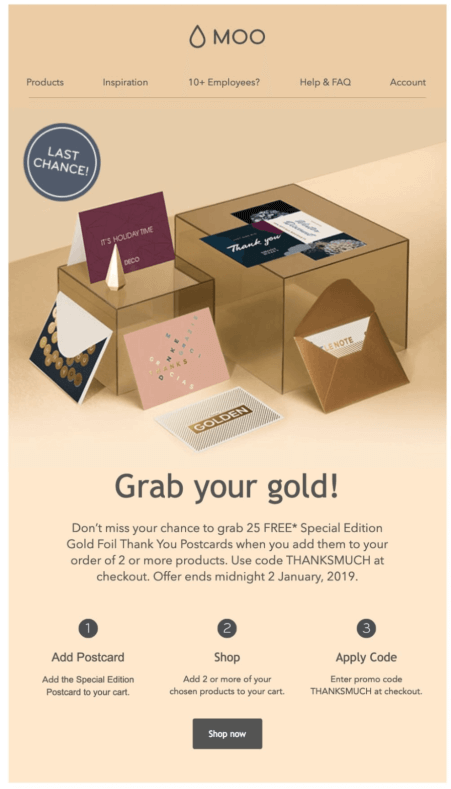 Moo does the 'making the customer feel special' part correctly by giving an offer for special edition products.
If you are including a code to claim the offer, it is a good practice to lay out the steps to redeem it.
To create urgency, you could include when the offer ends or include taglines like "Last Chance" and "Shop Now".
Here is a ready-to-use email template for sending exclusive offers. 
Subject: An Exclusive Invitation: Unlock [X%] Off Now!
Dear [First Name],
As a token of our gratitude for being such a cherished member of our community, we're excited to present to you an offer crafted solely with you in mind.
Unlock Now: Get 10% off your next purchase!
Exclusive Code: VIPSALE
Redeeming is Simple:
Click here to start shopping [embedded link to product/service page].
Indulge in your favorites.
Enter VIPSALE during checkout to enjoy your exclusive savings.
Don't wait too long! This special treat is available until [Date].
Indulge in the best we have to offer, curated especially for you.
With appreciation,
[Your Name or Company Signature]
Win Back Emails
Just like abandoned carts, a huge potential is locked in an inactive customer base. Sending re-engagement emails can reignite those customers' interest in your brand. A win-back email is one of those. 
Here is an example by Printfresh.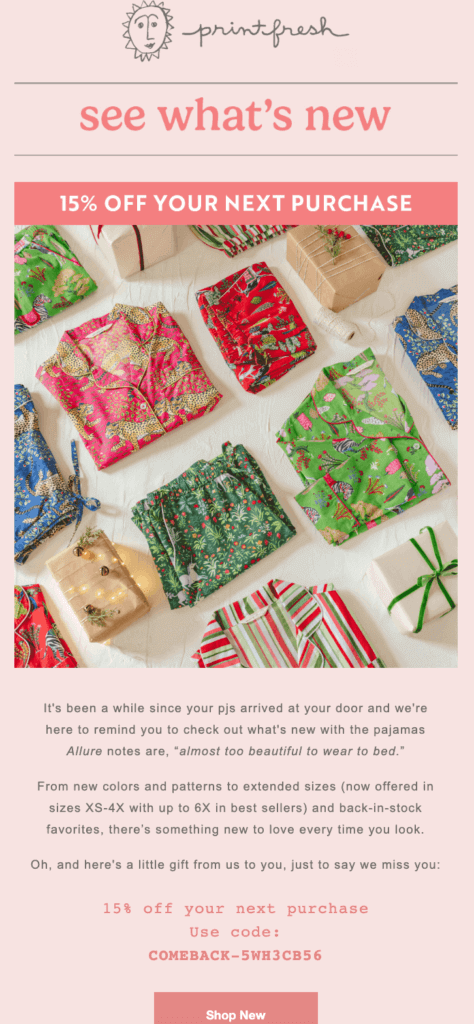 First, let them know you have noticed their absence.
Here, PrintFresh made a classic move – to allure the lost customer with a discount. Another section that should be part of your win-back emails is 'What's new'. It is important to let the customers know what they have missed when they are away. So, showcase new products or features in your emails.
As an ultimate touch, you can also include a feedback option to share the genuine issues they had with your product.
A pro-tip for you: Include an option to unsubscribe. This shows you value their preferences.
Here is a creative win-back email template for you.
Subject: We Miss You, [First Name]! Special Offer Inside. 
Hello [First Name],
It's been a while since we last saw you at [Your Company Name], and we truly miss having you around! We've been making some exciting updates, and we think you'll love them.
Exclusive Offer Just for You!
To show our appreciation, enjoy [specific offer, e.g., "20% off your next purchase"] when you shop with us in the next [specific time frame, e.g., "7 days"].
Use Code: WELCOMEBACK
Here's What's New:
Feature/Product 1: Brief description or highlight.
Feature/Product 2: Brief description or highlight.
Feature/Product 3: Brief description or highlight.
Shop & Save Now
Don't miss out on our limited-time offer!
[Shop Now Button/Link]
Your Feedback Matters:
We'd love to know how we can serve you better. If there's anything specific you're looking for or any feedback you'd like to share, please let us know.
[Feedback link]
We hope to see you again soon, [First Name]. Thank you for being a part of our community.
Warm Regards,
[Your Name/Company Name]
Referral Emails
In building a strong customer base, nothing can beat the good word-of-mouth from your existing customers. Referral emails are a great way to leverage that opportunity and maximize it. 
Here is one of the innovative WooCommerce follow up emails by Maude.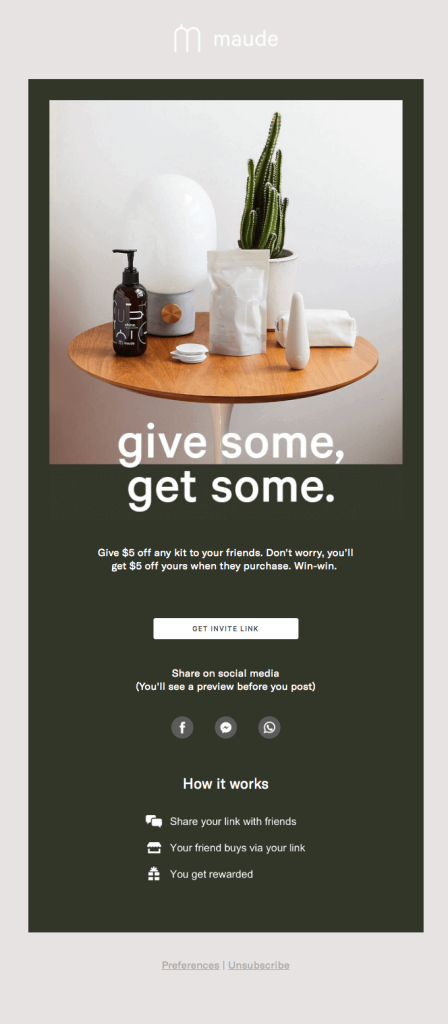 In referral emails, it is essential to focus on incentives for both the referrer and the referred. In our example, Maude does exactly that.
There are other key sections in the example too – a strong CTA and the steps to claim the offer.
To spread the word about this opportunity, a customer would want to share this among their friends on social media. So make it easier for them by including sharing options on various social media platforms.
Here is a winning referral email template for you. 
Subject: Refer a Friend and Get [Reward]!
Hello [First Name],
We're thrilled to have you as a part of the [Your Company Name] community! We hope you're enjoying [your product/service], and we'd love for your friends to experience the same.
Introducing Our Referral Program!
For every friend you refer, you'll receive [specific reward, e.g., "$10 off your next purchase"], and your friend will get [their reward, e.g., "15% off their first purchase"].
Get Invite Link
How It Works:
Share Your Unique Referral Link: [Insert referral link]
Your friend makes a purchase using your link.
You both get rewarded!
Spread the Word!
Tell your friends about [specific product or service they enjoyed] and let them in on the benefits.
Thank you for being a valued member of our community, [First Name]. Together, let's spread the joy!
Warm Regards,
[Your team's Name/Company's name]
New Product Update Emails 
These WooCommerce follow up emails are the key to keeping your customers engaged and excited about your offerings. From your end, it is a great way to promote your newly launched products and position in the customers' minds.
Here is a creative new product email example we picked for you.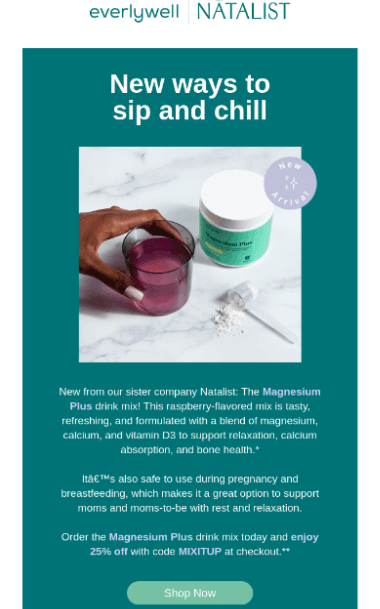 This follow up email from Everlywell is aced in sending the message about the newly arrived product. It is well-crafted and detailed. Make sure you follow this while writing your own.
On top of that, Everlywell included an offer to drive sales even more.
Don't forget to add a strong call-to-action button that takes the customer to the product page right away.
Here is a compelling new product update email template curated for you. 
Subject: Exciting News! Introducing [New Product Name] 
Hello [Customer's First Name],
We're thrilled to share some big news with you. Our team has been working tirelessly behind the scenes, and now, it's finally here! Introducing [New Product Name], the latest addition to our lineup.
Features & Benefits:
Feature #1: Brief description of how it benefits the user.
Feature #2: Explanation of its unique properties or advantages.
Feature #3: Details about its application or usability.
Why You'll Love [New Product Name]:
Benefit #1: A concise explanation.
Benefit #2: Highlight what sets it apart.
Benefit #3: Describe its relevance to the user.
Exclusive Offer: To celebrate the launch, we're offering [Discount % or Special Offer] to our loyal customers like you! Use code: NEWLAUNCH at checkout.
Shop Now
Regards,
[Your Company Name]
Back-in-stock Emails 
If there is an occasion you can't miss sending a WooCommerce follow up email is when the product the customer has shown interest in is back in stock. 
Here is one of the compelling WooCommerce follow up emails by Huckberry.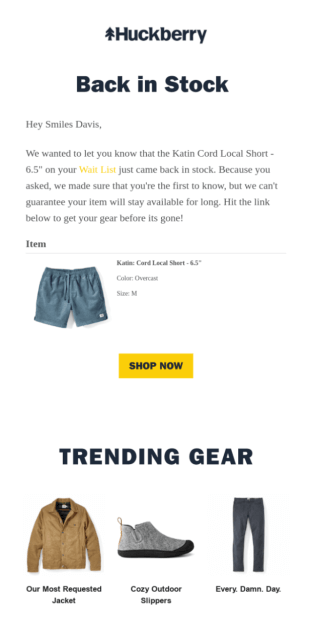 The one thing that is hard to miss in the example is its specificity – the product's name and size. Coupled with a beautifully written message and a strong CTA, it hits right on the spot.
This email is also a great opportunity to upsell and cross-sell. Just notice how Huckberry did it by including treading gears.
For WooCommerce follow up emails like this, it is important to create urgency. You can do so by including taglines like "Grab it before it is gone" or "Stocks are limited. Shop Now".
Here is a back-in-stock email template curated just for you. 
Subject: Good News! [Product Name] is Back in Stock!
Hello [First Name],
You expressed interest in [Product Name], and we have great news for you – it's back in stock!
Product Highlight:
[Product Name]
Short description of the product
[Image or link to the product]
Key Features:
Feature 1
Feature 2
Feature 3
Price: $[Amount]
Don't Miss Out!
Stocks might be limited, so be sure to grab yours before it's gone again.
[Shop Now Button/Link]
Also Trending:
Product 1
Product 2
Product 3
Warm Regards,
[Your Company Name]
There you have it. 8 best WooCommerce email follow up you can emulate in creating your own.
If you have stayed this long, here comes the section about best practices for crafting compelling WooCommerce follow up emails.
Best Practices for crafting effective WooCommerce follow up emails
Every good follow up email has its own best elements. But there are some common things they have done right. We have listed some of them. 
Be prompt – It is best to send the email within 24-48 hours of the interaction with your store. 
Personalize the emails – Everyone loves the content that is curated just for them. Segment your customers based on their purchase history, location, and demographic, and target them with relevant content. 
Limit the follow ups – There's a thin line between being persistent and being annoying. Typically, if you haven't received a response after two or three follow up emails, it might be time to move on.
Clear Call to Action – Whether it's "Shop Now," "Go to Cart," or "Complete Your Purchase," ensure your CTAs are prominent and tell the reader exactly what action to take.
Captivating Subject Lines – Capture attention with catchy and relevant subject lines to increase open rates and immediate engagement.
Automate and Chill – WooCommerce automated emails are a reality. There are various email automation tools to make the job easier for you. Utilize them to track if the emails are opened or not and which links are clicked. 
Ready to craft your follow up emails? – Automate your WooCommerce follow-up email campaigns using Retainful.
Wrapping up!
There you have it. Eight examples and templates of WooCommerce follow-up emails to inspire you and craft your own in no time. Takeaway the best practices and implement them in your automated follow-up email campaigns. 
Get more insights by reading these blogs.
What are common WooCommerce follow-up email types for boosting sales?
Follow-up emails play a pivotal role in maximizing WooCommerce sales. Here are some common types of WooCommerce follow up emails specifically tailored to boosting sales: Cart abandonment emails, win-back emails, exclusive offer emails, back-in-stock emails, cross-sell or upsell emails.
What's the optimal email frequency to avoid overwhelming customers with WooCommerce email follow up?
After purchase, a timely 'Thank You' email is appreciated, but you might want to wait a few days before sending a product review request. Similarly, cart abandonment emails might be sent within 24 hours, but win-back emails might be sent after several months of inactivity.

If you notice an increase in unsubscribes after a series of emails, it might indicate you're sending emails too frequently, or the content isn't resonating.
How can I turn abandoned carts into successful purchases using WooCommerce email follow up?
Make it as easy as possible for the recipient to return to their cart with a prominent and clear CTA.

Be prompt. Send the first email within 1-3 hours after the cart is abandoned. This should be a gentle reminder highlighting the products left behind. If the first reminder doesn't lead to a conversion, send a second email after 24 hours offering incentives like discounts or free shipping with the purchase.

Finally, reinforce the unique selling points of your store, such as fast shipping, hassle-free returns, or customer reviews.
What are effective cross-selling or upselling techniques for my WooCommerce follow-up emails?
Use the customer's purchase history to tailor product recommendations. If a customer buys running shoes, suggest compatible products like running socks or athletic wear.

You can create a sense of urgency. Include a limited-time offer on an upsell or cross-sell product. 
Don't just list products; emphasize the benefits of the additional items.
How can I create WooCommerce automated emails? 
Choose an Email Marketing Platform. Before you can automate, you'll need an email marketing software or platform that integrates well with your WooCommerce store. Examples include Retainful, Mailchimp, and HubSpot.

Segment your audience and target your emails with relevant and personalized content to customers of specific criteria like demographics, interests, and purchase history.

Define your triggers to send them. Common ones are cart abandonment, product purchases, product availability, product views, or even specific customer activities on your website.

 Craft your emails with compelling subject lines, CTA, and content. And monitor their performance. Analyze open rates, click-through rates, conversion rates, etc., and adjust accordingly.