Referral marketing has become an essential tool for eCommerce stores. The referral marketing program incentivizes current customers to refer new people to your business. When the new customer makes a purchase, reward the referrer with a discount, credit, small gift, or whatever they find valuable.
So, If you are a WooCommerce store owner, kickstarting a WooCommerce referral program won't be hard if you use the best WooCommerce referral plugin.
In this article, let us look at the WooCommerce referral program and how to set up a referral program.
Increase word-of-mouth purchases with Referrals.
What is a Referral Program?
A referral or refer-a-friend program is a type of word-of-mouth marketing strategy that encourages customers to circulate the word about your business. Setting up a Referral program allows customers to share their brand experience with partners, colleagues, and friends.
A referral program for WooCommerce is a marketing strategy that many top ecommerce brands follow. Setting up a WooCommerce referral program helps to encourage existing customers to refer the brand and its products to their families and friends.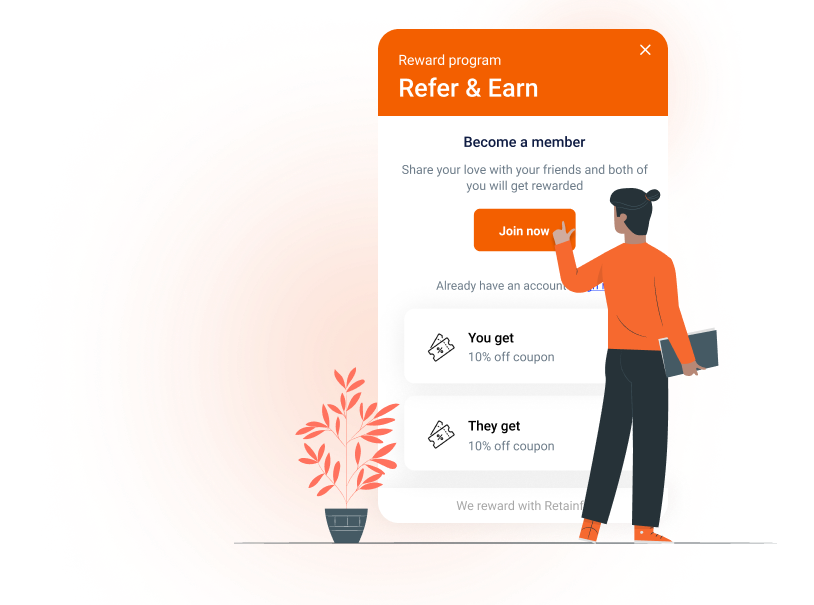 WooCommerce Referral Program will assist you in setting up a reward system. WooCommerce Referral programs are called word-of-mouth marketing because they reward existing customers for spreading the word and encourage new customers to try your brand.
Why is Referral Program Important?
One of the most significant stresses of any business is finding a solid customer acquisition channel or bringing in new customers. However, when you have a solid referral marketing program, you let your existing customers bring new buyers to your brand. It significantly reduces spending on getting new customers to your shop and increases customer retention, which is excellent.
Loyal customers have a higher conversion rate and spend more per transaction. As a result, customer referral programs for WooCommerce are the most cost-effective and profitable marketing strategy that your company can employ.
Referral program WooCommerce or Referral program WordPress will help you satisfy your existing customers and acquire new customers most cost-effectively. Let's look at the benefits of the Referral Program at a glance.
People trust referral
Increase brand awareness
Increase Customer Loyalty
Increase Customer Involvement
Great ROI
How to Set Up WooCommerce Referral Program?
To move forward with the WooCommerce Referral program or referral program WordPress installation, you must first install Retainful, the best referral program for WooCommerce, and connect your WooCommerce store with it.
Follow the enlisted ways to set up your WooCommerce referral program using Retainful.
Retainful offers you the best referral program for WooCommerce.
Installation and Connection of Retainful to your WooCommerce Store
Setting up a Referral program for your WooCommerce store
Let us go forward to install and connect Retainful to your WooCommerce store.
Install Retainful
Step 1: Login into your WordPress Dashboard and go to the Plugins section -> click the "Add New" button.
Step 2: Search for the WooCommerce Referral plugin "Retainful" as shown below: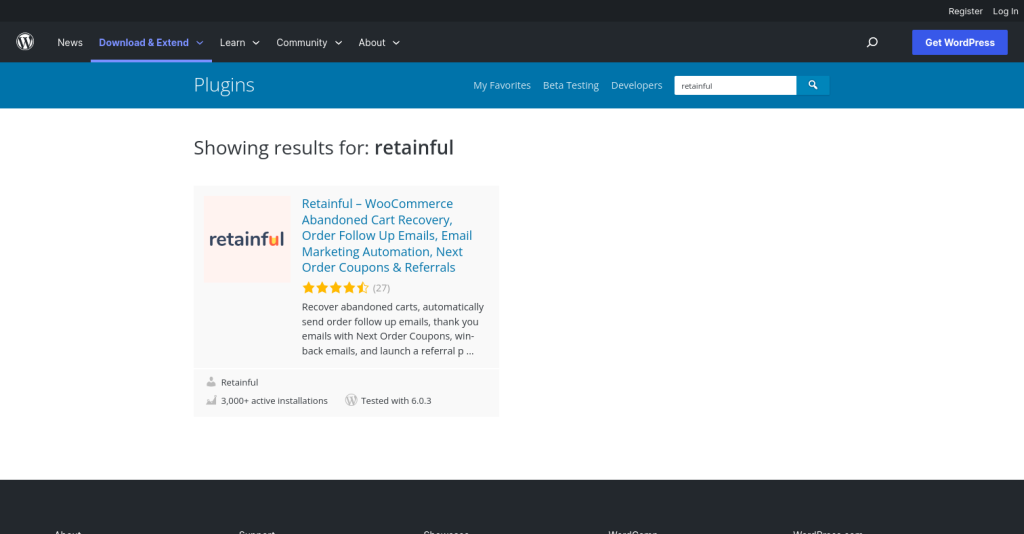 Step 3: Install and activate the Retainful, best WooCommerce referral plugin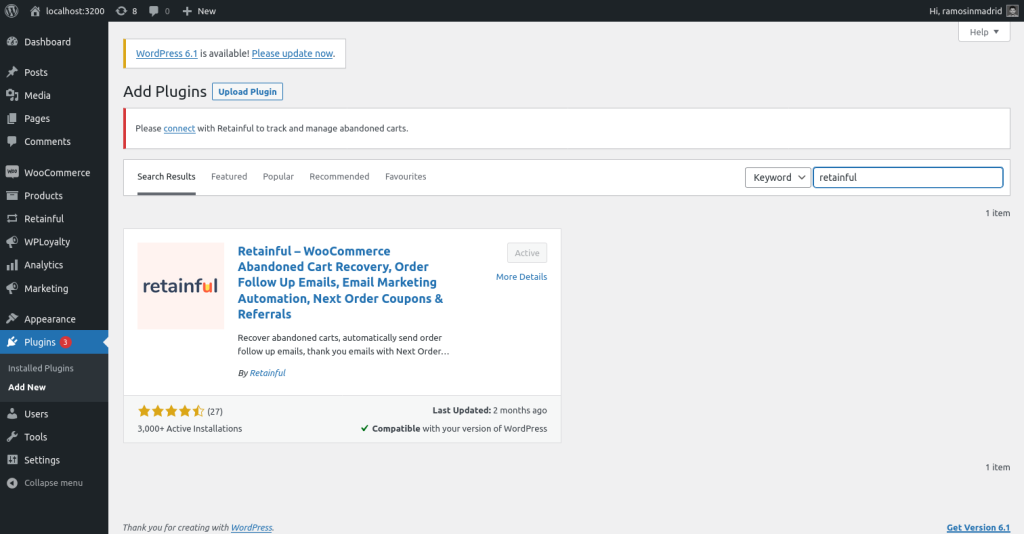 Now, let us connect your WooCommerce store with Retainful to set up a WooCommerce referral program.
Connect WooCommerce store with Retainful
Step 4:
Log in to Retainful's dashboard. Sign up here for free if you do not have a Retainful account.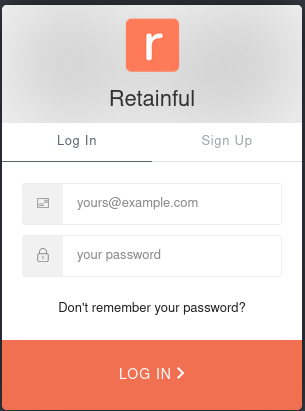 Step 5:
Once done, you will be directed to Retainful's Dashboard

Step 6:
Go to Settings and copy your App ID and secret key.

Step 7:
Finally, bounce back to your WordPress dashboard and enter the copied credentials.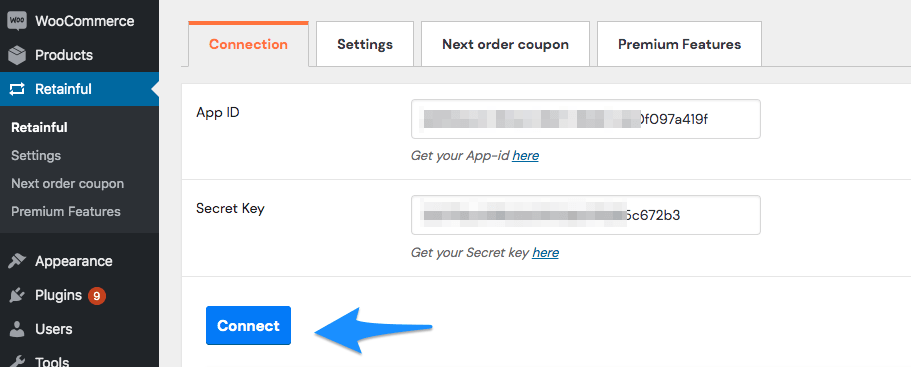 Once done, click "Connect." You are done. The connection has been successfully established.
Convert your customers to brand advocates.
Setting up a Referral program for your WooCommerce store
The referral program WordPress, being a powerful magnet for potential customers, has a higher chance of increasing the store's revenue and bringing more new customers as referrals. Nothing much, just three simple steps to launch Retainful's Referral program for your WooCommerce store.
Once Retainful has been successfully added to your WordPress dashboard, you can upgrade your plan from the below three options.
Starter
Growth
Professional
Adding flavor to the above upgrading plans, you can try it free in your 14 days trial period.
Step 8: Once you start your WooCommerce referral program, log in to your "Retainful Dashboard."

Click "Referral" and indulge in the enlisted configuration.

Here are the configuration steps to set up a WooCommerce Referral Program or Referral program WooCommerce in Retainful for your WooCommerce store.
Advocate Reward Configuration (To your customers)
Friend Reward Configuration ( To their referrals)
Enabling Referral Program in a single go

Step 9: Advocate Reward Configuration
In the Advocate Reward Configuration, fix a reward for your potential customers who become brand ambassadors for your WooCommerce store.

As soon as you click "Add Reward," you'll be taken to the Reward configuration page. You can pick up the type of reward you wish to offer to your brand advocates.
Added, you can configure the rewards further with the peculiar options that include,
Reward Value
Discount validity
Prefix for the discount code
Minimum spending by the customer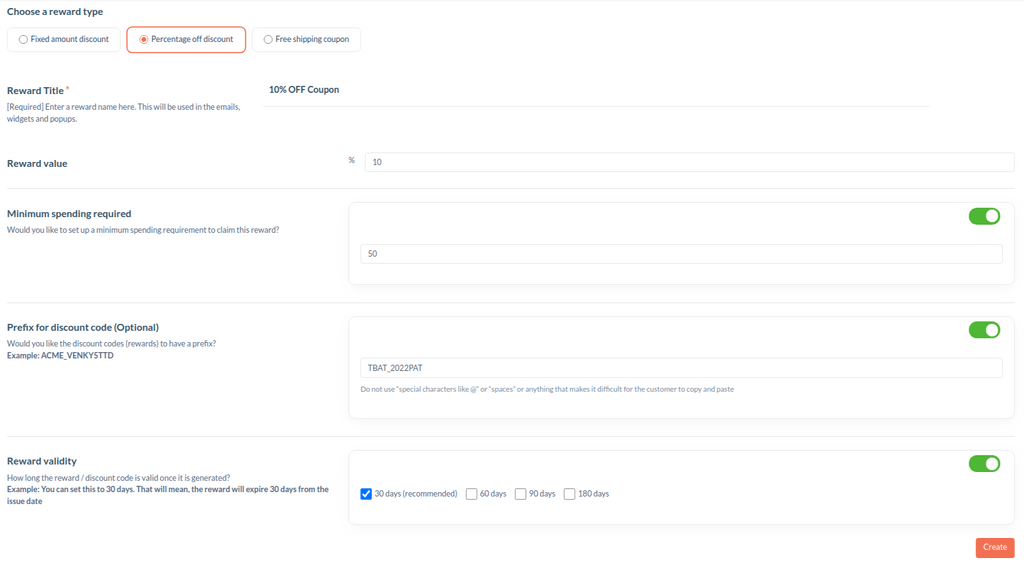 Once you have filled everything, you can click "Create" to save the Advocate reward. Importantly, you can also customize your reward's name.
Step 10: Friend Reward Configuration
After creating the advocate rewards, the next to click is " Friend Rewards."

Like the advocate reward, you can click "Add Reward" and configure the Friend Reward section. Once completed, you can click " Next."
Step 11: Enabling the Retainful's Referral Program
Now, we are just a step ahead of your WooCommerce Referral Program or Referral program WooCommerce Launch. After setting up the reward criteria for the advocates and friends, you can click "Enable Program."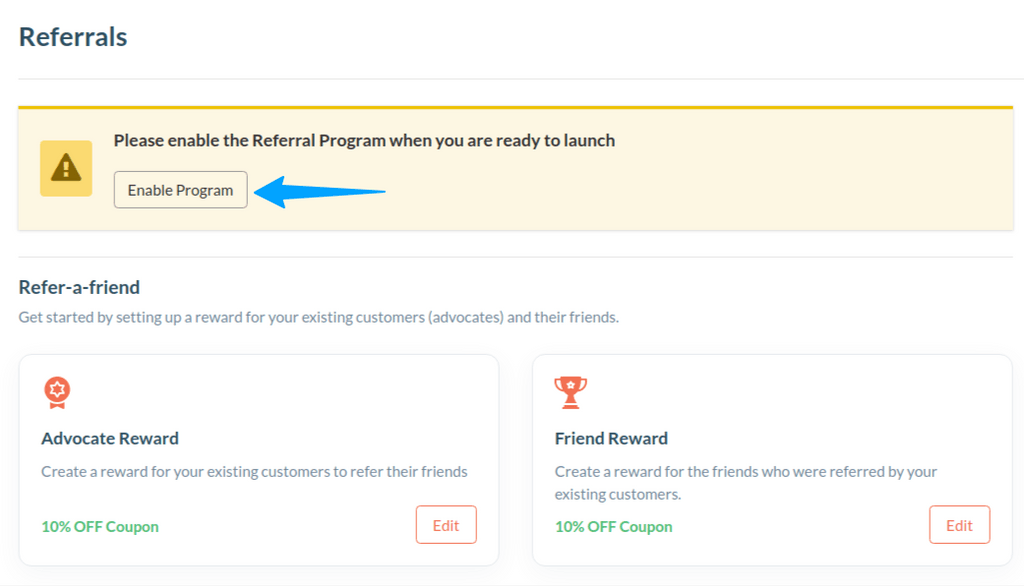 Your WooCommerce Referral program is active, and customers will start earning the configured rewards when their referred friends make a purchase.

You can check how your WooCommerce Referral program is performing through this dashboard. Get real-time insights on your program. Checking is important, like creating a WooCommerce referral.
How to use a Referral program in WooCommerce?
Nowadays, Referral programs have become common in all eCommerce stores. There are a handful of uses for a Referral program. But you can use Referral program WooCommerce for the following reasons.
Increase engagement with your customers
Retain existing customers
Acquire new customers via Word of mouth
Boost WOM sales
Foster customer loyalty
Increase brand awareness
Yes, you can accomplish all these by running a Referral program but remember, you need the best WooCommerce referral plugin to bring this to reality.
Launch your customer referral program with Retainful.
Congratulations on your Referral Program!
Kudos!! You now know how to set up a wooCommerce referral program on your store. With three simple steps, you can create a WooCommerce referral with Retainful.
Make your referrals happy and grow together.
WooCommerce affiliate program also you have to mind with WooCommerce referral feature. Affiliate Program WooCommerce is considered the future of customer acquisition. In the era of social media, a WooCommerce affiliate program or Affiliate Program WooCommerce is essential, like a referral program. There are a lot of plugins featuring the WooCommerce affiliate program.
The time is up!! Do not delay even a second; create a WooCommerce referral now!!
How to Setup Refer a Friend Program in WooCommerce?
In WooCommerce, We can set up a referral program by installing a Referral marketing plugin like Retainful. Just follow these steps.
Step 1: Install Retainful
Step 2: Connect the WooCommerce store with Retainful
Step 3: Choose "Referral" from the dashboard and follow the Screen.
How Does a WooCommerce Referral Program Plugin Work?
The WooCommerce Referral Marketing Plugin allows you to offer multiple rewards to Advocates and Friends. It can generate and distribute referral links via social networking sites and email.
How To Implement a Referral Program Plugin On your WooCommerce Store?
Visit wordpress.org. Select Plugins from the Download & Extend menu.
You can also use the search bar. You can find the best referral program plugin retainful here. When the download and installation are finished, go to your WordPress admin panel and activate the plugin. Then Connect your WooCommerce store to Retainful.
Does WooCommerce have a referral program?
Referral System for WooCommerce offers a complete set of referral marketing features that will get your customers engaged. But you must rely on a more professional approach from referral marketing plugins like retainful for more features and efficiency.