Acquiring new customers doesn't have to be complicated. You can easily turn your existing customers into brand advocates using the best WooCommerce referral plugin and acquire referrals through word of mouth.
Referral programs generate high-quality leads with double the lifetime value of customers obtained through traditional marketing techniques.
Besides, loyal customers are ready to be your brand ambassadors. All they need is a gentle push to get them going. Launching a referral program in your WooCommerce store with exciting rewards will urge them to start referring their friend.
Customers acquired through referrals tend to spend 2x times more on their orders. So launch a referral program in your WooCommerce store right now to acquire new customers and increase your revenue.
WooCommerce has a number of referral plugins. To help you choose the right one, we've listed some of the best WooCommerce referral plugins to help you attract high-quality leads to your store.
Launch a Referral Program to grow word-of-mouth sales with Retainful. Reward your customers for referring their friends.
Why is a referral important?
Here's a fact that would surprise you, acquiring new customers is 6 times more expensive than acquiring customers through word of mouth or retaining existing customers.
Many eCommerce stores consider referral program to be their primary customer acquisition channel.
Why?
Acquiring new customers through a referral program is cost-effective.
Referred customers have a 37% higher retention rate than other customers.
Referrals can increase your revenue by 25%
Referrals are more loyal to eCommerce stores than other customers.
Businesses with referrals have a 70% high conversion rate than others.
And the best thing about referrals is that your existing customers will bring them to your store. You have to give them a platform to refer their friends and incentivize them for successful referrals.
Here are some of the best WooCommercer referral plugins for that,
Referral Candy
Referral candy is one of the most popular WooCommerce referral plugins available on the platform.
It is an automated referral plugin that can handle the referral program campaign by itself while you can concentrate on your core business.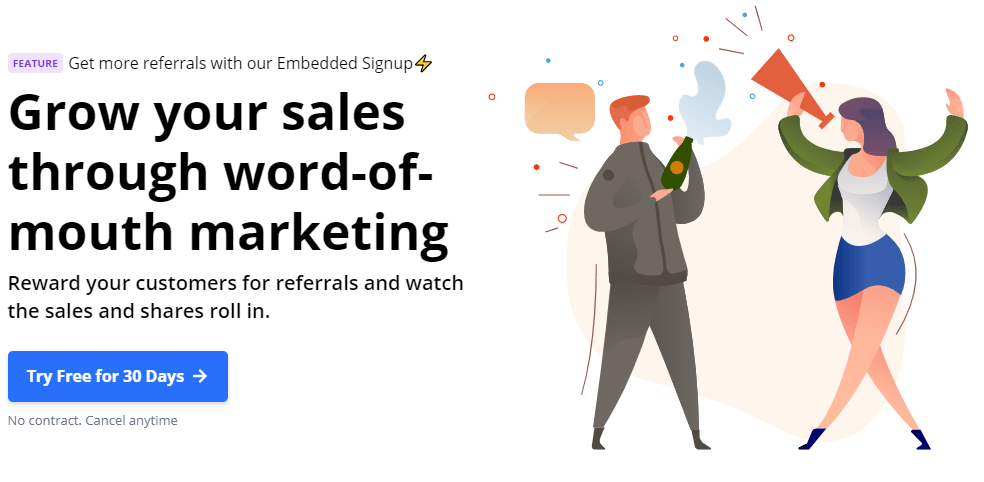 Offer referral rewards like store discounts, cash rewards, or custom gifts to encourage customers to refer their friends. Once a customer completes a successful referral, the rewards will be sent directly to customers automatically.
Referral Candy allows you to connect with your favorite platforms with one click. It has an intuitive dashboard where you can track all your successful referrals, new leads, sales, and revenue made through those Referrals in real-time. Not every plugin does that for you, which is cool.
Features will help you:
Integrate with other platforms in a single click.
Connect with your marketing apps easily.
Automate the WooCommerce Referral program.
Customize your rewards.
Detect successful referrals automatically.
Ban fraudulent activities automatically.
Reach out to customers even after checkout
Help your customers connect to you through Live-chat
Prompt your customers to join the program through Popup.
Premium Pricing
Referral candy's premium pricing starts at $49/per month.
Retainful
If you are looking to run a robust Referral Program that can help you acquire new customers efficiently, then Retainful is the right WooCommerce Referral plugin for you.
Turning your customers into brand advocates and acquiring new customers through Word of mouth is simple with Retainful. The best thing about Retainful is that it is fully automated with tons of referral features and lets you launch a WooCommerce referral program within minutes.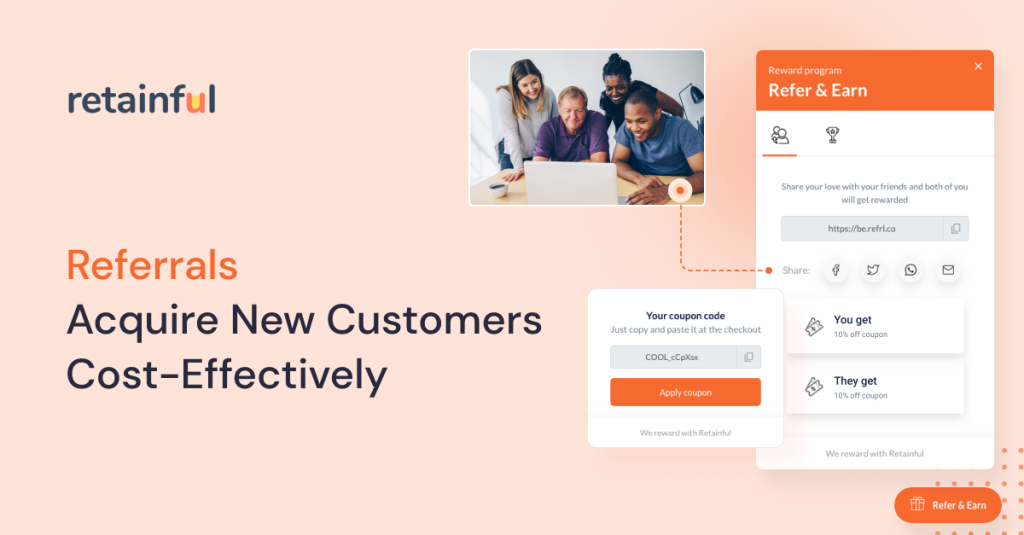 You can increase your revenue 10x times by running a Referral program and offering various types of referral rewards using Retainful. Fixed discounts, Percentage discounts, and Free shipping coupons are the rewards you can offer to the Referrer and Referee. Referral rewards not only increase customer retention but also widen brand visibility.
Retainful comes with multiple branding options to help promote your referral program. Popups and chat-like widgets are available to make your referral program easily discoverable for your customers. You can send automated referral email notifications to customers and remind them of the rewards.
How Retainful Referral works:
Every customer gets a unique referral link after purchasing or signing up.
Customers share the unique referral link with their friends.
When the friend enters your store using the referral link, they will be prompted to provide their email address to determine whether they are a new customer.
They will receive the "friend award" after entering and verifying their email address.
When the friend completes their first purchase, the advocate(the customer who referred the friend) will receive a reward.
The reward is only given to the friend for the initial purchase and not for future purchases.
And the incentive is only given to the advocate (the referring person) after a successful referral – one reward per each unique referral.
You can offer a percentage discount, fixed discount & free shipping discount as referral rewards.
You can set expiry dates for the referral reward to create FOMO and set minimum spending threshold to increase the average order value. Retainful comes with a drag and drop email editor to customize your referral emails.
Features
Track your Referral metrics in real-time
Automated Abandoned cart recovery and post purchase emails
Dynamic coupon codes
Referral revenue can be tracked and managed in the dashboard
Set up your WooCommerce Referral program within minutes.
Set purchase limit to earn referrals
Offer percentage discount, flat amount, and free shipping as rewards
Each customer gets a unique link with a Referral code
Social sharing options are available for Referrals
Add to cart popup feature to capture customer email
Exit-intent popup feature to prevent customers from leaving
User-friendly interface
You can customize your emails to suit your brand style
Multiple branding options for referral promotion
Offer Next order coupons to drive repeated sales
Personalize your email templates
Drag and drop editor to customize emails
Premium Pricing
Retainful has a free version, and their Starter plan is priced at $19/per month.
Refer a Friend for WooCommerce by WP Gens
This Refer a friend plugin by WP Gens is one of the most powerful WooCommerce referral plugins for your website. Using this plugin, you can run a robust referral program and boost your sales and revenue through WOM marketing. Effortlessly run a WooCommerce Referral program to encourage your customer to refer your store to their friends and acquire referrals.

An interesting aspect of this WooCommerce referral program plugin is that instead of offering monetary rewards, you can provide coupons for every successful referral. Customers can redeem it to earn a discount on their purchases.
Refer a friend plugin sends a unique link to each customer, and when a Referral enters your store using that link and completes a purchase, both the referral and referrer will be rewarded.
It is an automated plugin, and it also helps you prevent coupon abuse by marking the coupon once it is redeemed. Of all the plugins listed here, Refer a friend by WPGens is one of the lightest WooCommercer referral program plugins. It will not slow down your website.
Features
Offers coupons instead of monetary rewards.
You can share your Referral URL.
Admin can view the Referral statistics in real-time.
You can set the coupon expiry date.
Compatible with WooCommerce subscriptions.
Easy installation and setup.
Social sharing is available.
Free updates and support for one year.
Each customer gets referral statistics.
Pricing
Refer a friend for WooCommerce begins at $47 per website.
Gratisfaction
Unlike the previous WooCommerce referral plugins, Gratisfaction is an all-in-one loyalty, referral, instant win, birthdays, anniversaries, promotions sweepstakes, and giveaways plugin.
With this WooCommerce referral program plugin, you can offer a variety of unique rewards to your customers for referring their friends to your store.

The best thing about Gratisfaction is that you can create and run Holidays Giveaways, Instant Win Campaigns, Refer-a-Friend Campaigns, and Contests in minutes and increase your sales. You can make customized text and images for your customers so they can share them with their friends on Social media and invite them.
Gratisfaction will help you run the best referral program for WooCommerce and track all details about the referrals, the name of the referral, who they were referred by, etc., in an insightful dashboard.
Features
Activate multiple double or single-sided WooCommerce referral programs.
Reward customers for sharing their key life moments.
Reward customers for reviewing your product.
You can run multiple sweepstakes and giveaways.
Reward customers for taking specific actions like sharing, watching, visiting, subscribing, and more.
Run exciting quizzes and surveys for customers to earn points.
Reward customers for signing up for your newsletter.
Rewards customers when they share socially.
Pricing
Gratisfaction has a starter plan that begins at $19.95/month.
Create a referral campaign in minutes with Retainful and get your existing customers to refer their friends.
WooCommerce Refer a friend – Automate Woo
WooCommerce Refer a friend is the right WooCommerce referral plugin for your store if you want to increase your organic sales by running a dynamic WooCommerce referral program.
If you're looking to cut down customer acquisition costs, run a customer referral program using this plugin and acquire new customers without spending much.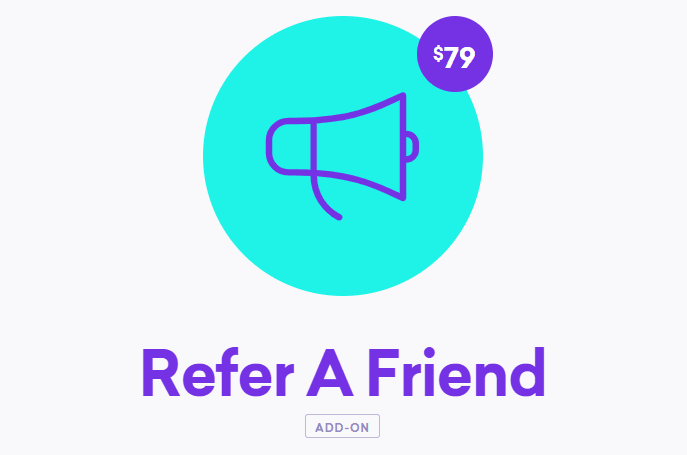 Unlike other WooCommerce Referral programs, this is a 'Coupon based' campaign where the advocate gets a unique coupon code instead of a referral link to share with friends.
Friends can use the coupon code to earn the discount, and the advocate gets a store credit for referring his friends. If you are not comfortable with coupons, you can switch to 'link-based campaigns' too.
You can quickly build and control a WooCommerce customer referral program from your WordPress admin area.
Features
You can choose between manual or automated referral approval
Advocates can share the link via Facebook, Twitter, WhatsApp, and more
Each advocate gets a unique coupon code
You can include a post-purchase share widget
Fraud Prevention
Dashboard to analyze the performance of your program
WooCommerce tabbed account API lets advocates watch their successful referrals
Setting up is very easy
Set expiry dates for your referral coupons.
Plans
Premium plans of WooCommerce Refer a friend starts at $99/year.
Coupon Referral program
Encourage your customers with exciting discounts for every successful referral they bring to your store.
1000+ customers trust this WooCommerce Referral program plugin as it offers discounts to customers for signing up, referrals, and more.

The referral(friend) will earn a discount coupon when he signs up for your store, and the advocate will earn a discount coupon when the referral makes a purchase.
So, if you want to run a referral program to use your existing customer base to increase engagement and conversion rates, then the Coupon referral program is the right plugin for you.
Features
You can offer sign-up discount coupons.
Specify coupon types for both referrers and referrals.
Set the expiry date for the coupons.
Customers can share via Facebook, Email, and Twitter.
You can customize your coupon and pop-up to match your brand.
Select points to offer to referrers instead of coupons.
Customers can pay subscription bills with coupons.
You can offer a fixed or percentage coupon.
Referral buttons are customizable.
Pricing
Pricing plans start at $49.00/year for a single site
Referral System for WooCommerce
The Referral system for WooCommerce is a must-have WooCommerce referral plugin if you want to increase your sales through Word of mouth marketing.
Run a WooCommerce referral program in your store that turns your loyal customers into brand advocates and offers exclusive rewards every time they make a successful referral.
The Referral System provides all the functionality you need to increase your revenue, attract more customers, boost customer satisfaction, promote repeat sales, and multiply your growth.
This WooCommerce referral program plugin can easily integrate with WooCommerce points and rewards extensions. It also offers the best technical support to help you overcome challenges.
Features
Referrers and Referrals can get Sign-up rewards.
You can offer order-based rewards.
Offer fixed price and percentage discount coupons.
You can offer loyalty points and referral rewards.
Easy social sharing options.
Easily track your referral rewards on your account page.
Integrates well with WooCommerce points and rewards.
Allows customers to redeem their points.
Offer fixed or percentage discount.
Customizable referral emails.
Pricing
Referral systems for WooCommerce premium plans start at $49.99/year.
WooCommerce Referral Scheme
WooCommerce Referral scheme is a WordPress plugin that offers points for customers when the referred customer makes their first purchase.
This WooCommerce referral plugin generates a unique referral number and assigns it to you. Now you can share this unique number with your friends and invite them to your store.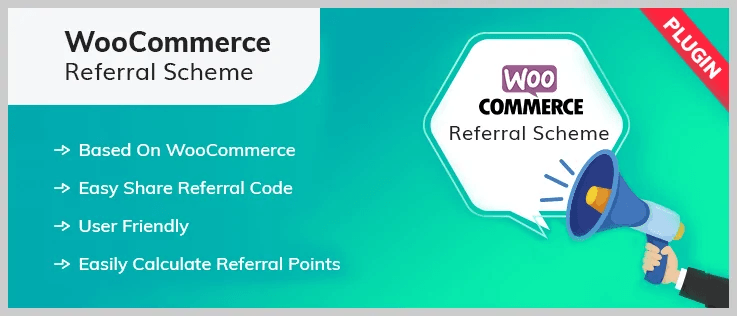 When you share your referral code with your friends, you and the referral will be rewarded with points that you can use to purchase any WooCommerce products.
It is one of the user-friendly WooCommerce referral program plugins you can find in the market.
Features
Referral code can be shared easily.
It is very intuitive and user-friendly.
You can calculate your Referral points effortlessly.
You can earn points by sharing the website on Social media.
Premium Pricing
The regular license of the WooCommerce Referral Scheme starts at $13
WooCommerce Multilevel Referral Affiliate
WooCommerce multilevel referral affiliate offers rewards to customers when they share your website with their friends and families.

It is one of the most recommended plugins to run a referral program. WooCommerce multilevel referral affiliate is easy to configure and very simple to use. You can effectively track the referrals, their sales, and their redeemed credits too.
Using this WooCommerce referral program plugin, you can send emails to customers reminding them of the referral points.
WooCommerce multilevel referral affiliate is compatible with WordPress and the latest WooCommerce plugins.
Features
Boost sales through the referral chain.
Users can earn store credits.
Points can be redeemed during purchase.
Customizable email templates.
You can set an auto-join or manual join option.
Friends can be invited through social media.
Referrers can share customized banners on social media.
Level-based credit system and Binary MLM system.
You can set a validation period for credit points.
Admin can specify the number of days to send notification emails.
You can exclude products from the referral program.
Premium Pricing
WooCommerce Multilevel Referral Affiliate premium plans start at $35
Customer Referral Program by Invite Referrals
The customer referral program by InviteReferral is one of the most powerful yet simple to set up WooCommerce referral software.
It can help you improve your business and acquire new customers to your store by allowing you to run the best referral program for WooCommerce.

InviteReferrals offers a complete 360* Referral program with strategies, design, and implementation.
The customer visits your referral page and invites his friends to your store. InviteReferrals will send a coupon via email to the Referrer for successfully driving a Referral sale.
That's how simple it is, and it also has a 15-day free trial and a Demo so you can get comfortable with the plugin.
Features
Simple integration.
You can select from multiple customer referral options.
Referral frauds can be prevented.
Includes a spam-proof notification system.
Powerful dashboard to track the referral performance.
Free Skype demo.
Premium Pricing
Customer referral program Basic plan starts at $99/month.
Acquire new customers organically and grow sales with a Referral program for WooCommerce. Create and launch your referral program with Retainful effortlessly.
Wrapping Up
Running a WooCommerce Referral program in your store is the best way to acquire new customers by turning your existing customers into brand advocates. You can increase your customer retention rate and drive repeated sales by running the best referral program for WooCommerce.
WooCommerce referral plugins listed in this article are one of the popular plugins known to run the best WooCommerce referral programs for online stores.
Retainful, Coupon referral program, and Referral Candy are some of the plugins with most WordPress installations that can run a robust refer a friend program in your store.
So, what will be your pick? Did we forget to mention any plugins that you love? Let us know.
If you're wondering how to set up a WooCommerce referral program for your store, here's what you need.
Why should you try Woocommerce Referral Plugins?
Acquiring new customers is expensive, but with WooCommerce referral plugins, you can minimize customer acquisition costs and increase WOM sales. Besides, WooCommerce referral plugins are robust and cost-effective to get started easily.
How to select referral plugins for the woocommerce store?
There are multiple factors to consider when selecting a referral plugin. First, it must be cost-effective, feature-rich, user-friendly, and importantly it must match your requirements.
Does WooCommerce have a referral program?
Retainful is a WooCommerce referral program plugin that can help you turn existing customers into brand advocates and acquire new customers. You can offer multiple types of rewards to both the referrer and referral.
What is the best referral plugin for WordPress?
Retainful is one of the best referral plugin for WordPress. It is simple to use and lets you launch a referral campaign within 15mins. Encourage your customers to advocate for your brand and acquire new customers in the process.