Inactive customers are common in all eCommerce stores, they used to drive repeated purchases in your store, but now are inactive due to various reasons.
Bringing them back can double your sales, but how do you do that?
This is where Win-back emails come in, re-engage with lost customers & bring them back to your store by sending Win-back emails.
We have compiled some of the best Win-back email examples. Use these examples as a reference to initiate your Win-back email campaign right away & start re-engaging with lost customers.
Best Win Back Email Examples
Offers/Discounts Emails
Offers and discounts for an eCommerce store are more important. Store owners will consider sending coupons via win-back emails but are hesitant to move forward with it.
Why?
While discounts and coupons can be quite efficient at re-engaging customers and customers, they can also cause more harm than good at times. The key is to know when and how to utilize them, as well as what to provide.
Giving incentives to bring inactive customers back to the fold doesn't have to be your first or only option, but including the correct ones in your win-back email sequence can entice a budget-conscious shopper back.
Let us consider the Win-back email example of Ann Taylor.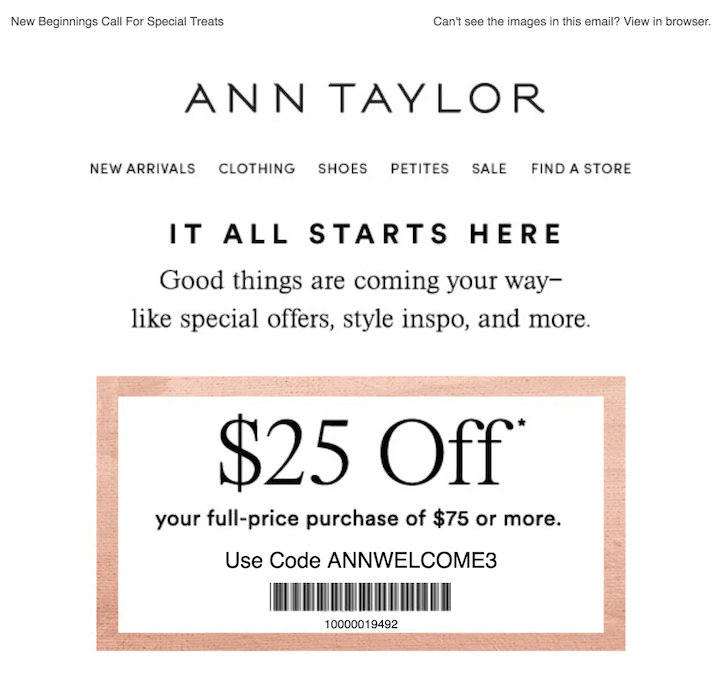 In this win-back email example, you can see how well they have put together their win-back email. When a customer receives it, they might obviously get carried away with the CTA in the email. They are giving discounts for the customers whose purchase amount exceeds $75.
This becomes a triggering point for the customers to return to the store and complete their purchase to avail $25 discount in the store.
The next win-back email example is from GearBunch.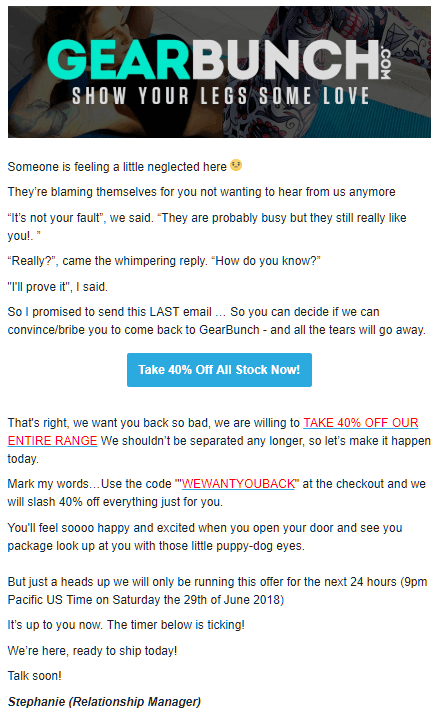 In this email, we can see how well the email addresses the customers. They have been using cold email marketing to provide discounts and offers to customers. And, I would say that they have succeeded in it!
Though they provide a limited-time offer, they are providing more than the average percentage of discount to the customers. Hope they might have got a good conversion out of it.
Product Recommendation Emails
One possible source of frustration for inactive customers is that your product catalog is simply too large to browse, and there simply isn't enough time in the day to do so. After all, we're all busy individuals.
You may smooth out this crease by going above and beyond and offering product recommendations. Combing through your whole product line to identify those that will truly appeal to them.
Customers can be recommended products in a variety of ways, such as seasonal gift guides or more personalized recommendations based on their previous browsing or click history.
See how well SurfStitch has been personalizing their Win-back emails by recommending the products to their customers.

With this win-back email, the customer will get to know what is happening in the store. The email gives elaborated information and updates about their store. They also never forgot to provide free shipping to the customers upto a limited time.
Next, let us glance at the Win-back email example of "Ruffle Butts"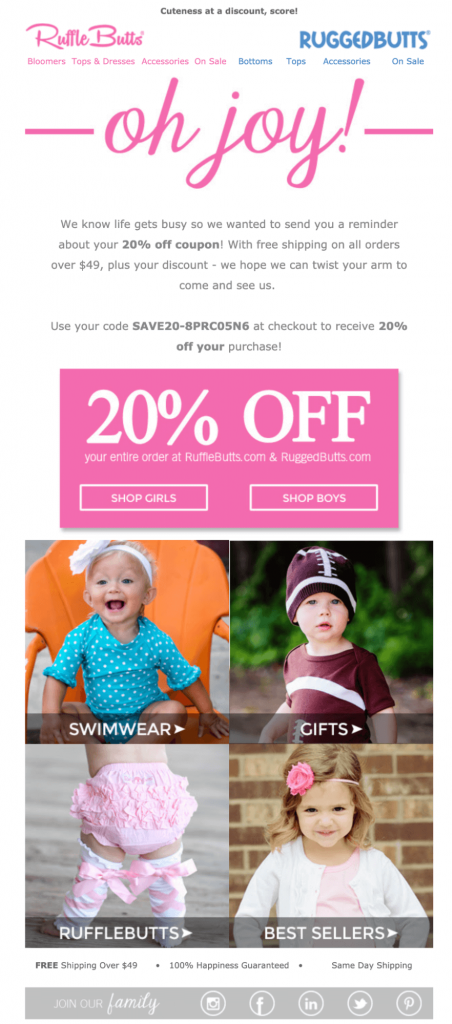 In this email, you can find an attractive and triggering subject line " Cuteness at a discount, score!". Following it, you can find how well they have interacted with the customers to win them back. To do that, they are providing attractive discounts with free shipping offers.
They have also categorized and displayed the best brands under the "Best Sellers" category. This helps the customers to directly visit the one they are looking for.
Social Proof Email
A social proof email has become a solid weapon to make customers know your brand value. Though you have failed to connect with your audience multiple times, a well-drafted social proof email will act as a win-back email at any cause.
Another factor that may be preventing your customers from engaging with you is that hearing everything directly from you is insufficient. Of course, you know your brand better than anyone, but hearing positive feedback from others is frequently enough to persuade them to buy.
The concept of social proof is that we have more faith in things that others have tried and loved, and it can be expressed in a variety of ways. Consider the following: reviews, ratings, testimonials, endorsements, and so forth.
Here comes an amazing win-back social proof email from Nic+Zoe.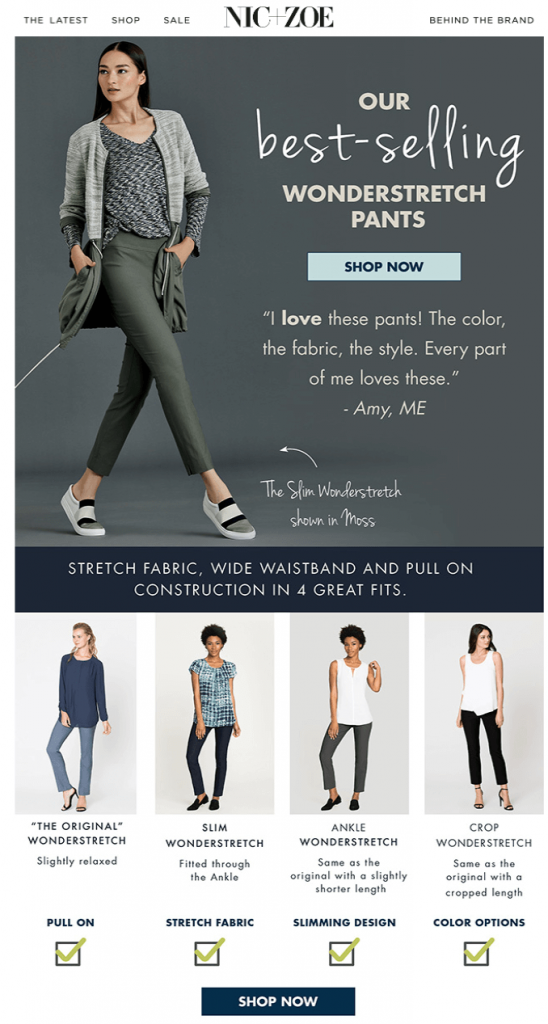 In the Nic+Zoe social proof example, you can see how alluring the email is. They have added the testimonial naturally in the email that will make the inactive customers return to the store and go forward with their purchase.
Added, they have detailed more about the apparel with the checkboxes with cute descriptions.
This is how a win-back email must portray your eCommerce store's social proof as well. Testimonials are not just words, they are the true feel of how your customer feels about your store. And, so are your next customers.
Hello or Welcome Back Email
A hello or welcome back email is another great strategy to bring customers back to your store. When your customers had a purchase months before, then you can send them the welcome back email to retain them.
There are certain questions to keep in your mind when you draft an email to retain your customers.
Does it make them feel good when people think of you… or, better yet, reach out and let you know they've been thinking about you?
These four objectives should be met by the "hey" welcome back email:
Remind your customer why they chose to do business with you in the first place.
Demonstrate the fantastic advantages that your product offers.
Make your customer feel valued and recognized.
Keep your customers in mind
Let us consider two examples here.
Here comes a welcome back email from Fabfitfun.

In this email, they are inviting their customers back to their site by mentioning the perks they are missing out on. When you let your customers know what they are missing, there are high chances of conversion.
In the footer, they have placed a triggering CTA to reactivate their account. So, it seems the customer has left the store months before. This becomes a wonderful opportunity to take back customers who have left your sites too.
And, here comes the next Win-back email example from Gap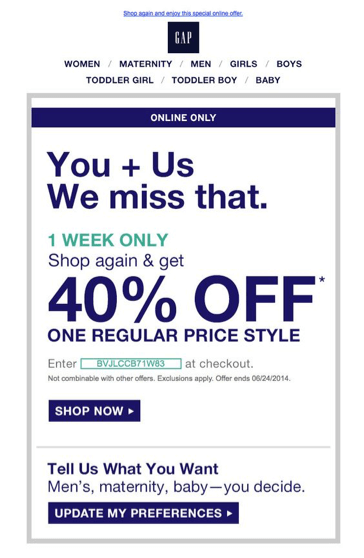 Yes, the email subject line itself attracts the customer. They have been using this email to get the customers back to their store.
To do that, they are offering discounts and a limited-time coupon code to the customer. You can also see that the email also contains the probable and triggering CTAs to make the customer shop again in your store. This is how a win-back email works.
Without any hurry, now let us glance at the next Win-back email example from Rockport.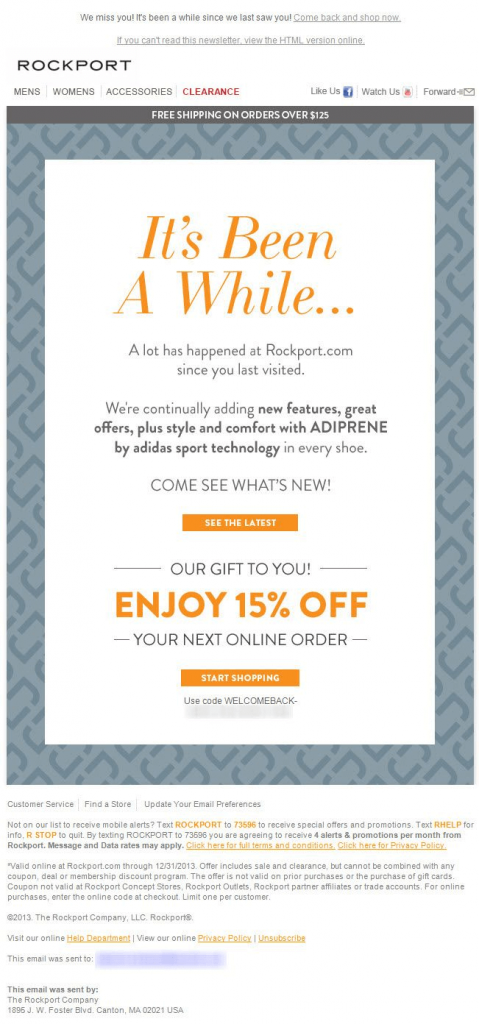 Here, they are reminding their customers to come back to their eCommerce store. Though it is a reminder email, it is a sort of welcome back email. The triggers in the email definitely lead to an increased conversion rate.
They are attracting their customers with a free shipping offer for orders above $125. They are also providing discounts and coupon code "welcome back" that might change the mindset of the customers. A wonderful move!
Convincing Email
When the customer fails to return to your store after days/months, you can send them a convincing email. This is the email that provides various benefits and reasons to the customers to continue purchasing in your store.
Many customers may not know your brand value. You can insist them to start purchasing in your store. This is your chance to explain why these inactive customers and customers should shop at your e-commerce store. The goal of this email is to persuade them to contact you again.
Here is an Win-back email from Fab.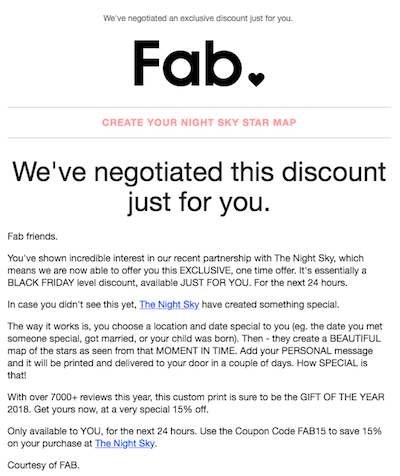 Fab, with its convincing email, started providing personalized discounts to its customers. With their purchase history, Fab might have provided discounts to the customers.
When you see such an email, what would be your reaction? You might feel special, isn't it? Added, you would obviously take an extra step to purchase the product. This is how a convincing email works.
An Unsubscribe Email
When a customer unsubscribes, it doesn't always imply they don't want to hear from you again. It's possible that they don't want to receive your emails right now. After clicking "unsubscribe," customers may decide they want to rejoin your email list.
If your customers are on the fence, an unsubscribe email might still pique their interest, and your unsubscribe letter is your last chance to do so.
If your unsubscribe email is impersonal, the customer's decision to quit is reinforced. Even if they unsubscribe, provide excellent customer service and they'll be more inclined to return to you in the future.
Let us take the Win-back email example from "Refinery29"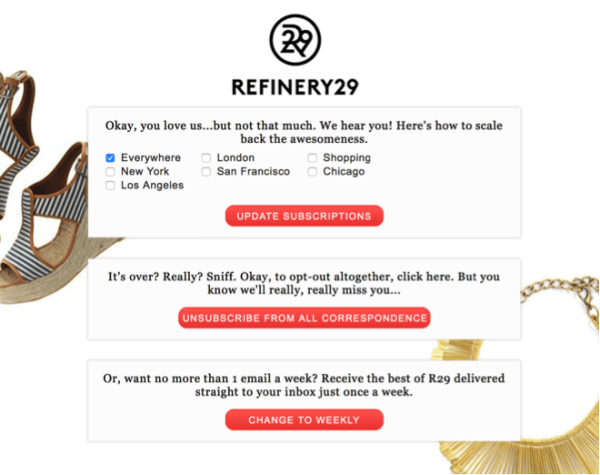 Here, they are not forcing the customer to subscribe nor accepting the customer's decision as it is. Instead, they have been giving the last try to convince the customer and make them a part of their store.
You can see how well the email has been drafted with proper CTAs. The use of CTAs plays a huge role in getting back your customers. This email stands as an example of it.
How do you know a customer has to be Won Back?
How do you determine whether a consumer has abandoned your ecommerce store and has to be reactivated? Let's take a trip down memory lane…
When was the last time your consumer opened an email?
When was the last time they clicked on a call-to-action (CTA) in an email?
When was the last time they purchased something from you?
After you establish what a lapsed client means for your business, it's easy to tell if a customer has to be won back or not. That depends on the thing you're selling and how you're selling it.
However, here's a decent rule of thumb for how long an inactive ecommerce customer should be considered lapsed:
Your consumer is in danger of lapse after three months of inactivity. They're starting to lose interest.
Your customer has lapsed after 6-9 months of inactivity. They've stopped interacting with your company.
When you interact with your customers earlier, it would be a cakewalk for you to get them back to your store.
Final Takeaway
It's not easy to reactivate lost customers. It takes a lot of imagination and dedication, and even then, you'll almost never be able to win over everyone. In fact, knowing when to double down and when to let go is an important aspect of improving any marketing plan.
However, with the correct content, strategies, and timing, you can keep potential buyers from abandoning your brand and even increase sales. Isn't that what makes it all worthwhile in the end? Cheers!