WooCommerce email marketing is key for WooCommerce owners trying to grow their customer base and business.
There are many ways to reach your potential customers, but email remains the optimal means of establishing and maintaining a strong connection with the customers.
You can directly connect with your customers with the right strategies and tools. This allows you to send them personalized and automated WooCommerce emails based on customer behavior or past shopping behavior. When used well, it encourages customer loyalty and increases sales and revenue.
Read on to discover the benefits, strategies, best plugins, and how to automate WooCommerce email marketing campaigns.
Send personalized emails at the right time based on shopping behavior using Retainful.
What is WooCommerce email marketing?
WooCommerce email marketing refers to the practice of utilizing WooCommerce email campaigns to promote products, engage customers, and drive sales.
It involves sending targeted and personalized emails to customers, such as product recommendations, promotional offers, order updates, and abandoned cart reminders.
This consistent communication easily fosters customer loyalty, increases conversions, and enhances business growth.
Benefits of WooCommerce email marketing
Increased Customer Engagement: WooCommerce email marketing allows you to engage your customers by sharing relevant updates, product information, and special offers.
Increased Conversions: WooCommerce email campaigns are implemented using Segmentation and Personalization that encourage customers to complete purchases. These email campaigns also include techniques like abandoned cart reminders, special discounts, and time-sensitive offers.
Customer Loyalty: Regular communication through email helps build stronger relationships with customers, fostering loyalty and repeat business over time.
Cost-Effective: WooCommerce email marketing is generally more affordable than other marketing channels, offering a high return on investment (ROI).
Announcements and Updates: Email effectively shares important announcements, new product launches, and updates with your customer base.
Types of WooCommerce emails
Welcome email
Order confirmation email
Order cancellation email
Order status email
Delivery confirmation email
Refund confirmation email
Password reset email
WooCommerce email marketing strategies
Building Your Email List
The first step you need to focus for email marketing in WooCommerce is building your email list. Because this is your direct connection to potential customers to share updates and promotions.
Let's dive into some WooCommerce email marketing strategies to grow your list and make your email campaigns a hit.
Setting Up Opt-in Forms on Your WooCommerce Store
Opt-in forms are an open invitation to join your email list. Place these forms where visitors can easily find them, e.g., on your home page, blog posts, or checkout page.

The header and footer of your website are also prime real estate for these forms. Keep the form simple, clean, and easy to fill out.
Offering Incentives for Subscriptions
Everybody loves a good deal, and so will your subscribers. You could offer anything from a special discount, a free ebook, or exclusive access to insider tips. Use WooCommerce email marketing to sweeten the deal and motivate visitors to take that extra step.
Segmenting Your Audience for Targeted Campaigns
If your idea is to bombard every customer on your email list with the same generic email, drop that idea now. You must segment your email list into smaller groups to send emails based on customer preferences, behaviors, or purchase history.

This allows you to send highly targeted and relevant WooCommerce email campaigns, increasing engagement rates. Data & Marketing Association (DMA) stat states that segmentation increases revenue by 760%.
Choosing a Marketing Platform
Picking the right WooCommerce email marketing tool can make all the difference. There's an array of options out there, each with its unique features and benefits. It can be confusing to select the best WooCommerce email marketing plugin.
So, here are 10 criteria to help you pick the best WooCommerce email marketing plugin.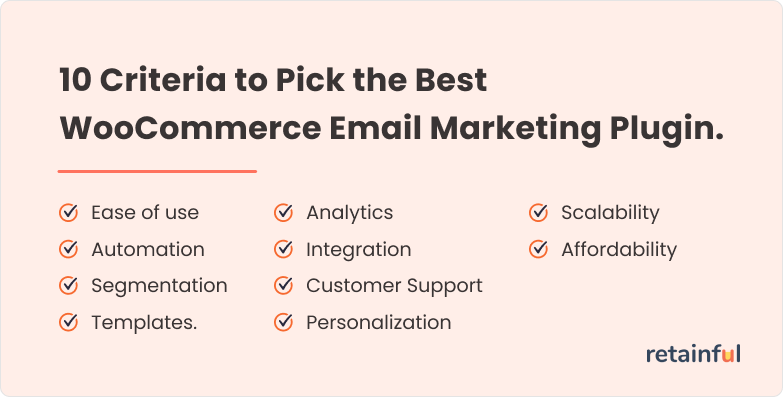 Ease of Use: Look for a user-friendly interface.
Automation: Check if it offers automated workflows.
Segmentation: Ensure it allows precise audience targeting.
Templates: Access to attractive email templates is a plus.
Analytics: Look for detailed campaign performance insights.
Integration: Confirm compatibility with WooCommerce.
Customer Support: Good support can save you headaches.
Personalization: Ability to tailor emails to customers.
Scalability: Consider the growth potential of the tool.
Affordability: Balance features with your budget.
Automating Your Email Campaigns
Automating your WooCommerce email marketing frees up your time and ensures consistent communication with your audience. You can nurture leads, recover abandoned carts, and suggest products effortlessly using WooCommerce email automation.
Automated Welcome Emails for New Subscribers
First impressions do matter. Craft a friendly WooCommerce welcome email to thank your customer for signing up. Include a special discount or a freebie to entice them.

With automation tools like Retainful sending personalized welcome emails is a breeze. You'll be amazed by the boost in engagement from timely welcomes.
Abandoned Cart Emails to Recover Lost Sales
The average cart abandonment rate globally is 70%, according to Statista. There's still hope for recovering those lost sales with abandoned cart emails.

Craft a WooCommerce abandoned cart recovery email with abandoned products and a tempting incentive. This gentle nudge can turn window shoppers into paying customers, increasing your revenue effortlessly.
Product Recommendation Emails
Recommend products to customers using WooCommerce email marketing based on their shopping behavior. It's like having a personal shopper for your subscribers.

Amazon's success secret? 35% of their revenue comes from recommended products. (McKinsey) Utilize this technique to cross-sell and delight your customers.
Compliance and Best Practices
When starting with email marketing for WooCommerce, it's best to learn the marketing laws. The CAN-SPAM Act in the US and GDPR in the EU are vital guidelines to understand.
The CAN-SPAM Act demands clear sender info, subject lines, and a visible opt-out method. Meanwhile, the GDPR protects personal data, requiring explicit consent.
Give your recipients an easy exit. Insert a visible unsubscribe link in each email, keeping you compliant with laws and respecting user choice. Let your subscribers choose email frequency and content topics.
Analyzing and Improving Campaigns
Keep an eye on how your WooCommerce emails perform. According to Hubspot, the average email open rate is 38.49%, and the click-through rate is 8.29%.
Run A/B testing to test different subject lines, content, and CTAs of your WooCommerce email marketing to identify what works with your audience.
Dive into data to spot trends and preferences. Adjust timing and content to keep subscribers interested. Data also shows inactive customers. Just craft win-back emails with irresistible incentives to bring those customers back.
Best email marketing plugins for WooCommerce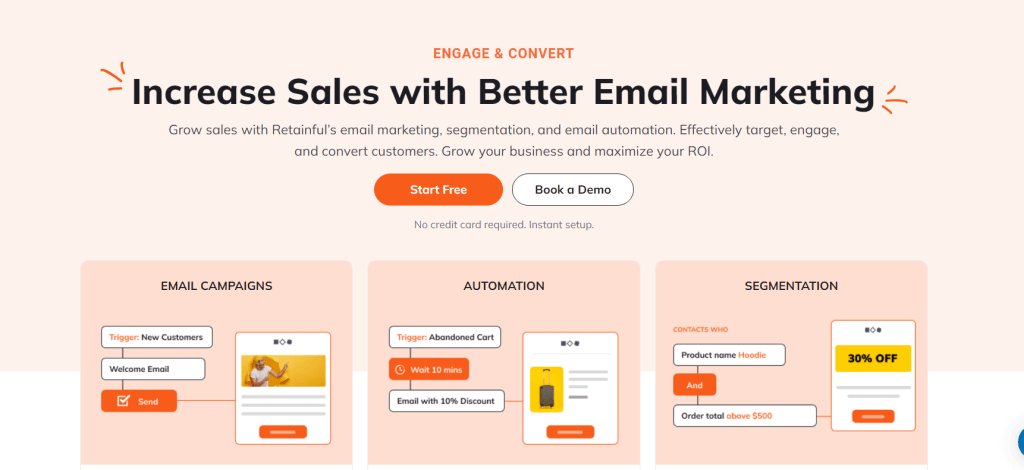 Abandoned carts aren't new when running a WooCommerce store. Integrate Retainful with your store to restore those lost sales in the easiest way possible.
Retainful is primarily a WooCommerce email marketing plugin that lets you automate emails to engage customers in every step of their shopping journey.
The plugin lets you customize every aspect of the email, from email content to email templates. The segmentation feature lets you segment customers based on their shopping behavior. This would easily make your customers feel special and increase engagement rate.
This plugin is extremely user-friendly, even beginner-friendly, and doesn't require coding.
Further, the plugin has next-order coupons to entice customers who haven't shopped in a while, referral programs, exit intent popups to catch the website visitors' email addresses, and an extensive analytic dashboard. 
Key Features
Effortless integration
Welcome emails
Order follow-up emails
Abandoned cart emails
Thank you emails
Win back emails
Next order coupons
Exit intent popup
Referral program
Segmentation and targeted campaigns
Drag and drop email editor
Customizable email templates
Pricing
Essential $9/month
Starter $19/month
Growth $49/month
Increase engagement rate and sales by automating WooCommerce emails with Retainful.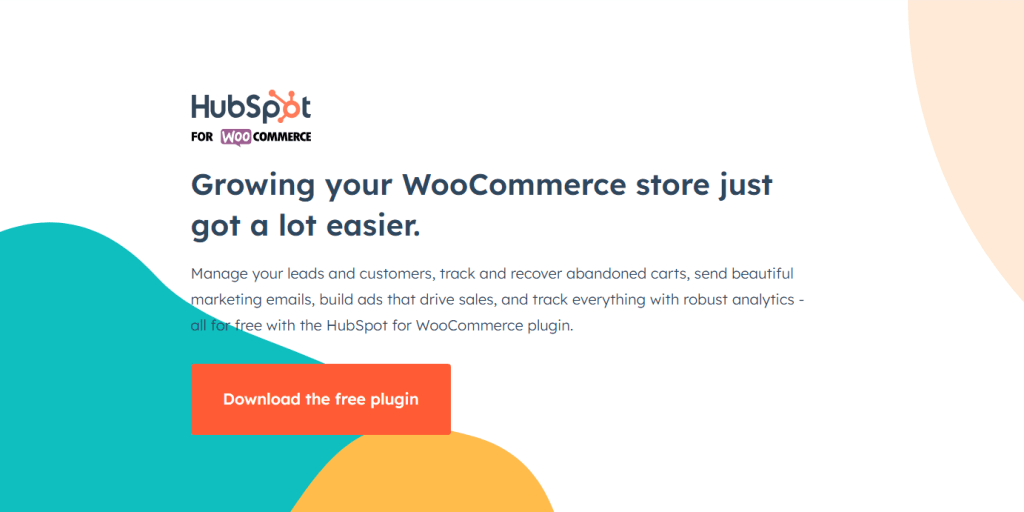 HubSpot for WooCommerce is a handy tool that helps WooCommerce stores grow. You can create personalized marketing campaigns, segment customers based on their behavior, and track e-commerce metrics like revenue and order history.
This plugin simplifies abandoned cart recovery, helping you re-engage potential customers and recover lost sales. With its analytics and reporting tools, you can gain valuable insights to optimize your e-commerce strategy and enhance the overall shopping experience for your customers.
Key Features
Customer data synchronization.
Order data synchronization.
Product data synchronization.
Abandoned cart recovery.
E-commerce email templates.
Marketing automation.
Customer segmentation.
Sales and marketing analytics.
Pricing
Starter $18/month
Professional $800/month

If you are looking for a WordPress email marketing plugin with automation and segmentation features, MailChimp will suit your needs.
This plugin seamlessly connects your store with your WooCommerce email marketing efforts. Some key features include syncing customer data and purchase history, segmenting your audience for highly targeted campaigns, and sending personalized product recommendations to boost sales.
You can also set up automated abandoned cart emails, track the performance of your email campaigns, and leverage pre-built templates for responsive email designs.
Key Features
Customer data and purchase history synchronization.
Audience segmentation for targeted campaigns.
Personalized product recommendations.
Automated abandoned cart emails.
Performance tracking for email campaigns.
Pre-built, responsive email templates.
Pricing
Premium $137.72/year
Standard $6.88/year
Essentials $4.61/year

Constant Contact lets you effortlessly manage email marketing campaigns and customer relationships.
This plugin offers automated list synchronization, making WooCommerce email marketing much easier. It ensures that your WooCommerce customer data is always updated in Constant Contact, making it easier to target your audience with personalized emails.
It offers mobile-responsive pre-designed email templates, making creating visually appealing newsletters and promotional emails simple. The plugin also lets you track the success of your email campaigns and optimize your marketing strategies.
Key Features
Automated list synchronization.
Pre-designed mobile-responsive email templates.
Detailed reporting and analytics
Contact management and segmentation.
Integration of WooCommerce customer data.
Pricing
Lite $12/month
Standard $35/month
Premium $80/month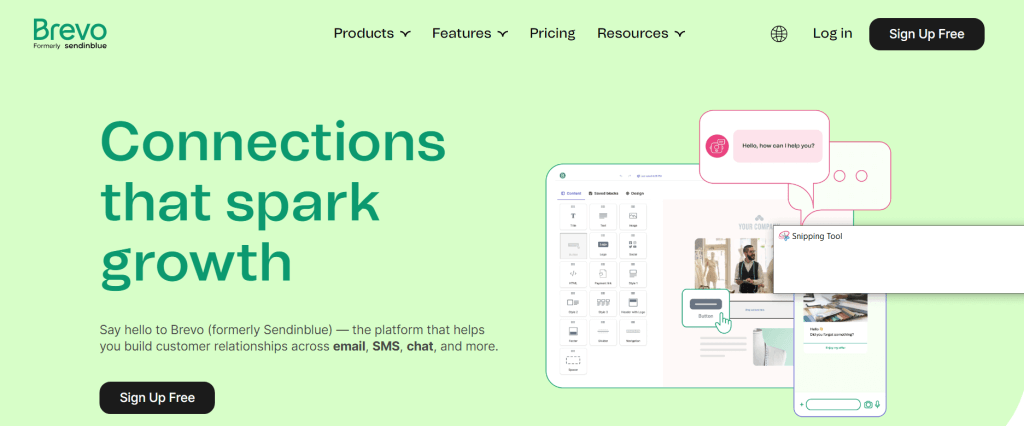 Brevo, formerly Sendinblue, lets you import, segment, and manage your customer contacts.
The segmentation lets you segment based on customer behavior and create targeted email campaigns. This facilitates lead nurturing cart recovery and encourages repeat purchases, all without the need for continuous manual involvement.
By combining WooCommerce email marketing with SMS marketing, you can effectively connect with customers through their preferred communication channels.
Key Features
Contact management
Segmentation
SMS marketing
Customer support
Sign up forms
Landing pages
Chatbot
Pricing
Starter $25/month
Business $65/month
How to automate WooCommerce emails using Retainful?
1. Installing Retainful Plugin & activating it
Go to your WordPress dashboard → Plugins → Add new
Search for the 'Retainful' plugin.
Click "Install Now" to install the WooCommerce email marketing automation plugin
Activate the plugin

That's it!
Let's now connect your WooCommerce store with Retainful Dashboard using the API Keys.
2. Connecting your store with Retainful API
After installation, you should connect your WooCommerce store with Retainful to start tracking and recovering carts.
Step 1: Get the API Keys
Login to your Retainful Dashboard (If you do not have an account, Signup for Free.)
Go to Settings -> General
Copy your App ID and Secret Key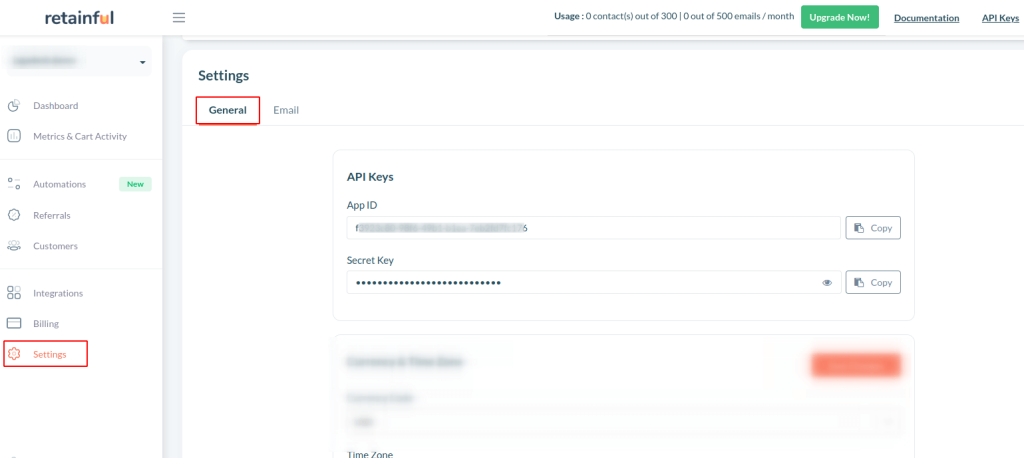 Step 2: Connect your store
Go to WordPress Dashboard → Retainful
Under the Connection tab, enter the keys in the respective field.
Click "Connect."
You'll see a successful message once the connection is established.
You can now track and recover abandoned carts from your store.
The default settings in the Retainful plugin are sufficient for 99% of the stores. No adjustments will be required. You can use them as is.
3. Updating the plugin
Updating the Retainful plugin for WooCommerce is easy as well.
Please go to your WordPress dashboard -> Plugins
Find the Retainful Plugin and click on the "Update Now" link.
Here is a screenshot:

4. Creating WooCommerce email automation workflow
Head to the Retainful dashboard and click on Automation -> Create workflow

Select the type of email automation workflow you wish to create.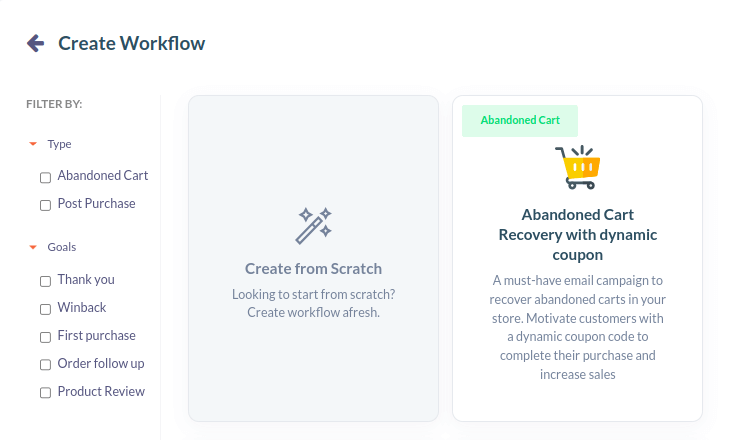 Name the workflow and click on continue.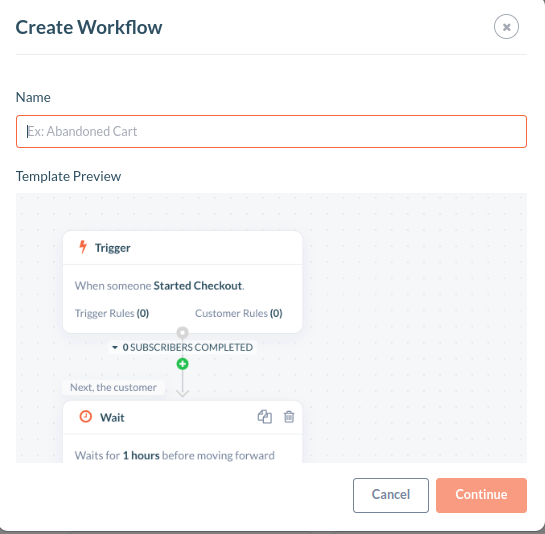 The workflow setup will open like the following image.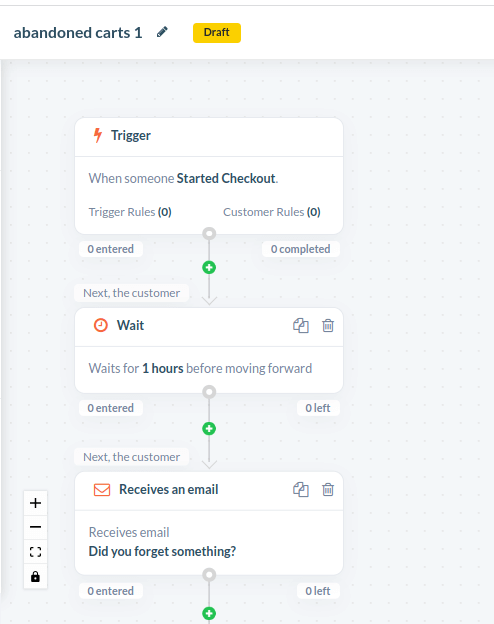 Trigger – You can find the 'Trigger' at the top of the workflow. The trigger lets you determine when a customer can enter the workflow. E.g., if it is an abandoned cart workflow, you can set up the trigger rule as order total.
Wait – The 'Wait' block allows you to set up a time delay before the customer moves forward in the workflow.
Entry Rule – It lets you restrict customers from entering the automation workflows if they have previously entered the workflow. This will help you prevent customers from entering the same workflow simultaneously within a short time.
Customer Rule – It lets you select between four options – Email, Name, Country, and Signed up. E.g., You can select Country "is not" India. And the email will be sent to customers who are not from India.
Click on the email block to edit the email content and template.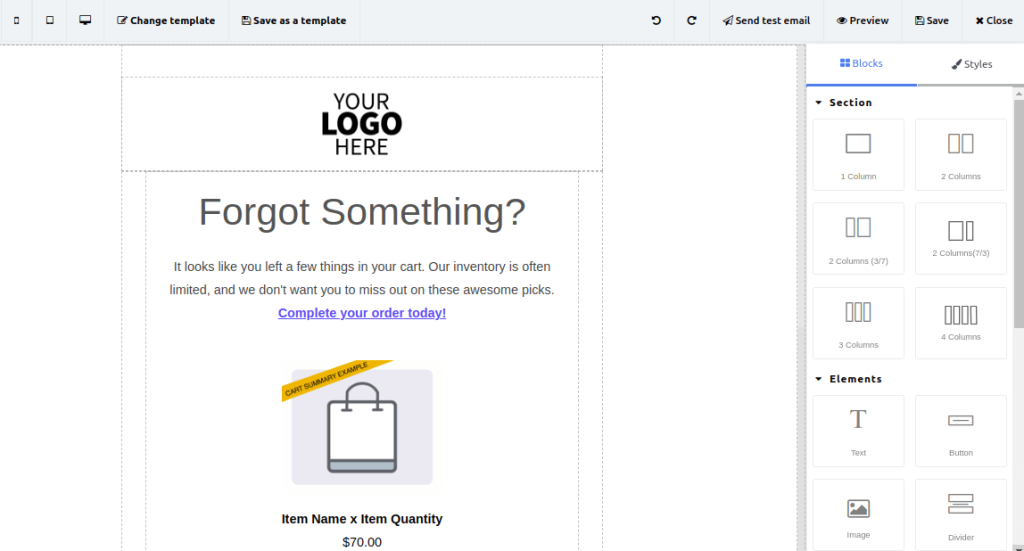 If you want to set up a coupon, click on the coupon block. You can customize it to a percentage discount, amount discount, or free shipping. It is also possible to set an expiry date and minimum order value.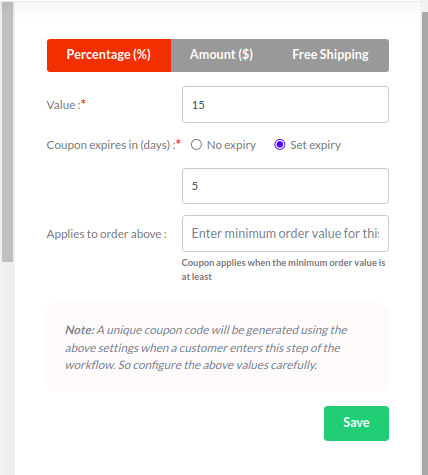 Once you have set up the workflow, click on "start workflow" and "close."
Best practices of WooCommerce email marketing
Crafting Attention-Grabbing Subject Lines
Craft subject lines that pique curiosity and offer value. Did you know that 47% of email recipients open their emails based on the subject line? Use the recipients' names or ask a thought-provoking question to entice them.
Try these tricks for crafting an effective subject line.
Personalization: Use the recipient's name or include details that show you know them. For example, "Hi [Name], Your Wishlist Deserves a Discount."
Urgency or Scarcity: Create a sense of urgency or scarcity with phrases like "Limited Time Offer" or "Last Chance to Save."
Benefit-Oriented: Highlight the benefits they'll gain from opening the email. For instance, "Revamp Your Style with 30% Off New Arrivals."
Curiosity: Pose a question or tease interesting content. "Guess What? Your Surprise Awaits Inside!"
Social Proof: Mention positive customer reviews or showcase popular products. "Loved by Thousands: Shop Our Bestsellers Now."
Designing Engaging Email Templates
Visual appeal in WooCommerce emails makes a difference. But how to choose the best WooCommerce email template?
Here is a guideline you could use to choose the templates for your WooCommerce email marketing.
Responsive Design: Ensures compatibility across devices.
Customizability: Adapts to your brand's look and feel.
Clear Hierarchy: Easy-to-follow layout and content flow.
Image-to-Text Ratio: Balance images and informative text.
Prominent CTAs: Drives action with clear calls to action.
Whitespace Utilization: Avoid clutter, and enhance readability.
Compatibility: Works well with popular email clients.
Testing Capability: Allows for previews and adjustments.
Persuasive Copy
Know your audience to understand and address their pain points. Hook them with a captivating intro. Clearly state the benefits and avoid using jargon.
Use subheadings and bullet points for readability. Encourage immediate action with limited-time offers.
Share relatable stories to engage emotions. Include testimonials or success stories. And don't forget to add a strong CTA to guide them on what to do next
Calls-to-Action
Did you know personalized CTAs perform 202% better than normal or generic ones? (Hubspot)
Here is a checklist that you could use to write better CTAs
Action-Oriented Text: Use clear and compelling verbs like "Shop," "Learn," or "Get Started."
Value Proposition: Highlight the benefits users will gain.
Design Distinction: Make CTA visually distinct from surrounding content.
Color Contrast: Use a color that stands out against the background.
Clickable Area: Ensure the button is easy to tap on mobile devices.
Urgency or Scarcity: Add time-limited offers for motivation.
Positioning: Place CTAs where they're easily noticeable.
Relevance: Align CTA with the email's main goal or content.
Tracking Link: Attach UTM parameters to measure effectiveness.
Timing and Frequency
If you want to engage your audience effectively, you have to find the optimal sending times. A study by Brevo has shown that the best time to send emails is 10 am and between 3 pm and 4 pm.
Just be careful not to flood your customer's inbox. Striking the right email frequency balance is the key.
Timing directly affects engagement, and when you have the right email frequency, it boosts your WooCommerce success. Keep experimenting and analyzing to refine your approach.
Segmentation and Personalization
Making your customers feel special is key. A report by Campaign Monitor states that personalized emails have 29% higher open rates than generic emails. Personalization builds trust and boosts engagement.
A stat by Instapage has revealed that 74% of customers get frustrated with content irrelevant to their interests. Just make sure your WooCommerce emails are based on their shopping behavior. For e.g., if a customer browses certain products, send related suggestions.
Divide by demographics, purchase history, or behavior. This personalizes emails and speaks directly to recipients, raising conversions.
Get real-time analysis of your WooCommerce email campaigns using Retainful and refine your strategy for the best results.
Wrapping up
This blog has shed light on the significance of email marketing for WooCommerce. Your first step is building an email list and crafting engaging content and CTAs. With the best email marketing plugin for WooCommerce, you can easily automate the process and boost sales and engagement.
Remember, personalization and timing matter, backed by real data. Stay compliant with laws like CAN-SPAM and GDPR to ensure respect for your subscribers.
By going through the insights we shared in the blog, we trust you now understand WooCommerce email marketing, its strategies, and the tools. Keep these principles in mind, and your WooCommerce journey will be a steady climb toward growth.
Read our easy-to-implement guide on how to increase WooCommerce sales and get inspired to grow your revenue.
What is the best email automation for WooCommerce?
The best email automation for WooCommerce is often considered a tool like Retainful. It has easy to set up email automation workflows for emails that a customer journey would require. 
How do I send emails to customers in WooCommerce?
To send emails to customers in WooCommerce, use built-in features or a plugin like "Retainful" for personalized communication. It's an easy-to-use plugin with features to boost engagement and sales. 
Does WooCommerce send emails?
Yes, WooCommerce does send emails for order confirmations, notifications, and more, but using an additional plugin like Retainful enhances its capabilities to automate customized emails based on customer behavior. 
How do I automate emails in WooCommerce?
You can automate emails in WooCommerce by utilizing plugins like "Retainful" for customized and timely communication.
Does WordPress have email automation?
Yes, WordPress offers email automation through plugins like "Retainful," allowing you to streamline your email marketing efforts.