WooCommerce email marketing plugins help you stay connected with your customers. Staying connected with customers means that it helps your business grow.
When you deliver valuable content at the right time, you nurture leads and drive conversions. When you have the right email marketing plugin for WooCommerce, you can create compelling, targeted, and automated WooCommerce email campaigns that can significantly enhance customer engagement and sales.
We have created this comprehensive guide of top WooCommerce email marketing plugins, their features, pricing plans, how to choose the best one for your store, and the best practices for WooCommerce emails.
Deliver the right content to customers and keep them engaged. Use automated email campaigns of Retainful to increase sales.
What are WooCommerce email marketing plugins?
WooCommerce email marketing plugins are software extensions or add-ons designed specifically for WooCommerce, a popular e-commerce platform for WordPress. These plugins enhance the email marketing capabilities of a WooCommerce-powered online store.
They offer a range of features, including automated email workflows, personalized product recommendations, abandoned cart recovery, and customer segmentation
WordPress email marketing plugins help build and maintain strong customer relationships, increase sales, and drive engagement by sending targeted and relevant emails to their audience.
Best WooCommerce Email Marketing Plugins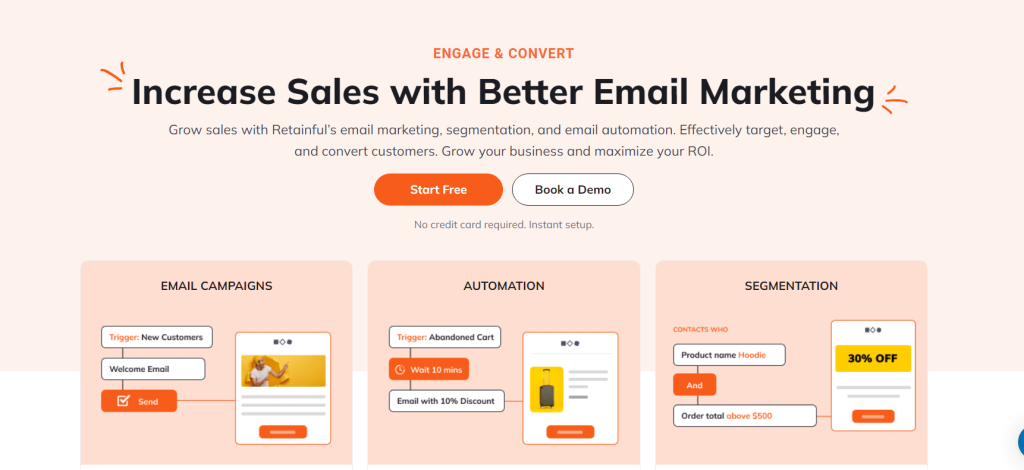 Retainful stands as a leading WooCommerce email marketing plugin with its intuitive and user-friendly features. It lets you craft compelling email campaigns that are aimed to engage and convert customers.
Retainful is mainly an abandoned cart recovery tool that helps recover lost sales. But it has got email campaign automation for each step in a customer's journey. This would keep the customers informed and engaged.
New WooCommerce store? No email list? The exit intent pop-up captures the visitor's email address.
Need to retain customers? Referral rewards both referrers and referees, building trust, a sense of belonging, and a feeling of appreciation.
Click here to read the easy installation process. 
Key Features
Abandoned cart recovery: Sends a series of personalized and automated abandoned cart emails to recover lost sales.
Dynamic coupons: Entice customers to finish shopping by sending abandoned cart emails with dynamic coupons.
Email segmentation: The segmentation feature divides your email list for personalized content, boosting open and engagement rates.
Email campaign automation: Customizable workflow and templates let you personalize and automate the email campaign.
Analytic dashboard: An extensive analytic dashboard helps optimize the campaign for the best results.
Help docs: The Retainful site has help docs that will help you sort out any technical issues. If the problem persists, you can always reach out to their responsive support team.
Pricing
Essential $9/month
Starter $19/month
Growth $49/month
Segment your email list with Retainful based on pre-built rules or your own rules to send personalized email campaigns to customers.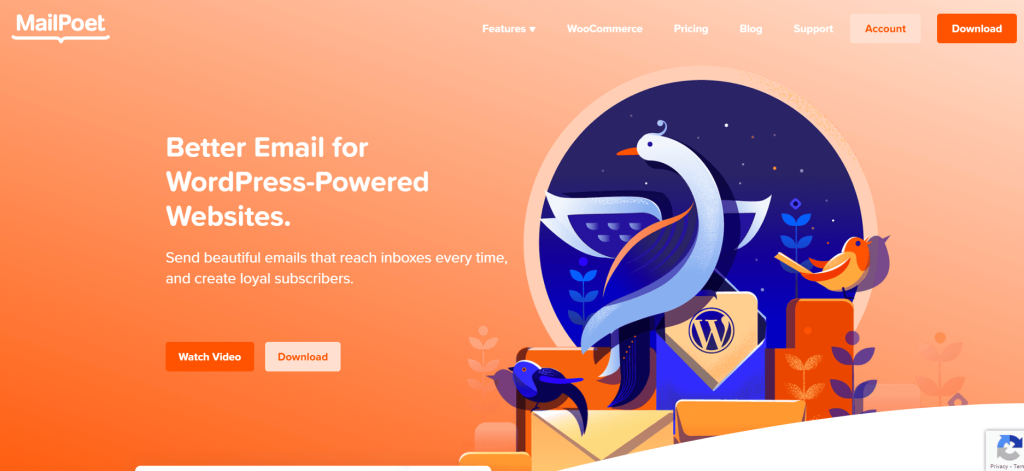 MailPoet is another WooCommerce marketing automation plugin that effortlessly syncs with your WooCommerce store. You can instantly automate product-related emails, abandoned cart reminders, and promotional campaigns.
The abandoned cart recovery feature lets you send timely emails to customers and recovers lost sales effortlessly.
Building your email list with this WordPress email marketing plugin will be a breeze with opt-in forms and popups.
Key Features
Seamless WooCommerce integration
Drag and drop email editor
Automated email campaigns
Segmentation
Analytics and Reporting
Opt-in forms and pop-ups
Key Features
Business $10/month
Agency $30/month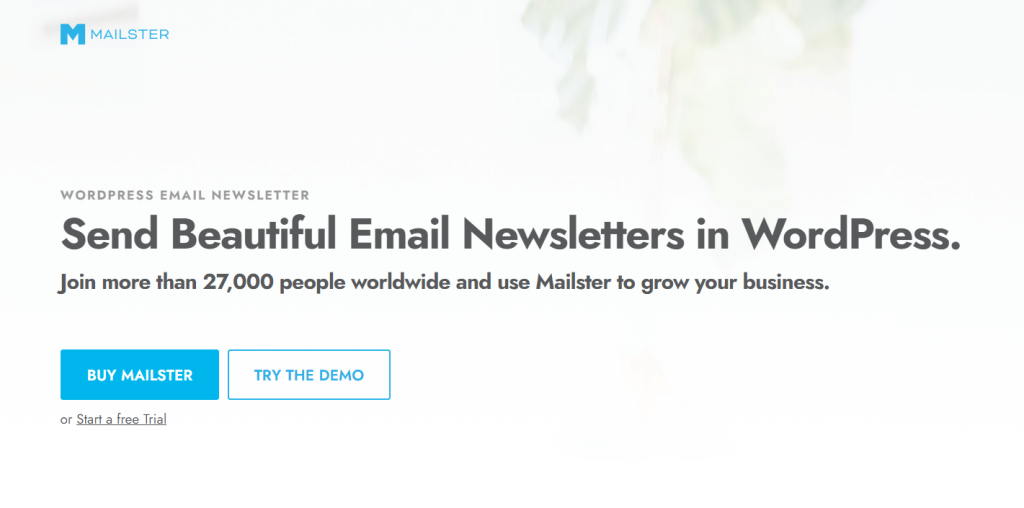 Mailster is a user-friendly WordPress email marketing plugin that claims to have the same interface as WordPress. This will make it easier for the users to find their way around the tool.
This plugin lets you send email campaigns based on the time zone of your customers. This ensures that your emails have the highest open and engagement rates.
This premium email marketing plugin comes with many integrations that include payment gateways to make it convenient for your customers, and it has affiliate software and podcasting applications for promoting your product. 
Key Features
Tons of templates
Time zone-based emails
Insights and analytics
Personalization
Segmentation
Welcome, Birthday, and follow-up emails
Drip campaigns
Pricing
Starter $49/month
Freelancer $99/month
Agency $299/month
Hubspot is a popular WooCommerce email marketing plugin that effortlessly integrates with WooCommere and syncs customer data and purchase history.
It has got segmentation and personalization, which automatically improves engagement rates. Creating emails is also a breeze with the drag-and-drop editor.
HubSpot allows A/B testing of email subject lines, content, and send times. This WooCommerce email marketing plugin is suitable for businesses of all sizes, offering plans that can grow as your business expands.
Key Features
Drag and drop email editor
A/B testing
Segmentation
Signup forms
Analytics
Pricing
Starter $18/month
Professional $800/month

Another popular WooCommerce email marketing plugin is Mailchimp, and it has email automation with segmentation and personalization.
The product re-targeting emails showcase products that the customers have shown interest in. This encourages the customers to make a purchase and increases overall conversion rates. The loyalty programs of this plugin and special offers foster brand loyalty.
Key Features
Responsive email templates
Seamless integration with WooCommerce
Automated email campaigns
Product re-targeting
A/B testing
Advanced analytics
Pricing
Premium $137.72/year
Standard $6.88/year
Essentials $4.61/year

Constant Contact is easily one of the best WooCommerce email marketing tools, as it has features to engage customers across different channels.
This WordPress email marketing plugin supports automated email sequences triggered by specific actions, such as new sign-ups or abandoned carts. This feature enables timely follow-ups and nurturing, ultimately boosting conversions.
You can easily share your email content on social media platforms directly from Constant Contact. This cross-channel promotion extends your campaign's reach and increases brand visibility.
Key Features
Segmentation
Customizable templates
Autoresponders and Drip Campaigns
Social Media Integration
A/B Testing
Analytics and Reporting
Pricing
Lite $12/month
Standard $35/month
Premium $80/month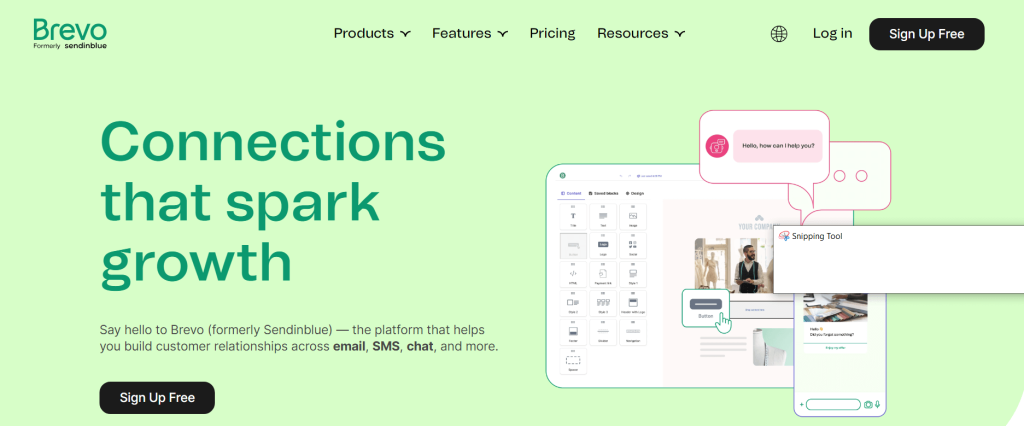 Brevo, formerly Sendinblue, is a WooCommerce email marketing plugin that has got features to enhance your marketing efforts.
The marketing automation has customizable triggers that send emails based on customer behavior. This helps to nurture leads, recover abandoned carts, and drive repeat purchases without constant manual intervention.
You can combine email campaigns with SMS marketing to reach customers through their preferred communication channels.
Key Features
Contact management
Segmentation
SMS marketing
Customer support
Sign up forms
Landing pages
Chatbot
Pricing
Starter $25/month
Business $65/month
How to choose the right WooCommerce email marketing plugin?
If you are a new WooCommerce store owner, it could be overwhelming for you to pick the right plugin. Here's a guideline to choose the best WooCommerce email marketing plugin.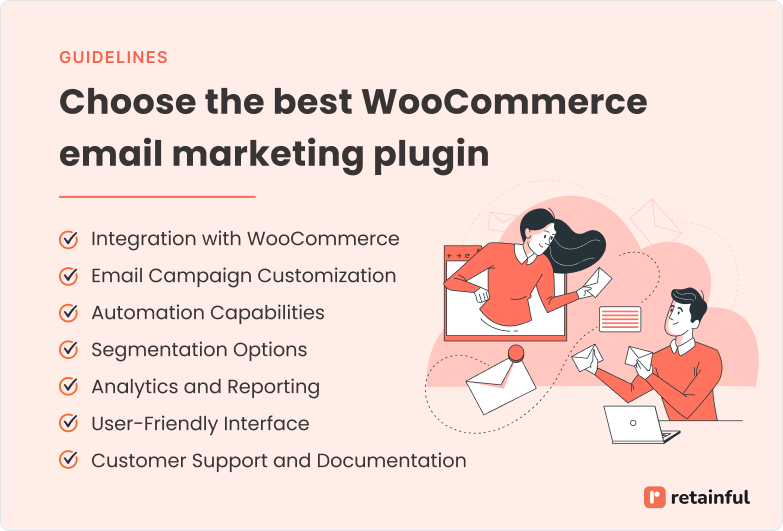 Integration with WooCommerce: The plugin should seamlessly integrate with the WooCommerce store.
Email Campaign Customization: Make sure the plugin has options to customize email templates and other design elements.
Automation Capabilities: The plugin must-have features to automate various email workflows, such as welcome series, abandoned cart recovery, and post-purchase follow-ups.
Segmentation Options: Advanced segmentation options based on user behavior, demographics, and purchase history.
Analytics and Reporting: Detailed analytics and reporting features that give insights into open rates, click-through rates, and conversion rates.
User-Friendly Interface: Users who don't have technical expertise should find it user-friendly.
Customer Support and Documentation: Look for plugins backed by responsive customer support teams and comprehensive documentation.
Track the performance of your automated email campaigns with Retainful to improve your strategy for the best results.
Conclusion
To sum it up, we've shared a bunch of smart ideas for making email marketing better and the best WooCommerce email. These ideas can help you connect with your customers and increase sales.
We talked about things like collecting email addresses, sending personalized messages, picking good times to send them, trying different things to see what works, and keeping an eye on how well your emails are doing.
If you're looking for a super helpful tool to make your WooCommerce emails even better, we suggest checking out Retainful. It's a helpful plugin that makes your emails awesome and works great with your WooCommerce store.
Read our guide on how to get more sales in WooCommerce and increase your sales and revenue.
Does WooCommerce send emails to customers?
Yes, WooCommerce can be configured to send emails to customers regarding Order Confirmation, Order processing, Order completed, Order refunded, Order on hold, Order failed, New account creation, Password reset, Shipping confirmation, and Product review requests.
Does WooCommerce have email?
Yes, WooCommerce has built-in email functionality to manage communication with customers throughout the purchasing process.
How do I send bulk emails in WooCommerce?
To send bulk emails in WooCommerce, you can use third-party plugins like "Retainful" and automate the emails by customizing the workflow based on the type of email. 
How do I get WordPress to automatically send emails?
You can set up automatic email notifications in WordPress by using plugins like "Retainful" to improve email deliverability.
What is the email automation tool for WordPress?
An email automation tool for WordPress is "Retainful," which allows you to create rules and triggers for sending targeted emails based on customer behavior and actions.