Email Subject Lines seem to be a breathtaking process these days. An email subject line gains its first impression in just seven seconds.
Can you believe it?
Getting high email open rates can be hard, but it is not impossible. By following the best working follow-up email subject lines for your eCommerce store, you can also increase your email open rates.
Let us discuss more of the 25 best follow-up email subject line examples.
Why is Email Subject Lines An Important Parameter for eCommerce?
Before getting into the examples, let us glance at the importance of email subject lines. We all know that email marketing has been booming for years. It has become an important part of marketing campaigns, as it lets you easily interact with your users.
So, how do you increase your email marketing conversion?
This is where the email subject lines get in. A great subject line will not only increase your email open rates but will also make the email interesting for the readers.
And your users will love it too!
How do you draft a perfect email subject line?
While drafting an email subject line, your ideas have to be fresh and innovative. Drafting a perfect email subject line has become a cakewalk for those who understand their audience and the market well.
In Addition, you can stick to the additional points enlisted here that might help you to come up with a perfect email subject line.
Your email subscribers want to skim through their mailbox as soon as possible. They do, in fact. Make sure your subject lines aren't shortened.
This year's trend is all about matching. Make sure the tone of your subject line matches your brand voice. Having a distinct style will help you stand out.
Keep in mind your target audience and campaign objectives. These will help you decide what information should be included in your topic line.
Personalizing your subject lines is usually a good idea. It's an open-rate-increasing method that works with a wide range of email marketing campaigns.
Do not forget to bookmark these tips. It might help you draft an amazing email subject line for your next email marketing campaign. Thank me later!
25 Best Follow-Up Email Subject Lines for E-Commerce
Every email subject line adds up a little creativity in it. Let us see how innovation and marketing go hand in hand.
Retargeting Email Subject Line
Every eCommerce store sends different sorts of emails to its users in a particular campaign. One of the effective emails is retargeting email. When you follow up with a particular user, it is always necessary to keep a friendly tone. You must remind them about your store and the purchase they might have made earlier in your store.
Let us take an example from Amazon. It is a retargeting email that I have got recently.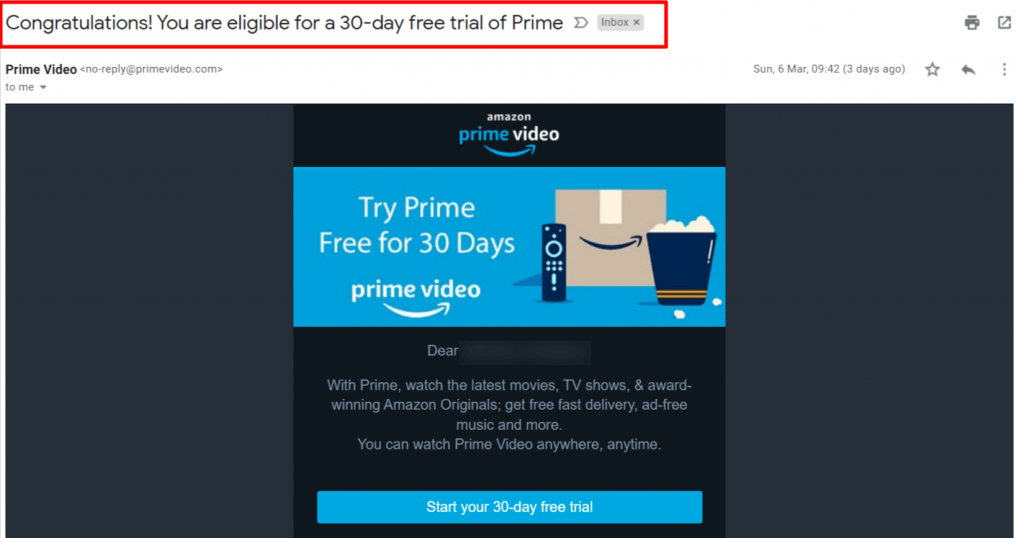 In this email, they have been using the triggering term "Free Trial". Though it doesn't have any attractive phrases, this subject line attracts me with its free trial concept. If your store provides any referral program or free trials, you can also curate an email similarly.
Coming to the next example, I would like to state "Myntra's Follow up email."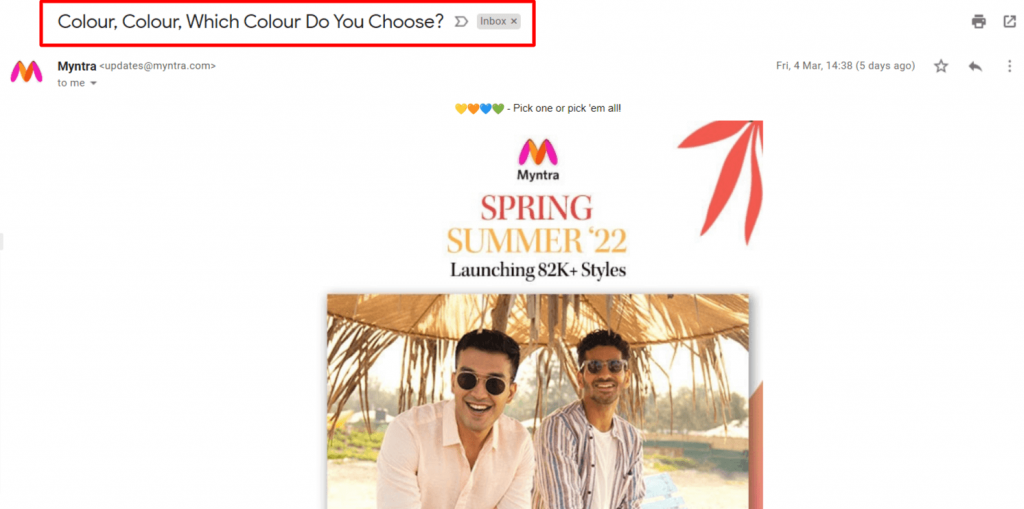 You might have heard the subject line in your childhood. Yes, they have mixed humor in their subject line to make their emails different from the rest of their competitors. This is how you can include humor in your email subject lines.
The third example I would definitely love to cite is from Wish. The email subject line gives a Wow expression to the reader. They have also added the price in the subject line itself. It again becomes a triggering factor here that directs the conversion rate.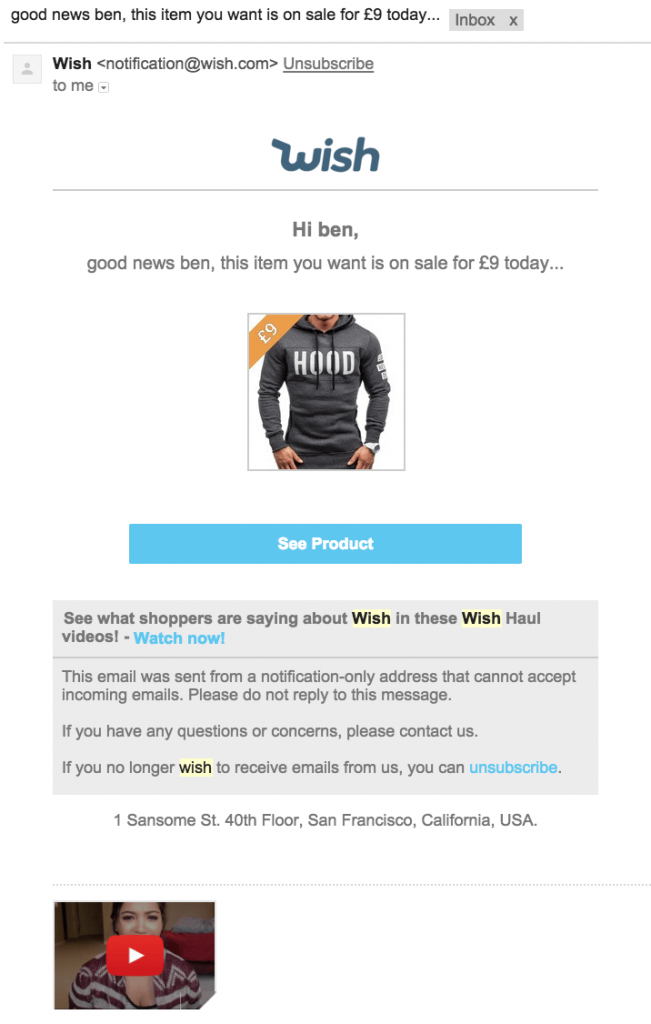 See how smart they are in email marketing. Consider these examples when you start retargeting your users.
Cold Follow Up Email Subject Line
Recently, cold emails have gotten a huge response rate from users. According to Writecream, the conversion rate of cold emails in 2021 is about 15.11 percent.
Let us have a look at the examples of cold follow-up email subject lines. In the first example from Amazon, they are asking for feedback for the previously purchased item through this cold follow-up email.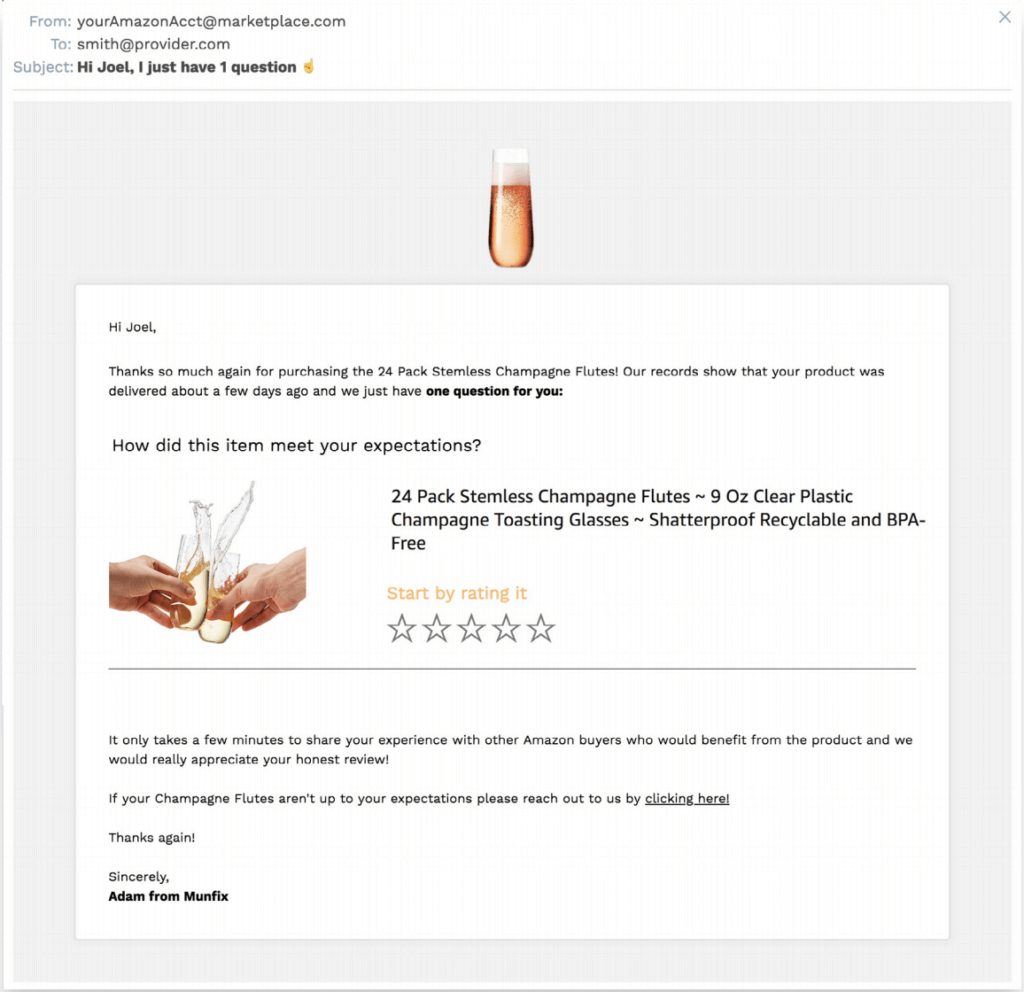 In this email, they have triggered the customer with their subject line itself. The reader might have opened the email with a non-specific subject line without any clue. So, I hope this email campaign might have won and earned a huge conversion!
Coming up next is the famous beauty brand Nyka. Recently, I have received an email from Nyka to promote its Women's day offer with a cute and pretty subject line.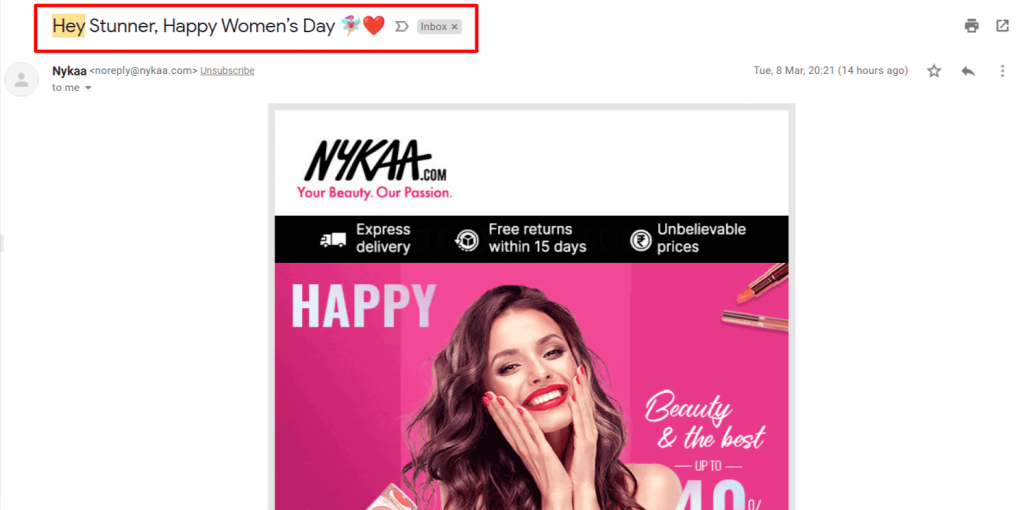 In this subject line, they are giving a praise touch to the users. It minimally invites half of the users to the website.
You can also carry out these email subject lines in your cold emails.
"It's great to finally meet you, [Prospect]!"
Let your prospect know you've seen their interest and are delighted to finally touch base, whether they downloaded a piece of material or visited your price page.
"Are you experiencing [insert emotion]? Allow me to assist you."
Take a look at what's going on in your prospect's industry right now. Targeting marketers in the weeks leading up to Black Friday? Try it out "Do you have a stressful situation? Allow me to assist you." Then explain how your product or service can help them.
Hey [First Name], Check out our offers here
You can use this subject line with a personalized touch. When your email is personalized, there are high chances of getting an increased open rate.
Lost your Mind? Here is the key!
You can use this subject line when the user is not interested in continuing the purchase. There may be many reasons behind it. You can provide them with discounts and other free delivery options to cheer them up.
With the help of these suggestions and examples, your cold email subject line would be stunning, I guess.
Abandoned Cart Email Subject Line
When your store encounters a high abandonment rate, then it is necessary to bring your users back to their purchase track. To make it come true, you need to implement an extraordinary email trick in your subject lines.
Let us get into the examples now. You can see an abandoned cart email with an attractive subject line from Kate Spade.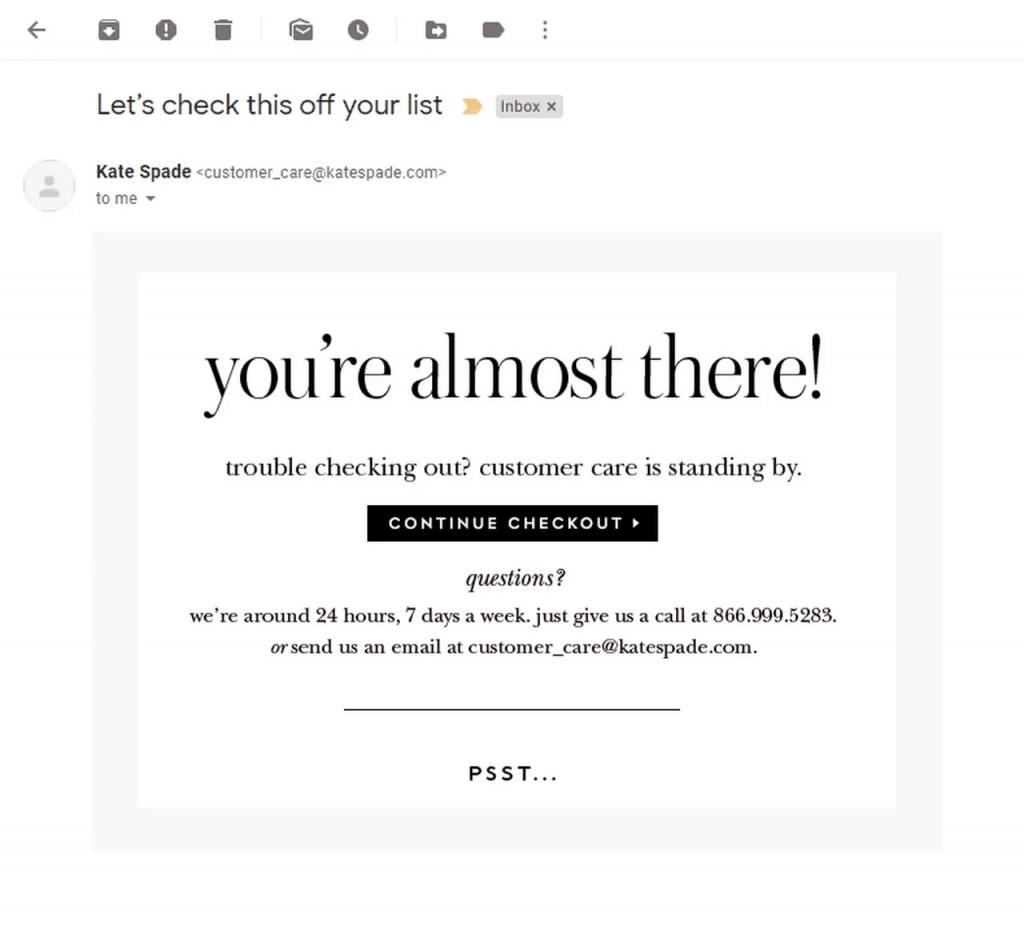 In this subject line, you can see that they are creating a sense of urgency in it. It creates a fear of missing out on the user. Hereby, you can improve your email's open rate with this subject line.
Added to this, here comes another subject line from The Mountain to create a sense of urgency among the users.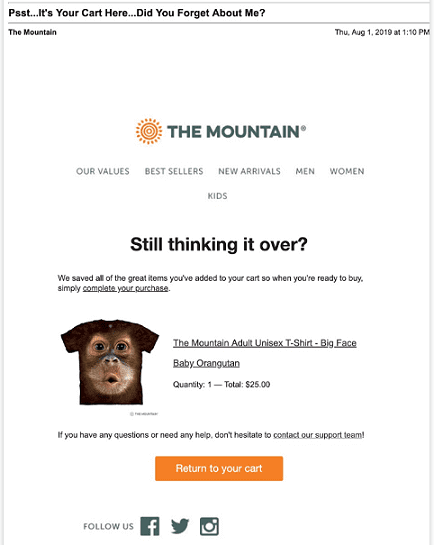 In this email, you can find a simple yet attractive subject line.
And another famous email subject line to recover abandoned carts is, "Do you miss me?, Did You Forget Me?" etc.
Knowing this well, here comes another email subject line example from Forever 21.

And here comes another attractive subject line from Target, stating the same abandoned cart statement to the user in a different way.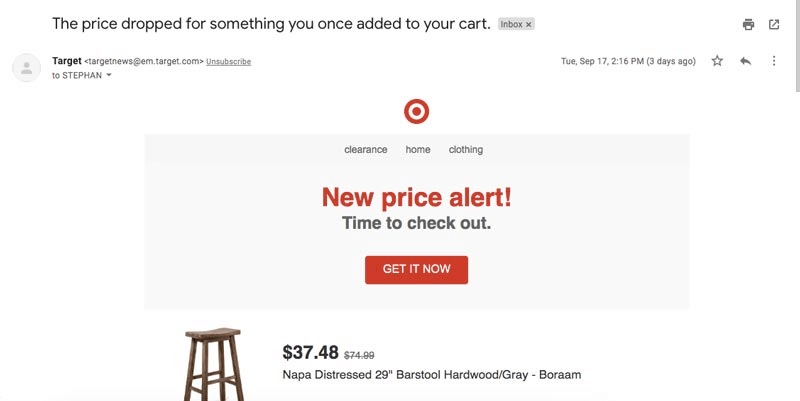 When you see this email, you might understand how well they have used the trigger in the subject.
Discount Reminder Email Subject Line
Reminding your users about the discounts and free shipping offers delights them. It also increases your email open rate.
Time to know how discount reminder emails work. Take a look at the email subject line of Thrive Market.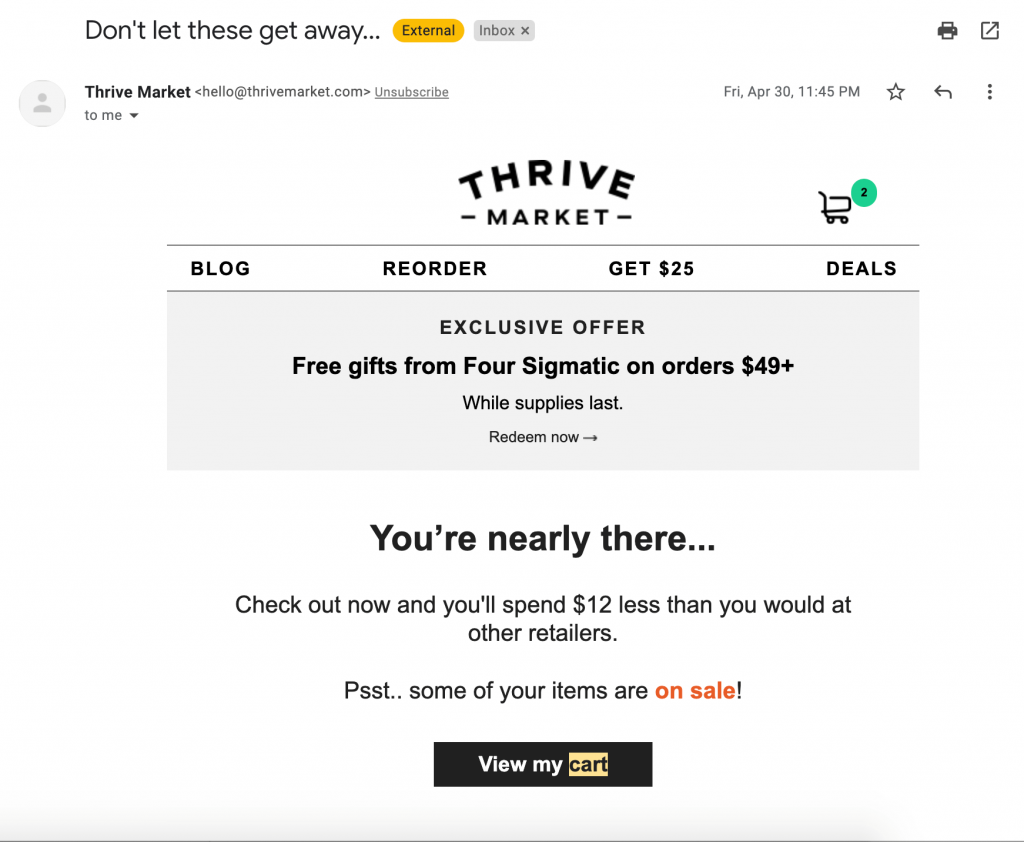 They are making it clear with the subject line that they are reminding the user about the discount on the products. An email that is simple and clear to the point always wins in the conversion rate.
The next email subject line example is from EyeBuyDirect.

The subject line itself resembles a clock ticking. Again, it creates the fear of missing out on the discount. These types of subject lines will surely help you gain your users and increase the purchase rate.
Here are the other discount email subject line examples.
All orders come with complimentary gift wrapping.
When it is a complimentary gift wrap, the users will move to the store in order to unlock the gift and see it. The eagerness to know the gift makes them move to the next step.
The same strategy goes for the enlisted subject lines too.
This is your last chance to save your hard-earned cash.
Tonight is the only night. You'll save $4 on your purchase.
Today is the last day. Choose your top six favorites.
It'll be over in 26 hours. Shopping at a 25% discount
No Response Follow Up Email Subject Line
When a user has not replied to your past emails, there are only a few changes that they will respond to your last hope. So, instead of going with the same flow you have done previously, try something new and triggering.
It would definitely shake them up and bring you conversion.
Consider this example from Bonusprint.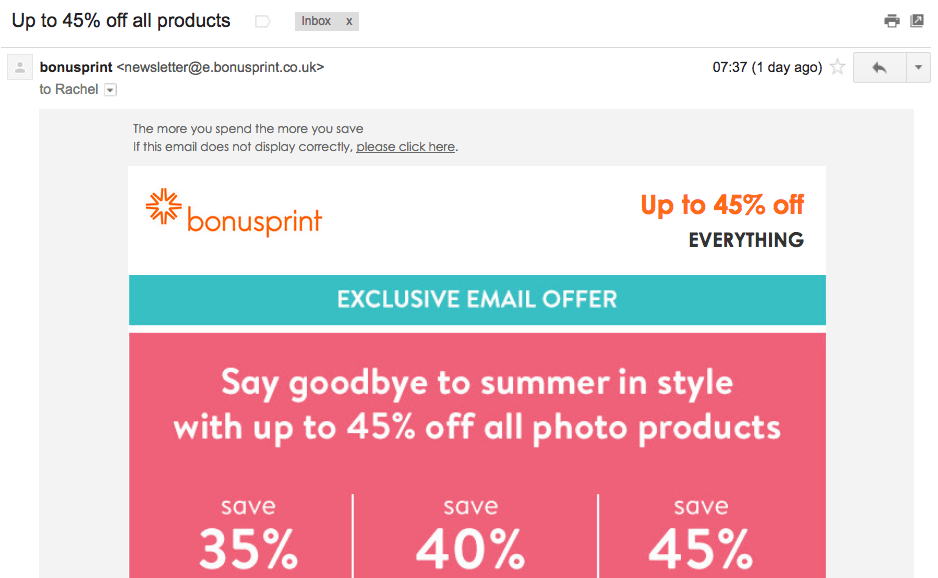 As an email marketing strategy, they are providing discounts to the user to make them respond to their email. In return, the users might engage in shopping with the store.
Next, after your engagement emails, if your user is left unresponded, then here comes the trick led by Bonobos.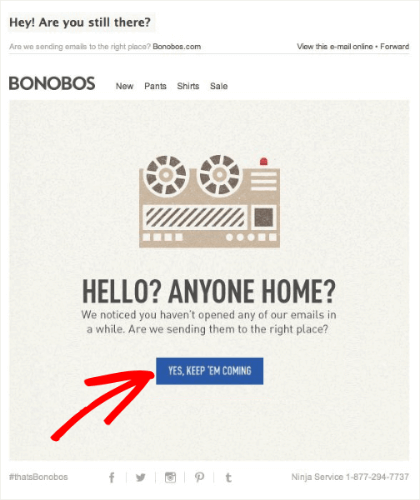 When you see this email, you might understand how well the subject line blends with the email subject.
Your email subject line has to summarize the content of your email. This is how you can gradually increase your email open rate through attractive subject lines.
Let us discuss the other examples of No response follow-up email subject line.
"The next steps for us"
Use this subject line to follow up on initial contact or to re-engage a dormant prospect.
"To get started, you have X possibilities."
In the body text, include a few bullet points on how to start your relationship (a content offer, a phone call, a current customer upgrade opportunity, etc.), and you're set to go.
"You are not alone."
Using this subject line, you can convey the pain points of the user during their purchase. And bring a solution in the email that might help you in conversion.
Wrapping Up
Drafting a creative and triggering email subject line is not easy. But, you can make it possible by citing some eCommerce giants' references. I hope the examples discussed here might pave the way for your upcoming email marketing campaign. Happy Conversions!