WooCommerce marketing automation is just what you need to stay connected with your audience. When you send timely automated WooCommerce emails, you easily build customer relationships, increase engagement, and boost conversions.
According to a Snov.io study, 59% of marketers consider emails more effective in generating leads compared to channels like PPC and paid social media.
Keeping your customers engaged from the beginning is crucial when you run an online store. From automating welcome emails for introducing your brand to sending Thank you for purchasing emails, you can't send them all manually. This is where WooCommerce marketing automation comes into play.
This blog will guide you through the importance of automation, types of WooCommerce email automation, the best eCommerce Marketing Automation tools, and how to automate.
Engage customers in every step of the customer journey by automating WooCommerce emails with Retainful.
What is WooCommerce email automation?
WooCommerce email automation sends timely emails without any manual effort to customers based on their actions and behaviors in your store. You can create and schedule WooCommerce automated emails to be triggered based on specific conditions.
WooCommerce marketing automation engages customers at the right time and helps recover abandoned carts boosting sales and revenue. Ultimately, these emails enhance the overall shopping experience of the customer.
Is there a default WooCommerce automation feature?
Yes, of course, there is a default WooCommerce automation feature. It lets you send various types of WooCommerce automated emails, including New Account, Order Confirmation, Failed/Canceled Orders, Order Details, Refunded Order, and Reset Password emails.
So what's the catch here? Limited options to customize. Not customizing email triggers causes sending unwanted emails to customers automatically. The regular WooCommerce marketing automation can lead to spam issues because emails come directly from your server.
The best way to handle this is by investing in WooCommerce email automation plugins.
Best WooCommerce email automation Plugins
Retainful – best plugin for WooCommerce email automation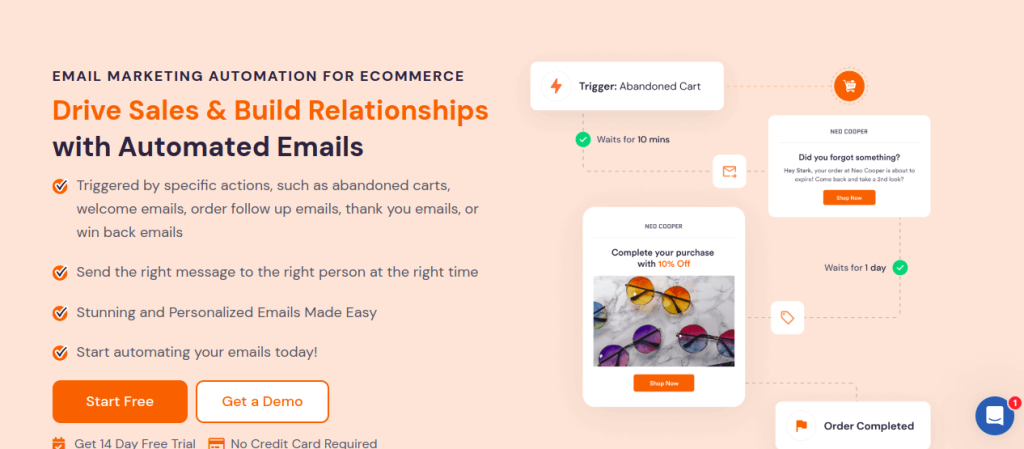 Retainful is the best WooCommerce marketing automation tool you need if you want to send email campaigns the easiest way. You can easily automate email campaigns for each step of the customer journey. Ready-made email templates and a simple drag-and-drop builder help create customized WooCommerce emails that engage customers.
The plugin creates special coupon codes for abandoned cart emails, encouraging customers to complete their purchases. This level of WooCommerce marketing automation ensures that your emails are timely and personalized for each customer.
Features of Retainful extend to creating a referral program to retain and acquire customers in one shot.
If you don't have email addresses for new or guest users, the Exit Intent popup can help.
Key Features
Email marketing automation
Customizable templates
Static List and Dynamic segments
Abandoned cart recovery
Welcome and Thank you emails
Winback emails
Order follow-up emails
Next order coupons
Referrals
Reporting and Analytics
Pricing
Free version available
Starter $19/month
Growth $49/month
Professional $199/month
Increase engagement and conversion rate by automating WooCommerce emails using Retainful.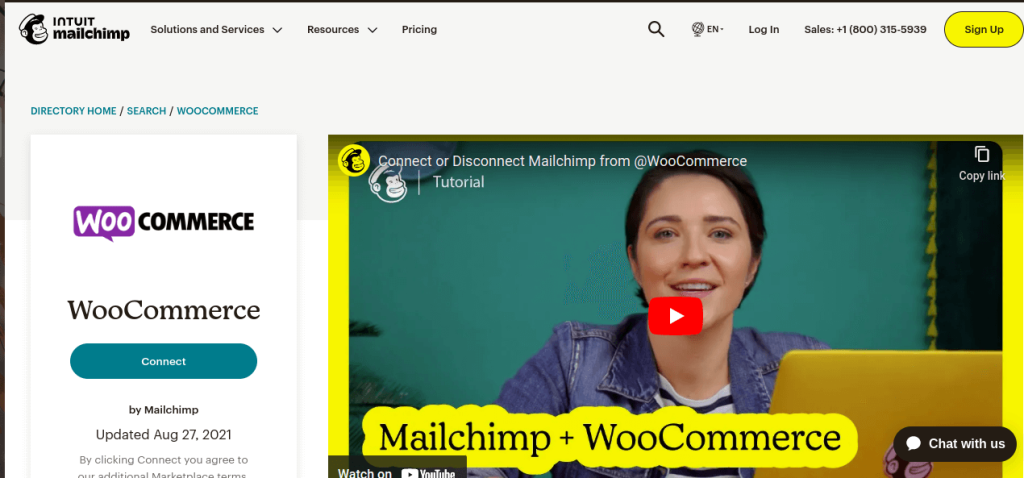 Mailchimp for WooCommerce marketing automation has a built-in CRM, making engaging customers much easier. Automation is available for all eCommerce business updates.
The segmentation lets you manage your email list effortlessly and keeps the WooCommerce email campaigns targeted. When it comes to designing attractive emails, its pre-built email templates and drag-and-drop email builder have got it covered.
The analytical report of Mailchimp gives insights into how well your campaign is performing and what needs improving.
Key Features
WooCommerce email marketing automation
Product recommendation
Segmentation
Easy-to-use email editor
A/B Testing
Pricing
Free version with basic features available
Standard $6.95/year
Essentials $4.65/year
Premium $138.94/year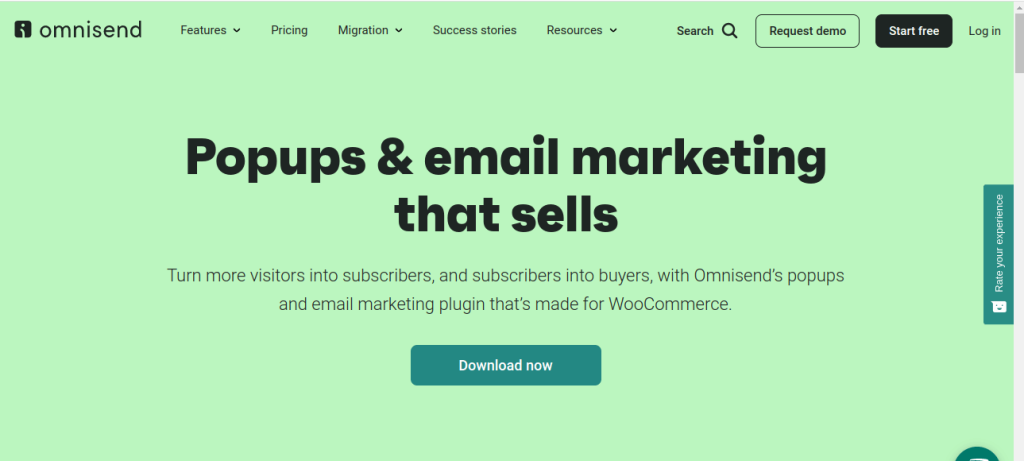 Omnisend is another WooCommerce emails plugin that lets you automate emails and SMS. Creating attractive WooCommerce automated emails is going to be a breeze with pre-built templates.
The segmentation feature lets you segment the email list and personalize the emails, ultimately increasing the open rate. The automation workflow ensures the emails reach the right customers at the right time.
If you don't have an email list, the landing pages and pop-ups can gather email addresses from new users. Omnisend also lets you send upsell messages and coupons to keep the customers engaged.
Key Features
WooCommerce marketing automation
Customizable templates
Popups and forms
Segmentation
Reports and analytics
A/B testing
Coupons and upsells
Pricing
Free version available
Standard $16/month
Pro $59/month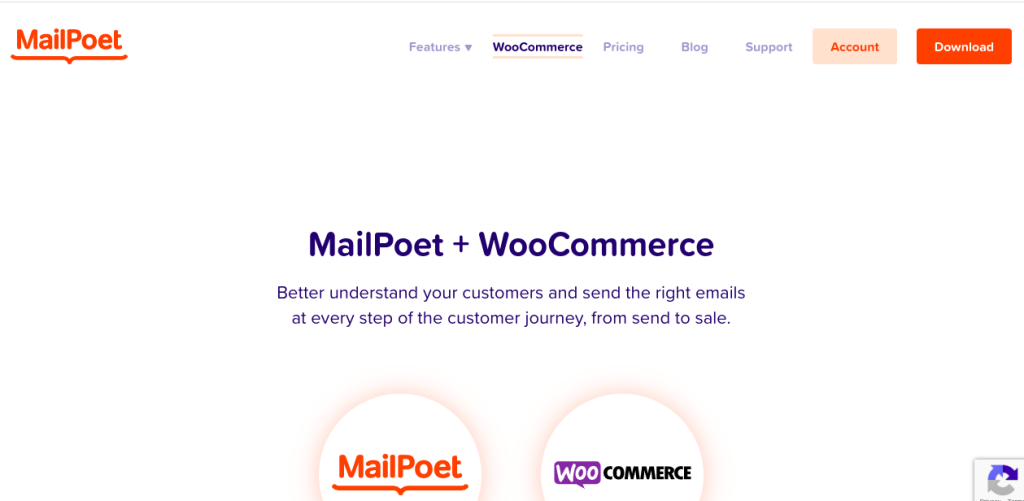 MailPoet is another WooCommerce email marketing automation plugin that lets you customize emails based on segmentation. For example, you can segment your email list based on the purchase history and make the email more personalized.
The pre-built templates and drag-and-drop editor help make the automated WooCommerce email more attractive and personalized. This email marketing automation plugin lets you send welcome emails, post-purchase emails, or product-specific emails.
The plugin lets you use Mailpoet's sending service as the mail server to avoid spam markings for your emails.
Key Features
Welcome emails
Abandoned cart emails
Product-specific post-purchase emails
Customization with drag & drop editor
Segmentation
Pricing
Free for 1,000 subscribers
Business $9/month
Agency $26/month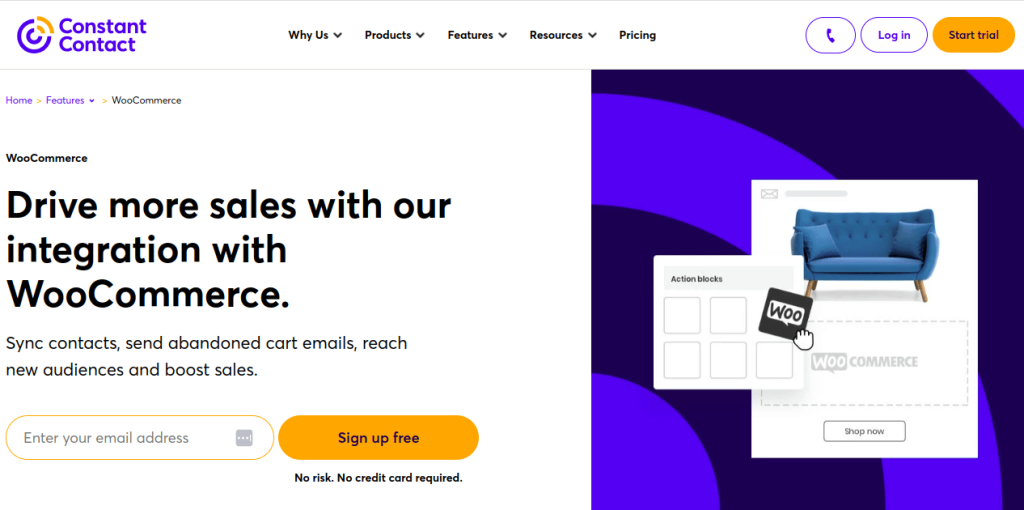 If you need a WooCommerce email automation plugin to engage your audience on various channels, Constant Contact is the right choice. You can integrate the plugin with social media platforms to reach more customers.
You can easily segment your email list and automate email marketing for WooCommerce. The best part about using Constant Contact is that you can resend emails to customers who haven't opened your emails.
Key Features
Sign-up forms and landing pages.
Integration with social media
Drag and drop editor
Segmentation
Report and analytics
Types of Email Automation in WooCommerce
Abandoned cart recovery emails
Abandoned cart recovery emails go to customers who left their shopping carts without buying. These WooCommerce automated emails remind customers about their abandoned items, enticing them to return to the website and complete the transaction.
Thank You Emails with Next Order Coupons
Upon completing a purchase, customers receive thank-you emails, including next-order coupons. These emails express gratitude for their purchase and often include a coupon or discount for their next order, encouraging repeat business.
Order Follow-up Emails
When customers place an order, they receive order follow-up emails. These emails inquire about their satisfaction with the purchase and overall shopping experience. This allows businesses to gather feedback and address any potential issues.
Winback Emails/Customer Re-engagement Emails
Winback emails, also known as customer re-engagement emails, target inactive or lapsed customers. These emails aim to rekindle interest in the brand and encourage customers to return and make a purchase again. Winback emails frequently include incentives such as next-order coupons.
Welcome Emails/First Purchase Emails
Welcome emails, or first purchase emails, are automated emails sent to new customers after their first order. These emails offer a warm welcome, provide essential information about the brand, and may include a special discount.
Product-Specific Follow-Up Emails/Product Recommendation Emails
Product-specific follow-up emails, or product recommendation emails, are based on customer's past purchase behaviors. These emails suggest related or complementary products to increase cross-selling and enhance the customer's shopping experience.
How to send WooCommerce automated emails?
Installing Retainful Plugin & activating it
Go to your WordPress dashboard → Plugins → Add new
Search for the 'Retainful' plugin.
Click "Install Now" to install the WooCommerce marketing automation plugin
Activate the plugin

That's it!
Let's now Connect your WooCommerce store with Retainful Dashboard using the API Keys.
Connecting your store with Retainful API
After installation, you should connect your WooCommerce store with Retainful to start tracking and recovering carts.
Step 1: Get the API Keys
Login to your Retainful Dashboard (If you do not have an account, Signup for Free)
Go to Settings -> General
Copy your App ID and Secret Key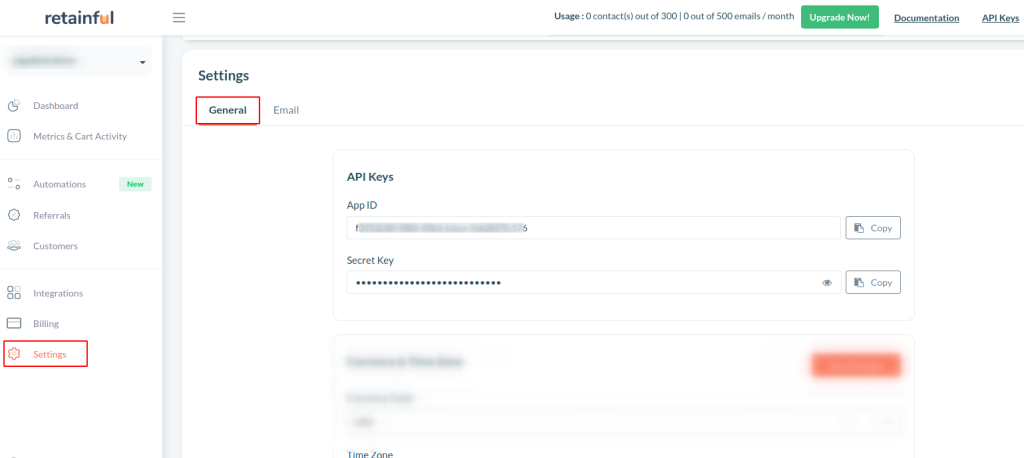 Step 2: Connect your store
Go to WordPress Dashboard → Retainful
Under the Connection tab, enter the keys in the respective field.
Click "Connect"
You'll see a successful message once the connection is established.
You can now track and recover abandoned carts from your store.
The default settings in the Retainful plugin are sufficient for 99% of the stores. No adjustments will be required. You can use them as is.
Updating the plugin
Updating the Retainful plugin for WooCommerce is easy as well.
Please go to your WordPress dashboard -> Plugins
Find the Retainful Plugin and click on the "Update Now" link.
Here is a screenshot:

Creating an WooCommerce automated email campaign
1. Login to your Retainful dashboard
2. Go to 'Automation' -> Create Workflow -> Choose the type of email automation from the list.

3. Give a name to your workflow and click continue.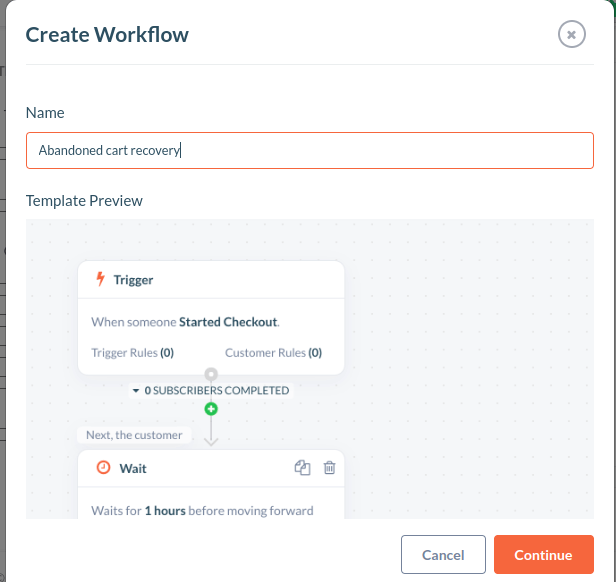 4. Trigger – You can find the 'Trigger' at the top of the workflow. The trigger lets you determine when a customer can enter the workflow.
5. If you want to set up any custom trigger or customer rule for the workflow, you can set it up on the right side.
6. Wait – The 'Wait' block allows you to set up a time delay before the customer moves forward in the workflow.
7. The Entry Rule lets you restrict customers from entering the automation workflows if they have previously entered the workflow. This will help you prevent customers from entering the same workflow simultaneously within a short time.
Click on 'Trigger' to find the trigger settings on the right side.
Click on Entry Rule -> Add Rules
Select 'Skip if the customer entered the workflow' -> In the last
After adding the Entry Rule, click on the 'Save Rule' button to add the Entry Rule to the workflow.
8. The wait condition can be set to 10 minutes, so you can have the automated email to be sent 10 minutes after a customer has made a successful purchase.
Best practices for WooCommerce email automation
Choosing the right time
Timing is crucial when it comes to sending WooCommerce automated emails. Consider your audience's time zone and habits if you want to maximize the impact of your WooCommerce marketing automation efforts.
To make it easier, run A/B tests to determine which time leads to higher open and engagement rates. Always be cautious not to bombard customers with excessive emails. Maintain a balanced schedule to avoid overwhelming or annoying your customers.
Personalization
WooCommerce automated emails always include personalization.
If you want to have a meaningful relationship with your customers, personalization is the only way. Make use of customer data to personalize the emails. E.g., Addressing the recipients by name and recommending products based on past purchases.
When you tailor the content based on their preferences, demographics, and behavior, you make your customers feel valued and understood. This easily enhances engagement and fosters brand loyalty.
Clear CTA (Call-to-Action)
A clear and compelling Call-to-Action (CTA) in WooCommerce marketing automation drives conversions effortlessly. Ensure your CTAs are visually attractive, clear, and strategically placed within the email content.
Use action-oriented phrases to make customers take the desired action. It could be anything, such as purchasing, signing up for a newsletter, or exploring your website. A well-crafted CTA will significantly improve your click-through rates.
A/B Testing
Use A/B testing to experiment with different email elements, such as subject lines, visuals, CTAs, and content layouts. This helps you to identify what resonates best with your audience.
A/B testing helps you refine your WooCommerce marketing automation strategies and keep up with evolving customer preferences. These data-driven decisions will ultimately lead to higher engagement and conversion rates.
Provide value
Customers will only engage with your emails if they think your WooCommerce automated emails are valuable. You can offer exclusive promotions, discounts, or limited-time offers to reward loyal customers.
Share valuable content, such as informative blog posts, industry insights, or relevant tips. This easily establishes your brand as a trusted source of information.
Maintaining consistency in sharing valuable content in your emails easily increases customer satisfaction and the chances of repeat purchases.
Mobile Optimization
The likelihood of customers opening your emails on a mobile phone is very high. According to a stat by Hubspot, Smartphone users prefer to receive brand communications through emails.
Ensure your WooCommerce email template is responsive and adapts to different screen sizes. Keep the content concise and easy to read. Avoid lengthy paragraphs or tiny fonts that can be challenging to read on smaller screens.
Check your emails on different devices and email clients. This ensures a smooth experience for all recipients, regardless of their chosen platform. Mobile optimization is essential for engaging on-the-go customers and maximizing email reach.
Avoiding Common Pitfalls in WooCommerce Email Automation
Overcoming Deliverability Issues
Maintaining a clean and updated email list by removing inactive users is crucial for WooCommerce marketing automation. Avoid using spam-triggering words in your content and subject lines.
Engage with your audience consistently; higher engagement levels positively influence deliverability rates. Monitor deliverability metrics and use reputable email service providers to ensure your emails land in your customers' inboxes.
Preventing Spam Traps and Bounces
Spam traps and email bounces can negatively impact your WooCommerce marketing automation efforts. To prevent spam traps, practice list hygiene by promptly removing hard bounces and inactive email addresses. Segment your lists and use confirmed opt-in methods to prevent spam trap hits.
Regularly monitor and analyze bounce rates to identify potential issues with your email list quality. Implementing double opt-ins and using reputable email verification tools can help minimize bounces and improve your sender's reputation.
Best Practices for Unsubscribes and Opt-outs
To maintain a positive brand image, make sure to include a clear and accessible unsubscribe link in your emails. This helps you comply with anti-spam regulations and respect users' preferences.
Promptly process unsubscribe requests to avoid potential complaints or negative feedback. Use preference centers, allowing users to customize your emails' frequency and content, giving them more control over their subscriptions.
Personalize WooCommerce automated emails with attractive templates and maintain customer relationships with Retainful.
Conclusion
You must have marketing automation in your WooCommerce store if you want to see growth. Reach out to the customers at the right time with emails and provide them value. It is the only way to maintain a healthy relationship and keep them engaged.
Start with a clean email list, get the right plugin, automate the workflow, and engage your customers. All of the above-mentioned plugins have free trials. Just ensure the plugin has all the functionality your store needs.
You can use our guide, Abandoned Cart Email Strategy for 2023. This will help ensure that your customers open and read your emails.
How do I automate emails in WooCommerce?
To automate emails in WooCommerce, you can use plugins like Retainful. Install and set up the automated workflow to start sending WooCommerce emails.
Can WooCommerce send emails?
Yes, WooCommerce can send emails for a few events like new account creation, order confirmation, and failed orders.
How do I collect emails in WooCommerce?
You can collect emails in WooCommerce by using sign-up forms, pop-ups, or integrating email marketing plugins to capture customer information.
How do I send emails to customers in WooCommerce?
To send emails to customers in WooCommerce, use the default email features or plugins to create and schedule automated emails.
Does WooCommerce send order emails?
Yes, WooCommerce automatically sends order-related emails, such as order confirmation, shipment details, and order status updates, to customers.