As a Shopify store owner, one of the most frustrating things can be when a customer adds items to their cart but fails to complete the purchase. Shopify abandoned carts are a common problem for Shopify merchants, but luckily, there are ways to recover lost sales. One of the most effective ways is through a Shopify abandoned cart email series.
In the US, the estimated value of abandoned carts last year was around $260 billion, as per Statista. Timing is key when it comes to recovering abandoned carts on Shopify. In this guide, we'll explore the importance of timing in your abandoned cart email series and provide some tips on how to perfect it.
By optimizing your timing strategy, you can turn abandoned carts into sales and increase your revenue.
Boost your sales and recover lost revenue today. Sign up for Retainful and perfect your Shopify abandoned cart email series now!
What is an abandoned cart?
Abandoned carts are online shopping carts that are filled with items or products by consumers but are not checked out. These abandoned carts negatively impact the store's revenue.
This can happen for various reasons from a complicated checkout process, preferred payment option not being available, slow page loading and poor UI/UX. One of the best ways to recover these abandoned carts is by using abandoned cart emails.
What is a Shopify abandoned cart email?
Shopify abandoned cart emails are sent to the customers who have abandoned their carts to make them finish the purchase. Shopify abandoned cart email includes a personalized reminder of the items in the abandoned cart, along with a clear call-to-action to make the customer return to the store and complete their purchase.
The average cart recovery rate for Shopify merchants is around 12%. These emails may offer discounts or free shipping to attract customers to complete their orders. Shopify abandoned cart email is the best strategy to help businesses increase revenue and build customer loyalty.
What are the reasons for online cart abandonment?
There are various cart abandonment reasons why customers abandon checkout vary depending on their industry or niche market. Therefore, it is crucial to monitor and analyze data to pinpoint where customers exit the checkout process and gain insight into the possible causes.
Expecting discounts, free shipping, gifts, add-ons, coupons
Thinking about buying it later
Interested in similar products
An error in the website or payment gateway
Security concerns related to payment and data
Hassle in return
Forgetting what they wanted to buy
Giving your customers surprises like offers and coupons can also help you get better results.
Now let's figure out how to make the abandoned cart recovery app more attractive so that more people will click on them and you can make more money.
How many Shopify abandoned cart emails should I send?
Don't just send one email when you want your customers to finish their purchase. Instead, send a series of 3 to 5 emails over time to remind them to finish the purchase.
However, you don't want to send too many emails and bother your customers. It's important to find the right balance so that you can encourage your customers to complete their purchases without annoying them.
Best apps for Shopify abandoned cart recovery
There are lots of apps in the Shopify App Store that can help you with abandoned carts, but it can be hard to pick the right one for your store. That's why we're going to tell you about some of the best apps for Shopify abandoned carts.
Retainful

Retainful is a powerful email marketing automation app for Shopify stores that can help you get back your lost sales. It has easy-to-use features which help you set up abandoned cart email campaigns and send Shopify abandoned cart emails to customers to finish the purchase. It encourages customers to finish their purchase by sending reminders and offering dynamic coupons, personalized offers and free shipping.
Features:
Pre-built workflows: Prebuilt workflows are set based on customers' actions or triggers automatically and remove manual setting up. In ecommerce stores, they can be very useful in saving time, increasing customer engagement, optimizing email campaigns, etc,
Follow-up Emails: Generally, referrals as post-purchase emails, and order follow-up emails are generally sent once a customer completes a successful purchase. They engage with customers after purchase to drive repeated purchases, receive customer reviews, build customer trust, increase engagement and many more.
Welcome Emails: Welcome emails are the first emails sent to customers once they have completed their first purchase in your store. Welcome email campaigns act as the first bridge in building relationships between customers and store owners. An introductory message along with a casual Hi are the general contents of it.
Next order Coupons: Incentives given to customers in the form of promotional codes or vouchers are referred as next order coupons. These coupons are used to encourage customers to drive repeated purchases, increase customer retention and increase customer loyalty. These can be in the form of free shipping, discount codes, or fixed amount.
Omnisend

Omnisend app for Shopify stores can help you get back lost sales from abandoned carts. It has lots of features that can automatically send Shopify abandoned cart emails, text messages, and other notifications to customers who abandoned their cart. It's easy to use and understand, so you can create abandoned cart email campaigns and see how they work.
Omnisend has pre-made workflows that you can use, and it can send Shopify abandoned cart emails to customers at the best time for them based on where they live.
Adoric

Adoric helps store owners increase sales by reducing the number of customers who abandon their carts. It has lots of features that make it easy to create personalized Shopify abandoned cart email templates that are special for each customer who left something in their cart.
Adoric has a tool called a visual editor that's really easy to use. You can use it to create emails with words, pictures, and even videos. Adoric can also help you create automatic pop-up messages that show up on a customer's screen. These pop-ups can help you get customers to come back and finish their purchase.
PushOwl

PushOwl helps Shopify store owners recover lost sales from customers who abandon carts without purchasing. It sends personalized notifications to these customers as push notifications, encouraging them to return to the website and finish their purchases.
The app is easy to use with a simple interface, and you can customize the content of your notifications, schedule them for optimal times, and track their performance.
Best time to send Shopify abandoned cart recovery email
When people are shopping online and leave without buying anything, sometimes the store sends them emails to remind them to come back and finish their purchase. This is called a "cart recovery email strategy."
The reason why cart recovery emails stand out is that these emails are sent to bring back the lost sales. The number of emails sent to recover a cart plays an important role here. Now the question is "how many abandoned cart emails should I send?"
Well, we did some research and found that the best number of emails to send is three. Ensuring that you stick to the best time to send Shopify abandoned cart email series will increase email open rate resulting in increasing revenue.
First Email
The first email is sent an hour after the cart abandonment and this is a subtle reminder. Remind your customers about the items that are in their abandoned cart.
Example
Subject: Don't Forget Your Items – Reminder About Your Abandoned Cart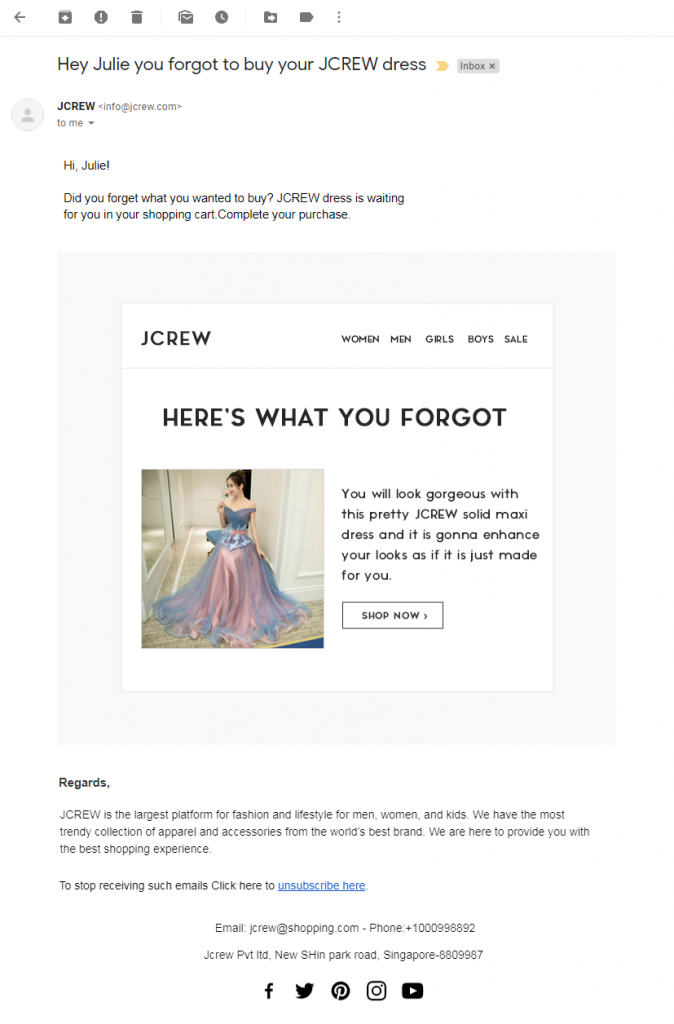 Don't miss out on recovering lost sales. Try Retainful's abandoned cart email series and time your emails just right. Watch your revenue grow.
Second Email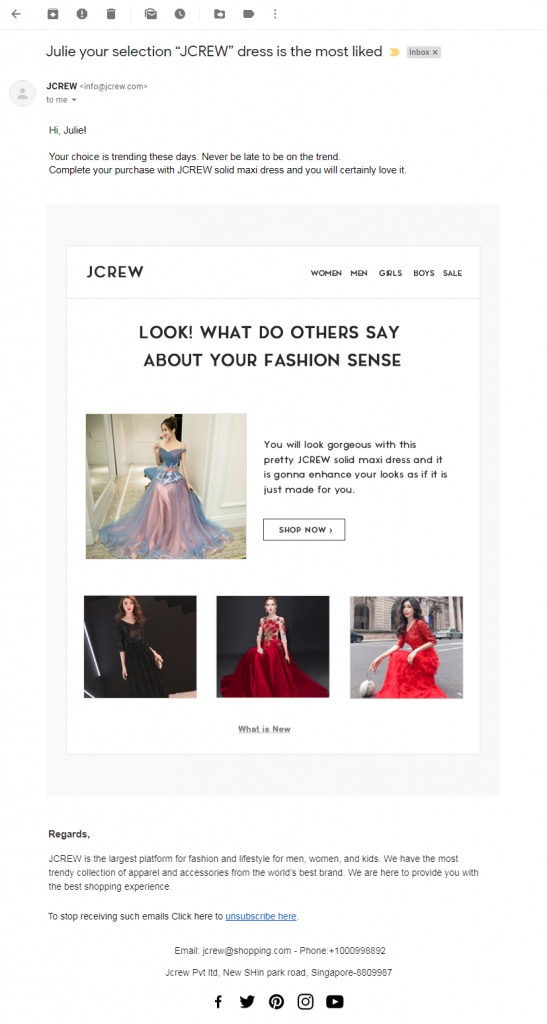 Send the second email 24 hours after cart abandonment has happened and throw in an enticing personalized discount that your customer cannot resist.
Example
Subject: Last Chance to Get Your Items Before They're Gone!
Third Email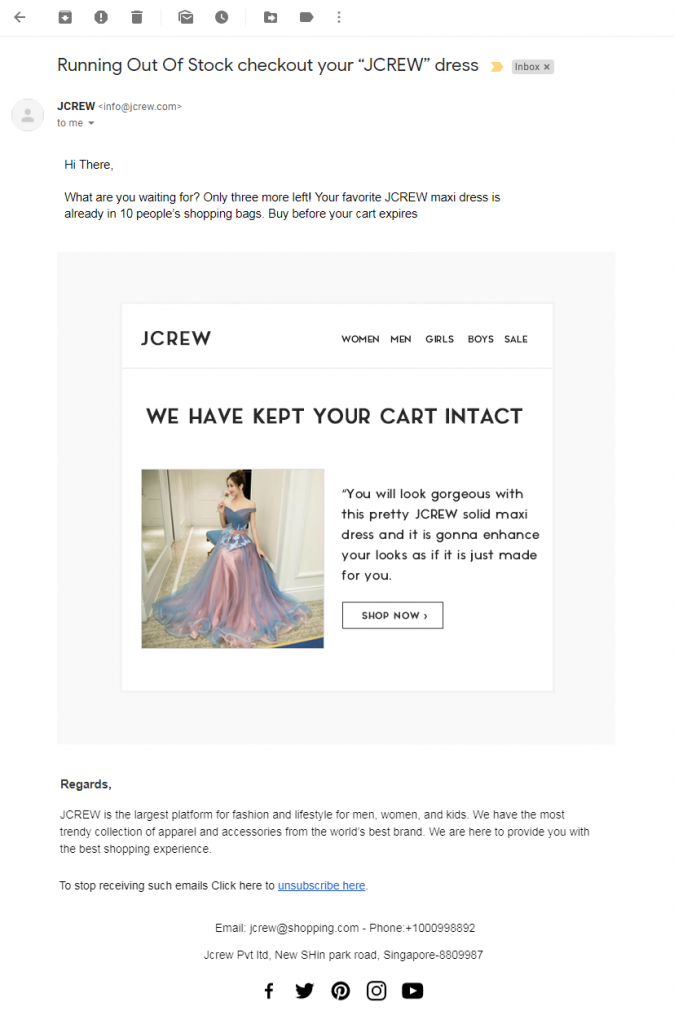 The third email is sent three days after the cart abandonment and this is the email where you create a sense of urgency by adding a timer or an expiration date for the coupon you sent in the second email.
Subject: Last Chance – Your Cart is About to Expire!
Note: You can adjust the discount amount/percentage and timeframes according to your preferences. Also, ensure that your email series is spread out with enough time between each email to avoid overwhelming your customers with too many emails.
Importance of timing in abandoned cart recovery emails
According to a survey by SaleCycle, the best time to send abandoned cart recovery emails is within 1 hour of the cart being abandoned, with an average conversion rate of 20.3%.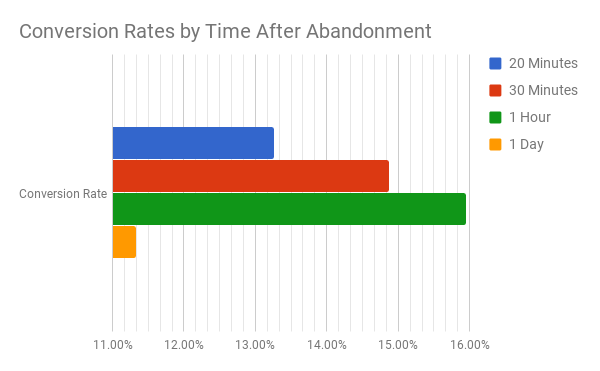 Stats prove that about 16% of abandoned carts were recovered with a Shopify abandoned cart email that was sent an hour after cart abandonment and sending a reminder email after a day has recovered 11% of abandoned carts. Turns out that the 60-minute window seems to work better.
Tips for writing abandoned cart recovery email
Abandoned cart recovery emails are an effective way to bring back customers who have left their online shopping carts without completing their purchases. By crafting well-written and thoughtful recovery emails, you can encourage customers to return to their carts and complete their purchases. However, it can be challenging to create an email that is persuasive.
Catchy Subject Line
The subject line is what stands between you and your customer. It is the first thing a customer would notice. Keep it short. Bonus points if you can tweak it a bit to match your brand.
Example: Your cart misses you! Complete your purchase and get 10% off.
Personalize the email
Personalizing the email and using their name at the beginning of the email is a great start to grab their attention. You could go a step further and add images of the products that they abandoned in the cart.
Example
Body: Hi [Name], We noticed you left [item names] in your cart. Is there anything we can do to help you complete your purchase? We know you have a busy schedule, so we want to make your shopping experience as easy as possible. If you have any questions or concerns, please don't hesitate to reach out to us. We'd love to help you get what you need!
A clear Call to Action
The main goal of Shopify abandoned cart email campaign is to make the customers finish their purchases. Add a clear checkout button to take them directly to the checkout page. There are plenty of abandoned cart email templates available in Retainful for placing a clear call to action.
Example: Click here to complete your purchase now.
Create a sense of urgency
Creating a sense of urgency is a good idea when done subtly. Be sure to add a coupon with an expiration date. Use phrases like "soon to be out of stock.
Example:
Last chance to save your cart
Offer ends by midnight
Limited time offer.
Offer incentives
Including a dynamic coupon is almost always the amount of push a customer needs. Offering coupon codes and free shipping is always a crowd-pleaser.
Example
"Don't let your cart go to waste. Use code COMEBACK20 for 20% off your entire order."
Social proof
Using social proof builds credibility. Attach a few of the best reviews your shop has got and it will encourage potential customers to get back to the store and finish the purchase.
Example
See what our customers are saying: "This is the best product I've ever purchased!' Don't miss out on your chance to try it for yourself."
Offer assistance
Sometimes customers abandon carts because of a technical issue. They could be confused or uncertain of what to do next. Sending a timely email can help them finish the purchase.
Example
Subject line: Need help with your cart items?
Body: Hi there, we noticed that you left some items in your cart. If you have any questions or need help with your purchase, our customer service team is always here to assist you. Just reply to this email, and we'll be happy to help!
Product image
Adding an attractive product image works like a charm. Product images can help create a more personalized and engaging customer experience. Including an image of the product the customer left in their cart shows that you understand their interests and are invested in their shopping experience. By using high-quality images that highlight the product's unique features, you can help convince the customer to take another look and potentially complete their purchase.
Ready to recover abandoned carts like a pro? Sign up for Retainful today and see the results for yourself!
Wrapping up
In conclusion, a high cart abandonment rate can result in lost sales for Shopify stores, but fortunately, Shopify abandoned cart recovery email apps can help recover some of that revenue.
The key is to send a series of 3-5 emails that are well-timed and crafted with the right words and pictures to entice customers to complete their purchases. It's also essential to strike a balance between reminding customers and not bothering them with too many emails.
There are many Shopify abandoned cart recovery apps available, but Retainful offers the best features that can help send personalized emails, create campaigns, and even offer incentives to customers to complete their purchases, ultimately resulting in increased sales and revenue for the store.
How many abandoned cart email should I send?
Sending three emails is the best practice. Send the first email an hour after cart abandonment, the second a day later and the third three days later has proved to recover more carts.
Do abandoned cart emails really work?
Yes, abandoned cart emails do work. As per SaleCycle, almost half of the abandoned cart emails are opened, and more than a third of the clicks result in customers returning to the site to make a purchase.
What is the difference between abandoned cart emails and abandoned checkout?
Abandoned cart emails are sent to customers who have added items to their cart but have not completed the checkout process. Abandoned checkout means when a customer has started a checkout process but has not completed it.
How do I stop cart abandonment on Shopify?
While there is no permanent fix to stop cart abandonment on Shopify, you can try these general solutions to reduce cart abandonment. A user-friendly checkout process, encouraging customers to create an account by providing incentives, engaging with customers who leave their shopping carts behind, offering multiple payment options to shoppers and providing free shipping for a better shopping experience.
Why is shopping cart abandonment a problem?
Shopping cart abandonment is a problem because it makes you lose revenue. It simply means loss of customers and sales.
Does shopify have abandoned cart recovery?
You can recoverer abandoned carts in Shopify using Shopify abandoned cart email apps. They let you send personalized, timely emails that entice customers to return and finish the purchase.