Email automation is a powerful tool that can help eCommerce stores boost sales, increase customer engagement, and improve customer retention. By automating your email marketing, you can send targeted messages to your subscribers at the right time, based on their behavior. This can help you nurture leads, drive sales, and build relationships with your customers.
Email automation is the process of sending emails to your subscribers automatically, based on certain triggers. For example, you could set up an automated email to be sent to When a subscriber takes a certain action, such as signing up for your list or abandoning their shopping cart, the software will trigger an email to be sent.
The software platform will also track your subscribers engagement with your emails. This information can be used to improve your email automation workflows and ensure that you are sending the right messages to the right people at the right time.
In this blog post, we will discuss what email automation is, how it works, and the benefits it can offer eCommerce stores. We will also provide some tips on how to get started with email automation.
Automate your email campaigns, recover abandoned carts, and drive more sales effortlessly with Retainful.
What is Email Automation?
Email automation is a process that allows you to send targeted and personalized emails to your customers at the right time, without having to manually send them. This can save you time and resources, and it can also help you build stronger relationships with your customers.
For example, you could use email automation to send welcome emails to new subscribers, abandoned cart emails to customers who have left items in their shopping cart, product recommendations to customers based on their past purchases, birthday or anniversary emails to customers, or follow-up emails after a customer has contacted your support team.
Email automation can be a powerful tool for businesses of all sizes. By using email automation, you can stay top-of-mind with your customers, promote your products and services, and drive sales.

Benefits of Email Automation
Deliver a personalized customer experience
Customers love it when you engage with them on a personal level. Content that is relevant and tailored to the needs of modern customers simply captivates them.
Reports say that sending segmented, personalized, tailored emails generates 58% of all revenue.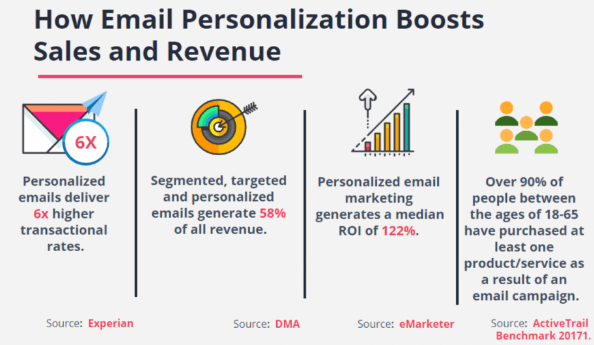 Delivering a personalized customer experience can be an impossible task without the help of Email marketing automation.
An email marketing automation plugin can collect your customer's data like their total spend, purchase history and more. It can also track their purchase behaviour & various ways they engage with your store.
With this curated data, you can segment your customers into various audiences. Once segmented, you can automatically deliver a unique email experience based on their interactions.
For example, You can ask for feedback if a customer purchased a specific product. Or send a personalized email welcoming the customer on first purchase & delight them.
Now imagine doing it manually; how many customers can you remember & reach out at the right time?
Reach the customers at the right time
The primary benefit of Email marketing automation is that you can send the emails at the right time.
Does it matter?
Oh yes, it does.
Why do you think your emails are not converting? Are your email open rates low? Does your email end up in spam?
Why do you think this happens? Even if you write a compelling email copy, it won't matter if you mess up the timing.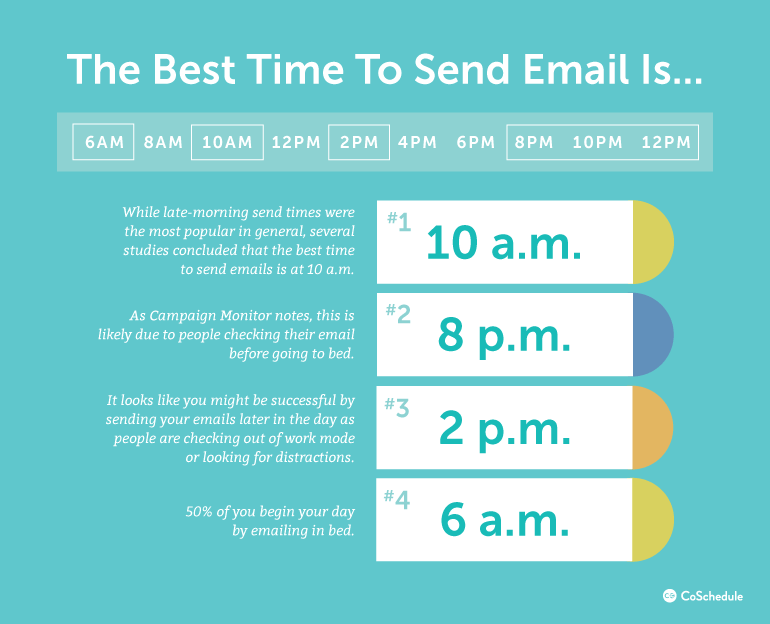 You need to nail your email schedule. You've to send them at a time convenient to the customer & not you.
Not just the timing, but even the days play a crucial role in email conversion.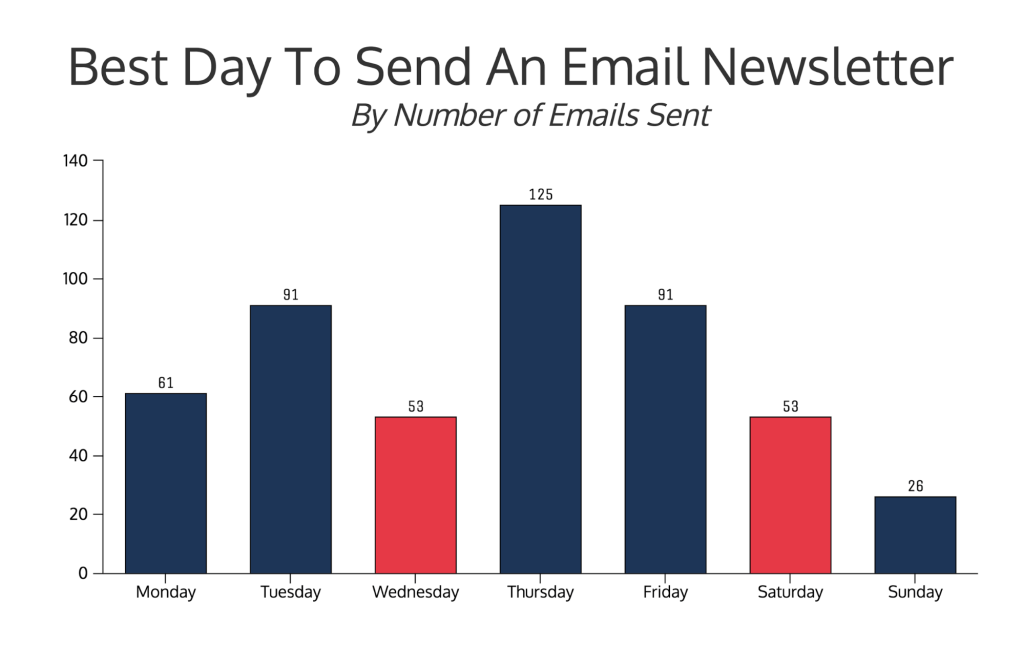 So, now you know why your emails aren't converting enough?
The day and time play a major role, but you shouldn't forget the timezone too. Automating your emails can come in handy here.
You cannot manually trigger the email at the right time across a different time zone. Use an automation plugin, set a trigger at the right time, and let the tool automatically send emails at the specified time.
Maximize productivity
It takes a lot of effort for marketers to segment customers and sends emails manually. Email automation can eliminate all of these, reducing the workload of marketers and increasing their productivity.
Imagine the time your marketers can save by using an automation tool to segment customers & sending emails.
As we said before, email marketing is a repetitive process, and marketers will be spending their valuable time doing the same thing. By automating the email process, they can use this time to focus on other important tasks.
Boost customer retention rate
It is well-known that selling to existing customers is easier than to new ones.
Inactive customers aren't lost; you must re-ignite their spark to purchase again. And what better way is there than sending a win-back email.
Create an automated win-back email campaign. If the customer goes inactive for a certain period, a win-back email will automatically be sent with a discount to bring them back to your store.
Refresh the bond with your customers with automated win-back emails & retain them.
Better ROI
As we said in the beginning, Email marketing has the highest ROI of all marketing channels. 4200% ROI is not a joke. Now imagine the impact Email automation can have on this. It's just going to get better.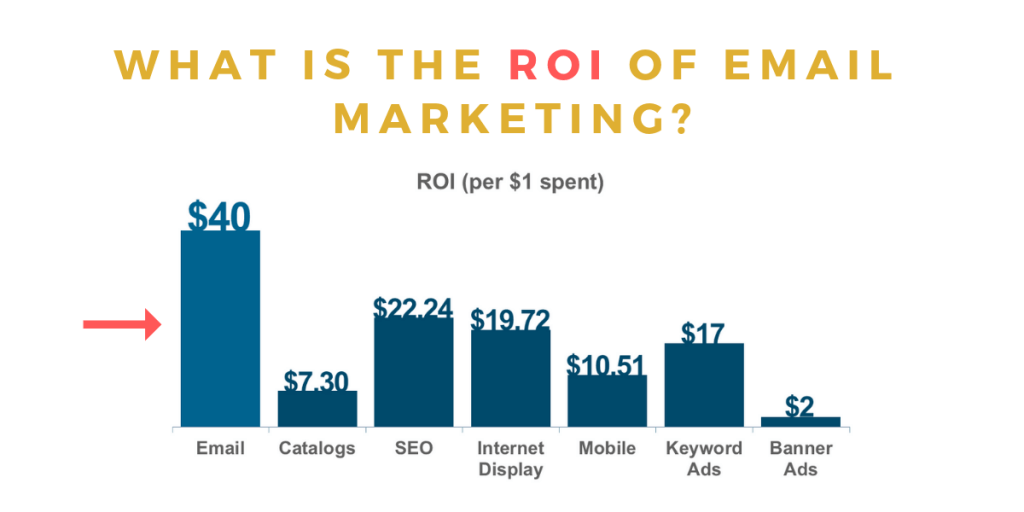 Reaching the customers at the right time with the right messages by investing minimal effort will positively impact your revenue.
Scale your campaign
We saved the best for the last; just imagine the resources you've to deplete to send emails manually. Remember, the volume of your customers is far bigger than your team.
Email marketing automation is the solution for this. You don't have to worry about limited resources, as one tool can work wonders for your marketing campaign.
You don't need a marketer to send an email whenever a customer abandons his carts or completes a purchase. Your automation tool will do that for you.

Likewise, customers will automatically be added to the relevant audience when they meet the right conditions.
Email automation minimizes your workload, increases productivity and lets you scale your business easily.
Send personalized emails, recover abandoned carts, and boost customer engagement. Level up your email automation game with Retainful.
How can Email Automation help your eCommerce business?
When done the right way, email automation can help you increase the average order value, drive repeat purchases, and retain and build a lasting relationship with your customers.
Automated emails
Sending emails is a repetitive process & doing it manually can be tedious. This is where email marketing automation can be a great help.
Automation enables you to reach customers that would otherwise be inaccessible.
For example, if a customer is from a different time zone, it would be hard for the marketer to engage with them at the right time. It'll impact your marketer and the email conversion.
With email automation, Marketers can set the trigger for the right time, and the emails will be sent automatically.
Well, that's one-way email automation can help your business, but wait, there's more.
Increases sales and revenue
One major sale-stopper for eCommerce stores is cart abandonment. You cannot predict it, and it is tough to stop it from happening.
Thanks to Email automation, you can recover abandoned carts quickly by sending a series of automated cart recovery emails.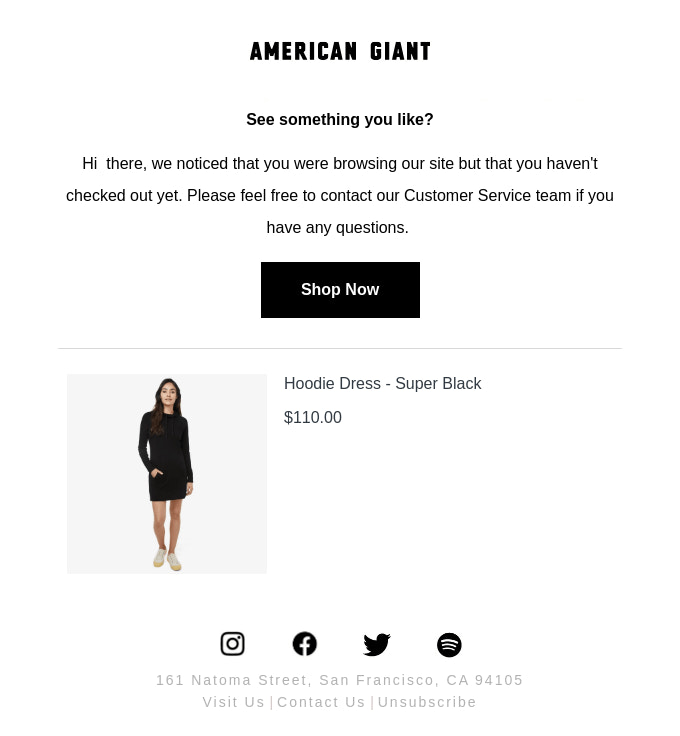 Why should we recover Abandoned carts?
Abandoned carts are not empty; they hold a potential sale in them. Recovering it will help you convert lost carts into sales.
But sending just one cart recovery will not help you much. You need to send multiple emails at suitable intervals & convince customers to return. To do that, you need email automation.
Not just cart recovery emails, you can automatically send order follow up emails, thank you emails, welcome emails, & win back emails. These emails will increase customer engagement & sales.
Saves your time
Saving time is one of the major reasons why you need Email automation.
Your customer base is vast – segmenting them, writing an email & sending it to your customers will cost you a lot of time and effort.
Automated email campaigns allow you to segment customers easily, use email templates & send emails automatically without having to devote much time to it.
Rather than spending your time on repetitive tasks, auto-pilot your emails and concentrate on valuable activities.
Maintains your competitive edge
The ecommerce market is competitive; you need to keep your engagement going & retain customers or else they might move on from your store.
Email automation can help you retain customers through continuous engagement. Automation is the key to staying ahead in the competition. But remember, automating your marketing won't bring you results if you don't do it the right way.
Email Marketing Automation Strategies
If you're just starting, these are the aspects you must focus on.
Right email marketing automation tool
You need the right tool to run an effective email marketing automation campaign. Or you'll keep blaming the game if you don't pick the right one.
The tool must have all the necessary features like Automated emails, pre-built templates & workflows, discounts, an email editor, a customer journey builder & more.
Automating your emails increases engagement & loyalty, so don't settle for a cheaper tool.
Are you wondering what makes a good email marketing automation tool? We've discussed the factors in the last section of this email automation guide.
Drip campaigns
Drip campaigns are the crucial element of email automation. In simple terms, a Drip campaign is where you send a series of emails to customers at specified intervals.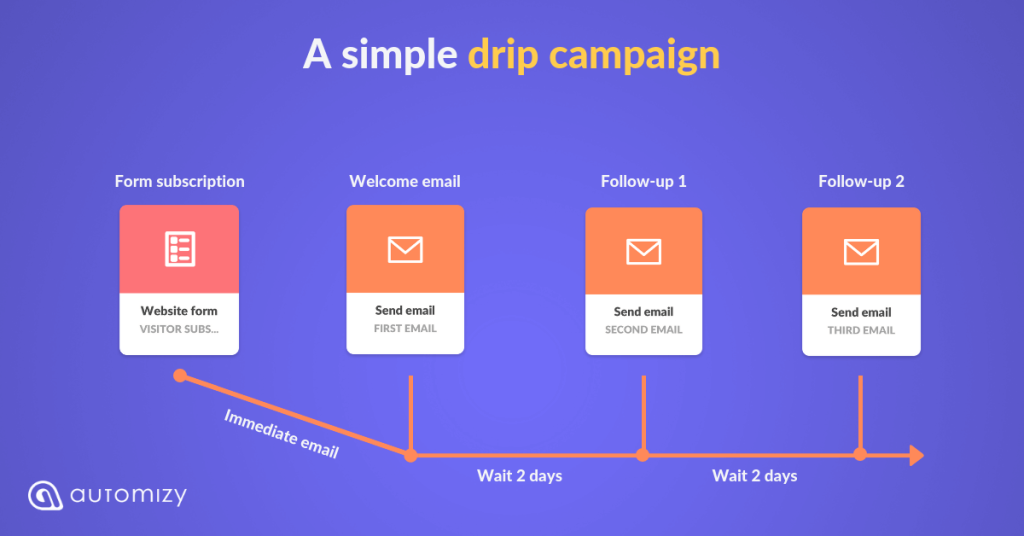 Sending an email series is an effective way to keep the engagement going with the customers. You can nurture a loyal relationship with customers using drip campaigns, and that's why you need it to make your campaign effective.
Discounts
Discounts bring a lot of benefits to your store. It increases sales, loyalty, Word of mouth & more. Offering discounts is a smart way to make your email marketing automation effective.
Send automated win-back emails with a discount to re-ignite your customer's passion and make them purchase from your store again.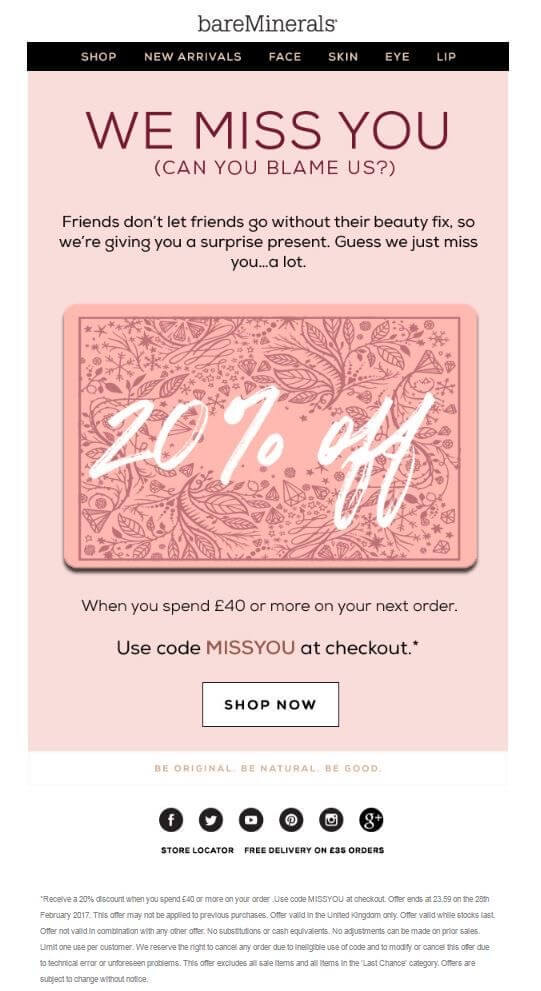 Likewise, you can also send a Next order coupon via Thank you emails. This will show them that you care about their presence at your store & encourage them to return.
Write the best emails
Emails are certainly vital, aren't they?
If you nail all the other aspects and write a poor email copy, all your effort will go in vain.
Don't do that. Write a compelling email copy. Your email must persuade customers & encourage them to take action. Remember, only a well-written email will increase conversions.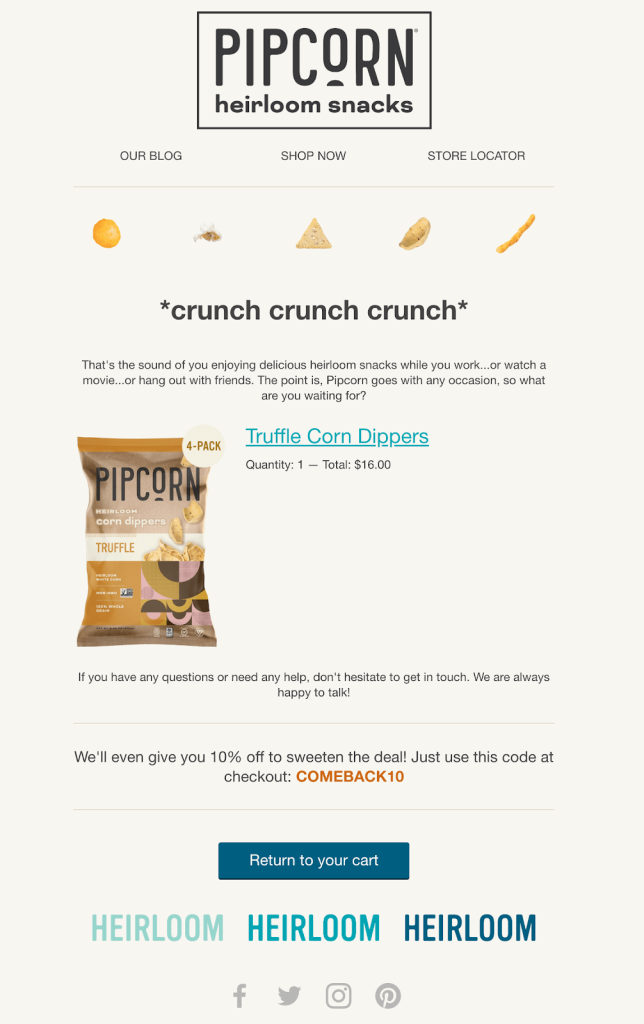 Pipcorn has nailed their email copy. It's funny, the tone is direct, and they've finished it with a discount.
Here are a few tips for writing a compelling email copy,
Keep it concise
Highlight the objective
Personalise it wherever necessary
Use an actionable tone
Include discounts
Use these tips & write the best email copy to make your email automation effective.
Nail your CTAs
A good email copy will encourage customers to convert, but it is the call-to-action that actually converts them. That's why you must write the perfect CTA.
Wordstream reported that emails with a single CTA button increased the click-through rates by 371% and sales by 1617%.
So, don't forget to add a compelling CTA in your email before sending them out. Here are some tips,
Use strong action words
Use lesser than 4 words
Create urgency
Color must match your brand
The button must be vibrant and attractive
Use these tips when you write your CTA next time and get maximum conversion.
How to make email automation work?
You saw the benefits and the best campaigns; now, how do you make it work?
Automation tool – First things first, get an email marketing automation tool that suits your requirement.
Segment email list – Group your customers into individual audiences to send the right emails to the right customers.
Write emails – Start creating your emails. Follow the tips mentioned above to write a persuasive copy.
Build a campaign – Use pre-built workflow templates to build an automation campaign.
Set trigger – Set the right time to send emails. Arm the triggers & concentrate on your work.
Launch campaign – Once you configured your campaign. Launch it and engage with your customers automatically.
Is it that simple?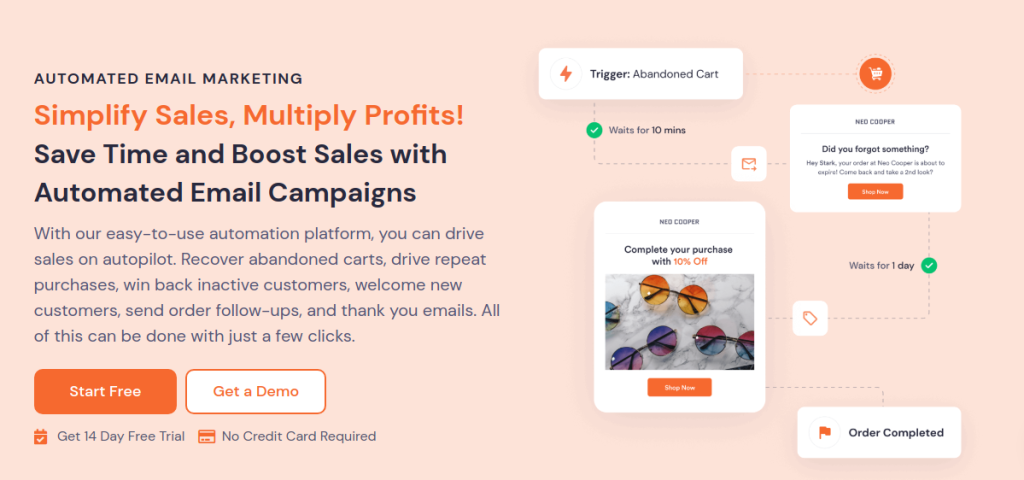 Yes, with Retainful, it is this simple. You can launch your campaign within minutes and grow your sales.
Best Email marketing automation campaigns and examples
We discussed the benefits of Email automation & how it can help your eCommerce store. Now, let's look at some of the best email marketing automation campaigns used by stores to increase customer engagement.
The automation flows you see here are from Retainful.
Abandoned Cart email
The use of abandoned cart emails has become increasingly popular in recent years as store owners realize its potential.
Abandoned cart emails are sent to customers who haven't completed their checkout after adding products to their carts. The strategy is to send a series of cart recovery emails until the customer recovers their cart.
Sending an email series is not easy to do it manually. This is why cart recovery email automation has grown popular. Set the time intervals & emails will be sent automatically.
Email automation example:
Trigger – Customer started the checkout
Flow – Abandoned Cart Recovery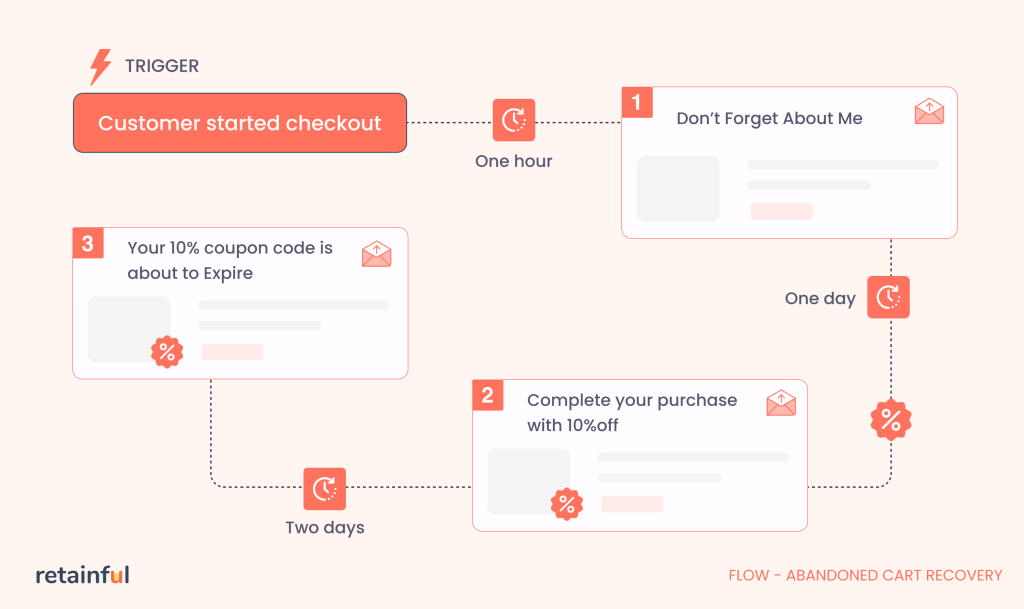 Abandoned cart email example: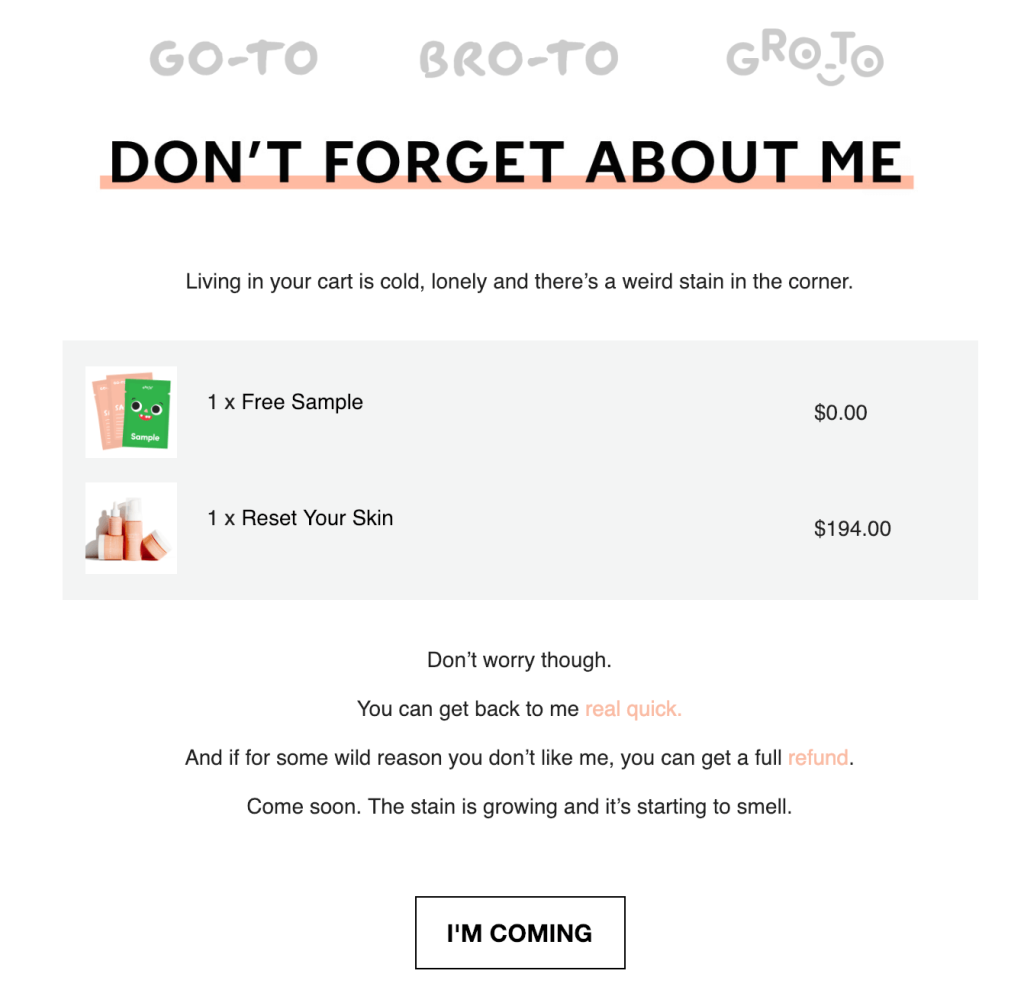 By default, Retainful's abandoned cart workflow has three cart recovery emails. But you can add any number of emails you want as per your requirement.
Sometimes a customer will need more. Offer a discount via emails to encourage them to return & complete their purchase.
The abandoned cart email example is an excellent reference on how you can write your emails. They've used a friendly, direct tone. The most impressive element is the "I'm coming" CTA button as it is actionable & persuasive.
Craft your emails like the above example and you'll surely get conversions.
Welcome email
Welcome emails are the most popular type of marketing email. They have 42% higher read rates than other emails, and their click-through rate stands at 26.9%.
Many customers actually expect a welcome email. Sending one gives you a chance to break the ice and introduce your brand to customers.
The most automated email campaigns are the Welcome emails. It helps you create the best first impression.
Email automation example:
Trigger – When a customer places an order
Flow – Welcome email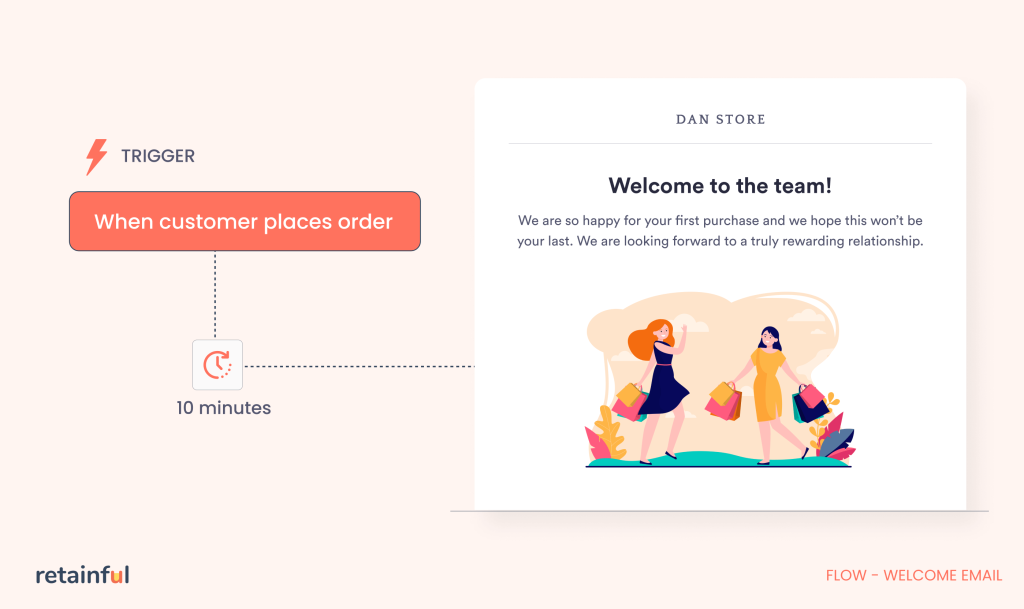 Welcome email example: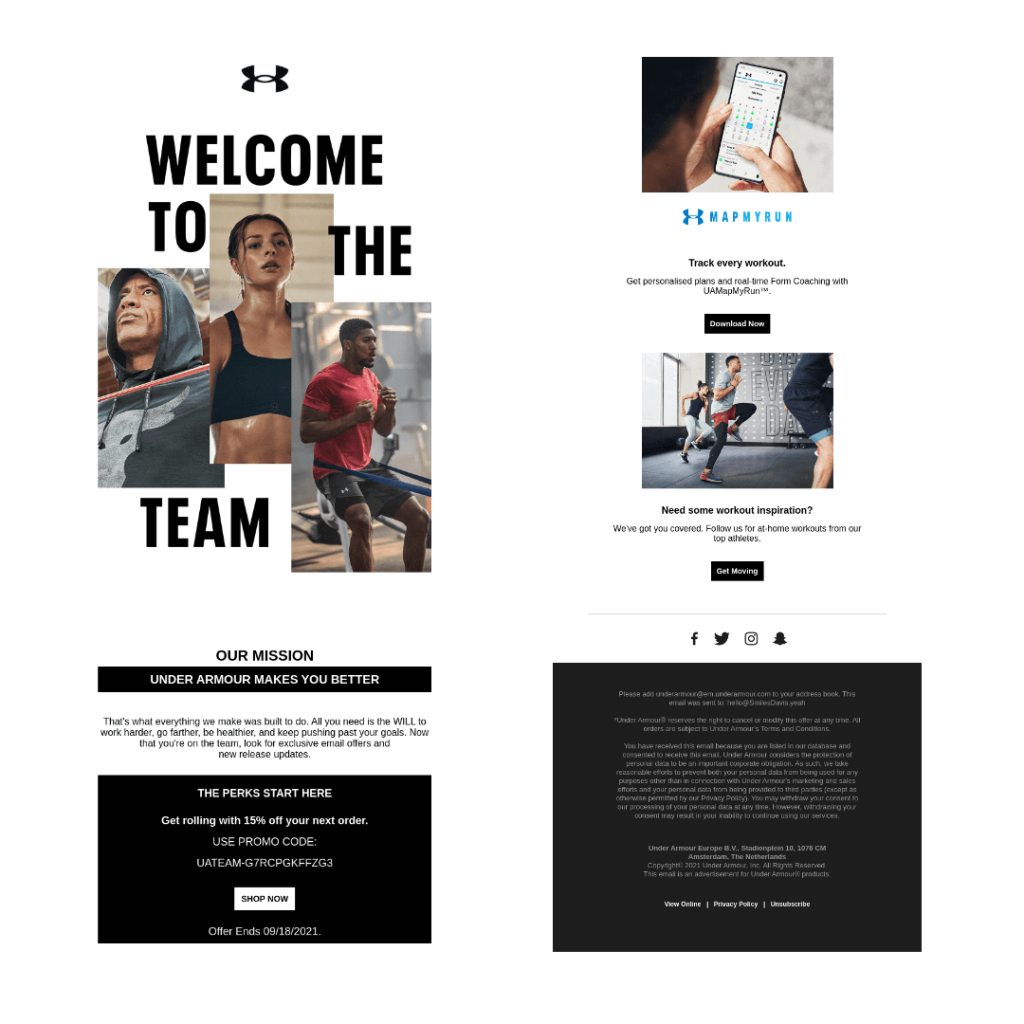 Unlike other Welcome emails, Retainful lets you send a welcome email after the customer completes the first purchase.
This might seem different, but it has its perks.
You can send a discount to customers for completing their first purchase with this welcome email. This will encourage them to return for more.
Order Follow up email
Your work isn't done once a customer completes a purchase. You need to keep the engagement going and convert them into loyal customers.
There is a chance that a customer might leave your brand after purchase. Sending an automated Order follow-up email is a great way to keep them in a loop. Make them talk about their shopping experience, get feedback & more.
You cannot follow up on orders manually; the task is huge. This is why eCommerce stores automate their order follow-up campaign.
Email automation example:
Trigger – When a customer places the order
Flow – Order Follow up email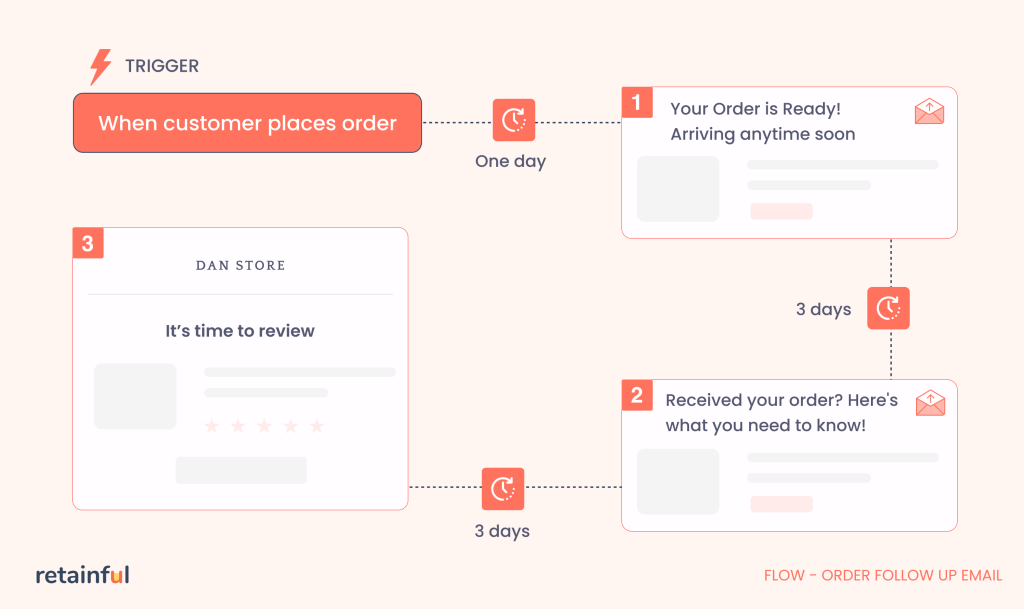 Order follow-up email example: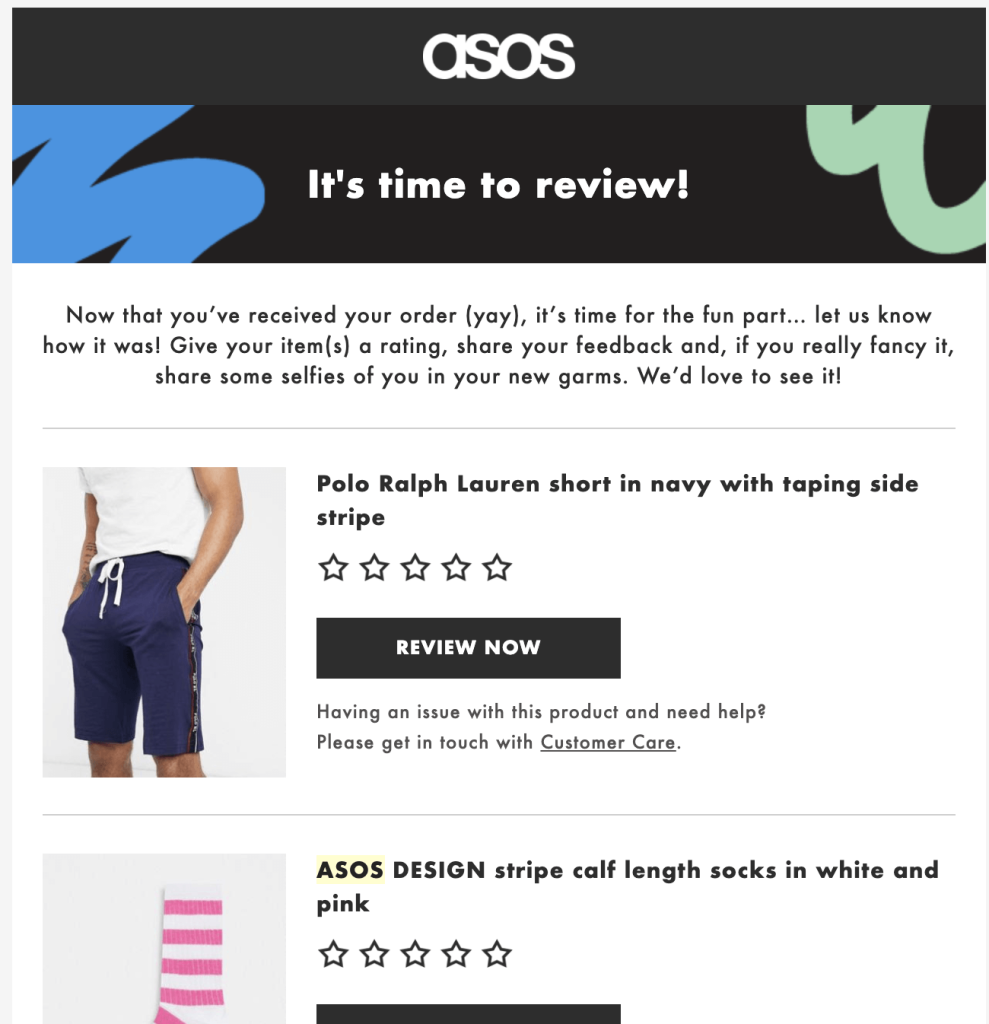 The above email from Asos is a perfect example of what a follow up email should look like. They want the customers to think about the brand & talk about it. Also, they're asking their customers to send selfies of their new outfits.
This works great because it makes the customer engage with the brand. It leaves an impression & pushes them to return for more.
The automation flow from Retainful you saw in the example lets you send three emails. You can keep your customers talking about their purchases in 2 ways,
By educating them about the product they purchased
By asking for a feedback
Continue engaging even after the purchase & make them return again.
Thank you email
Thank customers after they complete a purchase. Shower your gratitude and love with an amazing thank you email.
A simple thank you can go all the way. But what if you can make it even more enjoyable?
Yes, customers expect a thank you email after they place an order. But what they don't expect is a discount.
Surprise your customers with a Next order discount. Send it via Thank you emails & encourage customers to drive repeated sales in your store.
Email automation example:
Trigger – When customer places order
Flow – Thank you email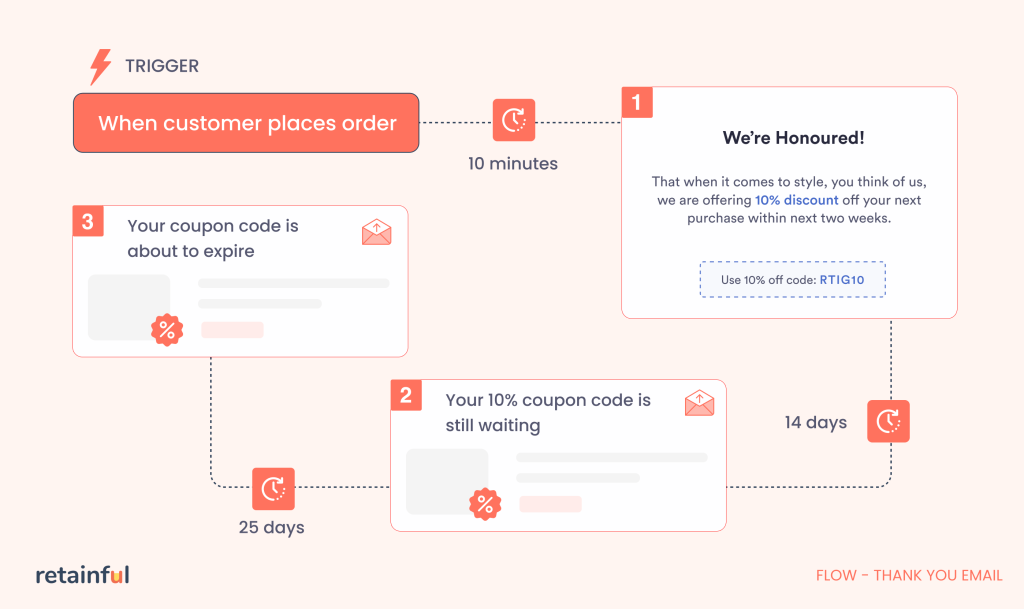 Thank you email example: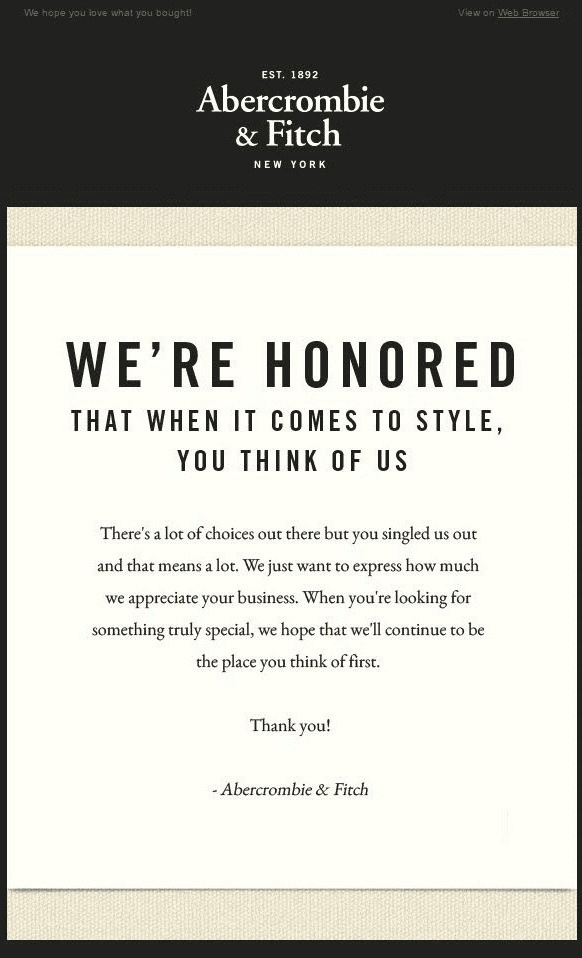 The purpose of Thank you email is to make customers feel delighted. Abercrombie & Fitch has delivered the email perfectly. It overwhelms the reader and makes them feel special. An email like this will persuade customers to come back for more.
But it misses the surprise, and that's the only downside of the above email.
As a cherry on top, offer a 10% Next order discount & the customer will return to your store immediately.
Win back email
Automated win-back emails are sent to customers who haven't purchased in your store for a while. They are not lost, just inactive for a certain period of time.
Set a trigger to send automated re-engagement emails to customers that are inactive for a specific time period.
Show them how you've improved your store since your last visit. Or talk about the new arrivals, discounts & tell what they're missing. This will encourage them to come back.
Email automation example:
Trigger – When customer places order
Flow – Win back email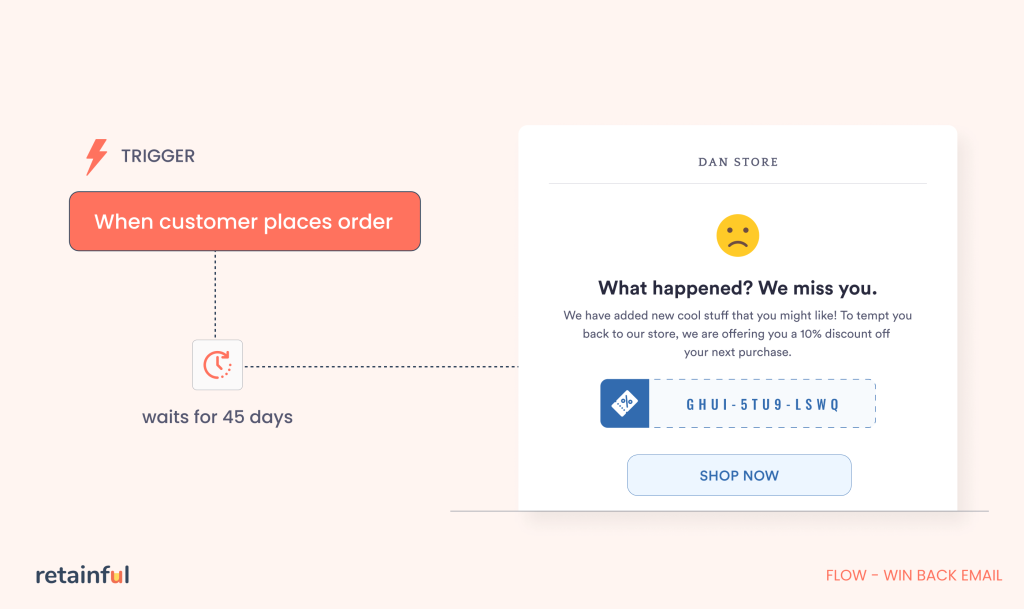 Win back email example: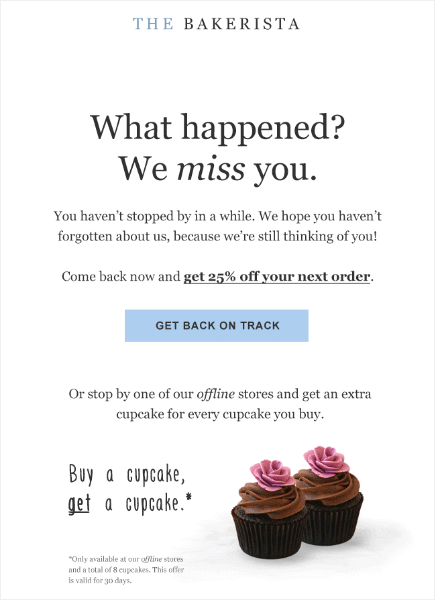 Remember, inactive customers are not lost; you just have to re-ignite the old flame. The Bakerista has done it very well, starting with a persuasive headline and ending with a discount, it's a good recipe for a win-back email.
This is an effective way to bring customers back to your store. Discount might've been the reason why they stopped purchasing from your store. Offering a discount for their Next order will encourage them to return & drive repeated sales.
Special occasion email
Customers love personalization. Sending an email on their birthday, anniversary & other special occasions will delight customers. This is why these emails are one of the most automated ones.
The success of an eCommerce store depends on loyal customers. Sending special events, emails will foster customer loyalty & increase your loyal customer base.
You can also send an offer via these emails & encourage customers to drive repeated sales in your store.
Email automation example:
Trigger – Customer's birthday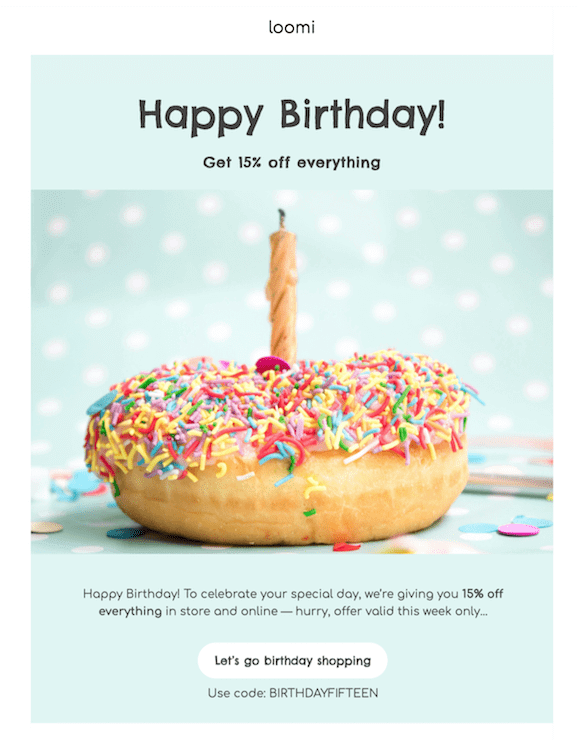 This email from Loomi works because of the actionable CTA they've used. As a gift, they've offered a 15% discount and created an urgency for the discount too.
Sending emails & discounts on a customer's special day will make them feel overwhelmed. They'll stay loyal to your store and continue purchasing.
Promotional emails
If your customers want to keep purchasing from your store, you must keep them updated.
Inform customers of what's happening in your store. Tell them about the new arrivals, discounts, seasonal offers & other updates.
Email automation example:
Trigger – Special season
Promotional email example: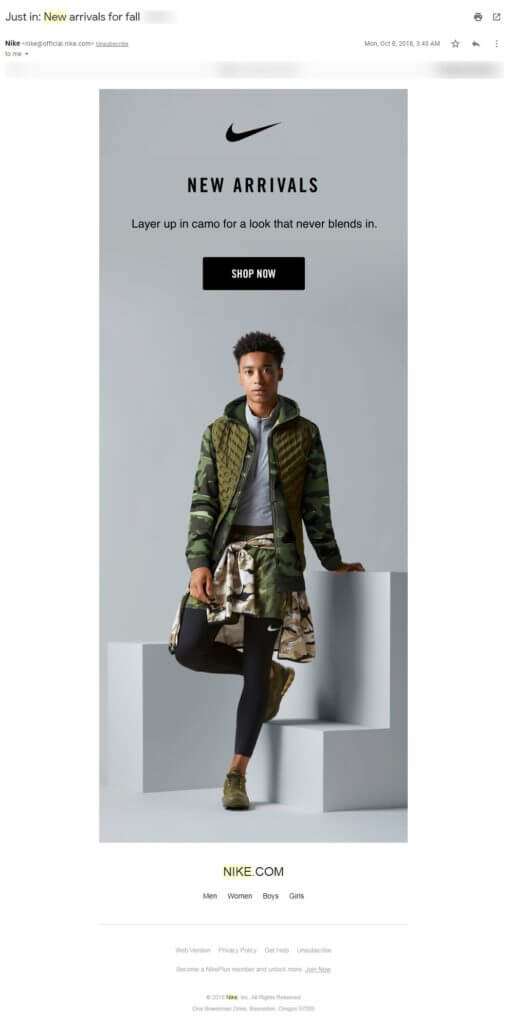 The more you inform customers & keep them in a loop, the higher the chances of purchases.
If a holiday season is coming, you can alert customers of the sale & discount to be available in your store. Give them a heads up & let them gear up for it.
Order status emails
The most challenging part of eCommerce shopping is waiting for the order confirmation message. It makes us nervous, doesn't it? The same goes for your customers too.
Sending an order confirmation email manually is seemingly impossible. It is a crucial piece of information; if customers don't receive it soon their anxiety will soar to the sky. This is why every eCommerce store automates its Order confirmation emails.
A trigger will be set that will send an email to customers informing them of a purchase made.
Email automation example:
Trigger – Order placed
Order confirmation email example: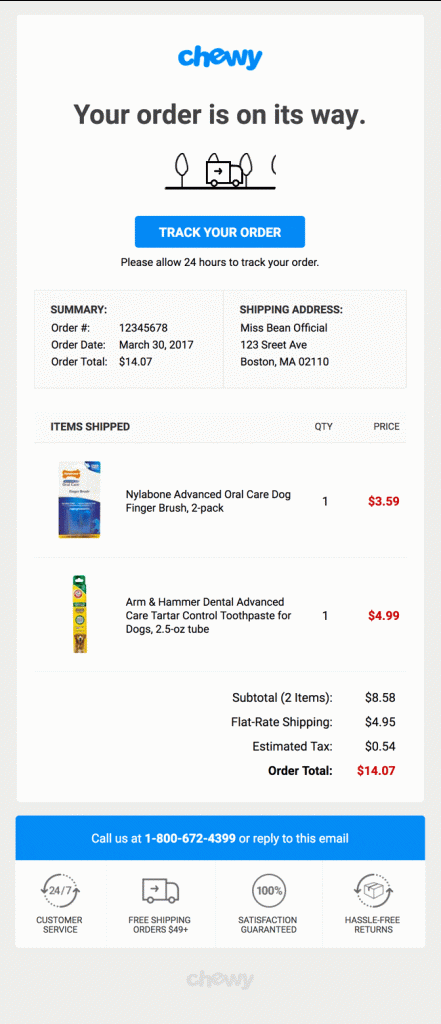 This order confirmation email example is brilliantly crafted by Chewy. It has all the necessary order details, but the main focus is on the CTA 'Track your order'.
Yes, as eCommerce shoppers, we all want to know what's happening to our orders right?
Allow your customer to easily track their order by placing a CTA in your Order confirmation emails.
Reminder emails
Customers receive hundreds of marketing emails every day. It's possible your first one got lost in the shuffle. That's why it is necessary to send emails to remind customers.
You can use reminder emails in a variety of ways. Remind customers of the expiry date if the Next order coupon you sent via Thank you emails is about to expire.
If you have a special seasonal offer in your store, you can send emails to remind customers of the request. Reminder emails are a subtle way to create FOMO.
Email automation example:
Trigger – Order placed
Reminder email example: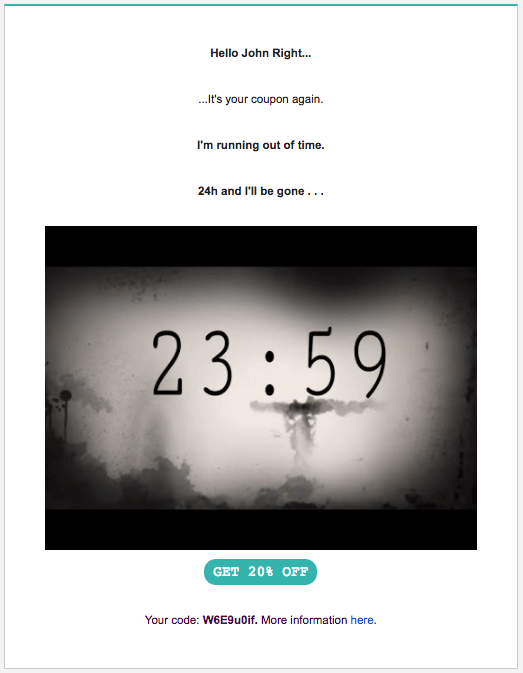 The above email is personalized & it is written in a direct tone. It is the smart way to create urgency & persuade customers to take action.
You cannot manually keep track of time and send reminder emails. This is why eCommerce marketers use email automation to send reminder emails automatically.
How to choose the right Email marketing automation Tool?
So, we hope you've realized how email automation can help your store. Now all you have to do is choose the right automation tool.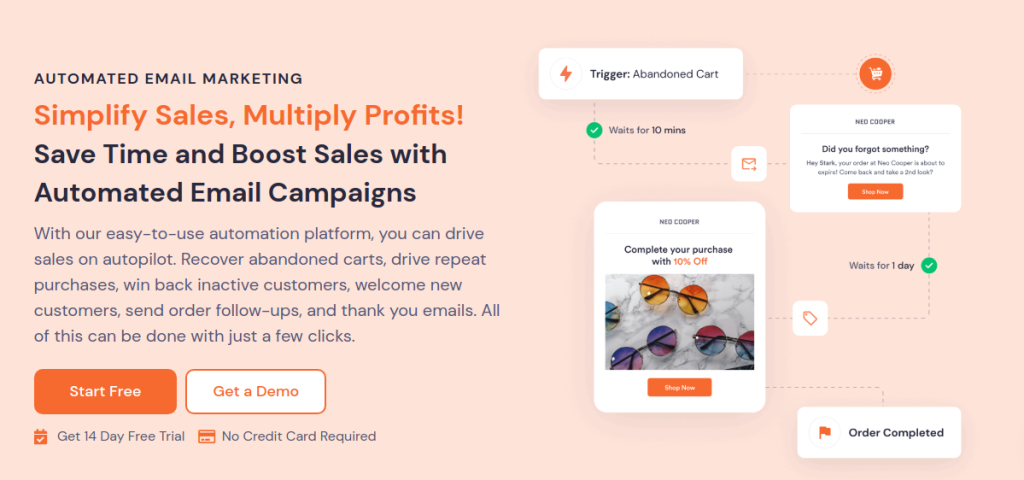 To be honest, the choice is yours, but consider these factors before selecting your Email marketing automation tool.
Requirement – Make sure the selected tool has features that fit your needs.
Bang for buck – Select a tool that offers the maximum features for the price, and it must be easy-to-use & robust.
Contacts – Contacts are crucial for Email automation. Choose a tool that offers maximum contacts.
Segmentation: You cannot send generic emails and expect results. Make sure the tool has a List and Dynamic segmentation feature to divide your email list into smaller groups based on various criteria. This ensures that your target audience receives the right email at the right time.
Campaign: The right email marketing automation software must have both options to let you start the email campaign right away and schedule it for later.
Discounts – You cannot push customers to take action without a discount. Choose a tool that lets you create dynamic coupons.
Pre-built templates – Automation is aimed to save time. That's why you need pre-built email templates & automation workflows to get started right away. An ideal automation tool must have these.
These are the factors that you must keep in mind. Let us recommend an email automation software that'll be perfect for your business.
Retainful!
It doesn't matter if you own a WooCommerce or Shopify store. Retainful will work for you. It comes with advanced automation features that can automatically help you deliver tailored messages at the right time.
You might wonder, what makes Retainful the right pick than any other email marketing automation tool?
Here it is,
Ease of use – User-friendly interface with simple navigations

Customer journey builder – Visualize your customer's journey & build custom email paths

Pre-built workflow templates – No need to start from scratch. Retainful has pre-built automation templates to minimize your workload.

Readymade email templates – Emails are pre-built for you to help you launch campaigns easily.

Drag & Drop email editor – Customise your emails to suit your brand style. Add images, videos & gifs to your emails using the editor.

Coupons – You can create coupons dynamically using Retainful. Next order coupons are available to increase customer retention.

Referral program – Run a referral program to increase Word of mouth & acquire new customers.

Track performance – Get real-time analytics & insights into your campaign.

Popups – Prevent cart abandonment & collect email addresses using popups
There are only a handful of tools that offer these advanced automation features; Retainful is one among them.
Automate personalized cart recovery emails, follow-up emails, win-back emails, and welcome and thank you emails. Deliver targeted messages that drive engagement and conversion rate.
Wrapping up
Keeping up with market changes and competition means reaching your customers before others. The only way to do it is through Email marketing automation. 36% of marketers have switched to email automation to eliminate repetitive tasks. Now is the time for you to get in on the action.
Automate your emails, and deliver a personalized experience with tailored messages. Sign up to Retainful to reach your customers at the right time automatically.
So, that concludes our email automation guide; what are you waiting for?
You have the campaign to automate. Get started now!
What is automation in email?
Automation in email refers to the process of using technology to send emails automatically based on predefined triggers or actions, eliminating the need for manual intervention.

How do I create an automated email?
To create an automated email, set up a series of pre-written emails in an email marketing platform, define triggers or conditions for when each email should be sent, and let the automation system handle the rest.

Is there a way to automatically send emails?
An email automation workflow sends a series of automated emails to subscribers based on their information or actions. These emails aim to achieve specific goals, such as welcoming new subscribers or guiding them through a purchase process.

What is email automation workflow?
To engage in automatic email marketing, utilize an email marketing platform that offers automation features. Set up workflows or campaigns with targeted messages triggered by specific events or subscriber behaviors.

What is an example of email automation?
An example of email automation is a welcome email series where a new subscriber receives a sequence of pre-scheduled emails introducing them to a brand, providing valuable information, and nurturing them towards making a purchase or conversion.