Ecommerce stores have been facing online cart abandonment issues ever since the inception of eCommerce stores. And now the average cart abandonment rate is at 69%.
Prominent stores with better resources might invest their effort in preventing online cart abandonment which is tedious and expensive. So, what about the new store and the stores with minimal resources.
And that is why Abandoned cart emails have been the best thing that happened to the eCommerce stores around the world. Because best abandoned cart emails can help you recover your cart and convert it into revenue irrespective of your resources It is very straightforward and cost-effective.
All you need is to set a cart recovery campaign and send your abandoned cart emails by enhancing them using some of the best cart recovery email hacks for 2022.
What is an Abandoned cart email?
Customers will add products to their cart and while they are at the checkout, they may abandon it due to various reasons like high shipping rate, security reasons, lack of multiple payment options, etc.
Now you'll have an abandoned cart in your store which still holds a certain value to it.
What will you do now?
You install an abandoned cart recovery plugin and send a series of emails to the customers in an effort to remind and encourage them to recover their carts.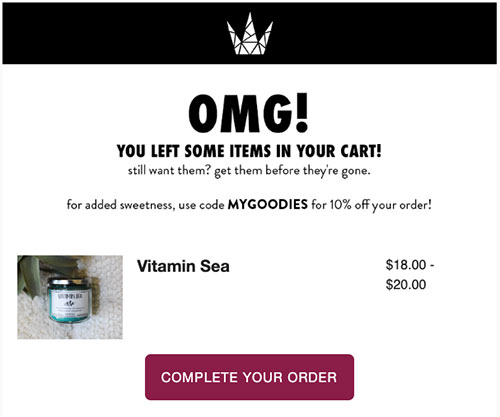 These emails are called Abandoned cart emails and the process to send them is called an Abandoned cart recovery campaign.
How to send an abandoned cart email?
It is easy to create and send an email, you might think?
In a way, yes it is easy, but remember we are talking about abandoned carts and cart recovery emails.
There will be a lot of customers who have abandoned their cart, some might recover it one email, some might take some time, you should consider all of these factors.
But before all that, you need to capture customer's email addresses, only then you can send your abandoned cart email.
Now, imagine doing all of this manually, impossible, right?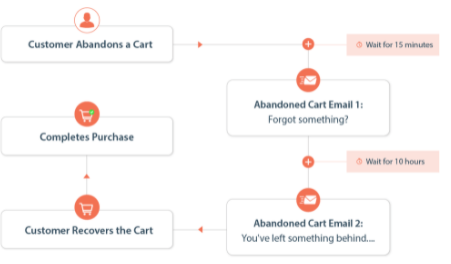 This is why you need Abandoned cart recovery plugins that can capture the email addresses of customers and send cart recovery emails automatically.
You need a cart recovery plugin that is loaded with email templates that can be customized as per your preference using the brilliants tactics that will be illustrated in the following section.
Once you get hold of the plugin, you can start sending abandoned cart emails until the customer returns to your store to recover his cart.
7 Best Abandoned cart email hacks to follow in 2022
Abandoned cart emails are the easiest way to persuade the customers to recover the cart as emails engage with customers better.
But for these best abandoned cart emails to work seamlessly, you need to enhance them by following some of the latest abandoned cart email tactics if you want to achieve the maximum conversion.
Abandoned Cart Email Hack 1 : Choose the right cart recovery plugin
Alright, let's start from the base, firstly you need a cart recovery plugin and only then can you optimize your Abandoned cart emails with the latest hacks.
Your first job is to choose the right cart recovery plugin, it must have default templates, must be automated with email capture features and so on.
One such cart recovery app with a proven track record of recovering abandoned carts is Retainful.
With this cart recovery app, you can set up an Abandoned cart recovery campaign in your Shopify or WooCommerce store within minutes.
It is loaded with templates and has its very own customization options that let you modify every aspect of your abandoned cart email template as per your preference.
Remember, when we said that your cart recovery plugin must capture email addresses, well, Retainful can capture customer's email addresses and send recovery emails as soon as they abandon their carts.
Retainful also lets you add a discount in Abandoned cart emails which is one of the best-persuading tactics to bring the customers back to your store to recover their carts.
Alright, now that you have your best abandoned cart emails, let's look at the email strategies to boost your conversions.
Abandoned Cart Email Hack 2 : Subject line must be persuasive
Subject line is the index of any email, it must be enticing enough to make the customer click and open the email right away.
Reports say that 47% of customers open the email based on the subject line and that is why more emphasis must be given to it.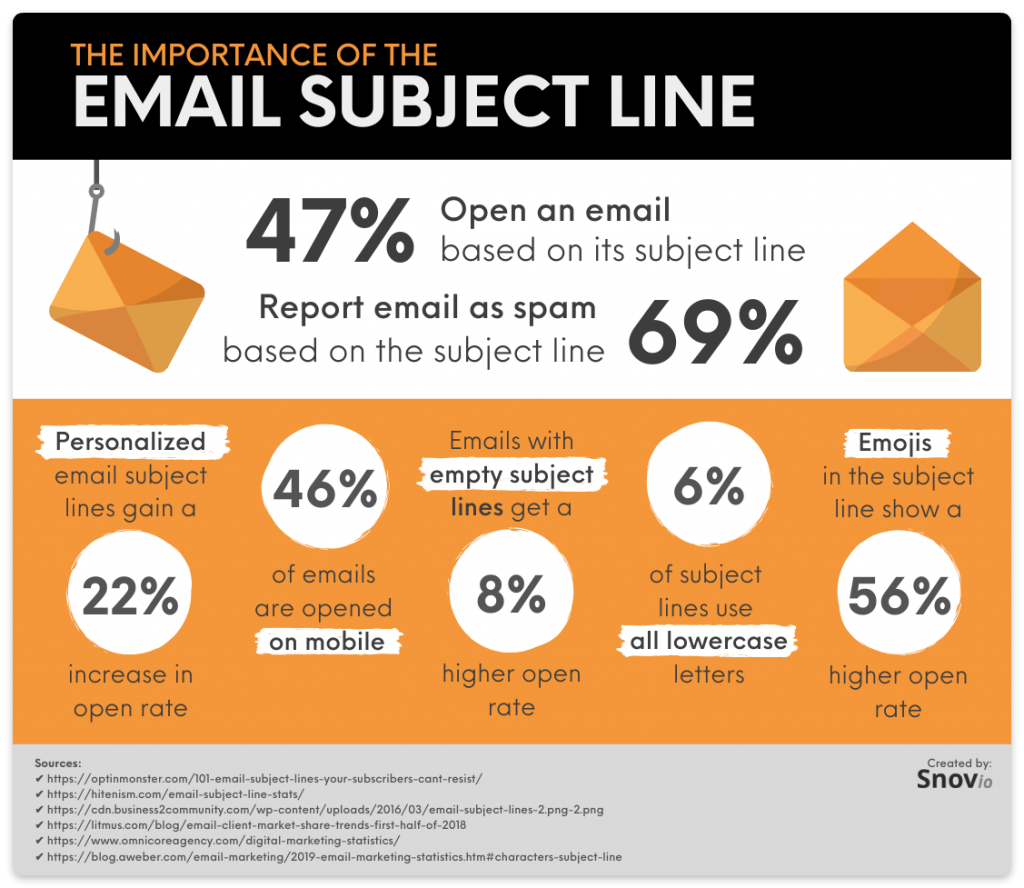 No matter how attractive your abandoned cart email looks, if your subject line is not good, customers will not open it.
So, your primary objective here is to increase your email open rate and you can easily do that by following this list of best email subject line practices.
Be precise and concise
Get personal with the recipient
Avoid using emojis
Don't use spam words
Keep out from fake promises
Use humor with care
Ask interesting questions
Create FOMO with deals
There are various types of subject lines used in an Abandoned cart email campaign, you can find it in detail right here.
It is said that, of all the marketing emails, customers are more likely to open the emails that have abandoned cart subject lines in them so you better follow the right tips and nail your email subject line.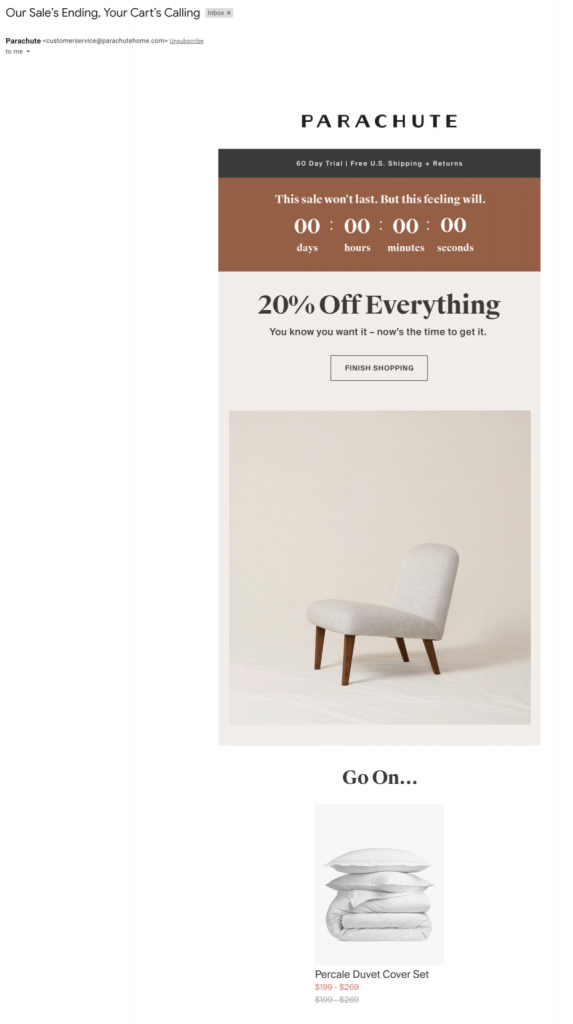 Here is the best Abandoned cart email and a subject line from Parachute. Subject line looks minimalistic, with no exaggeration or fake promises, no spam words and no emojis.
It has all the ingredients of a perfect Abandoned cart email subject line. And they've brilliantly used the subject line to create FOMO among the customers.
The countdown timer and the discount offer in the email will add more fuel to the flame and make the customers run back to the store and recover their cart.
Abandoned Cart Email Hack 3 : Enticing Email design
Well, the subject line will do its part of making the customer open his email, but that doesn't mean the customer will return back to your store and recover his cart.
Even after opening the abandoned cart email, your customer might not be ready to return to your store. The major reason here is that the email copy might not be enticing enough.
Yes, a poorly designed email copy will push a customer away from conversion.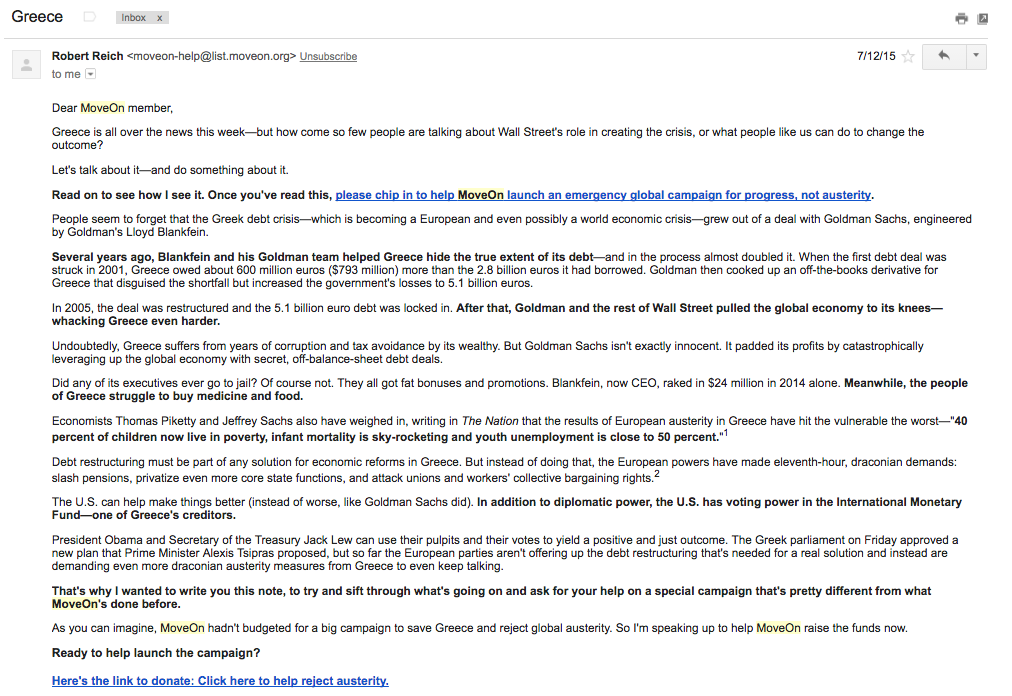 Imagine an Abandoned cart email looking like this, will you return to the store and recover your cart after seeing this email, no right?
This is why it is crucial to design a perfect email with a crispy email copy that can communicate with the customer without boring them.
A great abandoned cart email is something that can make the customer return to your store to recover their cart right away.

A look into this abandoned cart email example shows you that they are not trying to be minimalistic here. A captivating headline and a couple of social proof with images made it persuasive enough.
This is a great Abandoned cart email and you can do it too if you follow these simple design steps,
Craft a captivating headline that lures your customer.
Use attractive images to keep them focused
Personalize the copy with their names
Use Social proof, FOMO to trigger customers
A pinch of humor with a good compliment
Create your best email copy and win your customers back using your abandoned cart email.
Abandoned Cart Email Hack 4 : Use Dynamic CTA
Now that you've got the recipient's attention with your enticing email copy, how will you convert them?
Here's where the CTA button comes into play, it should be inviting enough to make the customer click on it and return to your store.
Always remember, Call to action buttons play a crucial role in converting a lead to a customer. So, you need to optimize it well.
Instead of using boring, Buy now or Get Now CTAs, use something more engaging.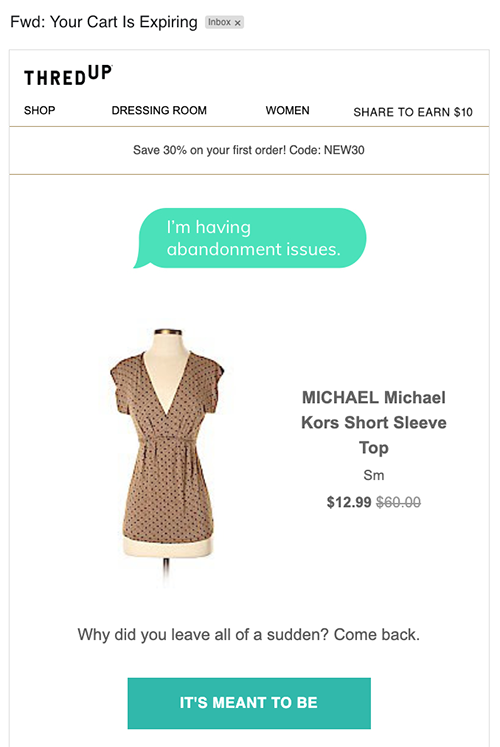 'It's meant to be', a distinct CTA that interacts directly with the customer, CTAs like these have proven to convert customers better than normal 'Buy now' types.
CTAs have their own practices, we've listed them so that you can design the best CTA for your Abandoned cart email.
Use actionable text that can trigger an action from the reader
Use a minimum of 3 to 4 words
Create FOMO with the text
Use bright colors to make it visible
Use larger text
Keep it above the fold
Remember, your email copy must always support the CTA, if it doesn't then change or remove it.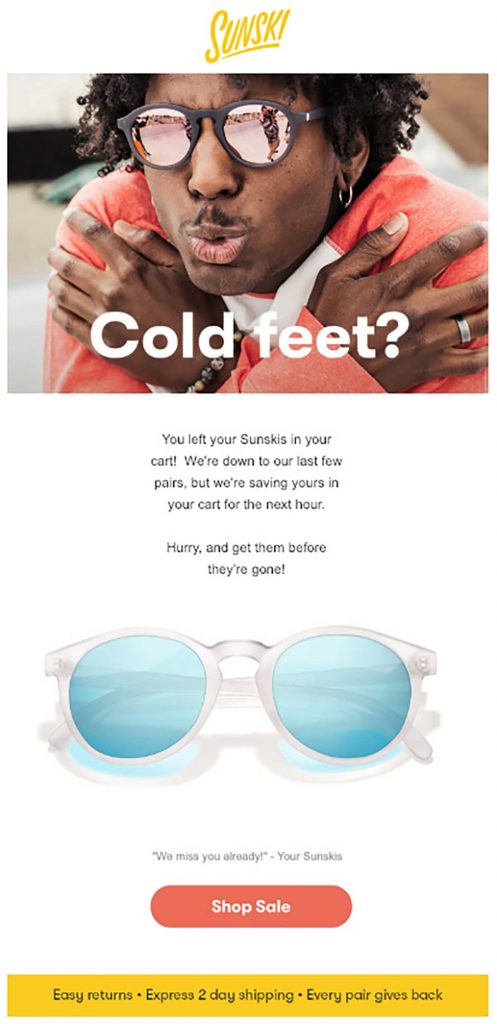 Make sure to use low commitment CTAs like, "view your cart", "Shop sale", "Resume your order", etc for better engagement.
Abandoned Cart Email Hack 5 : Time your email to perfection
One of the crucial factors that decide the success of your email is the timing, when are you sending these best abandoned cart emails?
Many abandoned cart recovery campaigns have failed due to the poor timing involved in sending these emails.
And also remember, you are not going to send just one email, you are going to send a series of emails so the frequency of your abandoned cart emails must also be perfect.
Experts say that the quicker you send your abandoned cart email, the higher your conversions.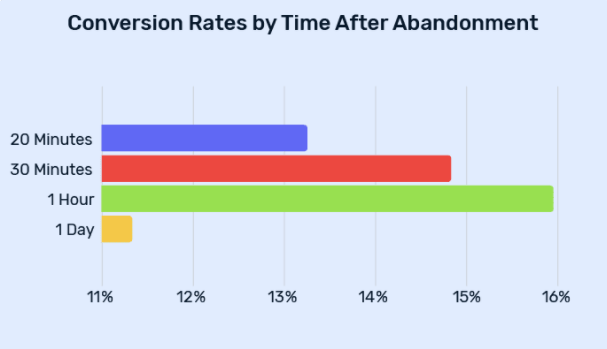 So, here is the recommended time sequence for you so that you can perfectly time your cart abandonment emails,
The first email – after one hour of cart abandonment
The second email – on the next day of cart abandonment
The third email – two days post cart abandonment
The fourth email– after five days of cart abandonment
The fifth email – after a week of cart abandonment
You might think, isn't five best abandoned cart emails is too much? Well winning over the hearts of customers who abandoned their cart is not an easy task. It takes time, patience and a lot of cart abandonment emails.
Abandoned Cart Email Hack 6 : Include product images
Images play a crucial role in convincing a customer to take an action. They are also 10x more engaging than text based abandoned cart emails.
The objective is to make the customer return to the store and what best way is there than displaying attractive product images in the abandoned cart emails to persuade the customer.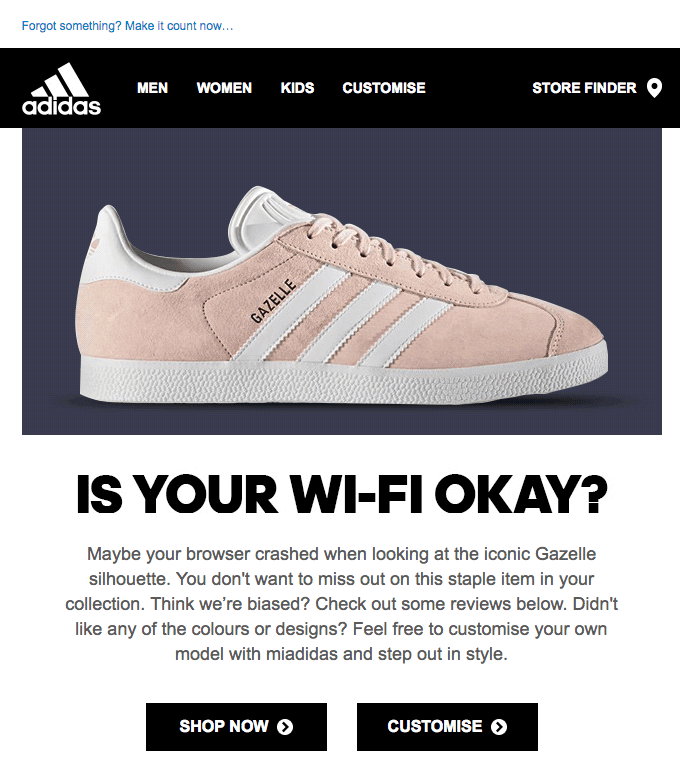 We've been in this situation too, we might've abandoned the cart and forget what the product looked like. Well, now when you send an email along with the product images it'll trigger the customers.
Also, most customers won't read the email word by word, they'll just scan it and having a product image in these situations will be an added advantage.
It'll make the customer understand the email sooner because of the images and it'll motivate them to recover their cart.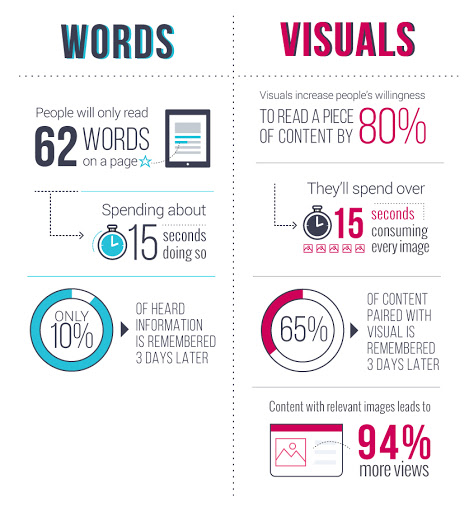 Adding product images in one of the best abandoned cart emails practice, here's why,
Images show the products instantly
Images are easy to scan
Images make your mail stand out
Images are persuasive
Images engage well with customers
So, the next time when you are designing your best abandoned cart emails, make sure you include the product images to influence customer's purchase decisions.
Abandoned Cart Email Hack 7 : Offer Discount through abandoned cart emails
We saved the best hack for the last, one of the best ways to increase the conversions of your abandoned cart email is by including exciting discounts.
Sending a series of cart recovery emails will definitely work, but sometimes a customer will need something more for motivation.
You can offer a discount or free shipping in your abandoned cart emails and encourage the customer to return to your store and purchase the product.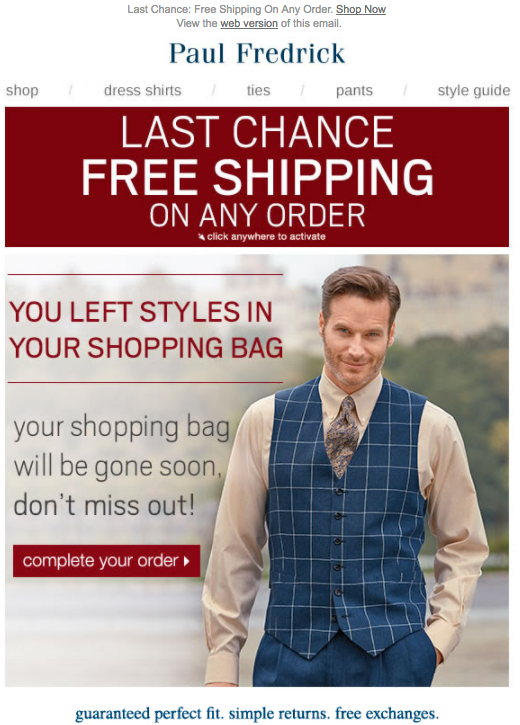 Lack of discounts or high shipping costs are the primary reasons for cart abandonment.
So, offering discounts or free shipping through abandoned cart emails might bring your customer back to your store and it can also help you put an end to cart abandonment.
Retainful helps you offer discounts or free shipping in the abandoned cart emails. You can also send the Next order coupons using this cart recovery app.
Sending a coupon for future purchases will motivate the customer to recover their cart and come back to the store to drive repeated sales, thus increasing your customer retention rate.
Wrapping up
Ecommerce cart abandonment has been impacting sales of many stores and now many merchants have decided to invest their efforts in recovering their cart before the carts gets lost forever. Abandoned cart recovery plugin is what you need to recover the lost carts.
You can send a series of emails to the customers and request them to return to your store. But to achieve maximum conversions with the best abandoned cart emails, you need to reinforce it with the latest strategies discussed in this article.
Once you are done, you can start sending these cart recovery emails and recover your lost sales.