What makes a buyer commit to a purchase? To the untrained eye, Cart Abandonment is akin to window shopping. Research and statistics will prove otherwise! Recovering Abandoned Carts reduces the holes in the shopping funnel.
A very heavy factor in the loss of sales is sporadic Shopping Cart Abandonment. Every eCommerce store owner has to learn to limit the early departure of buyers. You can reprogram tentative user behavior and cultivate purchase commitment through digital gestures.
Here are some of the top Shopify Cart abandonment reasons that can help you strategize a contingency plan to recover your Abandoned carts.
1: New Shopper Syndrome
Familiarity bias is tangibly real for online shoppers. It is fear of the unknown; there is curiosity but no substantial transaction. You may notice high abysmal Cart Abandonment Ratios with new shoppers. This impressionable hyper-tuned group is quick to drop a purchase.
They're just getting to know you and won't make the final move unless they're sure of getting the better end of the deal. It does not necessarily have to be an unfavorable episode for your store.
What to do?
False starts indicate malleability in behavior. The osmosis process of visitors and stalkers becoming customers takes time. You can leverage your Shopify store features to equip conversion.
First Order Offers are very functional in inviting a new shopper to complete the purchase

Multi-platform Retargeting for purchase action recall

Capture of integral information for further communication

Social proofing your brand to create a positive feedback loop
2: Complexities During Checkout
Hoop after hoop, customers do not prefer high energy expenditure on one order. A distracted shopper will likely become an infidel shopper. Keeping the checkout process not so straightforward directly results in Cart Abandonment.
Limitations with shipping services

Inflated shipping charges

Lack of flexibility in Payment methods

Unorderly payment process
The above is adequate for a customer to skip a purchase. Customers tend to become alarmed within the first minute of trying to check out.
What to do?
Checkout Page optimization
Completing a purchase in Shopify stores is correlated with clean interaction and transactions. The customer's POV should be skeletal in optimizing your checkout page and elevating their shopping experience. There is less need to accessorize and more need to keep things crisp.
Offer Free Shipping above $$

Offer flexible payment methods

Offer instant buys for pre-existing customers

REORDER features based on purchase history

Detect and eliminate glitches

Cart page and its following should be rhythmic
3: Nebulous Return and Refund Policies
Customers, by default, buy into the 'halo effect'.

If most of your store's features seem tidy, they expect market-giant-tier treatment. Same-day delivery, returns with no questions asked, and more. That's not feasible for every business.
Customers trap themselves in applying the logic and logistics of other players to your store. Ecommerce Cart Abandonment entails the classic case of expectation VS reality.
What to do?
Full Disclosure – Exhibit information Explicitly.

Your Return and refund policies should be explicitly presented and readily accessible. When you willingly provide information, you help create trust in your store. Transparency de-escalates cautionary behavior.
4: Price and the Panic
Cart Abandonment Issues due to doubts of being overcharged are prevalent. The very act of wishlisting is a testament to this observation. Customers who love to pander will gravitate to better offers elsewhere, and customers who count every note spent will 'save products for later'.
What to do?
1. Personalized Coupon codes
Dynamic coupon codes that are strategically triggered can push the customer to take action.
2. Use Exit-Intent Popups
Exit-Intent Popups help retain customers who were about to drop out, it engages them back to the original intention of placing an order.
5: Website Performance
Hiccups in the flow of your Shopify store can manage to only generate passive traffic. Security concerns arising out of website performance are major reasons for carts being abandoned. Adding cognitively-demanding features for the sake of aesthetics will unintentionally dissuade user motive.
What to do?
Maintain logical consistency with periodic updates and feedback

Use plugins wisely

Prefer designs backed by speed-testing

Optimize product pages
Note: We have also found a great Shopify maintenance service to help you keep your store going smoothly!
6: Convenience
Shopping experience should never be a chore, customers have an in-built aversion to tasks. The underpinnings of the perceived nature and quality of store engagement are instinctual.
Arrival of the package at a later date, getting comfort zoned by competitors, and excessive shipping charges, what do they all have in common? Lack of convenience.
What to do?
Keep check of adjustable inconveniences
Loyalty can reduce Cart Abandonment rates. Reward programs can trickle across customers who will otherwise reconsider the purchase
7: Entrophy
Higher the variables = higher the rate of Cart Abandonment. The underpinnings of Entrophy, in Ecommerce, imply that the asymmetrical Cart Abandonment rate is a result of randomization of high variables.
Understanding saturation levels of buying patterns is instrumental. Let's take the sheer forgetfulness of a sincere customer as a variable. The combination now is endless for a store that has witnessed staggering growth.
Customer behavior can never be puppeteered, but it can be conduced with the right technology.
Taking the metaphoric bull by its horns
Emails serve a functional utility. They are inviting and do not abduct attention. You can multiply the rate at which customers revisit with Email Automation.
Retrieving Abandoned Carts with Email Marketing Automation
Cart Abandonment Recovery emails are scheduled at chosen intervals with personalized messages to retain customers who left too early. Launching Retainful helps in successfully recovering 64% of your abandoned carts, and sprouts the interest and intent with the right sequence of emails.
You can add coupon codes with access to 60+ pre-built cart abandonment email templates. The workflow is contextual and fully customizable. Recovering Abandoned Carts is cyclical with Retainful, benefitting you and your customer.
Dormant carts will exit the funnel only after generating revenue for your Shopify store.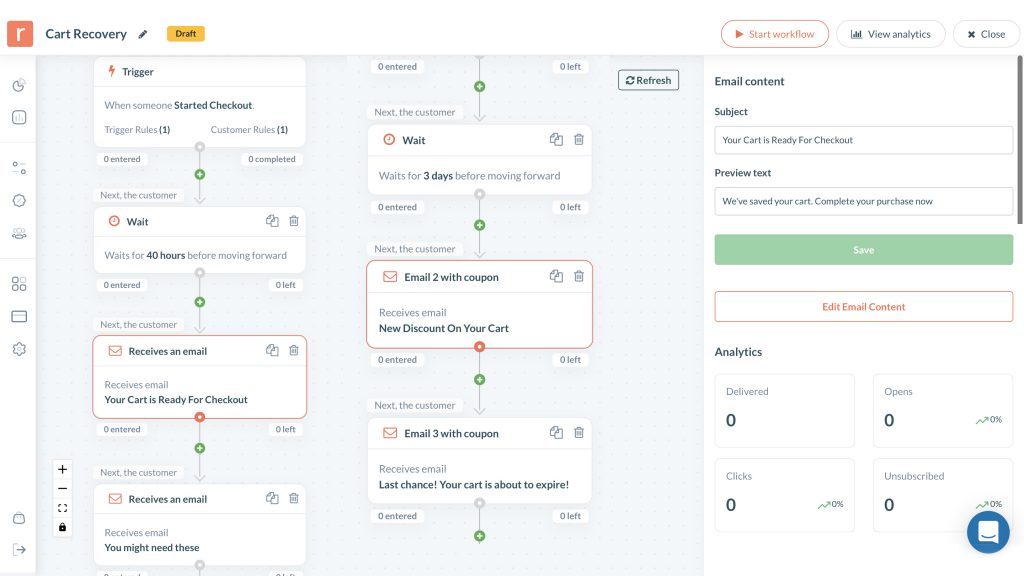 Dynamic coupon codes
You can include a coupon code in the latter sequence of abandoned recovery emails. Dynamic Coupon Codes are tantamount to hooking a customer to reciprocate action, and we all know it is action that wins the cake! Sending abandoned cart recovery emails with coupons guarantees a seizable return rate.
Conclusion:
Choosing what works best for your Shopify store is almost a unity of contradictions. Running a business online means you shouldn't give leeway for customers and potential customers to abandon their carts.
You can learn more about Retainful Email Automation for abandoned cart recovery by clicking here.