Let me ask a question first.
Where does marketing stop in the sales cycle?
You may come across a wide range of answers to this question. But one thing is for sure.
Marketing doesn't and shouldn't stop just after closing a Deal.
Indeed, you could say it just turns out to be more vital after a Deal.
It is much easier to sell to someone from your customer base than drawing in new people. It can be more profitable too.
There are a lot of retention techniques you can attempt to keep your customers returning to your business.
One of the winning strategies is putting resources into 'Post-Purchase Advertising'.
Its primary objective is to foster a loyal customer base. They continue to return every month or every year. These are the clients that prescribe your brand to their friends.
Your business needs loyal customers, which is why you really want to focus on post-purchase activities.
One such post-purchase marketing technique is to send emails.
Post-Purchase Emails: What are they?
The email you send after the client has completed a purchase is called a 'Post-Purchase' email. These automated emails can be timed for different occasions like,
Straight after placing the order
Product tracking updates
Asking for a review a while after the product delivery
Confirming the order details and so on
Let us check out a handful of Post-Purchase email ideas below:
When you set up these messages with the right advertising content, striking the right timing and types, you make a post-purchase email stream. The email you send after purchase gives the customer the assurance that they are at the right place and everything worked right.
For instance, this is an extraordinary method for maintaining customer engagement and giving phenomenal customer support to augment retention.
Post-Purchase Emails: Importance
Crafting a quality Post-Purchase Email campaign is a fundamental piece of your entire email promotion technique.
Let us consider a scenario.
Say that you are not expressing gratitude toward your clients for their buy.
Then, it can be said that the exceptionally essential promotion objective isn't being met.
Most of the individuals will search their messages for a thank you or order confirmation note just in the wake of making a buy.
This way, the customers ensure that the online order has gone through and the enclosed delivery details are just perfect.
Post-buy messages offer a multifunctional option in contrast to conventional email promotion. It can be profoundly powerful for expanding retention rates.
When a client has finished their buy, it can be said that the sales journey with them has barely started.
You can begin to develop the information you have on each and every client. Use them to offer helpful promotion messages. Sending sales follow-up emails adds an advantage to your business as:
They further develop the client experience.
It gives the client a stage for taking care of the client support issues.
It assists clients in building up an association with your brand.
Seven Post-Purchase Emails for Loyalty and Repeat Customers
Start sending 'Post-Purchase Emails' based on your products, customer lifecycle, and purchasing behavior.
Here are Seven Prominent Post-Purchase Email Ideas for Developing Repeat customers.
Post Purchase Email 1: Next Order Coupons
Upsells are demonstrated 'Post-Purchase Messages' that drive repeat business. However, offering explicit things in an Upsell Email can get exceptionally wrong and inappropriate.
So, what customer retention methods do stores follow to bring back clients?
Engage customers
Send out personalized emails
Run contests and give-aways and so on
Not that these will not work. These methods are more like a cat on the wall. And not the kind of sure-shot ones.
For a successful retention rate, you need a compelling method.
Something that will let you say, 'Another customer is going to stay with my store permanently.'
That is the sort of technique you ought to have!
Give clients a Coupon Code for their next buy with a definite 'Call of Action' to add an accessory to the item they recently purchased.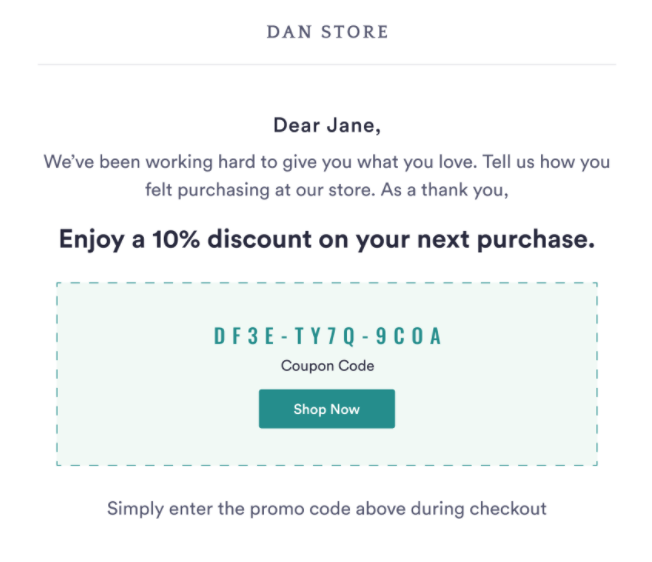 You can even make the Coupon Product category explicit. (Assuming you need to emphasize the association between the products). It's likewise a decent method of pushing a range of products that doesn't stand out enough to be noticed.
Let us understand through a scenario.
There is this client who is especially keen on products of yours. And they have at last submitted the order!
That's awesome. Isn't it?
Presently you should do something to hold them for Eternity!
This is what you can do!
Send a 'Next Order Coupon' alongside their present order details.
No one can refuse an attractive 10 to 20% discount offer on their next order.
There are two things you accomplish out of this.
Firstly, you get to drive recurrent purchases because your client has recently purchased something they prefer.
Secondly, they visit your store once more, you see customer retention happening.
Post Purchase Email 2: Win Back Email
There can be times your client will lose interest in your store.
Don't immediately list out the possible negative statements your clients might hold about your brand. Consider that maybe they simply don't know much about your business.
So what next?
Simply re-ignite their interest, which is the need of the hour, as they are not totally gone.
Send tempting re-engagement messages to bring them back to your store. Convince them of the most recent items and exquisite store updates . This will push them to begin purchasing once more.
If you just send one email, your opportunity to bring back your clients to your store remains very minimal.
Consider a progression of 5 messages. This gives you 5 opportunities to win your clients.
Moreover, it allows you to attempt a wide range of strategies. So you can easily lay hands on the ones that get the most returns.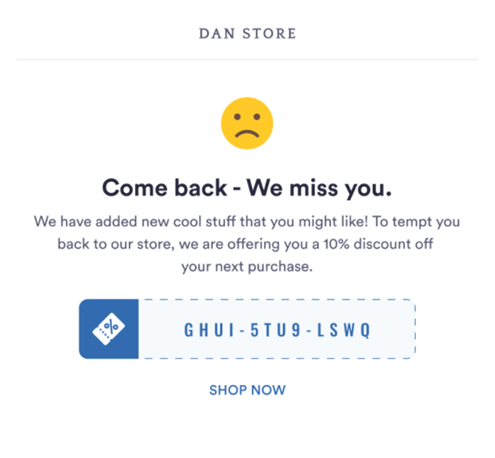 We suggest certain ideas to win-back your clients. Some of them are:
Remind individuals that you exist. A basic 'hi' or 'hello' email will get certain individuals to begin associating with your messages once more, and you can renew your relationship in no time effectively.

Give an incentive. If that 'hi' wasn't sufficient, then it is wise to offer an incentive.

This move can push individuals with a wavering mind to purchase once more.

Always have an eye for review. Individuals like sharing their perspectives. Regardless of their purchase, you get data that can assist you with working on your promotion.

The last possibility is email. Let individuals know that you'll take them off the subscription list except if they react to this email.

Unsubscribe. Now let them know that you have an 'unsubscribe' option if they want to unsubscribe from getting further emails and notification from your store. Add a link without fail to facilitate their come back.
How long would it be advisable for you to wait between each email? We suggest you send your first email approximately 3 months after your clients' last collaboration and hold for at least a month between each email of this series.
Post Purchase Email 3: Welcome Email
A Welcome Email is a primary email you ship off your client, a subscriber, or a member to start the principal collaboration. This is typically done after the lead has joined or shows an interest in your products.
An interrogation that pretty much every entrepreneur raises is, do I truly have to send Welcome messages?
Clients consistently expect a welcome email when they pursue an item or service. So, a good welcome messages will prompt them to foster confidence in your store.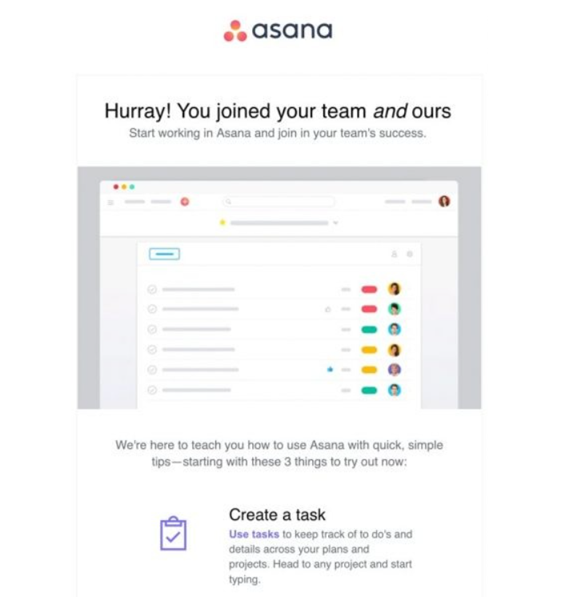 The following are a couple of welcome email thoughts for your business:
Get Everything Rolling
Onboarding Email is the most usually sent welcome email as it assists you with presenting yourself more humbly.
We should not disregard the inviting 'Get Started' CTA. It commands notice and fits absolutely with the Welcome email layout.
Video Tutorials
Sending them instructional videos of your item is the most effective way to loosen things up. They will begin associating with your products easily.
Refer a Friend
Think, if there is a possibility to associate with the client who just purchased your product and bring in new leads.
Indeed!
You can send a Welcome Email asking your customer to refer their friends to your store.
Give them exciting rewards for each referral..
Tutorial
Do you think sending an instructional video requires a great deal of exertion? Then, you can essentially follow what most organizations do.
A step-by-step initiation process!
Brand Story
Everybody prefers a decent opening story or a winning story, right? It doesn't make any difference whether it's a superhuman or an online store.
Stories can stand out enough to be noticed.
You can employ this for your benefit. Present your story through the best 'Welcome Messages' and boost your engagement manifold.
Post Purchase Email 4: Thank you Email
A thanking note goes far in setting up an association with your client. Sending a 'Thank You' Message is a great method for refining faceless dealing. They fill in as powerful messages.
Try not to leave your clients hanging after they complete a buy.
A 'Thank You' message is straightforward. Simply thank the client and give a 'Call to Action'. (CTA)
Realize that the efforts should revolve around making the client feel special and beneficial.
Post Purchase Email 5: Order Follow-up
It feels great after a client finishes a buy, doesn't it?
All things considered, you can make them return by sending the best subsequent messages.
Customize and then send 'Follow-up Messages' immediately before they make a move to a different store.
The following are a couple of Email thoughts which can be sent to clients after their order.
Restocking Email:
'Restocking Messages' are particularly helpful for online business organizations that sell products with a definite period of usability.
For instance, assuming that your client has purchased a 30-day supply of toothpaste from you. When a week is left, your 'Post-Purchase Email' mission may send them a suggestion to reorder the toothpaste to keep up with their routine.
Shipping Data:
The ideal way to guarantee no issues concerning the dispatch of a shipment is by sending 'Post-Purchase Messages'. You can even ask customers for their preferred delivery timing.
Clients want to know when their things are delivered and how to follow them.
You can send a link to track the products alongside confirming the delivery details. This gives clients what they need to look at concerning the order status.
The How-to messages:
'Instructive Messages' are the absolute best deals for follow-up procedures to have in your toolbox.
Say that you run a skincare brand and a client has quite recently ordered a winter skincare kit.
So what can the follow-up talk about? Send them a post-purchase email clarifying:
What product follows what
Usage directions
How often to follow the skincare routine for best outcomes
Best time to use the products and so on
Post Purchase Email 6: Product Review Email
Another most relevant Post-Purchase Email is to send a 'Review Request Email'
Adding a 'Review' option for each product is a brilliant client engagement strategy to foster trust. You can include the customers in your product creation process that promises mutual benefits and enhances customer loyalty.
Ask your clients what new variations and shadings they need to see. Ask them for their opinion on new items. Their ideas may shock you. But it is a legitimate investigation of what they need and requires your items to be.
Reviews are an incredible method to improve the products and performance in the future, and also for evaluating the organization's performance.
You can undoubtedly transform your happy clients into fantastic brand representatives utilizing their reviews and evaluations as an advertising tool.
Featuring their reviews on the item pages of your eCommerce store can assist you with building a solid brand picture.
This can let your organization appear straightforward, reliable, and certain. It is realized that most online customers trust other purchasers' reviews to a great extent.
They use fulfillment rates as a manual for choosing what items they should buy.
Messages that don't sell are great at driving long-haul dedication.
Post Purchase Email 7: Product Recommendation Email
Upselling or cross-selling items to clients is an effective Post-Purchase Email idea.
Upselling: A business procedure employed by sellers that tempt clients to buy costlier things, spend extra cash on updates and other additional items.
The primary objective is to make more income. Premium choices like same-day delivery or higher grade items are general instances of upselling deal strategies.
Cross-Selling: Cross-Selling is combining various kinds of items to build the worth of a deal. Even though it's regularly mistaken for Upselling, Cross-Selling possibly happens when an additional item is added to the buy.
Don't combine it with your order confirmation email to reap the most of these techniques. Let this email be sent to the client separately. Preferably, the recommendations should go well with the items they have recently bought.
For instance, let us assume somebody ordered a smartphone from your eCommerce store. Suggesting relative items like back cases, screen protectors, and data cables will facilitate the customers to have a complete buying experience.
You might need to offer them the chance to add recommended items to their cart before it ships. Simply try to give them space for buying new things so that everything gets shipped simultaneously.
Last Words
'Post-Purchase Messages' are enormously misjudged and can become one of the most amazing assets in your advanced advertising tool.
They can expand your income, support your client engagement, and chop off a huge chunk from your advertising costs.
Perhaps the greatest inquiry around the 'Post-Purchase Emails' is, " When would it be a good idea to send these messages?'
There is no short and simple response to this inquiry.
The truth is that you will need to check out your own information and post-purchase work process to decide the best timing, and to change as you go.
Here are a couple of things you need to think about when timing your Post-Purchase Messages:
Envision the whole cycle, right from the start of the customer cycle. What number of messages are your clients getting altogether?
In case, somebody joins and buys around the same time, would they think they are getting immersed by messages in the initial 48 hours?
Consider stopping your standard sales emails when the client is in your Post-Purchase cycle.
Have a go at merging a portion of those messages:
For instance,
A Thank You Message can also contain order affirmation details.
A Loyalty Program content can be clubbed with the Thank You email
Social sharing can be combined with feedback requests, and so on.
Simply keep the principal objective of your messages clear.
Don't over-burden your clients with various CTAs, and keep up with the overall theme.
The circumstance of your Post-Purchase Messages relies upon the messages you decide to send and how your clients react to them.
In the serious eCommerce space, you really want a base of repeat clients to flourish. Post-Purchase Messages give you the flexibility to change a one-time customer into a recurrent customer and, in the long run, a dedicated follower of your brand.