Driving repeated sales is necessary for a Shopify store to achieve long-term success, discount coupons like Next order coupons can help you do that.
As a Shopify store owner, you might have already known that repeat customers play a crucial role in increasing WOM marketing and sales.
So, the easiest way to make a customer return to your store and drive repeated sales is by giving them a discount coupon for their future purchases.
In this article, we'll show you how to send Shopify Next order coupons to your customers using Retainful.
Drive repeat purchases using next order coupons. Automatically generate and send unique coupons for next purchase with Retainful.
What is Next Order Discount?
Next Order Coupon or discounts is a coupon that you send to your customer through emails for their future purchases after they make a successful purchase from your store.

Next order coupons by Retainful is a single-use Shopify discount app coupon that can motivate the customers to return to your store and drive repeat sales.
These next order discount coupons can help retain your customers which minimizes the need for new customers and save you from expenses.
The objective here is to make the customers return to your Shopify store and Next purchase coupons are the easy way to do that as offering discounts on your next purchase will encourage customers to return your store again and again.
Alright, let's get into the configuration process.
How to create Next order coupon for Shopify?
Configuring and sending Shopify Next order coupons is a straightforward process using Retainful. Let's get it started,
Installation
Login to Shopify and search for Retainful in your Appstore.
Click 'Add app' in the Retainful section.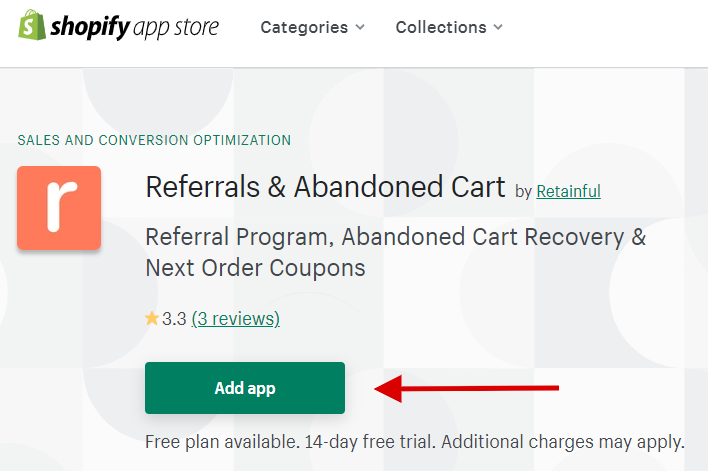 3. You will land on the installation page. Click 'Install app' to install Retainful in your Shopify store.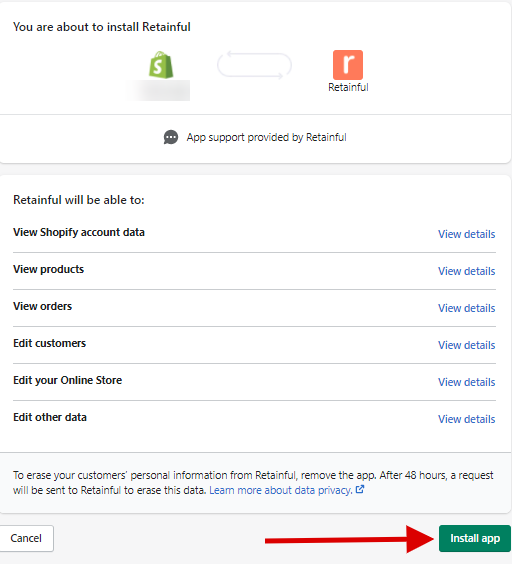 If you already have a Retainful account, you'll be redirected to the Retainful dashboard.
If you don't have a Retainful account, 'Create your account' box will appear.
Here you can enter a password for your account so that you can directly log into Retainful from here.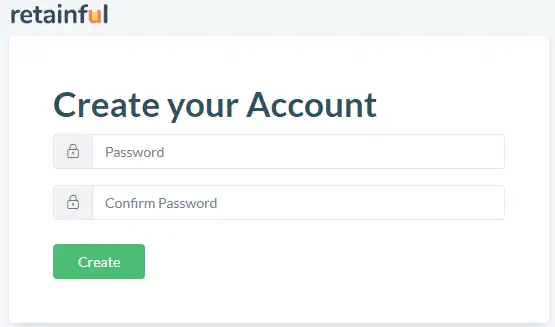 After entering your password, click 'Create' and you'll be redirected to your Retainful dashboard.
Creating Next order coupons
Alright, you've installed Retainful in your Shopify store, let's see how to configure Next purchase coupons from the Retainful dashboard.
1. Navigate to Automations → Create Workflow – Thank you email with Next Order Coupon

2. Name your workflow.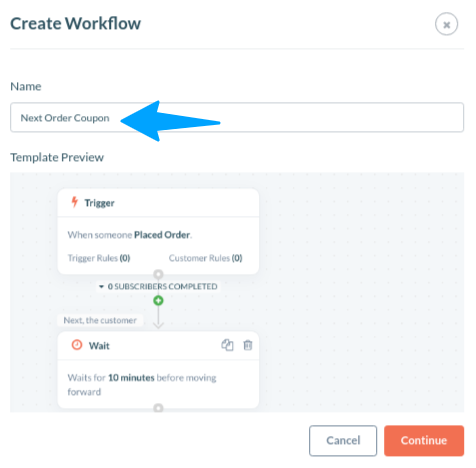 3. You will be taken to the Customer Journey Builder page.
Here you can find four elements,
Trigger – Trigger determines when a customer can enter the workflow
Wait – Set a time delay before the customer moves forward in the workflow.
Coupon – Configure the Next order coupon that you want to send in your email.
Email – Edit subject lines & configure your email.

4. Now let us configure the Next order coupon, click the coupon block.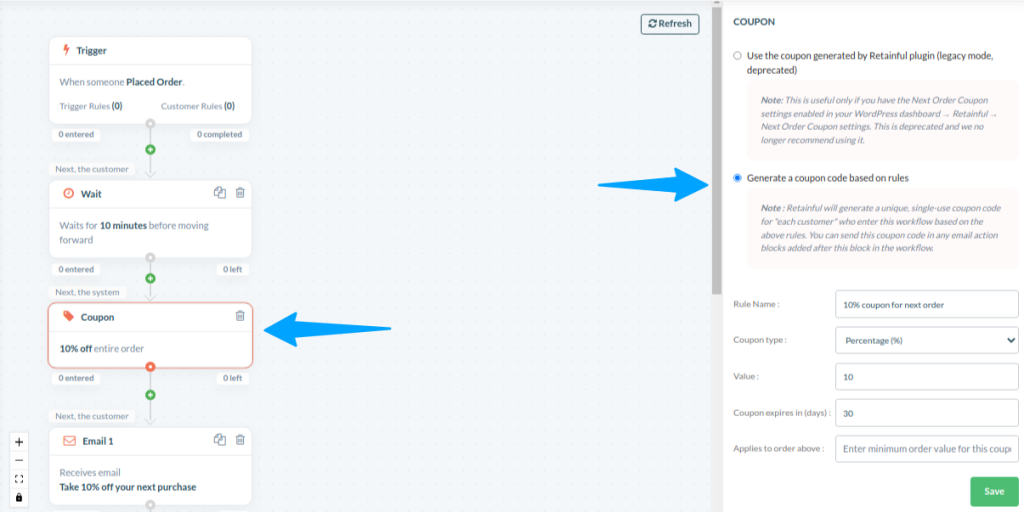 On the right side menu, click 'Generate a Coupon code based on rules' to configure the coupon rule.
In this menu, you can select the discount you want to offer, its value, expiry date and minimum purchase limit to earn the offer.
Once done, Click Save.
Now you've included a coupon in your workflow, it's time to add it to your email to send it to customers.
5. Click the email element to open email configuration.
Create a thank you email campaign with Retainful and include a unique coupon for the next purchase.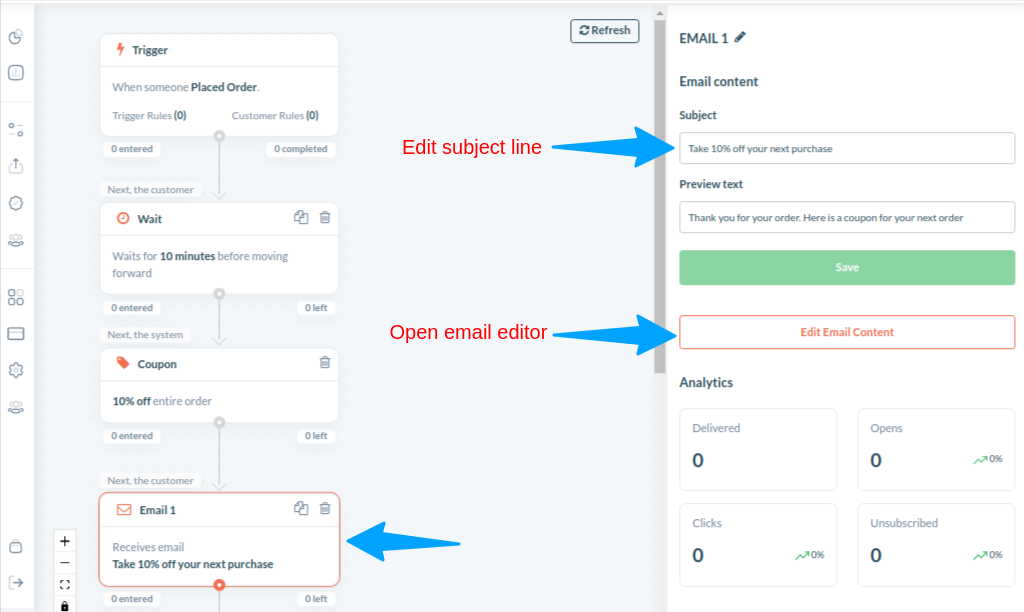 On the right side, you can see the Email Content options. Enter a persuasive subject line & preview text.
To customize the email, click 'Edit email content'
6. Once the Email editor is opened, you can see the customization options on the right side. Just Drag & Drop it on your email to customize it.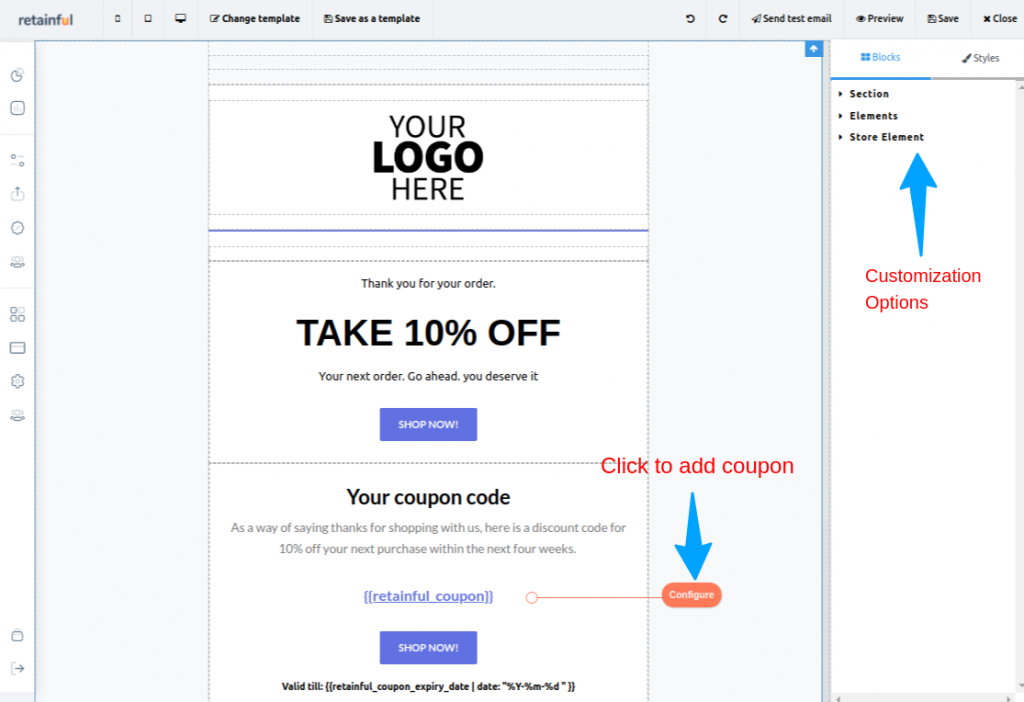 Follow this guide to see how to edit your emails. The editing process is the same regardless of the platform.
7. To configure the coupon, click 'Configure'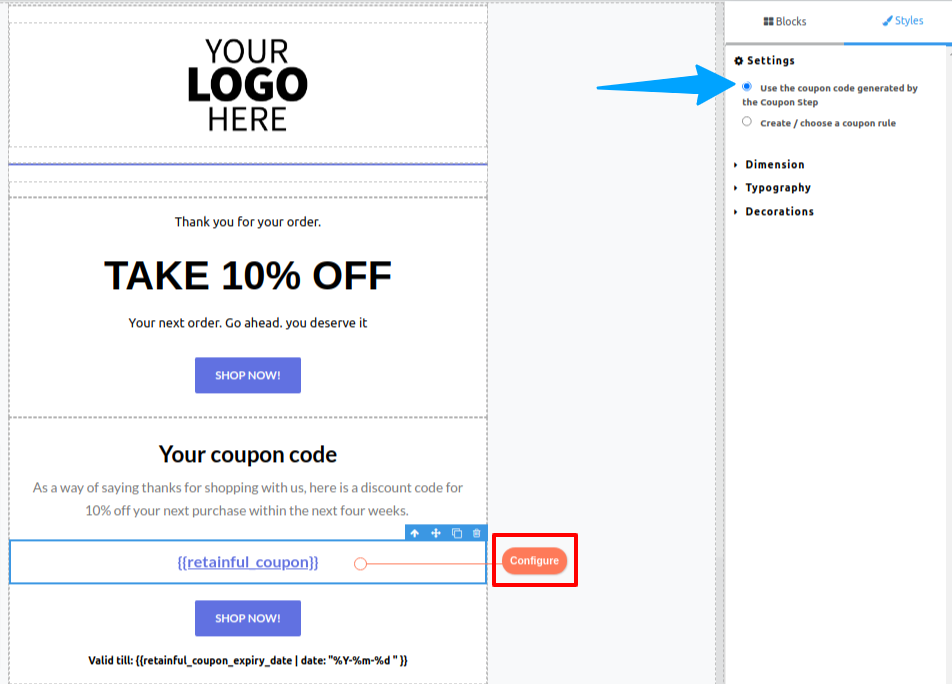 Make sure you select 'Use the Coupon code generated by the coupon step' to add the Next order coupon to your email.
The coupon will be added dynamically.
8. Your coupon is added to your email. Once you are done with the customization click 'Save' on the top right corner.
Now you've added a Next order coupon to your email, you will be redirected to the customer journey builder.
9. The first email will be followed by more 'Wait' action and Follow up emails.

Set the Wait action based on the expiry dates of your coupons.
And configure 'Email 2 & Email 3' the same way you did for 'Email 1'
But always remember to enable 'Use the Coupon code generated by the coupon step' in every email.

10. Alright, now your campaign is ready. It's time to set it live,
Click 'Start Workflow' to set your campaign live.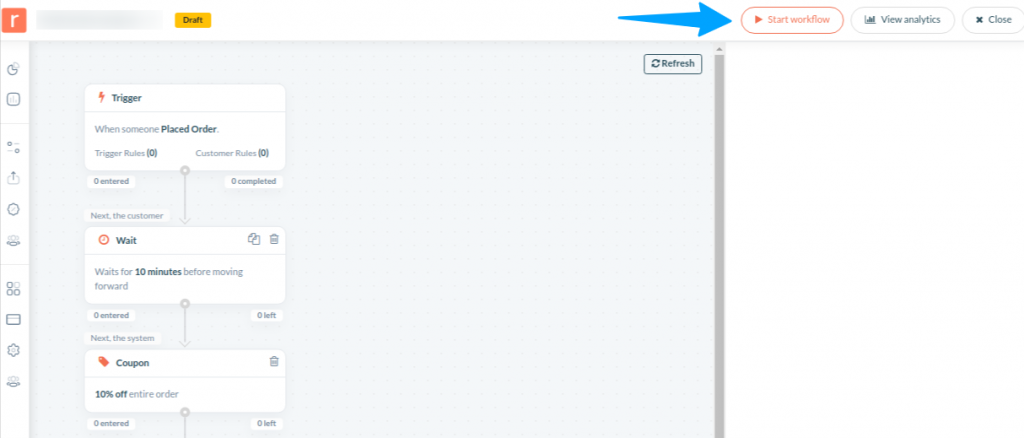 Your campaign is live now, Next Order Coupon will be sent to customers after they complete a purchase.
Learn more about Next Order Coupon configuration here.
Automatically create and send next order coupon codes when customers make a purchase. Let Retainful follow-up the customers automatically if they did not make use of the coupon code.
Wrapping up
Returning customers are crucial to a Shopify store as they purchase more than the new customers. Sending Next order discount coupons is one of the brilliant ways to make customers return to your store and boost your customer retention rate.
Hope this article helped you understand what is next order discount coupons and how you can drive repeated sales by offering discounts on your next purchase. We have also showed yo how to create and send Next purchase coupons to your customers and achieved repeated sales effortlessly.