Howdy WooCommerce user,
If you are reading this you'd already be knowing the importance of recovering your abandoned carts to increase online revenue.
Well, cart abandonment has been the biggest nightmare for eCommerce store owners. 7/10 online shoppers abandon their cart and eCommerce store owners are desperate to find a solution.
And the hardest part of having a WooCommerce store is the impossibility to send cart recovery emails by default.
So, here is the post to show how to recover your lost sales- Hold.., you may find many such posts on the web, I guess…
But, there's something interesting in here.
The post says How to send FREE Cart Recovery email reminders using a WooCommerce Abandoned cart plugin.
What is WooCommerce Abandoned Cart Recovery?
Customers will visit your WooCommerce store, they will add products to their cart and before checking out, they will quit.
This act of leaving a cart without checking out is called Cart abandonment. Now from a store owner's perspective, you have an abandoned cart to deal with.
How will you recover it?
The easy and proven tactic is to use the best WooCommerce abandoned cart plugin to send a series of cart recovery emails and recover abandoned carts.
This act of sending emails to recover carts is called WooCommerce Abandoned cart recovery.
Why should you send cart recovery emails?
Well, the answer is simple, to recover abandoned carts and retain potential customer.
70 % of your potential sale volume is stalled in abandoned carts- So, recovering those abandoned carts can increase your sales volume by 70%
The most efficient and simplest method to recover abandoned carts is email marketing- Because cart recovery emails can recover at least 40% of the total abandoned sales.
Sending cart recovery email reminders is FREE now- So, why not try it and make the best of opportunity to increase sales.
Does WooCommerce have Abandoned Cart Recovery?
Yes, you can recover abandoned carts using an automated WooCommerce Abandoned cart recovery plugin.
Retainful is one such WooCommerce Abandoned cart plugin that can help you recover abandoned carts automatically.
Yes, you heard that right. We said 'Automatically'
Once you configure your cart recovery campaign and set it live, Retainful will keep sending emails at regular intervals until the customer recovers his/her cart. No manual trigger is needed.
How to send FREE cart recovery email reminders in WooCommerce
In spite of having many useful plugins in WooCommerce, it is quite hard to find a true plugin which offers premium features for FREE. But we've got the fish for you.
Retainful – The FREE Cart recovery email plugin for WooCommerce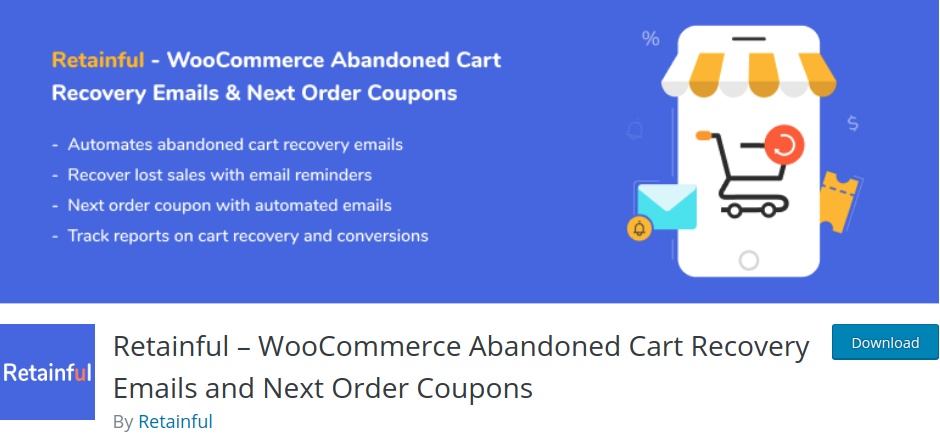 Retainful is a FREE WordPress tool to automate cart recovery email reminders. You can schedule and automate unlimited email reminders to customers. Well, it's just more than just an email tool.
Wait, Is Retainful completely Free?
No, Retainful has multiple pricing plans to suit various businesses. But it also comes with a FREE version with limited features.
And you can send Automated Cart recovery emails using the Free version.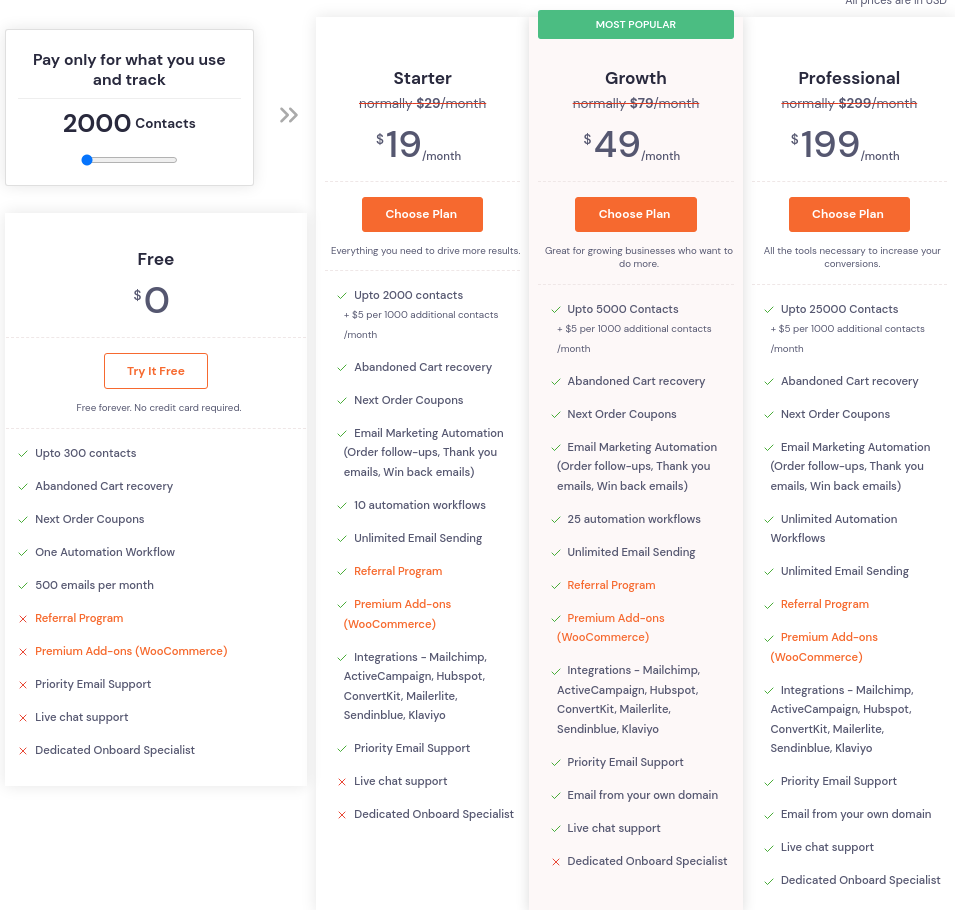 You can enjoy a handful of advanced email automation features when you upgrade your plans.
But for now, let's dive into the simplest guide on how to send your cart recovery emails for Free.
Creating Abandoned Cart Recovery emails in WooCommerce
Retainful offers the most simple steps to create your cart recovery email reminders.
All you gotta do is follow these 3 simple steps.
Step 1 – Install & Activate Retainful
Hover to Plugins in your WordPress dashboard
Click on Add New
Search for Retainful in the search box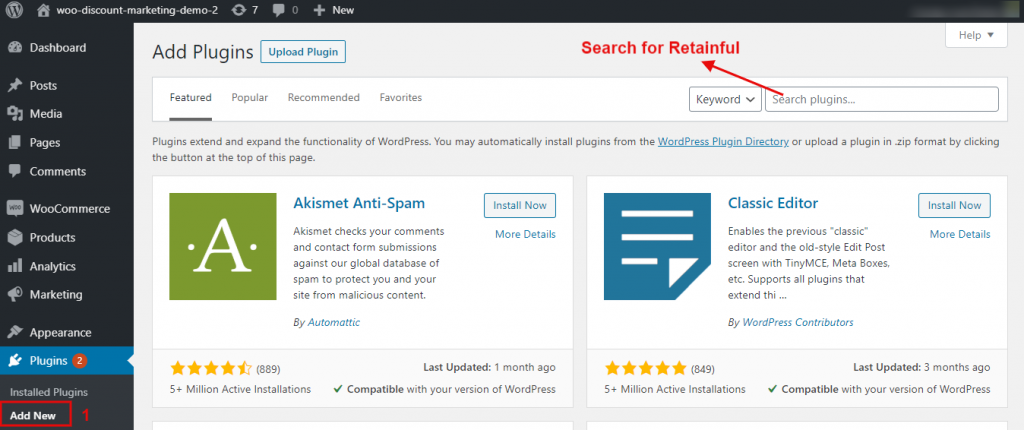 Install and Activate the plugin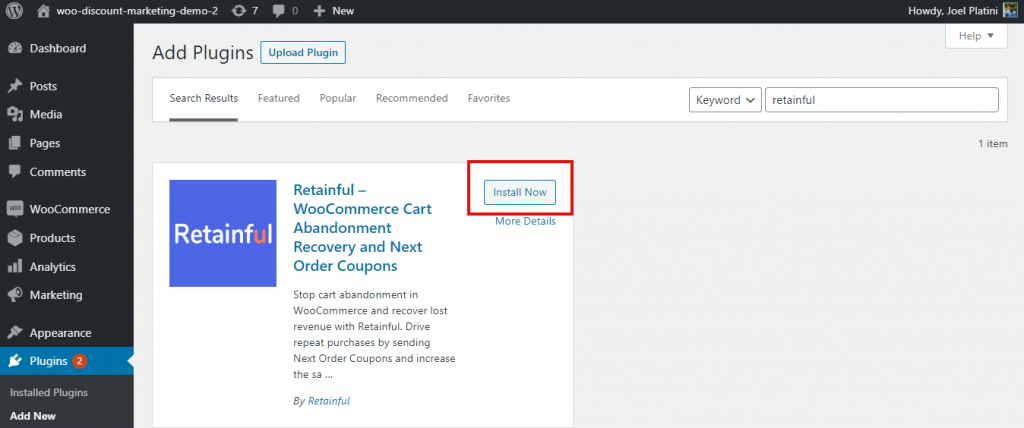 Step 2 – Define What you consider an abandoned cart
Once activating the WooCommerce Abandoned cart plugin, you can find Retainful in your WordPress dashboard under WooCommerce.
Firstly, before automating WooCommerce Abandoned cart emails, you have to define what can be treated as an Abandoned cart.
This is important because you don't want to bother customers who haven't actually abandoned their cart.
To set the condition, Go to Retainful → Settings from your WordPress dashboard
Then,
You can find three options,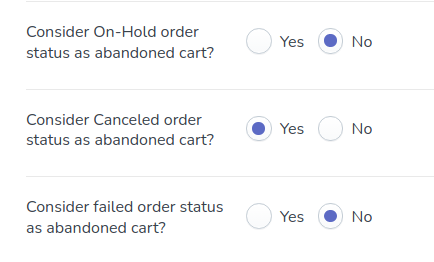 Enable Yes/No as per your preference. Once you have configured them, click 'Save'.
Now let's move on to Retainful to create Automated Abandoned cart recovery campaign.
Step 3 – Creating the abandoned cart recovery email campaign
Workflows are already pre-built to make it easy for you. You can launch your Abandoned cart recovery campaign within minutes.
1. Login to your Retainful dashboard. Or Sign up here
2. Click 'Automations' on your Retainful dashboard

3. 'Workflows' page will be opened. Click 'Create Workflow'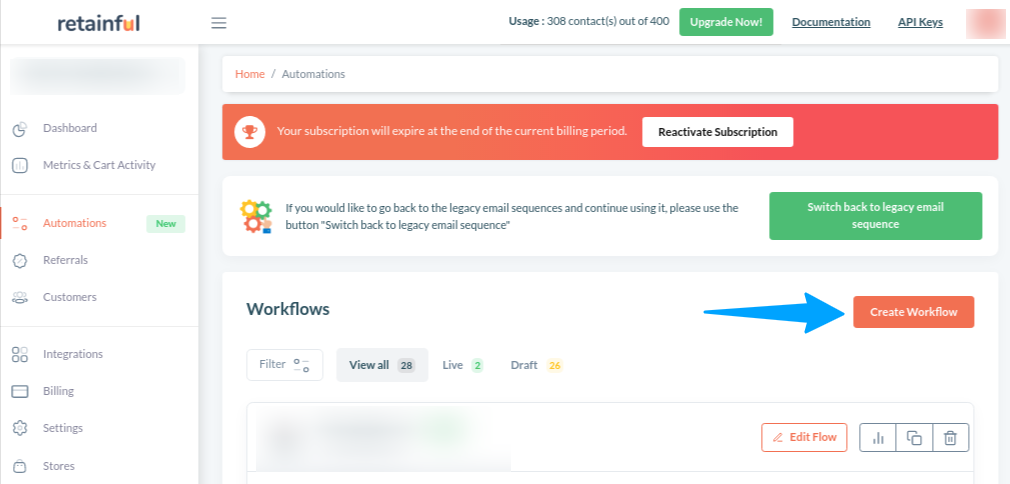 4. In the Create Workflow page, Select 'Abandoned Cart Recovery with Dynamic Coupon'.
5. Or click 'Abandoned Cart' under 'Type' section to open Abandoned Cart Workflows.

Here you can select either one of the workflows based on your business preference.
For this tutorial, we are going with 'Abandoned Cart Recovery with Dynamic coupon' workflow.
6. Once the workflow is clicked, you will be asked to name it.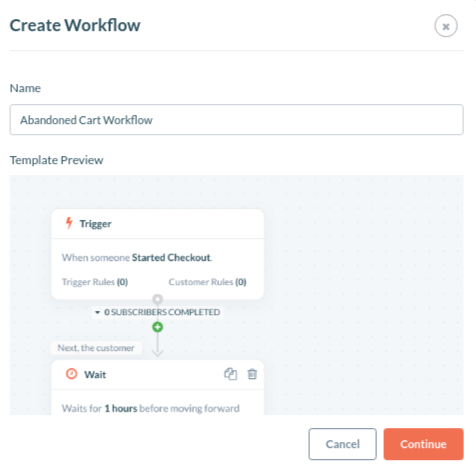 7. The Customer journey builder with Abandoned cart recovery workflow will be displayed. Here you can configure your campaign.

8. In your Abandoned cart recovery workflow, you can find,
Triggers – Choose the trigger to start the automation
Wait action – Set the time interval to send your emails
Email – Configure your email. You can customize it using Drag & Drop email editor.
Coupon – You can add a dynamic coupon from the Customer journey builder.

The workflow is already pre-built for you. We have included emails that will be sent in recommended time intervals.
Click on the element to open its configuring options
If you want to add more elements to your workflow, click the green '+' button.
9. To edit your emails, click on the email element,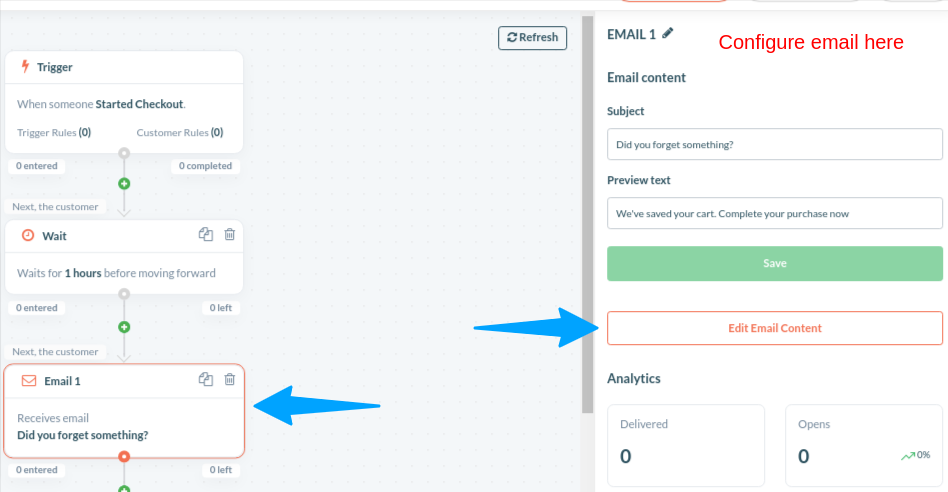 You can see when you click Email, its editing options will be opened on the right.
You can change the subject line, preview text here. If you want to edit email using the Email editor, click 'Edit Email Content'
See how to edit abandoned cart emails by clicking here. No matter what platform you use, Retainful has the same interface to edit emails.
10. Alright, once all the emails in your workflow is configured, it's time to set it live.

Click 'Start Workflow' in the top right to activate your cart recovery campaign.
Once the campaign is live, Retainful automatically sends cart recovery emails at the right intervals as configured.
So, this is how you send free cart recovery emails from your WooCommerce store.
Additional Features of Retainful
Retainful offers you with much need features that can help you increase your engagement and retain customers.
Send automated Order Follow up emails. Engage with customers at every step of their journey. Ask for feedback/recommend products to keep them in a loop.

Thank customers after they complete a purchase. Optionally, send Next order coupons to drive repeated sales.

Send automated Re-engagement emails to win back lost customers.

Welcome customers with beautiful emails after they complete a purchase. Offer discounts and encourage them to come again for more.

Include dynamic coupon codes in your emails to encourage customers.

Track revenue easily by comparing the abandoned cart values and the recovered cart values.

Get actionable customer data along with cart status reports. Track the list of customers who have abandoned, recovered their carts. You can even see the customers who are using the cart at that particular time as well.

Bonus! Retainful – Next order coupon generator, Retainful is just not a cart recovery email plugin. It's a coupon management plugin. It allows you to generate coupon codes automatically whenever a customer purchases and shares them along with the order transactional emails. Hence your customers are motivated to use the coupon codes on their next purchases.
Keynotes to Remember
TIMING… is the most important thing that may win your cart recovery email campaign. Make sure you get the timing right with the following tasks
When should a cart be considered abandoned
When to send the series of cart recovery email reminders
So, that's basically how you effectively time your recovery emails. Do a lot A/ B testing to find out which is the right instance to send the email reminders so that maximum conversion is achieved.
Found the post useful, do share your thoughts and ideas to grow our WooCommerce community.
Well, if you want to know the list of other tools to increase sales conversion in your WooCommerce store, don't forget to check this useful post.
Cheers!