Are you ready for Black Friday? It's a golden opportunity for eCommerce owners. With Black Friday plugins and marketing strategies to try, you can turn clicks into conversions effortlessly.
A statistic by Bloggers Passion has shown that 69% of people shop online during Black Friday. In this blog, we'll unveil effective Black Friday marketing strategies to help you cut through the digital noise and boost your sales and profit during this shopping frenzy.
Stand out in a crowded inbox using targeted and automated email campaigns of Retainful.
What is eCommerce Black Friday?
Black Friday, which follows Thanksgiving, is a time for fantastic Black Friday deals and sales in online stores, all designed to lure in shoppers and increase their sales.
This shopping tradition dates back to the 1950s when stores realized that this day attracted many customers. To keep the momentum going, they introduced substantial discounts and sales, which eventually became a smart Black Friday sales tradition.
Today, even eCommerce businesses have embraced the tradition, allowing people to shop conveniently from home. It's a day when everyone hunts for the finest deals, and businesses meticulously plan their Black Friday eCommerce strategy for a triumphant day.
Black Friday Marketing Strategies
Create anticipation with a sneak peek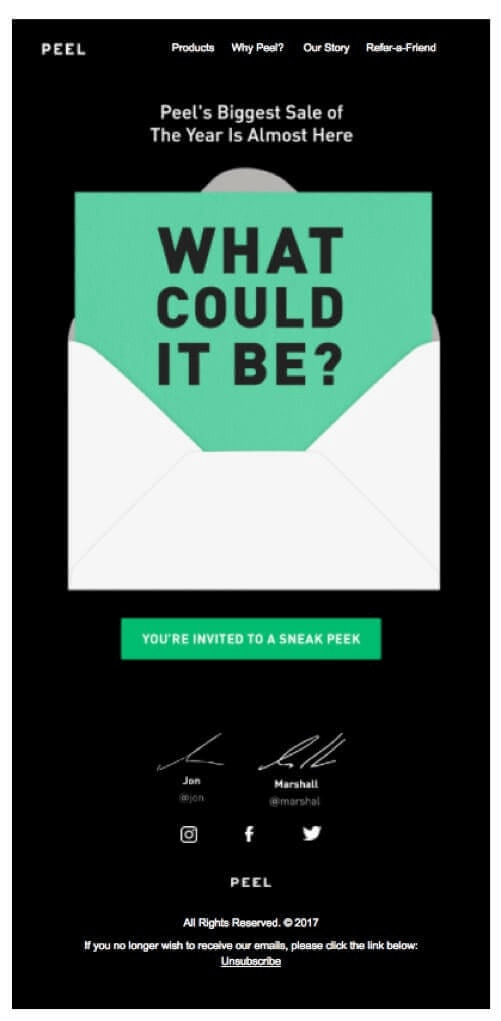 To kickstart your marketing strategies for Black Friday, begin by getting shoppers excited. Share a sneak peek of the deals and offers coming on the big day.
The idea is to make Black Friday shoppers curious and eager by giving them a small taste of the discounts and products. You can show off what you've got; just don't go overboard.
Send these sneak peeks once in a while or every few days to keep shoppers thinking about Black Friday. Use teaser images or short videos to spark their interest. On social media, use countdowns like "Coming Soon" or "Stay Tuned."
For your website, you can have pop-up messages that appear when visitors arrive or after some time on a page. Tease them with Black Friday deals and exclusive offers, and give them an option to subscribe for more updates.
Black Friday landing page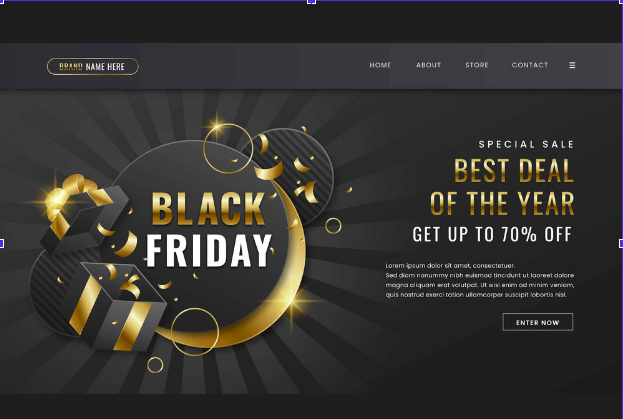 To mark the start of the BFCM period and welcome the Black Friday rush, an exclusive landing page is a must. A well-crafted landing page filled with eye-catching visuals not only draws in customers but also lends authenticity to your offerings.
Make sure to include compelling Call to Action (CTAs) and feature the hottest deals on this Black Friday landing page. It's essential to create a sense of urgency and exclusivity in your Black Friday marketing strategies, too.
Here's a checklist of items to include on your Black Friday landing page:
A catchy headline
A countdown timer for urgency
Highlights of exclusive offers
A noticeable email signup form
Trust-building social proof
Clear product images
Strong Call to Action (CTAs)
Trust badges
Contact information and social share buttons.
Match your store with the holiday aesthetic
A top-notch strategy for your Black Friday eCommerce marketing efforts is to match your store with the holiday vibe. Your store should look so good that it immerses customers in a festive shopping mood.
Remember, shoppers want not just deals but also holiday excitement. Use Black Friday-themed images, holiday banners, and seasonal colors to make shopping a festive experience.
When your online store gets into the holiday spirit, it sets the mood and shows you're ready to offer fantastic Black Friday deals. This makes your eCommerce platform stand out in the crowded online marketplace.
Promote on social media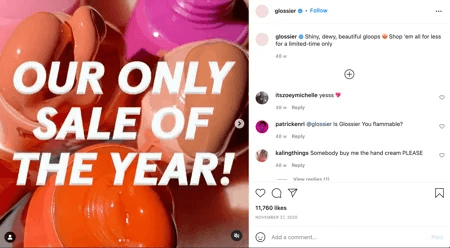 Right now, millions of people are actively scrolling through social media. If you haven't incorporated social media into your Black Friday marketing strategy, you're overlooking a fantastic chance to connect with your audience.
Begin by crafting captivating posts, running targeted ads, and harnessing the power of trending Black Friday hashtags. This approach generates excitement around your promotion and extends your outreach to a broader customer base.
Social media is a dynamic platform where you can share sneak peeks, countdowns, and exclusive offers, making it a pivotal element in any effective Black Friday & Cyber Monday Sales Trend promotion strategy.
Sell on Social Media
When shaping your Black Friday marketing strategy, tap into the social media craze to increase Black Friday sales. Social platforms buzz during the holidays, so seize the chance to captivate your audience.
Find trendy hashtags for a fresh audience connection. Use eye-catching visuals and interactive content to pull in followers. Platforms like Facebook Marketplace and Instagram Shops are gold for creating irresistible product listings. Sponsored posts and stories broaden your reach. Get interactive with polls and Q&A sessions. Shout out your Black Friday discounts loud and clear to draw in those eager shoppers.
Share behind the scenes on social media
Leverage Black Friday trends by sharing behind-the-scenes moments on social media. This strategy isn't just about your Black Friday promotion; it's about building a community.
Give your customers a sneak peek into the hustle, the excitement, and the magic behind the scenes. It not only boosts customer engagement but makes them feel like VIPs, part of something exclusive. Plus, in the noisy Black Friday scene, this personal touch can make your store stand out, drawing in more eager shoppers.
Leverage email marketing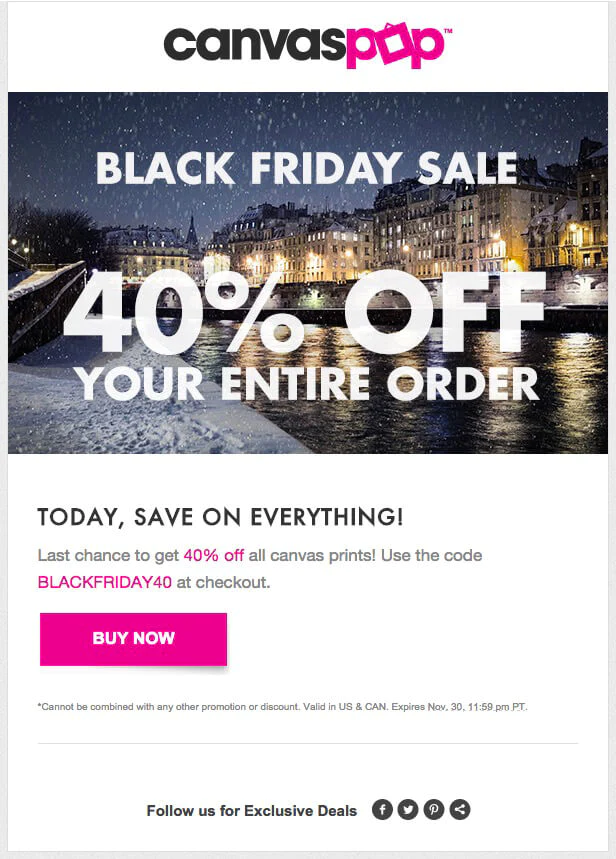 Email marketing is a must for a successful Black Friday sale. So, what elements should your Black Friday email marketing strategy include?
Here's a noteworthy fact: According to DotDigital, using Black Friday subject lines can increase your Click-Through Rate (CTR) by 64%.
Begin by offering personalized promotions, sneak peeks, and exclusive discounts. Craft enticing Black Friday subject lines and visually appealing email templates to draw customers into your Black Friday promotions.
A key aspect of the Black Friday email strategy is segmenting your email list and sending targeted email campaigns customized to specific customer preferences and behaviors. When you effectively utilize email automation and segmentation, you can expand your reach and drive traffic to your online store.
Grab the attention of customers using attractive email templates. Send personalized emails at the right time and engage customers using Retainful.
Focus on reducing cart abandonment
During the Black Friday season, many shoppers fill their online shopping carts with tempting deals but often leave without buying. This can be frustrating, but a well-planned black Friday marketing strategy can help you recover those lost sales.
One effective approach is to send personalized cart abandonment emails with special offers at the right times. For instance, you can send the first email an hour after they've left their cart. If that doesn't work, try a second email with a dynamic coupon code after 24 hours. If the cart is still abandoned, a third email after two days can remind them about the expiring discount.
Moreover, consider simplifying the process with one-click checkout options to make it easier and faster for customers to complete their purchases.
Read next: For a more detailed reading on how many emails in an abandoned cart email series, click here.
Run contests and giveaways.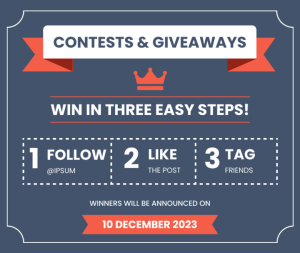 One of the best tactics during the Black Friday season to boost social media sharing is to organize contests and giveaways. By involving your audience in fun activities and offering attractive prizes and discounts, you can motivate them to participate.
This strategy not only brings more visitors to your online store but also creates a feeling of urgency, expands your brand's reach, and nurtures a sense of community and loyalty among your followers.
To make it work, plan these contests and giveaways in advance and encourage your followers to tag their friends in your Black Friday promotion posts. This not only increases your brand's visibility but also grows your customer base since people tend to trust recommendations from their friends.
Limited-time offers, BOGO, and free shipping
One of the best Black Friday marketing strategies is using limited-time offers, Buy One, Get One (BOGO) deals and free shipping promotions. These tactics are designed to encourage customers to act quickly during the Black Friday weekend.
Limited-time offers create a sense of urgency, making people want to buy now rather than later. BOGO deals offer extra value to shoppers, and free shipping sweetens the deal by removing additional costs that can sometimes stop people from buying.
By combining these Black Friday discounts, you can attract the attention of bargain-hunting shoppers.
Offer personalized discounts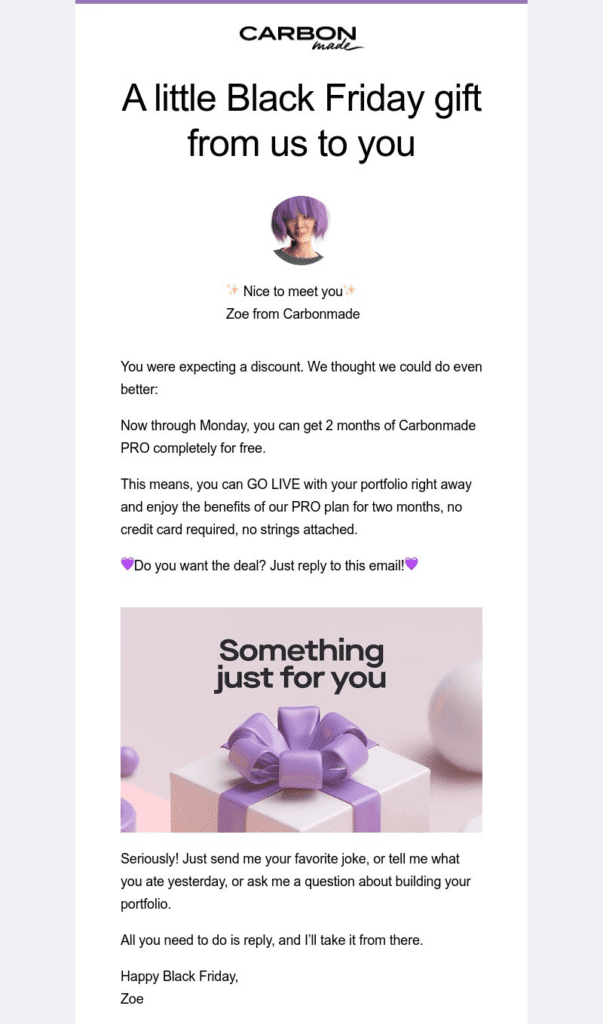 Providing customized discounts demonstrates your appreciation for customers and your understanding of their individual preferences, fostering brand loyalty.
A top-notch approach for Black Friday is to showcase the Black Friday savings each customer enjoys thanks to these personalized Black Friday offers. These tailored discounts can be delivered through email, your website, or mobile apps, motivating customers to check out and make purchases during the Black Friday discounts event.
This Black Friday marketing strategy benefits both customers and the store's overall performance, creating a win-win scenario.
Mobile Optimization
Incorporate mobile optimization into your Black Friday marketing strategy for a smoother Black Friday shopping experience. Mobile users don't like slow websites, so make sure your Black Friday landing page and product pages load quickly.
To achieve this, compress images, use browser caching, and cut down on unnecessary scripts to speed up loading times. A faster website improves the user experience and boosts your search engine rankings.
Simpler checkout

Simplify your checkout process in your Black Friday marketing strategies to attract more holiday shoppers. Reduce the steps needed to buy, provide guest checkout, and let shoppers save payment info for quicker future buys. Progress bars or step numbers ease concerns, showing customers how close they are to finishing. This eases checkout, lowers cart abandonment, and boosts conversion rates.
Include a Chatbot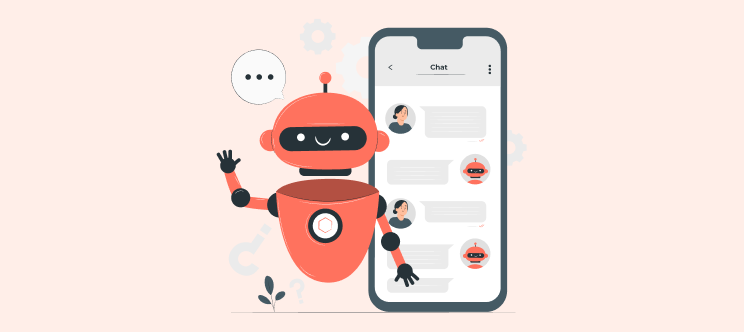 Include a chatbot in your Black Friday marketing strategies to enhance customer support and engagement during Black Friday sales. Chatbots can provide quick responses to customer inquiries, assist with product recommendations, and even help with the checkout process. They operate 24/7, ensuring that customers have assistance whenever needed, contributing to a smoother shopping experience.
Run referral program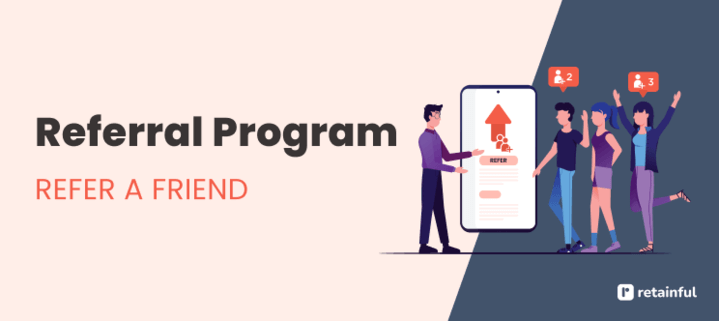 In your Black Friday marketing campaign, consider rewarding customers for recommending your brand to their friends. When you offer discounts or rewards for successful referrals, you're harnessing the strength of word-of-mouth marketing.
A referral program extends your brand's reach and creates trust among potential new customers who come through personal recommendations. It's a win-win approach, turning happy shoppers into brand advocates as they receive rewards, and you expand your customer base.
Rewards and points
In your Black Friday marketing strategy, consider using a valuable Black Friday tactic to make your customers feel appreciated. You can achieve this by offering rewards and points for their loyalty.
These incentives not only motivate them to keep coming back but also create a sense of gratitude among shoppers. Simply recognize and reward loyal customers with exclusive deals, discounts, or loyalty points during the Black Friday sale. This approach is one of the most effective Black Friday tactics to strengthen customer relationships and increase sales effortlessly.
Recommend products
One effective strategy to engage Black Friday customers in eCommerce is suggesting products. You can use data-driven algorithms to show shoppers relevant items as they shop.
These recommendations improve the shopping experience by helping customers find products that match their preferences. This boosts the chance of selling more and creates a better shopping environment during Black Friday sales.
Work with an influencer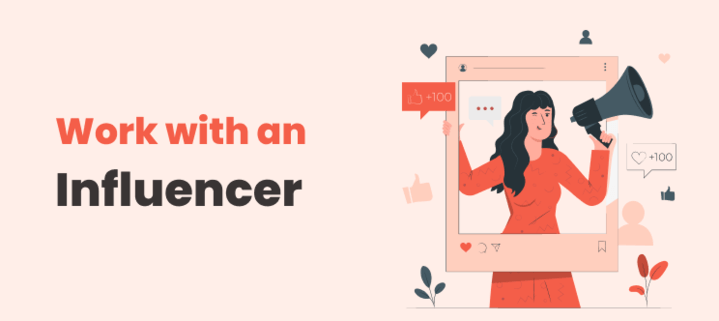 A highly effective Black Friday strategy is collaborating with an influencer who has many BFCM customers as followers.
Simply have the influencer promote your products or services through Black Friday social media campaigns. A Hubspot stat shows that 72% of Gen Z and millennials follow influencers.
When you leverage their loyal follower base with engaging content and recommendations, you expand your brand's visibility and gain the trust of potential customers. Influencers often bring creative ideas that can make your Black Friday campaign stand out, whether through unboxing videos, tutorials, or engaging storytelling. Their unique approach can make your products or services more appealing during the holiday shopping season.
Minimum purchase promo
Minimum purchase promo offers enticing deals or discounts when customers spend a specified minimum amount on your products. It's highly effective because it motivates customers to buy more, increasing the average order value.
Setting a minimum purchase requirement boosts sales while providing shoppers with added value for their money. This strategy encourages higher spending, making it a win-win for both customers and your business during the Black Friday shopping frenzy.
Black Friday spin the wheel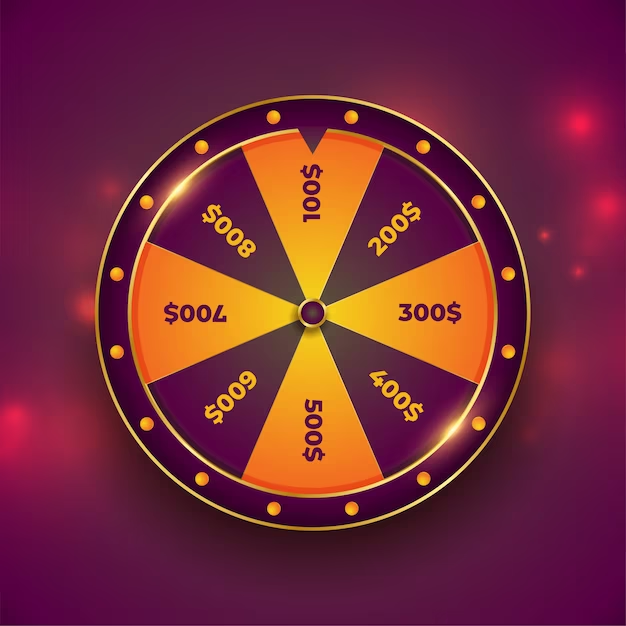 The "Black Friday Spin the Wheel" is a playful and effective Black Friday marketing strategy. Shoppers get to spin a virtual wheel, adding an element of fun and anticipation to their experience.
This interactive approach not only grabs attention but also keeps customers engaged, making it a standout strategy during the Black Friday frenzy. The thrill of uncertainty and the potential for exclusive deals make the Spin the Wheel strategy a winning choice for both a memorable Black Friday and a successful marketing strategy.
Black Friday Gift Guide
Gift Guide simplifies the shopping process for customers by offering curated selections, making their decision-making easier. This user-friendly approach not only enhances the overall shopping experience but also boosts sales by showcasing desirable products. The Black Friday Gift Guide serves as a go-to resource for shoppers, increasing engagement and ensuring a seamless journey during the busy shopping season.
Example:
Chic Essentials Set:
A sleek black turtleneck – a wardrobe must-have.
Trendy high-waisted jeans for a versatile look.
Stylish ankle boots to complete the ensemble.
Offer live chat
Live chat support during the Black Friday shopping frenzy offers real-time assistance, helping customers navigate through deals, resolve queries, and make informed purchases swiftly.
This immediate support enhances the overall Black Friday shopping experience, fostering customer satisfaction and loyalty. With live chat, businesses can address customer needs promptly, ensuring a smoother journey amidst the chaos of the Black Friday shopping rush.
Provide shipping timelines and links to customer support.
Make your Black Friday a breeze by letting customers know exactly when their goodies will arrive. It's a game-changer for reducing stress and keeping everyone happy. Clear shipping timelines build trust and keep those sales rolling in. It's like giving your customers a worry-free shopping experience, making them come back for more.
Create a BFCM marketing Calendar.
Developing a BFCM marketing calendar is a pivotal Black Friday marketing strategy for navigating the bustling shopping season. This organized approach assists in planning promotions and special events systematically, ensuring a well-coordinated campaign.
By mapping out activities in advance, you can optimize your marketing efforts, maintain a consistent brand presence, and strategically target peak shopping times. The BFCM marketing calendar serves as a roadmap, guiding businesses through the hectic Black Friday shopping season with precision and maximizing their overall marketing impact.
Ensure your site is ready for high traffic
Optimizing your Black Friday ecommerce site speed is crucial for a glitch-free Black Friday shopping experience. A fast and responsive website not only keeps customers engaged but also prevents potential frustrations like slow loading times or site crashes. This strategy guarantees a seamless online shopping spree, maximizing customer satisfaction and boosting sales during the busy Black Friday rush.
Use the buy now pay later strategy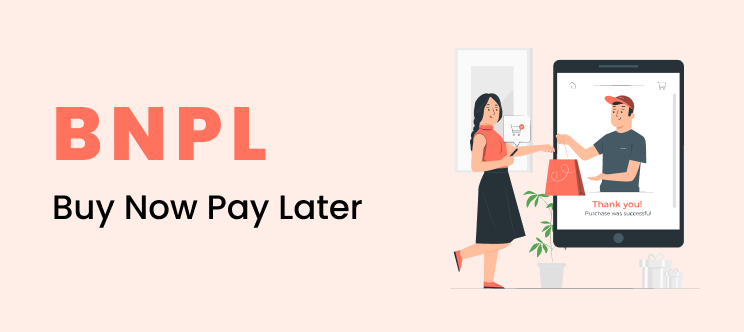 Harness the buy now pay later trend to capitalize on Black Friday sales. It's all about keeping up with the latest Black Friday trends. This strategy aligns seamlessly with current Black Friday trends, giving your customers the flexibility they crave.
By allowing deferred payments, you open the door to larger purchases, fueling increased sales during the Black Friday rush. Moreover, this customer-centric move not only boosts immediate revenue but also fosters loyalty by providing a convenient and enticing shopping experience, setting your store apart in the competitive Black Friday landscape.
Offer "deal of the hour"
Deal of the hour spices up the Black Friday shopping experience. Imagine unleashing a fresh, irresistible deal every hour—it's not just a discount; it's a buzz, creating urgency and keeping customers hooked.
This strategy not only injects excitement but boosts customer engagement and drives sales. It's like turning your store into a thrilling treasure hunt, making your Black Friday marketing strategy stand out, and ensuring an unforgettable shopping spree for your customers.
Make your sale memorable
Creating a distinct and memorable shopping experience isn't just about discounts; it's about forging a connection. Utilize eye-catching visuals, exclusive bundles, and personalized touches. This Black Friday marketing strategy not only boosts customer engagement but also ensures a lasting impression, translating into increased sales. Stand out in the Black Friday chaos by crafting a sale that leaves customers not just satisfied but excited to return.
Here are a 5 lesser-known ideas you can use to make your sale memorable
Virtual Personal Shopping Sessions:
Offer virtual personal shopping sessions where customers can have one-on-one consultations with a stylist or knowledgeable staff member. Provide personalized recommendations and make it a unique experience.
Limited Edition Collaborations:
Partner with a local artist, influencer, or brand for exclusive product collaborations. Limited edition items create a sense of urgency and exclusivity, making the sale more memorable.
Interactive Contests and Challenges:
Host online contests or challenges related to your products. Encourage customers to share creative photos or videos, and reward the most engaging entries. It adds a fun and interactive element to your sale.
Behind-the-Scenes Stories:
Share behind-the-scenes stories on social media or your website. Highlight the journey of creating products or preparing for the sale. It humanizes your brand and builds a connection with customers.
Mystery Boxes or Grab Bags:
Offer mystery boxes or grab bags with a mix of your products. Customers love surprises, and it adds an element of excitement to the sale.
Virtual Events or Workshops:
Host virtual events or workshops related to your products. It could be a DIY session, a live Q&A with experts, or a product demonstration. Engaging activities make the sale more memorable.
Run extended sale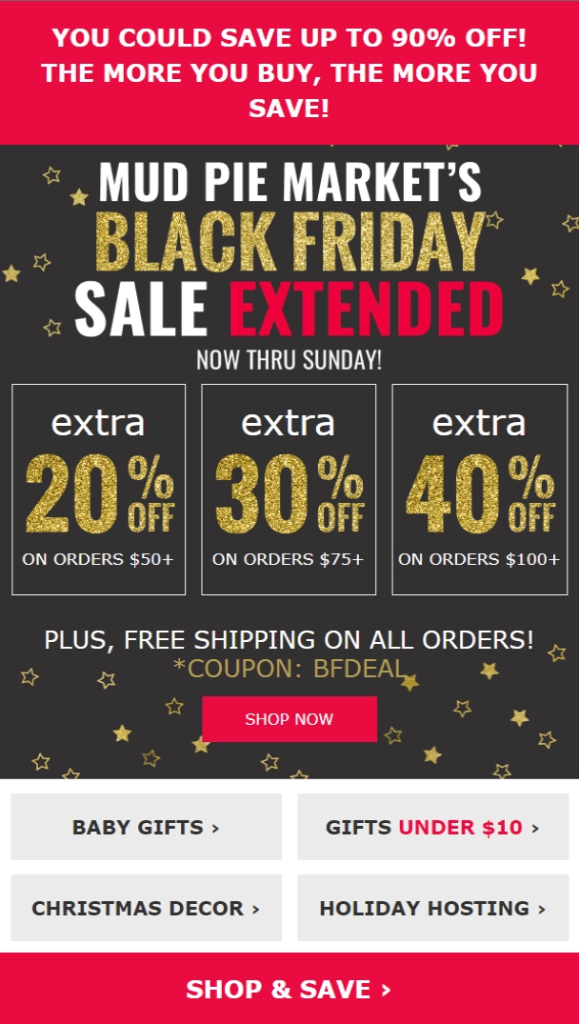 Extending the Black Friday sales and prices for customers who missed the rush is a smart eCommerce Black Friday strategy.
This approach isn't just about handling shoppers better; it allows people to shop at their convenience, no matter their location or the time.
Extending the sale for the entire Black Friday week helps online stores boost revenue and maintain excitement during this crucial shopping period.
Donate a percentage of the profit
Donating a percentage of your profits shows that it's more than just a sale and that it's a chance to contribute to a cause. This philanthropic move not only resonates with socially conscious consumers but also amplifies your store's positive image.
Customers love supporting businesses with a purpose, increasing their engagement and loyalty. It's a win-win – boosting sales during your Black Friday event while making a meaningful impact.
Send automated abandoned cart emails using Retainful to increase sales during this Black Friday sale.
Conclusion
We get it. You are expecting a lot of sales during Black Friday. It's going to be much easier than you think to achieve that once you learn to adapt the above-mentioned Black Friday marketing ideas.
Just plan ahead and start early. Create a calendar to check if the goals you set are on track and rolling. Make sure your website can handle the loads of shoppers coming to shop.
Don't stress too much about Black Friday strategies. Remember, you are not just doing this to earn more revenue but also to learn.
Check out our Black Friday email examples to get inspired.
What is the marketing strategy of Black Friday?
The marketing strategy of Black Friday typically involves offering significant discounts and promotions to attract customers and boost sales during the holiday shopping season.
Why is Black Friday important to marketing?
Black Friday is important to marketing because it marks the beginning of the holiday shopping season and presents a prime opportunity for businesses to drive sales, enhance brand visibility, and engage customers through strategic marketing campaigns.
What strategies do stores use to attract customers on Black Friday?
Stores employ various strategies on Black Friday, including doorbuster deals, limited-time offers, and aggressive advertising to attract customers and create a shopping frenzy.
What is the concept of Black Friday?
Black Friday is the concept of a shopping holiday characterized by deep discounts and special promotions, traditionally occurring on the day after Thanksgiving in the United States, signaling the start of the holiday shopping season.