"Referrals". I hope it is not a new mind-bothering term for the eCommerce world.
Back in the day, people used to refer to brands without expecting or getting anything in return. Gone are the days when people stretch their goodwill in branding the products.
Now, with a slight modulation, referrals have been getting into the track. You might have come across multiple referral programs on different platforms. Today, marketers lean on referral marketing in order to increase their customer base through true strategies.
Nowhere is much clearer than a scenario when a customer comes to you through your referral marketing.
How does the referral program work?
Referral Programs.
A better two words in the dictionary of eCommerce business owners.
Why so?
As the referral marketing program brings you more sales than you expect, every eCommerce store owner loves to launch a referral marketing program often. So, if you are interested in creating a referral program, know the nook and corner of referral marketing before involving in it.
Probably, the next question after hearing the word "referral marketing" is, how it actually works?
A satisfied customer recommends your product/brand to their closed ones. It is not just because they love your brand, but also they may minorly be incentivized when they refer to your product.
That's why eCommerce store owners trust the concept of referral marketing.
A recent study by Nielsen found that customers are four times likely to buy when they got a good reference from their friends. Even Texas Tech research confirmed that around 83% of consumers are happy to recommend their favorite products to their closed circle.
Bouncing back to the topic, how referral programs work?
So, you can take a glance at the referral program apps that amazingly reduces your burden. Few eCommerce store owners may not have an idea about those referral programs.
Let us consider an eCommerce store owner downloads the best referral program apps from the online store. After the successful installation of the referral program apps in their site, here are a few steps to follow.
Once the referral program has been initiated, your customer will get a unique invite link with a referral code. They can share the code with their friends or to whom they refer to your brand/store.
When the person purchases products from your Shopify store using the referral code, they will get a discount of x% as per your norms.
Added, the person who referred them to your store i.e. your potential customer will also get a discount of x% in their purchase from your eCommerce store.
This is how a referral program works. So, it is a win-to-win scenario where you can gain a new customer and retain the potential customer without more space in your pocket.
Why is a referral program important for an eCommerce store?
Everyone loves rewards. Either it is small or big, rewarding your potential customers make them more loyal and increases your chance of increasing your customer base.
Referral programs always ensure a betterment between the customer and the eCommerce store owner. It is a strong base to strengthen and spread the word about your brand. Brand advocates are likely to use word of mouth marketing strategies to promote a business or a product when they get something in return.
According to Entreprenuer.com, people unbelievably trust their closed one's preference. In fact, half of the Americans prefer any type of marketing and thus 30% recommend weekly. Every referral program allows you to generate revenue using your own network without doing much.
As a business owner or an eCommerce store owner, how do you find that your referral program hits the peak?
Let us consider this example. You are an eCommerce store owner willing to turn your referral program into a successful one. Here are the referral marketing benchmarks you need to consider.
Have a rough expectation about the number of referrals per day
Use the right referral program app for your eCommerce store
Customize the number of deals released in a day/in a week
Stick towards the lead quality than quantity
Finally, when you are ready with the above benchmarks, you are way ahead in the competitive race of gaining more new customers through referral programs. Almost 39% of the shoppers cite discounts, gift cards, and other freebies as a factor to engage in shopping and referring to their friends.
Undoubtedly, people always dwell in relationships when they wish to enjoy tangible benefits. When a customer gets a benefit through referrals and knows about the other end benefits to the person too, who hates giving sincere referrals about your brand?
Think!
Extremely, it seems to be a powerful way to drive growth and increase profits.
But, how?
Are there any proven ways to introduce referral programs to my eCommerce customers?
If this is your question, you are the one to continue reading the further piece of information.
Top 3 picked ways to introduce referral program to your eCommerce customers
Not all referral programs are the same!! When you are starting out, it is important to consider the best and the moderate cases for your eCommerce store. More importantly, stick to the most valuable benefits for your customers.
Customers will not recommend a brand or a product just because you ask them. Instead, when you show them how important they are to you and to your store, it may leverage their idea upon your eCommerce store.
Before you dwell in building and launching a customer referral program for your eCommerce store, be sure to take the enlisted things into account. It ensures your ultimate success.
Choose great products with great deals
Consider and plan on the budget of the products
Have a clear understanding of the existing loyal customers
Try to build a good brand reputation through referrals apart from sales
Building a customer referral program or a loyalty program is all about the timing and how well you are prepared. When you work alongside the plan and significantly increase the likelihood, it will ultimately drive your real ROI and customer loyalty for your store.
Now, without beating around the bush, let us concentrate on the top 3 picked ways to introduce a referral program for your eCommerce store.
Using the landing page effectively
As an eCommerce store owner, you know the importance of the landing page. Landing pages are presented in a way to introduce a referral program or a loyalty program.
Apart from this knowledge, you need to understand that a landing page becomes the first must-have feature for an eCommerce store. A landing page often allows you the opportunity to attract the customers and help them gather more about your referral program. The goal of your landing page must bring attention and awareness about your referral program. It can also include the benefits they yield when they refer someone to your store.
Let us consider an example of Evernote's referral marketing campaign.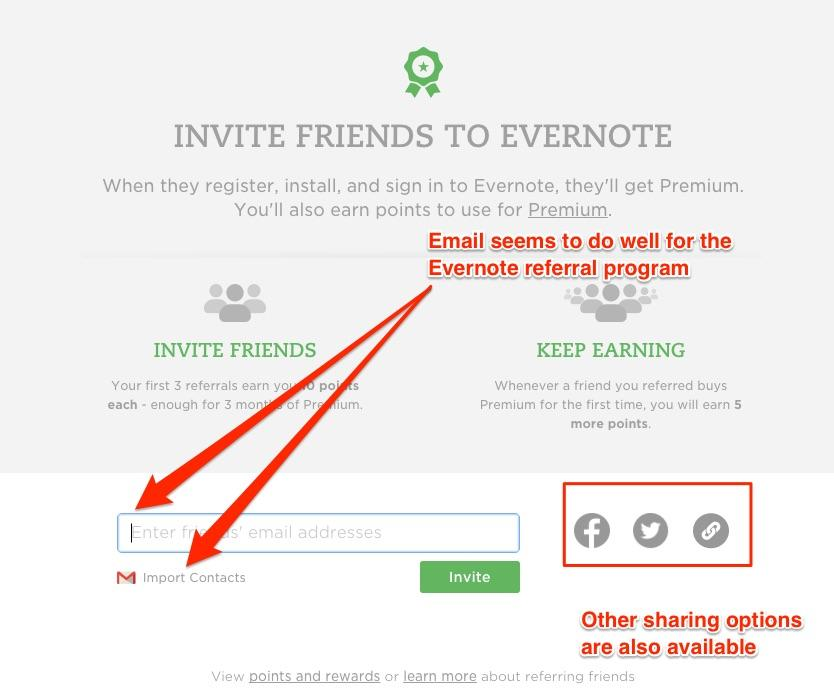 In this image, you can clearly see how well they have planned and launched their referral marketing. In order to invite their friends, they can import their contacts from their email. Such a smart idea!! Because many internet users have become lazier either through successive and timeless features. So, they would obviously love to click the "import contacts" in the above image.
Once Evernote's potential customer invites their connections, probably they will get an email like this.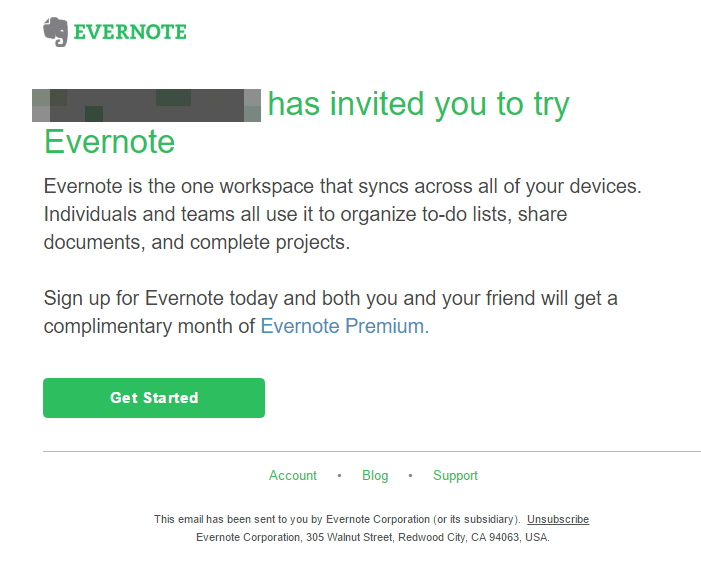 So, the landing page seems to attract customers with some extra features that let them make the next probable move. Building a landing page is a great way to start your referral marketing program. Once you are done with your landing page, it is important to link it to your store's website through the sidebar, footer, top menu, etc.
Setting up email campaigns
After the landing page, the second way to introduce a referral marketing program to your eCommerce store is through email.
Almost half of the eCommerce businessmen have not been using email campaigns effectively. Just a proper and attractive email taglines may bring massive results.
Still, why are many eCommerce store owners fail to utilize it?
This is happening because they are too salesy in mind. At the same end, they have failed to manage or monetize their subscriber list yet. Added, they bombard with their audience and offers that do not add value to the customers' purchase. Without overdoing the brand image, keep your email marketing efforts straight.
When you know more about your customers, it is a better hand to control your referral marketing campaign. Depending on the rewards you offer, you can inform the referral program through emails. Be careful while framing the email newsletter. Do not pour water into a dead plant. For example, pitching a referral program offering women accessories will not benefit a teenage boy. So, make the cut there.
And, do not bother the email subscribers who are inactive or do not bother about opening your emails. You can do this after monitoring the performance of your email campaigns. Firstly, make the right selection in choosing the email follow-up app. You can also consider the abandonment cart features that also help in follow up emails.
Once you are sure about your eCommerce email campaigns, make a segment for your subscribers, and introduce your referral program.
Another great idea of utilizing email campaigns is giving a reason for them to refer to your products. When you sent daily emails to your subscribers, your audience will invariably incorporate a section and think about referring your brand/product to their closed ones.
Invite customers using a referral program app
Undeniably, customers are the best advocates for any business. It is the same for your eCommerce store as well. Though they pay and continue purchasing your product on a regular basis, the referral program is quite special. So, inviting them seems to give you a connection with your customers.
Establishing an emotional connection with your buyers will eventually result in a massive purchase rate. When it has been established rightly, your product or brand would be most likely to be suggested to their friends or family.
To get your customer on board for the referral program, try preparing a witty email for your past buyers. Surprise them through unbelievable offers for their long-term bond with your store. As a result, you can ask them for referrals too.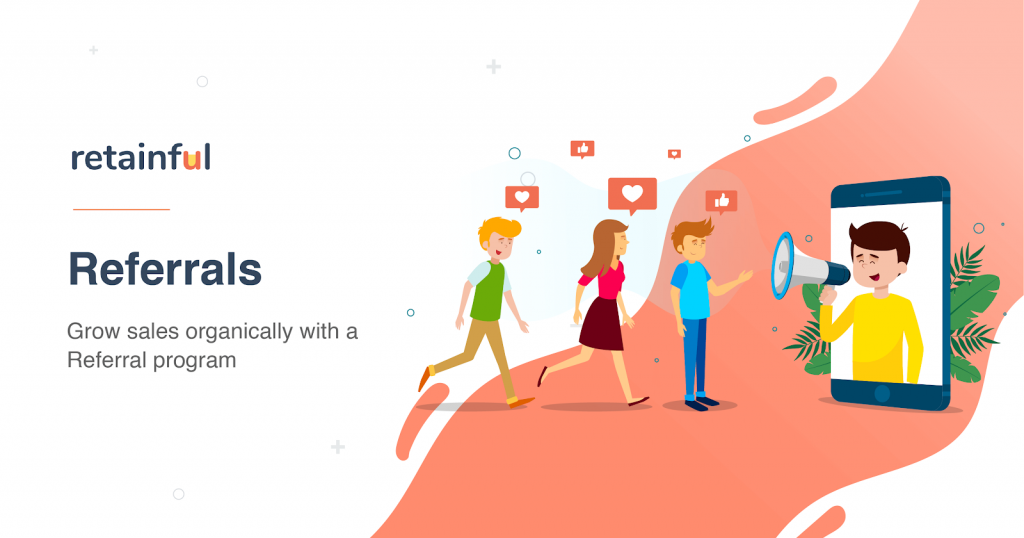 Before framing emails, be sure about the subject lines and keep the email short and sweet. Do not forget to highlight the rewards or offers you give for a referral. Keep an eye towards the actionable "CTA".
You can also provide the information lately after they finish their purchase or finish referring to your store. It may be quite surprising and stir their excitement level too. Probably, when they see the rewards, they would be quite happy about it.
Do not forget to remind your customers to use their unique referral codes. When you use a referral program app, every single piece of information would be automated and you would get a clean report for your referral marketing campaign. In these ways, you can capture the attention of the customers and invite more new ones using the existing customers wisely.
3 Referral Program examples prevailing in the eCommerce realm
Referral marketing is a secret weapon.
So far, we have come across various factors and the ways to implement referral marketing successfully for your eCommerce store.
Why not have a look at other eCommerce stores that have taken referral marketing to the next level?
Here are the top 3 referral program examples to unlock how effectively a referral program works for an eCommerce store.
Gilt
Gilt an online retail store, is a place filled with discounted designer clothing. They have indulged in selling high-end clothing for men, women, and kids. There are some exclusive services and luxury travel items to eye upon.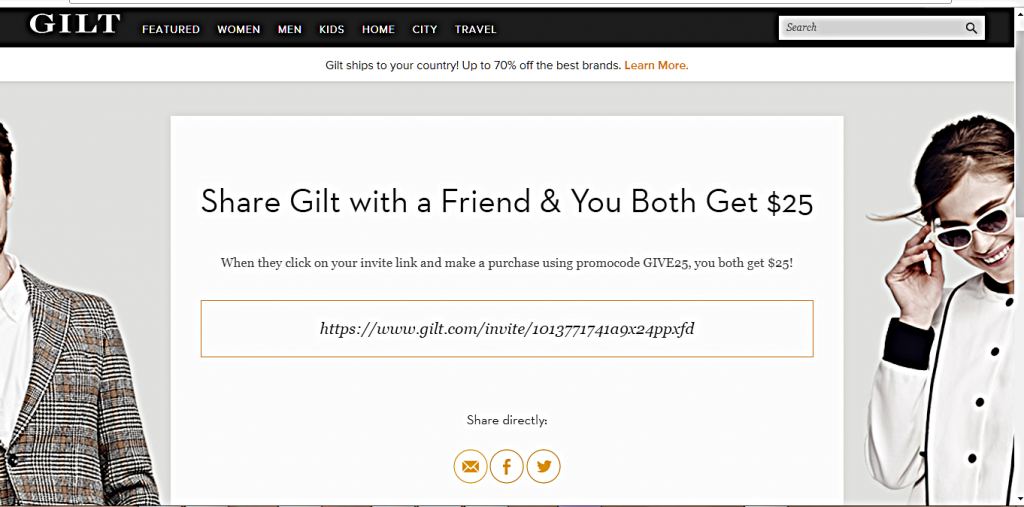 Gilt's referral program rewards the referrers and their invites with a $25 gift card for each referrals. They offer multiple ways to collect invites. They pass the referral link through multiple options and finally leave the decision to the customers to choose one among the options.
Zulily
Zulily comes with an interesting and profitable way of approaching the eCommerce realm. They used to list out the products with massive discounts. Their discount range starts from 70% which is quite attractive to the customers.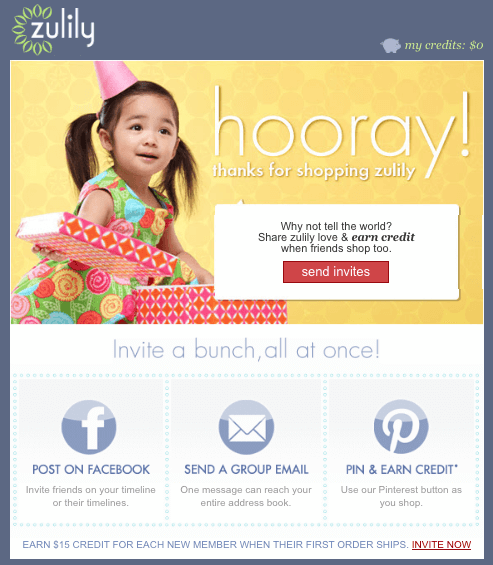 They manage their discount and sales ratio through a bulk purchase of products. It helps them to sell products at the affordable rate yet with fresh collections. Every referrer would get $15 for each friend or relative they invite.
Snapwire
Snapwire differing from the most stock photo websites, have a powerful way ahead to spread the word about its uniqueness.

Snapwire has a system that connects content creators with amazing brands who are in need of custom images with high authenticity. Buyers would post a brief which would be satisfied by the creators. If the buyers have been convinced with the content, the purchase moves to the next step. Buyers who invite their friends who would receive $20 off for their first purchase. The referrer would also get a credit of $20 once he/she refers a friend.
Before you go, plan what's next!
An eCommerce referral program is not something that has to be taken lightly. Instead, it needs planning, budget, and efficient working. Be sure not to lose money through the high-end referral program.
With a great Referral plugin and a solid plan, the time and effort have to be spent rightly. Building and promoting a referral program will help you to understand your business and receive personal benefits in exchange.
Your referral program must solidify the customer loyalty and create a new group of loyal customers. Happy customers are always the glowing energy of a growing eCommerce store. Do not forget to promote your referral program for maximum impact.
Like ever other marketing tactics, referral programs might also help you achieve your sales goals!! Start implementing the ways now!!