Who hates getting a boost in sales with 3x more than the competitors? Seeing your eCommerce business go down is one of the self-disaster, a businessman can ever face. Every businessman might have dreamt about starting "One business that never fails."
One of the best ways to keep your business and sales on top is to do marketing effectively that frequently reaches out to the customers' eyes. Excluding the other concepts, let us hook up with the referral programs.
The business's marketing rate gets a hype when you indulge in creating a referral page/link/contest or share it within your circle that tends to expand your business.
All this can be done using eCommerce referral plugins and are listed under the promising factor to bring up the profit.
With the help of these plugins, creating vouchers, discounts, and coupons will become a cakewalk. Handling this sweet trick properly will enhance you to open up amazing opportunities for your business and make your customer happy too!! It is more or less like win-to-win criteria.
Now, it is the time to give your eyes a treat with the best eCommerce referral plugins with several other spicy features like social shares, email referrals, and so on accompanying it.
ReferralCandy
ReferalCandy, an amazing and worthwhile eCommerce referral plugin, can grab more customers through incentivizing the referrals. Put up your mind and think about word-of-mouth marketing. ReferralCandy stands as an example of it and has been performing successful referral programs for years.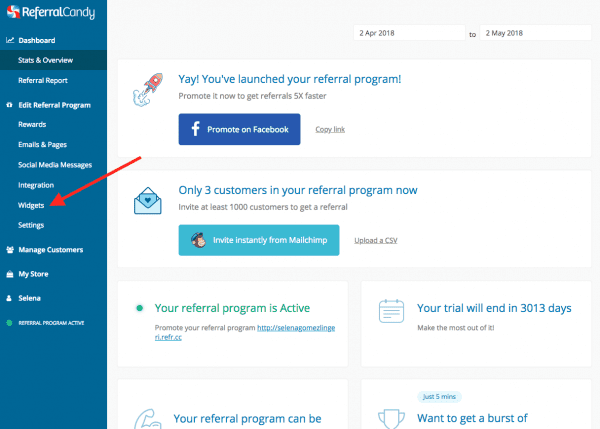 ReferralCandy eliminates manual lookup at the referrals. Instead, it manages your customers and fills in the rewards automatically. Increased referral rates pave the way for increased sales in the business.
ReferralCandy connects your customers instantly with the best eCommerce platforms, including Shopify, WooCommerce, BigCommerce, Magento, etc. Also, it moves forward by choosing custom API or advanced integrations. It also integrates with other marketing tools, including Mailchimp, Google Analytics, Chargebee, etc.
Features
Hassle-free integrations with their comfortable eCommerce platforms
An automated referral program to invite customers, make a count of the referrals and calculate the final referred customers.
Accurate tracking of the referred visitors and your top traffic sources as well
Completely branded, flexible, and result-driven templates to increase customers' brand experience
Multiple referral program marketing on different channels will be an additional plus
Turning around, you will get a best and classy support from the team instantly
Pricing
There is no free version by ReferralCandy. You cannot escape from opting for one among the plans mentioned.
No free Version. Instead, you can opt free trial
Premium: $49/Month
Enterprise: $3,999/Month
Retainful
Retainful is one of the best Email marketing automation platforms that lets you send automated shopify emails throughout a customers journey to increase engagement.
Apart from marketing automation, you can run a Referral program using Retainful and increase your Word of mouth sales.
You can run one of the best eCommerce referral programs using Retainful. It already has a history of much successful eCommerce referral program. Getting sales organically is one of the fruitful benefits you gain through this program.

Turn your existing customers into brand advocates and acquire new customers with the eCommerce Referral program. Reward your customers after their friend makes a successful purchase. Retainful is one of the few plugins that let you reward both the Referrer & the Referral.
Rewarding customers for referring their friends is the best way to increase your customer retention rate. This will encourage customers to bring in more of their friends to your store thus you can retain them & increase your sales at the same time.
Send automated Referral emails to customers, customize these emails using the Drag & Drop editor and increase your conversions.
Cutting down any additional costs, you can invest in Retainful to get a prolonged increase in your website traffic. It is 10x cheaper and has an increased conversion rate. Using Retainful, you can successfully reward your eCommerce referrals and raise your brand awareness. Trying yourself and getting the benefits entirely is the only way to experience the pleasure of using Retainful.
Features
Every customer will get a unique link for referring their circle
Retainful helps in running a customer loyalty program effortlessly
Automatic cart recovery options available through abandoned card delivery feature
Using a unique coupon code, we can increase the flexibility in increasing the sales
Handy dashboard to manage the referrals efficiently
Customizable email templates
Multiple integrations and campaign elongation
Retain your customers and drive repeat purchases using next order coupon feature
Pricing
Free – Lite Version
Starter – $19/month
Growth – $49/month
Professional – $199/month
ReferralRock
ReferralRock, a best-in-class eCommerce referral marketing software, works alongside the business. It works up with any type of business, irrespective of the size. And, ReferralRock can be integrated with embedded widgets, with the single sign-on and registration, and with referral sites.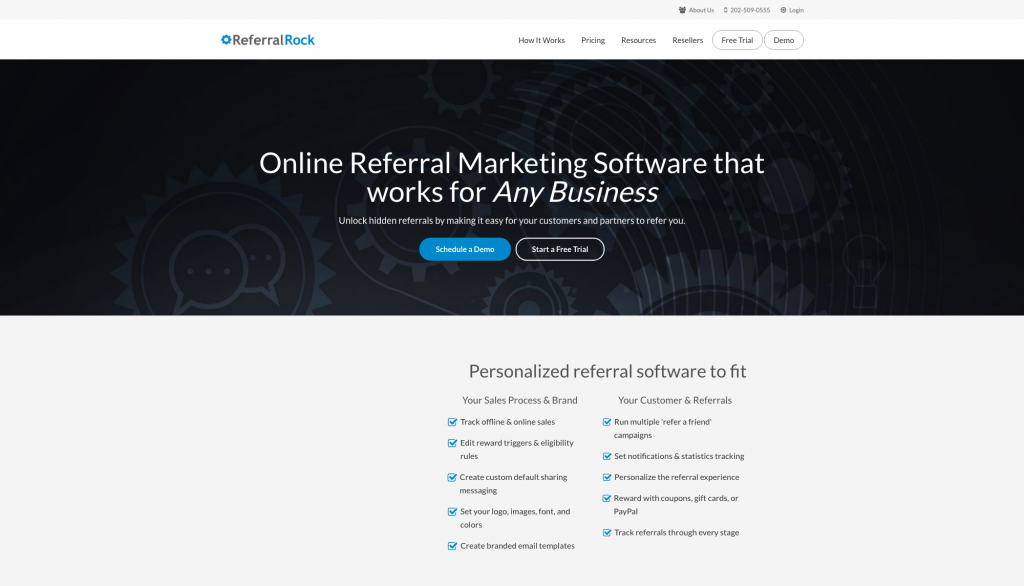 As ReferralRock automates every step, the scalability of the business is on the peak. As a result, the business can measure its success rate through the referral marketing program. ReferralRock supports integration with world-class leading business systems, including HubSpot, WooCommerce, BigCommerce, Magento, Shopify, etc.
Businesses can use the splendid brand images and colors that portray their company after completing customized referral programs. Adding sweet to the coffee, ReferralRock also provides customizable email templates to be used effectively to build customer relationships. Users of ReferralRock will wish to extend their referral marketing campaign with the software's Reward Payouts.
ReferralRock handles and out spit the eCommerce reward program effectively to calculate and track the visitors gained as a result of the referral program.
Features
Best practicing features like dual-sided incentives, personalized links, social media sharing, automatic notification, statistical analysis, etc. are available
ReferralRock's referral program fits in perfectly with your goals and to your audience
Automated tracking and detection of your referral program
Smart fraud detection feature to set up and secure the visitors from the abuse. Respective members can no longer be a part of the program
Excellent customer support via email, phone, and screen shares.
Pricing
You can try ReferralRock under the free trial. Excluding the free trial, there are three pricing plans.
Starter: $200/Month
Growth: $400/Month
Established Business: $800/Month
WPLoyalty Points, Rewards, and Referral Plugin
When you have planned to launch a loyalty program to benefit your customers, the WPLoyalty Points, Rewards, and Referral Plugin is the first thing that flashes in your mind. It is a cakewalk step to create WooCommerce loyalty and reward programs easily and reward your customers for every action.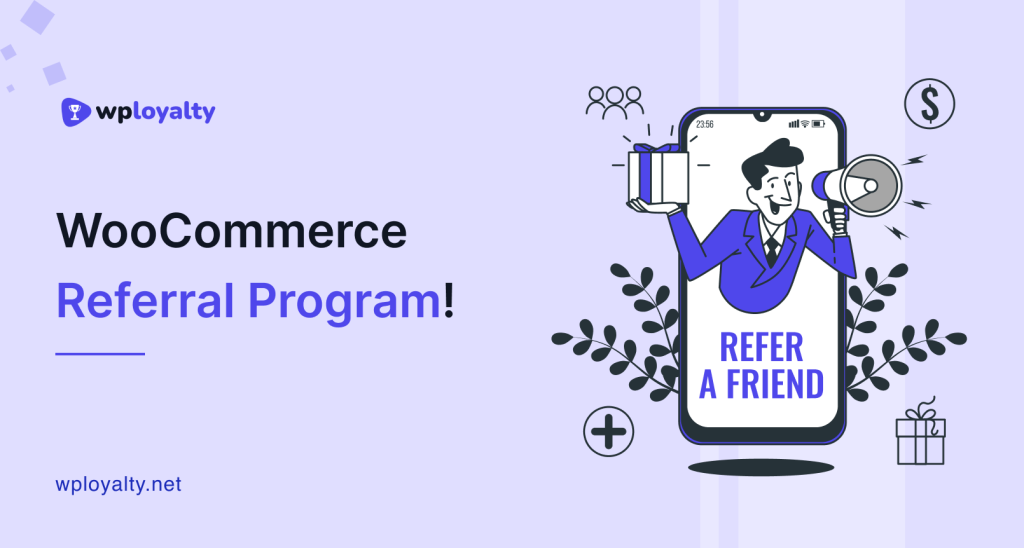 From scratch, loyalty and reward programs have quite a fanbase among eCommerce customers. WooCommerce loyalty program retains high customer loyalty towards your brand and takes it to the next phase.
On the other hand, the plugin helps you to increase customer engagement that thereby lifts your sales—the referral link generated by the plugin magnets attract customers to your site.
Features
WPLoyalty Points, Rewards, and Referral Plugin increase customer engagement and come with its incredible feature list.
With WPLoyalty you can give back rewards for your customers' loyalty
Customers can earn points and redeem it for a future discount
You can reward both existing customers and new customers for participating in your referral program
With chat-like launcher widget, it allows customers to easily discover your rewards program
You can set campaign start and end dates
You can set point expiry to customer's points
Mobile-friendly design with customizable options excluding the codes
A dedicated dashboard to eagle eye at the activities of customers
Pricing
WPLoyalty Points, Rewards, and Referral Plugin take their head out of the box with an affordable and flexible price chart. The price differs according to the number of sites added to the cart.
$99/Year for Starters
$129/Year for Professionals
$199/Year for Agency
WooRewards
WooRewards, a free eCommerce Referral plugin, always catch a soft corner in the minds of businessmen. The plugin is an excellent customer retention aid to increase brand awareness and brand visibility. It helps in doubling up the number of customers visiting the site through the referral program.

Using WooRewards, you can set up a referral program where the points are automatically redeemed to the customer once he/she comes forth, satisfying the referral program norms. It may include signing up, purchasing products up to a limited amount, referring friends or neighbors to buy in the store, etc.
Features
Loyalty programs will provide customers with points to unlock rewards
Leveling system will help customers to surpass succeeding levels to earn rewards
Set achievement zone and provide specialized badges for it
Rewards based on the new sponsorship offered by the customers
Increase in points once the customer shares your referral link on social media
Effective usage of widget section to create as many loyalty programs as you wish at the same time
WooCommerce Integration with multiple platforms and third-party API
Pricing
WooRewards is a free plugin to enjoy.
Smile
Smile is the eCommerce referral plugin for Shopify. Added, you can also integrate it with Wix, WooCommerce, BigCommerce, and so on. Smile allows you to quickly run a referral and reward program using referrals, rewards, and points. It also brings a fantastic brand loyalty program that can even be managed by your non-technical team.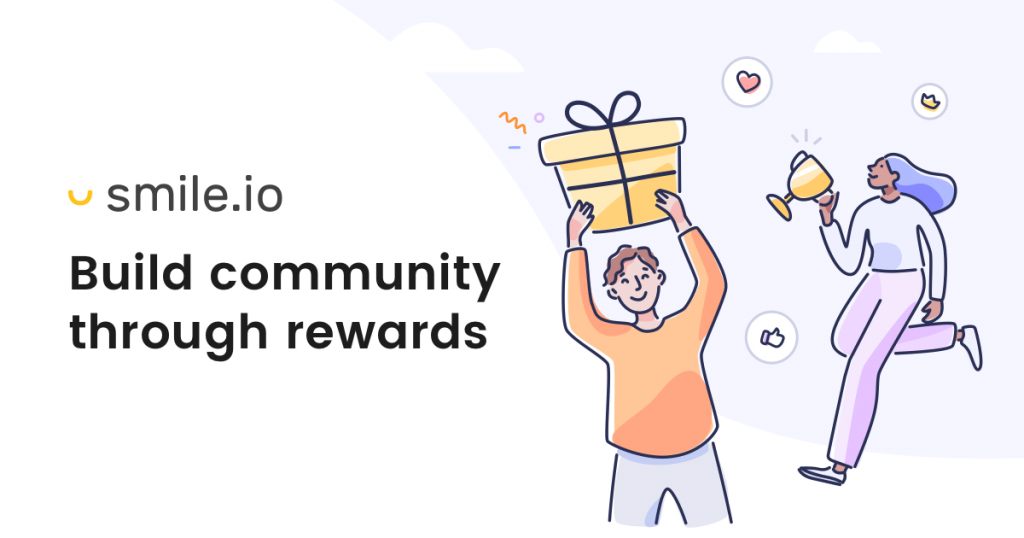 Leaving things discussed before aside, Smile links into all the other tools available in your marketing stack. It is a trunk card to initiate and boost sales from your existing customers.
Features
Loyalty points program rewards customers who intend to create an account, sign in, place an order, or leave a review
Create urgency along with a bonus that elongates towards point expiry campaigns
Reminders send for the customers who have abandoned carts days before
Encourage customers to refer their neighbors or friends with the referral links
Strengthen customer retention through VIP statuses and perks
Using In-app analytics, you can check and track the traffic through referrals
Goes well in integrating with Shopify, PushOwl, Loox, etc
Pricing
You can enjoy the free version of Smile. Added, there are four further pricing plans to enjoy the unlimited benefits of using Smile.
Starter: $49/Month
Growth: $199/Month
Pro: $599/Month
Enterprise: $1000/Month
Talkable
Talkable, an amazing eCommerce referral plugin, has been changing how eCommerce store owners try to grab the customers and their referrals. It maximizes the impact of eCommerce referrals. Concurrently, you can run multiple campaigns at the same time, without any hassle.

Online retailers feel free to use Talkable as it helps acquire new customers, drives email newsletter sign-ups, and increases the customers' lifetime value in the particular eCommerce site.
Features
Talkable handles the automatic coupon creation for your referral program
Active tracking of referrals and the corresponding data will help you to know more about the success rate
As additional security, you can integrate and encrypt referrals and friend emails at the back-end
Effortless integration into multiple platforms including Shopify, Magento, OpenCart, etc
Talkable can help you acquire new customers, enable endless subscriptions, and drives customer loyalty too
Pricing
Enterprise Plan
Managed Plan
Self-Serve Plan
The price starts at $125 onwards. You can book a demo and travel further to know more about the pricing.
Gratisfaction
Gratisfaction commonly gained the pet name as "all-in-one" loyalty and rewards plugin, supports the best eCommerce referral program. It integrates with WooCommerce. The WooCommerce plugin supports a built-in referral program that credits, rewards, and redeems points to the customers once they have done their reference successfully.

Using the loyalty program widget, the customers can earn rewards through simple actions, including writing a review, signing up, completing a purchase, referring friends, and so on. It brings bliss to the customers whenever they enter your store.
Features
Ease in handling the loyalty rewards program with more advancements to configure the referral program
Goes well in handling single or double-sided rewards program effectively
Instant reward feature to reward the customers instantly once they have come up completing the particular referral task
Gratisfaction also helps in managing exciting takeaways and sweepstakes to customers
You can also collect the details of the referrals through Gratisfaction'd profile setting tab
Pricing
500 Users: $19.95/Month
2000 Users: $39/Month
5000 Users: $79/Month
Lootly
Lootly, an amazing experience-focused program, helps increase brand awareness among the customers through referral and loyalty programs. Within a fraction of seconds, you can set up your loyalty program for your eCommerce store. You can also integrate with BigCommerce, Shopify, WooCommerce, Magento, etc in order to earn its benefits.

Best of all, Lootly does not require a separate account to sign in. Instead, a simple login by the user will help them to display their loyalty or referral rewards gained or awaiting for them.
Features
Lootly helps you to incentivize actions along with points to the customers
Customers can get routine points expiration alerts and reminders
It includes different variety of rewards to your customers including free product, free shipping, etc
Flexible customization options that enable you to customize your email templates including the colors in it
It helps in handling effective restrictions and rules for the referral program. It controls which product or customer qualifies the spending action.
Pricing
Growth: $79/Month
Ultimate: $249/Month
Enterprise: $599/Month
Social Boost
Social Boost is a platform that helps you to grow your email lists, viewers, sales, and engagement. You can run instant win promotions, giveaways, viral share, and sweepstakes.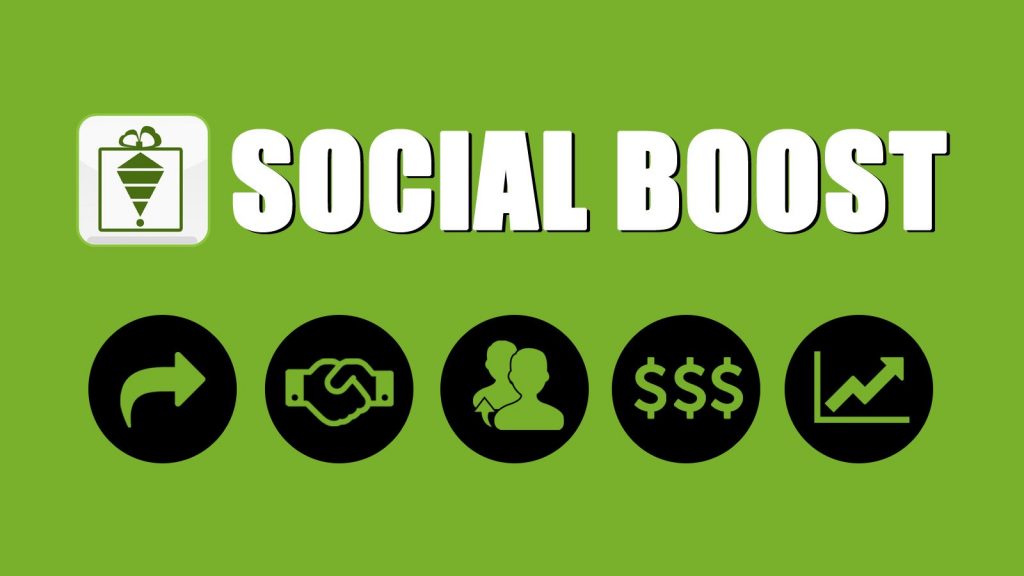 It amplifies your referral program by displaying it on your social media platforms including your BigCommerce realm. It is purely an incentivization platform that increases your number of leads, visitors, and brand visibility to your platform.
Features
Social Boost displays the attractive pop-ups on your site whenever a visitor visits your site
It has an easy DIY set up without coding
You can effectively use the pop-up as a tab in your social media pages including Facebook etc
You can keep your referral program live or off or even set start and end dates prior to the exact date
It integrates with Shopify, BigCommerce, Wix, etc.
Pricing
Free version for businesses with 50 users
200 Users: $10/Month
500 Users: $20/Month
1000 Users: $29/Month
Final Thoughts
There is nothing basic other than choosing the right eCommerce referral plugins for your store. You can consider these blog points as a basic litmus test to pick up the right plugin that suits your style and your business. Once glancing at the referral plugins mentioned, let us put a full stop to your mind quarrel in choosing the beneficial and profitable eCommerce referral plugin available in the market.