"Black Friday emails play a major role in the success of your holiday sale season."
Black Friday is one of the biggest sale weekends of the year. To make your Black Friday campaign a success, ensure all the strategies are in place, especially emails.
Black Friday emails will help you create a personalized engagement with customers. You can inform them about the deal and educate them about the details by sending newsletters.
But, guess what?
There will be hundreds of emails from other brands competing with you.
The key is to create attention-grabbing emails that stand out from the crowd. You need to use the right images and compelling CTAs to capture your customers' attention and encourage them to take action.
Creating your emails a week before Black Friday is not a smart practice. Now is the right time to build them and A/B test your emails to see the designs that convert better
This is where we come in; here are some of the best Black Friday email examples that stood out from the crowd. Take your Black Friday email campaign to the next level with these attractive & smart design inspirations.
What does the future hold for Black Friday?
The past, the present, or the future doesn't matter; Black Friday was and will always be the biggest sales holiday of the year.
In fact, according to this Black Friday report, last year's Black Friday was $8.9 billion, an all-time high. It is not Black Friday changing; brick-and-mortar stores are changing. Even before the outbreak, their sales had been declining in recent years.
Reports say that Black Friday shopping at B&M stores is not like it used to be; with a 6% drop in sales, B&M stores have lost the Black Friday war against online stores.
Experts predict Black Friday 2022 will change things. The Brick & Mortar stores like Walmart, BestBuy, etc., will have a massive rise in their sales following years of slump.
And for online stores, the Pandemic has changed habits, the percentage of online shoppers has skyrocketed compared to last year, and a new all-time record is possible to set.
When should Black Friday emails be sent?
It's a smart move to start your Black Friday email campaign a month in advance. Get your emails & marketing materials ready, and start sending Black Friday emails a week before, not the day before Black Friday.
Sending emails a week in advance will be the right time to inform customers about the Sale, giving them enough time to gear up for it.
Stick to an email sequence,
A tease about the dea
The offer explanation
Final reminder
Sending an email sequence is far more effective than sending just one email because it'll inform customers, make them curious, and help you subtly create FOMO.
How do you write a good Black Friday email?
A well-crafted Black Friday sale email grabs the reader's attention and cheers them up to make a shopping decision. So, be meticulous while writing Black Friday emails.
You can build your email from scratch or use the best Black Friday email templates to create your email campaign.
Here are some tips to help you write the best Black Friday emails,
Use an appealing subject line
Add attractive images to grab attention
Tease your deals to make readers curious
Use graphics & gifs to make emails interesting
Create urgency and scarcity
Be concise with your content
Use humor wherever necessary
When is Black Friday 2022?
Black Friday usually comes after Thanksgiving. This year Black Friday is on November 25, 2022.
Therefore, your Black Friday email campaign should be launched on November 17, a week before the holiday. Only then you'll reach your customers right on time and increase your sales.
Best Black Friday email examples
Black Friday arrives once a year, and eCommerce stores only get one opportunity to impress customers, or they might lose them to their competitors. Thanks to this competition, we see some stunning emails popular brands sent to customers.
Now, let's look at some of those Black Friday email examples; it'll help you design your emails that'll grab a customer's attention & convert them.
Psychological trigger
Psychological triggers are one of the common sightings on Black Friday emails. These emails will induce FOMO in a customer, but you've got to do it the right way.
To create FOMO, you need to plan your Black Friday email strategy well; customers might forget your deal if you send the email sooner. You need to send it as the deal gets closer, and only then it'll trigger a sense of urgency and push customers to take action.
FOMO Black Friday email examples: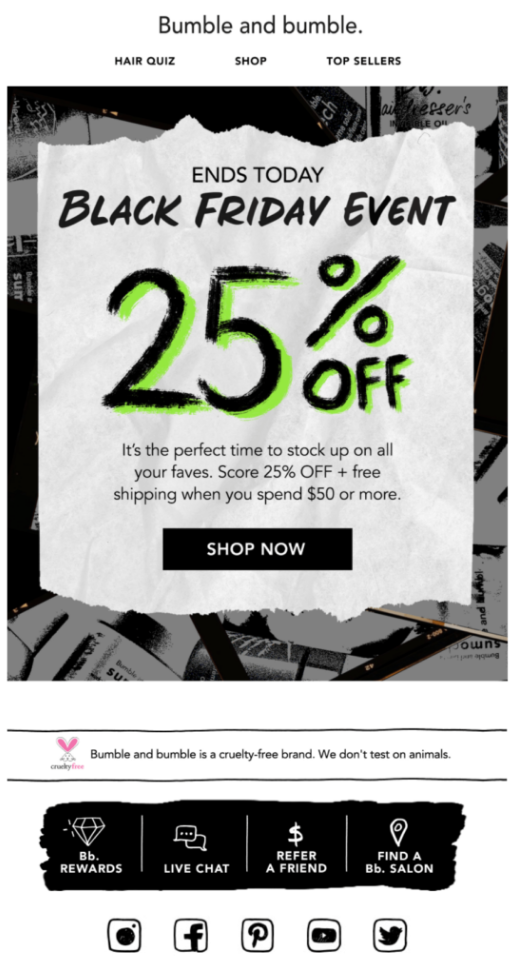 Black Friday email from Bumble and bumble is brilliant. Instead of going for an extravagant design, they decided to be minimalistic yet bold. But the main trigger, the attention grabber, is the 'Ends Today' message at the top.
It implies that their deal starts and ends the same day the email is sent. Pretty clever from Bumble and bumble; now that's how you trigger a sense of urgency.
The closer the deal, the greater the FOMO, and customers are highly likely to rush to the store to purchase before it ends.
FOMO is a tool, when used smartly, you can get major advantages out of it, and that's why most brands use FOMO as a crucial part of their Black Friday email campaign.
Black Friday email examples:

Here's another FOMO email, this time from PrettyLittleThing. Right away, you can see the extravaganza, and they didn't settle for a minimalistic design. And they went bold and colorful to grab the attention. Emails like these will stand out from the crowd.
But the talking point here is the Urgency, and they inform that the deal will end tonight, and they have a countdown timer to speed up a customer's decision. A timer will help customers be aware and influence their purchase decision greatly.
Tempt with visually-pleasing elements
Black Friday sale emails are sent to inform customers about the deal and give them a heads up. But how can you notify customers if they barely paid attention to your email? Also, let's not forget that their inbox will be flooded with Black Friday sale emails from other brands too.
The key here is to stand out from the crowd, grab their attention, make them read your email, and tempt them to take action.
To do that, you need to incorporate visual elements in your emails, making them spend more time on your email rather than leaving it right away.
Black Friday email examples:

Look at this best Black Friday email from J.Crew. How adorable is it? Won't you be tempted to look at it more than once and click on it? We all will be.
This is the only email example in this article that was not sent on Black Friday but on Cyber Monday, which comes after Thanksgiving. It deserved to be on this list because sometimes visual elements are not just about colors, shiny graphics, abstracts, or models, even something cute as a mouse will do the trick.
The email itself is attention-grabbing. A little white mouse on a bright red background gives this email an aesthetic look. The header content 'Grab your mouse' is a clever wordplay by J.Crew, and combined makes this email a click-worthy one.
Emails like these have a better conversion rate than others, and this is how you stand out from the crowd.
Grab attention with Gifs and Animation
Black Friday email campaigns from brands are an opportunity where you can see all kinds of creativity coming out. One such commonly used theme in Black Friday email is Gifs and Animation.
The heavy turkey-filled Thanksgiving dinner might've temporarily knocked out your customers; wake them up with stunning fun-filled Black Friday emails with Gifs or Animation.
Increase email click-through rates by 26% by adding Gifs to your Black Friday emails.
Black Friday email examples: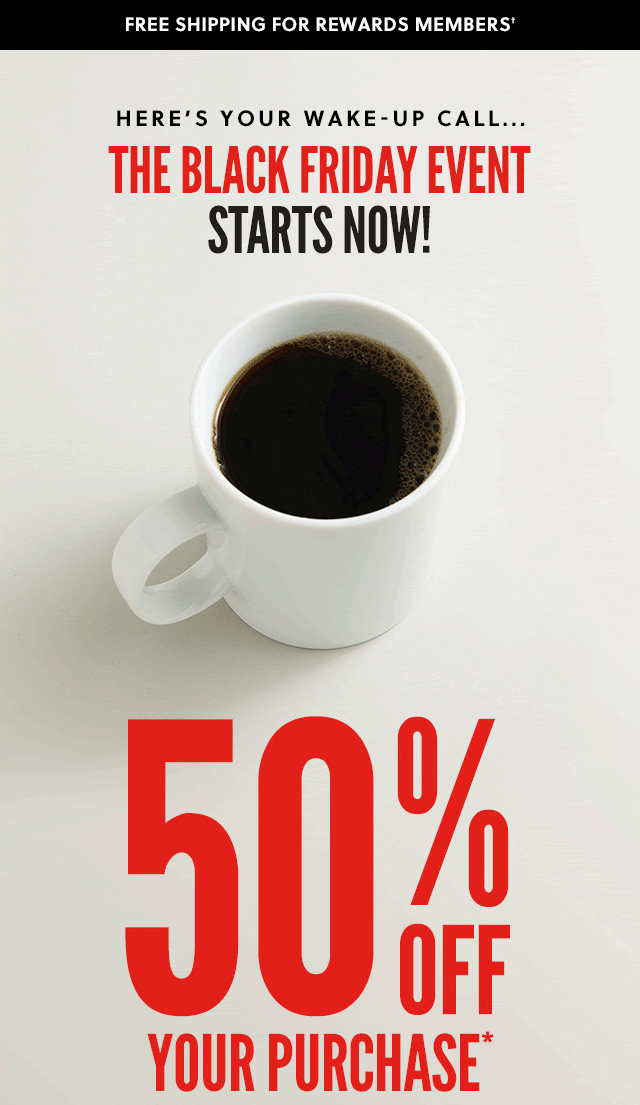 Once again, J.Crew has nailed their Black Friday email. It goes without saying, doesn't it? A simple design with an 'emptying coffee cup gif' implies that the products are selling out quickly.
Gifs create a sense of urgency, and the recipient will know that they have to take any action before the deal ends or products sell out.
A simple yet effective Gif that does the job pretty well.
Also, remember to avoid using larger-sized Gifs. Your customers won't be able to see them due to lag, and a conversion will be lost. Smaller Gifs mean faster loading time and an optimized email.
It's an eCommerce Scratch-off.
The chances of conversion are higher if you let your customers interact with your email. Customers don't want their actions to go in vain, no matter how small the action is.
Scratch-off has become popular in Black Friday sale emails because customers get to interact with them. When a customer opens your emails, you've to make them memorable, and scratch-off is a perfect way to do it.
Black Friday email examples:
A scratch-off creates suspense, and it will make the customers curious, and eventually, they'll interact to unveil the prize; there comes your opportunity to convert them. Gwynnie Bee's example above shows a virtual scratch card, and you can send one like this as a part of your Black Friday email campaigns.
Make it fun for your customers and offer a variety of hidden gifts, discounts & prizes to make the scratch-off experience even worthy.
Release the incentives
One of the most common themes of Black Friday sale emails is the Incentives. There is no other factor influencing a customer's purchase decision than offering an incentive.
Who doesn't love an incentive, right?
Black Friday is all about getting the best bang for the buck, and sending an email with exclusive incentives will make your Black Friday emails stand out from the clutter.
Black Friday email examples: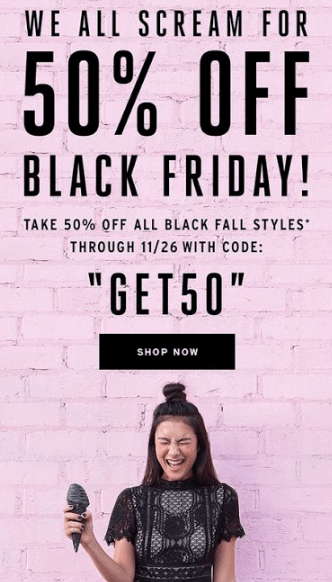 BB Dakota has a simple & straightforward incentive email. We all know customers will expect an offer when they open a Black Friday email, so why don't you meet their expectations right away?
With no sugar-coating, reveal it immediately; say what you want without any introduction or Gifs as BB Dakota did. Sometimes, the best email conversion tactic is to stay simple.
Incentives are not limited to discounts alone, and you can offer Free gifts, Subscription offers & more.
Impress with Humor
Let's face it, who doesn't appreciate good humor?
But you have to tread lightly when dealing with humor; if you do it too much, you might offend your customer.
Thankfully, many brands have done it on Black Friday. One such brand is Casper. It's good to learn from the best, what say?
Black Friday email examples: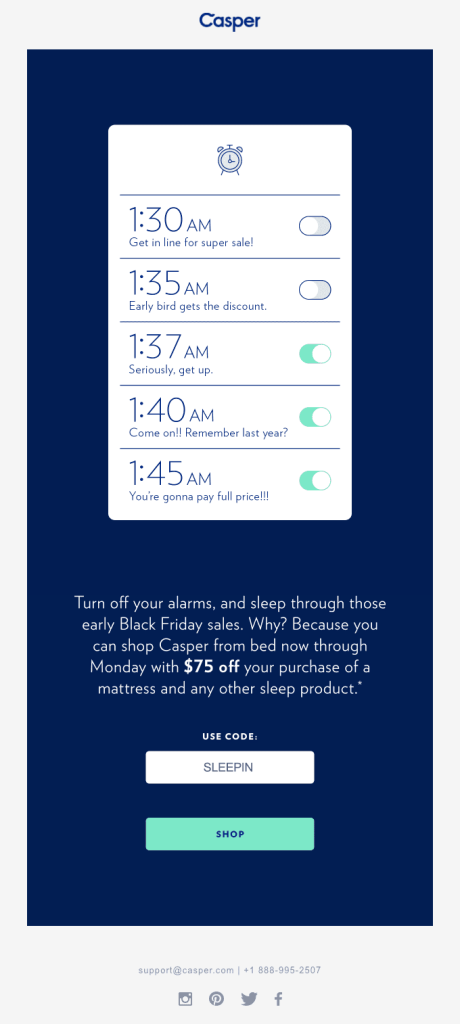 Ahh, alarms & snooze, we've all been there and done that, haven't we? Relatable humor works well because it'll feel like the email was written just for you.
Casper has done great work with this Black Friday email, they sell mattresses, and they've talked about purchasing a mattress while lying on the bed. Even the coupon code brings a smile.
When you plan to use humor, be subtle and generic, and try not to force it.
Humor tip: Don't whip out a Dark humor email just because it's Black Friday
Match the theme
Remember when we said brands send Black Friday emails in various themes? Why don't you use Black Friday as a theme?
Yes, people call it 'Blackout'; it includes all Black Color items in a particular deal in addition to your usual Black Friday deal.
Black colored fashion apparels have a separate fanbase. Besides, putting too many items on sale can overwhelm them, and they might not purchase anything, so 'Blackout' will work.

Did you think this tactic was something new? No, a handful of brands have been doing it for a couple of years, and Nobull is one among them.
Oh no! We're selling out(scarcity email)
This list started with Psychological triggers, we talked about creating a sense of urgency, and now we'll see how brands create a sense of scarcity through the Black Friday email campaigns.
Customers wait a year to purchase their favorite products at discounted prices during Black Friday, and the last thing they want is those products selling out.
Showing scarcity is one of the best ways to attract customers to your store on Black Friday quickly.
Black Friday email example: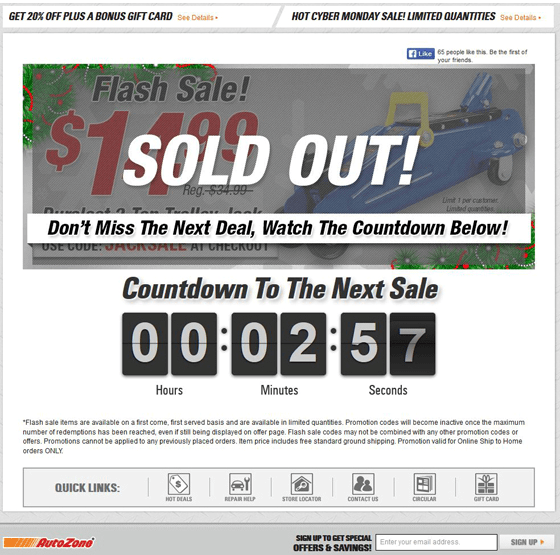 Do not let your customers miss their opportunity; just a simple 'we're selling out' will work wonders for your store.
The soft opening
How many soft openings of shopping malls and clothing stores have you attended? They do that to show customers what to expect when they open up for sales.
Ecommerce brands do the same thing on Black Fridays too. They set up a soft opening or a preview sale before the actual Black Friday deal goes live.
You can do this to inform customers that you'll be running a Black Friday deal, and here is a preview of how it will happen. This works because you'll get to host two back-to-back flash sales to increase revenue.
Black Friday email example: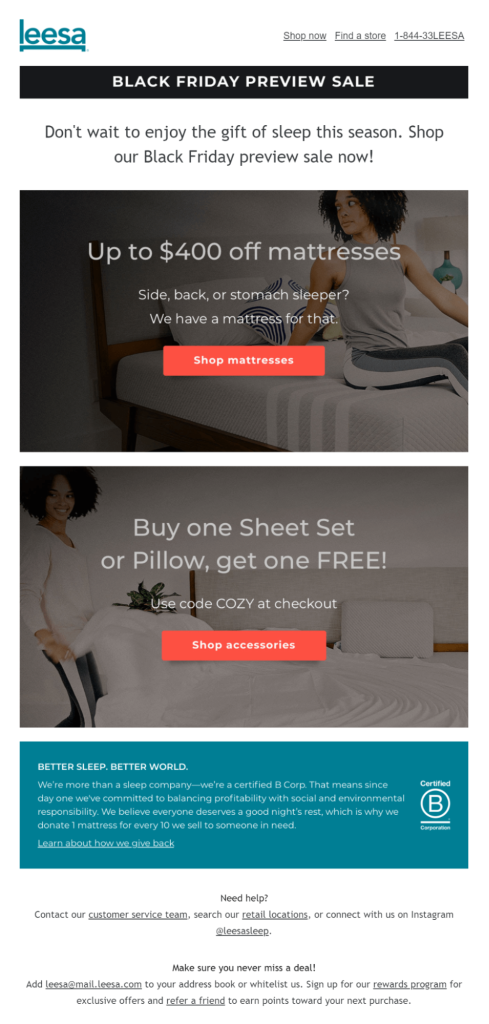 Leesa had a preview sale in September, two months before Black Friday. The idea is to provide potential customers with a preview sale to prep them for the main Black Friday day deal.
Black Friday email campaigns are necessary because it informs customers so they can be prepared when the sale arrives. If customers are unaware of the deal, your store will be empty during the sales. So, never sleep on the Black Friday email campaigns.
How many emails can I send on Black Friday?
A question asked by most store owners, how many should I send? How many is the right sequence? There is no definitive answer to this, and the choice is yours.
But, sending too much will annoy your customer, and sending too little will not get their attention.
So, the recommended sequence that most brands follow is the three-email Black Friday campaign.
The best practice is to automate your Black Friday email campaign. Create the best emails, set the timer intervals and launch your campaign. Email will be sent automatically at the right time while you can concentrate on other Black Friday marketing materials.
Here is the three email sequence,
The teaser
The deal is live
You'll mist it
The teaser
The first email of your Black Friday campaign should just tease the customers instead of revealing the whole deal.
Anticipation is a powerful tool; sending a teaser email is a great way to build anticipation. Get them hyped up,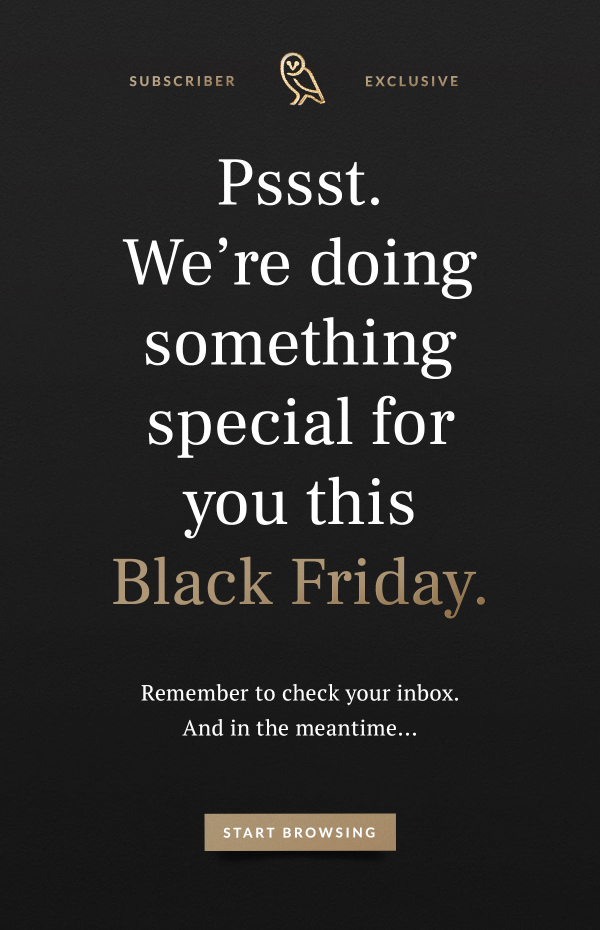 Bellroy nailed their email with a minimalistic design; they didn't sugarcoat, and the content is simple and straightforward. And the ending,' Remember to check your inbox,' builds up the anticipation, and now the customer will be curious to see the next email.
So, when should you send this email?
You should send it a week before Black Friday; if you send it earlier, you cannot build anticipation.
The deal is live
You have made them curious, they'll be waiting for your email, but it should be the Black Friday email itself and not another teaser email.
Sending a 2nd teaser email is quite redundant. Also, it might annoy your customer as they'll be expecting the deal, so give it to them.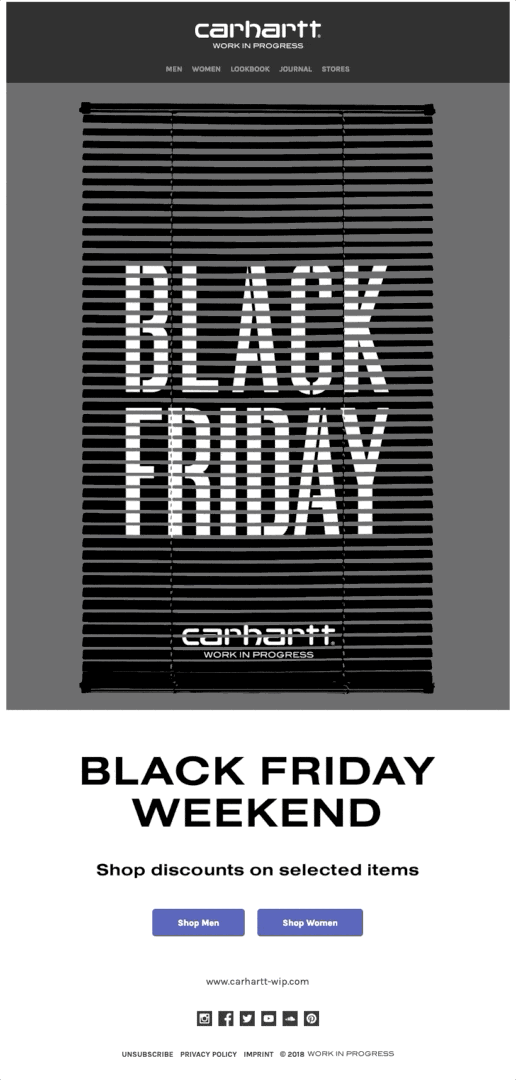 This is the email that a customer will be expecting after your teaser mail. Carhartt has done well; instead of an all-text email, they went with an animated gif.
It's a cool way to announce the launch of your Black Friday sale. Additionally, you can send an email that announces not only the sale but also the deal,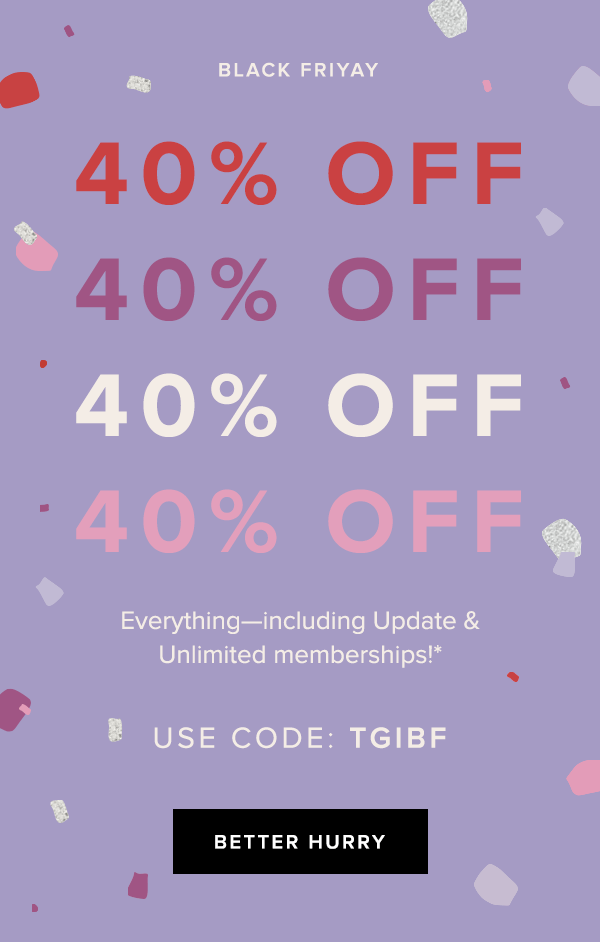 Sometimes, customers might forget that you're running a deal. Also, let's not forget the emails from other brands in their inbox. So, sending an email that stands out from the crowd on Black Friday is crucial to increasing conversions.
You'll miss it
So, the last email in your Black Friday email campaign must be the final reminder email before the deal ends.
Ask customers to make use of the last chance, or they'll miss everything, it will induce FOMO.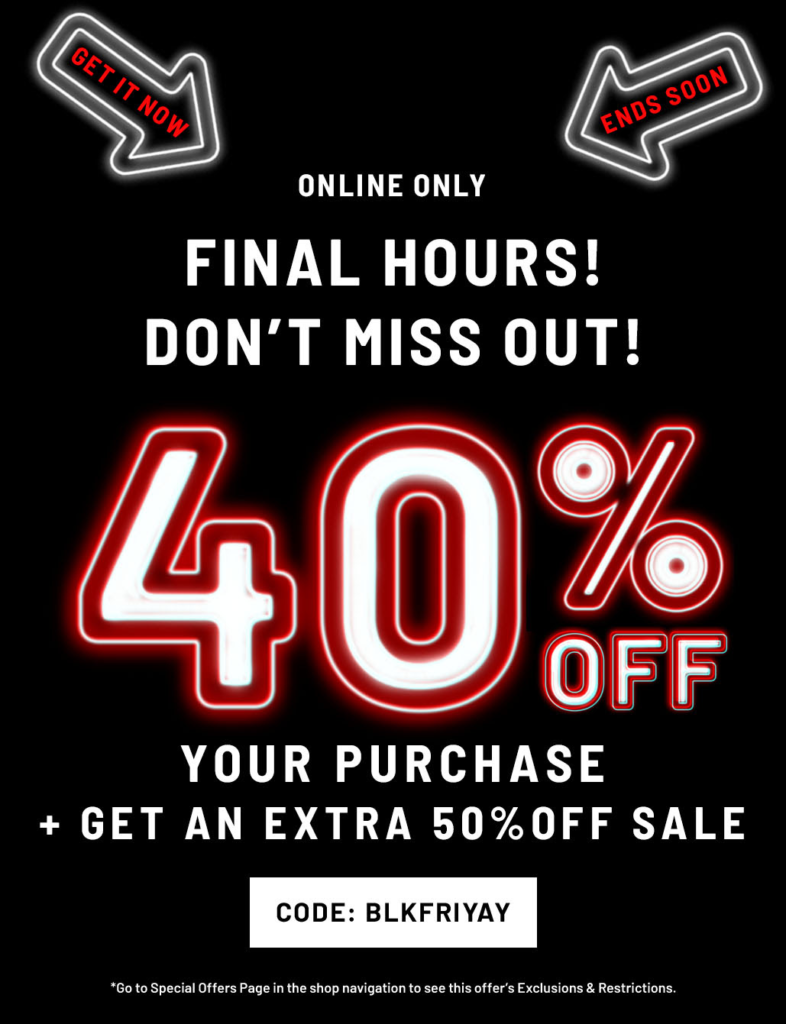 21 Forever email does it well. It informs that the deal is going to end in a few hours. This will create a sense of urgency, and customers will rush to the stores.
You can also include a countdown timer to encourage customers to act quickly.
So these are the three emails that should be part of your Black Friday email campaign.
Best Black Friday email templates
You saw the examples and the types of Black Friday emails to send. This will help create attractive Black Friday emails that stand out in your customer's inbox.
We designed a few Best Black Friday email templates for your campaign to save time.
Minimalistic Black Friday email template
A simple, minimalistic Black Friday email will be enough if your store has a loyal customer base.
Black Friday email template 1: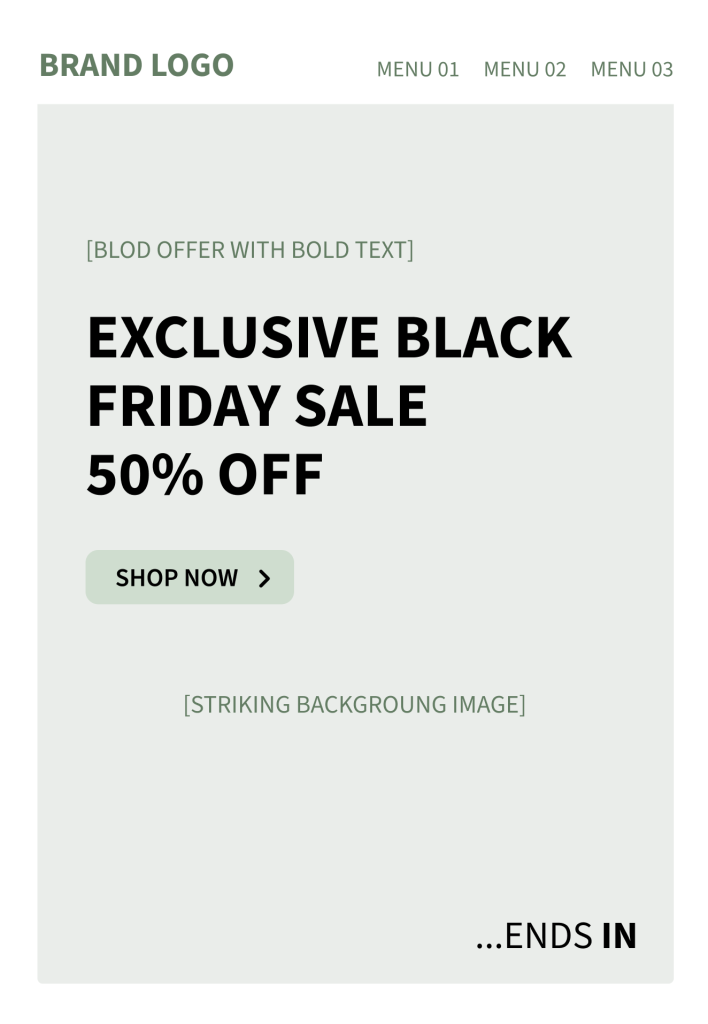 To make this minimalistic design interesting, add a 'Sense of urgency' indicator to create FOMO.
Add visual elements and colors that suit your brand style.
Black Friday email template 2: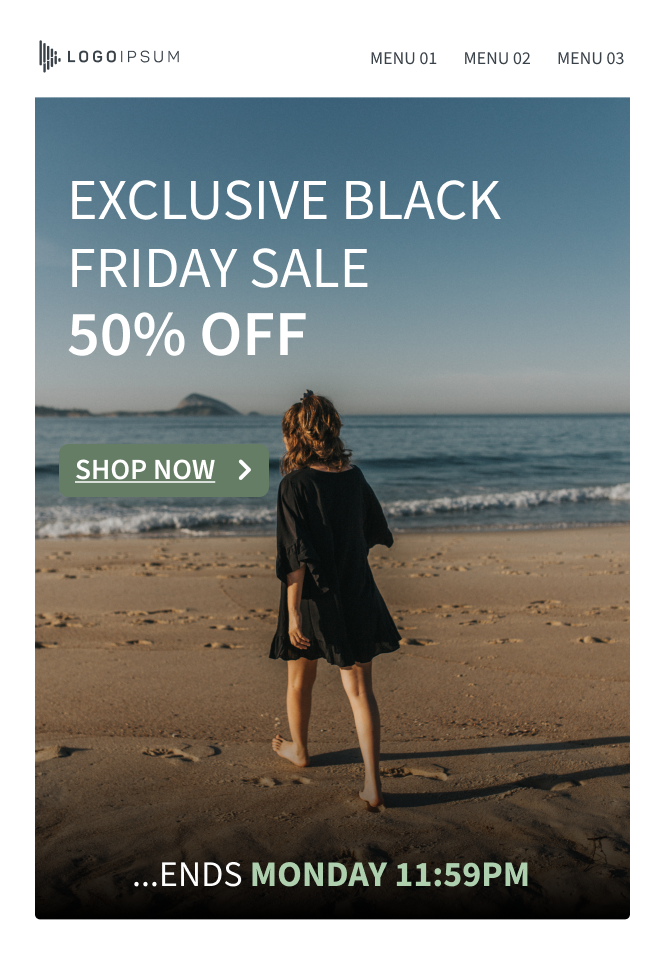 Product-focused Black Friday email template
Does your store have specific products with the highest impressions?
It indicates that customers want to purchase the product but are reluctant due to the price. They're probably waiting for your Black Friday deal.
Send an email with those products as the prime focus. It'll grab their attention and bring them to your store on the deal day.
Black Friday email template 3: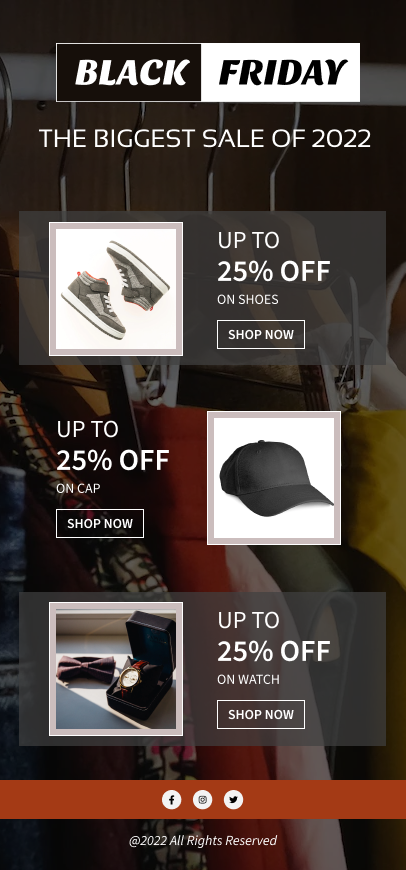 Add redirection to relevant product pages. If you have a specific page that lists all the Black Friday deals, you can redirect your customer to that page.
This is where you can leverage buyer personas to showcase products that interest specific customers to get their attention.
Color-themed Black Friday email templates
If your brand has a color theme, you can use it on your Black Friday email template.
Or Black Friday email is all about grabbing attention, so you can use an attractive color to design your email. Use an eye-catching color palette and bold letters to stand out from the crowd.
Black Friday email template 4: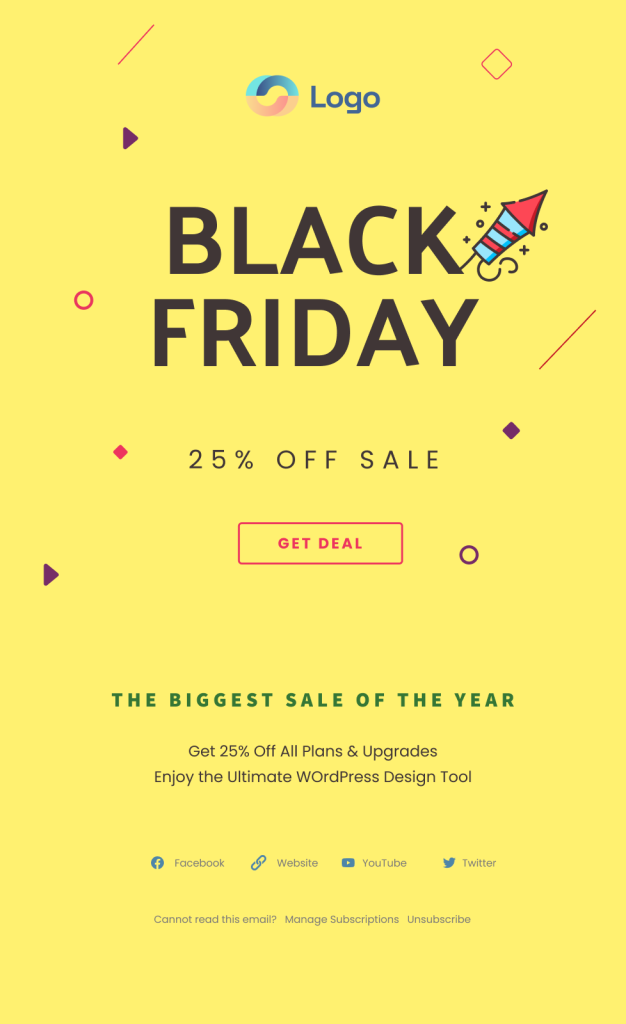 We got inspired by No bull's Black Friday email example and designed an all-black email to match the theme.
Black Friday email template 5: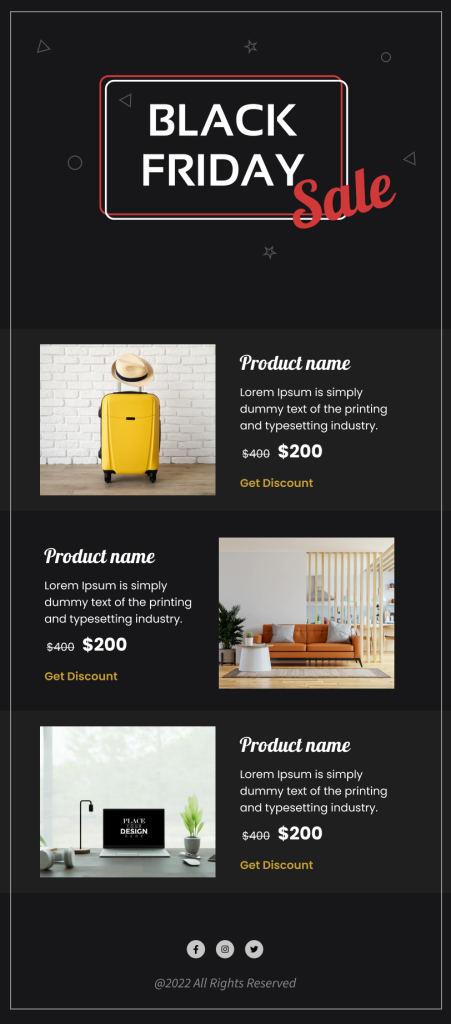 Wrapping up
Black Friday is one of the biggest sales weekends of the year; you need to be precise in your email campaign to make better sales.
This article showed you how brands did it in the past. The key to successful Black Friday email campaigns is to build attractive emails and start your campaign a week in advance.
So, what is your plan for Black Friday 2022? Do you have your email list ready?
If not, here's how you build an email list from scratch. Get your list ready and automate your Black Friday email campaign to stand out from the crowd.