Abandoned cart emails are exactly what you need if you want to increase sales and revenue. If you are losing sales because of hesitant customers who leave the store before completing the purchase, abandoned cart recovery emails are going to be your savior.
Customers could have abandoned their carts for many reasons. But if you know how to craft perfect abandoned cart emails, you are sure to boost sales.
Here are a few abandoned cart email examples that would help you grab the customer's attention, reignite their interest, and entice them to return to your website.
Re-engage your customers with abandoned cart emails and recover lost sales. Start your abandoned cart email campaign with Retainful now.
What is an abandoned cart email?
An abandoned cart email is an automated email sent to customers who add products to their shopping cart but leave the store without completing the purchase. The purpose of this email is to remind customers and persuade them to complete the purchase.
Abandoned cart emails typically include information about the items left in the cart, personalized incentives, and a compelling copy emphasizing the benefits of the items to encourage customers.
Why do people abandon their carts?
The main reason why people abandon their carts is because of unexpected costs, such as high shipping fees or additional taxes. Another common reason that frustrates the customer is complicated checkout.
Some customers might feel insecure about providing their bank details. For others, it might be distractions such as comparison shopping or simply being interrupted and postponing or forgetting about the intended purchase.
Best Abandoned Cart Email Examples
We have picked the best abandoned cart email examples to inspire you to craft engaging and persuasive emails.
Explore these examples to enhance your understanding of what type of abandoned cart email template would work better for your business and increase the chances of converting abandoned carts into completed purchases.
Get personal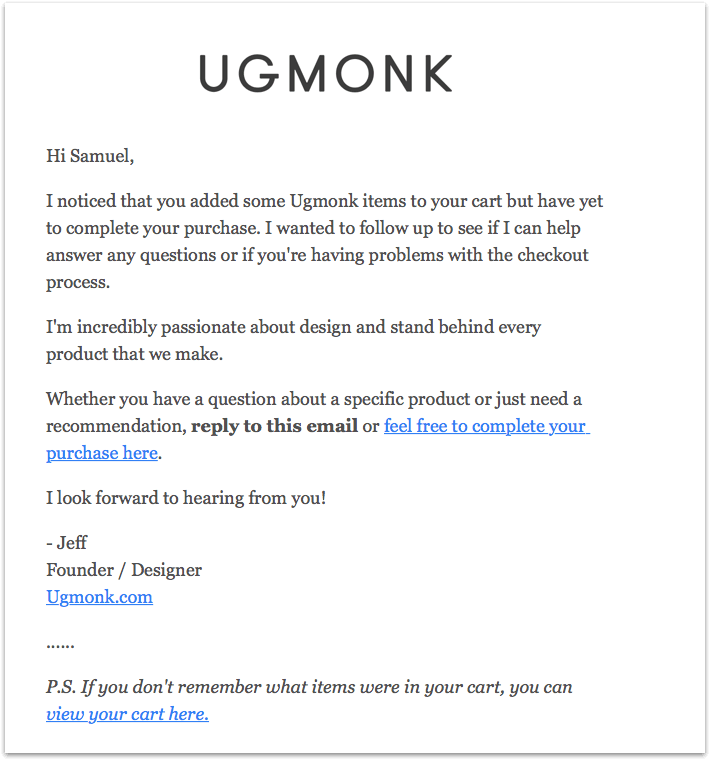 This abandoned cart email example from Ugmonk has no graphics or fancy featured images of the abandoned product. Just a personalized copy to show that they care about the customer.
The email starts out with a personalized greeting and proceeds to ask if the customer needs any help finishing the purchase. The two clear CTAs woven with the text don't make it look like the brand is pushing the customer to finish the purchase.
The best part about this abandoned cart email example is that it has given an option for the customer to reply to the email, which encourages engagement and builds trust.
Attractive subject line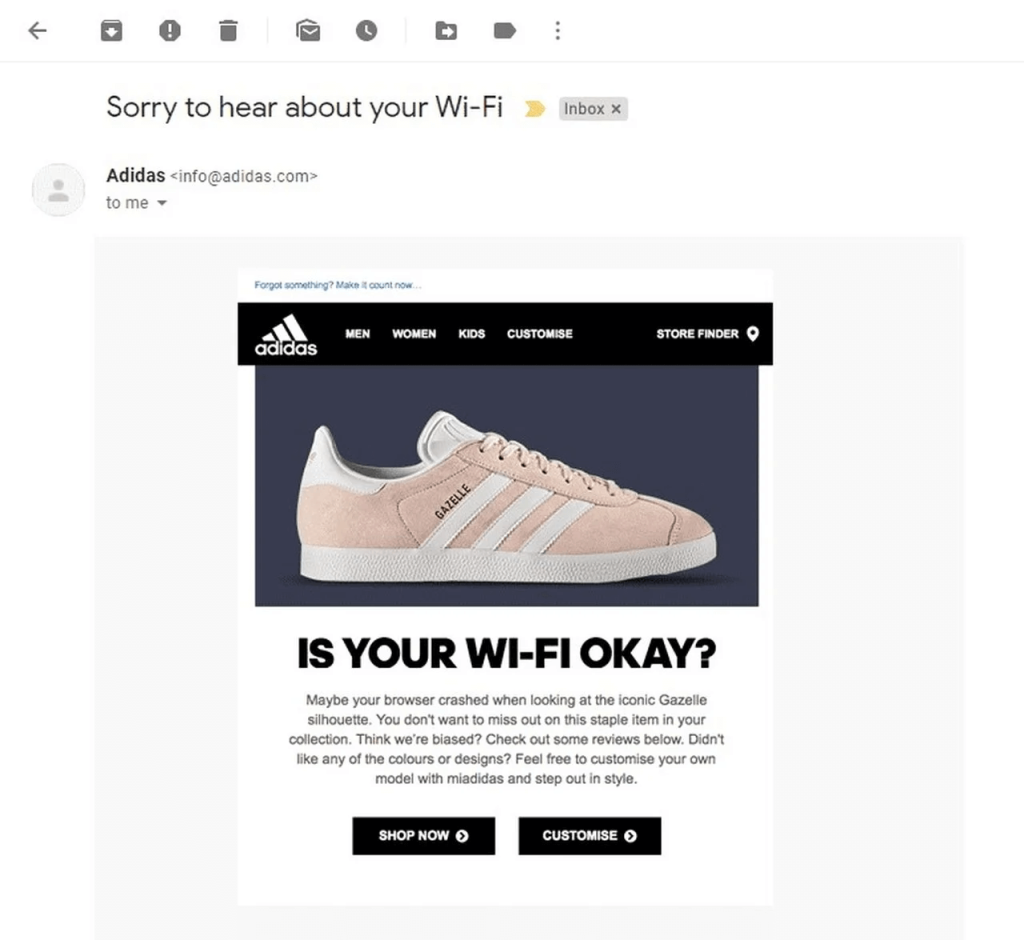 Nothing is more attractive than a funny subject line. This abandoned cart email example is from Adidas, and the subject line says, "Sorry to hear about your Wi-Fi"
The subject line simply assumes that the customer didn't complete the purchase because of a simple distraction, something like a bad Wi-Fi connection.
The email has two attractive CTAs, "Shop now" and "Customize," which clearly is attractive enough to lure the customers back to the store. Then the email goes on to showcase the reviews of other customers, easily building trust.
Enticing copy
Dollar shave club has nailed this abandoned cart email example with just colloquial English and a picture of a bear named Chuck. Naming the bear and telling their customers that Chuck is upset because they didn't join the club is a golden email copy that oozes brand personality.
The CTA is clear and hard to miss. The email also went on to showcase the customer reviews. The email has a funny copy that aligns with their brand personality, a CTA, and social proof, which makes it hard to resist.
Product recommendations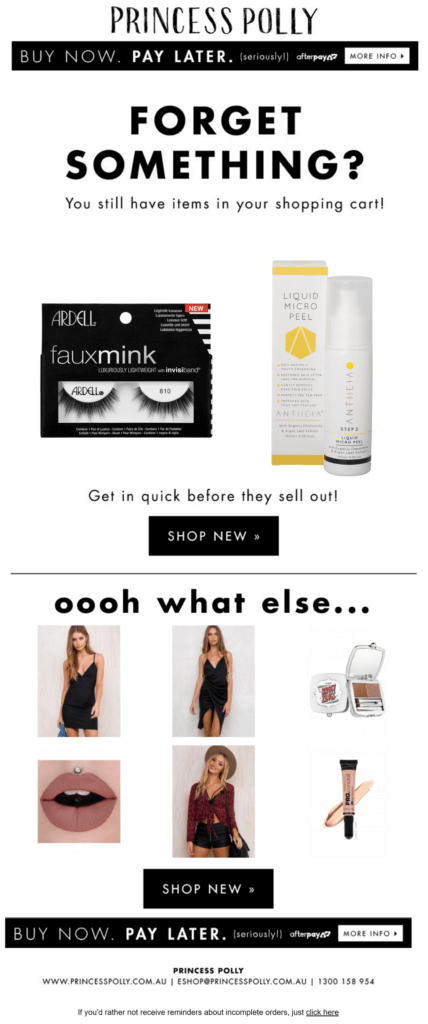 Princess Polly has done a good job of reminding customers with product images of abandoned products. The email doesn't have much text except for the CTA that creates FOMO.
This abandoned cart email example has featured product recommendations that the customer would like. The strategic placement of the CTA at the end of the email, "buy now pay later," is sure to get the customers back to the store.
Personalized discount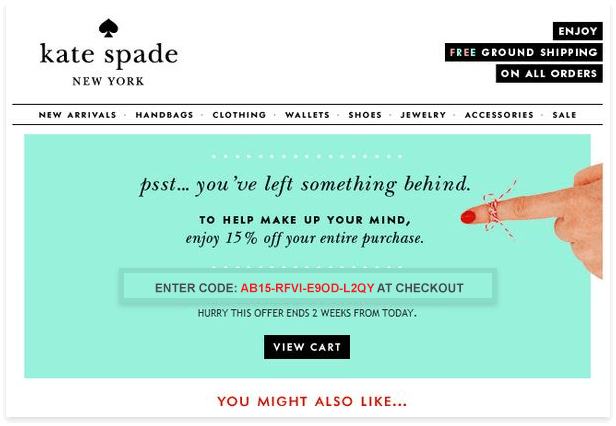 Personalization cannot get any deeper than a personalized discount. This abandoned cart email from Kate Spade starts with a simple reminder.
The email has included a personalized discount code that shows the customers that the brand cares about their customers. The email copy ends by creating FOMO that the offer is only valid for 2 weeks.
Send Dynamic Discount Codes in Abandoned Cart Emails with Retainful. Encourage your customers to finish the purchase.
Feature the product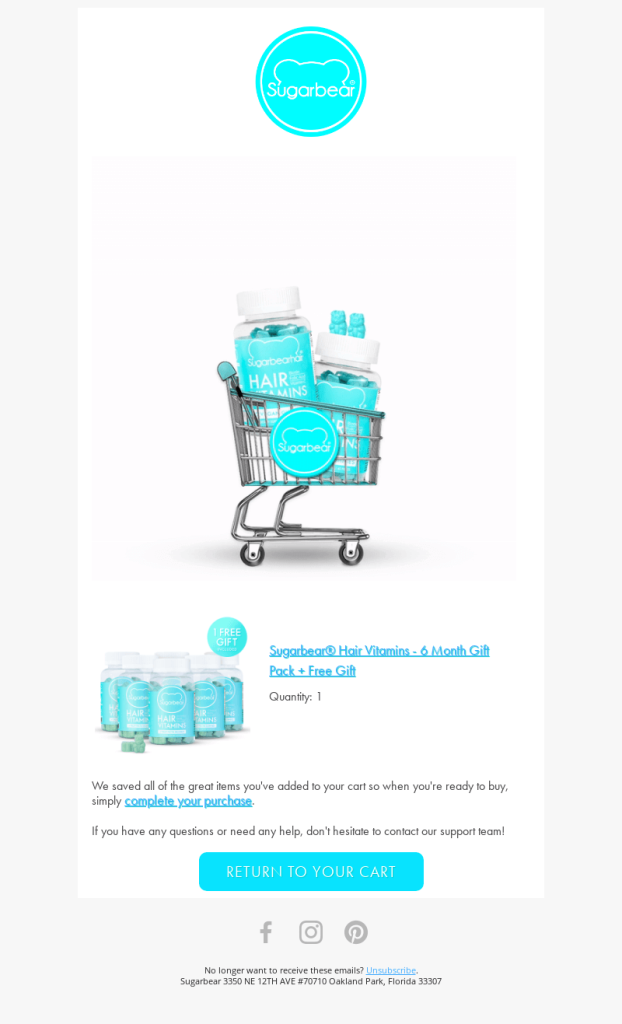 SugarBearHair here has used a picture of the abandoned cart with the product in it. This abandoned cart email has used the brand color for the CTA button, and this builds trust.
The email also mentioned a free gift followed by CTA. Incentives like that easily capture the customer's attention immediately, and the strategic placement of the CTA is bound to recover the abandoned cart.
Social proof

The emphasis on their custom-made products in the email copy is simple and reminds customers of their abandoned product and its benefits. The CTA isn't about selling the product. It reminds the customer they can try out their Custom Made Products.
In the end, the email has social proof that shows a 5-star rating. Nothing persuades customers more than custom-made products and a 5-star rating.
Clear CTA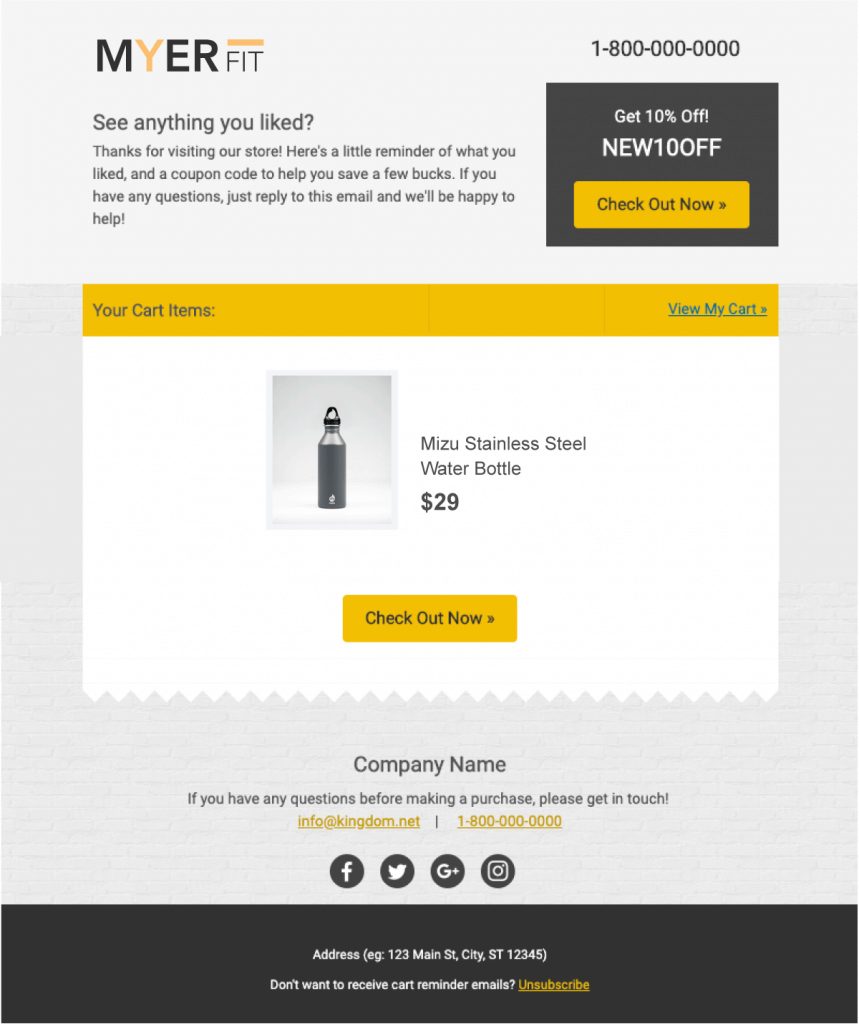 This abandoned cart email example of MyerFit has got everything. A helpful copy, an image of the abandoned product, and 3 strategically placed CTAs.
The first CTA has a personalized discount, the middle CTA would take the customer to their cart, and the last CTA takes the customer to the checkout page. The CTAs are well-spaced and don't crowd the email, and each has its own purpose and is helpful for the customers.
Create FOMO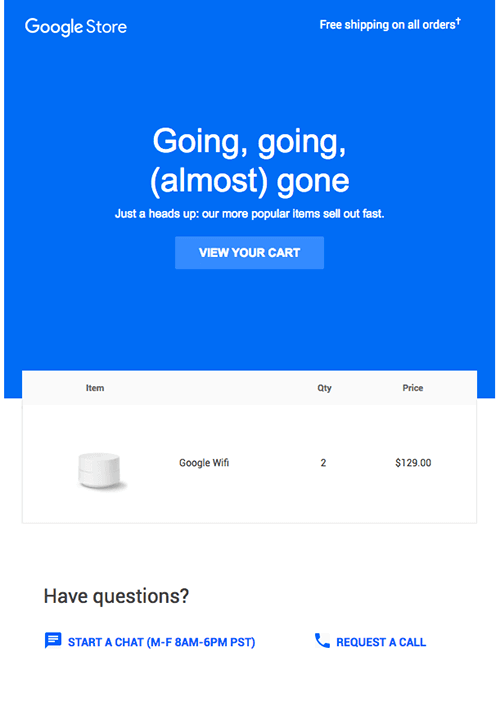 A customer would add a product to the cart only if it means something to them. Fear Of Missing Out is another strategy to get those hesitant shoppers to get them to finish their purchase because customers would definitely hate to see their favorite products running out.
Google Store here has the best FOMO abandoned cart email example. The copy is big and bold, with little text instilling FOMO, followed by a CTA to view the cart. The email ends with the image of the product left in the cart, which reminds the customer of what they have abandoned.
Easy checkout button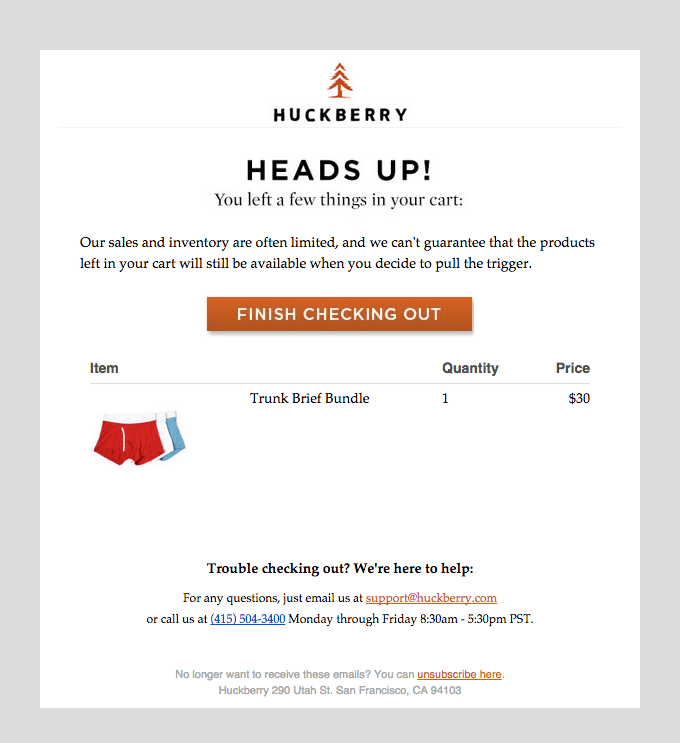 The abandoned cart email example from Huckberry creates FOMO in their copy, emphasizing that their products usually run out of stock pretty quickly, followed by "Finish Checking Out."
The CTA would take the customer directly to the checkout page without any distractions. This just guarantees that the abandoned cart will be recovered.
The return policy strategy
AllBirds abandoned cart email template starts with a reminder of the abandoned product and a bold CTA. What makes this abandoned cart email example different is that it has included the return policy. 
The brand offers 30 days of returns or exchanges. This is sure to seal the deal with hesitant customers. The brand didn't hesitate to add the help and contact us icon at the end, which is sure to give reassurance to customers.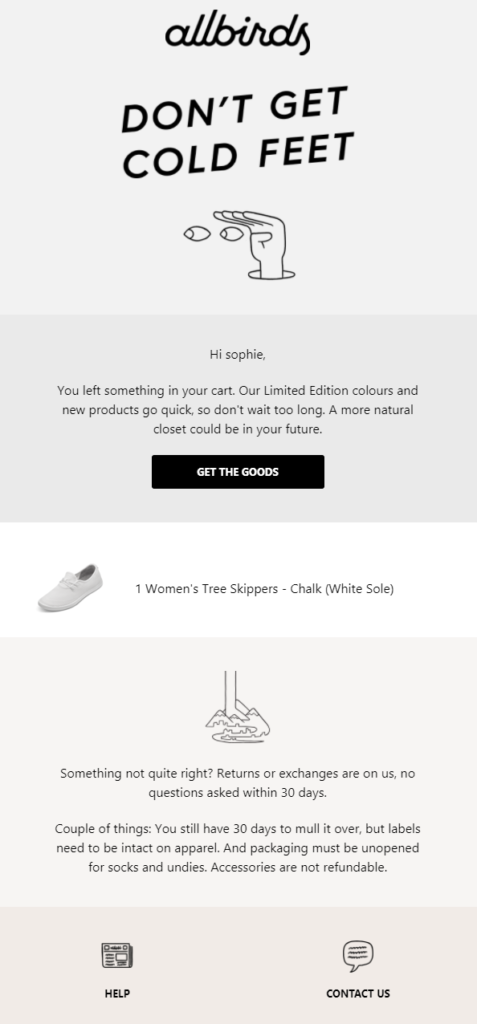 Free shipping
Adding an incentive works like a charm when it comes to abandoned cart email best practices. This is one of the best-abandoned cart email examples because it has used free shipping to entice shoppers. 
The email has also created FOMO by announcing it is the last chance for free shipping.
Customers would love this cute abandoned cart email template with a subtly humorous copy.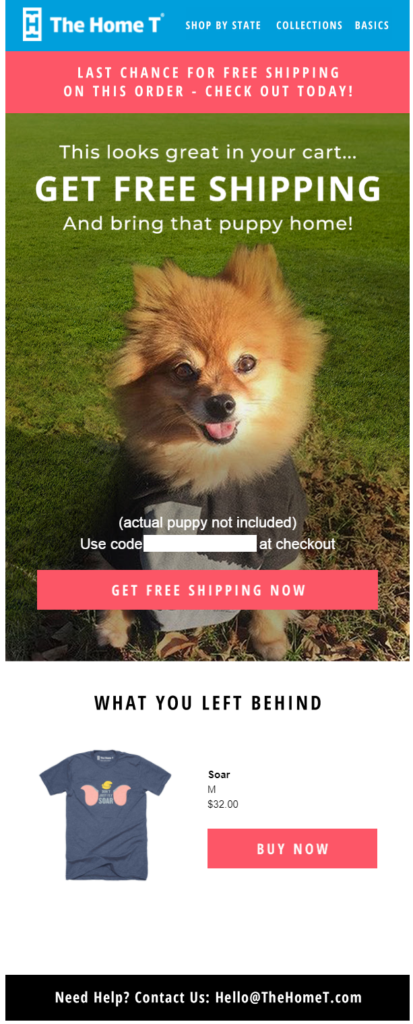 Best Practices of Abandoned Cart Email 
Timing, series, and frequency
Abandoned cart emails work best when they're sent at the right time. Send them shortly after someone leaves their cart without buying.
You can make it a series and send them up to 3 emails. Send the first abandoned cart email an hour after cart abandonment happens. The second email after 24 hours, and the third email after two days. 
You can add a few more emails to the abandoned cart email sequence, but try not to spam them with too many emails. Finding the right balance is key.
Clear subject line
Abandoned cart email subject line must be very clear and straightforward. It should briefly explain the purpose of the email in a way that would attract customers. Avoid vague or misleading subject lines.
Example: "Don't Forget Your Cart!" is a clear subject line that informs the recipient about the email's content.
Personalization
Personalizing the abandoned cart email template by using the customer's name or mentioning the abandoned items creates a more engaging experience. It shows that you care about their needs and preferences.
Example: "Hi [Customer's Name], Your [Product Name] is Waiting for You!" demonstrates personalization.
Compelling content 
The content of the email should highlight the benefits of the products in the cart, address concerns, and provide helpful information. Make it engaging and persuasive.
Example: Include product images, descriptions, and customer reviews to convince the shopper to complete the purchase.
CTA button
Use a clear and action-oriented CTA (Call to Action) button that prompts the recipient to return to their cart or complete the purchase. Ensure it stands out visually.
Example: Use a button that says "Complete Your Purchase" or "Return to Cart" with a contrasting color.
Incentives
Offer incentives like discounts or free shipping to motivate customers to complete their purchase. Mention these incentives in the abandoned cart email template to make it more appealing.
Example: "Complete your order today and get 10% off your total purchase!"
Urgency 
Create a sense of urgency in your email by emphasizing limited stock, special offers, or expiring discounts. This encourages customers to act quickly.
Example: "Hurry! Only 3 left in stock of your selected item."
Social proofing
Include customer reviews or testimonials to build trust and show that others have had positive experiences with your products. When shoppers see that others have had positive experiences with your products, they are more likely to trust your brand and feel reassured about their potential purchase.
Example: "See what other customers are saying about [Product Name]."
Trust signals
Incorporate trust-building elements like secure payment icons, return policies, and contact information. This reassures customers about the reliability of your website.
Example: Display trust badges like "Secured Payment" and "30-Day Easy Returns" in the email footer.
Mobile Optimization
Ensure that your abandoned cart emails are mobile-friendly, as many people shop on smartphones. Use a responsive design and test the email on various mobile devices to guarantee a good user experience.
Example: Make sure the email layout adjusts well to both small and large screens for easy navigation.
Send timely and personalized abandoned cart emails to hesitant shoppers and entice them back to the store with Retainful.
Wrapping up
Abandoned carts can be such a headache, but when you know how to craft a perfect abandoned cart email, you can easily recover lost sales. The goal should be to capture the customer's attention, rekindle their interest, and entice them to revisit your website.
By following the tips mentioned in the above examples, it's going to be child's play for you to achieve that goal. Just find the best abandoned cart app to recover lost sales, and you are good to go.
Do abandoned cart emails work?
Yes, abandoned cart emails do work. They are effective in recovering lost sales and encouraging customers to complete their purchases. 
What should I write in an abandoned cart email?
Write to remind the customers about the items they left behind. You can also offer an incentive or discount and provide a clear CTA to encourage them to return and complete their purchase. 
What is the best abandoned cart time?
The best time to send an abandoned cart email depends on the industry and customer behavior, but generally, within 24 hours of cart abandonment is recommended to maximize chances of conversion.