Are you struggling with an abandoned cart issue in your e-commerce store? It's quite common in the world of e-commerce. There could be a lot of reasons why customers abandon their carts.
Did you know that for every 10 of your customers, 7 of them are abandoning their carts?
A customer's decision could be influenced even at the very last moment. This is inevitable. You could find out why they abandon carts and send an abandoned cart recovery email that suits your needs to soften the blow. These plugins can be used to automate cart recovery and improve revenue while saving you time.
This article will explore the best WooCommerce abandoned cart recovery plugins available on the market, including their features, pricing, and benefits. With the right plugin, e-commerce store owners can automate the recovery process, save time, and increase their revenue.
Recover lost sales and increase customer satisfaction with our best WooCommerce Abandoned Cart Recovery plugin.
What is WooCommerce Abandoned Cart?
WooCommerce abandoned cart refers to WooCommerce customers who fill their cart with items and leave without purchasing. These customers could be brought back to the store to purchase abandoned items using a series of personalized reminder emails, dynamic coupons, and offers.
A stat by Baymard Research Institute says that 69% of customers abandon their cart. There are WooCommerce abandoned cart recovery plugins that will help you recover at least 20 to 30% of your lost sales.
What is a WooCommerce Abandoned Cart Recovery Plugin?
The reasons for cart abandonment can be anything, and it is unpredictable. The only certain fact is that you could recover these abandoned carts if you employ the right tool at the right time. These customers need a little push, a little token of encouragement from you in the form of reminders, personalized offers, and coupons.
You cannot hunt down every customer who has abandoned their cart. Still, you could use the right WooCommerce abandoned cart plugin to send a series of automated abandoned cart recovery emails to kindle their interest.
These WooCommerce abandoned cart recovery plugins can recover up to 70% of the abandoned carts; hence, they are rightly called 'the sale savers.'
Why Do Potential Customers Abandon Their Carts?
The reason why every customer abandons their cart is different. Most online store owners will never know the exact reason why their consumers abandoned the cart. But many data and analytics (including tried-and-true customer surveys) indicate the most common causes.
Here are some of the common reasons customers abandon their carts,
High shipping costs and taxes
Mandatory account creation
Lack of payment gateways
Lack of discounts and special coupons
Payment gateways that don't look secure
Limited options for shipping
Poorly optimized product pricing
Long checkout process
Lack of express delivery
You cannot always conclude and pinpoint a reason. The most practical decision to recover abandoned carts would be to adopt a WooCommerce abandoned cart recovery plugin.
Can I see Abandoned Carts in WooCommerce?
Unfortunately, WooCommerce does not have a default way of letting you know about abandoned carts. There isn't a dashboard that would keep track of the revenue lost by abandoned carts. This makes the abandoned cart issue even more real.
The good news is you could use the WooCommerce abandoned cart recovery plugins to keep track of the carts in real-time and in-depth analysis in an analytics dashboard.
Are you in search of a plugin to save abandoned carts?
Look at the list of best WooCommerce abandoned cart recovery plugins we have put together.
Best WooCommerce Abandoned Cart Recovery Plugins
Retainful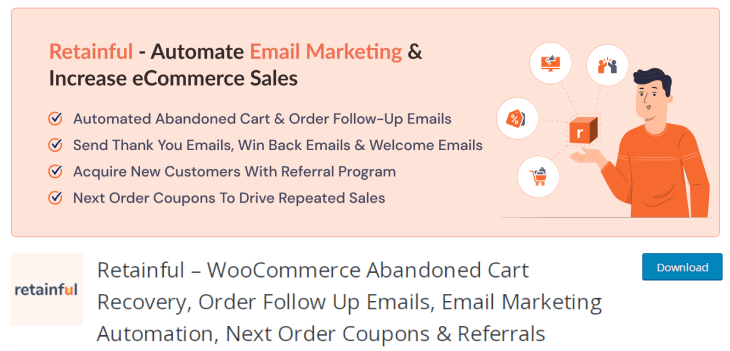 Retainful is the best WooCommerce abandoned cart recovery plugin with a simple interface that helps you recover abandoned carts and boost revenue. You could easily personalize abandoned cart emails, order follow-up, and referral campaigns and can even set up customized email campaigns to increase sales and traffic to your site.
Retainful is the one-click solution that you are looking for. You can track the shopping cart in real-time, collect email addresses, and send recipients timely emails to encourage them to finish purchasing.
It comes with pre-built automation workflow templates to start your Abandoned cart recovery campaign immediately. The customer journey builder will let you customize the pre-built workflow to your preference. You can add unlimited emails to the workflow along with dynamic coupon codes, conditional splits, time delays, and more.
Did I mention it is affordable? Yes, and I did because Retainful is a FREE plugin. Download this free WooCommerce abandoned cart plugin, and all you need to get started is to download it!
Features
Send unlimited WooCommerce cart recovery emails.
Pre-built automation workflow templates
Pre-built email templates
Trigger rules and Path splits
Percentage, flat amount & free shipping discount
Drag and drop email editor
Dynamic coupon codes
Exit intent popup to prevent cart abandonment
Add to cart popup for lead generation
Single-click recovery for customers.
Drag & Drop email editor
Real-time insights & analytics.
The chances of your email opening rate are high if your email is personalized. Use shortcodes to personalize your emails. You could connect Retainful with your favorite ESPs and reap the benefits. Bonus points: the Retainful plugin is available for both WooCommerce and Shopify stores.
Pricing
Retainful pricing plans start at $19/month.
Abandoned Cart Lite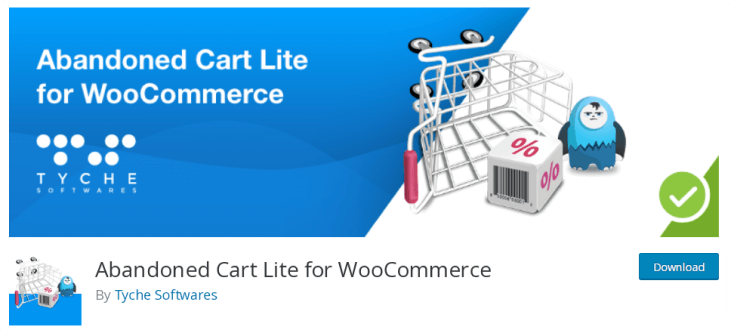 If you are a new shop owner and you are looking to recover abandoned carts for your new store, Abandoned Cart Lite would be the right plugin. It has a three-email campaign workflow and the ability to provide coupons to entice customers to buy again. It includes pre-built email templates enabling you to launch your cart recovery campaign quickly.
Features
Sends emails to both guest users and customers
Sends timely emails
Keeps track of the recovered carts
Prebuilt templates for quick launching of campaigns
Stops emailing customers who have recovered the carts
Pricing
Starter ($199/yearly)
Business ($299/yearly)
Enterprise ($399/yearly)
CartFlows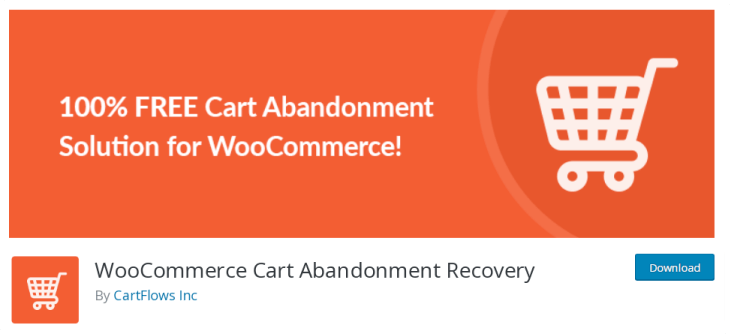 CartFlows is smart enough to capture the email of the user as they enter checkout and sends them an email if the purchase is not completed within 15 minutes.
You can easily automate emails with prebuilt templates. You can also go a step further and add a coupon to encourage your customers to finish the purchase.
The order bump feature redirects the customer to the checkout page after adding products to the cart. You can set conditions and display relevant products and offers based on what they are already browsing for. Customers finish the purchase while making more purchases than they had planned, raising the average order value.
Features
Send emails automatically
Personalize emails to increase open rates
Send unique checkout links for easy recovery
Multiple ESP integration
GDPR compliant
Real-time reports and analytics.
Pricing
Starter ($79/yearly)
Plus ($149/yearly)
Pro ($269/yearly)
Create an automated email campaign to send reminder emails, dynamic coupons, and personalized offers – a one-stop solution to recover carts.
CartBounty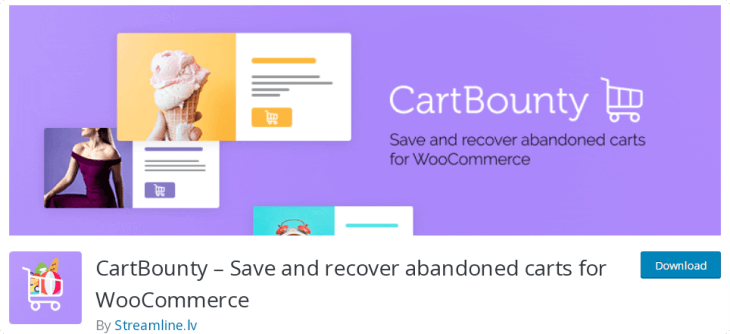 If you want instant notifications on abandoned carts CartBounty is the plugin you need. You could use WordPress in its free version to send emails, and if you have signed up for the pro version, you get to integrate Mailchimp. The remember checkout field allows the users to refresh the checkout page without losing any information. This saves the customers from a lot of annoyance. The exit intent popup allows the users to save the cart items for later. Adding a plugin will usually take a toll on your site, impacting the site speed and so on – but not CartBounty. It is a lightweight plugin that can run an automated campaign smoothly.
Features
Captures WooCommerce checkout field data before submission to save abandoned carts.
View and track guest carts
Real-time cart monitoring
Send unique coupon codes to encourage cart recovery
Effectively track email open and click-through rates.
Exit intent popup to prevent cart abandonment
You can send SMS reminders using CartBounty
Thank You message about successful cart recovery.
To win them back, you can also offer an additional discount on a cart by sending coupons through emails.
Pricing
Pro ($92/yearly)
Pro+ ($276/yearly)
Agency ($1295/yearly)
YITH – WooCommerce Recover abandoned carts

YITH is the best WooCommerce abandoned cart recovery plugin that comes with multilanguage options. You could specify the number of minutes after which the reminder email has to be sent. You could customize reminder emails for abandoned cart consumers and can add an enticing coupon. It is a lightweight plugin that lets you attach discount coupons to encourage users. If you are interested in a plugin that would help you generate reports on conversion rates, recovered transactions, and the number of abandoned carts, then YITH is the plug you should go for.
Features
Guest cart recovery
You can send multiple types of emails to users
Email editor to customize emails
WooCommerce multi-currency support
WPML capability
Send discount coupons via emails
Insightful dashboard to track cart recovery campaigns.
Pricing
$79 per year.
ELEX WooCommerce Abandoned Cart Recovery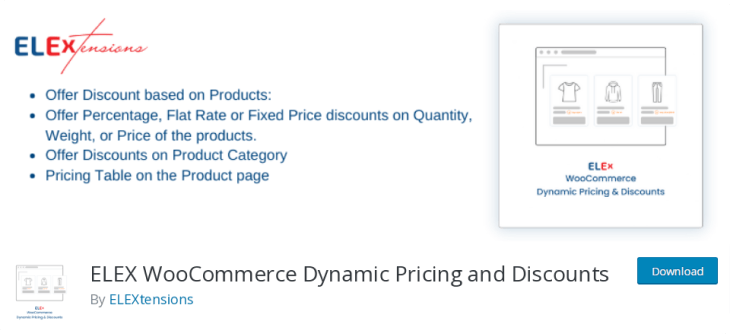 The ELEX WooCommerce Abandoned Cart plugin reminds the user to complete the purchase as soon as they add items to the cart and have not completed the purchase. Setting time intervals for automated reminder emails is simple. The plugin lets you track abandoned carts, customize emails, send discounts, and generate detailed reports. This plugin's money-back guarantee is one of the best features to win back customers. Also, there is an unsubscribe option to let the customers get out of the loop if they don't want to be reminded of the abandoned cart.
Features
Automate cart abandonment reminder emails.
After the set time, the shopping cart will be considered abandoned.
Allow unregistered visitors to complete abandoned shopping cart purchases.
Choose the WooCommerce order statuses that reflect a recovered cart.
After a certain time, the customer's email can be removed from the mailing list.
Create or customize recovery email templates.
Discount coupons can be generated dynamically or with WooCommerce can be emailed to customers.
Check the order reports and email logs to see how many orders were abandoned and recovered, how much money was lost and recovered, how many recovery emails were sent, any bonus recoveries, the most popular discount codes, and more.
Pricing
The pricing plans begin at $79.
HubSpot for WooCommerce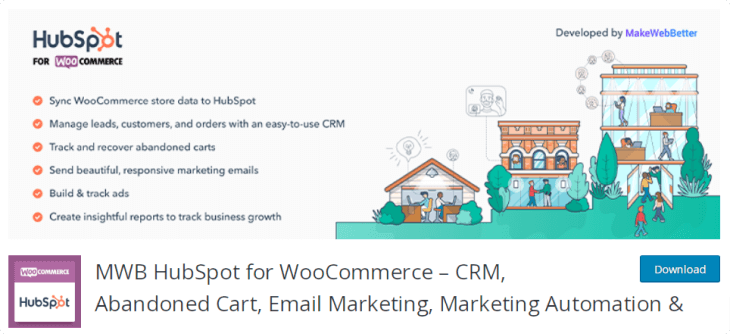 If you want to retain your customers by running ad campaigns on Facebook, Instagram, and LinkedIn, then the plugin you are looking for is Hubspot for WooCommerce. You can easily sync your WooCommerce store data to HubSpot, track abandoned and recovered carts, and generate reports.
The segmentation feature lets you be specific, segregate your customers, and send personalized emails. Responsive emails are another feature that gets the conversation between you and your customer going, which forms a bond between you and your customers and makes them return to your store.
Features
Sync your WooCommerce customer data with HubSpot.
Track abandoned carts and recovered carts in real-time
Utilize HubSpot's analytics tools to monitor performance.
Pricing
A free version is available.
Recapture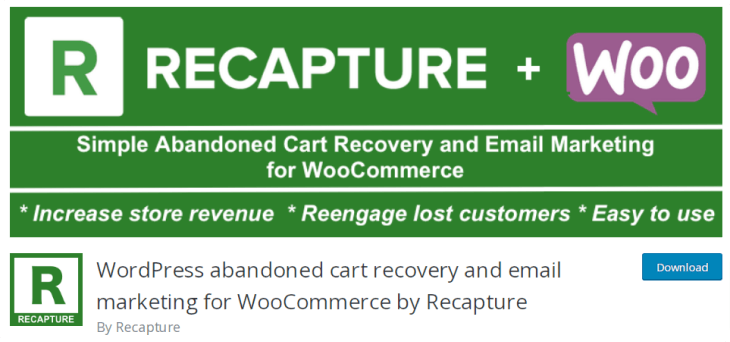 One of the less popular Woocommerce abandoned cart recovery plugins is ReCapture. It includes customer segmentation features, a live cart feed, and a thorough report of the revenue produced by recovered carts. This plugin recovers abandoned carts via SMS and email. It is also easier to customize notifications.
Features
Reminder emails about cart recovery
Email Collectors and pop-ups
Review Reminders
Personalized email marketing
Pricing
The pricing plans begin at $48/month.
Send a series of emails in a few clicks with Retainful to win back customers and grow your revenue.
Conclusion
Abandoned carts can impact your revenue if you leave them unnoticed. Though Cart abandonment is hard to stop as customers abandon carts for various reasons, you can still recover those abandoned sales and convert them into revenue by sending Cart recovery emails.
This is where you need a top WooCommerce Abandoned cart recovery plugin. With these plugins, you can send follow-up emails to customers and convince them to recover their cart.
This article lists some of the best Abandoned cart recovery plugins for WooCommerce. You have a few different choices – if you want an ultimate cart recovery solution, go with Retainful. Abandoned cart lite will be suitable if your customer base is small.
If you have enough expenses, you can afford YITH, or if you want an affordable one-stop solution, you can go for Retainful. So the choice is yours, as every plugin serves a similar purpose, recovering Abandoned carts.
What's it going to be? Which plugin do you think will suit your business? Let us know.
Does WooCommerce have abandoned cart recovery?
Yes, WooCommerce has an extension that lets you recover abandoned orders. Also, hundreds of Cart recovery plugins are in its library to recover abandoned carts.
How many emails can I send to recover abandoned carts?
One cart recovery email is enouRecover abandoned carts with woocommerce abandoned cart plugins. Here are the 7 abandoned cart recovery plugin for woocommerce to recover lost sales.gh for a loyal customer to bring them back. But the recommended practice is to send a series of five cart recovery emails at specified intervals to recover abandoned carts.
Why is shopping cart abandonment a problem?
When a customer abandons a cart – a sale is lost, and so is a customer. This is why you must send cart recovery emails and discount coupons to rekindle their interest and recover lost sales.
How do I create an abandoned cart in WooCommerce?
You can easily create an abandoned cart for testing your campaign. Just add products to your carts and don't purchase them; the cart will be considered abandoned.