Imagine your potential customer is eyeing the best-priced product and eagerly adds it to the cart. All seems good. But instead of proceeding to checkout, they abandon their cart, taking you back to square one.
Saying this is ubiquitous in ecommerce is an understatement. Nearly 70% of the carts are abandoned. That is, for 10 customers adding items to the cart, only 3 finish the purchase.
But we can't take this as a lost cause and move on. If anything, WooCommerce abandoned cart recovery is possible, and you can untie the sales locked in those.
Let's learn how.
Get the most out of your Abandoned Cart Recovery using Retainful.
Let's dive into the basics before looking into the methods for WooCommerce abandoned cart recovery.
What are WooCommerce Abandoned Carts?
Abandoned carts occur when the shoppers add items to the cart and leave the website without purchasing them. They are significant because the majority of your sales are locked in them and, in turn, represent lost revenue.
Understanding why abandoned carts happen is the first step in building up WooCommerce cart abandonment recovery strategies to recover them. Let's see the top cart abandonment reasons out there.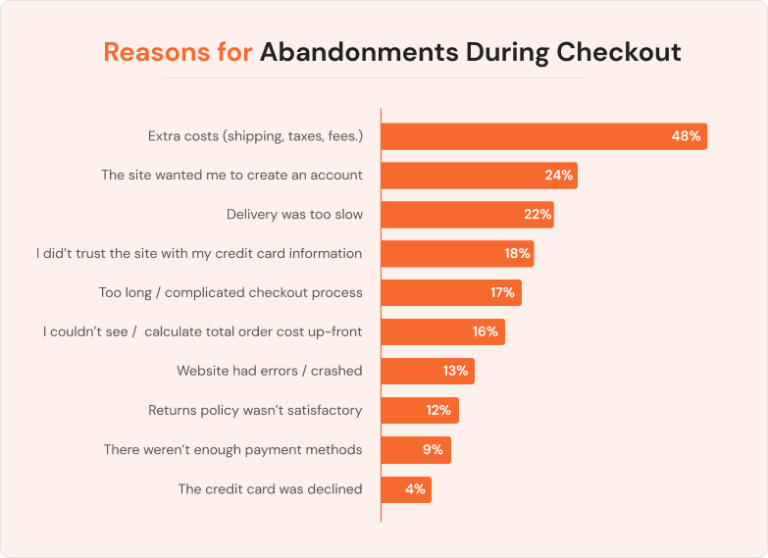 A lot can go wrong between clicking the 'Add to cart' option and actual payment. It can be high shipping costs, mandatory account creation, a complicated checkout process, or maybe your customer just went, "Nah, I will buy later."
The above image lists the top reasons identified by Baymard Institute research on cart abandonment.
To your relief, most of the reasons listed are actually preventable. You can't stop a customer from just window shopping, but you can optimize your checkout process and a couple of other things to prevent happening in the first place. Let's see how you can reduce your cart abandonment rate in your WooCommerce store.
How to reduce Cart Abandonment? – A step before WooCommerce abandoned cart recovery
Your WooCommerce store might suffer from one of the reasons above, and it requires some remedies to reclaim the revenue unlocked in abandoned carts.
Here are some of them.
Provide guest checkout options
Some customers might feel it is an additional task to create an account for making the purchase. It serves as an unnecessary friction, which can be avoided by providing them with a guest checkout option.
It also makes the checkout process faster and more straightforward, making it a seamless experience for the customer.
Offer multiple payment options
A customer wouldn't put up with an inconvenient checkout process. Offering multiple payment options is a great way to prevent that.
If the customer encounters an issue with a payment option, give it an option to try other options to make the purchase. This would significantly reduce the cart abandonment rate.
A shorter checkout process
Customers are not in for a long haul. So, make your checkout process short and straightforward to save the customers from the frustration of a long and complicated one.
Here is how your ideal checkout process should look like:

Offer free shipping
You can see in the reasons that the extra cost including shipping cost is the primary reason for cart abandonment.
A free shipping discount would be an excellent incentive to prompt the hesitant customers to finish the purchase. They would see it as a better deal and would happily grab it.
Using exit-intent pop-ups
Exit-intent pop-ups are a savior when the cart is on the verge of getting abandoned.
It is perfect to get the customer's attention at the last minute and pivot them to complete the purchase.
These are the steps to be taken before implementing your WooCommerce cart recovery methods.
Use Retainful's Exit Intent Popup to prevent abandoned carts from happening.
3 Proven Ways for WooCommerce Abandoned Cart Recovery
We have seen strategies to prevent cart abandonment from happening. But how can we recover after it has happened?
When it comes to abandoned cart recovery for WooCommerce, there are 3 ways to do it. Let's see one at a time.
Personalized abandoned cart emails
WooCommerce abandoned cart emails are the most reliable and successful way to recover abandoned carts. You can place it as your go-to strategy while running WooCommerce cart abandonment recovery campaigns.
Not just us; the numbers say so too.
Abandoned cart emails have an open rate of 45% – more than any typical marketing email. Out of that, 11% resulted in the recovery of the cart.
By sending a WooCommerce abandoned cart email, you bring the customers one step closer to finishing their purchase.
Writing an abandoned cart email entails including all the necessary elements, like a CTA to take the customer to the cart and the image of products in the cart. On top of these, you can also provide discounts like free shipping.
In order to increase the chance of abandoned cart recovery, you have to send a series of emails.
Email 1 – A gentle reminder (After 2 hours)
Email 2 – An incentive: offers and discounts (After 24 hours)
Email 3 – Creating urgency (After 48 hours)
Email 4 – A last-chance offer (After 5-7 days)
It has been found that an ideal WooCommerce abandoned cart recovery campaign should have 3 to 5 email reminders that can help recover at least 10 to 20% of lost sales. Each email should be well-timed and have sufficient time interval between them.
Here is a classic abandoned cart email example for you.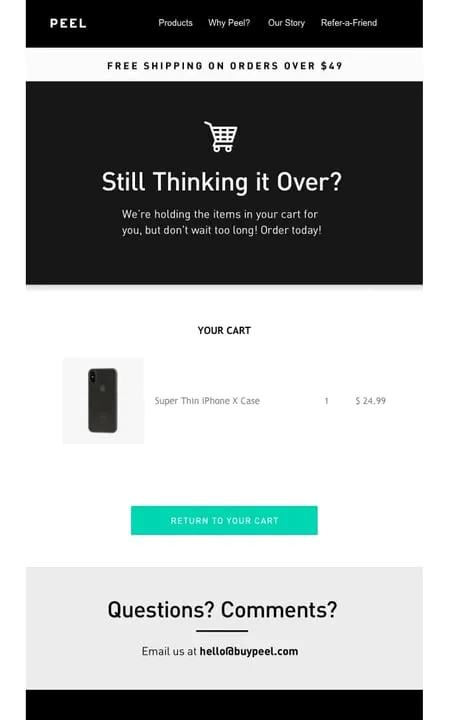 This email by Peel has all the elements needed for a successful abandoned cart email – CTA to take the customer to the cart, images of the products in the cart, a free shipping discount, and an option to ask queries. Make sure your abandoned cart email also has these elements.
One of the effective tools for unlocking revenue is Automated Abandoned Cart Emails. Yes, your abandoned cart email campaign can run on its own.
With hundreds of WooCommerce plugins at your disposal, you don't have to start everything from scratch. These plugins have pre-built workflows and templates with which you can set up your campaign in minutes.
Some of the best WooCommerce abandoned cart recovery plugins are Retainful, WooCommerce Abandoned Cart Pro, and ShopMagic Abandoned Carts. 
To know how to automate your WooCommerce cart abandonment recovery email campaign step by step, check out this blog.
Here is a glimpse of what you can do in Retainful: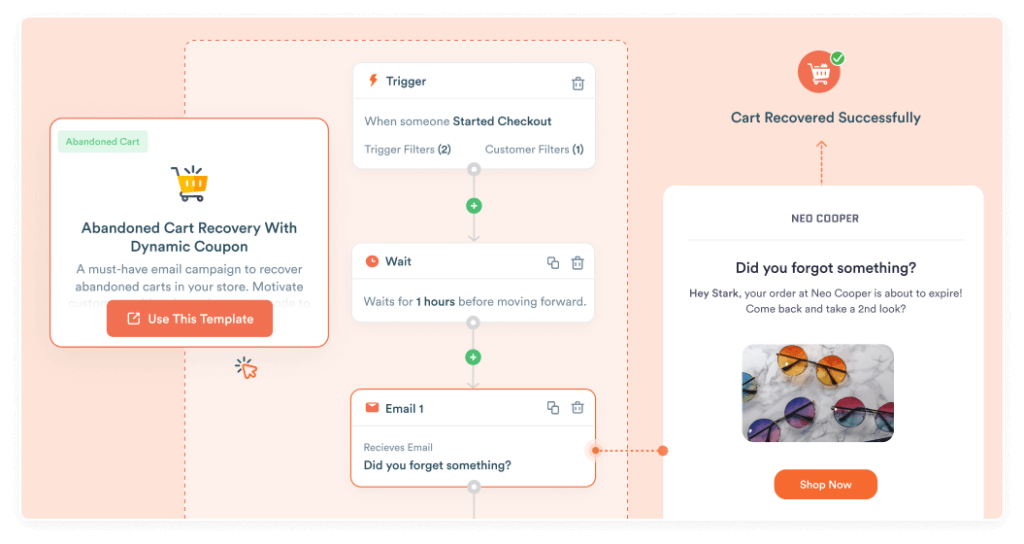 Retargeting ads
They are a form of online advertising targeting customers who have already visited your store, viewed some products, and left without purchasing. It is a formidable WooCommerce cart abandonment recovery strategy to increase the recovery rate.
It reminds them of the products they have seen and encourages them to purchase. Along with the product details, you can also include a discount in the ad.
Studies have shown that retargeting ads are 76% more likely to be clicked than normal ads.
Here is an example of a retargeting ad by BestBuy.
This example is simple but does the job. It has a clear tagline and a free shipping discount. On top of that, you can also add creative imagery to catch the attention instantly.
There are platforms like Google Ads or any social media platform to run your retargeting ads. Choose one that best suits your needs.
Web push notifications
As part of your WooCommerce cart abandonment recovery strategy, you can opt for push notifications if you want to catch the customer's attention while it is still fresh. They act like real-time reminders sent shortly after the customer exists.
Here is a push notification example for you.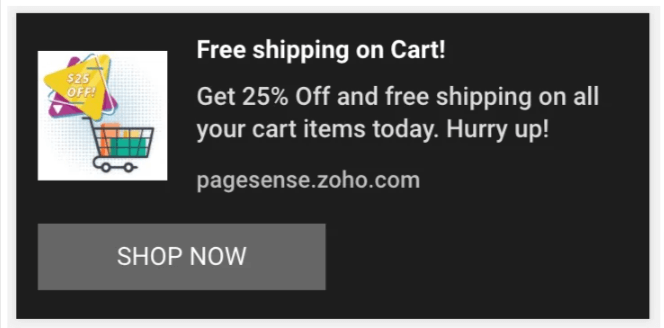 This one by Zoho has all the necessary elements to prompt the user to the cart page. It has a clear CTA, a discount, and also creates urgency perfectly. On top of this, you can also add images of the abandoned cart products in it.
You have been equipped with the methods to run a WooCommerce cart abandonment recovery campaign. Let's now learn some guidelines to get the most out of them.
Top 5 Guidelines for a Successful WooCommerce Abandoned Cart Recovery
Listed are the guidelines you can employ across the methods we have seen above.
Personalization
You already have everything you need to make personalized content – customer interaction with the products in your store. Place the images and details of the abandoned cart products in your ads.
There is no personalization without segmenting the customers. You can segment your customers based on the cart value, the difficulties faced in the checkout process, and whether they are first-timers or repeaters.
Personalization is something that you have to follow across all the methods of WooCommerce cart abandonment recovery – emails, ads, and push notifications.
Include social proof
You have to build trust and credibility in your brand, validating customers that they are making a purchase with a reliable brand. If price is a concern, you can show customers reviews that prove that the product's value is worth the price.
It significantly reduces the doubt by showing how the other customers had a positive experience with your brand.
Incentivize with coupons
Maybe the customers are waiting for a better deal to finalize the purchase. So give it to them. Coupons are a great way to prompt customers to take action and reconsider their decision to purchase.
We have seen that price-related concerns are one of the primary reasons to abandon the cart. So, include the coupon codes in your emails, ads, and push notifications.
As the shipping cost is one of the top reasons for cart abandonment, adding a free shipping discount to your WooCommerce cart abandonment recovery campaign can boost your recovery rate.
Evoke urgency
You have the coupons ready to go. But, to encourage immediate action, you have to create urgency along with that.
When the customers see that the items in their cart are about to sell out or the special offer is only available for a limited time, they are more likely to complete the purchase rather than delay it.
Offer support and easy communication
Customers may abandon their cart due to some questions or concerns about the product or the shipping. By offering support and easy communication, you can alleviate their concerns directly and persuade them to make the purchase.
For instance, send a WooCommerce abandoned cart recovery email with a link to call or chat with your support team and ask queries.
Steps for WooCommerce Abandoned Cart Recovery using Retainful
To get the hang of the hands-on experience of creating a WooCommerce abandoned cart recovery campaign, let's see how we can send abandoned cart emails using one of the best abandoned cart plugins for WooCommerce – Retainful. 
Step 1 – Install the Retainful Plugin.
Go to your WordPress dashboard, search for the 'Retainful' plugin, and install it. To connect the WooCommerce store with Retainful, copy the API from the Retainful Dashboard and enter it in the WordPress Dashboard under the 'Connection' tab.
Step 2 – Create an abandoned cart recovery workflow in Retainful.
To create a workflow, go to 'Automation' -> Create Workflow -> Choose 'Abandoned Cart Recovery with dynamic coupon.'
Step 3 – Configure the workflow.
After creating the workflow, you will be taken to the page where there are trigger block, wait block, email block, and coupon block.

You have to set the triggers, entry rules, and customer rules in the trigger block. Set the wait time for the first email to be sent in and the time delay between the emails in the Wait block.
Step 4 – Edit the email content.
In the email block, You can customize the subject line, preview text, logo, and email content using a drag-and-drop editor.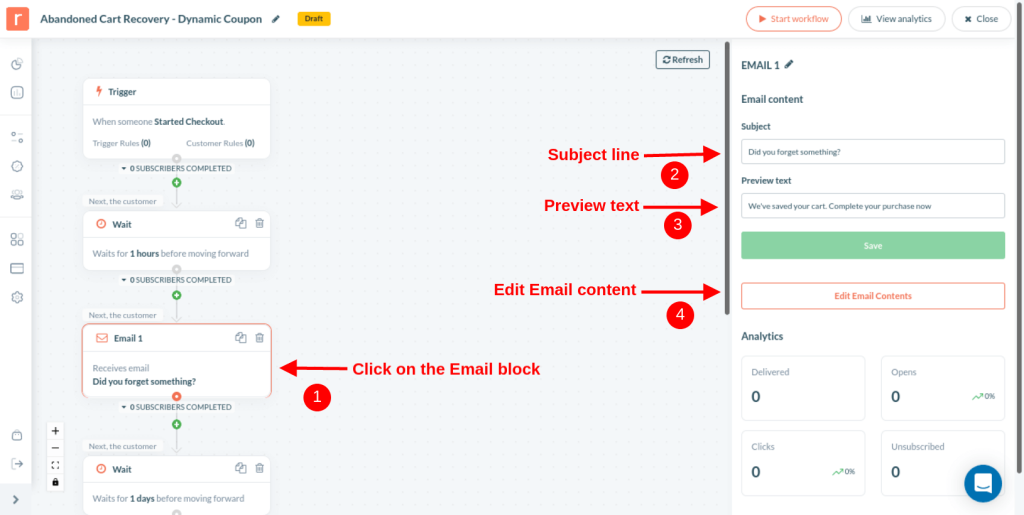 Step 5 – Adding dynamic coupon.
In the 'Coupon' block, you can select the coupon type. Enter the coupon value, set the expiry date, and save it.
You can add a series of email blocks in the workflow to send multiple emails. You can also configure the time delay between the emails in the wait block.

Step 6 – Go live.
Now, it is time to launch your WooCommerce abandoned cart email campaign. click on the 'Start Workflow' on the top right to set the workflow live.
Automate your abandoned cart recovery campaign in minutes using Retainful and let the tool work its magic.
Wrapping Up!
This blog equips you with the methods and steps to start your WooCommerce cart recovery campaign and unlock all the sales tied to it. Put this knowledge to use and recover more.
Know more about WooCommerce abandoned cart recovery:
What are the best WooCommerce abandoned cart plugins? 
There are many plugins out there that can help you in WooCommerce cart recovery. Some of the best WooCommerce abandoned cart plugins are Retainful, WooCommerce Abandoned Cart Pro, ShopMagic Abandoned Carts, and YITH WooCommerce Recover Abandoned Cart. 
How can I track the performance of my abandoned cart recovery efforts?
You can track the performance of your abandoned recovery campaign by monitoring metrics such as cart recovery rate, click-through rate, conversion rate, and revenue generated from recovered carts. Many plugins and tools provide analytics for this purpose.
Can I recover abandoned carts for both guest and registered users?
Yes, abandoned cart recovery strategies can be effective for both guest users and registered customers. Some plugins allow capturing guest emails early in the checkout process.
Retainful's Add-to-Cart popup is triggered when the customer adds an item to the cart and asks the customer to enter their email address in return for an offer.
Can I use different channels for abandoned cart recovery simultaneously?
Absolutely. Combining channels like email, retargeting ads, and push notifications can create a multi-touch approach that increases the chances of re-engaging abandoned cart customers.