"Welcome, Thanks for purchasing our product." If this is how your Welcome Email looks, then you need to improve your Welcome Email to engage new customers.
Of course, every story does have a unique email strategy to make their welcome email more attractive than others. But are you on the right path?
Are you following the right welcome email etiquette like your competitors? Let us discuss this here. In this blog, you will get to know more about a welcome email for new customers and tips to curate the best welcome email for your store.
Let us get started.
What is a Welcome Email?
A welcome email is a very first communication that you initiate with your customers after they complete the purchase in your store. According to Invesp, 74 percent of customers look forward to a welcome email after subscribing to the store.
When a new customer completes their purchase in your store, a welcome email should be sent automatically after their purchase. It should establish expectations for what your company is all about and how frequently you'll communicate.
Brands can use welcome email for new customers to lay the groundwork for their future collaboration with their subscribers. Many of them get read because these emails are delivered after a purchase or after subscribing to a company's newsletter. The impression they leave on the reader is what they will remember over time.
Is a welcome email important?
Many automated email plugins help you send the next order coupon along with your Welcome email. Yes, it creates the best impression of your store when they receive an email after their purchase. It also boosts their next purchase.
Backed Up Facts
Customers expect welcome emails, thus they open up to 82 percent of them (GetResponse)

The highest transaction rate (Experian) is found in welcome emails with free shipping.

US clients who read welcome emails place transactions worth an average of $60. (Return Path).
Why is it necessary to send an Automated Welcome Email?
Many reasons come to mind when talking about the importance of sending a welcome email. Let me enlist the top reasons here.
Improves customer engagement
Reduces spam complaints and unsubscription rate
Sends appropriate email campaigns automatically
Increases customer loyalty
Helps to segment the audience
Improves customer engagement
When compared to other sorts of emails, welcome emails for new customers have a higher degree of interaction. As a result, they provide the ideal opportunity for a firm to engage new subscribers and persuade them to take action.
Welcome emails receive four times more opens and five times more clicks than other marketing emails, according to Invesp. Furthermore, because these emails have a 50% open rate, they are 86 percent more successful than newsletters.
Reduces Spam Complaints and Unsubscription Rate
Customers are introduced to a brand through welcome emails. As a result, the consumer will be responsive the next time the company sends an email. As a result, the probability of subscribers filing spam complaints or unsubscribing will be reduced.
Sends appropriate Email Campaigns automatically
The link is usually included to the Preference Center, where users can choose their preferred email frequency and topic. As a result, the brand can build different user segments to fulfill the needs of its subscribers.
Increases Customer Loyalty
Businesses may create long-term client relationships with the correct welcome email marketing. What do you mean by that? Marketers can use these emails to create a sense of community among recipients.
In an email, for example, a comment like Welcome to the club, Anna! will make Anna feel like she is one of your store's faithful customers. She'll be more devoted to the corporation that sent her the message as a result.
Another welcome email for new customers encourages client loyalty by giving recipients multiple ways to interact with a business. Marketers might include connections to their brand's websites, blogs, and social media accounts in these emails.
Helps to segment the audience
Welcome emails also give businesses the information they need to make informed decisions that increase customer loyalty. Marketers can utilize these emails to get valuable information on leads. The information can then be used to precisely target their clients. Customers are more likely to stay if you provide them with a better experience.
How to Write A Welcome Email?
The welcome emails turn out successfully when you create a connection with your customers. You can tell a true story in your Welcome emails. You can show your brand's real face to make readers feel they are a part of your community.
Here are the additional tips for writing a welcome email. Stay tuned!
Introduce Your Store
Introduce yourself and your company. Marketers could utilize welcome emails for new customers to provide further details about their company. It's also a good idea to include a sender name that's simple to detect in the email.
Say "Thank you" for their purchase
To convey that they appreciate their clients' decision to subscribe to their messaging, a marketer should write a "thank you." This can be accomplished with an image, a suitable GIF, or a single line of text.
Automate emails immediately after their purchase
As discussed earlier, every customer expects to get a welcome email immediately after they complete the purchase. In that case, you can automate your emails that avoid unnecessary manual delays. You can also increase the next order coupon in your welcome emails. It boosts the customer to be involved in the second purchase.
Create an eye-catching topic line
Make a subject line that will catch people's attention. Create a catchy and distinct topic line. To come up with an effective one, do many A/B tests to see which one gets the most click-throughs and opens.
Expectations should be set
Provide details on how often customers will receive emails from the company. Furthermore, allowing clients to control the frequency of email delivery is a wonderful idea. You'll get fewer unsubscribes and spam complaints this way.
Provide value right away
Don't bombard your clients with marketing communications that aren't relevant to them. Instead, focus on discounts, how-tos, and other useful information that will entice people to buy.
Make the message unique
Generic material does not appeal to the target audience as much as personalized communications do. Retainful allows you to send more targeted and automated Welcome email series with higher open and click rates.
Make a Relevant and Triggering call-to-action
Make a call-to-action(CTA) relevant and straightforward. A compelling CTA leads the reader to the next step. However, don't overwhelm the reader with too many click buttons in the email.
Please provide any valuable resources
Useful materials should be shared. To increase consumer engagement, provide links to useful content and resources. Some of the resources that brands can offer to their audiences are videos, tutorials, and blog entries.
Tips For The Best Welcome Email
You would never get a second chance to change the first impression of your customers. Sending a welcome email after their first purchase through an automated email plugin like Retainful boosts your conversion rate.
Let us know what tips to include in a Welcome email.
Personalized Your Welcome Email
Personalizing the welcome email is important. In Retainful, you can see multiple email templates in order to personalize your email campaign. Once done, you can set the campaign. The plugin helps you to send automated welcome emails to the customers once they complete a purchase in your store.
Take the below welcome email from SurfStitch as an example. See how the email has been personalized.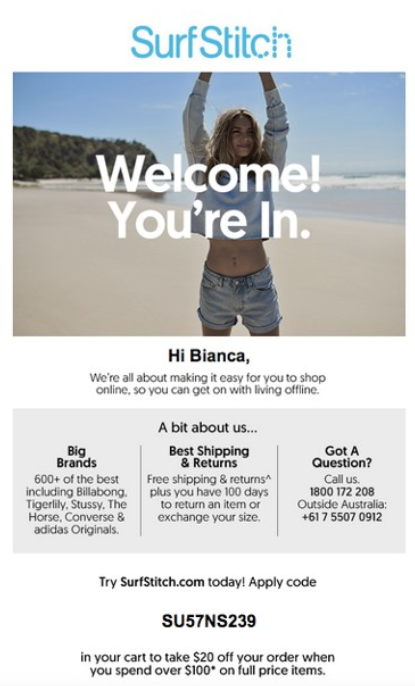 You can see the coupon code provided in the welcome email. Using Retainful, you can personalize the Welcome email series with the next order coupons. The next order coupons are a wonderful option to bring customers back to your store. Provide discounts if necessary. Make sure you are personalizing the email with the customer's name in the subject line or in the email.
Stick to a catchy and triggering subject
Welcome emails perform best when they are easily defined, but make sure to include a piece of attraction in your subject line. Many marketers utilize the term "Welcome" right up front in the subject line to make welcome letters stand out in packed inboxes.
Here are a few triggering subject lines examples.
Hello, and welcome to the A-List!

[Brand name] is delighted to welcome you! Get a £10 discount on your next purchase.

[Brand name] is delighted to welcome you! Get a 20% discount on your first buy! Welcome to [brand name]; here's a 15% discount.

Welcome to our [Brand Name] Community!

Welcome! Thank you for purchasing!

[Brand name] is who we are. Let's get together!
Here is an amazing Olay's Welcome email with a discount code.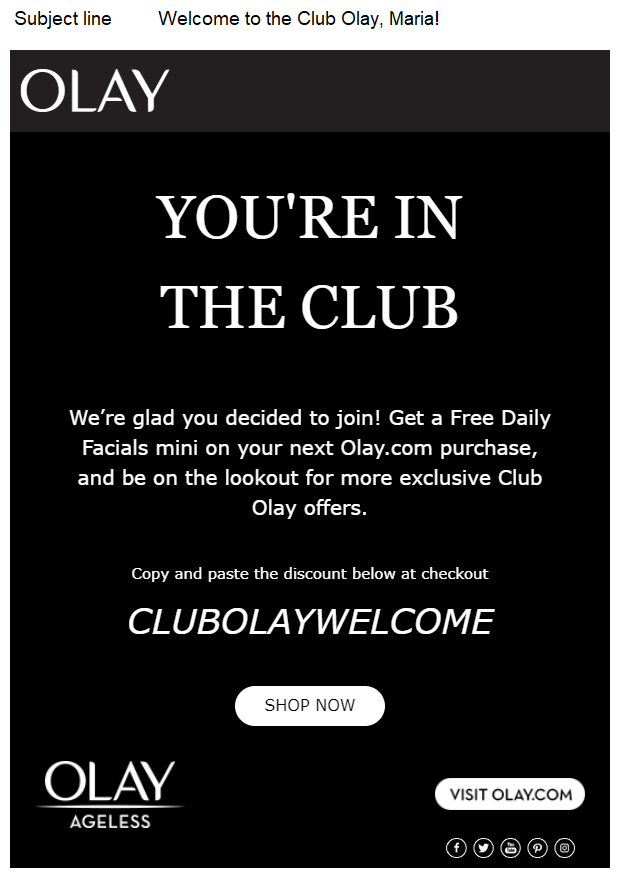 Do not be afraid to use emojis in your subject line. When the subject line is triggering enough, your open rates will be high. Know more about your target audience and their pain points. It helps you to come up with a unique subject line that compels customers to open your email.
Send immediate Welcome Emails
Sending welcome emails immediately after the customer completes purchasing in your store matters a lot. A welcome email sent days after their purchase is of no use.
You can consider Tarte's Welcome email as an example.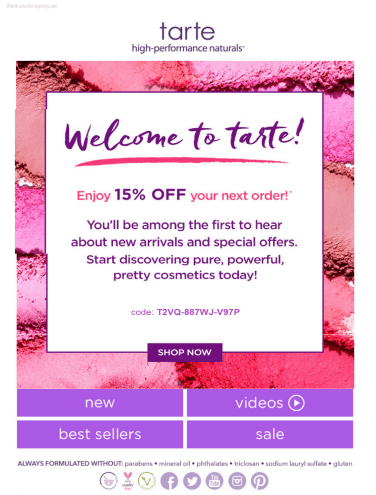 And, now the next question is when to follow up the welcome emails after the first email.
Here comes the answer to your question.
In an automated welcome email campaign, the results are pretty clear. The email will be automated once the subscriber fills in the email opt-in form after their purchase. Let us take the image into consideration.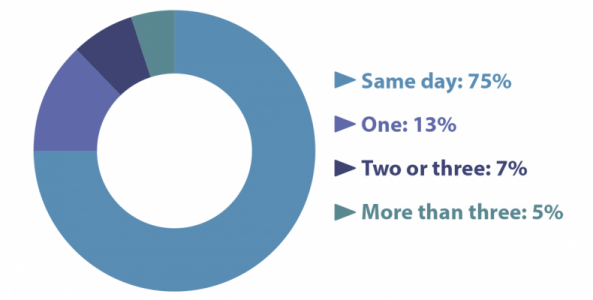 Source: Return Path
From the image, it is evident that automating emails on the same day helps you to get around 75 percent of responses from the customers. On the same day when customers complete the purchase, 75% of customers received welcome emails.
When it comes to delivering your welcome email, time is of the essence. This is the moment to provide subscribers with the information they want right away.
You can automate this process by using our email marketing automation feature, Retainful, which will automatically send a welcome email or welcome email series to everybody who completes the purchase in your store.
Add Relevant Links and Images
Add short links to your email to make the shopping process easier and faster for your subscribers. If your firm has an app, including links to it and promoting its benefits or features will increase the likelihood of it being downloaded.
By analyzing their interests and including links to those products, you may boost the likelihood of a consumer using or purchasing them by 50%.
Here comes an amazing example of adding relevant images in an automated welcome email from Lush.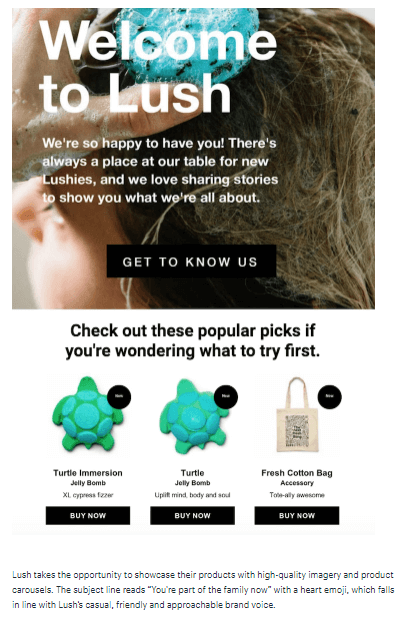 In this image, you can see how Lush plays with the Welcome email thereby cross-selling their other products.
Links to other companies or services that are related to yours or your service might also be highlighted. However, don't put too much emphasis on them.
Keep Your Email Short and Simple
The welcome email should convey the message quickly, be succinct, and avoid information overload that is both confusing and unneeded. Decide what you want to get out of the email and concentrate solely on that.
You can also include these attractive phrases in your emails.
It's time to shop Next!
Video Testimonials
Social Media Accounts to Follow
How many welcome emails can you send?
You can send a single welcome email, which doesn't really count as a "series," or two, four, or more.
The finest welcome series emails, on the other hand, are ones that communicate their message fast and succinctly. As a result, we recommend three automated welcome email sequences:
The first email greets them warmly, thanks to them for signing up, and builds your brand immediately.

The second can show a behind-the-scenes peek at your company, products, or even yourself.

You can showcase the testimonials of your existing clients ( for example, fantastic reviews from your social media) and offer a discount in the last email.
There is, however, another type of welcome email: the welcome back email. Essentially, this email is sent whenever a customer returns to your brand after a particular amount of time has passed (longer than usual).
Final Takeaway
Your automated welcome emails are the start of a conversation with your consumers. You want to establish a positive first impression and persuade them that purchasing in your store was a wise decision.
The welcome email examples demonstrated how these suggestions are implemented in online stores. Keep these in mind when you plan your next email marketing campaign, and let them drive traffic and sales your way.