If you want to expose your Shopify store to millions of people with less effort then you must run a Facebook ad campaign.
Facebook is the widest used social platform in the world and the features it offers can help you build the perfect ads and increase your visibility.
Increase your sales and conversions by creating a dynamic Facebook sales funnel to run a successful Facebook ad campaign.
That's why we crafted this article to show you how to create a perfect Facebook sales funnel to promote your Shopify store through Facebook lead ads and boost your conversions.
Install Retainful and Recover your lost sales easily.
What is Facebook Sales Funnel?
Facebook sales funnel is a marketing process where you capture a user's interest to persuade and nurture him at every stage using designated Facebook ads until they decide to purchase in your store.
How do I nurture the user?
Through Facebook ad campaigns or organic posts.
You post relevant topics that appeal to the customers and slowly warming him up through different funnel stages until he is ready for conversion.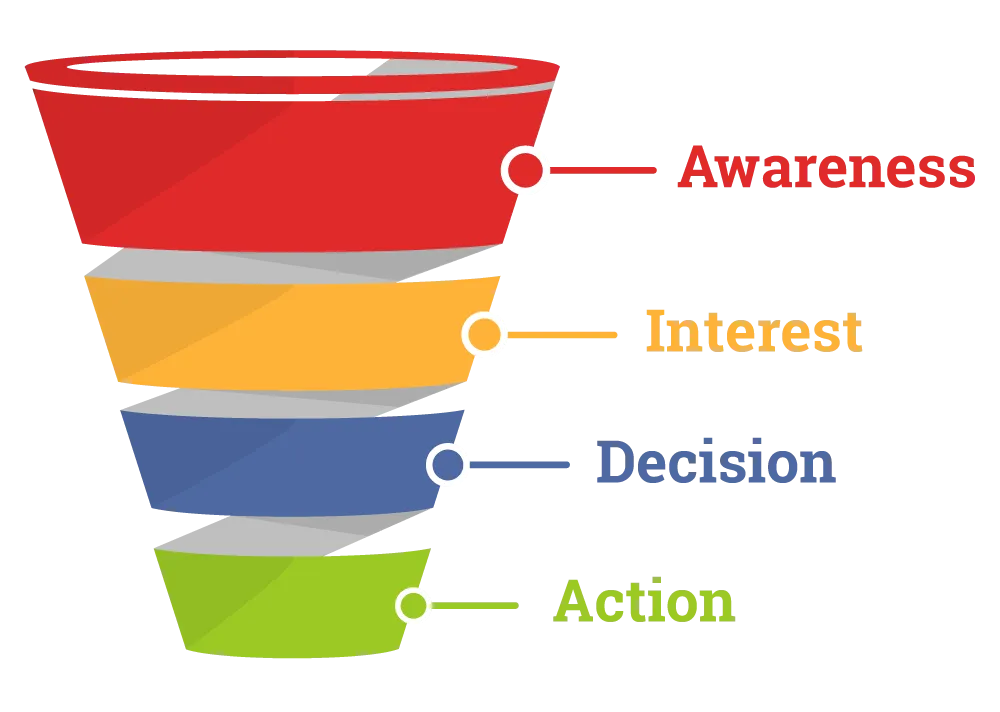 Facebook sales channel has four stages that a customer will be taken through in a period of time.
Users discover your brand for the first time.
Users come to know about your product. Shows interest to purchase.
Users are ready to make a purchase
Users have purchased and you should begin the post-sales engagement.
Why Facebook sales funnel is necessary for your Shopify store?
If you want to know why the Facebook sales funnel is necessary then you might want to take a look at 'Paying attention to details.
How many of us do that? How many times do we see something before it gets familiar to us?
We all have seen an advertisement on various platforms, but even those visual media takes quite some time to get our attention. That is exactly why your store needs a Facebook sales funnel.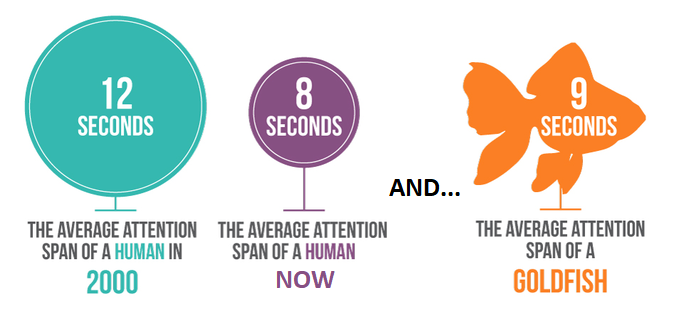 Users might not pay attention to your ads at the first sight, but when you are persistent enough, your ads will get your user's attention and you can convert them with ease.
Without a proper Facebook sales funnel, all your marketing efforts will go in vain. Your ads will not have convinced the users to take action.
Creating Facebook Sales Funnel for your Shopify store
We will show you how to get the user's attention by properly building a sales funnel for your Shopify store and get your conversions.
Integrate your Shopify store with Facebook
The first step of creating a Facebook sales funnel is connecting your Shopify store with Facebook pixel.
Yes, if you want to start creating a dynamic Facebook ad campaign then you have to add a Facebook pixel to your website.
The impressive aspect of this integration is that how easy it is to add in your website, literally takes only a few steps.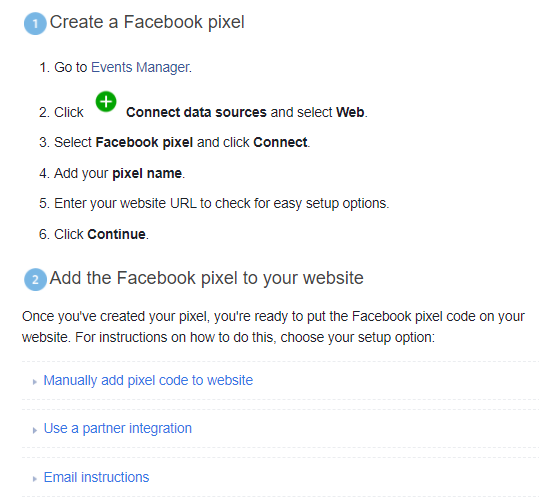 Why should I add a Facebook pixel to my website?
To track your website audience and display your website ads to those users when they login to Facebook.
Sound Familiar?
How many of you had seen an ad on Facebook of the same product that you searched in Amazon/Ali express earlier.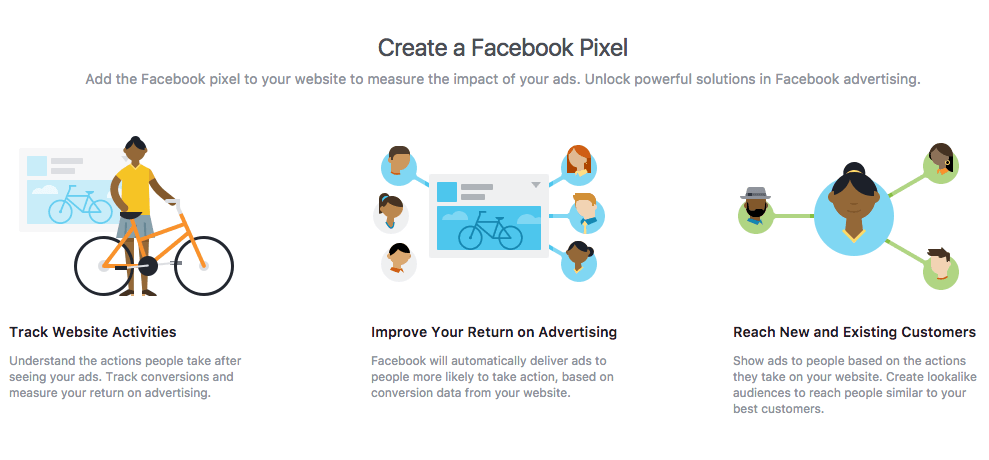 That's the work of Facebook Pixel.
It remains your customers about the products they searched and as stages go by you can convert them as your customers. That is why connecting your website with Facebook pixels is crucial.
Creating segmented content
Remember you'll not be running just one ad, there are multiple stages in a sales funnel which means multiple ads. So, you need multiple contents.
You cannot use the same content in different stages; it will not resonate with the audience or entice them.
Create segmented content in a way that you can appeal to your users in different stages of their journey. Only then you'll be able to convert them easily.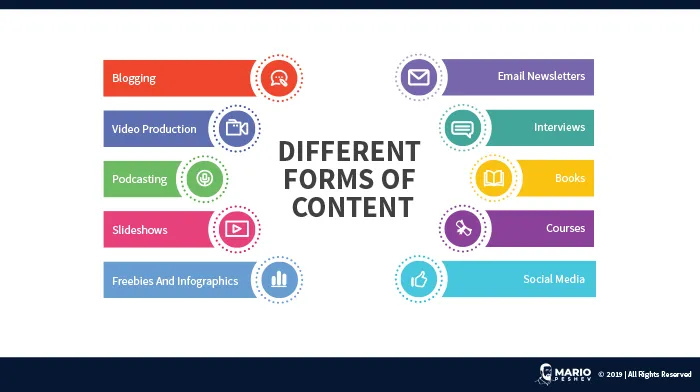 These contents could be your blog posts, infographics, educational video, etc. Anything that represents your product, will help you later for retargeting.
Some customers will love to read, so a blog post will be enough. Or some users will love an infographic video.
Just start creating different segments of content so that you can reach a wider audience and convert them.
How to convert Facebook leads?
Before you start targeting your audience you should figure out the number of leads you are generating. Only if you identify the potential leads, you'll understand how to convert Facebook leads.
In order to find out the leads, you must track your conversions. To do that you must add a Conversion pixel in the Thank you page.

In your Facebook ads manager, go to conversion tracking and then click 'CreatePixel' to insert a conversion pixel.
If you're using your thank you page to cross-promote another lead magnet or the purchase of your main product, you'll want to track follow-up conversions as well.
You can start creating Facebook lead ads if you want to churn in your conversions.
Target your existing audience
Now that you've integrated your store with Facebook pixel and have created segmented content for all funnel stages, it's time to decide who you'll be targeting these ads to.
Audience is the heart of a sales funnel and the best way to start with is your 'warm' audience.
Warm audiences are the ones that are already exposed to your brand to some extent, they follow your Facebook business page, they know how you work. These audiences are probably your Facebook fans, you can add your existing audience to this list too.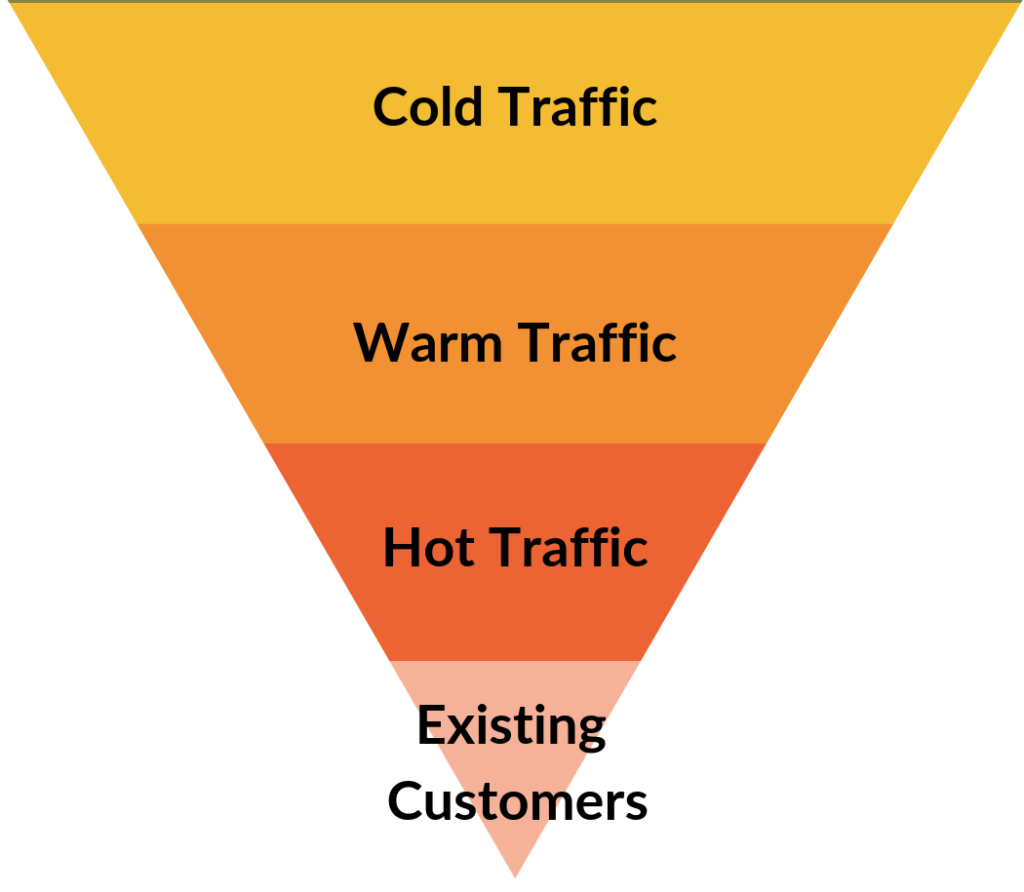 The general saying is that if your warm audience responds to your ads well, then you are almost half done.
Your cold audience will follow your warm audience and get enticed so easily. So, always start off with your warm audience.
You can also run an A/B test for your ads with your warm audience and check if your contents are persuasive enough to convert them.
Also remember, these are the audiences that are most interested in why they've traveled to the second stage so use more content to entice them and convince them into making a purchase.
Make use of Facebook's Lookalike audience
Facebook has a term for certain audiences, they call it 'lookalike audience'. These are the audience who has the same interests, pleasure & pain points, behaviors as your actual audience.
A lookalike audience is integral in your sales funnel because they have a greater probability of converting into your leads.
Or just as we said before, you can call this section of the audience as a cold audience who has the prospect to become warm ones.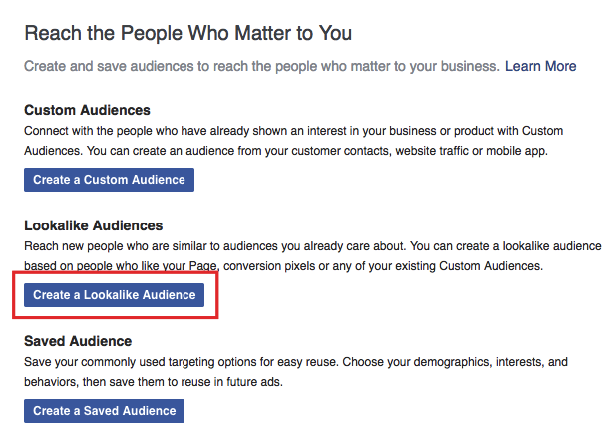 A popup will be displayed where you can select the necessary criteria.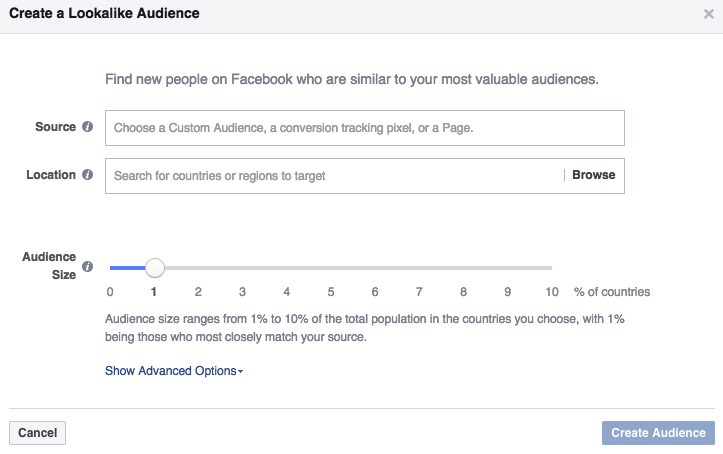 Here you can select the source, either the custom audience or fans of your page, location, and the size of the audience.
Remember, the smaller the size of your lookalike audience the closer will be the resemblance to your existing audience.
Once you are done, then click create the audience.
This lookalike audience will be a section of your cold audience who will need to be warmed up.
Structure your Facebook ads for every stage of the funnel
So, now that your content and audience are ready, it's time to strategize your Facebook ad campaign.
Here's where you must remember the most important thing, customers differ from each other, they take their own time to get converted. That's why you must create multiple funnel stages.
The reason for multiple funnel stages is to resonate with the audience to make the move deeper into the funnel.
You must also align the right content at the right stage of the funnel or you'll break the continuity and mist the chance to convert.
So, without further ado let's bring out the multiple funnel stages,
Top of the Funnel
Ads on this stage of the funnel will mostly target the Lookalike audience or the cold audience. These are the audience who haven't been exposed to your store.
They might not even be aware that your store or your offers exist. So, enticing them might look tough but it is easy.
Since it is the first time they might be seeing your Facebook ad campaign, use something attractive, an image or video to get their attention.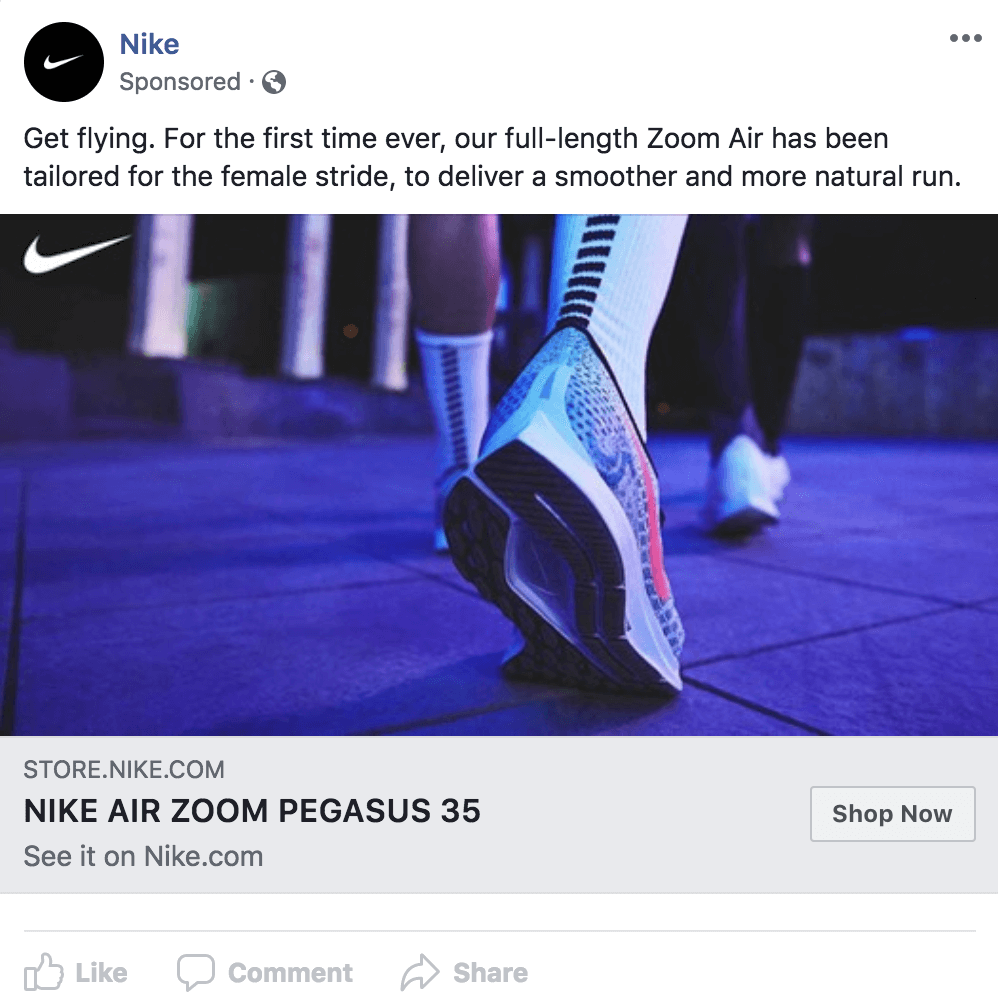 Remember, don't try to sell your products in these stages of the funnel. If you sell it, it will look pushy and customers will repel from your ads.
Use quality images or videos of the product and just introduce it to your customer and let them know what you are up to.
Another tested method in this stage is using your Social proof, displaying your testimonials in your Facebook ad campaign. It will help you build your credibility which will take the customers deeper into the funnel.
Retainful allows you to recover your lost sales with enticing cart recovery emails.
Middle of the Funnel
At this stage, customers might already be exposed to your product, they would've visited your Facebook page and interacted with previous ads.
So, here your Facebook ad campaign must concentrate on educating your customers about your products or guide them to explore your store.
You can use your infographic or blogs that can teach your customers more about your product. But, if you want to use an image, then show images of people using your product.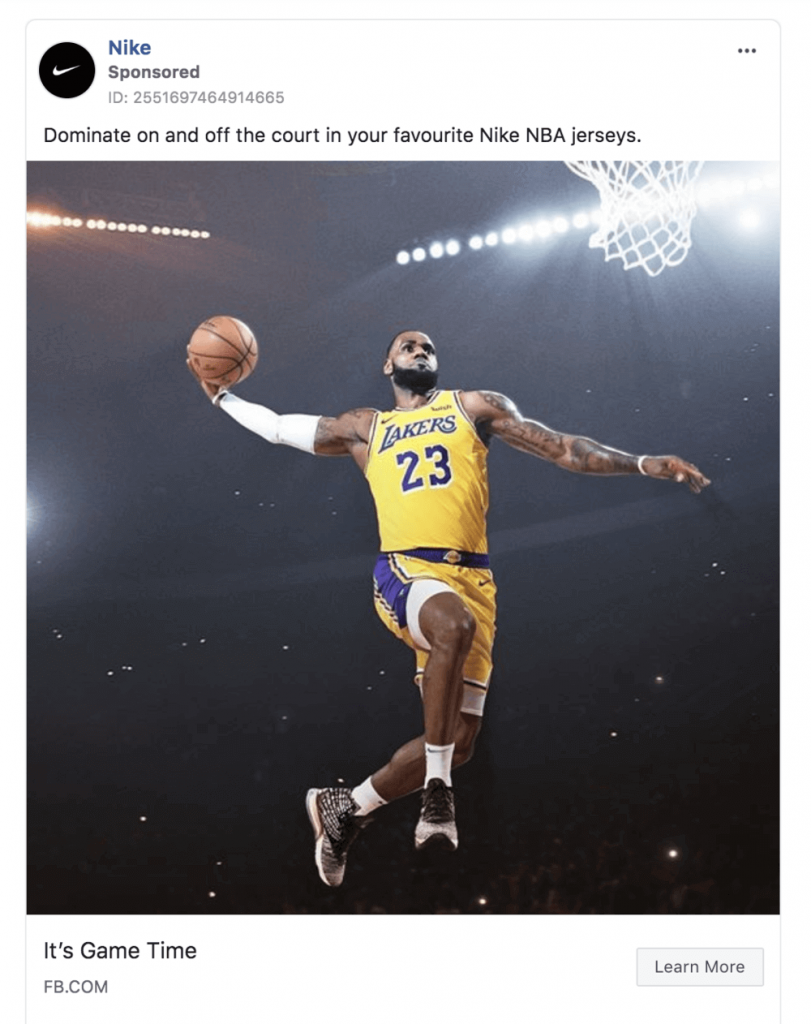 Nike has the best Facebook ad campaign, look at this ad, the product they are trying to sell is the jerseys and they've used the iconic image of Lebron James wearing them.
This will encourage the customer to visit your store, but not every brand is Nike. In that case, you can use images of random people using your product.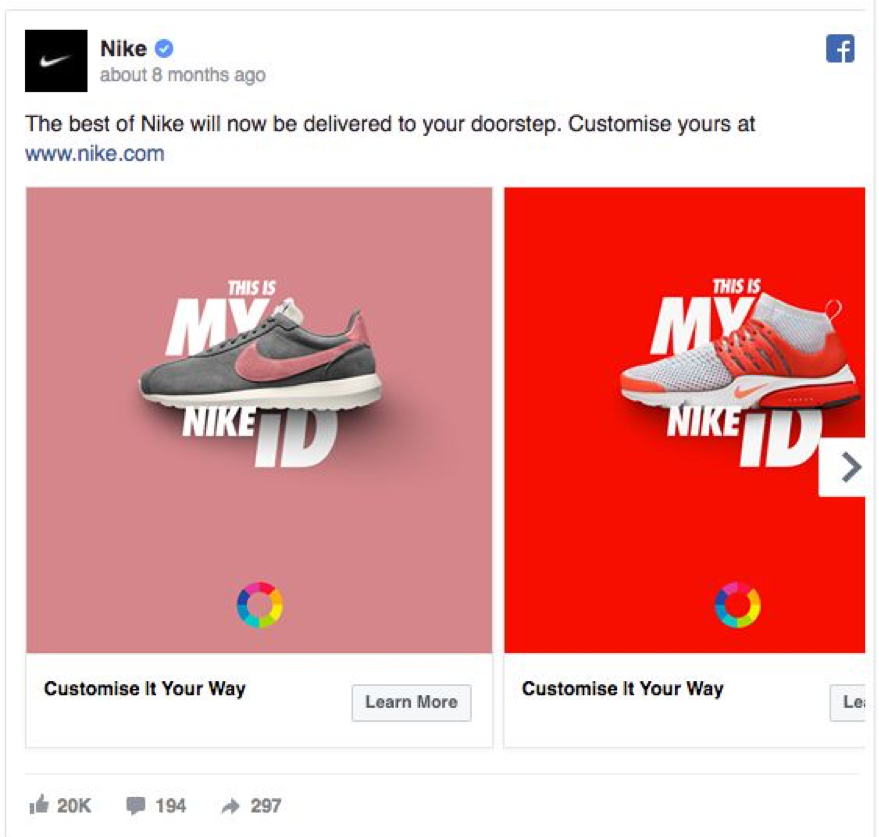 In this ad, Nike is not trying to sell their products, they are letting the customers educate themselves or explore the brand. Customers will definitely visit the store just to see how the customization works.
You can also use these types of ads in the middle stage of the funnel just to let your customer learn more about your brand.
Bottom of the funnel
So, we've arrived at the business end, this stage is where the ads in your Facebook ad campaign should target the customers who have already visited your site.
The customers might have even added products to their cart but didn't get the motivation enough to finish the purchase.
This is where your ads come into play, encourage your customers to make the purchase by enticing them with a special sale or an offer.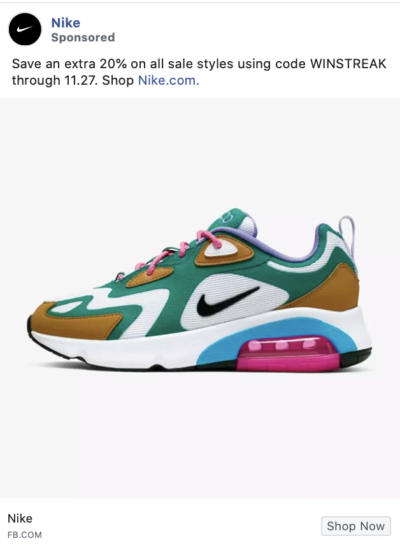 Entice your customers with an offer or a coupon code and make them visit your store to complete their purchase and increase your conversions.
You can use Facebook dynamic ads in these stages of the funnel as there will be only a minimal audience.
Remarket with efficiency
Remarketing is one of the finest options to increase your sales because the investment will be less here because you'll be selling to customers who have already been exposed to your brand and might've purchased too.
These are your potential returning customers, so treat them like the middle of the funnel.
You can educate them about your new product or offer, they already know your brand, converting them will be easy.
Facebook remarketing can help you out here, it is similar to Google ad words but it displays ads. There are 3 options in Facebook remarketing.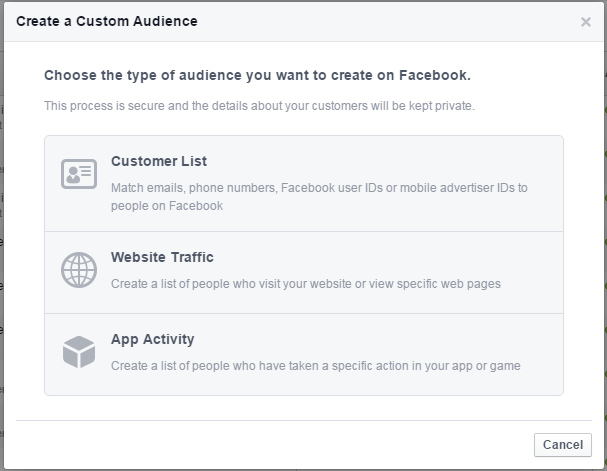 Customer list
This is a brilliant feature for your Facebook ad campaign where you can target the audience from your customer or email list. Match the email of customers on Facebook and you can target them with subscription ads.
Yes, if you have a newsletter you can match the customer email and target them with a sign up to our newsletter ad.
Website Traffic
This is a conventional type of remarketing. Sometimes customers might've visited your store and researched some products.
Now you can target these customers on Facebook based on their search or traffic.
App activity
Here you can target customers based on what they did in your store. Sometimes customers might've added products to their cart and abandoned them without purchasing.
Now you can target those customers with ads of the same product that they added in their cart like Abandoned cart recovery . You can offer a discount for that product to motivate them to return to the store to purchase.
This is similar to sending cart recovery emails in Shopify Abandoned cart recovery campaigns.
Remember, remarketing is a brilliant way to expose your product to customers. Facebook remarketing ads can convert better than conventional Facebook ads.
Choose a proper time frame
Timing is the most crucial aspect to concentrate while sending ads. Sending it too late might bore your customer or sending it too soon might frustrate your customers.
Either way, you'll lose the chance to convert your customers. That's why you must select the proper time frame to send these ads.
Being active on Facebook is crucial but you must not bombard your customer's timeline with ads. Facebook can help you with that.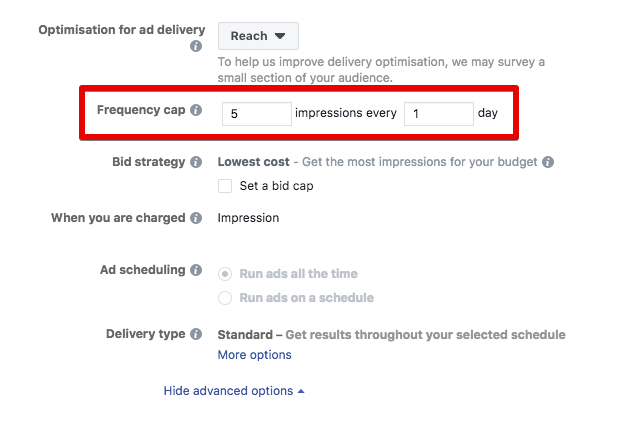 Keep the frequency cap to a minimum so that your customers don't feel fatigued or get frustrated with your ads.
You can sometimes take an aggressive approach if you want them to convert quicker. Aldo, you can even post an ad for an entire season during the Christmas holidays or more.
So, you must choose your time frame wisely if you want to maximize your conversion, or else you'll lose your sales and investments.
Bidding for Facebook ads
This is a competitive industry, so if you want to go ahead of your competitors in the ads race then you must optimize your ad bidding.
Is bidding like an auction?
Yes, when you create an ad campaign you directly come in competition with thousands of other campaigns and guess which ad campaign reaches more people and gets the highest conversions.
The one that bid higher. If you bid low then your ad campaign will not be exposed to many, so always bid higher to increase your visibility.
oCPM is the best bid type for these occasions. Optimized cost per mile bidding allows you to bid based on your objective.
If you want to drive website conversions and increase your engagements then oCPM is the right bidding type for you.
Recover your lost sales and Increase Revenue easily by Cart recovery programs.
Conclusion
Facebook is one of the largest social media platforms with millions of users. Building and running a proper Facebook ad campaign with Facebook lead ads can help you increase the conversions of your store.
We felt compelled to share our knowledge on creating a dynamic sales funnel and Facebook lead ads to help marketers achieve success in the biggest social platform.