Inactive customers are not lost; They are still your asset. Customers may leave your brand for several reasons, including unpleasant experiences, product changes, finding a different store, or any other possible explanation. Whatever it is, you may wonder, "How can I get those customers back?".
An effective Win back email campaign might give your business an excellent opportunity to retain more customers and increase sales. Winback email campaigns help to turn a one-time customer into a loyal customer or convince an inactive to re-activate their subscription.
Wondering how to bring back lost customers? Click here.
45% of Win back email recipients read the future emails. Customer winback campaigns are very effective. Start Free Today
What is a Winback campaign?
A Win back campaign or re-engagement campaign is a series of targeted and personalized emails sent to activate inactive customers.
These customers previously engaged with your eCommerce store by visiting, shopping, or signing up. However, for whatever reason, they have discontinued doing so for the time being.
They often need a slight shove to cheer them up with some rewards. Using an automated Win back email campaign, you can re-engage customers by offering them something beneficial, such as offers, rewards, or incentives.
Why is Win back email Campaign Important?
Winback emails are an elixir that brings life to the inactive customer list. According to a study, Win back emails have a high open rate, and 45 percent of Win back email recipients read subsequent emails. Customer Win-back campaigns are very effective.
Without any doubt, Win back emails are a part of a healthy ecommerce marketing strategy.
Retaining customers, a healthy email list, and keeping your low company churn rate are admirable goals leading to profit. Winback Emails Encourage People to Make Repeat Purchases; as you know, acquisition costs you five times more than retaining an existing one.
When Should You Send a Win back email?
It is essential to understand when you might think your customer is lost or they don't feel interested anymore. Only then can we send Win back emails to them.
You can connect with the customer who is still willing to open your email. Trying to Win back the person who reflexively deletes your emails is problematic. But in most cases, people are awesome and ready to listen to you.
You want to launch your win-back email campaign as soon as a customer shows signs of slip. Suppose they find an alternative; getting back to them is not easy. eCommerce is a crowded and competitive place.
We can't suggest an exact time period for waiting after the last interaction because it all depends on data acquired from your customer. Although, Send your first email roughly three months after your customer's previous interaction. Please keep track of how they responded to the email.
Check if they open the email, click the link, or buy something.
Send your follow-up emails in a campaign split evenly between your first and last email – generally one every two months.
Still no replies? Send your final email when your clients prove they are completely out of range. Remove them from your email list after they have passed the cut-off point. Because keeping them will not benefit you at the same time, affecting your email list's health.
And remember, if a customer has fallen in love with your business again, please don't send them more winback emails. By an unwanted simple "hello" email nudge, they'll be alarmed they are getting an automatic-unsubscribe warning email later, affecting customer relationships.
How do I create a Win back email campaign?
Creating a Win back email campaign does not have to be complicated. With a few steps, you can create an effective Win back email campaign that customers will find difficult to ignore.
Take a look at the procedure for creating your Win back email campaign step by step.
Start Plan Personalised Campaign.
Planning is the first step in any email marketing campaign. How many emails should include in the win-back campaigns? What should you include in a win-back email? When should you start email win-back campaigns?
All answers depend on your business, product, and customers. No. Of emails, content, template, recommendation, offers, and timing varies.
As its win-back email campaign uses automation, we can use the data and produce highly personalised emails in the campaign.
In general, the campaign generates five different sorts of win-back emails.
Which are in the sequence,
Reminder: The "hello" winback email or we miss you email Wherein we remind the customer we exist and need you back.
Offer: If a simple "hello" isn't enough, giving an incentive might persuade individuals on the borderline about purchasing again.
Feedback: Ask for feedback. People like giving their opinions. Even if they do not purchase, you will receive information that will help you better your marketing and avoid the condition that causes customers to become inactive.
Last Chance: The cleaning-house winback email. FOMO works; inform individuals that you will unsubscribe them if they do not react to this email.
Unsubscribe: You've unsubscribed the contact, but you are still valuable to us and return whenever you want.
How long should you wait between emails?
It is good to send the first email three months after your last engagement with your customer and wait at least a month between each subsequent email in this series.
Segment your Recipients
A win-back email campaign cannot plan for your entire list of all lapsed customers, and win-back email campaigns should be segmented. Because there are several degrees of lapsed customers, these levels determine which customers should be prioritized.
For example, you can divide your list based on how long it has been since a customer's previous purchase, their average order value, or consumers who have left negative feedback or experiences.
You can personalize your message and reward according to your segmented list. The more personalized your emails are, the more likely you will win back clients.
Create Appealing Win Back Email Subject Line.
You are writing a customer win-back email, so the subject line is important, and subject lines are the first impression. Its gate, by this customer, decide to open the email or not—marketer's ticket for standing out in a crowded inbox.
The best winback email subject lines are always personalized and use identifiers such as the recipient's first name. Overall, firms tend to favour a friendly tone that immediately reminds the recipient that they're receiving a message from an old friend.
Let's look at winback email subject lines from great winback email examples;
"We Miss You (And You Are Missing Out)"
"Let's Reconnect!"
"Because We Miss You!"
"It's been a while since We talked."
"Let's Start Over"
"Checking in…"
Make a Realistic Incentive or Offer.
One of the emails in a customer win-back email campaign will usually feature an incentive or offer.
Your offer must be reasonable for the customer to return. In other words, your request should be challenging to turn down. Also, remember that the proposal does not have to be a discount.
It may be a coupon, an upgrade, or a free shipment. Whichever option you select, ensure that the offer addresses a possible issue that might have led your consumer to disconnect.
Automation email marketing tools will help you create dynamic coupons ideal for your customer.
Let's look at some winback email examples that "offer."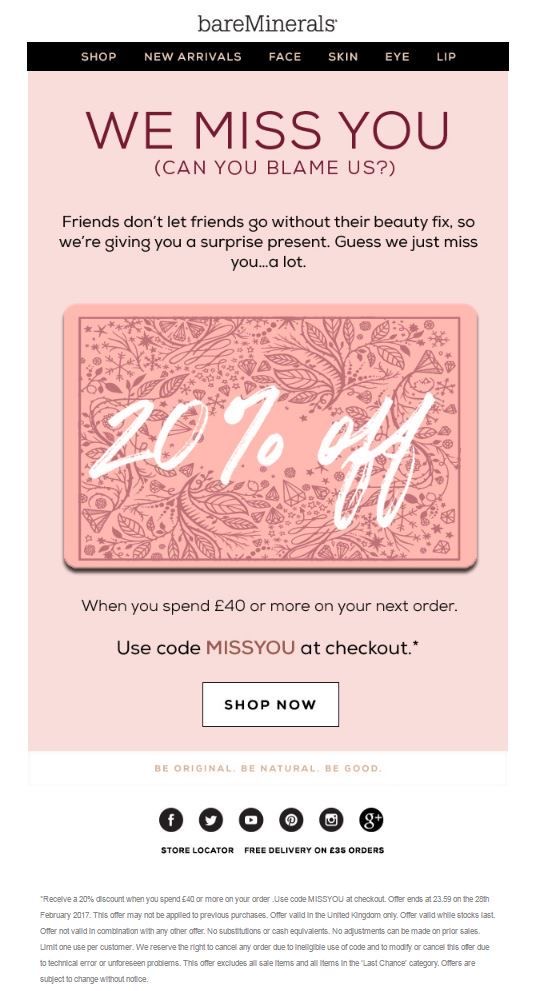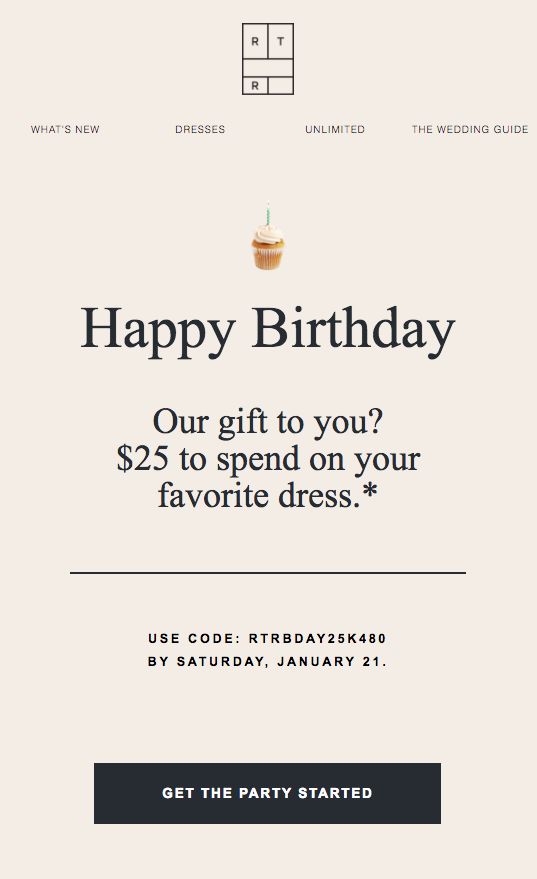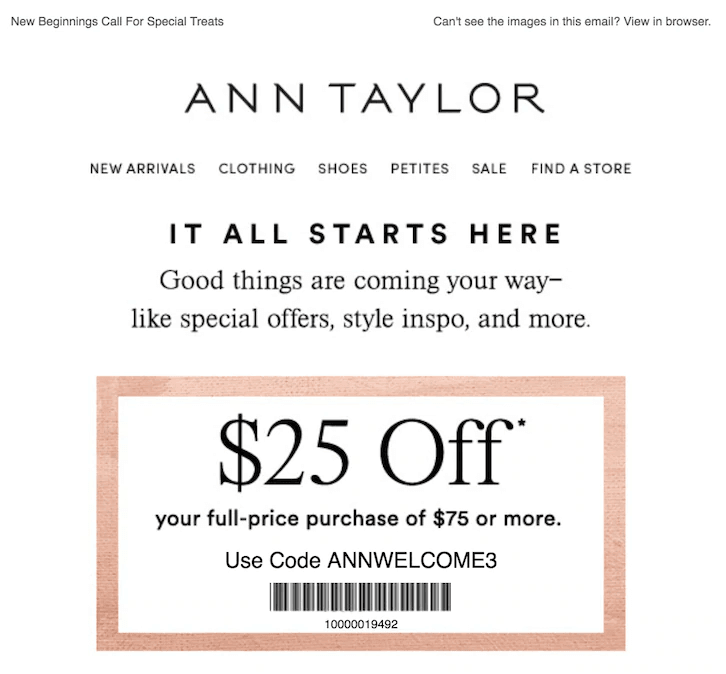 Write a Great Copy
Maintain a simple and uncomplicated approach. People are unlikely to want to sit down and read your long-winded emails, especially if they aren't engaging with your business in the first place.
Keep copy short and lighthearted, and lead your subscriber to a clear call to action. A great copy with a great template will definitely work. Look at the lost customer email template and find the suitable one.
Let's look at some great customer win-back email copies.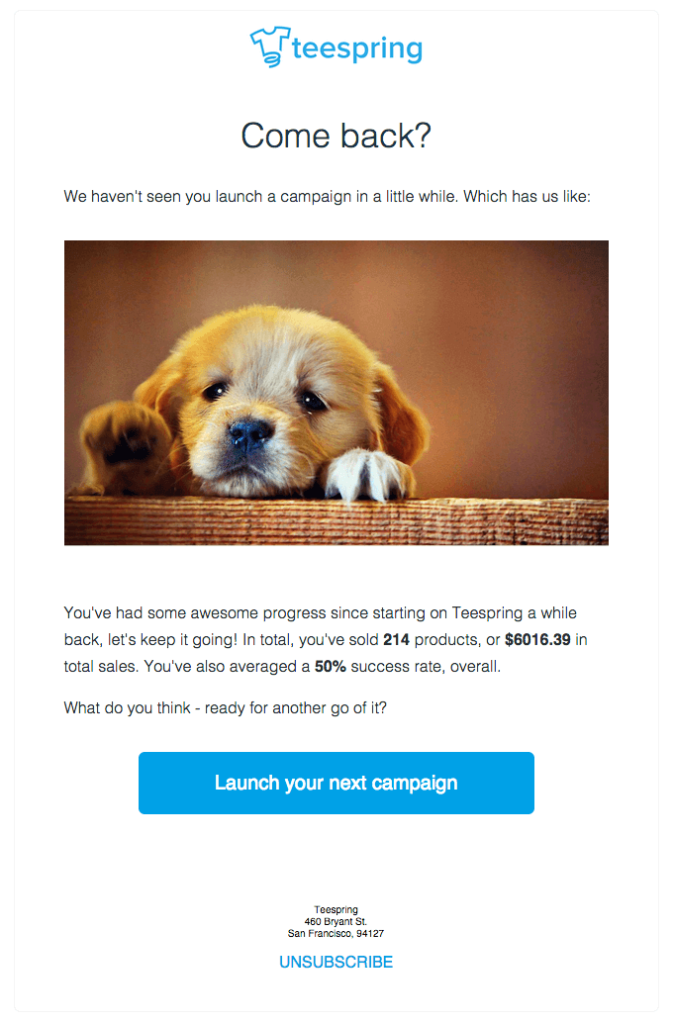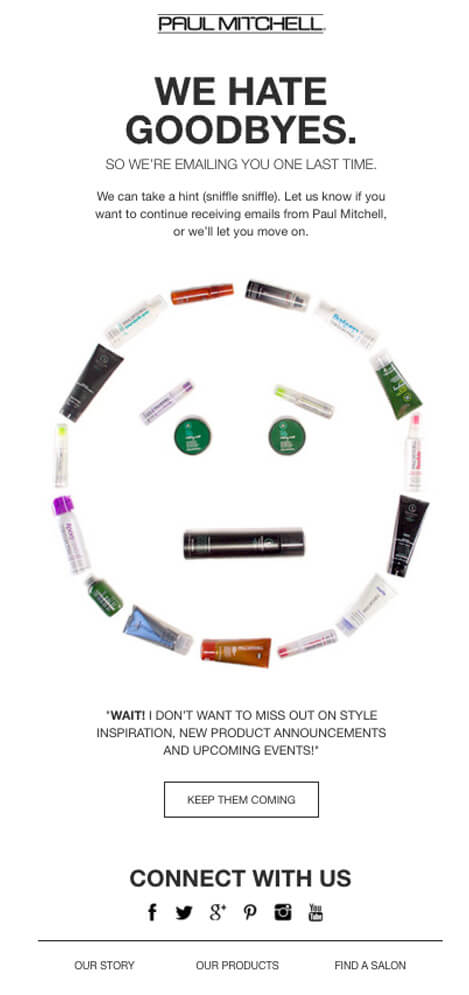 Need to Be Strategic
You must be strategic while creating your customer win-back email campaign. For example, your emails should convey a feeling of urgency to entice individuals to re-engage while expressing empathy for their issues.
Another approach would be to create FOMO (fear of missing out). People are more inclined to reply if something sounds exclusive or like it's their final chance to join, and it usually denotes that your copy is brief and light.
It would also be beneficial if you provided your clients with alternatives. You can, for example, allow them to modify the frequency with which they get emails before unsubscribing, and you can also enable them to resubscribe once they have unsubscribed.
Test, Track and Measure.
A/B testing is helpful because different audiences behave differently. We can't predict it, and something that works for one firm may not necessarily work for another.
Some Conversion rate optimization CRO experts say there are no best practices. Because someone's even a very reputed firm's "best practices" may not be your best practice. Finding the most suitable one for you is crucial; that's why the A/B test takes place. But, this kind of testing can be complex if you're not careful.
Maybe you find changes in between list parts. Because of these challenges, automated marketing software is recommended for developing customer win-back email programs.
Retainful is a perfect example of an email automation tool that can create awesome Winback emails.
Want to explore more on winback email automation? Click here.
Conclusion
Customer win-back email programs are critical for re-engaging consumers with your brand. You can accomplish this by automatically creating a customer win-back email campaign to reach out to disengaged customers.
It's not easy to reactivate lost customers. However, When you add enticing subject lines, strategic send times, and engaging content with an excellent winback email template, you can create a series that fits your unique audience.
Test it, and evaluate the results to increase open and conversion rates with customers that might have moved on from your brand otherwise.
The good news is you can change, win back and grow. It's a choice you make. The stronger your commitment and the more you act courageously in the face of discomfort, the greater you will own a successful eCommerce brand.
What are win-back campaigns?
A Win back campaign or re-engagement campaign is a series of targeted and personalized emails sent to activate inactive customers.
What is the best subject line for the last email?
The last email is the breakup email, and " It is time to say Goodbye" is a clear subject line that can use for the last email.
What is a re-engagement strategy?
Re-engagement or Winback strategies are techniques used by marketers to activate inactive or dormant customers.
How many emails are in a re-engagement campaign?
Reengagementment campaigns are designed to bring back inactive customers, which is not just possible with one email. And four emails are commonly included in the re-engagement campaign.
When should you send re-engagement emails?
Delivering a win-back email three months after a customer has stopped engaging with your emails is ideal. After six months, a win-back email may be less effective at getting your customers back.