Referral Marketing – Giving a solid reason for the customers to refer to your brand/product.
Let us play a quick game. My question for you is, "whom do you trust?" Whether a popular ad or your sister? Whether a trending YouTube banner or your best friend? Of course, humans win the game. This is how referral marketing and word of mouth marketing works.
Referral Marketing seems to be an effective aid when none of the routes are clear though you haven't prepared any.
It becomes clearer when a customer approaches you through a referral. People trust brands through referrals. Compared to other marketing tactics, the little effort in referral marketing pays back good deeds to the eCommerce store owner.
Almost 70% of the customers believe in word of mouth and are likely to proceed with the purchase referred by their closed circle. Adding value to the before point, 50% of the customers have been taken away through referrals when compared to mobile ads or campaigns.
At times, you may think that referral marketing is not working out well. But, do you handle referral marketing according to your realm?
As per the saying, one size does not fit all, not every referral marketing strategy works for every sector. Unfortunately, many of the businessmen and eCommerce store owners have been wrongly guided and are following the strategies that were not meant for their realm.
Why take risks in your fashion eCommerce store's future?
Every sector has its referral marketing strategies to give a hit in this upcoming Black Friday 2022. Are you the one waiting to explore more about the secrets behind a successful Fashion eCommerce referral program?
Without taking your time into my pocket, let us discuss more the Fashion eCommerce referral program.
How referral program marketing helps fashion stores?
Do you remember the last peak sales of your store? Or, do you have any memory about the referral program conducted by your store?
Have you ever attained success in your referral program? If yes, you would not be here to know about a successful referral program.
Cutting short, why does a fashion store need a referral program? Despite the benefits of the referral program, still many fashion eCommerce store owners have been depending on other marketing ends. This may become the reason why they have not reached success. Running a referral program is not a daunting task as you think.
Fashion is social by nature. Customers always do share, discuss, and complement each other when it comes to fashion and beauty products. Every customer's buying habits have been heavily influenced by their dear and near ones. This is why fashion eCommerce referral marketing always wins the marketing chart.
Here are some of the ways how fashion brands are leading their referral programs into a key marketing channel.
Handling AB testing in a repeat mode
Keep your brand on track through brand positioning
Tap into online conversations and build a community
New customer acquisition that turns out to be a potential customer journey
On average, when a fashion eCommerce referral program has launched with mere strategies, it has the chance to increase customer acquisition by 10 to 25%.
Many popular fashion brands like PrettyLittleThing have handled referral marketing in a precise manner thereby taking the customers as an aid. But, simply being in the fashion field and gaining knowledge without implementing it never works.
Many fashion stores and brands have been increasingly organizing referral programs. If you are one among them willing to turn to your loyal customers to happily refer to your products, continue reading.
Secrets behind the success of a fashion eCommerce referral program
In referral marketing, Words are mightier than ads.
Undoubtedly, we all trust our family and friends more than any advertisements and brands. Though we are carried away by ads, we have been influenced by recommendations, reviews, testimonials, social chatter, and referrals too.
Organizing a fashion eCommerce referral program helps you to stand ahead of the competition as long as you do it effectively. To make it effective, follow the strategies and tips discussed here to improve your fashion eCommerce referral program.

Introduce collective offers in a crowded market at the right time
In the sea of sameness, it is necessary to make your fashion eCommerce referral program a hit. Recommendations and referrals are not only handy but are crucial too. When you actively look around for new customers, they can be the key differentiator of your brand.
The digital revolution has come up along with fierce competition between brands. The fashion market, especially the women's fashion world, is quite a crowded place. It is necessary to gain traction within a short while and make customers visit your website.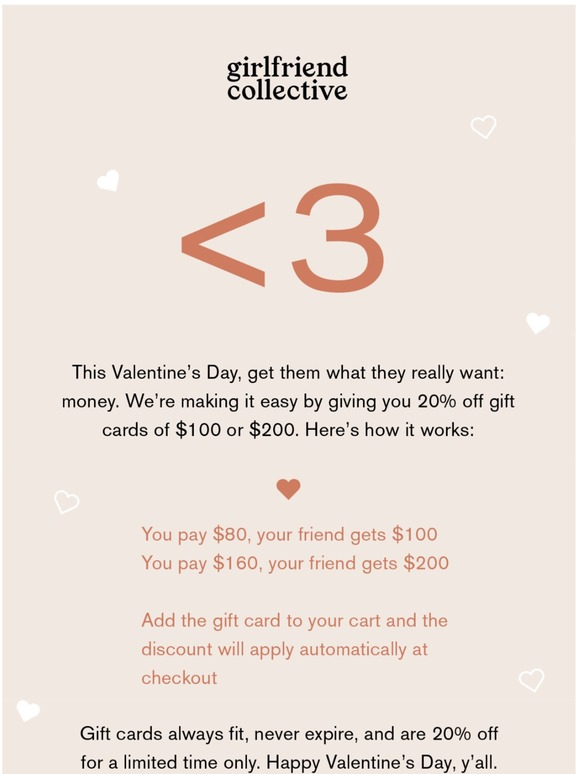 Consider the popular fashion brand, Girlfriend Collective. They have stood ahead of many big giants thereby giving collective offers to their customers. To stay unique, they have come up with a unique idea of reusing the water bottles under fair trade and are producing leggings out of it.
Referrals always go with the likeliness of the product. When there is a specific attraction that denies the sameness in other brands, your brand will be at the top. Why not make it a try for your fashion brand too?
Make every customer a loyal influencer for your brand/store
You might have come across companies that put too much effort into marketing their brand/product. We all know marketing is important. But, it does not mean to be stressful or expensive.
If you have a strong online presence with a lot of customers as followers, you can persuade them to spread the word about your business within their communities. It is nothing but changing your amazing customers into loyal influencers for your brand through loyalty programs.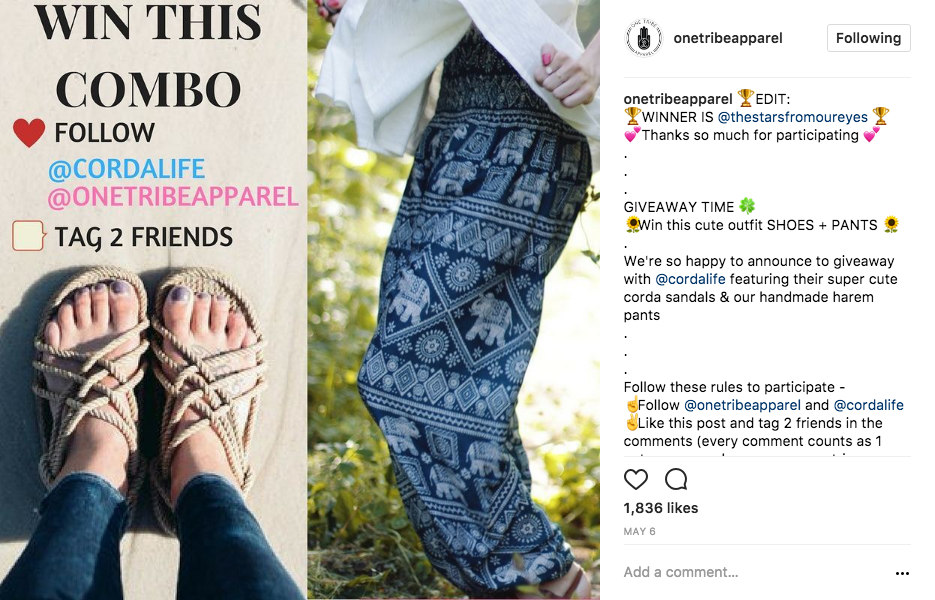 Here, I would like to remember the brand loyalty program of onetribeapparel. They have smartly used their social media platform to spread their brand. Nothing can change the impact of the customers on our product. So, why not try it out and see how your customers are influenced by your products.
Simply, turning your customers into enthusiastic brand advocates helps you to market your brand without spending much. Though it is not as easy as it sounds, you can use your customers effectively to engage with your brand. Here are the tips that make your next move valid.
Make your customers self-dependent
Reach out to them through multiple channels
Energize them with attractive incentives
Initiate a pivotal communication with your customers
Before ideating on your next initiative, take time to analyze your audience, and make a wise move.
Launch mobile-friendly referral campaign
Undoubtedly, mobile phones have been taking a huge space in our lives as well as in our pockets. Just like other sectors, the eCommerce sector also depends on mobile phones. Mobile eCommerce sales have recently made up to 30% of all eCommerce sales.
So, when you keep an eye on the mobile-friendly referral campaign, it is more likely to win the campaign. On the Extole platform, 18% of referrals have been sent from a mobile device. If you do not make any unique referral experience to your mobile-using customers, you will miss out on a huge chunk of referrals.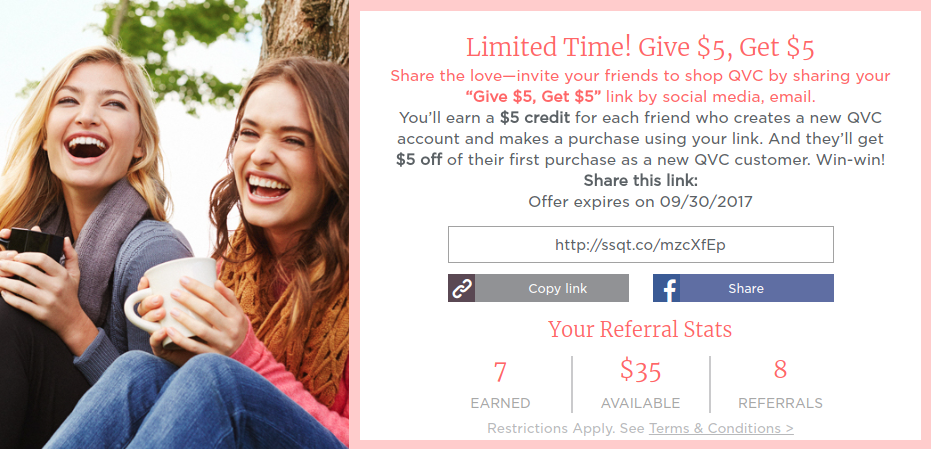 While considering referral programs for your mobile, you can consider the amazing referral program from many top brands. Few brands use the customer APIs, they enable brand advocates to seamlessly refer their friends through shareable links or code. Too friendly, isn't it?
Pick up the exclusive rewards and incentives
No matter how driven a customer is, there is nothing like an incentive or a reward to lighten a smile on their face. Incentives always drive a connection between the brand and bolster sales. Many customers will get an extra reward when they exceed the expectation of the store/brand.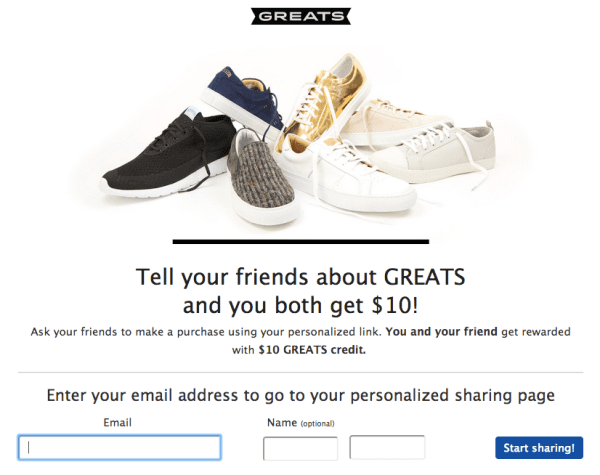 Regardless of the customer incentives, the fashion eCommerce referral program must aim at encouraging customers to perform and repeat behaviors to help boost your brand. Some behaviors that you can add to your list while considering to reward your customers are listed below.
Reward customers who make repeat purchases
Reward customers who write reviews
Reward customers after referring friends
Reward customers who upgrade your plan
A customer incentive program will drive your customers to feel appreciated and connect them emotionally. It also helps you to be more memorable and help your customers to recall your brand. Incentives will also encourage customers to adopt the same values. It promotes customer retention and motivates them to make repeat purchases.
Take the word of mouth marketing for granted
Every fashion eCommerce referral program comes with a marketing strategy. A digital strategy. A social media strategy. Even a PR strategy too. But, are you handling the word of mouth strategy well?
Some of the successful companies have realized that it takes a lightweight in your pocket to promote your brands. Instead of spending big, you can create customer chatter. To your surprise, word-of-mouth marketing influences 59 to 91% of all purchases yet nobody follows the right strategy behind word of mouth marketing.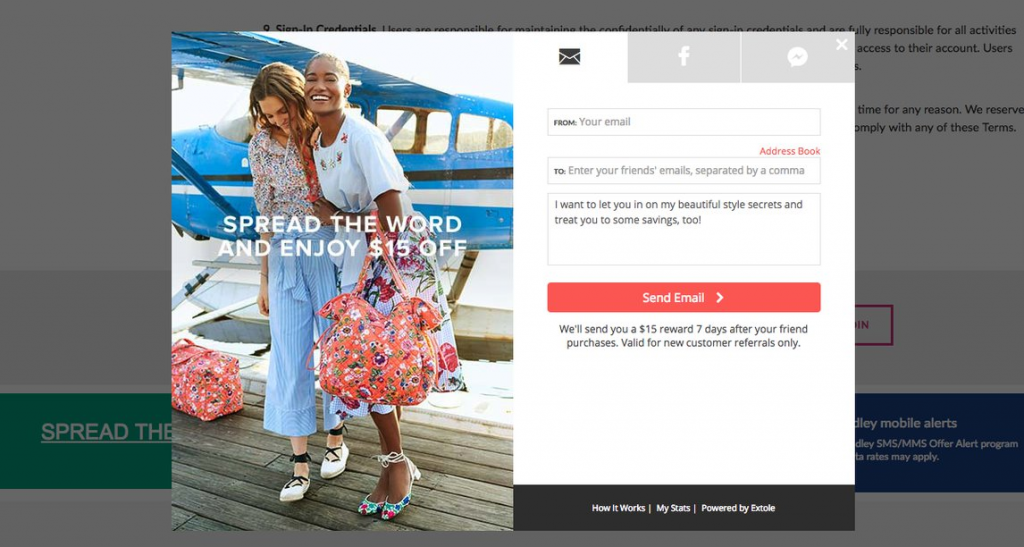 Even DropBox and other companies have handled the word of mouth marketing wisely. Though it seems a hassle at the start, it is a cost-effective and less time-consuming marketing to run your fashion eCommerce referral program wisely.
Most of the fashion eCommerce store owners love to have more word of mouth marketing strategies in their list. Think and invest more time before doing so.
Remember that every customer is not the same as the previous one
If you want a successful fashion eCommerce referral program, it is not simply enough to reduce your prices. Instead, try to have a close connection with your customers. Handle efficient strategies to make customers fall in love with your product.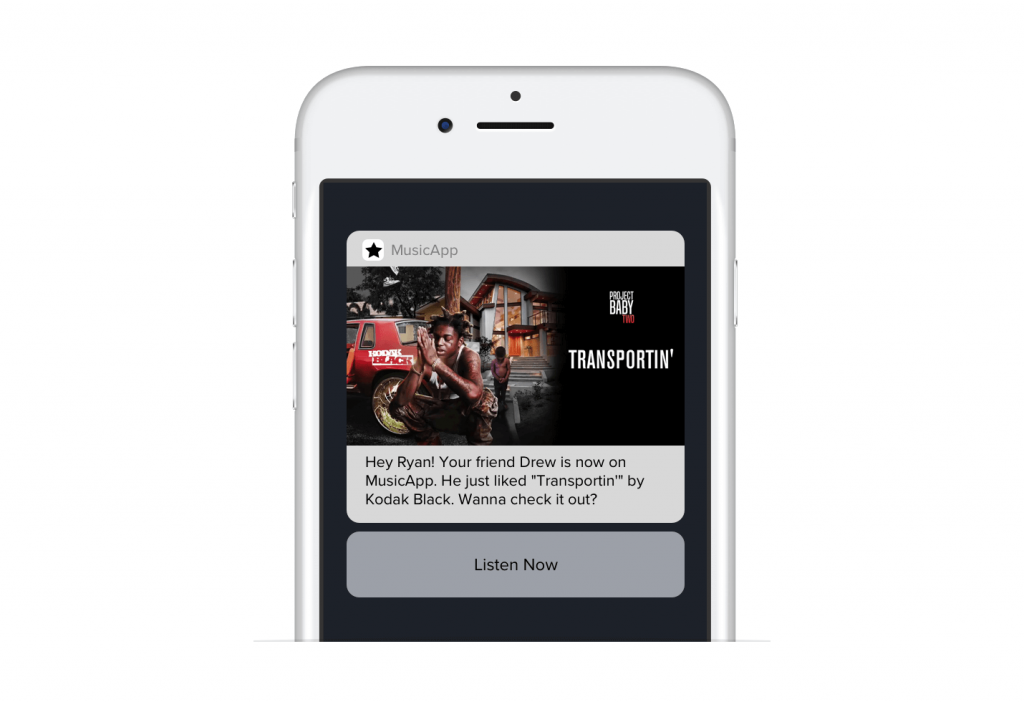 You would not sell dresses with a hero image all time even if the trend has been outdated. Instead of following the same marketing efforts for your fashion eCommerce referral program, try segmenting your customers, and amend your marketing strategies accordingly. Probably you can segment them based on the enlisted things.
Gender
Age
Likes and Dislikes
Location
When you segment and attract your audience, you can make your agile brand outshine in the competitive world.
Try user-friendly referral programs to attract the audience
Though the strategy for every fashion eCommerce referral program differs, the core idea is to attract customers through innovative incentives and rewards. It helps in brand promotion, brand visibility, and an increase in potential customers.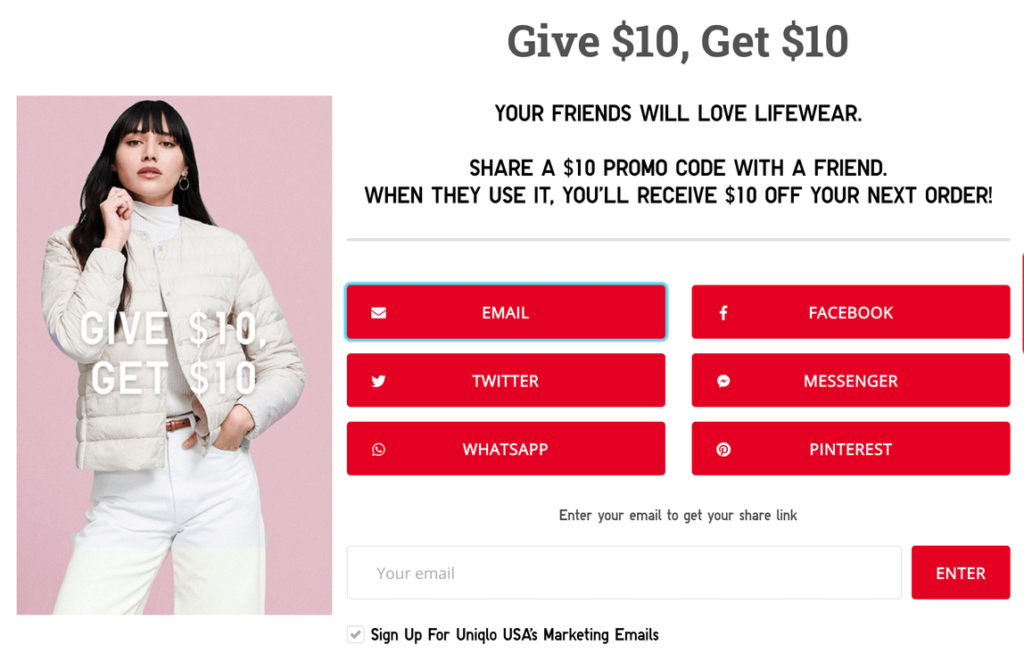 Before entering into the referral program launch, it is essential to consider the flexibility of the customers. When you run a referral campaign, the customers have to be attracted to it. So considering it before, you can make a shareable link that helps your customers to share it more easily. You can also reward them discounts for the referrals they do.
Provide a unique link to every customer that makes you track and reward them easier. If a new customer has been enticed, you can also reward them when they make a purchase.
Increase your social media presence during seasonal time
As a fashion eCommerce store owner, you might have known the importance of social media presence. In the overwhelming social media world, there are three engagement-rich platforms to consider. They are Facebook, Instagram, and Pinterest. It helps you to grab the attention of multiple audiences with an eagerness to shop.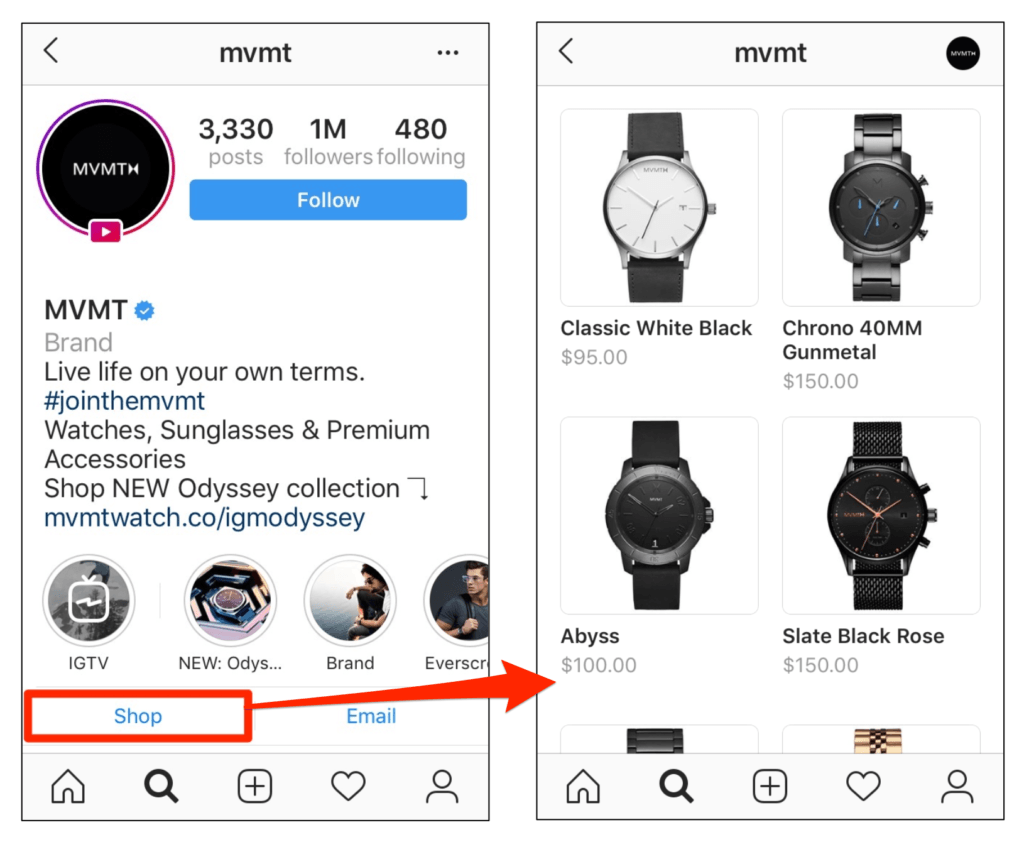 Though there are several fashion brands available, you have to choose the right platform that leads to your target audience. Conduct research and act accordingly. The fashion eCommerce referral program reinforces expanding your social media posts and boosts your sales.
When it comes to social media, you can also reach out to influencers to promote your fashion brand. So, when you get it done, you will get the following benefits.
Increase brand awareness
Reach brand new audience
Develop trust in your brand
Create higher engagement
Added, you can focus on the hashtags you are bound to use while posting on Instagram. On Facebook, you can create groups that attract the users to get into it. The strategies may differ upon the platform you ought to choose for your referral campaign promotion. Make it right.
Measure, Test, Improve
So far, you might have been thinking about the strategies explained. But, have you thought about measuring the fashion eCommerce referral program?
When the strategies fall in the first place to consider, measuring, and testing it falls on the same side. There are many different ways to measure and test your marketing efforts depending on your store's needs.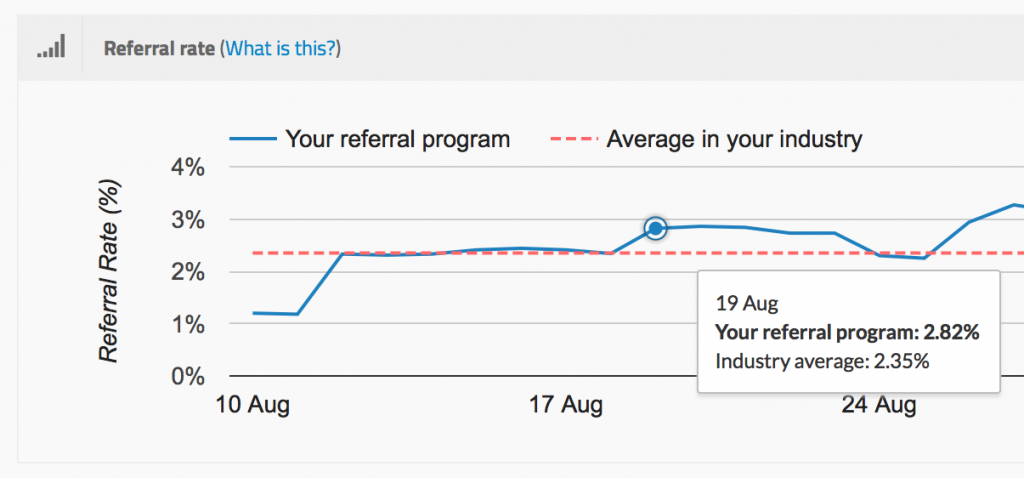 Firstly, take a look at the amount spent on your referral program. It includes both the cost of incentives and the cost of running the program. When your referral revenue exceeds your customer acquisition cost, you are on the right track towards positive ROI.
While measuring the success or improvement in the referral program, keep a close eye on the customers' response. Try to test and implement to avoid further chaos. Measure the referral program from the start to get increased referrals (the future potential customers).
Time to tune your referral program and give a hit!
Acquiring new customers and comforting potential customers seem daunting for a new bird fashion eCommerce store. But, when you understand that the above-mentioned strategies are working, you will see things differently.
But, referral programs are not a magic thing. They still require research and preparation. You need to get your fundamentals right and make sure to have an audience study to have a successful fashion eCommerce referral program. Be sure to use word of mouth and basic marketing strategies well.
Start implementing the strategies discussed herein in your fashion eCommerce referral program and witness the benefits and figure out what matters for your brand. The key to making your referral program successful is to try different things, measure, and start from there.