Did you know 70% of customers abandoned their carts in 2022 and recovering just 63% of abandoned carts can result in a 136% increase in sales for a Shopify store. It is a simple process to set up an abandoned cart email campaign. First, you need to enable the abandoned cart email feature in your Shopify store's settings. Next, you need to design a compelling email that will entice customers to complete their purchase. Finally, you need to schedule the email to send automatically when a customer abandons their cart. With these simple steps, you can recover some of the lost sales and improve your store's revenue.
But these are not the only ways to recover lost sales. In this article, we'll also discuss some best practices for designing an effective abandoned cart email campaign. We'll cover everything from creating a sense of urgency to offering discounts and incentives. By the end of this article, you'll have all the tools you need to set up a successful abandoned cart email campaign and recover lost sales. So, let's get started!
Use Retainful to send automated abandoned cart emails and recover lost sales for your Shopify store.
What is Shopify abandoned cart emails?
Customers add items to their shopping cart but leave without purchasing. This situation is called an abandoned cart. Customers abandon carts because of high shipping costs, complicated checkout processes, or technical issues.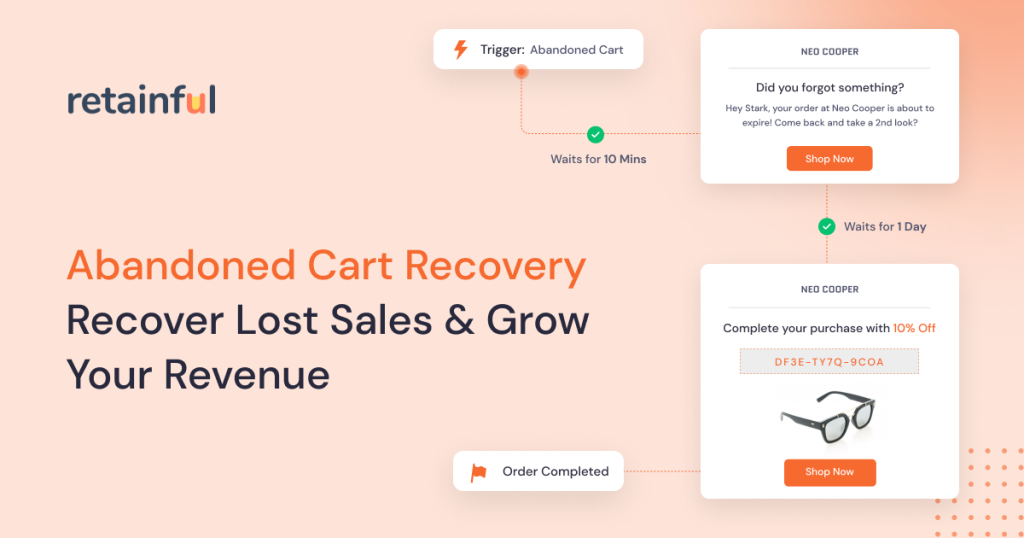 Shopify owners use email reminders to recover abandoned carts. These emails include reminders and personalized offers to encourage customers to return to the store and complete the purchase in form of free shipping, next order coupons, etc. This feature can help in recovering the lost revenue and increase conversion of your shopify store.
What should I write in an abandoned cart email?
Store owners have now realized the true potential of Abandoned cart emails. They are highly motivated to send Abandoned cart emails in Shopify to recover their cart than looking for a way to stop cart abandonment from happening.
But one major question that most Shopify store owners ask is, what should I write in an abandoned cart email?
You don't need to wrap your head around it. It is pretty simple.
Let us list out things you should include in an Abandoned cart email.
A simple yet actionable email copy. But it must be precise and to the point.
A social proof or a comparison as to why customers should purchase the product
List out how the product can benefit the customer.
List of products abandoned by the customers.
A vibrant Call-to-action to push customers to take action.
Personalized content to increase conversion
Discount coupon to encourage customers to recover their cart.
How important is Shopify abandoned cart emails?
Abandonment cart rates have reached 69.57% across all stores. Shopify abandoned cart recovery campaigns have a 46% open rate and a 21% click-through rate.
This stat further proves why the Shopify abandoned cart recovery email is important.
Recover lost sales: Reminding customers about their abandoned cart can sound simple, but it helps recover some lost sales. A little reminder can encourage customers to return to the site and finish purchasing.
Increases customer engagement: Sending personalized emails increases customer engagement. It makes them believe that you value them and increase their satisfaction. Reaching out to them with timely reminders opens a line of communication and builds a strong customer relationship.
Increase revenue: Recovering lost sales can positively impact your revenue. A study by Barilliance says that the average conversion rate brought by email marketing is 18.64%. It is much higher than the average conversion rate for other types of marketing.
Save money and time: Having an automated email workflow that could work wonders for your business by saving you time and allowing you to concentrate on other important marketing tasks. By setting up these automated emails with the best abandoned cart recovery apps you'll win back customers and retain the ones you already have without breaking the bank.
Overall, abandoned cart emails are an essential tool for any e-commerce business. Shopify merchants should take advantage of this feature to recover lost sales, increase customer engagement, improve retention, and drive revenue.
How to send abandoned cart emails?
Shopify has a built-in cart recovery feature that lets you track abandoned carts. Apps like Retainful help sync your subscribers and cart statuses.
Sending abandoned cart emails is an effective way to recover lost sales for e-commerce businesses. When customers add items to their cart but leave without completing the purchase, abandoned cart emails can remind them to come back and complete the transaction. Here are the steps to collect and send shopify abandoned cart emails:
Collecting customer email addresses: To send abandoned cart emails, you first need to collect the email addresses of customers who have added items to their cart but not completed the purchase. You can do this by asking customers to provide their email address during the checkout process or by offering them a discount code in exchange for their email address.
Track abandoned carts: Use an e-commerce platform or a tool specifically designed for tracking carts to monitor when customers leave items in their cart without completing the purchase. This will allow you to send targeted emails to these customers reminding them to complete their purchase and reduce abandoned carts.
Craft an effective email: Your abandoned cart email should be compelling and encourage the customer to return to their cart and complete the purchase. Include a clear call-to-action, such as a button to return to the cart, and offer an incentive, such as a discount code, to entice the customer to complete their purchase.
Send the email: Send the abandoned cart email shortly after the customer has abandoned their cart. This can be using your e-commerce platform or automated abandoned cart tool like Retainful. Make sure the email is personalized and includes the customer's name and the items left in their cart.
Follow up: If the customer does not respond to the first abandoned cart email, consider sending a follow-up email a few days later. This email can offer a more substantial incentive or include a sense of urgency, such as a limited-time offer.
How to set up Shopify abandoned cart email campaign?
Creating a Shopify abandoned checkout recovery campaign for your Shopify store is pretty simple. Retainful has got attractive abandoned cart email templates. So, let's get started with it by installing Retainful in your Shopify store.
Installation
1. Log in to your Shopify store and search for Retainful in the Appstore.
2. In the Retainful section, click 'Add App'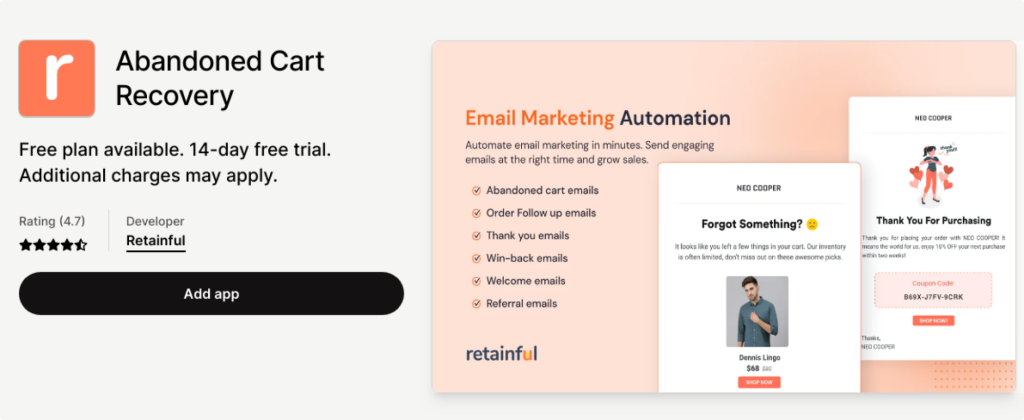 3. Once the installation page is opened, Click 'Install app' to install Retainful.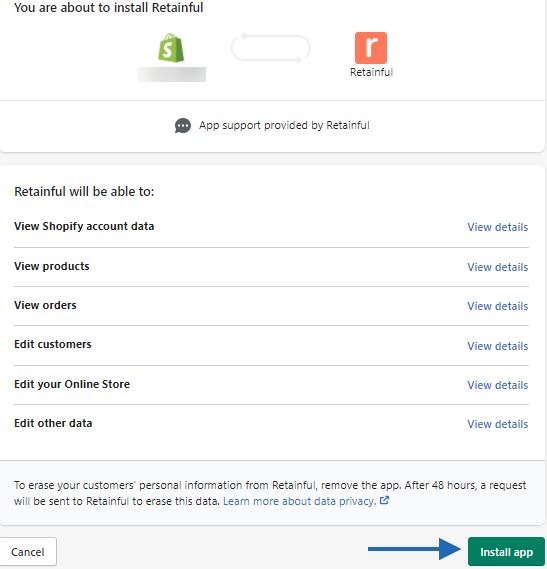 You'll be immediately redirected to the Retainful dashboard if you have already created your Retainful account.
4. The' Create your account box will appear if you haven't created a Retainful account.
Enter a password to create your account, and the next time you can directly log into Retainful from here using your Shopify address and the password you created here.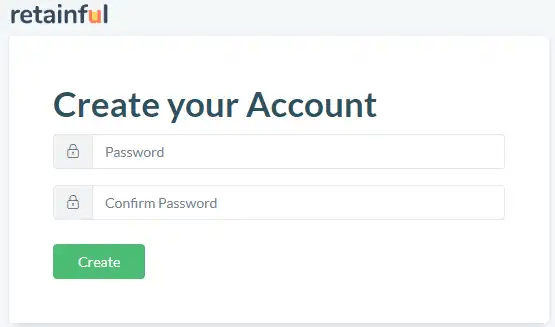 After entering the password, click 'Create.' This will take you to the Retainful dashboard.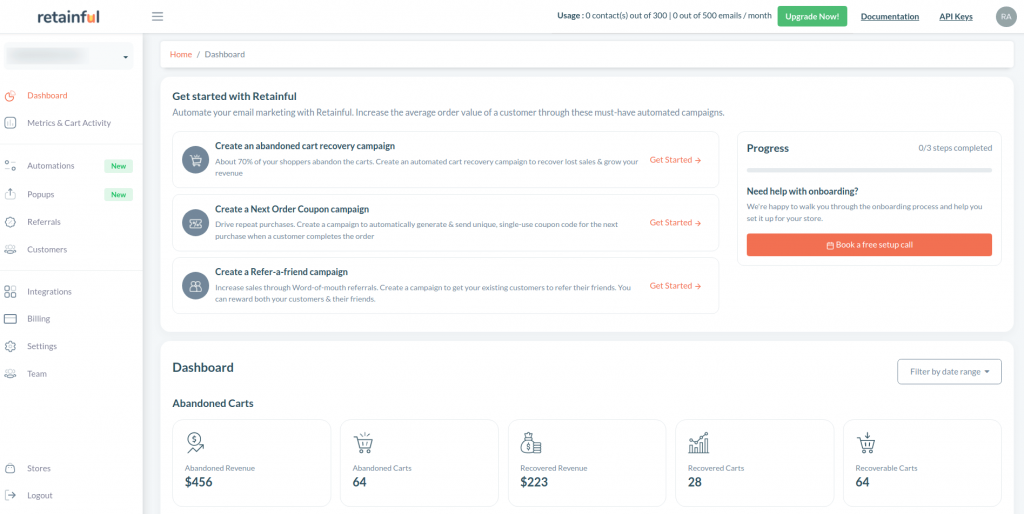 Creating and sending Cart recovery emails
Creating Cart recovery email automation is simple; it just takes a few steps.
1. Click 'Get Started' next to the 'Create an abandoned cart recovery campaign' section.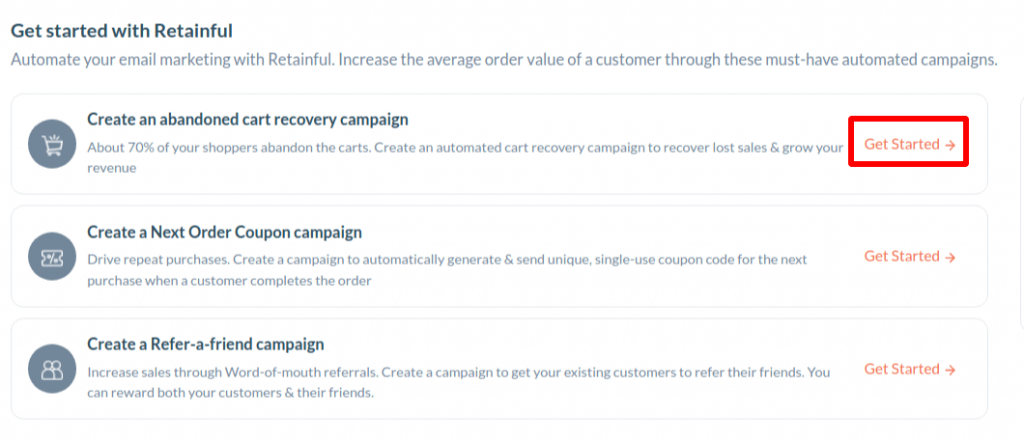 2. Workflow page will be displayed. Select the 'Abandoned Cart Recovery with dynamic coupon' workflow to start immediately.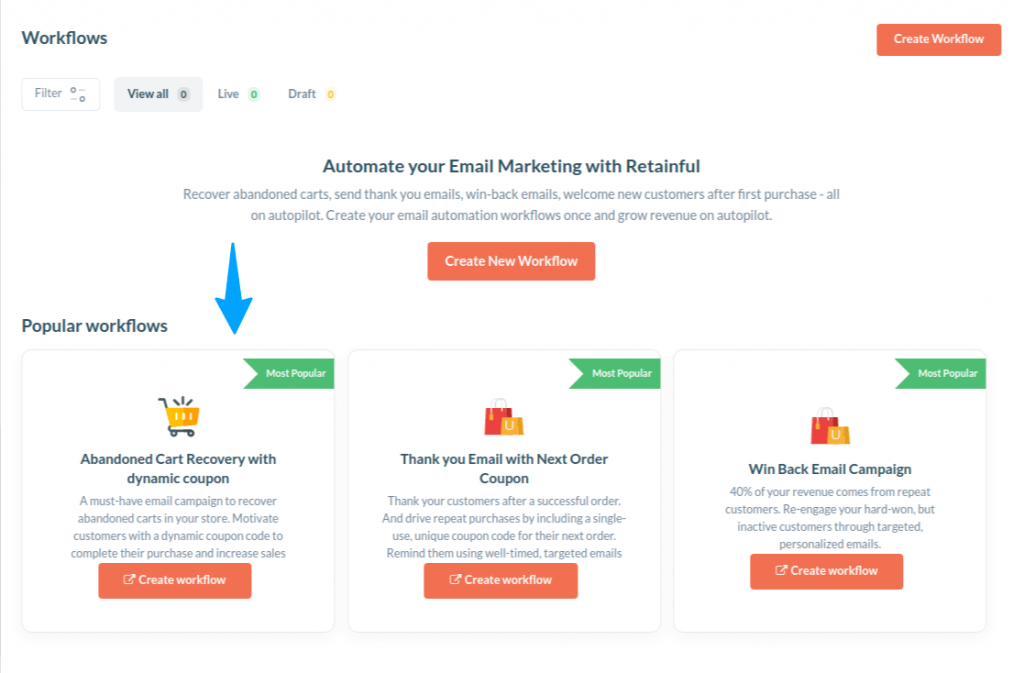 3. Name your workflow. Click 'Continue.'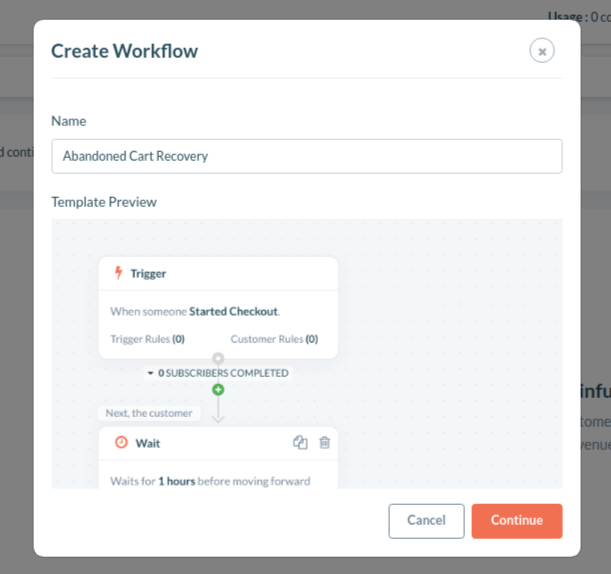 4. Customer journey builder page will be displayed with your Abandoned cart recovery workflow.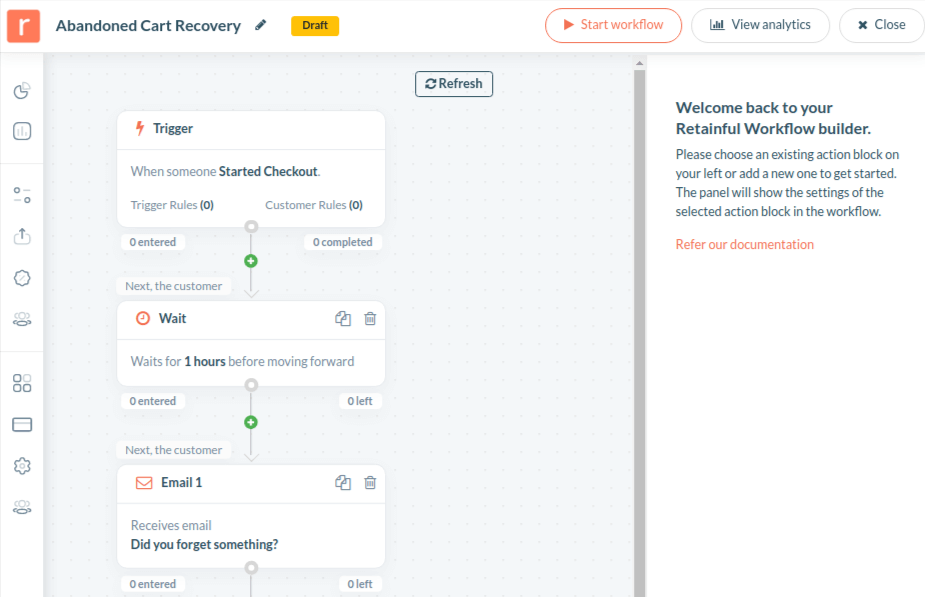 Customer Journey builder is where you can configure your cart recovery emails & coupons.
5. You can find these elements in a workflow.
Trigger – Choose when a customer enters a workflow
Wait – Set the time interval to send emails
Email – Configure Abandoned cart email
Coupon – Add a coupon to your email
Now let's configure the workflow.
Get started with Retainful's abandoned cart recovery feature and increase your store's revenue today.
6. By default, the trigger lets customers enter the workflow when they start the checkout process.
Now configure 'Wait,' and set the time as 1 hour before you send the 1st email.

Note – If the customer enters checkout & completes the purchase, he'll exit the workflow
(Or)
If a customer does not complete the checkout, the 1st cart recovery email will be sent after an hour.
7. To configure the 1st Cart recovery email, click the 'Email' block; you can see the menu on the right side once clicked.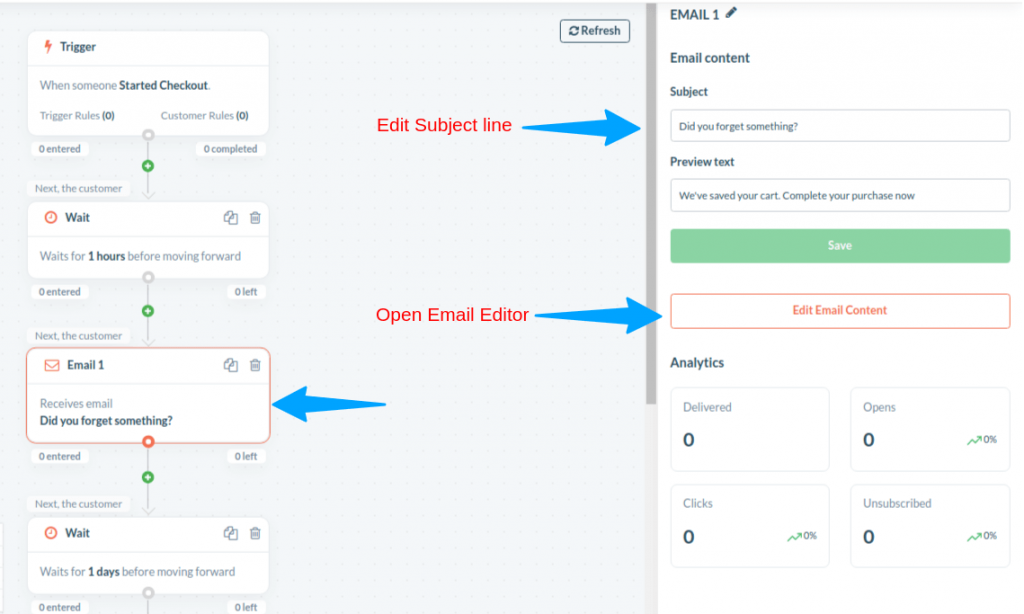 You can customize the subject line and make it persuasive to increase open rates.
Write a catchy preview text and click 'Save'
To edit the email, click 'Edit email content.'
8. Drag & Drop email editor will be displayed.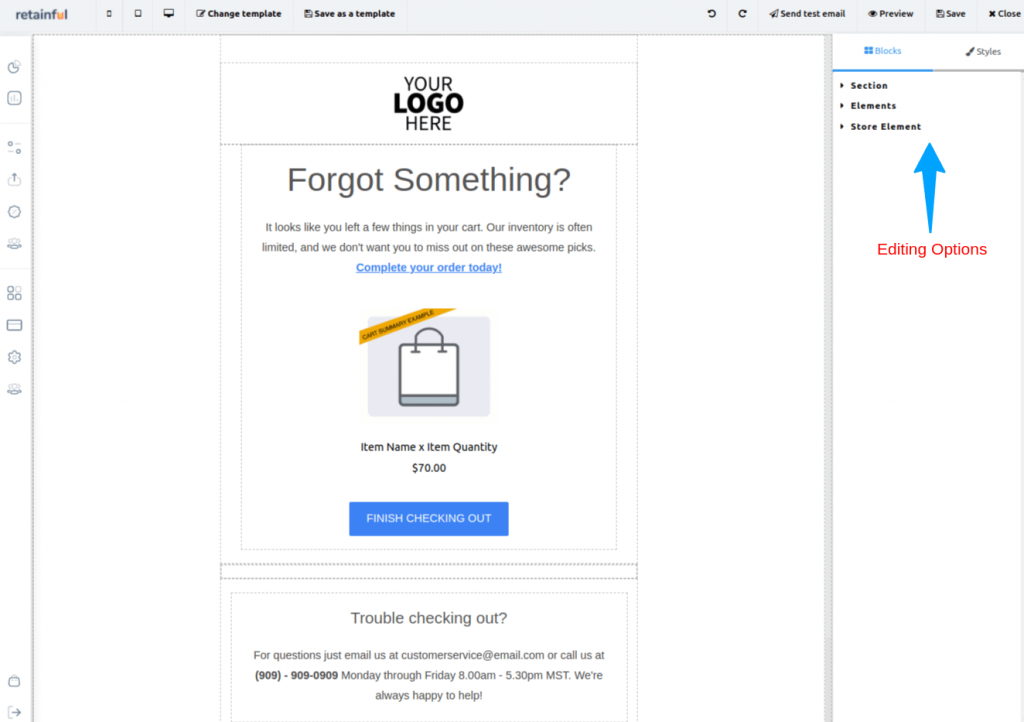 You can add content blocks, logos, images, addresses, social buttons & more by just dragging & dropping it from the editing section to email.
Learn more about editing your emails by clicking here.
9. Click 'Change template' if you want to use a different template.

Save the template and reuse it again & again with the 'Save as a template' option.
You can also see how your email will look on other devices with the multiple-device view option.
10. After editing your email, click 'Save' to set it live.
Email 1 will be followed by a Wait action and 2nd Cart recovery email.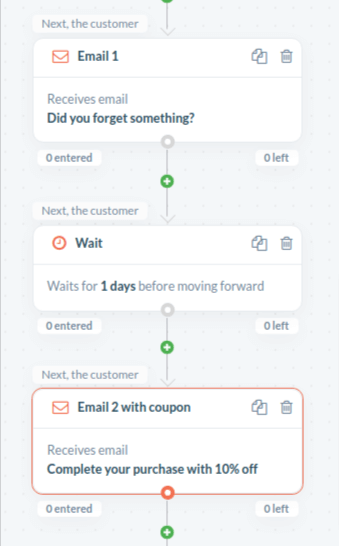 Set the time interval. Follow the previous step to enter the Drag & Drop email editor for the 2nd email.
11. 2nd Cart recovery email includes a coupon code. You can configure a coupon from the email editor.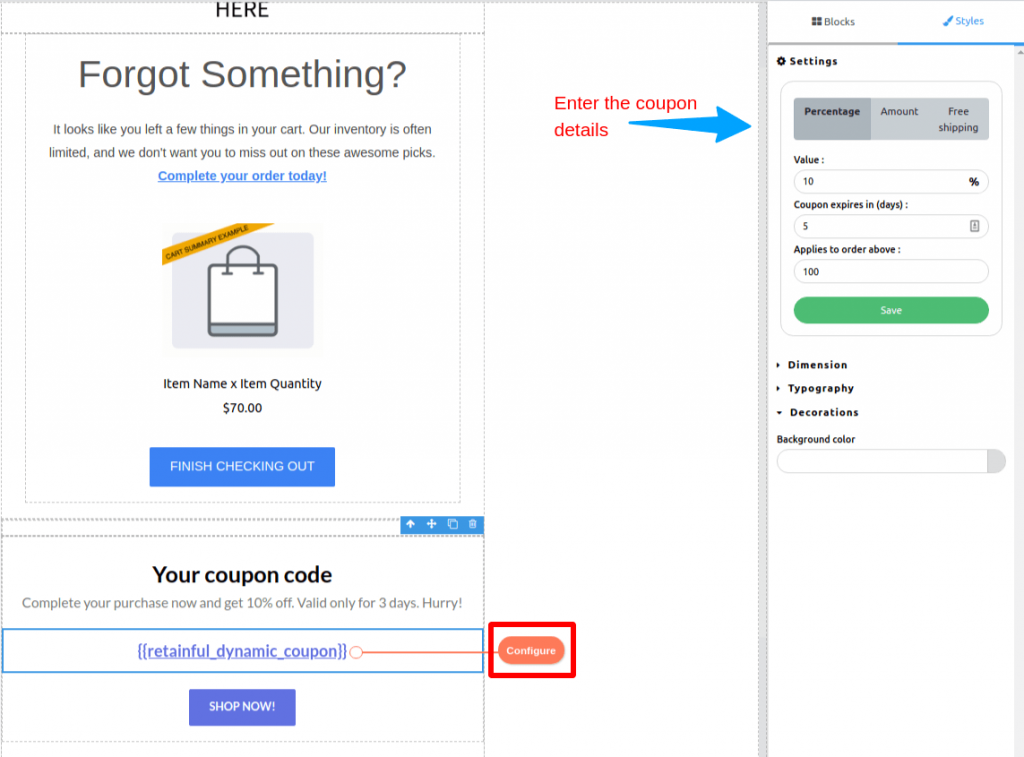 Click 'Configure' to open the coupon configuration menu.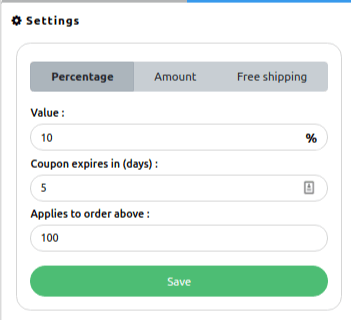 Choose the discount you want to offer, set the value, expiry & minimum purchase limit, and click 'Save.'
Now the coupon will be included in the email. Click 'Save' & close the editor.
12. 2nd Cart recovery email will be followed by another Wait action and 3rd email.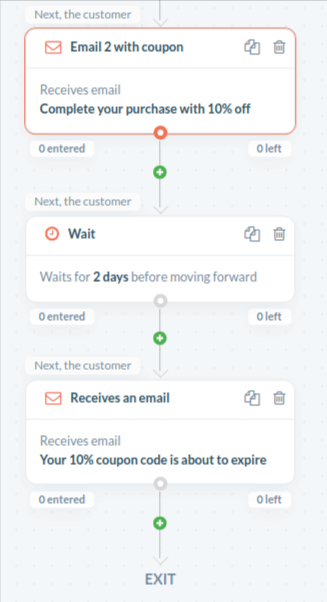 The 3rd email will be a coupon reminder email. Configure it the same way you did for the 1st and 2nd emails.
13. Now your workflow is configured with 3 Cart recovery emails. Set the campaign live.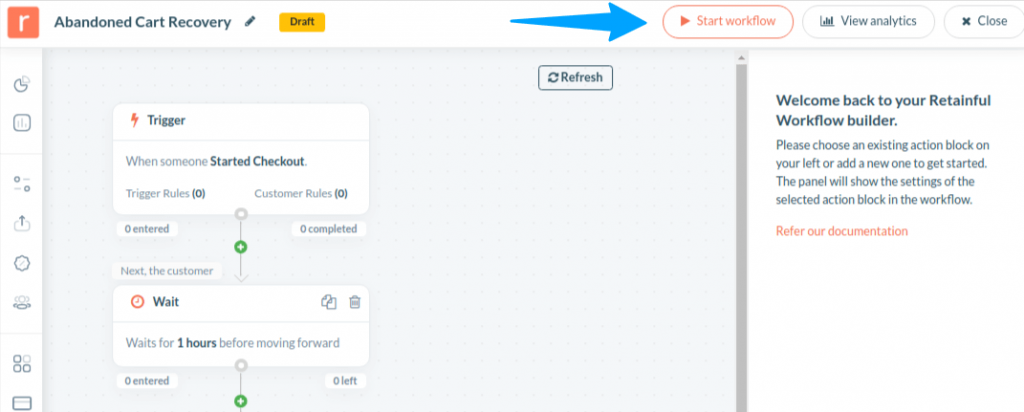 Customers will receive Cart recovery emails when they abandon their carts.
This is how you can send Shopify Abandoned cart recovery emails.
We configured 3 Cart recovery emails for this tutorial, but you can add countless emails as part of your cart recovery campaign. Or you can refer to this article to know how many Abandoned cart emails to send.
Testing your emails
It is always a good practice to test your abandoned cart email templates before your set it live. Retainful lets you send abandoned cart emails on Shopify to your own address so that you can check how your campaign is working.
1. We hope you do know the steps to get into the email editor, so after you've customized your email, click 'Send test email' on the top.
2. You'll be asked to enter a test email id, enter your email address, and click send.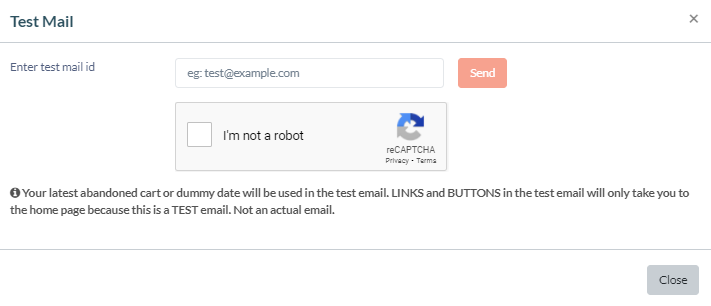 3. Check your email address, the Shopify abandoned cart email will be received, and you are good to go.
Tips for writing Shopify abandoned cart emails
Here are some tips for writing effective Shopify abandoned cart emails that will encourage customers to return to your website and complete their purchase.
Use a clear and attention-grabbing subject line
The subject lines in cart recovery email is the first thing that the customer will see in their inbox, so make it clear and attention-grabbing. Use language that will motivate them to open the email, such as "Don't miss out on your items!" or "Your shopping cart is waiting for you!"
Personalize the email
Address the customer by name and use their purchase history to recommend similar products they might like. This shows that you value them as a customer and care about their shopping experience.
Time it right
You have to be cautious about timing your cart recovery email. If you send it too soon, your customer might feel like you are stalking them. If you wait too long, you might lose your customer to a competitor. It is advisable to send the first email after an hour.
Don't bombard your customers with too many emails. The magic number is three. Send the first one as a reminder. Send a coupon as a follow-up second email. Make the third email hard to resist.
Highlight the benefits of the products
Use persuasive language to remind the customer why they added the products to their cart in the first place. Highlight the benefits of the products, such as their quality, features, or unique selling points.
Create a sense of urgency
Encourage the customer to act quickly by creating a sense of urgency. Use phrases like "Limited time offer" or "Hurry, before it's too late!" to motivate them to complete their purchase.
Provide a clear call-to-action
Make it easy for the customer to return to their cart and complete their purchase by providing a clear call-to-action. Use a prominent button that says "Complete your purchase" or "Return to cart" to guide them back to your website.
Offer an incentive
To sweeten the deal, consider offering the customer an incentive to complete their purchase. This could be a discount code, free shipping, or a free gift with purchase.
Keep it Simple
Finally, keep your abandoned cart email short and to the point. Customers are more likely to read and engage with an email that is easy to read and doesn't require too much time or effort.
By following these tips, you can create Shopify abandoned cart emails that are effective, engaging, and persuasive. With the right approach, you can recover lost sales and turn potential customers into loyal shoppers.
Sign up for Retainful's free trial and see how easy it is to set up an effective abandoned cart email campaign for your Shopify store.
Conclusion
Setting up abandoned cart email campaign in shopify is simple and effective way to recover your lost sales. And that's why most stores have moved on to Shopify abandoned cart recovery apps.
And by following the framed outlines, you can create a targeted email sequence to remind customers about left carts and complete purchases with right incentive.
Using the right strategy and abandoned cart recovery app builds a loyal customer base to your store. Set up your abandoned cart recovery campaign and maximise your store potential today.
When is the best time to send abandoned cart recovery emails?
It is advisable to send the first reminder email after 30 mins to 1-hour cart abandonment. The second email can be sent with an offer after 24 hours from the first email. After a few days from the second email, the third email can be sent with an expiration date for the offer.
What is a good abandoned cart rate?
A good abandoned cart recovery rate by using email marketing is 10%. Employ an effective abandoned cart email campaign to see a fair amount of abandoned cart recovery.
How long should an abandoned cart flow be?
An abandoned cart flow should contain at least three emails, with the first email sent after an hour, the second after 24 hours, and the third after a few days.
How do abandoned cart recovery emails work?
Abandoned cart recovery emails act as reminders and incentives. It reminds the user to finish the checkout process. It also encourages customers with timely personalized offers and discounts by building strong customer relationships.
How to write subject line for abandoned cart recovery campaign?
Keep the subject line personalized and brand specific. Keep it short, straight to the point, and compelling. Aim to create curiosity and a sense of urgency.