What is Next Order Coupons?
In simple words, Next Order Coupons are incentives that you offer for customer's future purchases. Once a customer completes a purchase, you can send these coupons via Order follow up emails. This will encourage customers to return to your store again and drive repeated sales.
The ultimate goal of sending these advanced coupons is to increase customer loyalty and retain customers.
WooCommerce Stores out there has understood how important customer retention is and they've been taking drastic measures to retain their customers. Because they know that,
"Acquiring a new customer costs 6x times more than retaining a customer"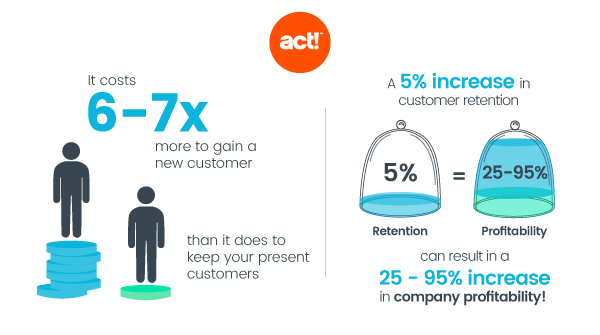 That's some eye-opening stat ain't it?
So, how do stores retain customers?
They engage, send personalized emails, conduct give-away contests and use some other traditional customer retention methods.
And now, the newest strategy they have employed is sending Next order coupons.
Let's see how this works by assuming a scenario,
There's this customer who is very much interested in a product of yours and he/she has finally placed the order!
Great! Now you must do something in order to retain him/her forever!
Here's what you can do – send a Next order coupon along with their Order Follow email (offering a 10 – 20% discount on their next order).
There are two things you achieve out of this,
You get to drive repeat purchases because your customer has just bought something he/she likes. And a sweet nudge eventually makes them visit your store again.

Customer Retention – the moment he/she visits your store again, that's customer retention happening.
And the best part is, you can countless Next Order Coupons with Retainful.
Alright, that's enough for the introduction. Let's get to the point!
How to Create Next Order Coupon for WooCommerce Stores
Installing Retainful
Go to your WordPress dashboard → Plugins → Add new

Search for the 'Retainful' plugin.

Click "Install Now" to install the plugin

Activate the plugin

To connect your store with Retainful you need to get the API keys from Retainful.

Connecting your store with Retainful
Get your API Keys:
Login to your Retainful dashboard. (If you don't have an account, Sign up here)

Go to Settings

Copy your App ID and Secret Key

Connect your store with Retainful
Go to WordPress Dashboard → Retainful

Under the Connection tab, enter the keys in the respective field.

Click "Connect"

You'll see a message once the connection is initiated

Now you have connected your WooCommerce store with Retainful.
To send Next order coupons, you don't need to visit your WordPress site. All can be configured within the Retainful app.
Creating and sending WooCommerce Next order coupon
Retainful is packed with Email marketing automation features. You can now send WooCommerce Next order coupons via various automated emails like,
Order Follow up emails

Thank you emails

Welcome emails
In this article, we'll show you how to send WooCommerce Next order coupons via Thank you emails. The process is the same for other emails too.
Once you have configured your automation and set it live. Retainful will automatically send Thank you email along with your WooCommerce Next order coupon at the right time. No manual trigger is needed.
Selecting Thank you email automation workflow
Login to your Retainful dashboard

Click 'Automation'

3. Workflows page will be opened, Click 'Create Workflow'

4. In the Create Workflow page, Click 'Thank You' under 'Goals' section and select 'Thank you email with Next order Coupon'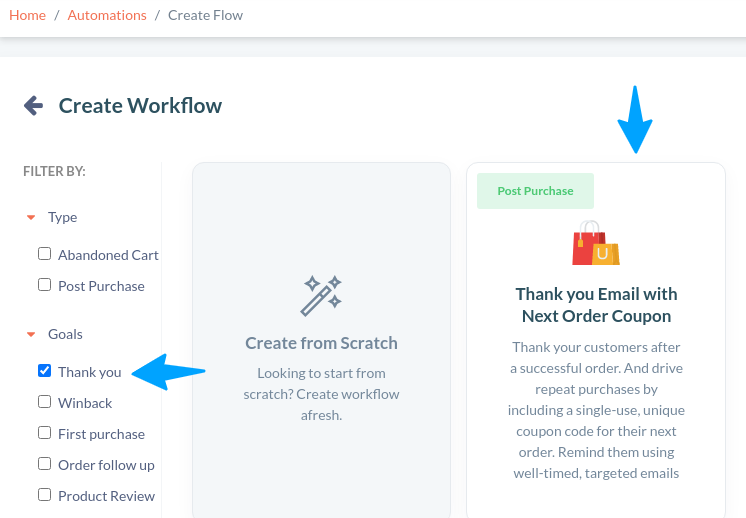 5. Enter the name for your Automation and click 'Continue'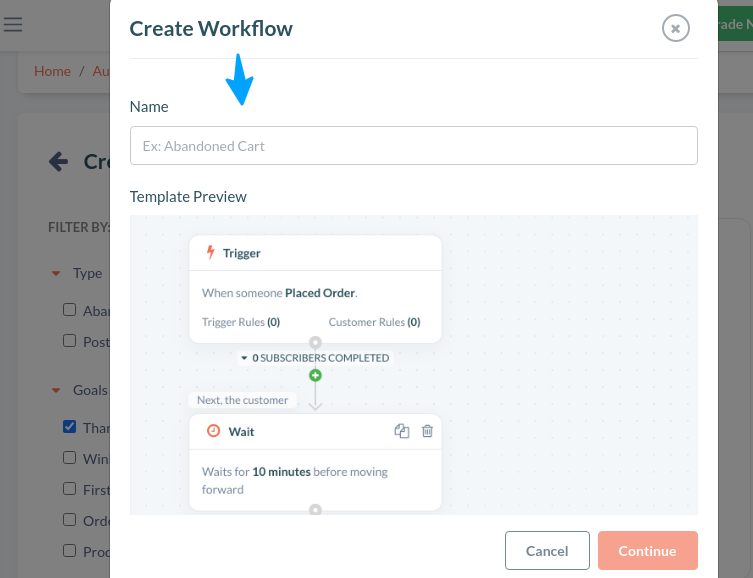 Alright, now you have chosen the Pre-built workflow for Thank you email automation to send WooCommerce discount coupon. Now lets configure it using Customer journey builder.
Configuring Thank you email Automation Workflow
You have selected a pre-built workflow, all the elements are already built, all you have to do is configure the value to suit your needs.
You can make the necessary changes easily using the customer journey builder.
Elements included in the Thank you email automation will be,

Trigger

Wait action

Coupon

Email

Coupon reminder
Trigger – This decides when the customer can enter the workflow based on his/her action at the checkout page.
Since we are offering Next order coupons, which is a Post-purchase action, 'Placed Order' Trigger will be set by default. If you want to add further trigger rules, you can configure it in the options menus.

2. Next in the automation is the Wait action. Here you can set the time delay to send a Thank you email after purchase.

3. Now, we have to configure the Next order coupon. By default, a 10% discount will be set. But you can change in the coupon rules menu.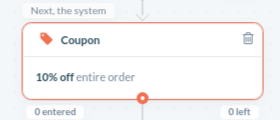 You'll find this menu on the right side.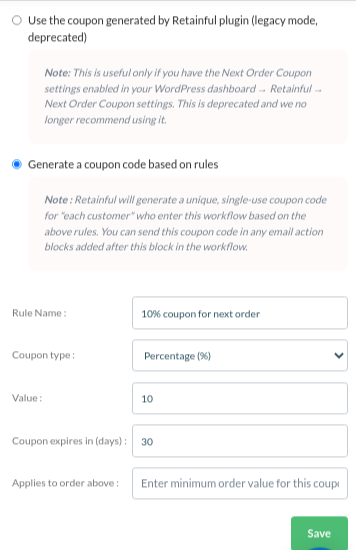 In this menu, you can configure your Next order coupon. You can select the type of discount, change discount value, set expiry date & minimum purchase value.
Once configured, click 'Save' to add the WooCommerce discount coupon to your automation.
Next order coupon will be sent via Thank you email, which will be configured next.
Next is the email, A pre-built email template is already included in your automation.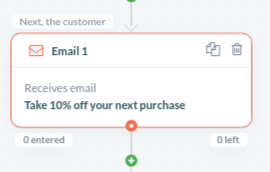 However, you can customize it by clicking the 'Edit email content' option present on the right side.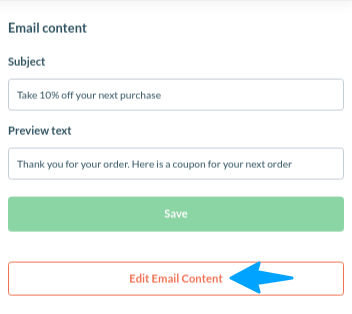 You can also change the subject line from this menu. Once done, click 'Save' to make changes.
Alright, these are the primary components of your Thank you email automation.
This is followed by more Wait actions and Next order coupon reminders. You can modify them the same way you did in the previous block.
You can add more action or delete an action as per your preference.
To add an action, click the '+' icon,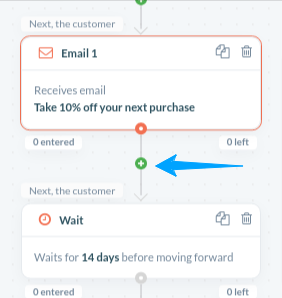 Once clicked, you'll be prompted with this menu. Here you can choose the action you want to add to your automation.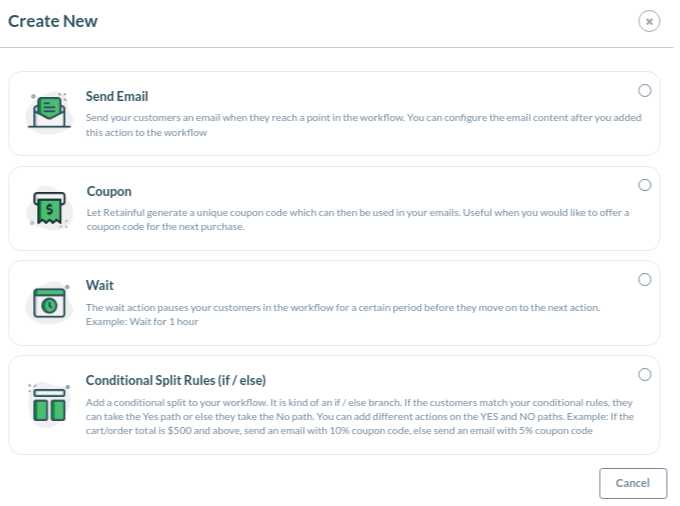 6. To delete an action, just click the 'Delete' option present on the action block.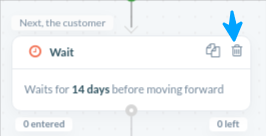 Thank you email automation will end with a 'You coupon is about to expire' email.
Once all the emails configured in the workflow are sent, the automation will stop automatically.
Once you have configured the WooCommerce discount Coupons, Emails, Coupon reminders & Wait action.
Click 'Start Workflow' to launch the automation.

Once the automation is live, Retainful will automatically send a series of Thank you emails along with the Next order coupons and reminders
So, this is how you can send Next order coupon for your WooCommerce customers.
Wrapping up
Acquiring new customers is expensive, an efficient practice is to retain existing customers. As existing customers are loyal to your store and purchase more than new customers.
Offering WooCommerce smart coupons is the best way to retain existing customers. This Next order WooCommerce coupon will increase customer loyalty and persuade them to drive repeated sales in your store.
Haven't you started creating your WooCommerce Discount Coupon already?
Start creating next order coupons and drive repeat purchases and retain more customers, and let us know once when you've sent a thousand smart coupons!
We'll be waiting to hear from you!