Most companies don't bother about post sales engagement as they don't know how to engage with existing customers. These businesses don't survive in the long run.
So, what should you do to be successful in the long run? How to keep your customers coming back?
Well, you should focus on developing your post sales engagement with existing customers. Because well-engaged customers are the ones that drive repeated sales.
Dive into this article, as we show you why customer engagement matters and how to engage customers post sales.
What is Post sales engagement?
Post sales engagement as the name suggests it is an activity carried out by marketers to try and interact with the customers after they made their purchase in your store.
The success of an eCommerce stores depend on customers who come back to purchase again and again thus driving repeated sales. If your store doesn't have repeat customers, then there is no way you can build a loyal customer base that can take your eCommerce store to the next level.
So, this is post sales engagement with crucial. After a customer has made his/her purchase, you cannot simply let them go, they might never come back and that's not a healthy sign for an eCommerce store.
You need to spark up interaction with them, be thankful for their purchase, acknowledge their effort and this will give you an opportunity to persuade them to return to your store and drive repeated sales.
Why Customer Engagement matters?
As we said earlier, returning customers are crucial for an eCommerce store to survive in the long run. You cannot build a community of loyal customers if they are not returning to your store after their first purchase.
Simply put, a relationship between an eCommerce store and a customer must be like a friendship rather than an ally or associate.
Because Friends are the ones that stand by you, visit your every day, listen to you and lend a helping hand when you are in trouble. You cannot get these things from a mere acquaintance. Engaged customers can also help you increase your sales and revenue.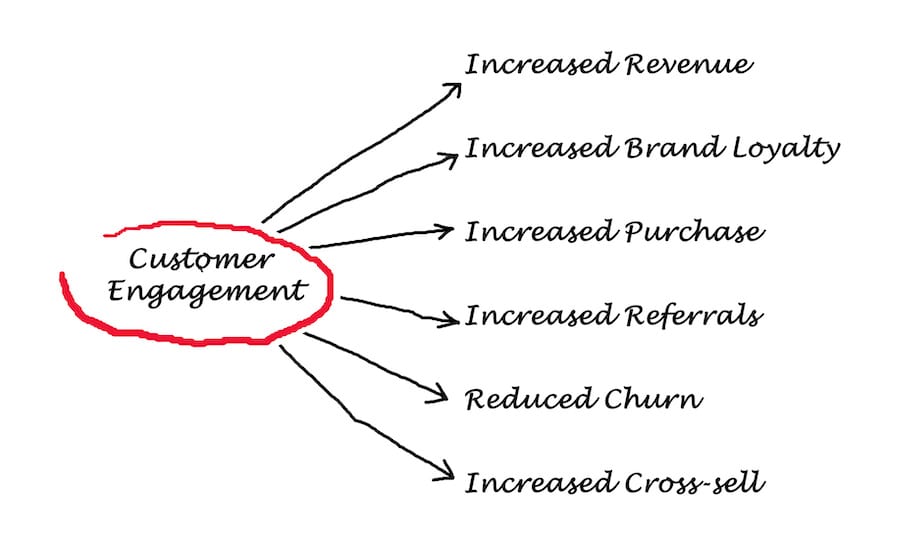 You may wonder, what does this has to with Customer Engagement?
See, if you want to be friends with your customers, then you must talk to them, engage with them personally through emails and these interactions will make them develop a trust in your eCommerce store.
This trust will eventually become loyalty and now you have a loyal customer that drives repeated sales. So, this is why Customer engagement matters, to create a lively-personal bond with the customers.
And the best way to start this is by engaging with customers post sales because that customer has just started to trust your store as he has made a purchase and now all you have to do is nurture this trust through post sales engagement.
And here are the 7 best post sales engagement techniques that can help you nurture your bond with the customers.
How to engage customers post-sales?
Send an email of acknowledgment
If you don't know how to engage customers, begin with a post sales acknowledgment email. This will show that you actually care about the customer's presence in your store.
This post sales email can open the door to engage your customers and achieve further more purchases. A warm thank you acts as a key in creating a confident and friendly shopping experience.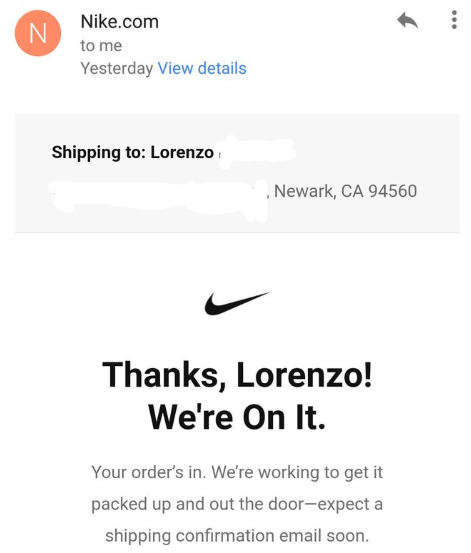 This email from Nike is a great example of a post sales 'thank you' email. It shows that you as a store owner is putting your effort to achieve a fruitful delivery, leaves a great impression.
A study shows that post sales emails have higher open rates and click-through rates than any other type of email.
Why are 'thank you' emails so successful?
You see, in an eCommerce world, everything you feel is virtual, so ' best Thank you emails are one of those things that bring a 'human touch' to a faceless transaction.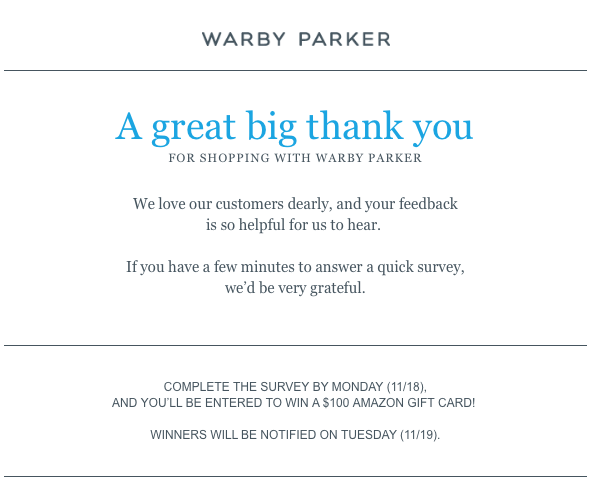 With the help of best Thank you emails, you can also request a few things from customers and they'll be very happy to do it as you've already shown your gratitude towards them.
You can ask them to perform activities like,
Subscribe to our newsletter.
Rate our service and drop a review.
Participate in this quick survey,
Join our email list.
Share your order on social media.
Even if they don't make a purchase and abandon their cart you can send cart recovery emails using WooCommerce plugins and request them to complete their purchase.
Sending cart recovery emails will show how much their purchase means to you. It is a great strategy to nurture your relationship with them.
Ask them to refer their friends
An efficient post sales engagemet strategy to keep your customers engaged is through referral marketing. It is a very effective strategy that can nourish your existing relationship and also bring new customers to your store.
A recent study shows that people are four times more likely to purchase from a store that was referred by their friends.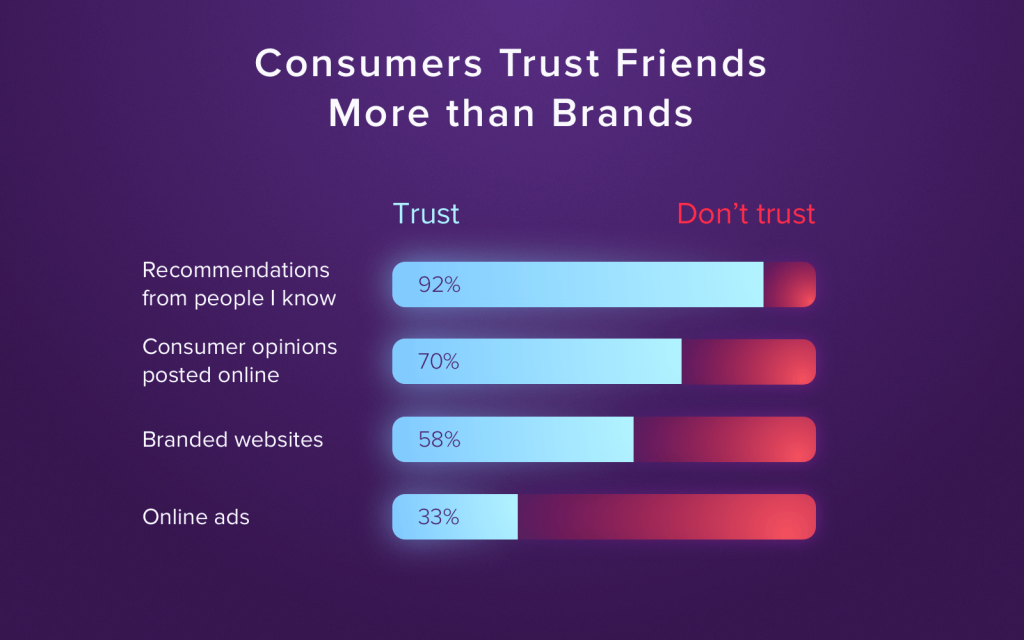 Once the customer makes a purchase, they'll develop trust over your brand. This is a great time to request them to refer their friends to your store and that's how to keep your customers coming back.
What if the customer doesn't refer to their friends?
In these cases, you can run a referral program and reward your customers for every successful referral they bring to our store.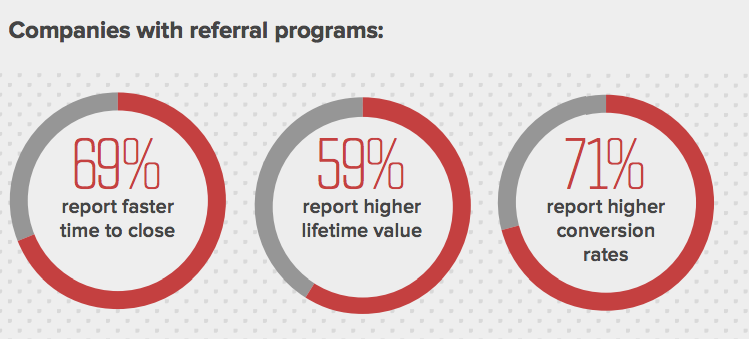 A referral program is a great post sales engagement strategy that will encourage customers to stay connected to your store.
Your effort will be minimized as customers would be your brand advocates and increase your brand awareness.

Incentivize emails are a great post sales engagement strategy to grab the attention of the customers.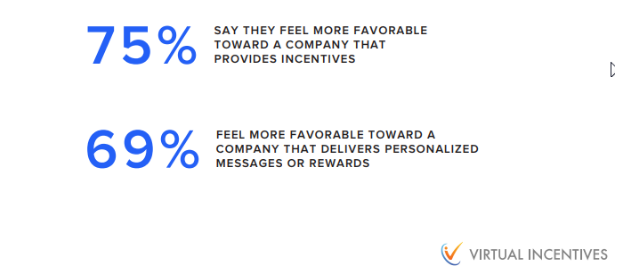 Sending post sales emails like these to engage your customers will make them feel that they are an integral part of your store which increases their lifetime value and your Word of Mouth sales.
Request reviews to show you value them
If you are wondering how to engage customers post-sales, then asking for a review might be the best way to break the ice and start a conversation. Ask them whether the checkout process was smooth or frustrating.
Benefits of asking a review from your customers,
Customers will feel that you value their opinions which will make them feel important.
It will give you some useful insights on how customers feel about your store.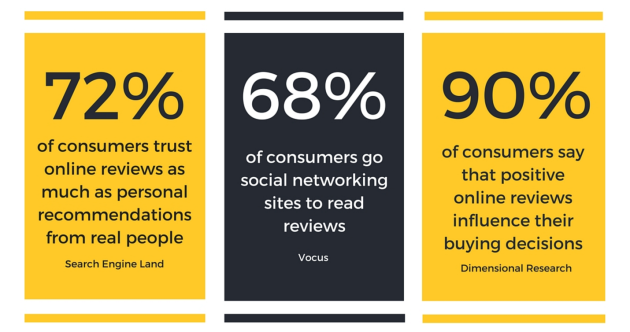 Reviews can be crucial to your store in two ways,
You can increase your engagement with your existing customers as you value their opinion.
New customers will develop trust on your store based on these reviews.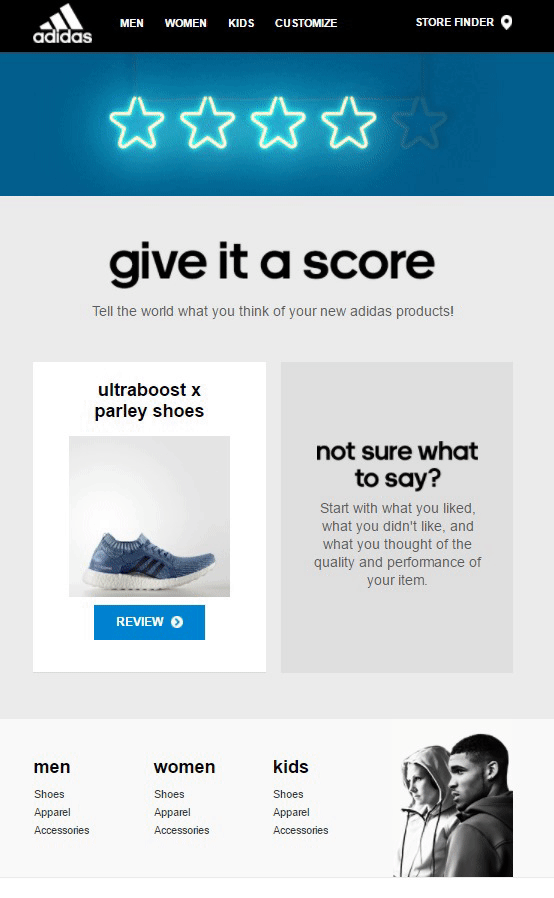 This post sales email by Adidas looks bright and attractive and can lure customers into writing a review. Also, you see how they guide customers when they aren't sure about what to say.
Sometimes, Customers may not be sufficiently motivated to write a review. In this case, you can encourage shoppers to review and reward them.
Offering rewards for a review is one of the best way to engage your customers and here are a few benefits of it,
The rewards will increase your business traffic. Increased traffic, more reviews.
When you give incentives to write them, your product review will always finish on a positive note.
Provide useful information about products.
Instead of engaging customers with request emails, you can engage your customers by educating them with useful information post sales.
See, new customers might find it difficult on how to use your products,
So if you're wondering how to engage customers and keep them coming back, start educating them about your products.
With an intuitive guide, you can build credibility over your store. The number of inquiries and product returns can be reduced by educating your customers.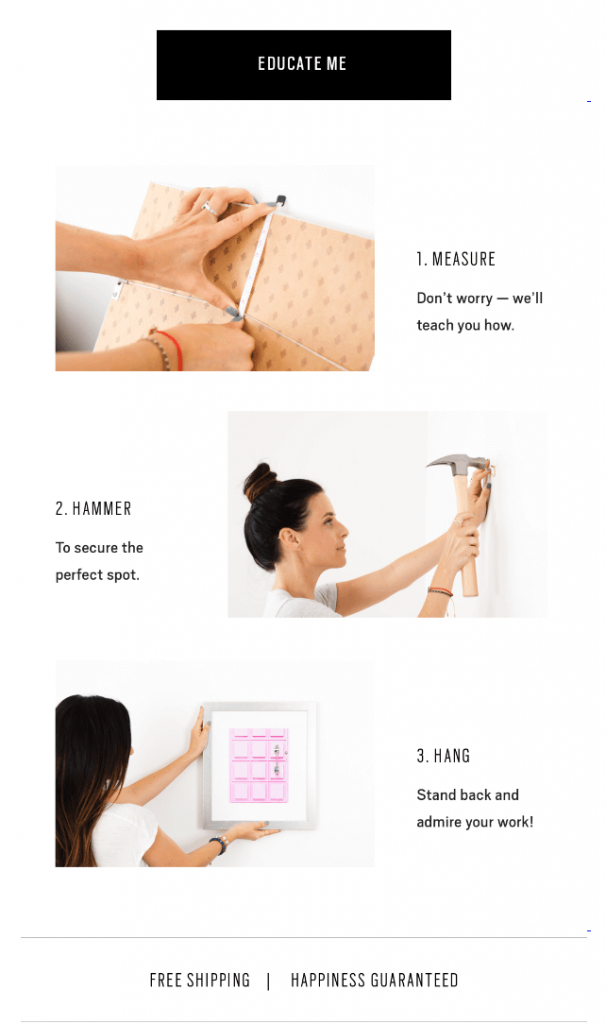 This guide by Framework shows how to hang your art on the wall and it is a perfect testimony for 'how to engage customers'.
When you send information/guides like these your customers will be overwhelmed which will reduce customer queries.
You may be wondering, don't products come with instructions? Is it necessary to send a guide? Yes, it is necessary, it will show that you care about your customers and you'll take the extra mile to satisfy them.
Sending these guides post sales will help you engage your customers and also give you a chance to introduce complementary products and make more sales.
Run a loyalty program to reward them
A loyalty program is a great post sales engagement strategy to continue your engagement with customers after they make a purchase.
The loyalty program can play a key role in customer retention and increase your revenue.
As we discussed earlier, most companies spend much on acquiring new customers, Whereas a loyalty program will encourage and keep your customers coming back to your store.
This strategy not only reduces your expenses but also gives you an opportunity to increase your engagement.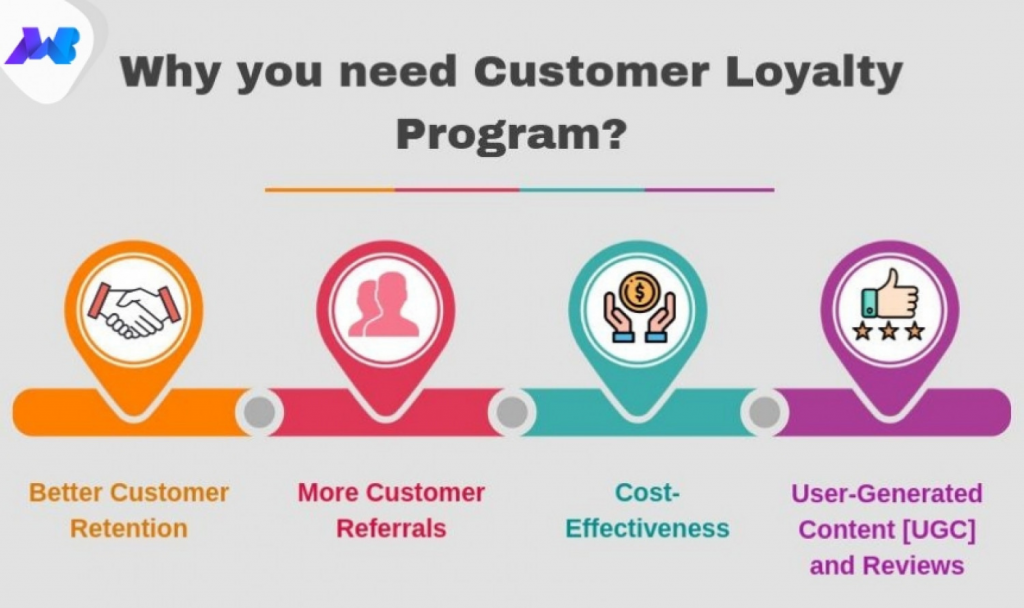 A recent study shows that loyalty members spend 12-18% more on their purchases than non-loyalty members. As eCommerce stores have better access to their customer data, a loyalty program can favor really well.
With a loyalty program, you can reward your customers with exclusive points for signing up, making a purchase, subscribing to the newsletter, etc, which increases loyalty.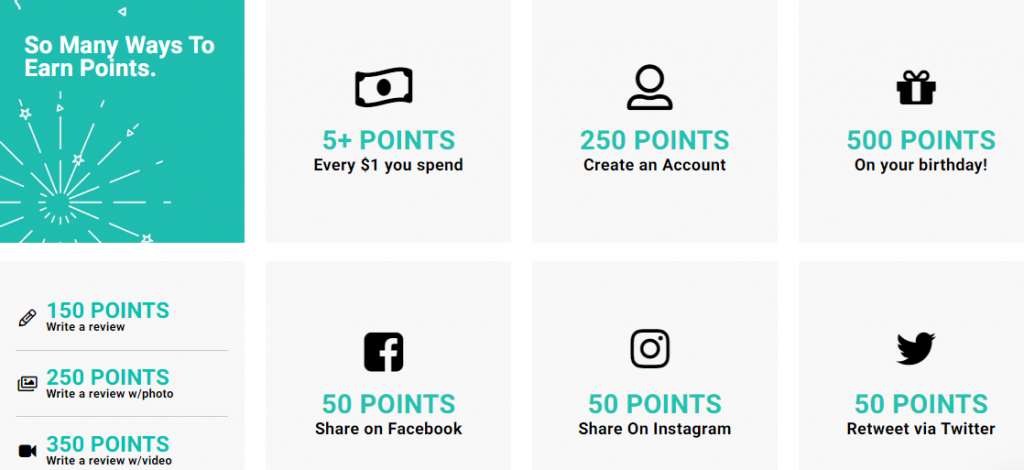 SweetLegs is a less know clothing brand, but they have a structured program. Members can earn exciting points for various actions.
When you run a program like this, it will keep your customers coming back to your store, even after purchasing they'll constantly engage with you.
The ultimate motive of a loyalty program is to retain your customers, and you can effectively achieve it by surprising your customers with rewards and points like these.
Tease customers with next purchases
This is a clever post sales engagement strategy, instead of waiting until a customer finishes his purchase, start your engagement while they are purchasing at your store.
Yes, we are talking about upselling and cross-selling products. For instance, when a customer is shopping for a camera, recommend related products to them and keep your customers coming back.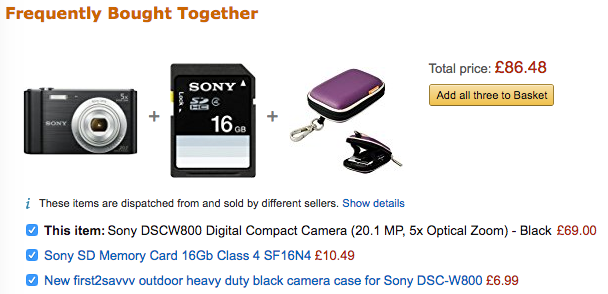 When you recommend products like these, it will lure customers into purchasing it which increases revenue eventually.
An interesting aspect of cross-selling or upselling is that you can do this in your post sales emails too. Guide them to the new items you sell or make suggestions on the basis of their past transactions.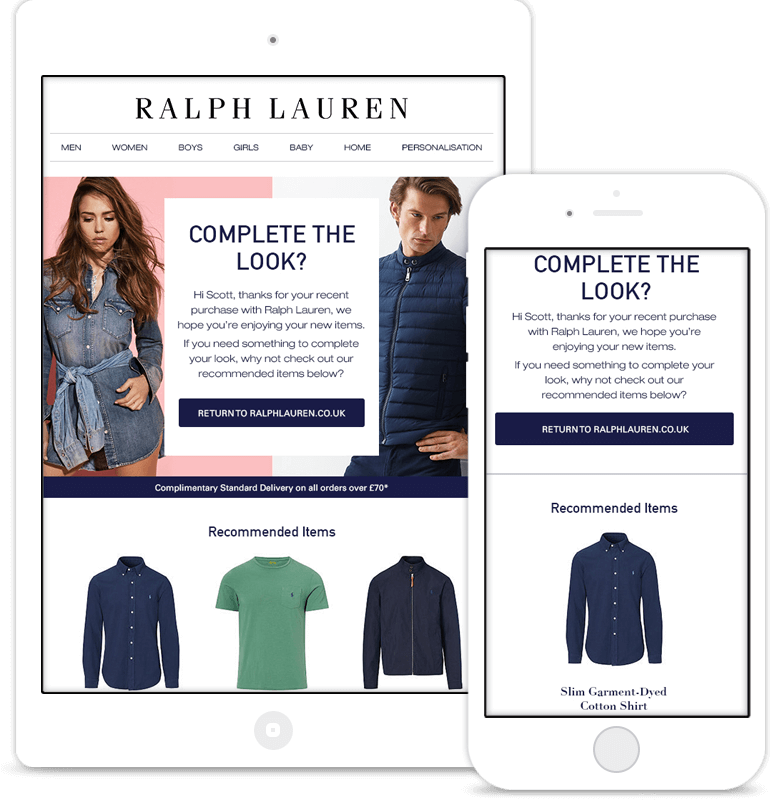 Engage your customers by recommending related or better products like these will show that you value customer's preferences which will boost your credibility.
Upselling is especially worth pursuing if your platform is a subscription-based platform and you provide multiple services, such as free and paid plans.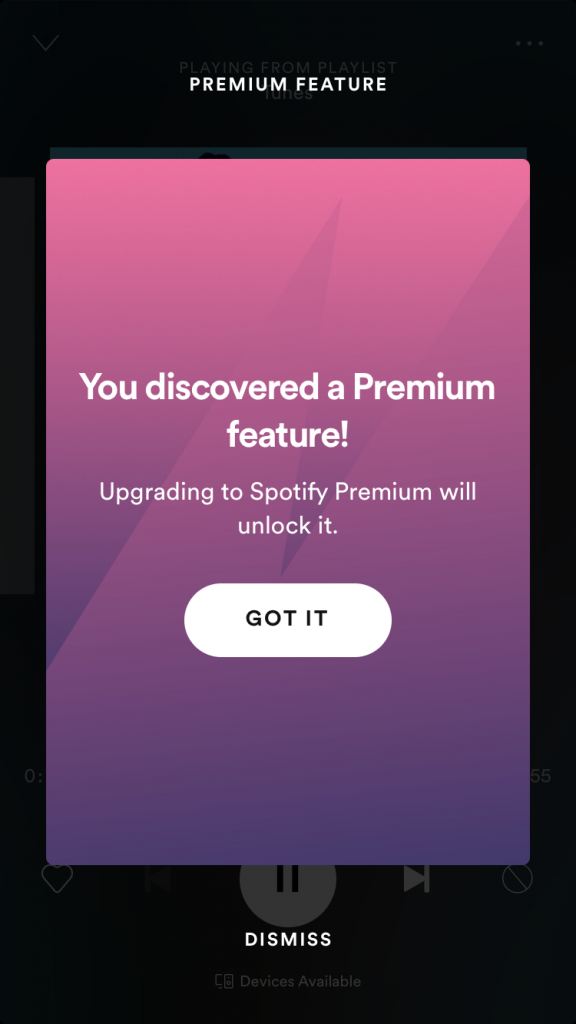 Use upselling emails to encourage clients to upgrade to premium on their free plan. Keep this strategy at bay, when you overuse it, you may end up losing your customer.
Personalized engagement
Last of the post sales engagement strategy is personal engagement, strengthen your customer loyalty with personalized communication-based on customer's purchase activities.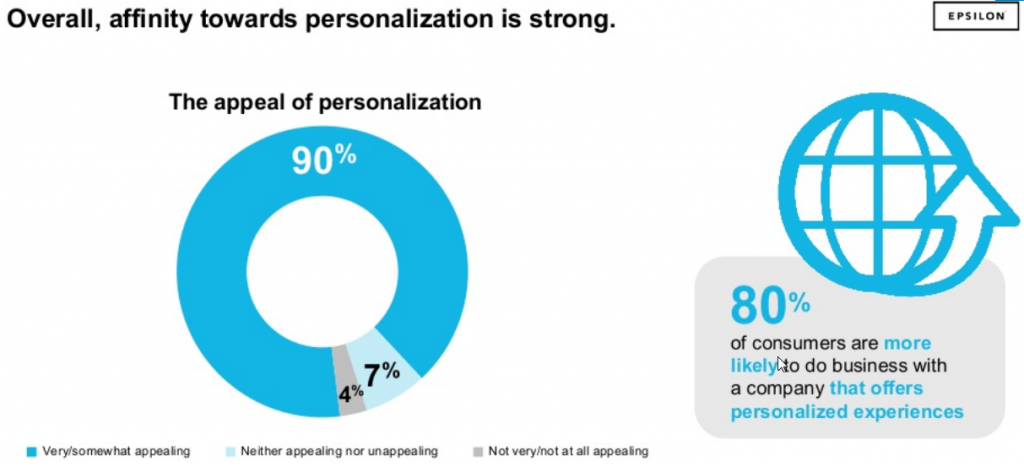 Post purchase customer support is crucial to engage your customers with the brand and getting personal will act as a catalyst to customer retention.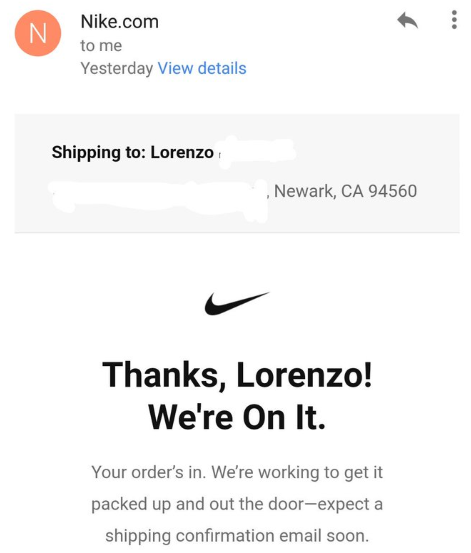 You can see in this post sales email by Nike, they know how to keep their customer coming back, A simple name in post sales Thank you email has a great impact than any other strategy.
Personalizing your post sales emails can be quite effective, it gives you a chance to directly resonate with customers as you already have their data, using which you can persuade them.
You can also engage your customers by sending your personalized content through Facebook if they already follow your Facebook business page. Almost everyone is present on Facebook, so find your customer and persuade them with personalized content.
Conclusion
Customer engagement doesn't end with a purchase, you should employ various post sales engagement strategies to engage your customers. This constant post sales engagement will foster loyalty and trust in your store.
There were questions like how to engage customers? Why customer engagement matter? That's why we created this article to educate you on a few proven post sales engagement tactics.
We use these strategies to engage with our customers and it works great, it's time for you guys to try it and engage your customers too.