Shopify Exit intent popups – An amazing way to get 3X revenue and leads to your Shopify store. Do you know that an Shopify exit popup will recover 21% of your abandoned cart?
Every eCommerce store has experienced around 74.2% of abandonment rate. Without an exit intent popup, you will definitely miss out on the leads for your business.
Is exit intent popup so important for a Shopify store?
Of course, Yes!
Shopify popup gives you an extra opportunity to approach your visitor before he/she leaves.
It is no long effort that sucks more time. Instead, you can implement exit intent popups for your Shopify store in less than five minutes.
Let us discuss some of the best Shopify exit intent popups and the relevant examples. It can be useful to implement in your Shopify store.
Don't let your customers slip away! Try Retainful's Exit Intent Popup feature now and boost your conversion rates. Turn leaving visitors into paying customers with irresistible offers, exclusive discounts, and compelling messages.
How do exit intent popups work in your Shopify store?
Exit intent popups, when handled right, can be the lead magnet of your Shopify store. It reduces cart abandonment rate, increases conversions, and boosts engagement rate at no time.
But, how to use Shopify exit intent popups effectively?
If this is your question, then you can do this by simply implementing the below ideas in your popups to make visitors stay longer and complete purchases in your Shopify store.
Provide last-minute deals
Attract visitors with free shipping deals
First-time purchase discount
Offer discount for their reviews
Use the above ways to capture the attention of the visitor who is about to leave your site thereby abandoning their shopping cart.
Why Exit Intent Popups For Your Shopify Store?
Every website exit intent popup attracts the visitors who ought to bounce back from your website. There are high chances that a visitor will leave the site without completing their purchase. Here comes the exit intent popups.
Say, John enters into the ABC site to buy a branded watch. He has been spending a while in the store and chooses a watch. But, he feels that the price is too high and wishes to bounce back from the site. And, this is the place where Shopify exit intent popups come into play.
You can display an exit intent popup with attractive discounts for brand watches that he was looking for. Damn sure, he will execute his purchase. Such a cool feature for your Shopify store, right?
Statistics also goes in favor of the Shopify exit intent popups. It provides higher conversion rates to the Shopify store when compared to the other popup types. Exit intent popups convert an additional 2 to 4% of your website visitors. Why not try website Shopify exit intent popups now and feel it on your own?
Now, sit back and relax. Coming up are the brilliant popup examples that urge you to try exit intent popups for your Shopify store.
21 Brilliant Exit Intent Popup Examples for your Shopify Store
Cart Abandonment Shopify Exit Popups
Welcome Offer Popups
Shopify Exit Popups
Email Popups
Mobile Popups
Cart Abandonment Shopify Exit Popups
Exit intent popups collect emails. But, when it comes to retrieving your abandoned carts, abandoned cart popups help in changing the minds of the visitors. When you use popups wisely in convincing your visitors with unique offers, there are high chances of increasing the conversion rate.
Now, let us get into the brands or Shopify development companies that have been using Cart Abandonment popups wisely.
1. GlobeIn.com
Exit Intent Popup Examples: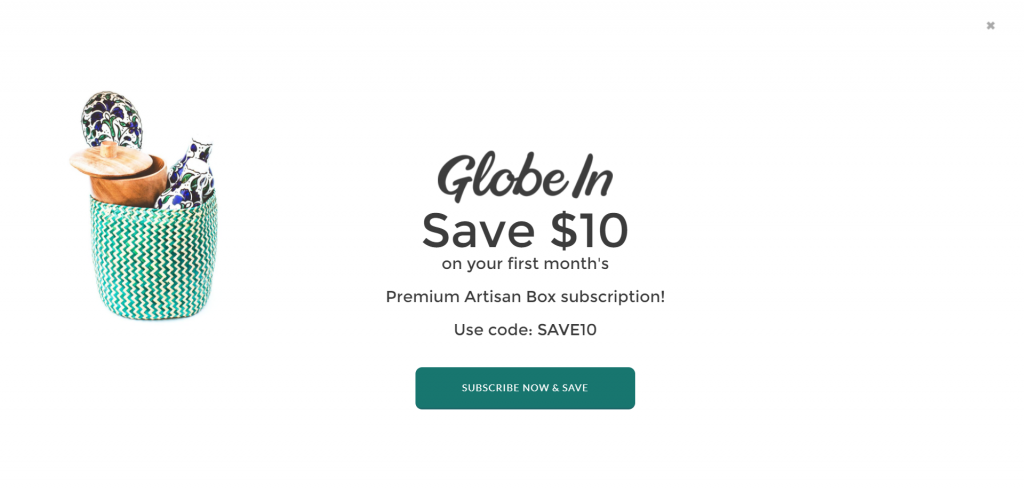 GlobeIn, a Shopify store, has been using a brilliant popup to increase their conversion rate. Nothing much! A simple CTA with attractive offers made them reduce their cart abandonment rate from the peak. It helps the visitors to complete their purchase without any time lag.
The popup has been used to provide a $10 discount to GlobeIn users.
2. Pixelme.me
Exit Intent Popup Examples: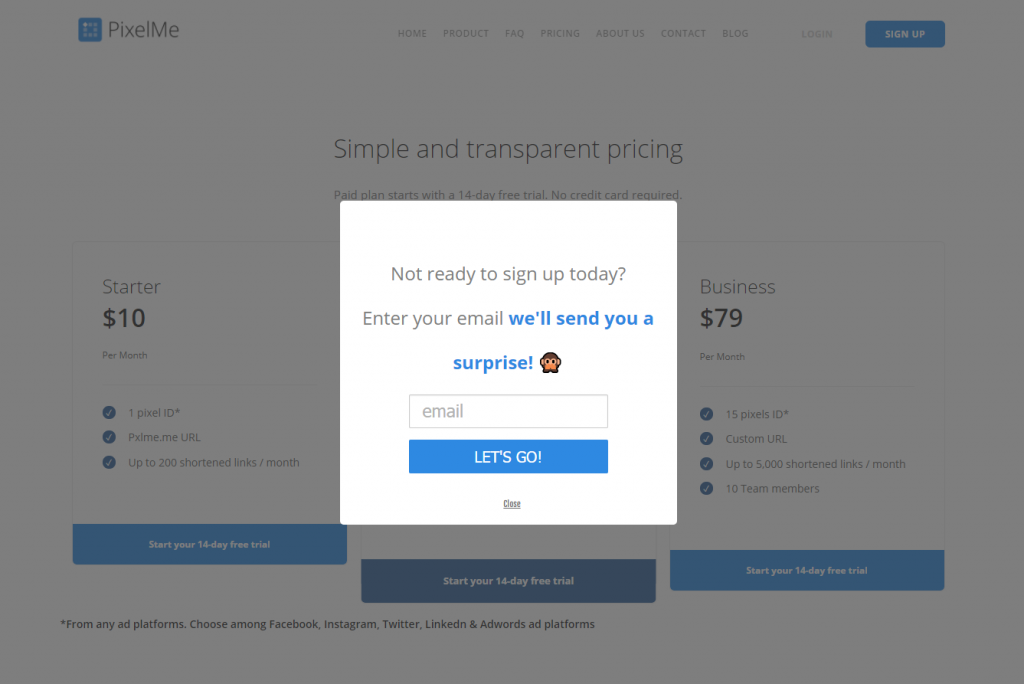 Every customer, even you and me would like to receive "a surprise" from the shopping stores. Pixelme has been using the best Shopify exit popup technique in the most convincing way. With the amazing popup, the store converts 4.7% of its users. They have been using the best Shopify exit popup to grab the email address of the customers.
3. Xero Shoes
Exit Intent Popup Examples:
A limited time offer always grabs the attention of many visitors and creates an urgency among them. Here, placing a popup with limited time offer always shakes hands with the conversion rate of the Shopify store. Knowing it well, Xero Shoes have implemented it and drastically improved their conversion rate out of it. They offer a coupon that expires in 3 minutes. Yes, just 3 minutes!!
4. SwissWatchExpo
Exit Intent Popup Examples: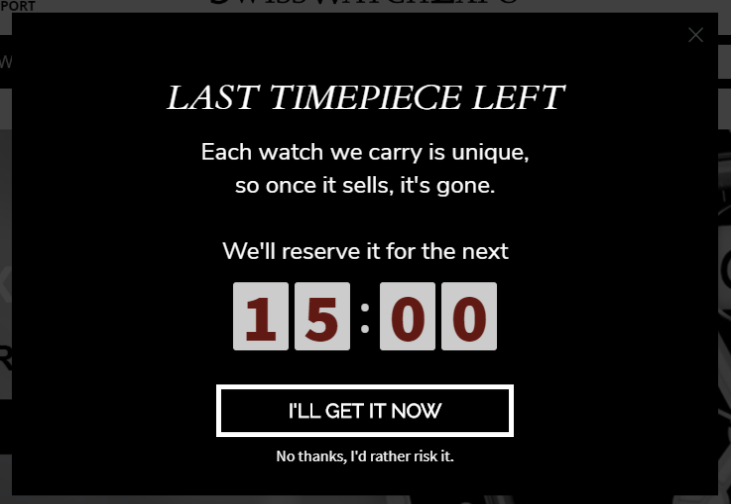 SwissWatchExpo, a popular branded watch store, has been selling pricey timepieces. Irrespective of the cost, they have been handling an effective exit intent popup that offers a huge amount of discount to the products in the visitors' cart.
To the surprise, they also provide free shipping with an urgent 15-minute countdown. It urges the visitors to take advantage of the limited time offer and grab the idea.
5. Eye Love
Exit Intent Popup Examples: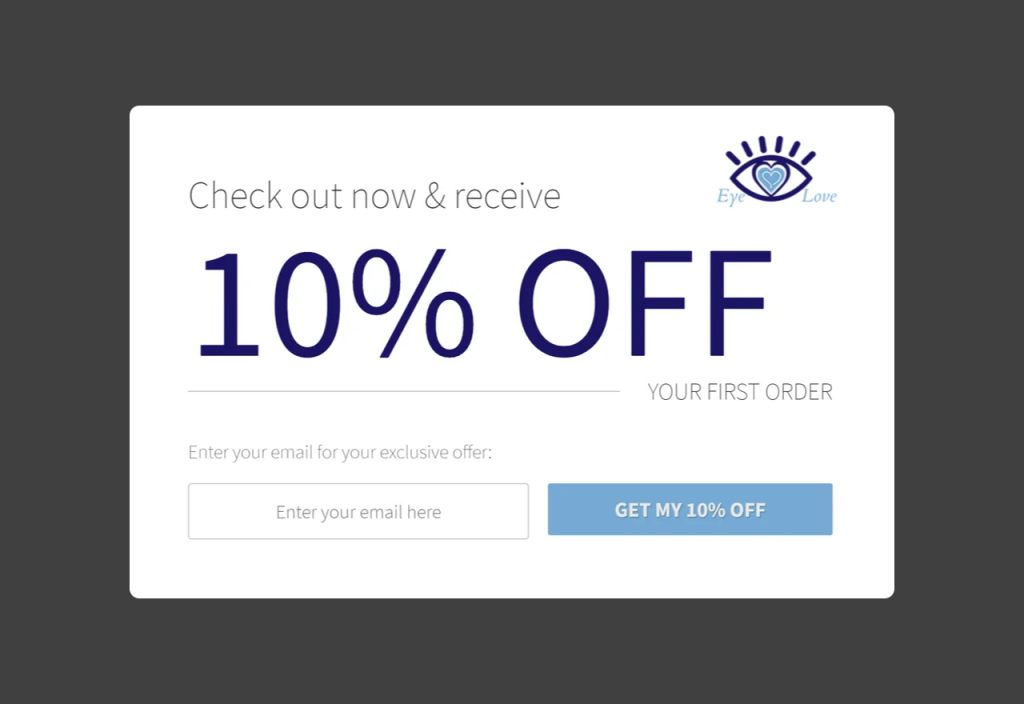 Eye Love, a great example of the best Shopify exit intent popup offering xx% discount, creates a crazy way to curb the cart abandonment rate in their Shopify store. Using an exit intent trigger, they display a clean-looking popup that brings attention to the visitors and provides them great offers too.
Welcome Offer Popups
Welcome Offer Shopify Popups are one of the best Shopify exit intent popups that helps you to provide attractive offers to the visitors visiting your store for the first time. Try to convert the visitor to a customer using the Welcome popups effectively.
Here are the examples of Welcome Offer popups used by eCommerce stores to increase their conversion rate.
6. BetaBrand
Exit Intent Popup Examples: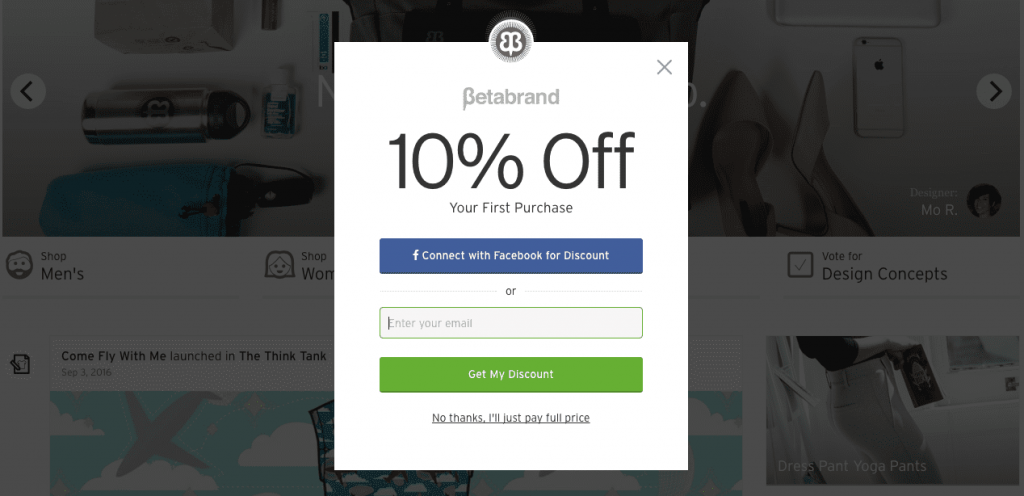 Not all fashion eCommerce stores need email marketing. Instead, the stores have been focusing on the best Shopify exit intent popups to generate the highest conversion. BetaBrand is one such fashion brand harnessing the power of exit intent popups and thereby providing a 10% offer for their first purchase.
Their welcome Shopify exit intent popups help the brand to build their social media presence and gives the customers to join in their social media community during their first purchase.
7. Tommy Hilfiger
Exit Intent Popup Examples: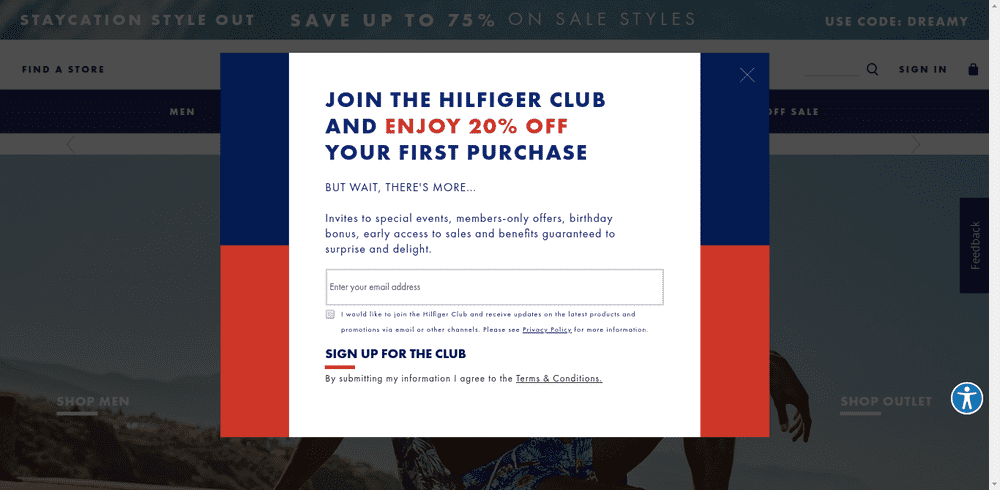 Tommy Hilfiger brand uses its vibrant colors to collaborate with the popup designs to offer first order discounts. The borders of the popups attract visitors. The popup template gives something extra to the audience that delights them to have a wonderful shopping experience. It also helps you to grow your email list and provide offers.
8. Dolce & Gabbana
Exit Intent Popup Examples: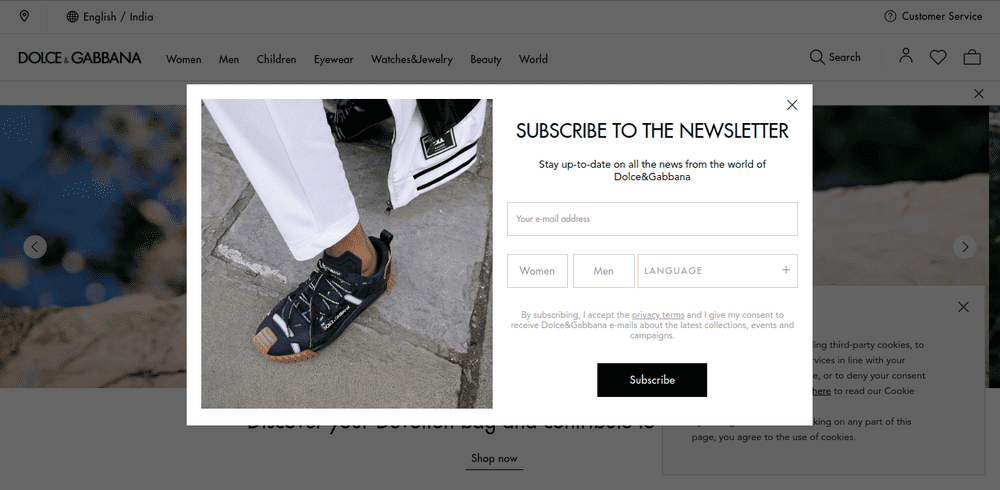 Dolce & Gabbana, a famous fashion brand, has been using welcome popups favorably to increase their purchase rate. You will get to notice a welcome popup that asks you to confirm your gender and age to make your search even better. They have also been using the popups to increase their subscription rate for their newsletters.
Shopify Exit Popups
Shopify Exit Popups encourage conversion in a Shopify store. The main focus of the best Shopify exit intent popup is to keep the visitors engaged and prevent lost leads. The exit intent also helps in reducing the bounce rate of the Shopify store.
Let us look at some amazing sites that curb their bounce rate using the best Shopify exit popups.
9. Optinly
Shopify Exit Intent Popup Examples: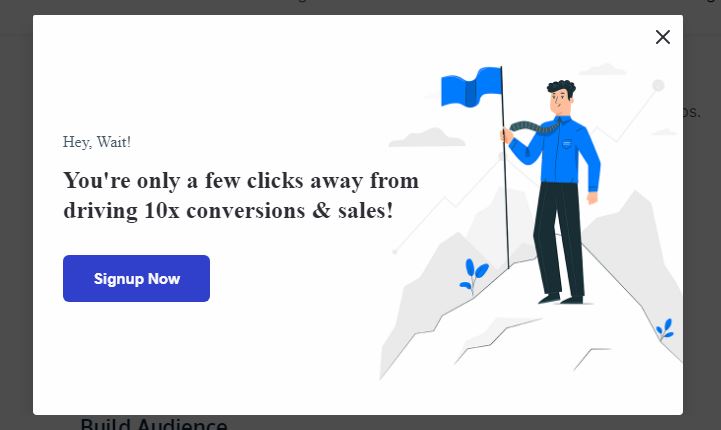 In the pool of examples, Optinly stands out from the crowd for additional reasons. Along with the best Shopify exit popup example, Optinly, itself is the best popup app for Shopify used by many Shopify stores. Optinly with its multiple templates attracts the Shopify owners to indulge in it.
Optinly offers different types of best Shopify popups namely,
Gamification popups
Countdown timer popups
Newsletter Popups
Notification Popups
Coupon Popups
As there are myriad popup types, the users can try it and experience the benefits out of it.
10. Sumo
Shopify Exit Intent Popup Examples: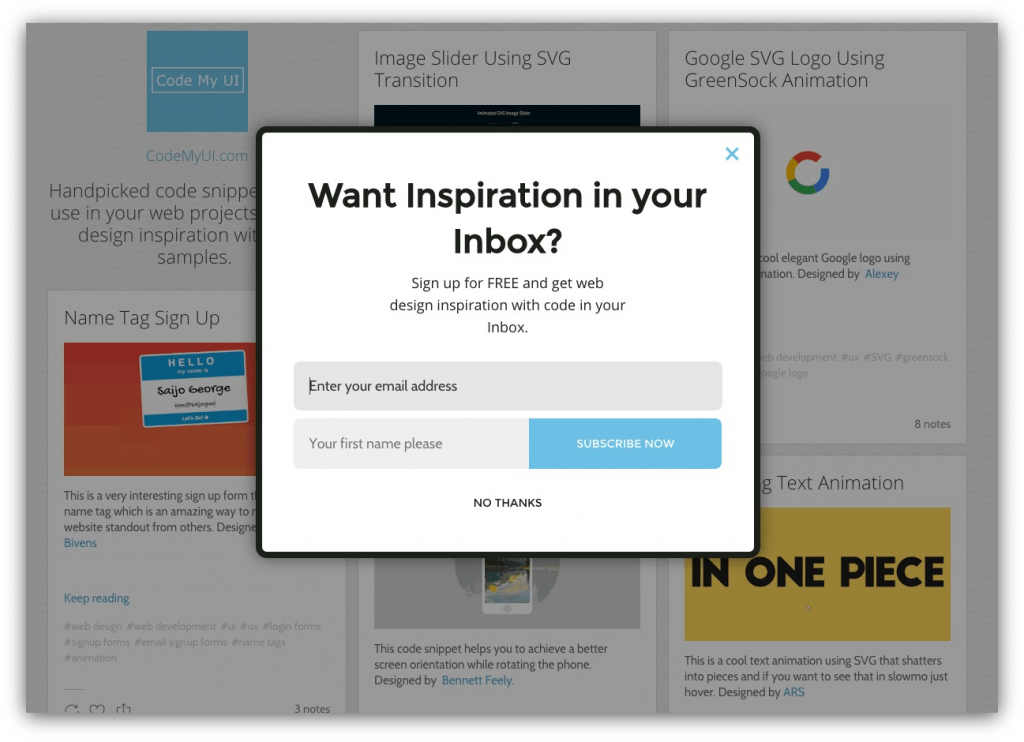 Sumo, a versatile exit popup example for Shopify, has been popularly owing to the proven results to reduce the cart abandonment rate. It also helps in growing email lists and increases your subscribers count. They have been using the best Shopify exit popup to increase their subscriber's list.
Being the best Shopify exit intent popup provider, it also increases the average order value through its attractive popups. You can enjoy its free day trial for 14 days. Try it and see how well it works for your Shopify store.
11. Baubax
Shopify Exit Intent Popup Examples: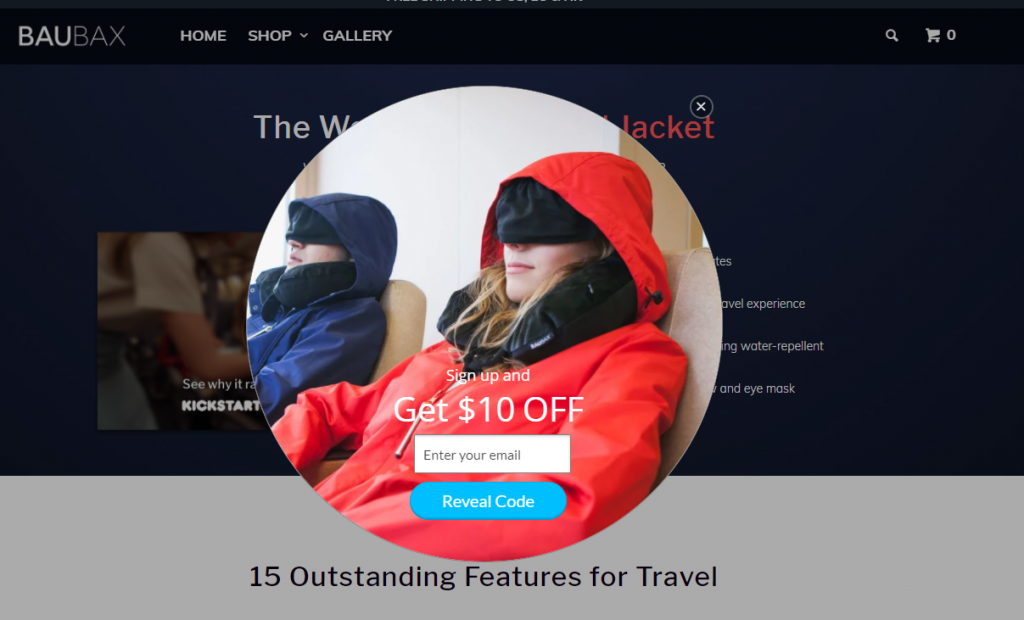 Baubax, an apparel store, has been handling the simple email popup with the best lightbox effect. Making use of the lightbox plugins for the Shopify store always hits the peak. The store has been making it true and is earning huge bucks with a simple discount popup.
Compared to the normal promotions, attracting the subscribers with the lightbox popup plugin actually works. Baubax confirms it and is giving amazing offers to their visitors using the lightbox plugin.
Maximize your website's potential with Retainful's Exit Intent Popup feature. Engage your customers at the right moment with targeted offers, discounts, or personalized messages.
12. Luxy Hair
Exit Intent Popup Examples: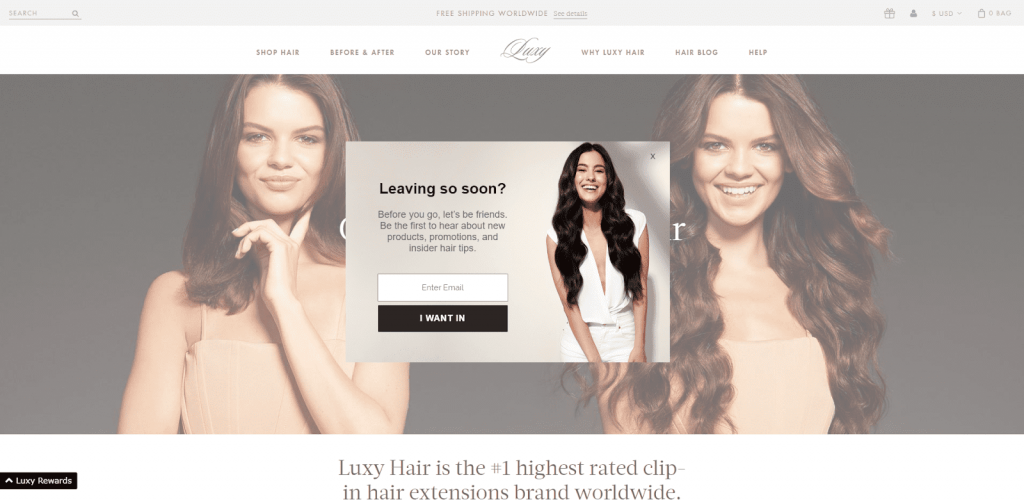 Luxy Hair with its best Shopify exit popup has become one of the respected Shopify stores. The popup of Luxy Hair has a classic overlay effect with exit modals. It has a clear and catchy headline to increase the engagement rate. The popup appears in front of the visitor when they are about to leave the site. And, the popup comes up with a visual that boosts the popup's visibility.
13. Greats
Exit Popup Examples: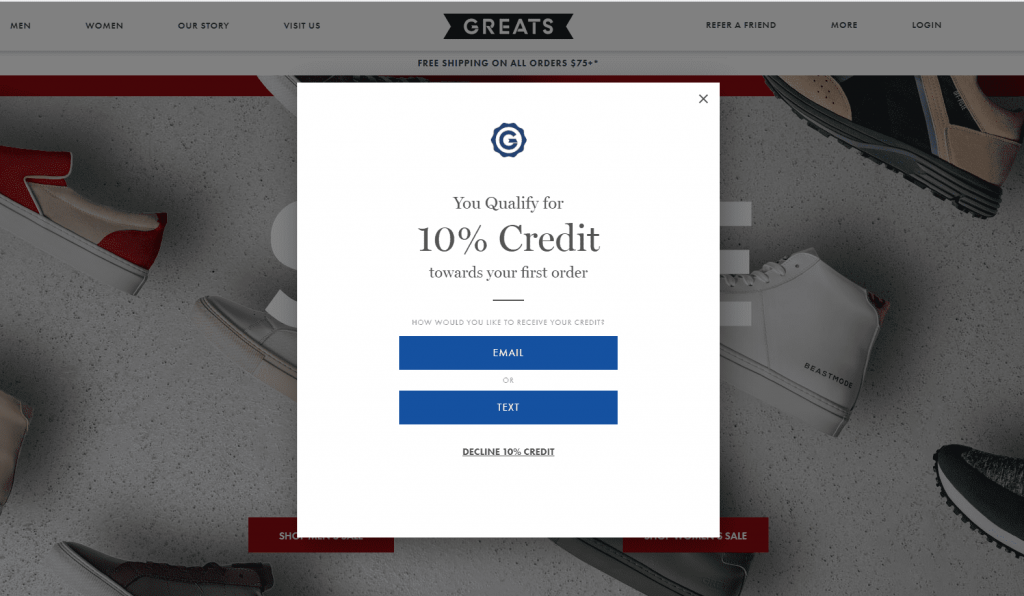 Greats is the next lightbox popup example in the list. It includes two options namely the email sign-up and the simple text. It makes the concept more interesting. The popup also includes a "Qualify" phase that suggests if you are eligible today or you have to try again later. Here, if you are qualified, you may get a discount for your first order.
Email Popups
Not all notification bars or sidebars capture the visitors' attention. But, the email popups do. Is there something special behind it? Now, let us focus on the examples to understand why myriads of the Shopify store depend on email popups.
14. Fulton and Roark
Exit Popup Examples: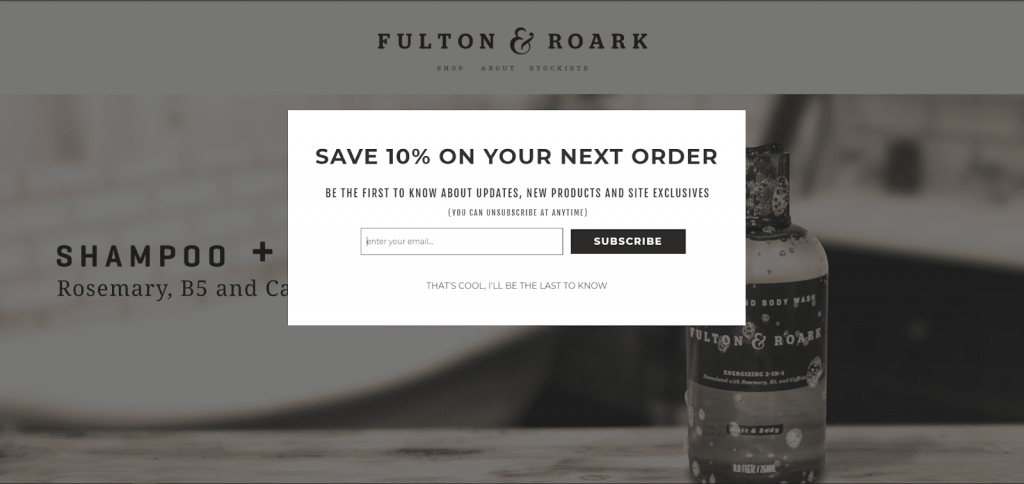 The email popup present in the Fulton and Roark has a lot of interesting elements. It includes a visible headline to reward their subscribers, a short sentence to elaborate the newsletter, and an overlay to help visitors focus on the popup. It gives a second chance for the customers who have missed availing a discount for their first purchase.
The popup design itself seems the best addition to the store. It makes the visitors look at the popup. With an attractive offer or rewards, the customers will feel special and proceed further with their purchase.
15. Wrightwood furniture
Exit Popup Examples: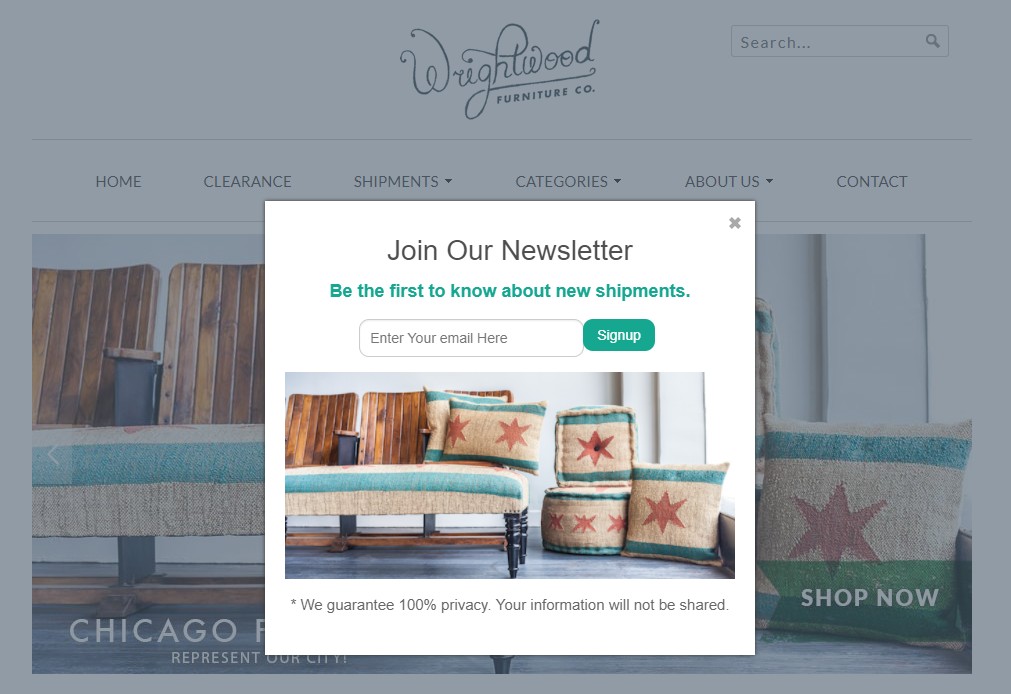 Wrightwood furniture, the furniture store, has a vastly improved email popup. The convincing reasons behind joining the subscriber's list is outstanding. And, being unique, they state about the privacy of their subscribers. It becomes a major attraction and increases the engagement of the popups present in the store.
They use the popups to increase their newsletter subscription rate and trigger the users through amazing discounts.
16. Lush.com
Exit Popup Examples: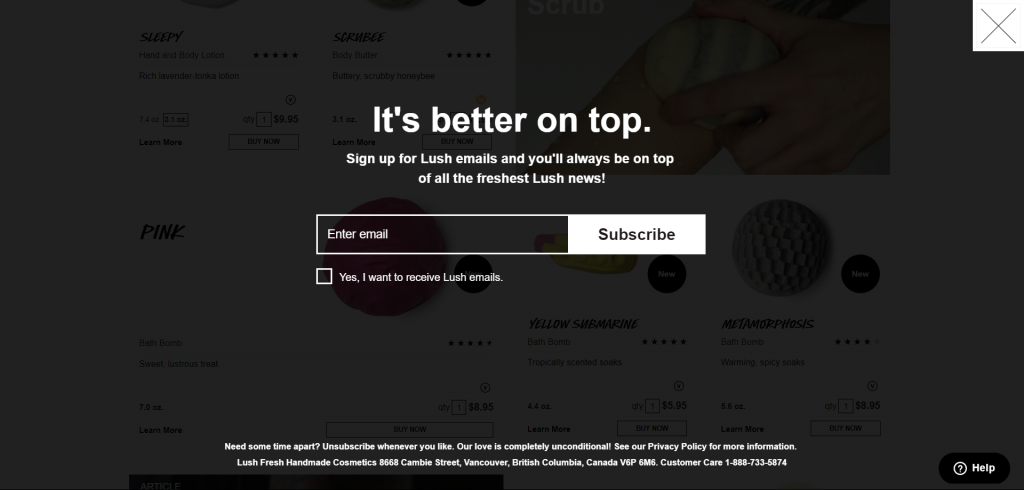 Lush.com deals with the exit intent popups in an identical way. The popup design never fails in grabbing the attention of the visitors. They use email popups to capture emails to send newsletters and send news mixed with humor. It helps them to have a faster reach than they expect.
17. Leesa.com
Exit Popup Examples: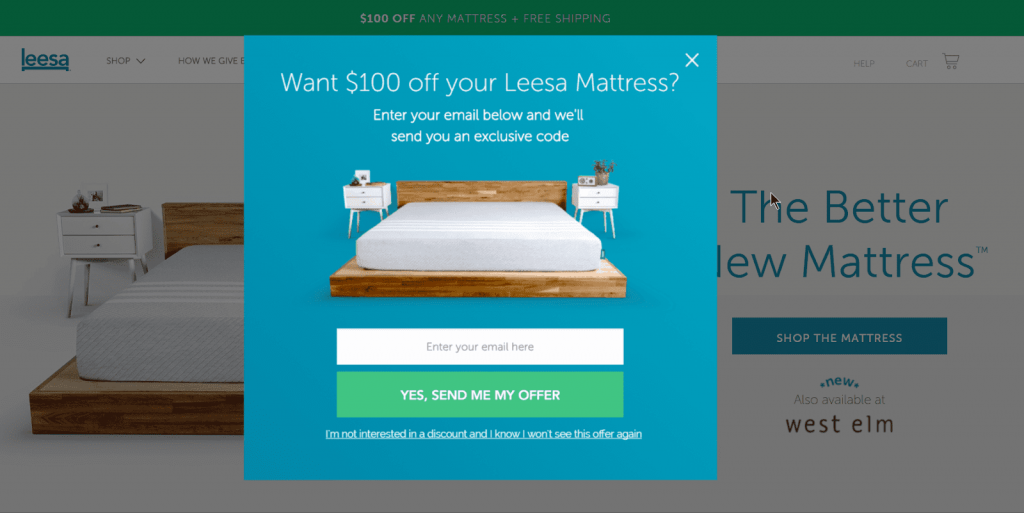 Leesa follows a great way of gaining the visitors' hearts. Everyone loves to get a $100 discount for their purchase. Knowing the mindset of the buyers, Leesa has implemented the right discount popup with actionable CTAs. it has created a significant impact on their email list too. Associate your email list with the CTAs to gain effective results.
Discount Popups
Running a special or limited time offer is a great way to attract customers. Using the discount popups, you can effectively re-engage your visitors and make them proceed with their purchase. The discount popups with attractive discounts and actionable CTAs will help in turning first-time buyers into potential customers.
Here is the list of stores that has been using the discount popups effectively to boost their conversion rate.
18. Awesome Dice
Exit Popup Examples: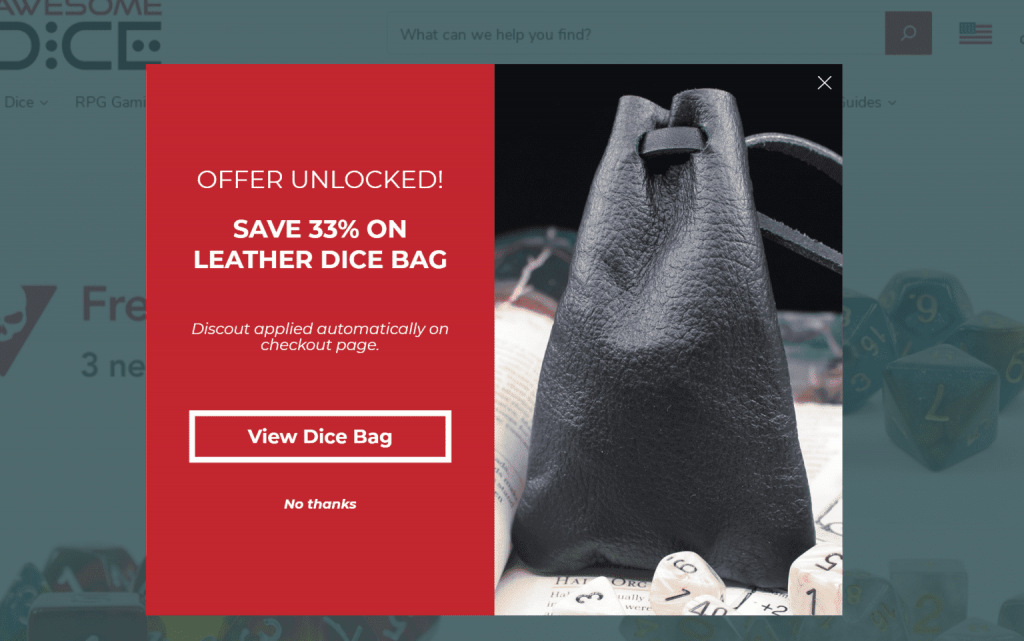 Awesome Dice has a discount popup with an imperative CTA, "Offer Unlocked". It helps the visitors to know that there is an offer for their products. And, it also triggers the excitement of the visitor. When the visitor receives personalized offers for the items in their cart, it also reduces the cart abandonment rate of the site.
19. Hauser
Exit Popup Examples: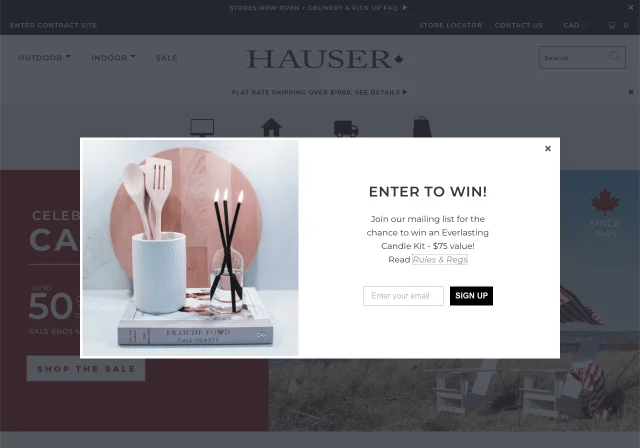 When it comes to giveaways, exit intent discount popups are an amazing way to bring success. Hauser, an outdoor furniture store, has invited many visitors to participate in their giveaway. Here, they have planned to increase their mailing list through giveaways. The giveaway participants have to enroll their email in order to join in it.
Gamification Popups
Gamification popups not only help in boosting the engagement rate but also brings delight to the visitors of your store. When a Shopify store wishes to provide coupons to their users, they can opt for the gamification popups that brings a new form to earn rewards.
Let us look into the examples of gamification popups used by the Shopify stores.
20. Gwynnie Bee
Exit Popup Examples: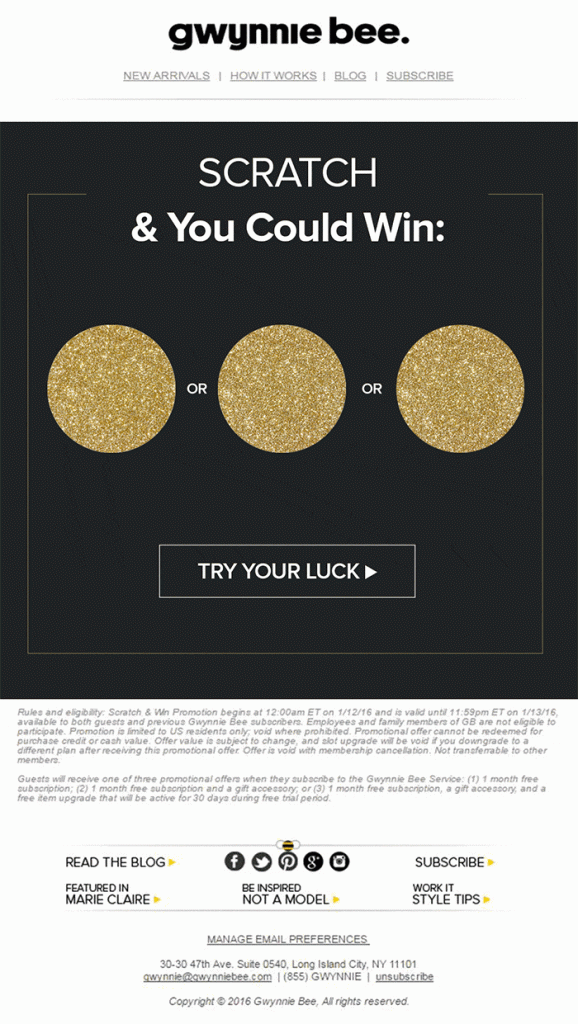 Gwynnie Bee stimulates the fun and excitement of the visitors through the "Scratch and Win" popup. It is a popular gamification technique that incorporates real games. Here, there is no win or lose scenario. So, the visitors are rewarded with something rather than nothing.
21. Ikonick
Exit Popup Examples: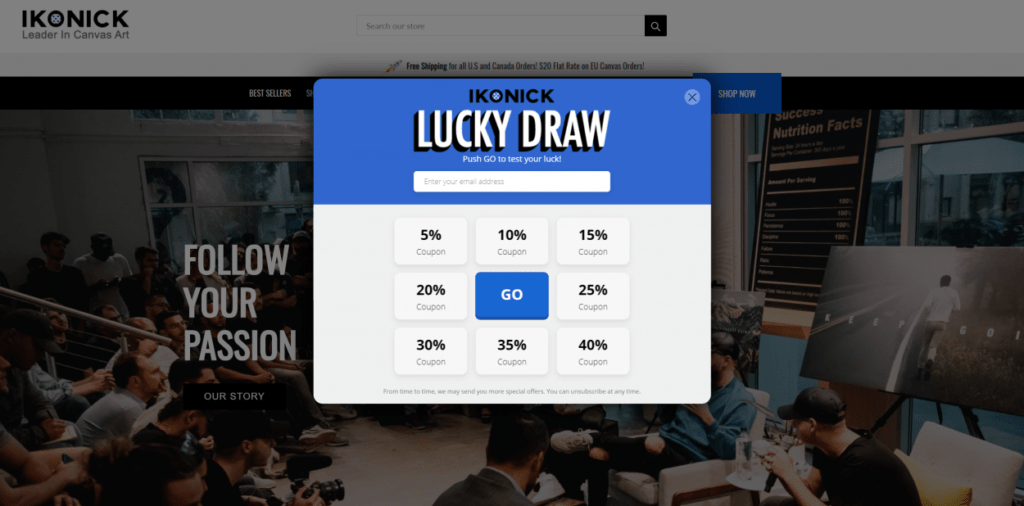 Ikonick with its "Lucky Draw" gamification popup has increased its capture rate to 9.7%. With its attractive color and the CTAs, the visitors find it interesting to engage in the game and earn rewards out of it. Added, it also increased its impression rate when compared to its competitors.
Don't lose another customer. Turn your visitors into paying customers using Exit Intent Popup. Capture their attention just before they leave and keep them engaged.
Wrap Up
The best Shopify Exit Intent popup examples for the store stops here! But, it is not the end! Many Shopify store owners have been effectively handling the exit intent popups to increase their engagement rate, reduce cart abandonment rate, and increase their brand awareness.
Along with your cart abandonment plugin installation, implement the Shopify popups to enjoy 3X within a short time. Exit intent popups are the last but effective opportunity to drag your visitors back to the Shopify store. Don't miss it!
How do I create an exit pop up in Shopify?
To create an exit pop-up in Shopify, install a pop-up app from the Shopify app store, create a new pop-up campaign, set it to trigger on exit intent, customize the content and design, and preview and publish the pop-up to your store.
How do I add an exit intent to a pop up?
To add an exit intent to a pop-up, install a pop-up app with exit intent triggers, create a new pop-up campaign, select the exit intent trigger, customize the content and design, and preview and publish the pop-up to your website.
What is the exit-intent popup?
An exit-intent popup is a type of popup that appears on a website as the visitor is about to leave the page. It is triggered using mouse tracking technology when the cursor is moved towards the browser's close button or address bar. The primary purpose of exit-intent popups is to capture the visitor's attention and reduce cart abandonment by offering a last-minute incentive, such as a discount or free shipping, to encourage the visitor to make a purchase.
How do I add a pop up form to Shopify?
To add a pop-up form to Shopify, create a new form with a pop-up design using a form builder app, customize the form fields and settings, connect the form to your Shopify store, and publish the form to your website.
What is exit-intent popup examples?
Some common examples of exit-intent popups are providing incentives such as discounts, free shipping, or lead magnets, displaying surveys or feedback forms to gather information, asking visitors to subscribe to a newsletter or follow on social media, or offering live chat support. Each of these tactics can capture the visitor's attention and encourage them to take the desired action before leaving the website.
Do exit-intent popups work?
Yes, Exit-intent popups do work. They are effective in reducing cart abandonment and increasing conversions. They provide a final opportunity to capture a visitor's attention and encourage them to complete a desired action, such as making a purchase or subscribing to a newsletter.