WooCommerce Popups have become significant for any eCommerce store. Add-to-cart popups, Welcome popups, Exit-Intent, etc all contribute to the success of stores in various ways.
But one WooCommerce popup that tops the charts is the Add to cart popup because it can help you capture customer's email addresses, convert a customer into subscriber and so on.
Another interesting aspect of WooCommerce Add to cart popups is that they are only triggered when customers click a certain CTA which makes it less annoying than other WooCommerce popups that jumps in suddenly.From a visitors perspective, everyone gets annoyed when a menu suddenly jumps into the screen.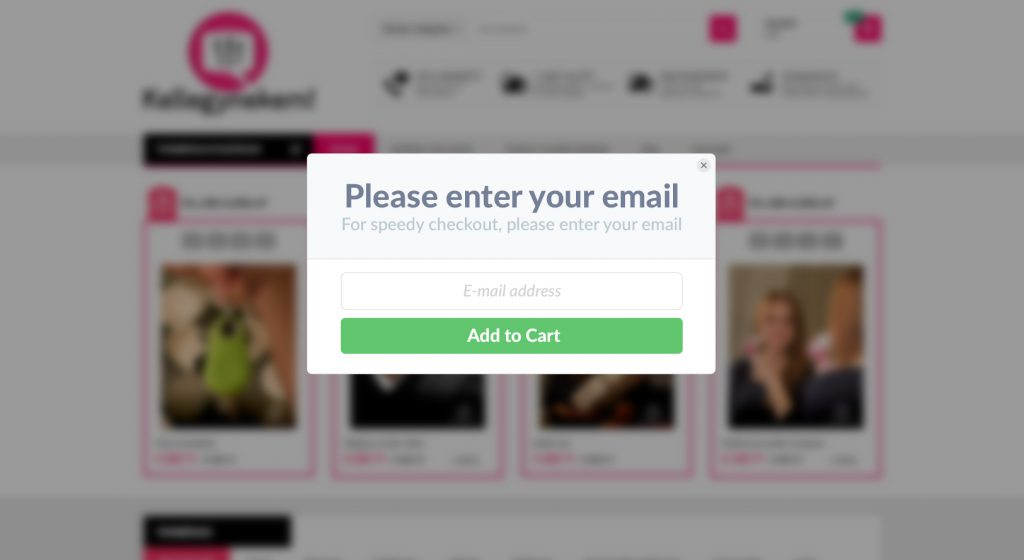 As a store owner, you've got to love WooCommerce popups, they capture email addresses, prevent cart abandonment, make the customer subscribe, etc.
And that's what we are going to discuss in this article, how can Add to cart popup increase your WooCommerce sales? So, without further ado, let's get into it.
Boost Customer Retention by guiding them using timely, automated, and personalized emails with Retainful.
What is an Add to Cart popup?
You see, customers get annoyed when they see a menu suddenly popping out while they are shopping. So marketers thought, how can we get the customer's email without frustrating them.
That's where Add to Cart popup comes in.
Add to Cart popup is a website popup that is triggered when customers click the 'Add to cart' button while purchasing in your WooCommerce store.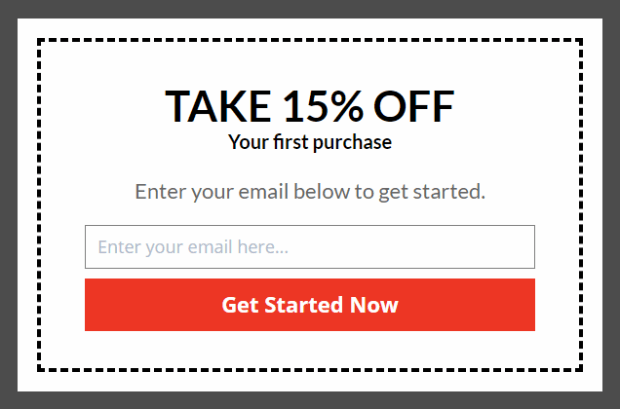 Take Retainful's Add to Cart popup feature as an example, they go one step further and offer a discount.
This will naturally motivate customers to enter their email addresses. Thus you're capturing an email and fostering loyalty in one quick move.
Cool, isn't it?
How WooCommerce Add to Cart popup changed the game?
Initially, you might think this WooCommerce popup is frustrating.
But it's not,
To be honest, customers actually expect this WooCommerce popup to appear.
How?
You see, only when customers have the real intent to purchase, they click add to cart.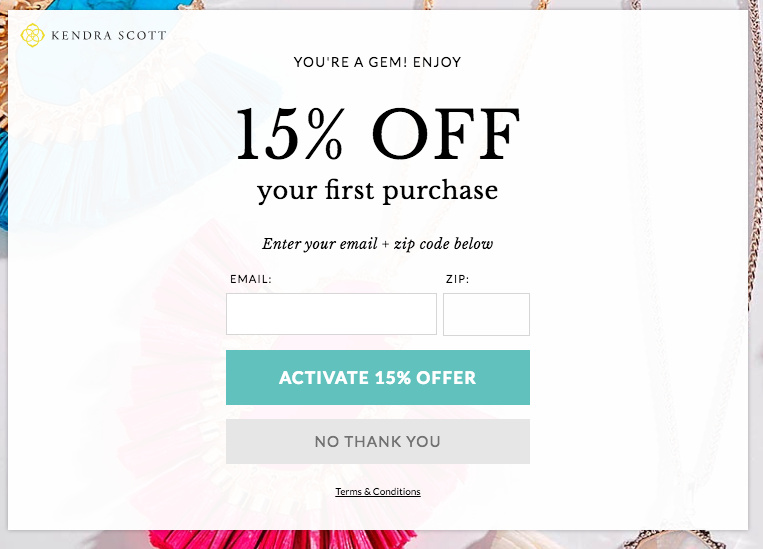 Customers are already aware that a popup requesting their email will appear, so they are already waiting for it, when it appears they just enter their email and move on, with no frustration whatsoever.
This is why Add to Cart popup is the most successful of all WooCommerce popups.
After hours of experimentation, we've found out that Add to cart popup isn't just for capturing emails.
Initially, we thought of the same, we used it for capturing emails but later on figured out that it can prevent Cart abandonment too.
Abandoned carts have been a menace to eCommerce stores.
And WooCommerce Add to Cart popup is one of the best ways to prevent Cart abandonment alongside with Exit-Intent popups.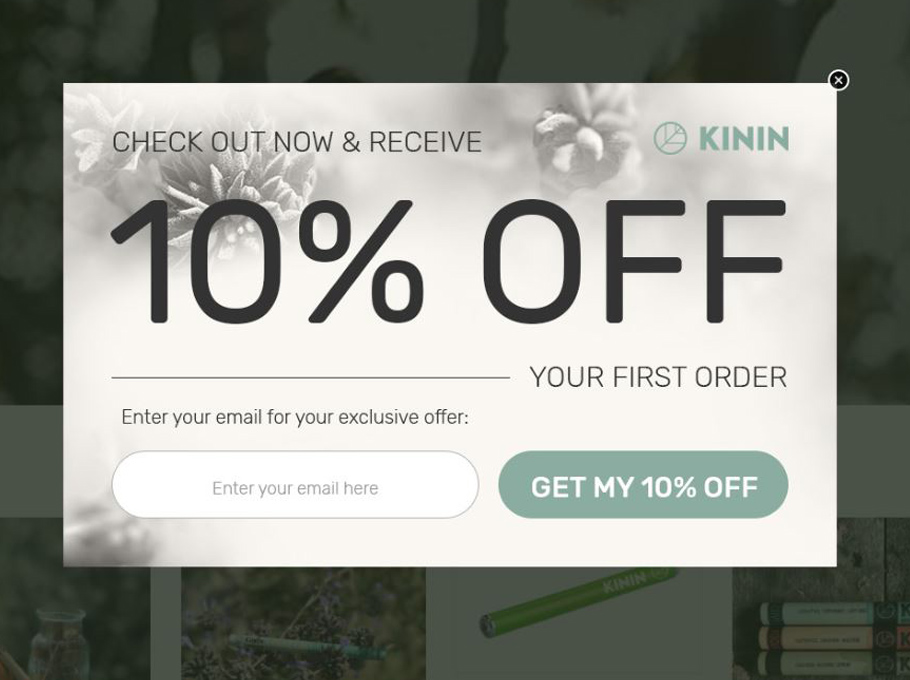 Retainful's Add to Cart abandoned cart popup feature offers a discount thus preventing a customer from abandoning their cart.
But what if a customer abandons his cart after entering his email?
Don't worry Retainful has got it covered, you can initiate a Cart recovery campaign within minutes and recover your cart.
Retainful is a one-stop solution to your Cart abandonment foes.
Best WooCommerce popup ever?
Yes, Add to Cart popup deserves this title.
Why?
It is a highly converted eCommerce popup.
It captures emails naturally.
Prevent Cart abandonment by offering a discount.
Never frustrates customers.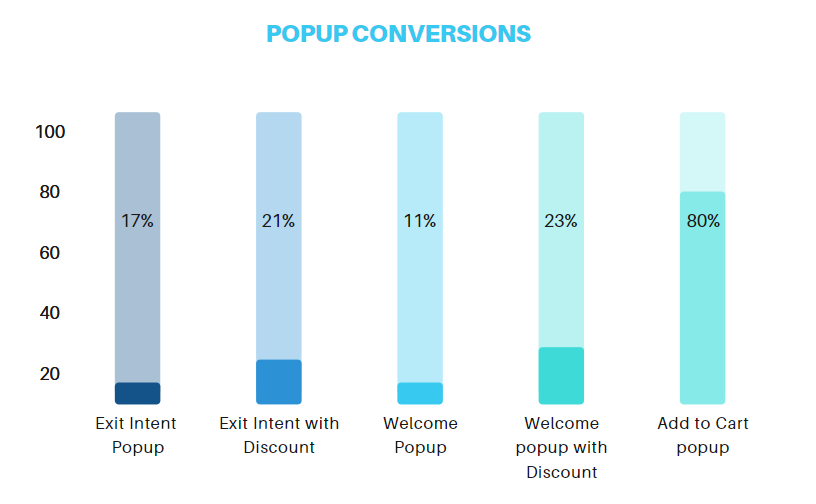 The results show how the WooCommerce Add to Cart popup is miles ahead of other WooCommerce popup conversions.
Boost your WooCommerce sales
A recent study by Retainful said that their Add to cart popup was able to collect 70% of customers' emails.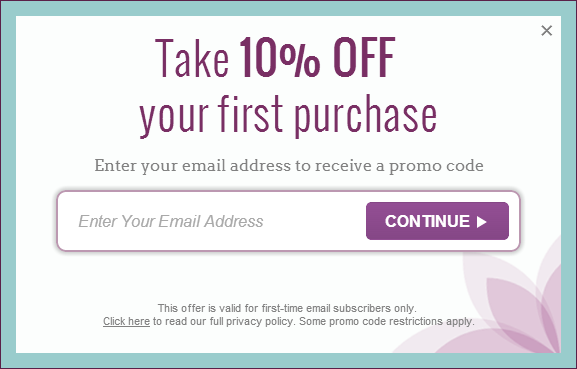 This shows the effectiveness of the popups and also their hidden power in preventing cart abandonment like an abandoned cart popup as we discussed above.
WooCommerce Add to cart popup is a game changer!
It is able to capture emails of 70% of customers who abandon their cart and it's conversion rate averages at 74%.
Now, with all those emails collected, remember how much of lost sales can be recovered in your WooCommerce store.
Just to put everything into context, here is how the Add to cart popups can boost your WooCommerce sales,
Prevent customers from abandoning their carts through discounts.
Help you build your email list necessary for marketing.
Abandoned carts can be recovered and converted into WooCommerce sales through the emails collected.
This is why WooCommerce Add to cart popup is the easiest trick you can pull off to skyrocket your WooCommerce sales.
Retain customers effortlessly. Make your customers feel valued and appreciated with Retainful.
Few WooCommerce Add to Cart popup scenarios
Scenario #1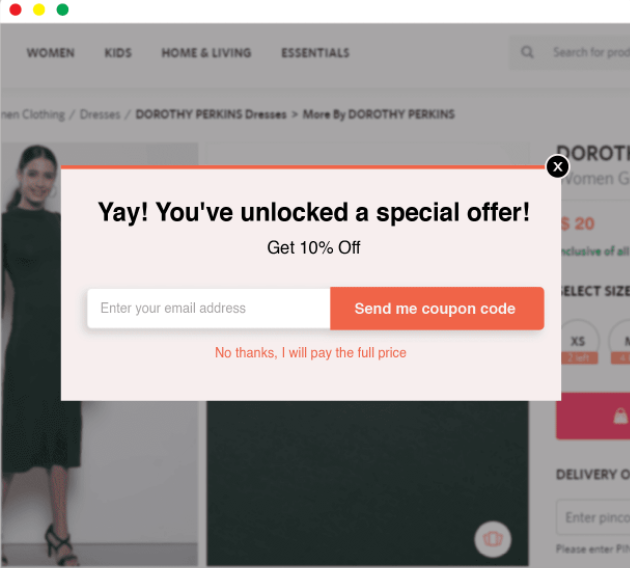 This is a Retainful Add to Cart popup that persuades the customer to enter their email to recover the coupon containing a 10 % discount.
Request – Enter the email to receive the coupon code
Offer – Percentage discounts
Scenario #2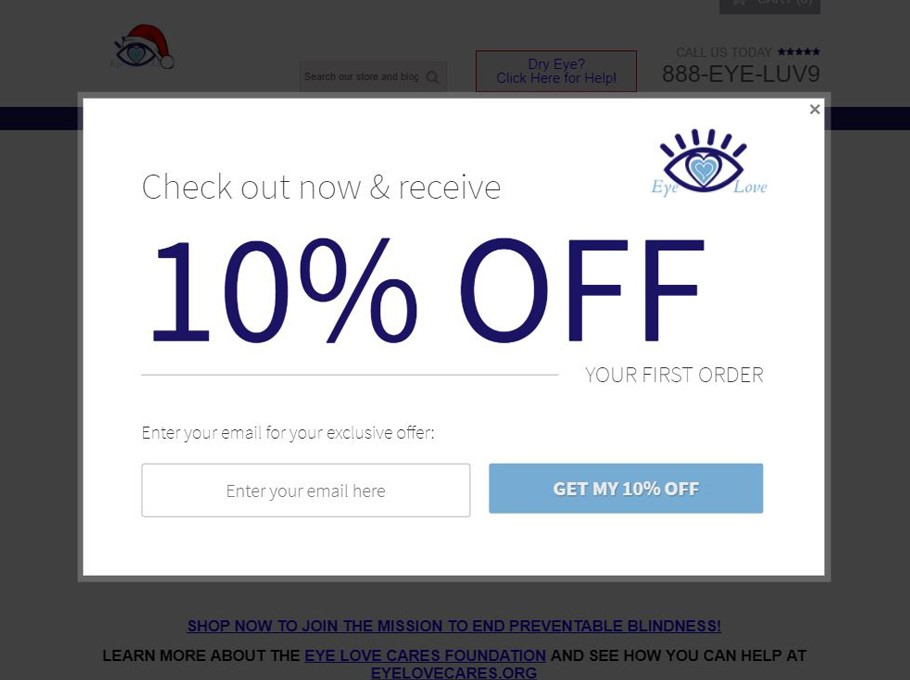 This Add to cart popup is usually used to prevent cart abandonment by a new customer by persuading them with a discount. It acts like a WooCommerce abandoned cart popup.
Request – Add to Cart or checkout to earn the offer
Offer – Discount for their first order
Scenario #3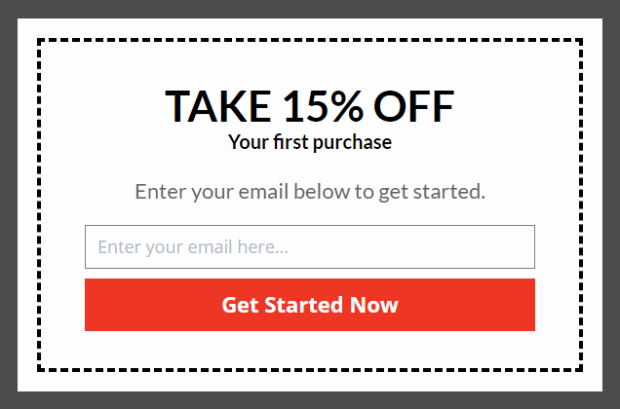 This popup is used based on the customer data if he is a first-time customer you can offer a discount for his first purchase and grab his email,
Request – Enter the email to take first order discount
Offer – Percentage or Flat discount.
Scenario #4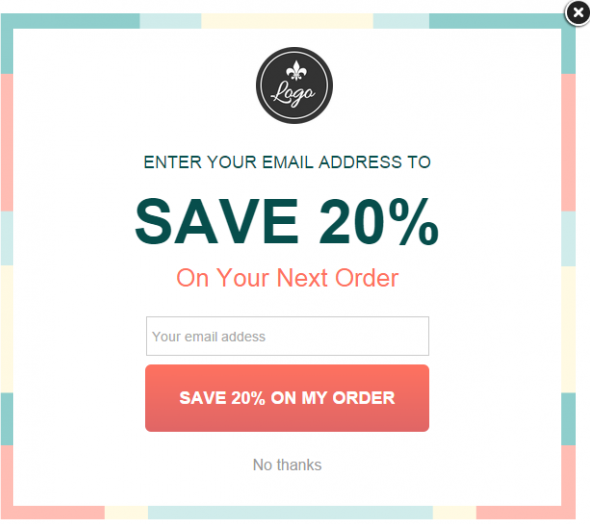 This popup is a great way of acquiring a customer's email address and also to motivate him to drive repeated purchases in your store by offering Next order discount.
Request – Enter email address to save for next purchase
Offer– Percentage discount
Scenario #5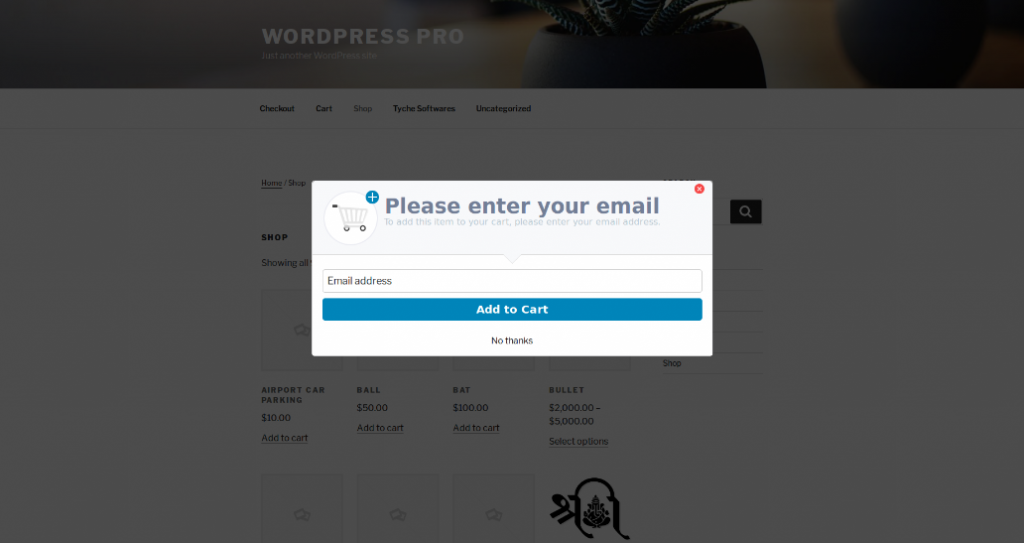 This is one of the most significantly used WooCommerce Add to Cart popup. It gets triggered as soon as customers click the Add to Cart button.
Request – Enter the email to add items to the cart
Offer – No offer
Scenario #6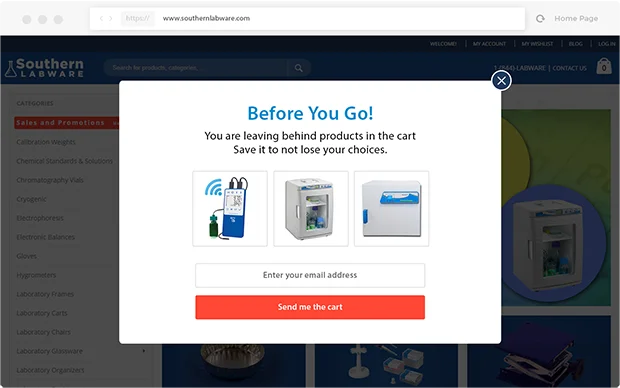 Add to cart popup is mainly used to collect email addresses right? You can also use these popups while they are leaving and encourage customers to add items to their cart.
What they don't know is, you are just grabbing their email addresses to send Cart recovery emails to make them recover their cart.
Request – Enter your email address and we'll send your cart to you
Offer – No offer
Increase customer retention by sending highly customized emails that engage customers with Retainful.
Wrapping up
WooCommerce Add to cart popup is the highest converting WooCommerce popup that can be used in any WooCommerce store. They can help you grab customer emails, prevent cart abandonment like a WooCommerce abandoned cart popup and help you recover your lost WooCommerce sales and increase your revenue.
It is a boon to WooCommerce stores, that's why we felt compelled to share our blissful experience on WooCommerce Add to cart popup to you.