Email marketing automation can be a game-changer for your Shopify store. By using the right email marketing apps, you can automate your email campaigns, save time, and increase sales.
But with so many email marketing apps for Shopify out there, it can be overwhelming to choose the right one. That's why we've curated a list of the top 10 email marketing automation apps for Shopify that can take your email marketing game to the next level.
So, if you want to boost your email marketing game and drive more sales, keep reading!
Try Retainful today and start recovering abandoned carts, growing repeat purchases, and increasing your revenue with our powerful email automation features!
What is Email Marketing Automation?
Email marketing automation helps you to automate all your emails without manual intervention and gives a smooth progress to your email campaign.
Email marketing automation app may help you manage your contact lists, develop and deliver attractive emails, and track how many people opened and read them. And, the good here is that you can start efficiently without thinking about the expenses.
Many of the solutions in our list have low-cost entry plans, and some even offer new customer onboarding. The ten solutions we selected here all offer a choice of self-service help alternatives as well as knowledgebase articles for common issues.
Each method necessitates the use of different tools for writing the source email, sending it to particular recipients, and integrating it with other back-end systems, such as the accounting system, your customer relationship management (CRM) system, and maybe even your inventory management system.
If you're running a Shopify store, all you need to keep track of contacts is a list of names and email addresses. This method, however, becomes increasingly inefficient as your company grows. These email marketing solutions make it easy to create a comprehensive database of subscribers that can be segmented by demographics and participation levels.
One of the reasons email marketing apps are still so popular is because of this trick. It helps to figure out exactly how you need to categorize your audiences.
Is Email Marketing still relevant in 2022?
Email remains the most widely utilized communication method. The number of worldwide email users will expand to roughly 4.5 billion in 2022, up from around 4 billion in 2021, according to market research firm Statista. This tendency is mirrored in Statista's global market revenue prediction for email marketing through 2027.
Time for the customers!
Don't forget about your users. Here are the three important benefits of using USG in your email marketing.
The recipients are more likely to believe it.
If your selling platforms allow it, you have free access to it.
It's a quick turnaround because you don't have to start from scratch.
According to a recent report by Tint, a digital marketing newspaper, UGC will be one of the top user engagement methods for more than half of email marketers by 2020.
How to choose the right Email Marketing Automation Tool For your Shopify store?
Back to the topic, email marketing automation has spread wide. There are diverse tools that help your Shopify store.
Do you randomly pick a tool and try it on your own? No, this is not the way you should pick the automation tools. Not all the tools might help you. Despite this, go for the email marketing automation tool that brings a drastic conversion rate to your store.
Keep an eye on the enlisted features that help you to land the right email marketing automation tool.
Editor with drag & drop: Your best bet for getting campaigns out quickly and efficiently is to use an easy-to-use visual editor that allows you to change your email templates (without scripting).

Various campaign types: A variety of email kinds, such as regular newsletters, A/B tests, and autoresponders, should be supported by your program.

Automated marketing: Whether you merely need basic autoresponders or more advanced automation features like targeted automated campaigns, it's critical that your software can handle your automation requirements.

Sign-up Forms: A good newsletter tool will enable you to construct your own subscription form, which you can either integrate on your site or host on a separate landing page.

Integrations: Your email program should be able to connect to your other important apps, such as your blog, ecommerce, CRM, and analytics software.

Deliverability of Email: What good is a newsletter service if your emails aren't sent because of spam filters?

Support: A comprehensive knowledge base, email assistance, and live chat/phone support are all excellent options. All of these channels aren't available in every tool, though.

Reporting in great detail: It's critical to keep track of the results of your email marketing campaigns. Many companies have more details than other companies.
Apart from the features, you can also compare the pricing of different automation tools that might help you pick the affordable one.
10 Best Email Marketing Automation Apps for Shopify
To shorten your research time, our Shopify experts have consolidated the 10 best email marketing automation apps for your Shopify store. It helps you generate more leads and subscribers to your store easily
Let us get started.
Sendinblue, our first pick, has many intuitive features, including a drag and drop editor, readymade templates, and a bulk stock of images. Your creative level has no bounds here.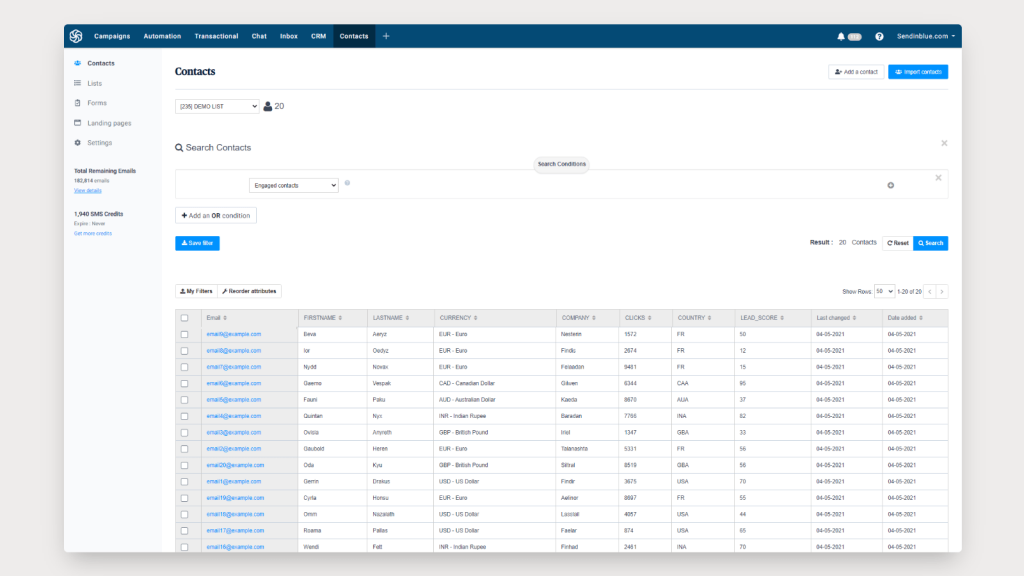 Sendinblue also emphasizes email deliverability and conducts AB testing through which you can cross-check the response of the campaign. Sendinblue also helps users its users to get comprehensive reports with clear insights and analytics about the campaign launched earlier.
Pricing
Free
For expanding enterprises, it's a must.
Premium
Enterprise
Users on the Free plan are limited to sending 300 emails per day to an unlimited number of contacts. Higher-tier plans get rid of the daily sending limit (in favor of a monthly amount), remove the SendinBlue logo from emails, and add Facebook advertisements, landing pages, and marketing automation to the mix.
The first app on the list for your Shopify store is Retainful, an automatic Abandoned Cart Recovery App. What if a well-trained bot took care of all of your abandoned cart recovery tasks? Yes, Retainful is your ally in this situation!

Retainful, the all-in-one email marketing automation and conversion app automates all your email marketing needs. So, what does it do?
Recovers abandoned carts
Sends thank you emails
Win back inactive customers
Drag & Drop email editor
Contains Workflow builder
Triggers, customer rules, and the path splits
Automated order follow up emails
Automated Win back series
Dynamic coupons
A/B test for emails
Real-time analytics
Launch referral and loyalty programs
Analytical Dashboard for campaign insights
Pricing
Free version available
Starter- $19/month
Growth – $49/month
Professional – $199/month
The most well-known emailing mailing tool covered here is MailChimp. They keep their product up to date and add new features regularly. They have been the popular all-in-one email marketing platform for years.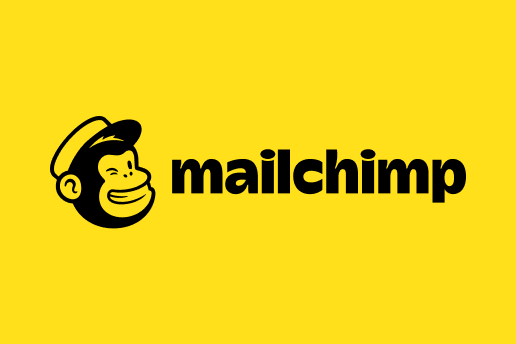 MailChimp has always been known for its excellent free service. It covers everything a new business needs to get off the ground. It now includes an essential service for a broader range of marketing channels, including email, landing sites, Facebook and Instagram advertisements, social posting, postcards, and pop-up forms, in addition to fewer email marketing tools in the free plan than before.
Pricing
Free plan includes 2,000 subscribers and 10,000 emails per month
Paid plans to start at $9.99 per month and go up from there
HubSpot is most known for its CRM. Still, it also offers a free email marketing solution to help small businesses with transactional email. This simple drag-and-drop tool includes a visual editor and pre-built templates to quickly get you up and running.

HubSpot's email marketing service consists of a native connection with the company's other marketing tools and a centralized database of contacts where you can arrange lists, run campaigns, and track results.
Pricing
Free emails upto 2000
Paid marketing plans to start at $480 per year with HubSpot
Aritic PinPoint is a unified marketing automation software platform for marketing operations teams or SMEs. It helps you to build relationships with leads, automate marketing campaigns and convert leads to paying customers easily.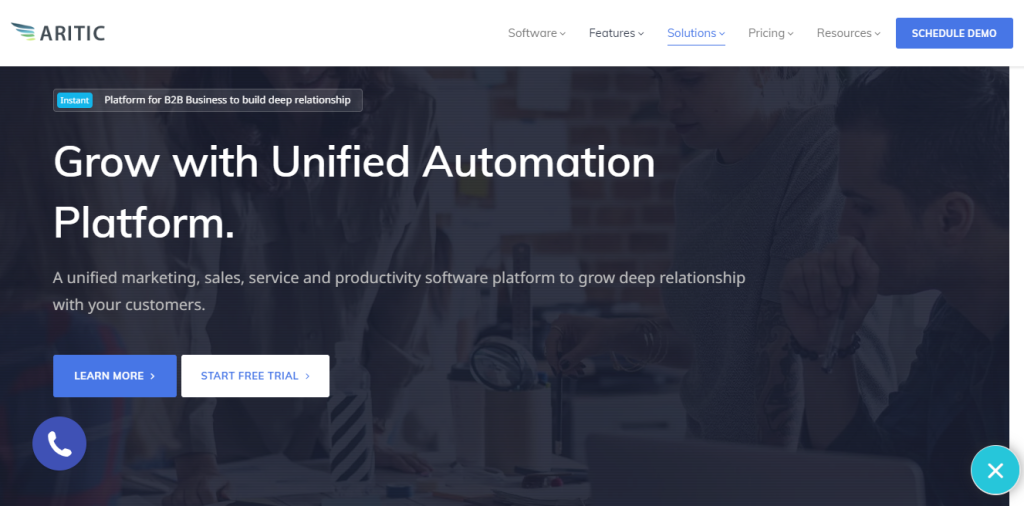 It has landing page builder, lead scoring, lead tracking, lead nurturing, email campaign, email campaign automation, a/b testing features with mobile optimized interface. Salesforce, SugarCRM, Zoho CRM and Social integrations like Facebook, Twitter, LinkedIn are also included.
200+ brands are using Aritic platform along inbound marketing and sales engagement.
Pricing
Lite Pack starts with USD $19 per month billed monthly
Starter Pack with USD $79 per month billed monthly
Professional Pack starts with USD $99 per month billed monthly
Contact the Website for more details on Pricing.
Mailjet bills itself as an email solution for quickly working for teams. You can generate, edit, and send emails from a single platform as a team.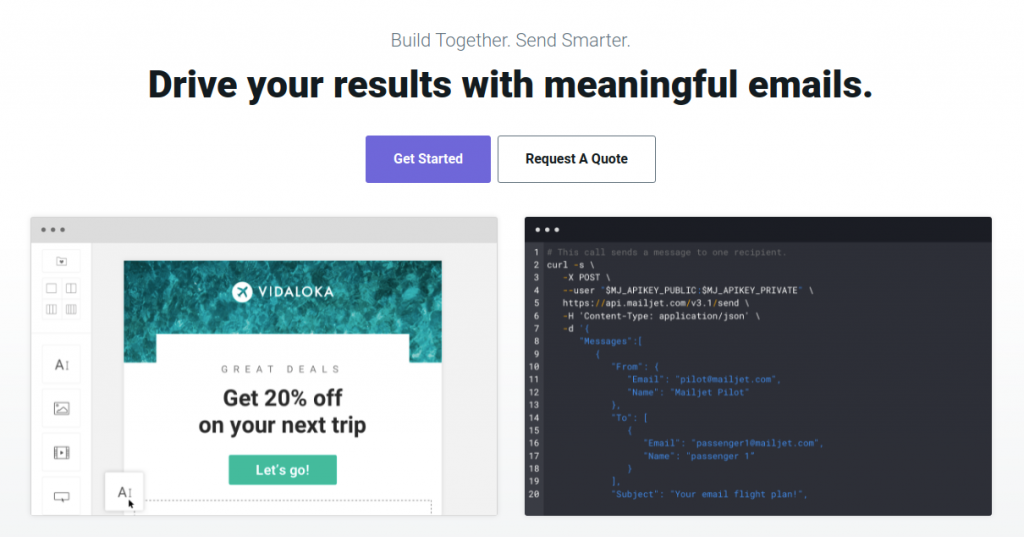 Its free option is for users who spend less than 6,000 emails per month. The Basic or Premium plans are then offered, with five pricing tiers dependent on the number of emails you intend to send. Finally, there is a unique Enterprise price plan with professional account management services for companies sending more than 900,000 emails each month.
Pricing
Up to 6,000 emails per month / 200 emails per day under Free plan
Paid plans start at $8.69 per month and go up from there
Don't settle for average results with your Shopify email campaigns. Upgrade to Retainful and experience the power of email marketing automation that can help you recover lost sales, drive customer loyalty, and boost your bottom line.
For eCommerce platforms, Drip is an excellent email marketing solution. The software has a visual email builder that allows users to design beautiful marketing emails and SMS from scratch.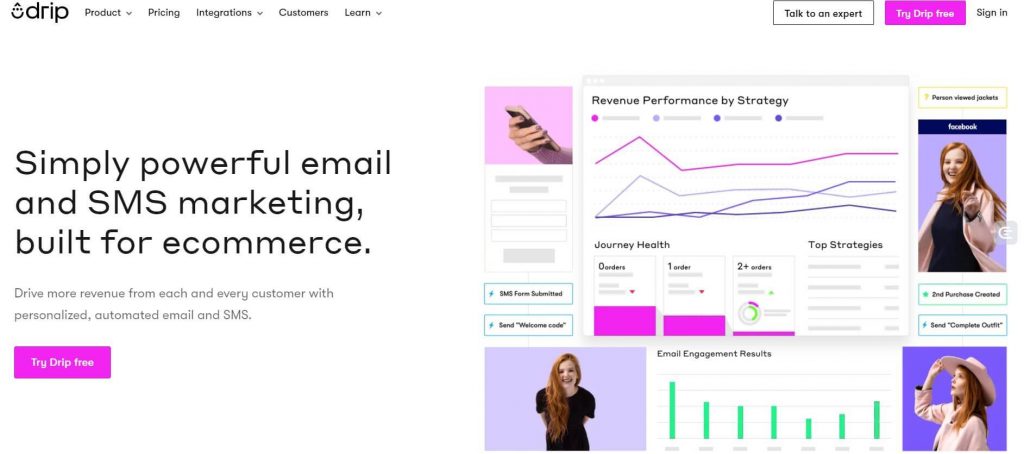 Businesses can also split their contact lists to see how each email they send performs. Drip also allows users to combine lead adverts and forms to help businesses gain new clients and increase engagement.
Hundreds of templates to choose from.
Advanced contact list segmentation and management
Email and SMS marketing campaigns can be automated.
Their automated workflow editor is user-friendly, well-designed, and customizable, with vibrant colours and icons that make it fun to use. There are a variety of automated triggers to choose from, including links clicked, page visits, tags assigned, purchases made in your online store, and more. Another handy function is automatically identifying users who accomplish a specified action, such as accessing a specific page.
Pricing
Both free and paid plans are available. Their paid plans start from $19 per month for 500 contacts.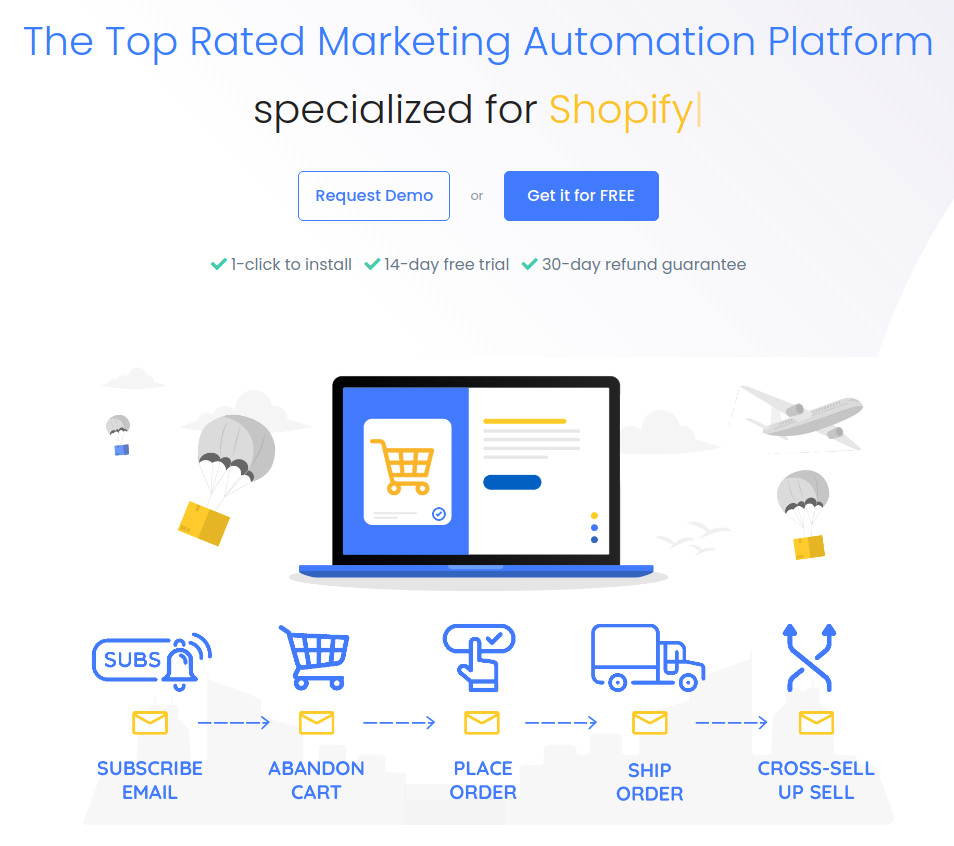 Talking about the best option for the Shopify email app, we can not leave out AVADA Email Marketing. This is a perfect solution for store owners who are working to increase conversion rates, boost sales as well as build sustainable relationships with their customers.
AVADA Email Marketing is an easy-to-use and free email marketing platform with the help of its intuitive interface and user-friendly interface. This tool includes pre-built email templates for those who lack design skills, saving them a huge amount of time. Below are powerful features you will enjoy with AVADA Email Marketing.
Cover lost sales with Abandoned Cart Recovery
Send welcome email series when somebody creates an account on your website
Send shipping/order/ return confirmation emails to customers
Promote upsell and cross-sell emails by motivating first-time buyers to purchase more related products or higher-end items
Offer ready-to-use email templates
Follow up when somebody unsubscribes and make them go back with attractive offers
Send emails to the target audience thanks to segmentation functions
Offer Spin to Win/Newsletter Popup to collect emails easily
Track ROI by advanced reports
Duplicate emails
Auto-sync customer data
Create emails easily and quickly without technical or design skills
Pricing:
AVADA Email Marketing offers a free plan for 1,000 contacts and 15,000 emails per month, along with free customer support. In case you want to have more than this limit, you will need to sign up for paid plans. This app's pricing starts at $9/month for its pro plans.
Convertkit, the creator toolkit, is designed particularly for online artists. ConvertKit allows content creators such as bloggers, social media influencers, and YouTubers to design and deliver marketing emails that encourage an audience to subscribe to their material.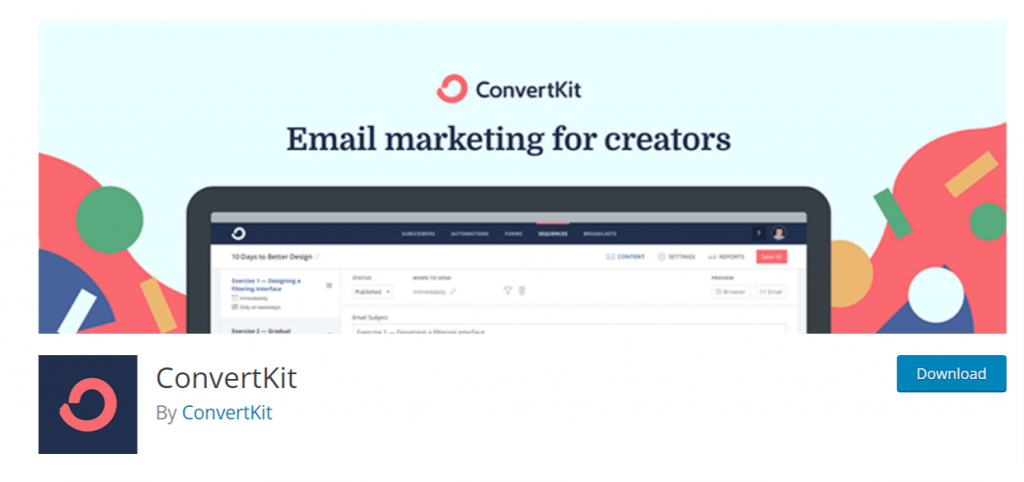 You may quickly generate emails using pre-made templates, select recipients from your contact list, and set the date and time for your emails to be delivered automatically.
Features for managing email subscribers are excellent. Tags allow you to segment your data in a more advanced way. Excellent delivery rates and helpful support.
Pricing
Free and paid plans are available. The paid plans start from $29/month for Creators, $59/month Creator Pro.
GetResponse, the widely spread email marketing automation app for Shopify, has 350,000 users in 183 countries. It has the ability to send over a billion messages per month, and the stats appear to be promising.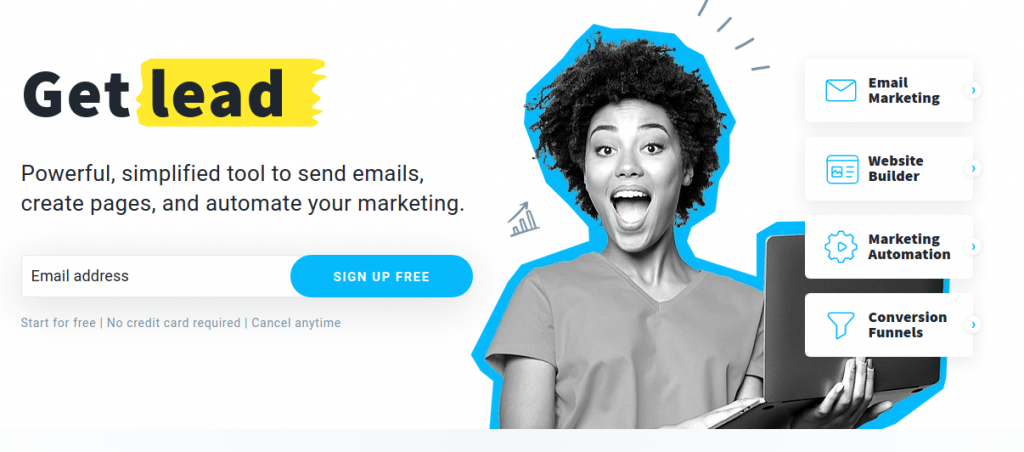 The ability to construct webinars and sales funnels, both of which fall under the Conversion Funnel umbrella, are two of its notable capabilities.
GetResponse also provides fantastic automation capabilities, and we like that they give you free access to 1000 iStock photos. A well-designed landing page and website builder with a range of enticing themes are also included, making it a marketing powerhouse!
Pricing
Plans start from $49 per month
Omnisend's goal is to empower marketers to "rise above the promotional noise and get better outcomes than ever before." Doesn't it sound appealing?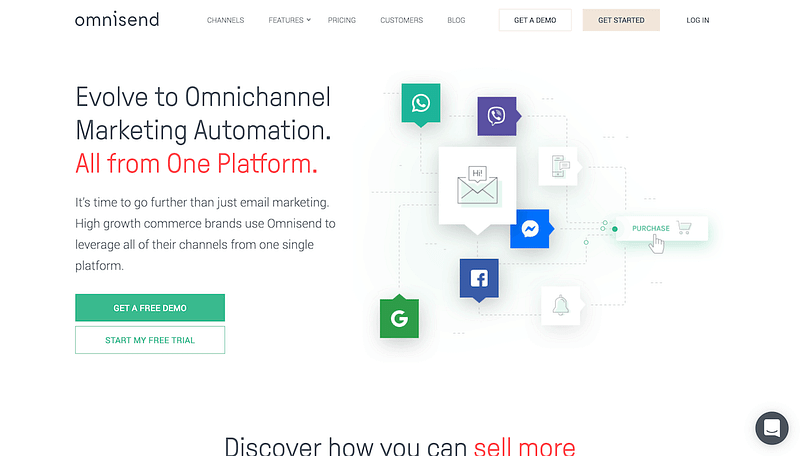 Because of its various automation features, such as browse abandonment and cart recovery, Omnisend is a fantastic solution for online store owners.
It also contains some odd features, such as "wheel of fortune" sign-up bonuses, interactive gift boxes, automated buy recommendations, and even "live view" website tracking.
You'll be able to make landing pages, SMS campaigns, add products directly to the email editor, and segment lists based on the criteria you provide.
Pricing
The free plan is available up to 500 emails per month. Payment starts from $16 per month
Are you tired of spending hours on manual email marketing tasks for your Shopify store? Let Retainful's automation features do the heavy lifting for you, so you can focus on what matters most – growing your business!
Final Thoughts
Businesses may extend their customer base and increase income by using email marketing, which is both cost-effective and time-efficient. According to recent estimates, an efficient email marketing campaign can generate a better return on investment than any other marketing method.
It's also worth noting that the email marketing software you use will have a significant impact on the success of your marketing campaign. If you want to begin a profitable marketing campaign, you must use the correct email marketing software.
I hope the email marketing automation apps might help you a lot in your Shopify store conversion.
Cheers!
How do I automate email marketing on Shopify?
To automate email marketing on Shopify, you can use the built-in Shopify email marketing tool or third-party email marketing apps like Retainful, set up email automation workflows based on customer behavior, personalize your email content, and track your email campaign performance to make improvements.
Can you do email automation from Shopify?
Yes, Shopify has a built-in email marketing tool called Shopify Email that allows you to create and send automated email campaigns to your customers. Additionally, third-party apps like Retainful can be used to enhance email automation and provide advanced features like abandoned cart recovery emails, personalized emails, segmentation, and tracking.
How do I send automated emails to new subscribers on Shopify?
To send automated emails to new subscribers on Shopify, you can use the built-in Shopify Email tool or third-party email marketing apps, create a welcome email series, personalize your email content, and set up triggers to send automated emails based on customer behavior or time-based events. You can also use segmentation to target specific groups of subscribers with relevant content.
Is Shopify automation free?
Shopify offers a built-in email marketing tool called Shopify Email that allows you to send up to 2,500 emails per month for free. However, there are additional third-party automation apps like Retainful available on the Shopify App Store that has powerful features to automate emails and recover lost sales.
Is Shopify email marketing free?
Shopify offers basic email marketing features for free to its users, allowing them to send up to 2,500 emails per month. However, advanced features and higher sending limits may require a paid subscription to a Shopify email marketing app or integration.
How do you automate email marketing?
To automate email marketing in Shopify and WooCommerce, you can use email marketing apps or plugins like Retainful that allow you to create automated email campaigns based on specific triggers or events. These apps also enable you to personalize your emails and track the performance of your campaigns.