Email marketing is an effective channel to reach out to your customers more personalized way. Adding an attractive image to your emails will increase its conversion rates.
Email Images have incredible potential, and the correct email images in a well-designed template can convey the message, grab attention, and make people take the desired action.
Prominent eCommerce brands have been using images to improve their email click-through rates. To do that, you must follow best practices to add images to your email.
So, do you want to send pictures via email? This complete guide will show you the best practices for email images in your marketing campaign and direct you on taking your campaign to the next level with email images.
Boost Customer Retention by guiding them using timely, automated, and personalized emails with Retainful.
Why Use Images in Email Marketing?
Images are the backbone of all content. Email Images are vital for instantly digesting messages, and readers respond considerably more quickly to images and other visuals than text.
Here are three significant advantages of including images in email.
Email images are easier to digest
Email images improve bound recognition
Email pictures improve engagement in rates
What are the Benefits of Images in Email Marketing?
Even the best copy won't succeed without images in email. Finding and accurately using email images is critical when planning a blog article, email newsletter, or digital ad to capture the reader's attention effectively.
When scanning your emails, your customers may not always have time to read great paragraphs of material. A tiny fraction of time will get you to capture their attention before your email flies to the trash. Some Three seconds pass in the blink of an eye.
Photos are an excellent learning tool as well. Email pictures help to provide information that language cannot convey. So using email images is one of the best ways to teach readers about your product and services.
Undoubtedly, having the correct blend of text and visuals to create a compelling message in email images would be beneficial.
Types of Images in Emails
There are several types of images; Real photography, Drawings, illustrations, Infographics, etc., but which kind of image do we need to use in our campaign?
Finding the suitable one is essential.
Producing email images can be complex without a physical object to photograph if you sell software or service, and this is where illustrations come in handy. They may demonstrate your program's or service's functionality, and you can make your emails more aesthetically appealing by using illustrations. Illustrations are a great choice for SaaS businesses to help represent concepts and actions related to the software.
Adobe Illustrator or CorelDraw are some excellent tools that can use for eye-catching illustrations.
Charts, graphs, and infographics are the best method to show facts, statistics, and figures in an email. These allow you to visualize your data and make it easier to comprehend for readers.
Infographics can be as straightforward or as elaborate as you like, depending on the purpose of the email. For example, you'll want to include lots of information for annual summary emails. But in some other contexts, you might not need to visualize all your data.
The Best Formats for Email Images
You've heard of the idea of image formats. When uploading photos, you've probably seen JPEG, PNG, and GIF possibilities. But you might not consider the differences between these formats. Which should you choose as your email image format?
When using digital images, it's critical to comprehend image formats properly, and selecting the ideal format for each occasion will assist decide the overall quality of any layout.
Here is an overview of the different formats, so you can understand how to send pictures in email with an optimised image format.
JPEG:
JPEG is one of the most popular email image formats. It offers significant picture compression, reducing file size by 90 %. JPEGs are ideal for pictures and images with a lot of color and detail.
However, you should avoid utilizing this format for email pictures that include text.
Regarding image quality, JPEG images have the lowest grade; however, they are the most compressed and take up the least space in your emails.
It means that with JPEG images, you will benefit from fast loading times and are less likely to get blocked by spam filters.
PNG:
PNGs, or Portable Network Graphics, have higher resolution and a broader color palette. Unlike JPEGs, PNGs compress images without compromising their key, allowing them to retain the original image's quality.
One of the crucial advantages of PNGs as email images is their ability to function as transparent layers, enabling them to be easily set on top of other content. If email images are screenshots, use the PNG format, and JPEGs may lose some quality compared to the original.
PNG is helpful for email pictures that incorporate text, as well as for colorful shots and logos. However, its enhanced color capability comes at the expense of slower load times.
GIF:
GIFs are relatable and commonly used in social media posts, so your audience will likely respond well to them, especially if they're funny.
Gifs are best suited for fundamental illustrations such as logos and icons.
Because GIFs can only display a limited number of colors, they are not the ideal solution for stock photos.
Because most email clients do not enable movies, GIFs allow marketers to communicate more freely. They are modest in size, which allows for speedier loading times.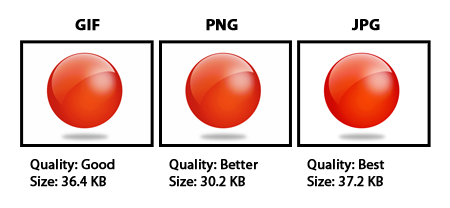 We recommend using JPEG for email images you want to load quickly on people's screens and PNG for any email images with text. When you wish to add animated material, use a GIF instead of embedding videos.
How to Find Out Images?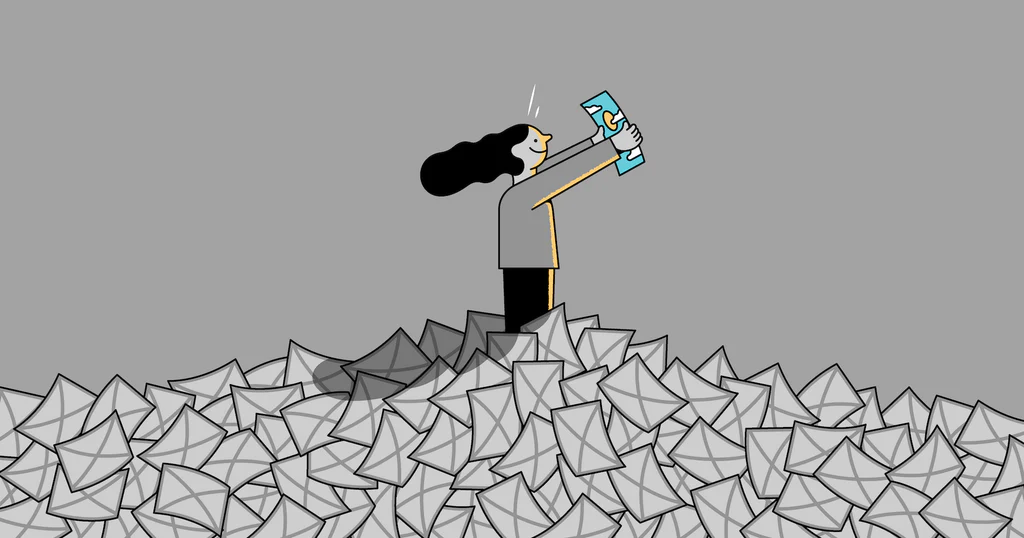 Stock images can be an essential marketing resource; millions of photos can be there for free, even for marketing and commercial purposes. But there's a right and wrong form of using stock photos. It's essential to use only royalty-free images to avoid any copyright issues in the future, and copyrights affect brand credibility and SEO.
Remember to look for pictures that are high quality and adequately cropped. Stock images can often look cliche and can seem overexposed and overused. Look comprehensively for unique photos that are not generic to make the most of them. ‍Stock photography clichés can impact negatively.
Shutterstock, Unsplash, and Pexels are some of the most popular stock platforms where you can get a photo for free or at an average price.
You can hire a photographer for real-life photos and use premium tools like Canva, adobe illustrator for illustration, infographics charts, etc. These are also the Sources, and choosing the perfect one significantly depends on your drive.
Should you use images in email marketing?
Promotional emails are not complete without images. HTML emails, as promotional emails, will include:
Email layout.
Text formatting.
Images
Coupons.
Rich visual elements.
Marketers use email marketing software such as Retainful, Omnisend, Mailchimp, and others to create beautiful HTML emails. These platforms provide marketers with ready-made email-building tools, allowing them to design an email quickly and have any pictures they desire. Typically, these email builders use a drag-and-drop interface and a WYSIWYG editor (a.k.a. what you see is what you get). So you can easily embed an image or GIF into an email by dragging the necessary content blocks and uploading the desired image.
See the example of a Retainful Email Content Editor below.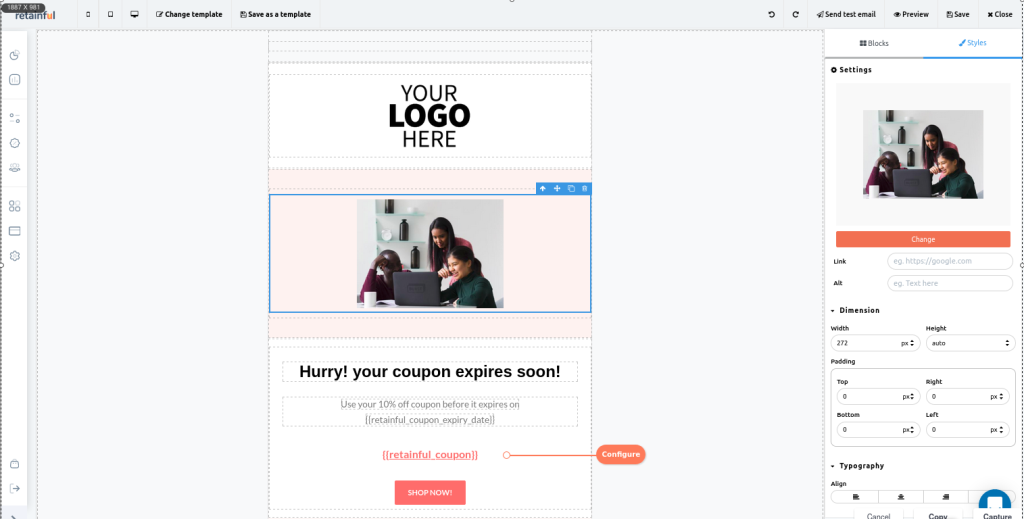 Retain customers effortlessly. Make your customers feel valued and appreciated with Retainful.
Best Practices
Only strategic email picture usage benefits your campaign; otherwise, it will adversely impact. You can enjoy all benefits of email images if you have an optimized email image inclusion strategy. Nothing big deal, just some easy tactics. Let's look at how to send pictures in the email.
Use Images that Capture Attention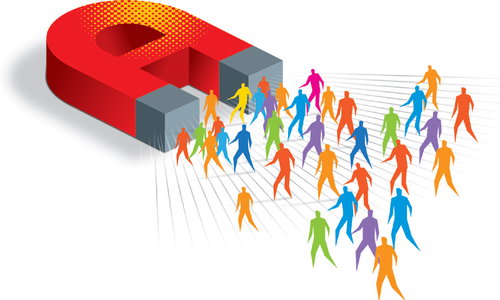 Visuals have a better likelihood of capturing attention than words.
It's normal for individuals to notice a visual first, and only if it grabs their attention will the customer look at what they are talking about. We need to include powerful and relevant images in our campaign.
While you want to keep your email images accurate, you must be creative to make every email image speak for itself. Use images to create a catchy, meaningful email working for your business.
Use Combination of Imagery and Text
Using a picture as a background and writing words over it is known as text overlay. While this provides variety to your social media postings, adopting it for email marketing reduces the amount of effort required by marketers and readers.
If you put text in an email background image, ensure it's in a good place so it doesn't get lost in the email picture.
Spam filters use various criteria to assess each message's relevance. For example, emails containing only images will likely be sent to spam folders by most platforms. Optimizing the image-to-text ratio is one of the easiest ways to increase the delivery rate and improve metrics.
We can't shoot a "perfect" image-to-text ratio, but most marketers try keeping images between 20% and 50% of the content. Don't be hesitant to try out different ratios to find what produces the best results.
Use Relevant Real-time photos.
Relevant real-time photos can bring a positive impact on your marketing strategy. Keep your email image relatable. That will lead to creating human connections in your email marketing.
If at all feasible, incorporate photographs of real people in your email marketing campaign, and it establishes a stronger connection and increases the likelihood that people will read your content. You can accomplish this in-house utilizing professional-level equipment for product pictures. Alternatively, you might engage a professional photographer to shoot the photos in a studio.
You can also request that your consumers send photos of their utilizing your products and services. Highlight the finest ones in your emails to convey the spirit of your brand.
Size Your Image
The Email image size might ultimately make or break the effect you're attempting to generate.
The entire idea is lost if the email image is too large or too small.
For email header images, keep the image height less than 200 pixels and the width up to 600 pixels. Also, when resizing, use the right tools to avoid distorting the image. Always send test emails to check how the email image appears, on different devices, before sending it out to customers.
Having too many large-sized photos might slow down download times and negatively damage the user experience. If the photos in your email take too long to load, the reader will most likely delete them and consider them spam.
Add Alt Text
Alt text (alternative text) is a text narration program used to Describe the image in a few words.
It is an essential step in using email images in marketing since ADA (Americans with Disabilities Act) guarantees that everyone who gets your marketing emails can understand the information in your graphics.
You want to ensure that you provide an inclusive experience for all your email subscribers by optimizing your email images so that everyone, including those with visual impairments, can comprehend your email image.
These small text snippets will also describe to the viewers what the email image is about in case the image fails to upload.
Target Your Audience
Personalized email marketing campaigns have produced 29% higher open rates and 41% higher click rates, generating an average ROI of 122%. It goes to show that it's worth investing in personalization.
Personalizing email marketing campaigns include deploying various email images for different portions of your mailing list. You customize your email's content to specific groups within your readership.
For example, suppose you're a travel blogger and know whether your readers prefer budget or luxury. In that case, you can create email images to reflect these preferences.
Every email marketing campaign has a specific goal. It is usually highlighted with the call to action button, taking the subscribers to the desired landing page or website. However, all the subscribers see the email image. A clickable email image that links to the appropriate landing page or website enhances click-through rates and your chances of converting subscribers into leads.
Hyperlink the images
Including links in email images can boost your click-through rate since the more links there are to click on, the more likely a reader is to connect them.
In Gmail, recipients can download the image if an image does not have a link. Recipients would not have this option if the picture had a link attached instead. When gliding over the image, the only choice they would have is to click through to the URL.
If your email image is only for illustration purposes, including a link may be unnecessary. In that case, don't try to push it. It makes sense to include a link if the image appears on the webpage to which the copy in your email refers.
Keep images relevant
The images for emails must be related to the email's text.
Everything, from the subject line to the call to action, must be relevant, and the text makes better sense when the email image is appropriate.
Keeping your brand identity is essential to instant recognition from your email recipients. Your photography quality affects your business's perception, and you can control how your brand looks with each email you send out. The brand colors, design aesthetics, styling elements, and image type must align with the overall brand identity you want to create.
For example, bold images will undoubtedly capture your audience's attention, but if the picture is unconnected to the text, you will lose credibility with your clients.
Instead of introducing anything out of the blue, foolproof the visuals make sense and fit the context. Make sure anything you utilize is consistent with your brand and content.
Avoid Overused Imageries
The same tip goes for text and images: do not overdo the quantity. Some people think about how to send a lot of pictures through email because it includes more information. But don't do that. The user does not want to read the endless information to find the required information and deal with many photos, which turns into visual noise, a type of pollution.
Spam filters can't read email images, so they suspect that there are some secret links or content hidden in the image-only newsletters. It will lead such a campaign can go into Spam, and subscribers can block illustrations displayed at their end. So, instead of the bright email, they'll see an incomplete or utterly blank message.
Optimize Images for All devices
The whole world is getting compacted to your mobile screen size.
It would help if you ensured that your email images look flawless across all devices. Desktop, mobile, and iPad consider all screens.
Its fundamental rule of SEO digital marketing is to check that your content works on different devices. In 2021, 81% of emails got engaged on mobile devices. That means over three-quarters of your audience will see your content on their phone. Please mind these figures when you're creating your images and content.
Before sending email images to subscribers, you must test them. It is to guarantee your email images look appropriately on every device and try your email images on various browsers and devices. Please send emails to coworkers or friends to solicit feedback.
Increase customer retention by sending highly customized emails that engage customers with Retainful.
Wrapping Up
Never settle with a premade recipe, even if it works just right for you. If you are not testing multiple variations of an email image, you will be unable to clearly state what type of email image will yield the most excellent results. You may uncover areas for improvement by using A/B testing or multivariate testing.
It is all about time and practice. Don't worry if you achieve an early result. Finding the correct balance between content and design takes time and effort. However, understanding what industry best practices to adopt takes less effort and preparation.
And remember, Choosing the perfect email marketing software will save you money and time. Email marketing tools like retainful offer the opportunity to add images and Gifs and a simple drag-and-drop editor. You can smoothly drag and drop the desired elements onto the email template body—an approachable option for both new and experienced email marketers.
And we want to say that visual marketing is the future wave, and the email with images is just the start of the wave. Start with email pictures and How to Send Pictures by Email, then move on to other possibilities.