Email marketing is a lifeline of every business and is one of the best ways to communicate with your customers. If done correctly, email marketing campaigns can increase sales, bring in new customers, and assist in customer retention.
More than half of the world's population, approximately 4 billion, uses email, And almost everyone owns an email address. Even the homeless keep an email address. Not a joke !!
No other marketing channel offers such a high return on investment. There is an average of $42 return for each dollar invested, and 78% of marketers say email marketing is essential for overall success.
This blog discusses the email marketing process, why email marketing is important, how to create an email marketing campaign, and some email marketing campaign best practices.
Let's move on.
What is an email marketing campaign?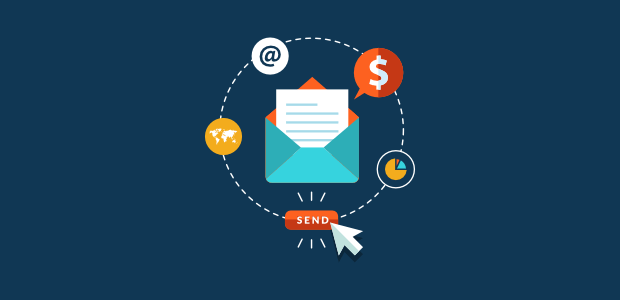 An email marketing campaign is a string of emails to nurture leads and current customers to increase engagement and sales. Each email directs users to a specific call-to-action, such as signing up, scheduling a call, continuing reading, or adding a product to their cart.
As a business, you can't ignore the email. Email marketing boasts the highest conversion rate of all marketing channels and delivers the best ROI.
Why is Email marketing important?
Email marketing is an effective marketing channel for connecting with leads, nurturing them, and converting them into customers.
It is vital for marketing strategies like inbound, content, and account-based marketing. Prospects and customers may get customized communications to help them engage with your brand. Email marketing is an excellent approach to capturing and maintaining your customers' attention.
Let's look at the benefits of email marketing in a glimpse;
It's one of the cost-effective digital marketing strategies with the highest ROI.
Email lets you combine your marketing channels, creating a more cohesive and fluid buyer's journey.
Email Gives more personalized and customized experiences.
Email helps to Increase customer engagement and deepen brand awareness.
Email is an excellent way to collect customer information for more targeted customer touch points.
And, You can use automation to boost your email marketing strategy.
A healthy email list is the core of any successful email marketing campaign. It must be foolproof. Because sometimes, customers can mistake the email, or some may enter the wrong one. You can seek plugins' help to avoid this and only collect new and active emails. Email verification for Contact Form 7 is one of the best email verification WordPress plugins, which helps you to verify the emails before the form is submitted.
How to create an email marketing campaign?
Whether you are new to an email campaign or have some experience, the sheer number of possibilities might be overwhelming. As long as you understand your email campaign goals and use a systematic procedure to compose your emails, it doesn't have to be that tough.
We'll show you in 10 steps how to create an email marketing campaign yourself. Define your email marketing goals
1. Define your email marketing goals
Before entering the email campaign, you must know your aim or action your recipient should take. The goals of the campaign vary according to time.
Sometimes you make an email campaign for brand awareness, and sometimes it may be for website traffic. Revenue generation, lead generation, feedback, surveys, and marketing channel promotion are some other goals.
You can only proceed by comprehending the aim. Then we can jump into the next step.
2. Buildup a targeted email list
A perfect email list is the core of a successful email marketing campaign. An email list is the collection of the email addresses of potential customers.
The email campaign list must be clean. You don't want to send content targeted to local people to customers abroad, and you don't have to send English content to Spanish-speaking people.
And please try to include only opt-in people.
Spam alert…! because email service providers are well-refined these years, try to avoid flagging it as spam. It is pretty technical, but it always tries to keep a clean list.
3. Segment your email list
Segmentation and micro-segmentation are compelling marketing tactics to increase open and click rates, which are two crucial email marketing metrics.
People only consume what they want; that is a fundamental sales principle. That's why relevancy is essential, and segmentation help to make more targeted and relevant content to recipients.
According to a survey by lyris, out of 100 people, email list segmentation caused to increase in open rates for 39 people, 28people said they had lower unsubscribe rates, and 24 said they had more significant revenue. Interesting figures…!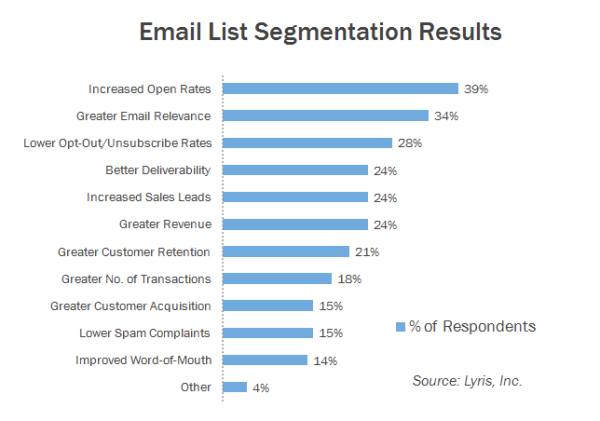 We can segment customers according to many criteria: demographic criteria like age, location, gender, time zone etc., and psychological criteria like purchase behaviour. There are technical criteria, too—website behaviour like website activity, opt-in frequency, open rate etc.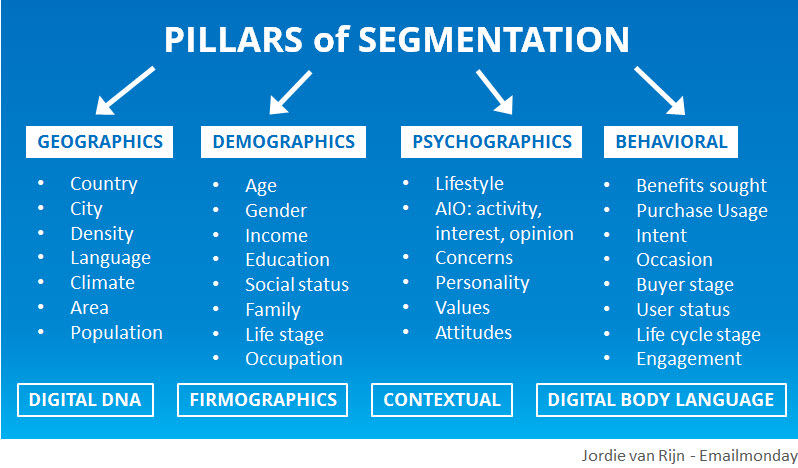 Anyway, it is not an easy task. There will be multiple interests, and you can't define a person entirely, and by A/B tests, you can make a buyer persona.
The email automation program makes it easy and effective. It is a tremendous task manually, and results can not be guaranteed.
4. Research your audience
It is all about your audience. Thorough research is the only way to achieve an email marketing campaign's effectiveness.
What does your audience need? What should our email offer them? Which type of campaign do you need here? What is the perfect time to hit? Or how we can perfectly implement it.
You must require an answer to all the above questions by the research. Then only you can proceed—a critical step.
Selecting the email campaign type usually carries along this step. Through the research, you will know what kind of email campaign suits your customer. Some types of email marketing campaigns usually used for ecommerce businesses are;
Newsletters:
Newsletters are the most intelligent way to connect with people. It is not a complete sales mail, but people are already tired of sales emails.
Newsletters are a bit of service too. People are getting engaged and educated about a product, service or program. As newsletters further develop into digital magazines, it is getting more effective in building loyalty.
Welcome email campaigns
A welcome mail is a transactional mail that shows your gratitude for signing up for a newsletter or accepting a product offer. It provides further information on a product or service.
Abandoned cart recovery email campaigns
Abandoned cart recovery campaigns are action-triggered emails which work when the customer moves the product to the cart and doesn't follow it. There is a lot of automated email marketing software for the effective abandoned cart recovery program. It is one of the best email marketing campaign practices because It is recovering your lost sales.
Winback email Campaigns
people will change with time. People will change their mail IDs, or they don't keep interested in your product but will never lose a customer without trying to reengage them.
Winback or re-engagement campaigns are email marketing processes to bring subscribers back to the herd. It works well if you have automated email marketing software.
Promotional email Campaigns
It is the most common email marketing process and a bit old school. We are all familiar with this email campaign.
It is a direct hit. Usually, it doesn't work well. But evolution affected promotional campaigns too. Humourous, emotional, curious, and innovative quality content are getting more attention in promotional campaigns.
Event Email Campaign
Typical but important! These campaigns plan around specific events for participation. Email marketing campaigns are important; find the perfect time to send an email and the optimum time to hit it. Usually, Monday to Friday, avoiding weekends, depending on customer persona.
As most inboxes are wrestling space for attention, if you don't send it at the correct time, it will be buried among many emails. Please avoid this situation.
5. Design your email template
A high-quality email template can ensure success for your email marketing campaign. People are flush with many email marketing campaigns so they can reach an impression in seconds.
Using an unprofessional, non-industry-standard template will negatively impact the campaign. Automated email marketing software is handy in this situation. There is a lot of automated email marketing software that offers updated industry-paced templates, and it makes the job easy and effective.
6. Write impressive content
Email marketing is a personalized channel. So, content in the emails must be personalized. It does not matter if you plan content for a segment of thousands of people, and the recipient must feel it's personal.
Personal means not just calling by their name. It would help if you addressed the customer persona: their desires, attitudes, and likes. And for god's sake, If you are not planning for a small group, try the email automation program.
Because content connects, try to inject humour because it is the best way to form a personal connection and lead to customer loyalty. Ensure content is simple and easy to understand. No one will invest time in complex content.
Provide simple language and easy-to-understand vocabulary in your content. Simple is more effective.
7. Make a perfect Subject line
A perfect subject line takes all. It is the first impression—a gatekeeper.
It's a call, and by this call, the recipient has to decide whether they want to open it or not. So it is a vital part of an effective email. There are many factors to obtaining a perfect subject line. But first, look at the customer persona; it depends on the person.
Generally, it must be short, personalized, and inspiring to click. And never include sales language because it's the favourite of spam filters, and your campaign will lead to the spam folder.
And if your subject line is short, never ignore the preview text. It is not necessary as the subject line. But it also helps to gain attention.
8. Test your campaign
Now you can test your campaign. May some people say its time consuming, but don't miss the chance to find mistakes and repair them. The test compares and distinguishes elements of your marketing campaigns and how they impact customers' reactions to them.
You can optimise the campaign with simple changes in segmentation and subject line. The subject line can test under its length, long or short, which one works.
By adding two completely different topics, you can test the topic.
You can test the subject line by changing its personalization method and offer. Test your preheader, too, with its inclusion and content.
We have discussed the importance of the optimum time for sending an email. Take some tests, and find the best time to reach your customer.
Don't forget to test how your call-to-action is getting received. Change and try your call to action copy and check which one works well. Maybe your "buy it copy" will be underperforming than "here your dream cream jeans".
People differ from person to person, so test the colours too, and you will find out what colour impresses your customer.
You can test that content works well when it is long or short. Or you can try your personalized content or generic content worked. Or check if your motivating content worked well over humourous content.
9. Launch your Campaign
All set?
Well researched, chose the design, made content, tested and proofed. Then you can launch the campaign. Make it live..!
Don't forget to add your mail address to the list. Don't you want to see what it looks like for the recipient?
10. Track, measure, and improve
Tracking, measuring, analyzing, and improving are the final steps you must follow for a successful email marketing campaign.
Suppose you have an effective automated email marketing software; tracking and measuring is easy, and you can also use the help of google analytics and shop hosting platform analytics.
Data is important.
Please remember to collect the following metrics to check out:
Click rate
Email open rate
Unsubscribe rate/Opt-out rate
Bounce rate
Subscriber interactions
Email deliverability
And more
This metrics analysis will help your future better campaigns.
We suggest using an email automation tool to set up email marketing campaigns. Retainful is a perfect example of an email automation tool that efficiently makes compelling email marketing campaigns.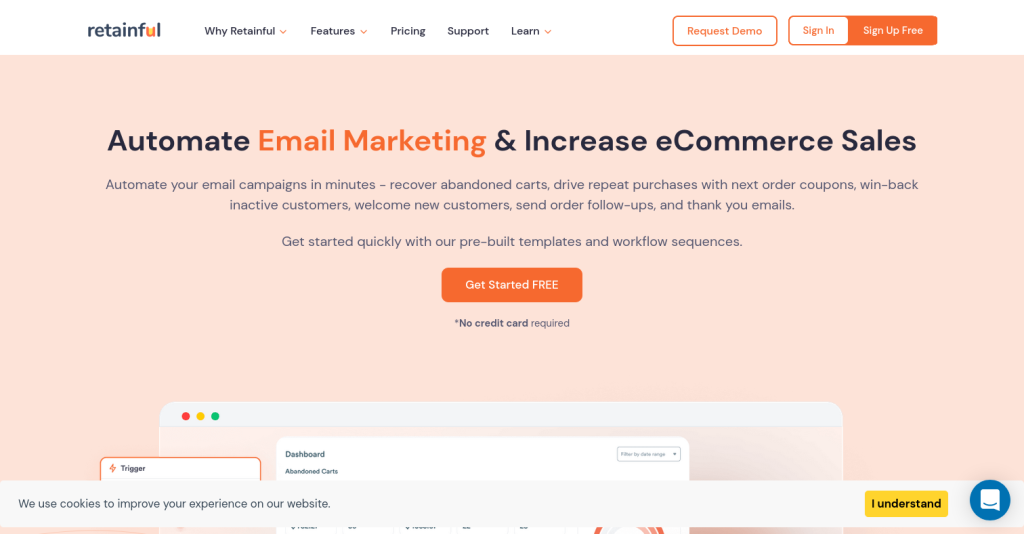 Using retainful will make your email campaign easy and help you reach your email campaigns to the next level. And it is exclusively free.
Wrapping Up
You can reach and connect with your target audience at an affordable cost in a more personalized way, and loyalty is a bonus. You don't need to compromise for algorithms, you don't have to pay a lot of money on social media channels, yet you will get a high return on investment.
A successful email marketing campaign has a lot of benefits. If you keep the steps described above and are ready to adapt to dynamic changes according to data, you can achieve success for your campaign.
Hope you get an idea of the email marketing process, why email marketing is important, how to create an email marketing campaign and email marketing campaign best practices.