Acquiring new customers is expensive and that's why most eCommerce stores initiate Refer a friend program to gain new customers using their existing customers.
Customers you gain through Referral program activities are most likely to be loyal and returning customers because people believe in recommendations from their peers.
Despite being one of the best customer acquisition channels, you need to constantly come up with new Referral program ideas to stay unique and to avoid getting lost in the competition.
So, to help you rejuvenate your Refer a friend campaign we have compiled some of the best Referral program ideas that can propel your store ahead of the crowd and gain you more customers.
Create a referral program for your store with Retainful & increase sales organically. Start Free Today
What is a Refer a friend program?
Refer a friend program is a process of turning your existing customers into brand advocates and acquiring new customers through Word of mouth marketing.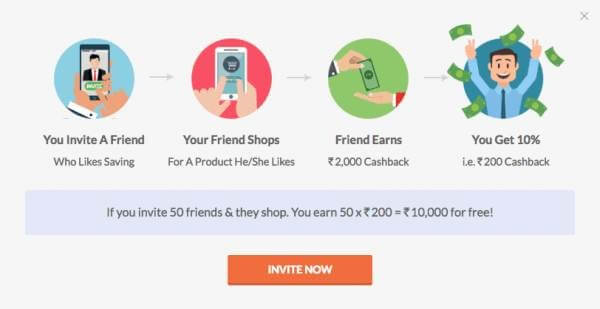 Refer a friend program is one of the very few organic customer acquisition mediums that can reduce the cost of acquiring customers and boost your retention rate.
You can offer exclusive Referral rewards to your customers for being a referrer or a referral and foster customer loyalty & trust in your store.
Why do you need a Refer a friend program?
Acquiring new customers can be hectic but what if there is a way to get new customers through your existing customers.
Wouldn't you be happy if your customers do the work for you?
This is what Referral programs can do. It makes your customers work for you and get you invaluable leads through word of mouth.
This is not the only reason why you need a Referral program. Here are a few more,
It makes customers feel like they are a part of the company
It helps you boost your customer retention rate
Referral customers have a higher average lifetime value
Referred customers are 18% more loyal than others
Referred customers spend more on their purchases
72% of marketers have expressed that referral activities generate good leads
Refer a friend program produces high-quality leads that can increase your conversions and revenue. When used right, it can be more than just a customer acquisition channel and that's why you need it in your store.
So, if you want your Referral program to do more than just acquire new customers, here are some of the best referral campaign ideas that can work wonders for you.
Brilliant Referral program ideas to inspire you
Use the right Referral app
The key to a better refer a friend campaign is to use the right app to run a referral program. A lot goes around in a referral campaign which makes it harder to be run manually.
So, the best refer a friend program idea would be to choose an automated app that can track all the referral activities and offer rewards to both the referral and the referrers.
We cannot avoid discounts when talking about referral activities. The best referral discount idea is to offer different types of discounts as incentives so that it can attract more customers.
One such automated referral app is Retainful.

Retainful offers a referral link to each customer which can be shared via social media to invite friends. When customers enter the store through the referral link and purchase the product both the referral and referrer will be rewarded with discounts.
It can track referral activities and display real-time analytics in the dashboard. You can also communicate with your customers through Referral emails and notify them about the referrals.
This best referral app lets you offer three types of discounts,
Percentage discount
Flat amount discount
Free Shipping discount
If your store has a large volume of overseas customers, you can offer Free shipping as a referral reward and encourage more referrals. It can also help you minimize cart abandonment.
The first referral campaign idea is to choose the right referral app and Retainful can be the perfect choice for your WooCommerce or Shopify store.
Craft a catchy headline
Once you've chosen your referral app, the next referral campaign idea is to craft an enticing headline for your refer a friend campaign that can resonate with your audience instantly.
Your referral headline will be the first visible thing for your customers. So it must be catchy, simple and memorable. Especially, it must say what customers can get from the program.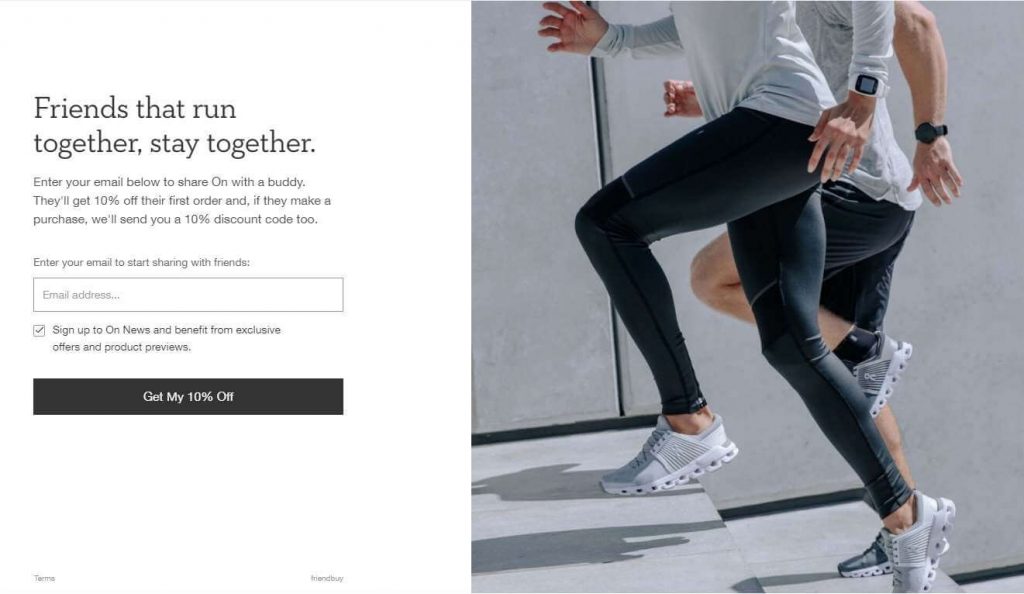 Here is a Referral program example from On running, their headline says "Friends that run together, stay together", this can certainly trigger customers into taking an action.
Headlines like these can emotionally touch your customers and encourage them to make a move and inspire them.
Some more headline examples that can make customers take action,
Refer and you shall receive
Give 50% off. Get 50% off
Get $50 by showing your friends some love
Get $50 for every friend you refer
Tell your friends about us and you both get $20
Give $100, Get $100 for Yourself
Keep your headline minimalistic and straightforward. Express what customers can do and what they can get within a sentence, don't gloat in your headline.
Design an enticing landing page
The next brilliant refer a friend program idea is to design a landing page that can help you convert/motivate your customers to refer their friends.
Is a landing page necessary for a referral program?
Most eCommerce stores don't understand the importance of a referral landing page. They just display a popup or a block in the storefront to let customers know about their referral program.
Well, the problem here is, a popup/block will not answer all the customer queries. Yes, customers will have a lot of doubts regarding your refer a friend campaign.
So, designing a separate landing page is crucial because you can display all the necessary information that your customers might need.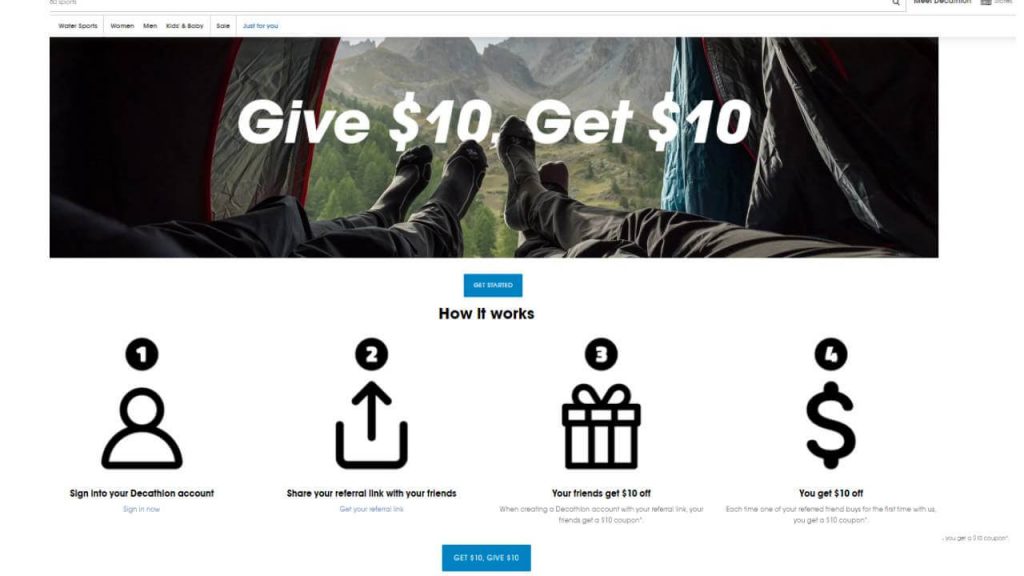 Here is a refer a friend program landing page by Decathlon. Their headline is bold and straightforward, it tells the value of the program right away.
The headline is followed by a quick "How it works" tutorial to let customers know what they have to do, refer their friends and earn rewards.
You can use ravishing images to let customers know what your referral program is about. In the above example, you can see, Decathlon has an image of two individuals lying down in a tent.

This shows that you are trying to help the customers strengthen their bond with their friends. Images engage with customers better than text, so use persuasive images to get customers excited to refer their friends.
Sometimes, you can also use images to break up a paragraph which makes it easier for the customer to read it.
Always remember, the best referral program idea is to have a separate landing page for your refer a friend campaign instead of a popup if you want to boost conversions.
Know when to ask your customers
Next off in our referral program ideas is the value of time. You must know when to ask your customers for a referral, if you do it too soon, you might be interpreted as an annoying salesman.
An annoying salesman will not get any conversions. So, it is crucial for you to ask for a referral at the right time if you want your refer a friend campaign to succeed.
You might be wondering what is the right time to ask for a referral?
The right time to ask for referrals is when the customer is most engaged with your brand or most satisfied with your service.
Look for customers who've just completed their purchase or subscribed to your newsletter. Target your refer a friend campaign ads to these customers because they've just been converted.
Also, post-purchase messages have the highest conversion rate so the chances of your customers referring their friends after completing a purchase will be high.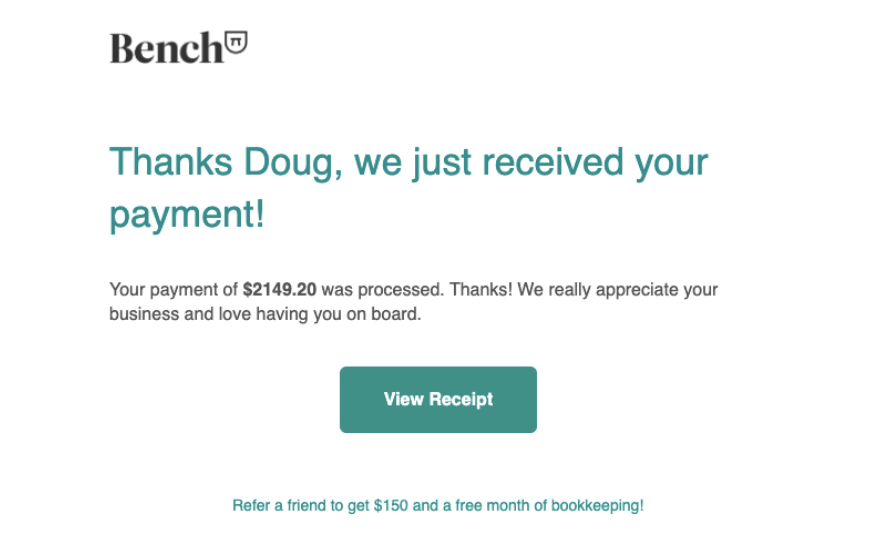 It is a very short window, so display a popup or send an email right after the customer has completed a purchase. If you wait, your request will probably be ignored.
Make sure people can find your program
What use is a referral program if your customers can't see it or your promotional methods are unable to take your refer a friend campaign to customers?
Most eCommerce stores are oblivious to the fact that their refer a friend campaign needs to be promoted. They think that their customers know about the referral program.
This is one of the major reasons why many referral programs fail, Not promoting it properly.
Alright, how do I make it discoverable?
Simple, once your referral program is active on your website, use all possible channels to get the word out to the customers. Here are some of the channels that most stores use to promote their refer a friend campaign.
Homepage of your store
Send a mail to your potential customers
Display the program on your header
Use a widget or a website popup
Mention it on your blog page, about us page and landing pages.
Write blog posts about your referral program
Send email newsletters
Display it on your Social media
Transactional emails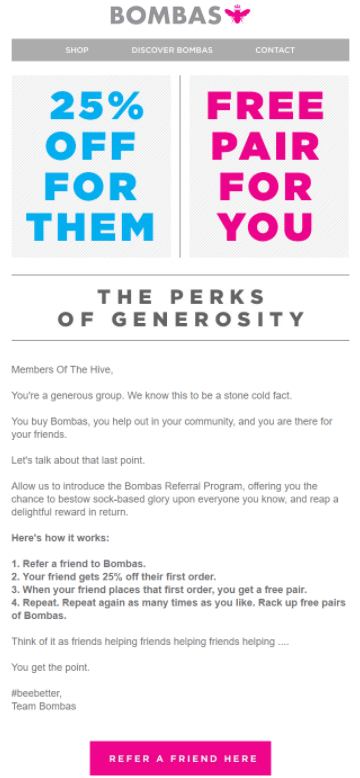 Here is an email from Bombas that introduces its referral program to its members. One of the best referral program ideas is to invest your efforts in promoting your refer a friend campaign.
As we mentioned previously, the best referral campaign idea is to create a separate landing page for your program and place the links on the header & footer of your website.
Make use of Social gifting
The idea of gifting someone without expecting anything in return gives us satisfaction, doesn't it?
You can make use of the feeling in your Referral program through Social gifting. Social gifting is similar to one-sided incentive.
Yes, in Social gifting only the referred customer(friend) gets a reward and the referrer will not be rewarded anything.
Sounds weird, doesn't it? You may be wondering, will it work?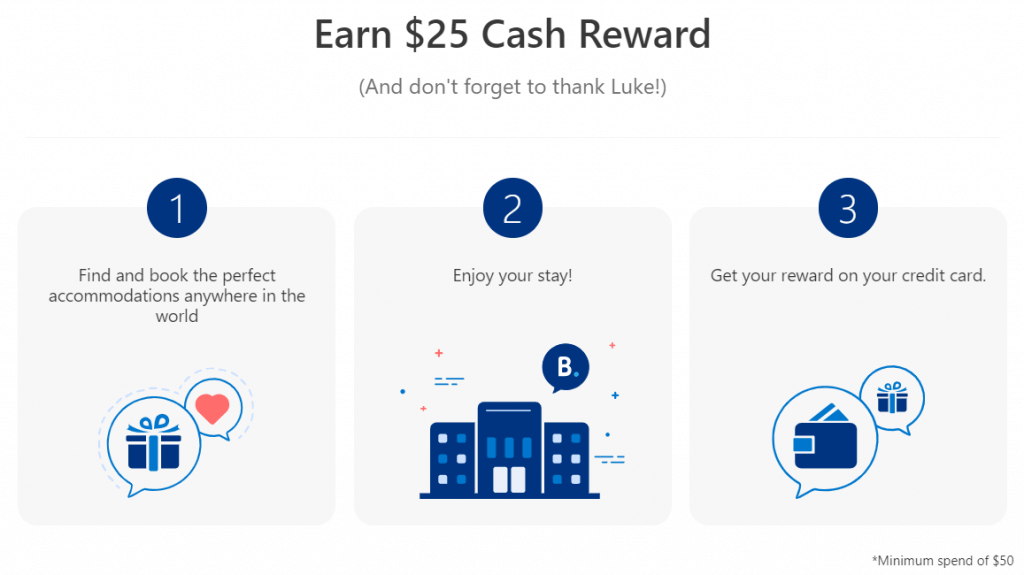 Yes, it does work and many eCommerce stores have been offering Social gifting as a reward for a long time now and that's why we included it in our referral campaign ideas.
Customers prefer this reward when they want to gift their friends or loved ones without expecting anything in return. It gives you a warm feeling and it also minimizes the awkwardness of referring someone just to earn a reward.
How many of us have done that? We would ask our friends to download an app or purchase a product from our link so that we can earn a reward.
Whereas Social gifting reduces the awkwardness and gives your customers a chance to share your brand wholeheartedly which makes the referral more meaningful.
Drive word-of-mouth sales and acquire new customers organically with a referral program
Offer mystery gift as a reward
We all get excited when we watch a movie for the first time, don't we? It pushes us to the edge of our seats to know what is going to happen, finally, the climax arrives and we all get satisfied.
This tactic can be used as a Refer a friend program idea to increase your conversions.
Yes, curiosity is a very powerful persuasion strategy. The only way you can make customers curious in a Referral program is by offering mystery gifts as a reward.
Mystery gifts will motivate your customers to take part in your referral program and bring in new customers to your store. Sometimes, customers might get bored of regular discount rewards, so keeping them in a shadow and surprising them with a gift can is one of the creative ways to increase referrals.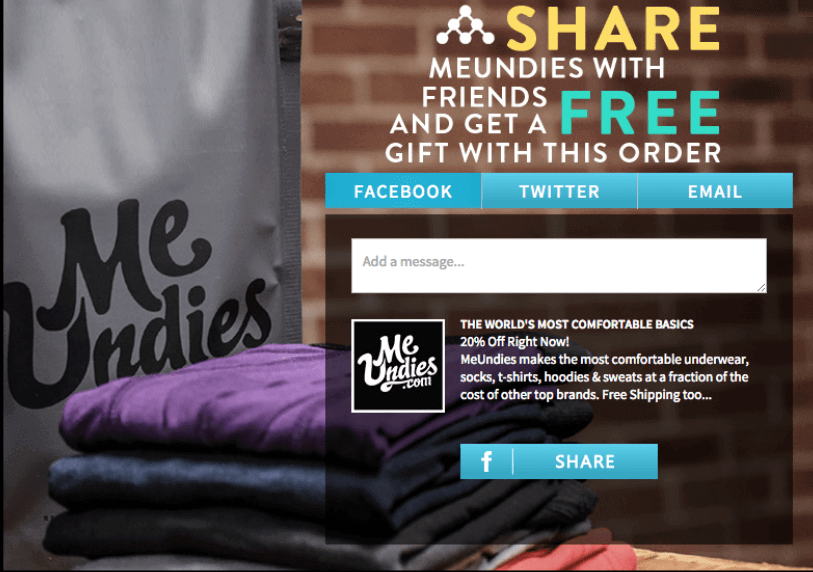 You can see that only "Free Gift" is mentioned and not its name. This will make them curious to try your referral program.
The only catch here is the mystery gift must be something that your customer might like. So, get to know about buyer personas, take a look at their purchase/search history and reward the appropriate gift.
Rewarding appropriate gifts to customers will make this process wholesome for customers and they will come back for more.
So, take full advantage of curiosity and get them excited with mystery gifts and gain more referrals using this referral campaign idea.
Make the referral process easy
One of the major reasons for the failure of many eCommerce referral programs is the referral process itself. Making the process easier is the best referral program idea you can get.
Most eCommerce stores keep wondering why their refer a friend campaign is not converting enough. They often don't realize that the problem is right in front of them, a complex referral process.
Streamline your referral process, make it easier for the customer to refer their friends.
Make sure that the customer can refer their friends within 2 clicks, if it goes more than that the customer will leave your program.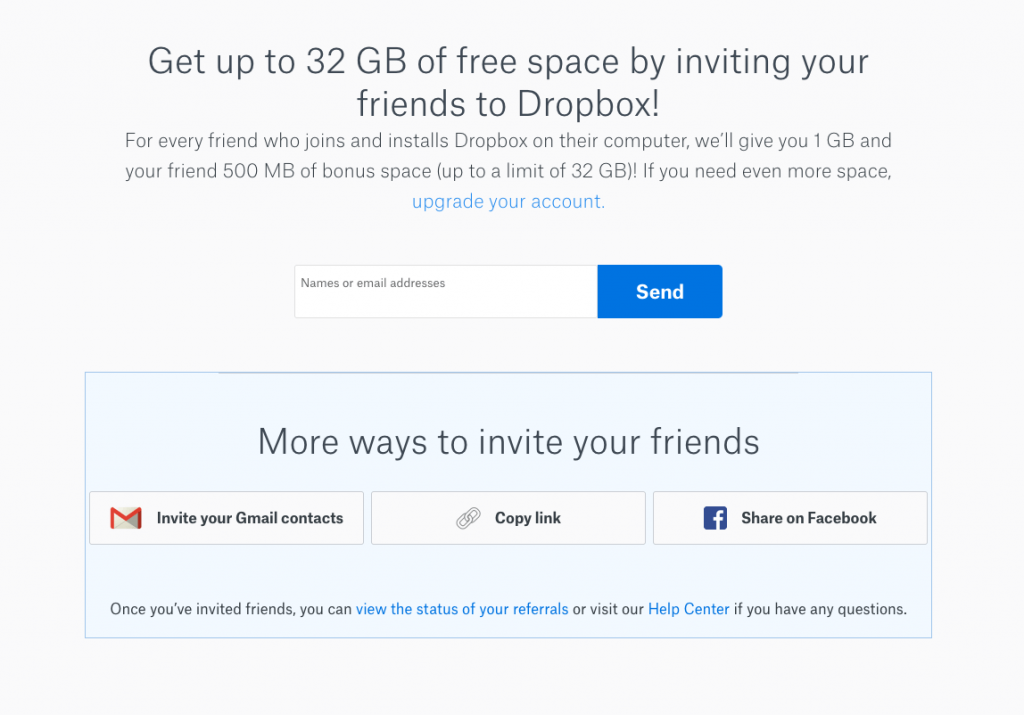 Here is a referral program from Dropbox. To refer their friends, all a customer has to do is enter his friend's email address and click "Send". The referral links will be sent to his friend.
This is how easy the referral process must be. Here are a few more points to remember while designing your referral program,
Include social sharing links
Provide a little tutorial on how the process works to eliminate confusion
Send referral links to every customer so they can share them easily
Don't include additional navigation
Avoid using long forms. Keep the forms short and enable auto-fill.
Having a complex referral process will annoy the customer and push them away from the store. So, keep it easy to refer customers and boost your conversions.
Offer higher incentives for maiden referrals
This referral program idea is quite new and it is also one of the creative ways to increase referrals.
Most eCommerce referral programs offer the same rewards for both the referrer and the referral and it doesn't matter if it is the maiden one. We are not saying that this strategy is bad, it works great but you can still enhance it.
Wondering how to enhance it?
Simple, offer a higher reward to the referral who is visiting your store for the first time. You can also offer higher rewards to your existing customer who has referred for the first time.
For example: Instead of offering 10% off for every referral, you can offer 30% off for the maiden referral and 5% off in the subsequent ones.
Offering higher rewards for the first referral will motivate the customer to take part in the refer a friend campaign and keep giving you referrals.
Offer tiered rewards/points system
All of us love a good competition, don't we? Well, the next referral program idea has something to do with competition.
So, how long do you think your customer will be referring his friends to earn the same repeated discount rewards?
Remember, in the beginning, we said that many referral programs have failed due to a lack of innovation. Well, if you keep offering the same rewards for an extensive number of referrals, your customers will probably get bored and quit your refer a friend campaign.
You need to make it exciting, change your reward strategy. This is where a tiered rewards or points system comes into play.
Here, instead of offering the same rewards, you can introduce multiple levels just like a game. Once the customer has achieved a certain number of referrals, he gets promoted to the next level.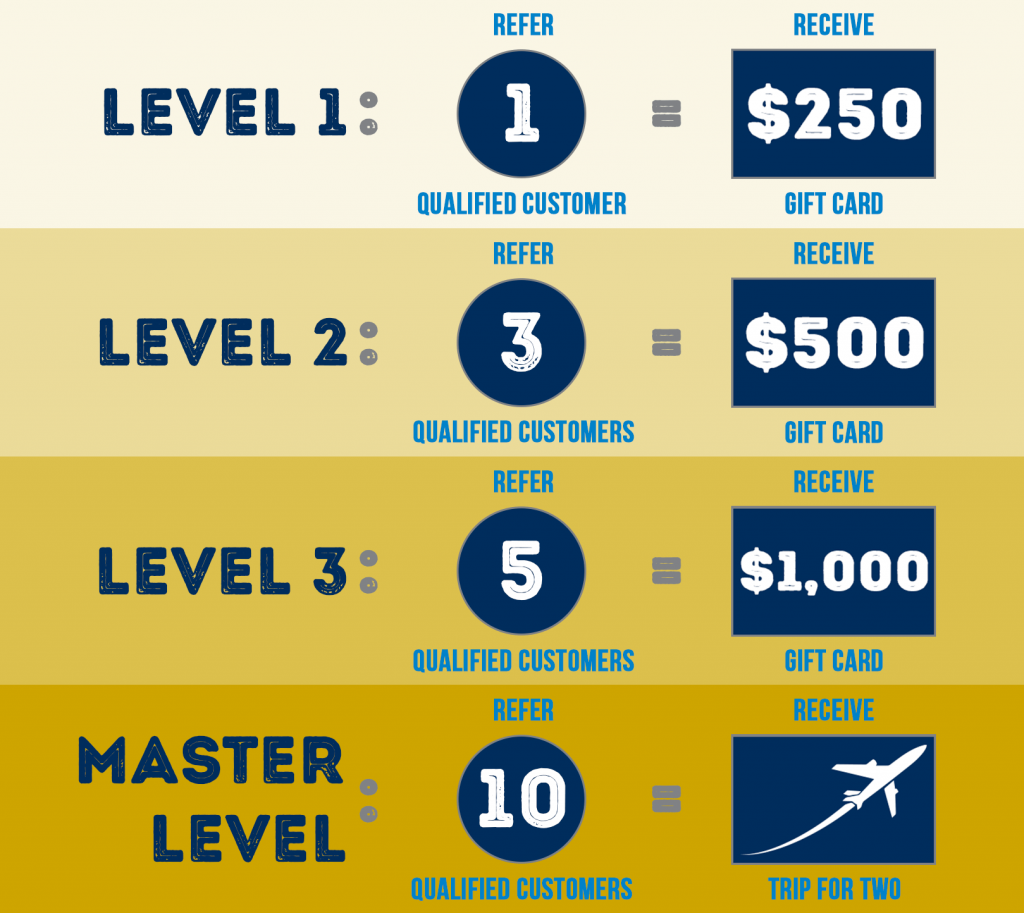 The next level has different and better rewards compared to the previous level and levels keep rising and rising. This will introduce a competitive spirit among the customers.
Now they'll spontaneously bring in more referrals to get to the next level and earn better rewards. Customers get their rewards and you get your referrals, no one is annoyed or bored in this system, a win-win situation.
Many online businesses are opting for this strategy to get their customer excited and gain more customers. One such example is Harry's.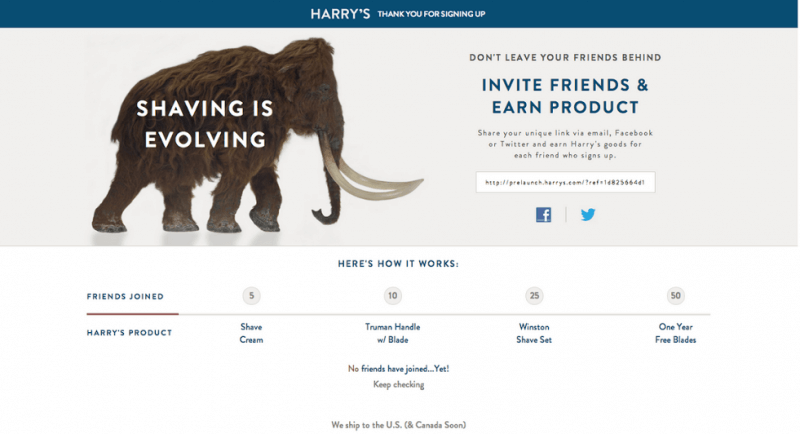 You can see Harry's are offering a tiered reward system. As the customers keep referring their friends the rewards get better and better as they move up the level.
Customers are impulsive to competitions, so use that to your advantage and start gaining more customers to your store using this referral program idea.
Run a Referral contest
Ecommerce customers love contests and that's why many prominent eCommerce stores like Amazon, Alibaba keep running contests to engage with their customers better.
You can use the same tactic and run a Referral contest and offer great prizes. This is one of the creative ways to increase referrals and make people talk about your brand more.
Since it is a contest, there must be few rewards only, prizes for the winner with the most referrals. You can use this tactic to get more customers, subscribers, social media followers and more.
Huckberry ran one such Referral contest,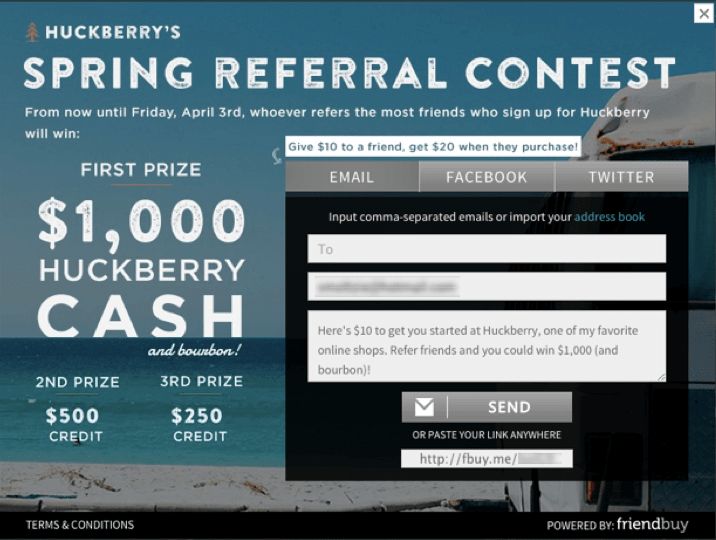 You can see that there are only 3 rewards in this contest and the customers that achieve the most referrals win the prizes accordingly.
But the smart thing that Huckberry did here was not the prizes but the time limit. Yes, there is an expiry date for this Referral contest, this creates a sense of urgency among the customer which drives them to act swiftly and it is one of the creative ways to increase referrals.
Always remember, only offer a few prizes to increase the demand and make the contest available only for a limited time to create the FOMO.
Using this Referral campaign idea you can achieve more conversions through your referral contest.
Reward for a social cause
Adding to our list of best Referral program ideas comes the Social cause tactic. This referral marketing idea has been catching on like a wildfire recently due to the pandemic and other calamities.
Alright, how many individuals have visited your Houses and asked for donations and clothes for the ones in need or for charity?
Well, this referral reward tactic is similar to that. What you do is instead of offering discounts or monetary rewards you ask customers to refer their friends and for each referral, you(store) send a donation to the charity on behalf of your customers.
You can easily foster loyalty and boost your brand image by contributing to society.
People love to help the ones in need and you can give your customers an opportunity to help others through referrals.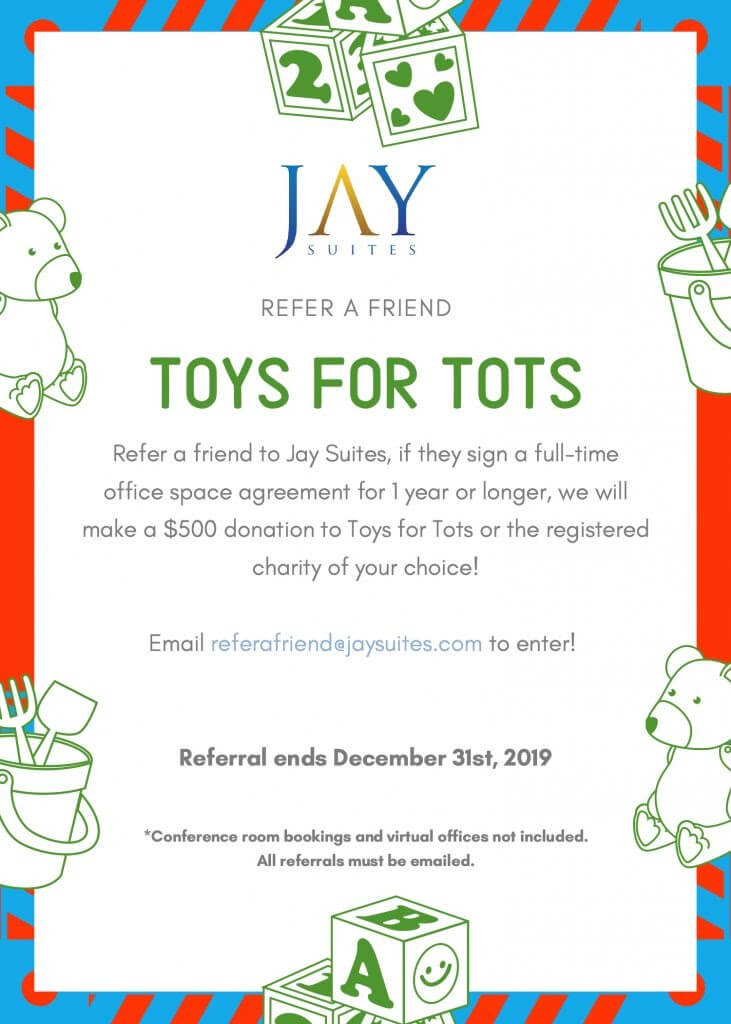 Customers will be encouraged to bring in new customers because they know that their efforts can help the ones in need. This will warm their hearts and push them to be your loyal customers.
But you need to be relevant here, you cannot own a shoe store and offer toys for charity. Your customers won't believe you. Make sure that your brand aligns well with the charity that you choose.
By far this Refer a friend program idea is the best way to gain more customers for your eCommerce store.
Retarget your customers
And thus we have finally arrived at our last Referral program idea, retarget your customers.
These are the customers who showed interest in your Referral activities initially but forget to take part in it for various reasons. You need to reach out to these customers again.
We all get retargeted by eCommerce stores every day, we just don't realize it.
Let us remind you: You visited Amazon yesterday and browsed for speakers but didn't purchase them. And today when you were surfing through your Facebook feeds, an Amazon ad displaying the same speakers that you were looking at pops up.
If you have ever faced this, then you have been retargeted. This is how it works and you can use this same tactic for your Referral program too.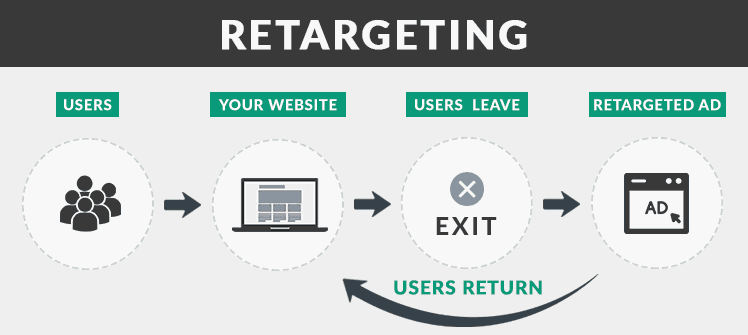 So, if your customer has visited your referral page and hasn't joined your referral program, you can retarget them by displaying your ads when they are on other mediums.
You can do this on Facebook but you need Facebook pixel and you need to set up an ad campaign which is pretty simple.
Not only Facebook, but you can also retarget your customers on your website too. You can display a popup about your referral activities to that particular customer and persuade them to take part in it.
Retargeting is a successful strategy and that's why most eCommerce stores have been doing it for years. It's time for you to innovate your referral program by retargeting it and gain more customers using this referral marketing idea.
Wrapping up
If you want your Referral Program to keep giving you more and more customers then you need to incorporate new tactics and innovate it. Many eCommerce stores follow a few clever referral program ideas to stay ahead of the competition, it's time for you to do it too.
We have compiled some of the finest Refer a friend program ideas that can enhance your referral campaign. These creative ways to increase referrals can propel you ahead of your competitors and gain you more customers.
Create a referral program for your store with Retainful & increase sales organically. Start Free Today