In the world of eCommerce, it's essential to maintain communication with your customers beyond the initial purchase. Follow-up emails can help you build strong relationships with your customers, improve customer loyalty, and ultimately drive more sales.
As a Shopify store owner, you have access to a variety of email marketing tools that can help you automate your follow-up emails and deliver personalized content to your customers.
In this article, we will explore the best Shopify email software for follow-up in 2023, considering features, pricing, and ease of use. This guide will provide you with everything you need to know to make an informed decision.
Boost your Shopify sales with Retainful's follow-up email today! Sign up now and start recovering lost sales with our powerful automation tools.
Why Should You Have an Email Marketing Platform for Your Shopify Store?
The right Shopify email software makes it easy to send multiple automated emails based on your subscribers' actions. You can also integrate the tool with your Shopify store, making it easier to send triggered emails and track customer data.
Here are more reasons why you need Shopify email software for follow-ups:
It helps you to engage customers automatically at a low cost.
You can convert leads into loyal customers much faster than other marketing platforms, such as Social Media.
Email marketing has a better ROI than other marketing channels (for every $1 you spend, email returns $38).
You can easily measure crucial KPIs such as open, click-through, and conversion rates that can enable you to understand the performance of your business.
Shopify Email Software for Follow-Ups: Price Comparison Table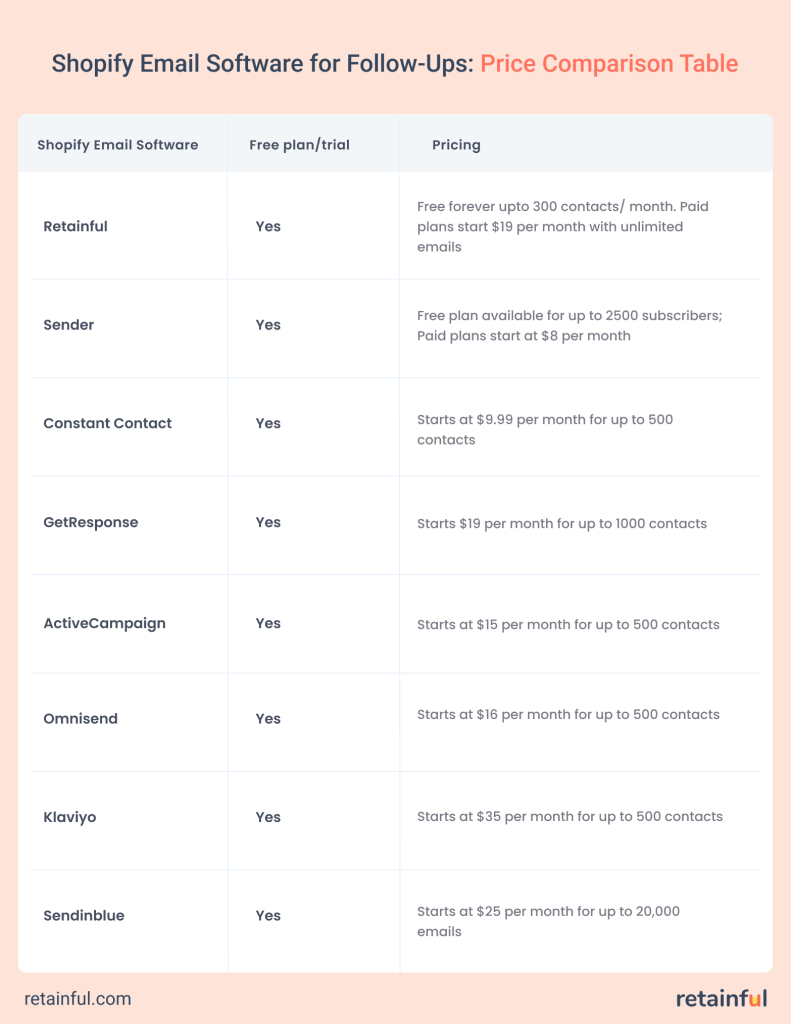 7 Best Shopify Email Software for Follow-Ups
Now, let's look at the seven best Shopify apps for email you can use to reach out and follow-up with your target audience:
Retainful – Shopify follow up email app and email marketing automation app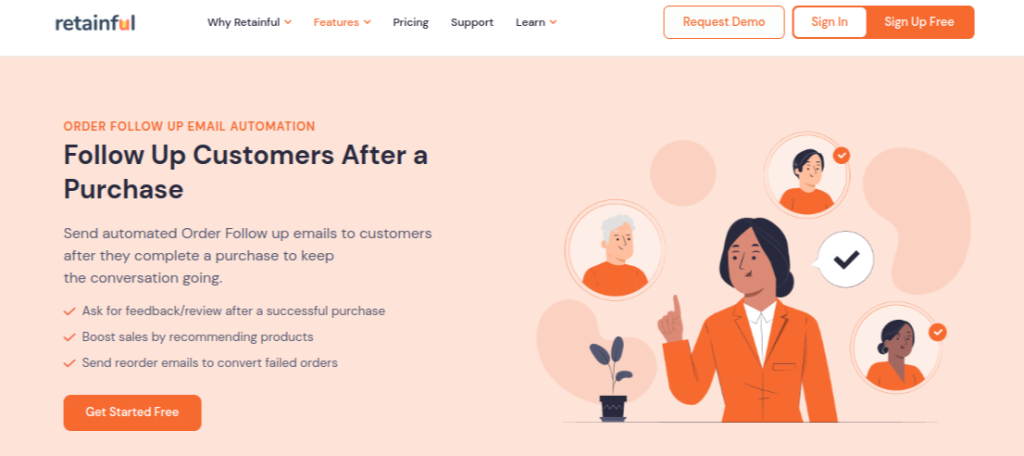 Retainful is an email marketing automation tool that lets you connect with current and potential customers. Its ability to personalize preferences, scheduling follow ups and sending next order makes Retainful the best Shopify follow up email app.
Retainful has pre-built templates which allows you to create email campaigns in minutes and its drag and drop feature allows you to customize your follow up email campaigns. Retainful's integration with Mailchimp and Hubspot helps your ecommerce stores help the process of sending follow up emails from your ecommerce stores.
With its robust A / B testing feature, you can create and test different email campaign metrics, optimize better engagement, and conversion rates and its insightful dashboard allows you to live track its performance with necessary adjustments.
Automating your follow up emails helps you engage with customers throughout the journey, increasing customer engagement and drive more sales to you shopify store and making Rettainful the best shopify email software for follow-ups
Retainful Key Features:
Pre-built templates
Thank you emails
Welcome emails
Abandoned cart recovery emails
Next order coupons
Easy-to-use interface
Real-time insights & analytics
Customer Journey Builder
Referrals
No coding skills required
Time your email campaigns
Easy integration and easy set up
Retainful Pricing
Free plan available for 500 emails and 300 contacts. (No credit cart required)
Pricing starts at $19 per month for 2000 contacts per month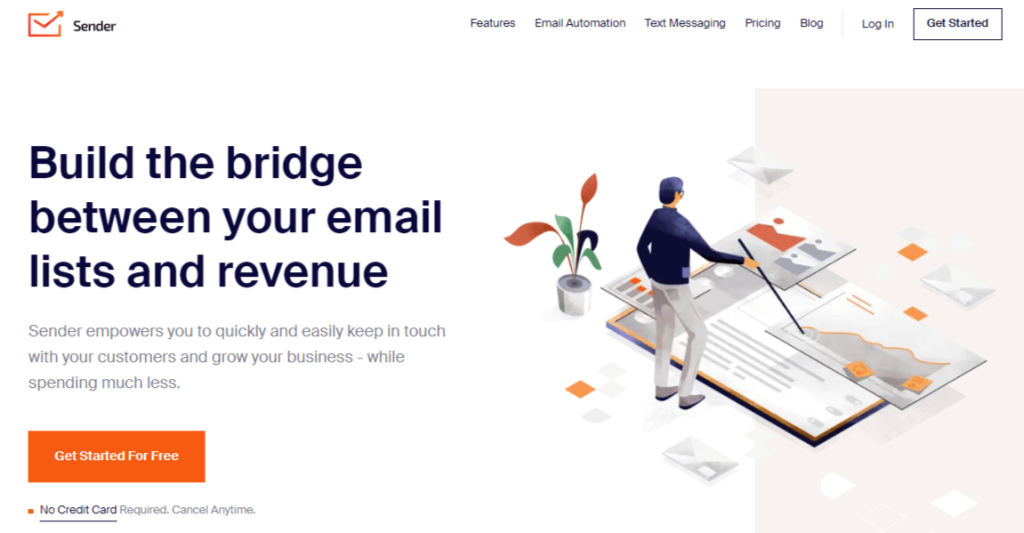 With its affordability and a strong focus on ecommerce and omnichannel marketing, Sender takes the top spot on our list. The platform helps Shopify store owners design email and SMS campaigns from a single dashboard to grow revenue and automate customer engagement.
With its automation builder, you can create conditional workflows triggered by actions such as link clicks, abandoned carts, email opens, or product purchases.
On top of that, Sender has a library of free premade templates to help you create stunning newsletters, popups, and sign-up forms. You can customize these templates or design your own using the drag-and-drop email builder.
The platform also provides reporting and analytics features to track your email and SMS marketing efforts' performance, individual subscriber activity, and sales in real-time.
Sender Key Features
Omnichannel marketing with email & SMS automation;
Intuitive drag-and-drop email editor;
Sign-up and popup forms for lead generation;
Mobile-responsive email templates library;
Reporting & analytics.
Sender Pricing
Starts from $8 per month for up to 2500 subscribers and 30,000 emails;
Free Forever plan available for up to 2500 subscribers and 15,000 emails per month.
Constant Contact — Shopify Email Software for Customer Growth Tools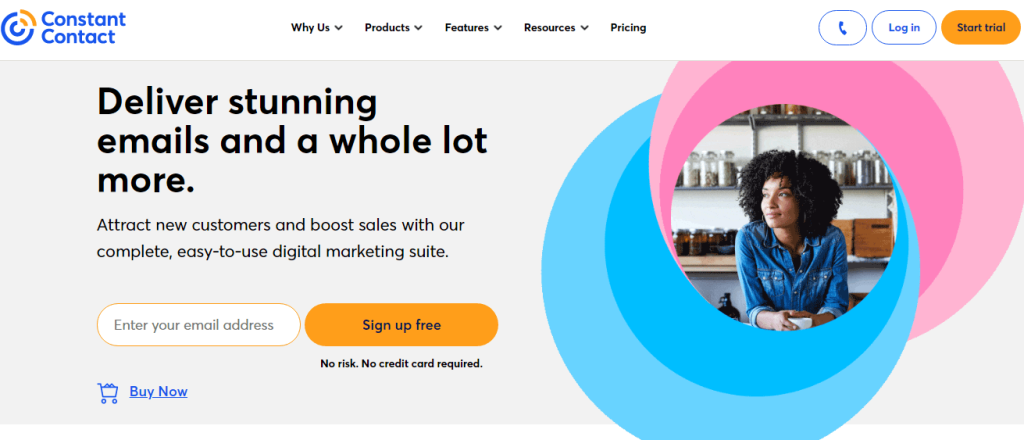 Constant Contact is one of the well-known Shopify email software for follow-ups that help Shopify stores monitor their marketing campaign efforts.
The platform has reporting features that give valuable campaign performance data and offer live customer support, social campaigns, and surveys.
You can also sync your Shopify store's information with your Constant Contact account to create automated customer segments. As a result, you can send highly-targeted emails to engage your current and new customers and boost sales.
Constant Contact Key Features
Customer list growth tools;
Segmented data and integration;
Customizable popup and sign-up form;
Mobile-friendly email templates;
Real-time reporting.
Constant Contact Pricing
Starts at $9.99 per month for up to 500 contacts;
60-day free trial with limited features.
GetResponse — Shopify Email Software for Advanced Features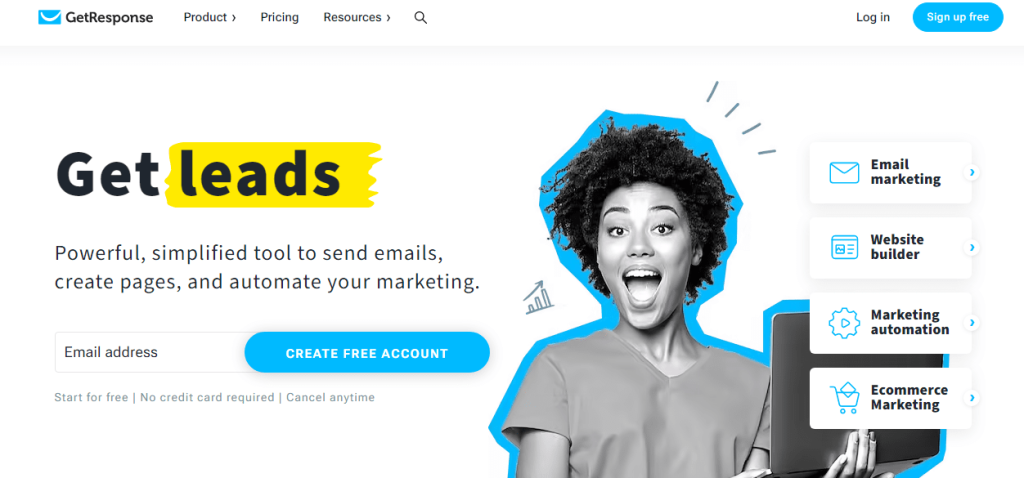 GetResponse is an email marketing platform that enables you to grow and follow up your Shopify store's audience. It offers features such as CRM, webinars, and landing pages that help you manage your subscriber lists, send automated emails, and test your email campaigns.
The platform has mailing segmentation options and an autoresponder service that lets you automate responses to customer inquiries. You can also use pre-defined templates to implement automated campaigns, generate custom reports, and track campaign results.
On top of that, its AI product recommendation feature analyzes your visitors' needs, behavior, habits, and preferences to make tailored recommendations.
GetResponse Key Features
Web push notifications;
Marketing automation workflows;
Live chats;
SMS marketing automation;
Signup forms and popups.
GetResponse Pricing
Start at $19 per month for up to 1000 contacts and unlimited newsletters;
Free plan available for up to 500 contacts and 2,500 newsletters per month.
Sign up for Retainful today. Send timely and targeted follow up emails that bring customers back to complete their purchases.
ActiveCampaign — Shopify Email Software for Sophisticated Workflows and CRM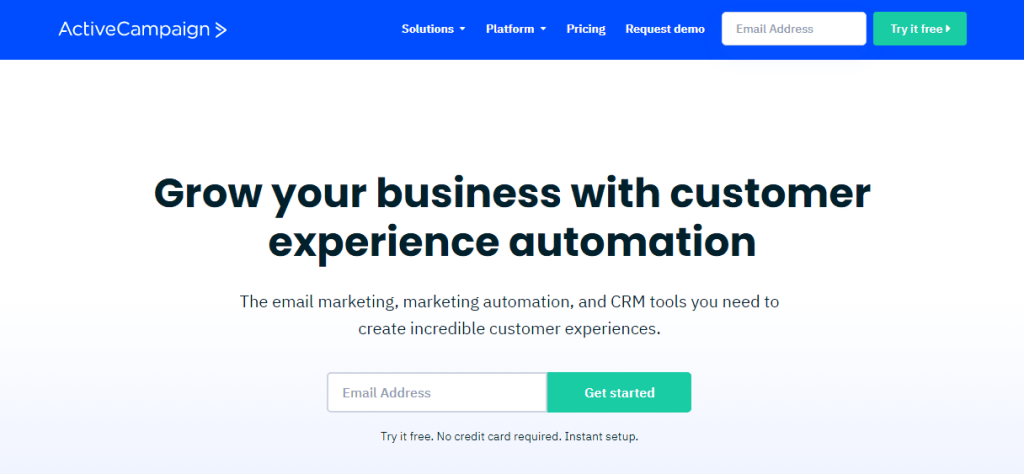 Next on our list is ActiveCampaign, Shopify email software for follow-ups designed for Shopify businesses to send personalized messages to their customers.
The platform offers personalized email automation and advanced segmentation that enables you to reach the right people at the right time with the right message.
The Deep Data integration helps you view high value customers who make a purchase or abandon a cart in your Shopify store. They're then automatically included as contacts in your ActiveCampaign account.
On top of that, Store owners can benefit from ActiveCampaign's CRM, conditional email content, dynamic segments and tagging, advanced automation, and integration to other platforms such as Zapier and Revenue Conduit.
ActiveCampaign Key Features
Advanced Segmentation and email personalization;
Deep Data integration;
Drag-and-drop email builder;
Integration with other platforms.
ActiveCampaign Pricing
Starts at $15 per month for up to 500 contacts;
Free plan also available with limited features.
Klaviyo — Shopify Email Software for Advanced Selection of Pre-built Workflows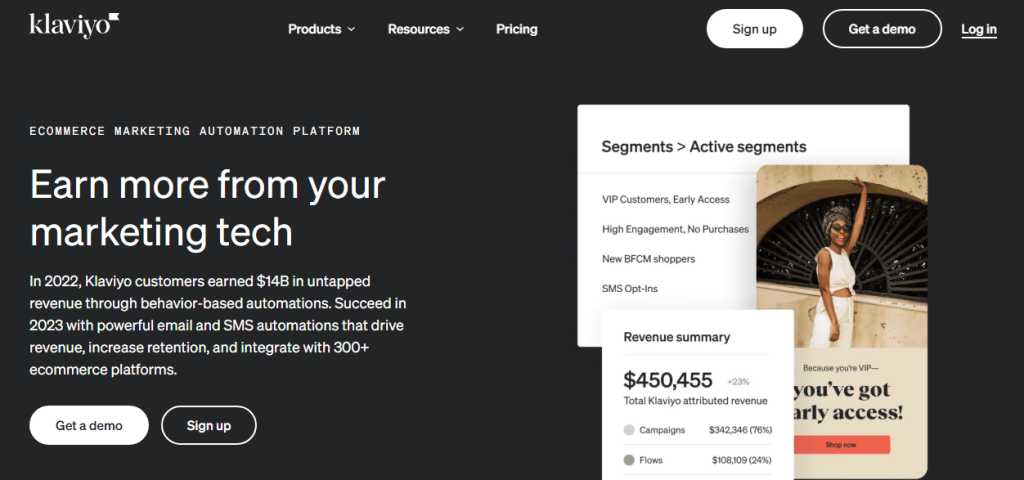 Klaviyo is an effective email marketing tool for ecommerce stores, which makes it an excellent option for Shopify store owners.
The platform provides multiple tools to boost email marketing campaigns, including robust segmentation, signup forms, and marketing automation across different channels. The tool also comprehensively analyzes the efficiency of your marketing campaigns and evaluates customers' purchasing behavior to help you segment them appropriately.
Klaviyo's integration with Shopify is simple to set up, and the platform has attractive email templates with dynamic blocks. That means you can choose what customers see depending on their data.
Klaviyo Key Features
Shopify integration that's easy to set up;
Segmentation;
Centralized customer profiles;
Targeted campaigns and email automation.
Predictive analytics reporting;
Personalization and dynamic forms.
Klaviyo Pricing
Starts at $35 per month for up to 500 contacts and 5,000 emails;
Free plan is also available for up to 250 contacts, and 500 monthly email sends.
Sendinblue — Shopify Email Software for Low-Cost Features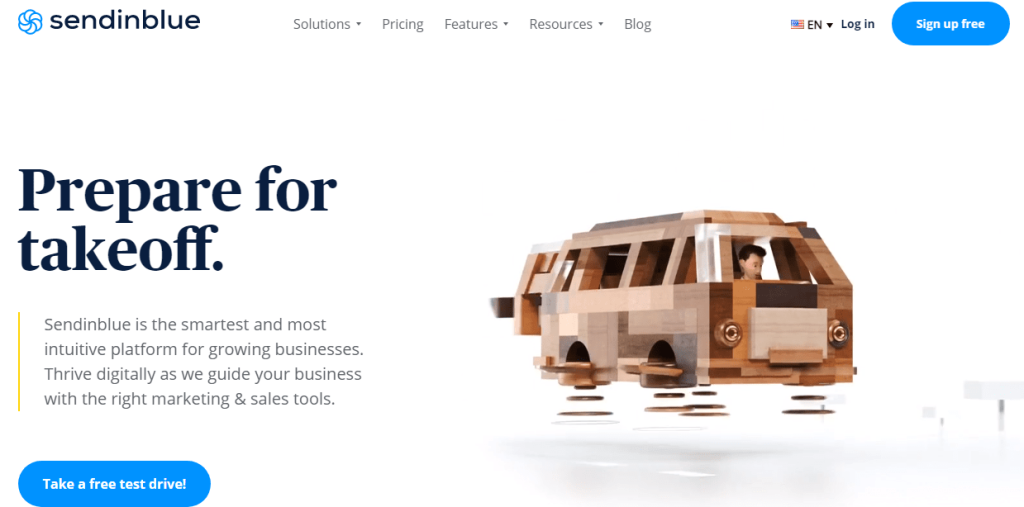 Sendinblue is a powerful Shopify email software for follow-ups that helps Shopify store owners deploy effective email and SMS campaigns, track detailed performance metrics, and improve email deliverability.
The platform has impressive features, including Facebook ads, landing pages, lead scoring, live chat, and automation.
With Sendinblue, you can export order data from your Shopify account to Sendinblue. As a result, you can view data on individual contact records and develop automation and segments around that information.
Sendinblue Key Features
Email and SMS marketing;
7Workflow editor for automation;
Easy-to-use email editor;
Professional email segmentation and personalization;
Sales CRM for easier contact management.
Sendinblue Pricing
Start at $25 per month for up to 20,000 emails and unlimited contacts;
Free plan also available with unlimited contacts and 300 emails per day.
Key points for Shopify Email Software for Follow-Ups
There you have it. Six of the best Shopify email apps to help you capture leads and follow up with your customers.
As you select the tool that suits your Shopify store, take note of these key features:
Budget-friendly plans
Easy drag-and-drop editor
Real-time insights
Top-notch customer support.
An email marketing tool with these features will help you grow your customer base effortlessly.
Ready to take your Shopify store to the next level? Retainful's follow-up emails will drive repeat sales and build customer loyalty.
Conclusion
Email marketing remains one of the most effective ways to reach out to customers and drive sales for your Shopify store. With the right email marketing software, you can create personalized and automated follow-up emails that keep your customers engaged and coming back for more.
In this article, we have explored some of the best Shopify email software for follow-up in 2023, highlighting their features, pricing, and ease of use. By carefully considering your business needs and choosing the right email marketing software, you can take your Shopify store to the next level and build a loyal customer base that drives long-term success.
What's the best email marketing tool for Shopify?
The best email marketing tool for Shopify depends on your email marketing needs. The sender can be a good choice if you want affordability and features to grow your business. However, if you're looking for a tool with sophisticated workflows and a CRM, ActiveCampaign is your go-to choice.
Can Shopify email send automated emails?
You can build and manage email automation on the Marketing page on your Shopify admin. This automation feature enables you to create workflows that send emails to customers when they meet a specific trigger or milestone.
Does Shopify have a system for a follow-up email marketing?
Shopify has an email system called Shopify Email that lets you create, send, and track your email campaigns inside Shopify Marketing.
Why email marketing is important in 2023?
Email marketing is important in 2023 because it continues to offer one of the highest return on investment (ROI) for businesses, and allows for personalized and targeted communication with customers in an increasingly digital world.
What is the email trend for 2023?
The email trend for 2023 is expected to focus on personalization and interactivity, with businesses using data and technology to create more engaging and relevant email content that resonates with their target audience. Additionally, we can expect to see continued growth in mobile optimization and accessibility, as more people rely on smartphones and tablets to access their email.