Are you looking to set up a Shopify store? As of August 2021, there were over 1.7 million businesses using Shopify as their eCommerce platform. Building a successful eCommerce store takes more than just a great product. It requires strategic planning, customer engagement, and the right tools.
Shopify apps make your Shopify store more powerful by extending its functionality. There could be some aspects of your business, like email marketing, customer retention, referrals, and payments, that need improvement, and these best Shopify apps can improve those aspects and run them smoothly.
But there are several apps out there, and it can be overwhelming for you to choose apps for each category. That is why we have made a list of the best Shopify apps in the following categories to supercharge your store.
Extend the Shopify store's functionality with Retainful and increase conversion rate and revenue
What are Shopify apps?
Shopify apps are tools that help online store owners enhance their businesses. These apps can help with anything from marketing and sales to customer support and inventory management.
Are you struggling to track your inventory? There's an app for that. Want to offer personalized recommendations to your customers? There's an app for that too. Shopify apps are designed to make your ecommerce easy so you can focus on growing your business. So why not take advantage of them?
Why are Shopify apps important for your business?
Shopify apps are essential for businesses because they provide tools that can help Shopify owners achieve their goals. These apps help boost sales, improve customer experience, and streamline operations.
There are 6000 apps in the Shopify app store, and finding the best Shopify app for your store's needs would be like finding a needle in a haystack. You might need an app to automate your marketing, or you might need one to retain your customers. The key is to identify the areas of your business that need improvement and then find an app that can address those needs. By doing so, you'll be able to save time, increase efficiency, and, ultimately, grow your business. Remember, the best Shopify app can make all the difference.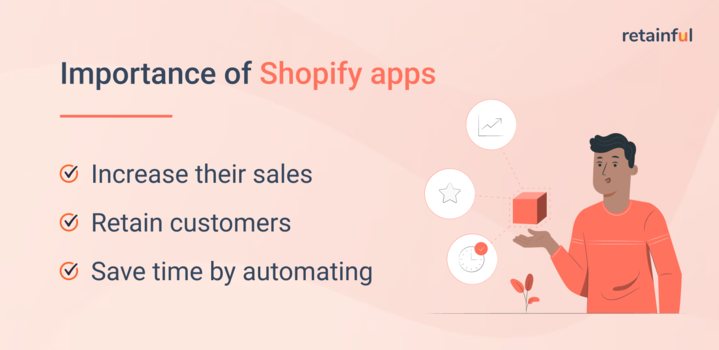 According to a survey conducted by Shopify, merchants who used apps from the Shopify App Store experienced a 30% increase in sales compared to those who didn't use any apps. This suggests that apps can help merchants improve their sales and grow their businesses.
Email Marketing Apps
One of the best ways for businesses to communicate with their customers is through email. But did you know that email marketing can actually help businesses make more money? According to Litmus, for every dollar spent on email marketing, businesses can expect to earn $36 in return! That's a pretty good return on investment, right? Think about the revenue you could be making when you have the best Shopify app installed for your store.
We have picked out some of the best email marketing apps for Shopify for you to implement the right one for your business.
Retainful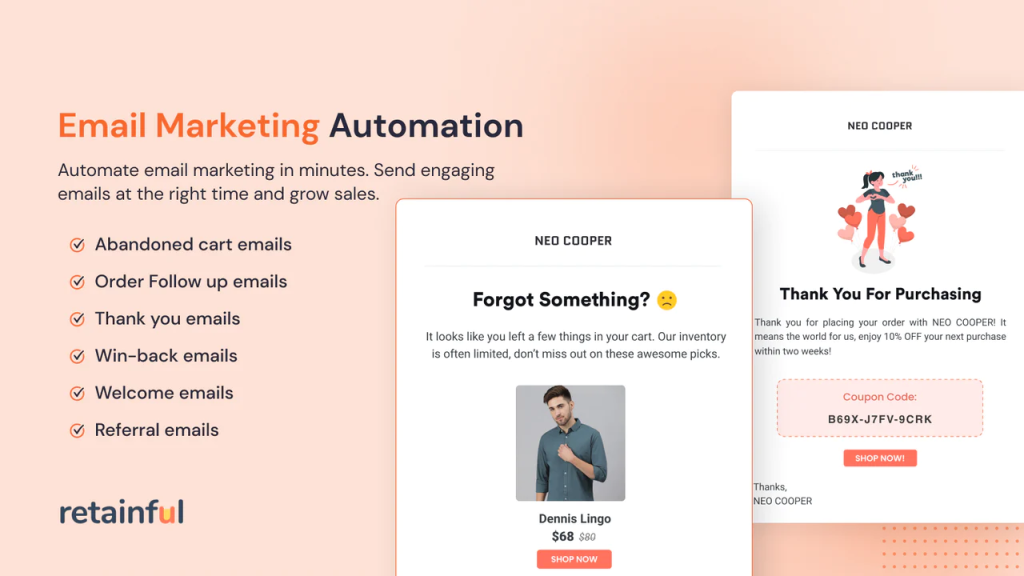 Looking for an automated email marketing app that can help you recover lost sales and grow your revenue? Retainful is an all-in-one email marketing app for Shopify that helps increase sales and increase the revenue of your shopify store. Retainful's email automation features can help you reach target customers with personalized campaigns increasing customer engagement and lifetime value.
Retainful tops the list of best Shopify apps with its abandoned cart recovery email feature. It reminds customers of what is left in the cart, encouraging them to complete their purchase with offers and discounts like free shipping. Additionally, its follow-up emails engage with customers after a purchase, allowing store owners to collect reviews and re-engage.
Retainful's next order coupon lets you generate coupons that act as a motivation for customers to make repeat purchases, and its referral feature allows store owners to effortlessly acquire new customers by turning existing customers into brand ambassadors. This helps retain and acquire customers and fosters customer loyalty.
Key Features
Personalized Automated email campaigns
Email Segmentation and campaign
Pre-built email templates
Track Abandoned carts in Real-time
Automatically send email notifications
Drag & Drop email editor and personalization
Single-click recovery link to recover the abandoned product items
Thank you emails
Win back emails
Order follow-up emails
Shortcodes for personalization
Pricing
Free version available.
Essential – $9
Starter – $19
Growth – $49

Sender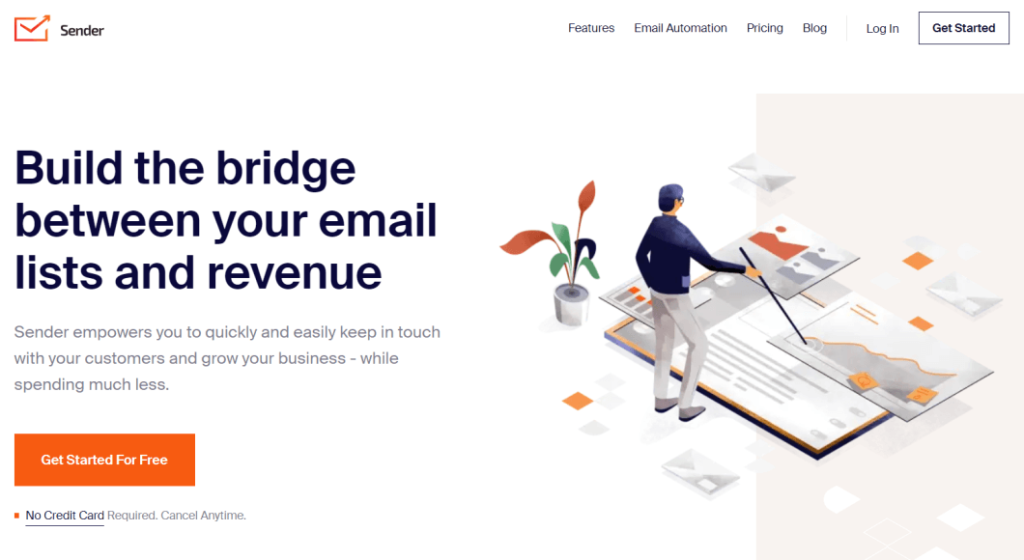 Are you looking for a tool to help you boost your sales and reach new levels of customer engagement? Sender has just the right features for the job! Sender is among the best email and SMS marketing apps perfectly suitable for Shopify eCommerce stores.
Their omnichannel automation and smart segmentation features will ensure that your target audience receives the message they want to receive and when they want to receive it. With the simple drag-and-drop builder and free premade templates, you can also trust your emails to be visually stunning in no time. What's more? Sender provides you with detailed analytics – get valuable insights and improve your email marketing efforts for even better results.
Key features
Email & SMS automation
Smart segmentation & personalization
Welcome email sequences
Abandoned cart recovery emails
Winback emails
Drag-and-drop email builder & premade templates
Detailed analytics
High-converting popups & forms
Pricing
Free version available for 2,500 subscribers.
Standard – starts at $8
Professional – starts at $29
Professional – starts at $199
Custom price for enterprises.

Privy

Privy is an email marketing app for Shopify that comes with a feature called a new item notification that is sent to customers via email or SMS when the shop owner adds a new item to the shop. If you want your customers to engage your customers right from the moment they sign up, you could make use of the automated welcome emails. This best Shopify app also sends abandoned cart reminder emails to remind the customers of the items that are left in the cart they abandoned.
Privy is popular for list building with the help of popups that can be customized to any extent. In addition, it also offers overlays, banners, flyouts, embedded forms, and a spin-to-win wheel. All of them are for the same purpose – to capture emails.
As hard as it can be to retain an existing customer, it is equally hard to make a new user sign up but the spin-to-win popup makes it all easy. It pops up with a discount and prompts the user to enter their email.
Key Features
New item notification
Abandoned cart recovery emails
Welcome emails
Spin to win popup
Pricing
Starter – $30
Growth Plan – $45
Mailchimp

MailChimp lets you easily sync contacts to create an email list. What makes MailChimp the best Shopify app is that if you don't have an email list, you can create a landing page and ask people to sign up.
With MailChimp as your email marketing app for Shopify, you can create beautiful and professional-looking emails that are sure to catch your customers' attention. Do you want to send personalized emails to your customers, based on their past purchases or browsing history? MailChimp's segmentation feature allows you to do that. MailChimp offers detailed analytics that can help you track your email campaigns' success and adjust your strategy accordingly.
Key Features
Contact sync
Landing page creation
Attractive email templates
Segmentation
Detailed Analytics
Pricing
Free
Essentials – $2.33/ month for 12 months
Standard – $3.48/ month for 12 months
Premium – $69.55/ month for 12 months
Customer Retention Apps
Shopify customer retention apps can help you keep your existing customers happy and coming back for more. The best Shopify apps would make it easy for you to reward loyal customers with exclusive discounts or special offers.
You can also run loyalty programs and reward your customers based on the referrals they make to increase customer retention.
UpPromote Affiliate & Referral

UpPromote is the top recommended affiliate/referral app for Shopify. This app enables brands to leverage the full spectrum of marketing strategies, from referrals and affiliates to loyalty programs and influencer collaborations, to build strong and sustainable growth loops.
It also provides extensive customization options, allowing you to tailor your affiliate program to align with your brand's unique identity. UpPromote is one of the best Shopify apps because it lets you increase brand exposure and drive revenue growth through the power of affiliate and referral marketing.
Key Features
Build an Affiliate Network & Referral Program
Customization Options
Flexible Commission Structures
Seamless Tracking
Motivate Affiliates
Automated Payment Process
Pricing
Free plan available.
GROW AFFILIATE – $29.99/month
PROFESSIONAL – $89.99/month
ENTERPRISE – $199.99/month
Rise AI

Rise.ai uses machine learning to analyze customer behavior and provide personalized recommendations, loyalty programs, gift cards, and promotions to keep your customers engaged and satisfied.
And if you're worried about customers who haven't made a purchase in a while, Rise AI has got you covered! It can automatically send emails to remind them of your store and offer incentives to come back.
But that's not all; Rise AI is one of the best Shopify apps for customer retention because it has smart pop-ups that offer personalized discounts and promotions based on your customers' behavior in your store.
Key Features
Personalized product recommendations
Loyalty programs
Targeted promotions
Customer segmentation
Pricing
Starter – $16.99
Small Business – $47.99
Pro – $159.99
Premium – $479.99
Smile Loyalty and Rewards

Smile Loyalty and Rewards lets Shopify store owners create and customize reward programs. These reward programs help Shopify customer retention by increasing sales by making customers place repeated orders. This customer retention app for Shopify instills loyalty in customers and keeps them engaged.
Key Features
Set points for creating an account, placing an order and posting a review.
Create a personalized loyalty program
Encourage users by setting points for coupon expiry
Pricing
Starter – $49/month
Growth – $199/month
Pro – $599/month
BON Loyalty Rewards Referrals

Do you want to keep your customers happy and coming back to your Shopify store? Well, Bon Loyalty Rewards Referrals might just be what you need!
With BON loyalty rewards, you can offer your customers points for various activities, such as creating an account or sharing your store on social media. Plus, they can redeem those points for discounts or free products! This is a great way to retain customers.
But that's not all; the app also sends notification emails to remind your customers of their rewards and activities. And if you want to attract even more customers with this best app for Shopify, try the referral program feature and reward both existing and new customers!
Key Features
Points and Rewards
Notification emails
Referral program
Pricing
Lite $15/month
Growth $199/month
Professional $349/month
Referral apps
If you are a Shopify owner looking for a way to grow your business, look no further than the following best referral apps for Shopify! These apps allow your customers to refer their friends to your store, earning rewards for both parties. Not only does this increase customer engagement, but it also helps spread word of mouth about your business to new potential customers.
Imagine your loyal customers telling their friends about your products and services, all while earning rewards for doing so. Your shop gets the necessary exposure, and your customers get satisfied with rewards.
Referrals and Affiliate by Shopjar

Would you be interested in turning your existing customers into brand ambassadors to acquire new customers? Referral and Affiliate by Shopjar is the best referral app for Shopify because Shopjar is all about creating a community of loyal customers who will keep coming back for more. Shopjar offers referral programs with customizable rewards.
Shopjar is one of the best apps for Shopify referrals because it lets you create a referral landing page where the customers can enter their friend's email addresses to invite them to your store. To make things easier, the app doesn't require customers to create an account. Customers can log in using their mobile number and OTP.
If you think you need more exposure, you can give the affiliate program a try. It promotes your product, builds the trust of your customers, and drives more traffic to your website. Incentivizing your affiliates drives more sales and loyalty among customers and affiliates.
If you also want to reach out to your customers in a way that would be convenient to them, you can try the additional feature of Whatsapp chat abandoned cart recovery. WhatsApp live chat has got pre-built Whatsapp message templates that can be sent for cart recovery, order confirmation, and delivery. With the WhatsApp cart recovery feature, you are not restricted to one Whatsapp message; you can send a series of Whatsapp cart recovery messages to make your customer come back and finish the purchase.
Key Features
Quick referral campaign setup, easy-to-use interface
Flexible referral rewards – Percentage, Fixed discount, Free Product, Free Shipping
Landing page for the Referral Program
Easy registration for referrers / existing customers
Friends can claim the reward for their first purchase itself
Popup to showcase referral program on thank you page
Fraud prevention – Manual reward approval workflow for advocates/referrers
Referral Portal for Referrers
Reports – Sales, Rewards, Members, and more
Unlimited members
Customizable Email Templates – Invite friends, successful referrals for friends and referrers
No coding knowledge required
Pricing
Referral Candy

How hard is it for you to attract new customers to your shop? You can try the Shopify referral app called Referral Candy. It is for store owners who want to attract new customers, increase brand value, and build customer loyalty through a refer-a-friend program. It's been around for a while and has worked well in lots of different industries like clothes, healthy food, and electronics. And the best part of this Shopify referral app is that if you ever need help, their team is always there to give you tips and make sure things are going smoothly.
You can set up this best app for Shopify referral and run your own referral program in under an hour! That means you can start giving your customers discounts or cash rewards right away. So what do you say, ready to try it out and see how many new customers you can get?
Key Features
Customizable Designs
Flexible Reward Options
Automated Referral Tracking
Multi-Channel Promotions
Fraud Detection
Pricing
Premium plan – $59/ month
Plus plan – $299/ month
Yotpo
If you're a Shopify owner, you know how important it is to get your customers to refer their friends and family to your store. But how do you make that happen? Yotpo is the answer! With Yotpo as your Shopify referral app, you can easily create referral programs that incentivize your customers to spread word of mouth about your store.
Yotpo offers other features like customer reviews, display social proof, and user-generated content that can help take your e-commerce store to the next level.

Key Features
Customizable templates
Adaptable reward structure
Additional prizes for frequent referrals
Multichannel support
Pricing
Growth $19/month
Prime $59/month
Powerhouse $199/month
Product & Inventory Management
Every Shopify shop owner knows the struggle of keeping their products organized and inventory in check. Shopify inventory management apps and Shopify product management apps can automatically identify your top-selling products, restock items that are running low, and even set up automatic reorder reminders and can save you time, increase efficiency, and improve your customer experience.
Stock Sync

Stock sync is a Shopify product management app that lets you manage prices, handle suppliers, and export inventory from one place. This Shopify app is not only for shops that have products that are ready to sell but also for new stores with no products. This Shopify product management app supports XML, Rest API, soap, javascript, and JSON.
Key Features
Add/remove products
Automatic scheduling
Supports all file formats
Set own pricing
Pricing
Basic $5/month
Pro-ProXl $10/month
Enterprise $49/month
Custom Order Status

Custom Order Status is a FREE Shopify app that helps you to create & manage custom order statuses within the Shopify order dashboard and organize the orders better using the custom icons and labels to increase the workflow efficiently.
Key Features:
You can add icons to give a visual cue to the statuses and manage them easily
Get a detailed insight into each order with the status history option
Bulk edit option to help you effortlessly manage multiple order statuses with a single click
The same app is available as a WooCommerce plugin which is being used by 20,000+ online stores. If you are moving from WooCommerce to Shopify the transition would be seamless and synchronized.
CRM
There are apps in Shopify to take care of Customer Relationship Management (CRM). These Shopify Customer Relationship Management apps can help you keep track of all your customer interactions and data in one place, making it easy to personalize your marketing and provide top-notch customer service. Plus, with a Shopify CRM app, you can automate tasks like sending follow-up emails or tracking customer orders, freeing up more time for you to focus on growing your business.
Investing in a CRM app is a game-changer for any Shopify store. With these best Shopify apps for customer retention on your side, your customers will feel valued and you'll see an increase in repeat business.
Hubspot

Hubspot being one of the best CRM apps for Shopify, saves the day by streamlining your customer relationships, sales process, and email marketing – all from one convenient spot. Plus, with the Shopify integration, you can manage contacts and sales right in the Hubspot interface.
Hubspot can even track how your customers behave and help you find potential leads to grow your business. It's like having a personal assistant who's always looking out for your best interests.
Key Features
All-in-one integration for sales and marketing
Tracks customer behavior and potential leads
Build loyalty
Pricing
Drip

Drip is for you if you are tired of sending the same generic messages to all your customers. With Drip, you can segment your customers based on what they're interested in and how they behave.
This means you can send them personalized messages that they're more likely to respond to. And the best part? This best Shopify app for CRM app tracks how engaged your customers are across all channels – email, social media, SMS, and more – so you can see what's working and what's not.
Key Features
Customer segmentation
Tracking customer engagement
Unlimited emails
Priced based on the number of contacts
Pricing
Starts from $39 per month (for 2500 contacts)
SEO apps
Shopify SEO apps make it easier and faster to integrate with Shopify apps and create the best visibility for your store. Best apps for SEO Shopify also help optimize the website's visibility and ranking on search engines, leading to increased traffic, sales, and brand awareness. Additionally, these apps provide valuable insights and tools for keyword research, on-page optimization, and monitoring website performance.
Avada SEO Suite

With Avada's SEO Suite, standardizing your Shopify store and boosting traffic is effortless just by some clicks. Since many businesses find the Shopify SEO app hard to get started, this easy-to-use tool is ready to handle numerous concerns about ranking, brand awareness, sales, etc.
SEO Suite contains vital functionalities such as meta tags, SEO Checklist, and HTML Sitemap to help your store grab higher search results and conversion rates. For beginners, optimizing search engines is not a problem. Most importantly, your time and cost for SEO investment will be minimized dramatically.
Key Feature:
Image/ALT Optimization
Meta tags
Google Structured Data
SEO Audit
Pricing:
Free plan available.
E-businesses starting from $34.
Yoast SEO

Yoast SEO is the best SEO app for Shopify. It offers real-time readability features and SEO analysis to optimize your page for related keywords. This Shopify SEO app structures data to display the best results in Google shopping and search results. This is one of the best apps for Shopify because if you doubt the content, you can always use the duplicate content checker.
If you want help writing an SEO-friendly title and meta description, Yoast SEO has got templates for that too. Bonus points for supporting 27 language keywords.
Key Features
Content and readability analysis
Title and meta description templates
keyword optimization
Duplicate content checker
Local SEO
Pricing
Boost ROI with Retainful's personalized and automated emails. Increase customer retention with its Referral Program.
Product review apps
Product review apps are important for Shopify because they provide social proof and build trust with potential customers, leading to increased sales and customer loyalty.
Additionally, they provide valuable feedback to merchants, helping them improve their products and customer experience. The following are the best Shopify apps for product reviews to build credibility for your store and products.
Loox

Loox is one of the best Shopify apps for product reviews. What makes this app an outstanding product review Shopify app is its attractive UI. Loox offers a seamless user experience, for it is optimized for Shopify. It has customizable review widgets and you can also import reviews from popular sources.
Key Features
Automated review request emails
Offers and discounts for customers who posted reviews
Review carousels
Popup widgets
Pricing
Beginner $9.99/month
Growth $34.99/month
Unlimited $299.99/month
Stamped

Stamped has earned its credibility as the best Shopify product reviews app because it is trusted by Colgate, Rhine, and SodaStream in Shopify. It includes 10+ widgets in the free plan and includes checkout reviews, product Q&As, and more in the paid version. The reviews and user-generated content help acquire new customers. Stamped is one of the best Shopify apps, as it has got loyalty and referral programs that help build trust and engage your customers.
Key Features
Automated review request through SMS
Incentives for customers for photos and videos
Net promoter score
Pricing
Basic $23/month
Premium $59/month
Business $149/month
Professional $299/month
Pushowl

Have you ever wondered how you can make your products stand out in a crowded marketplace? Do you struggle to generate customer reviews and build social proof for your products? If so, Pushowl may be the solution you've been looking for. One of the key advantages of Pushowl, making it one of the best Shopify apps, is its powerful review generation engine. With Pushowl, you can easily collect and display customer reviews for your products, giving potential buyers the confidence they need to make a purchase.
With features like web push notifications, abandoned cart recovery, and targeted promotions, Pushowl gives you the power to reach customers where they are and drive them to take action.
Key Features
Review generation engine
Revenue reports
Post campaign results
Tracks customer behavior
Pricing
$19/month for 10k+ impressions
Upsell Apps
Have you ever considered the potential revenue boost from upselling to your customers during the checkout process? Best upsell apps for Shopify, like ReConvert and Selleasy, make this process a breeze. With the ability to offer additional products or services with just one click, you can increase your average order value and ultimately grow your business.
But why is upselling so important? Think about it: you've already convinced a customer to make a purchase, which means they're already invested in your brand and they might as well be interested in similar products. Following are the best Shopify apps in terms of upsell because offering relevant, complementary products or upgrades is the natural next step that can benefit both you and the customer.
Reconvert

ReConvert is one of the best upsell apps for Shopify. It can seamlessly integrate with your Shopify store. With ReConvert, you can take advantage of your thank you page to offer customers additional products, discounts, and surveys, all while optimizing your conversion rate.
But that's not all – with ReConvert's full integration with Shopify's admin panel, you can easily create and manage upsell offers directly from your Shopify dashboard. This means less time spent switching between platforms and more time focused on growing your business.
Key Features
Thank you page optimization
Post-purchase upsells
Advanced segmentation
Pricing
Starts from $4.99 for 49 orders/ month
iCart Cart Drawer Cart Upsell
iCart is an all-in-one platform to optimize your cart's page and make it more personalized for your audience. The platform helps Shopify merchants to easily integrate discounts, upselling offers, product bundles, progress bars, and other eCommerce widgets into the cart. iCart offers advanced analytics per widget right from impressions to your average order value (AOV). It is the best way to deliver an exuberant shopping experience at your store and keep your customers happy.
Our USPs
Drag and drop interface to customize your cart page
Advanced analytics to seamlessly
track and measure the performance of every widget
Create popup-free monster Upsell inside the cart drawer and full cart page
Supports multi-currency transactions.
Subscription feature supported with a normal order.
Pricing
Selleasy

What makes Selleasy the best upsell app for Shopify is its ability to display high-converting pre-purchase and post-purchase upsell offers seamlessly. But here's the catch: while it may seem like you're just trying to increase your average order value, in reality, you're actually providing your customers with a better shopping experience.
What kind of related products or accessories can you offer that would add value to your customers' lives? How can you create upsell offers that are tailored to their specific needs and preferences? By using Selleasy, you can choose from different flavors of upsell and cross-sell and find what works best for your store.
Key Features
Product add-ons
Cart add-ons
Thank you page add-ons
Post-purchase upsell
Pricing
Tire 1 – Free
Tier 2 – $7.99/ month
Tire 3 – $14.99/ month
Argoid Upsell Cross‑sell AI

AI-driven real-time product recommendations make Argoid one of the best apps for Shopify. Argoid's personalized recommendation system optimizes user experience using the website's first-party data.
This includes analyzing user behavior, such as browsing history and purchase patterns, as well as individual product performance, such as click-through rates and engagement metrics. Thus, Argoid is able to serve personalized real-time recommendations that cater to each user's unique preferences. This increases the likelihood of a purchase.
These recommendations work to encourage product discovery, cross-sell and upsell, driving higher conversion rates and increasing sales on Shopify.
Key Features
One app for cross-sell, upsell and personalization.
AI-powered product recommendations for all touchpoints
No code is needed; swift onboarding
Pricing
Growth $249/month
Growth Plus $499/month
Premium $799/month
Payment apps
As an entrepreneur, you know that your Shopify store's success depends on providing your customers with a seamless shopping experience. That's why choosing the best Shopify app for payments is crucial to ensure a smooth checkout process.
But with so many payment apps available, how do you know which one is the best fit for your store? That's where our expertise comes in.
Split- partial payments

Split partial payments offer installment payment options that can increase customer loyalty and sales, and it is one of the best features anyone could ask for in the best Shopify payment app. Imagine being able to offer your customers installment payment options with ease and zero commission fees.
That's precisely what Split, the best Shopify payment app, can do for you. With seamless sync between orders and stock management, you can streamline your payment process and focus on what matters most – your customers.
Key Features
Halfway installments
Multiple payment options (e.g two credit cards or a card and PayPal)
Shared payment option between several recipients
Email notifications for payment deadline
Pay Whirl Subscription

If you are looking for a hassle-free way to manage subscriptions on your Shopify store then Pay Whirl is your app. It is the best recurring payment app in Shopify that makes it easy to set up recurring payments, manage customer accounts, and even offer flexible billing options like prorated charges and trial periods.
Plus, with integrations for popular payment gateways like Stripe and PayPal, you can start accepting payments right away.
Key Features
Recurring billing
Flexible payment plans
Automated customer management
Integration with third-party services
Pricing
Business ultimate $249/month
Business plan $149/month
Business pro $49/month
Invoice and shipping apps
When it comes to invoicing, the best Shopify app for invoices is one that is easy to use, customizable, and provides a seamless experience for your customers. Not only does it save you time, but it also adds credibility to your business.
And what about shipping? Which is the best shipping app for Shopify? One that provides real-time shipping rates, automates label printing, and allows you to manage your shipments from a single platform. Don't let your shipping process become a bottleneck in your business!
PH Ship, Rate and Track

PH Ship, Rate and Track is a FedEx certified Shopify Shipping app designed to streamline your shipping tasks and take your business to new heights.
One of the standout features of this app is its ability to display live carrier rates from FedEx directly at the checkout. This feature allows your customers to view accurate shipping costs in real-time, enhancing transparency and helping them make informed purchase decisions.
PH Ship, Rate and Track also offers the convenience of bulk printing shipping labels with just a single click. This time-saving feature simplifies the fulfillment process, allowing you to efficiently handle a large volume of orders without any hassle.
Furthermore, the app provides real-time tracking functionality powered by FedEx. You can effortlessly track the status of your shipments, ensuring you and your customers stay updated on the whereabouts of their orders throughout the delivery process.
By utilizing PH Ship, Rate and Track, you can streamline your shipping tasks, improve customer satisfaction, and ultimately boost your business's overall efficiency and success.
Key Features
Customizable Packaging options
Scheduling FedEx Pickup
Printing FedEx Manifests
Supports Domestic and International shipping
Integrates FedEx Freight shipping services, FedEx Same Day City, FedEx One Rate services, FedEx Hold at Location
Pricing:
Aftership

Aftership builds credibility by connecting various carriers worldwide and sending automated emails to keep customers informed, ultimately making it the best shipping app for Shopify. Users can enter their tracking number in the dashboard and look at the shipping status.
You can also create a monitoring page, Instagram image feed and marketing for branding. You can add your store's logo and customize colors that aligns with your store.
Key Features
Branded tracking page
Register and track in one place
Automated emails
Social evidence
Pricing
Essential $11/month for 100 shipments
Pro $119/month for 2000 shipments
Premium $239/month for 2000 shipments
Convert abandoned carts into purchases using Retainful. Boost Shopify store's profitability by re-engaging customers through automated email marketing
Wrapping up
Boosting sales can be challenging for Shopify store owners. You would be juggling customer support, experience, sales, email marketing, customer retention, referral, product and inventory management.
By choosing the right app for your Shopify store, you can recover abandoned carts, increase customer loyalty, attract new customers, and ultimately grow your business. Remember, investing in the right app can make all the difference in taking your Shopify store to the next level.
Why are abandoned cart recovery apps important for shopify?
Abandoned cart recovery apps are important for Shopify because they help to recover lost sales by reminding customers of items left in their shopping carts. These apps can send automated emails or push notifications to customers, encouraging them to complete their purchase. By recovering lost sales, Shopify store owners can increase their revenue and improve their overall conversion rate.
What are the best Shopify apps to increase sales?
There are a few apps that help increase sales in Shopify. Retainful is the best email marketing app for Shopify that increases your sales through abandoned cart recovery emails, follow-up emails and referral programs. If you are exclusively looking for a referral app, you can go for Referrals and affiliates by Shopjar because it comes with customizable rewards and a WhatsApp chat abandoned cart recovery feature to send a series of WhatsApp messages. If you need to keep track of your products and stay organized, then Stocky is for you. Yoast SEO is the best SEO app for Shopify to create the best visibility for your Shopify store.
Are shopify apps free?
Not all Shopify apps are free; some are free, while others require payment. The cost of Shopify apps varies depending on their functionality and complexity.
Do referral programs in Shopify store work?
Referral programs in Shopify stores can be an effective marketing strategy to acquire new customers and increase sales by incentivizing existing customers to refer their friends and family. One of the best Shopify referral apps is Retainful. It rewards both the existing customer as well the new customer.
How to select apps for Shopify store?
To select apps for your Shopify store, first identify your specific needs and goals. Then, browse through the Shopify App Store and read reviews and ratings to determine which apps best fit your requirements.