When it comes to engaging and retaining customers, Email Marketing has remained a classic – and there is a compelling reason for it.
For every $1 spent on email marketing, the average return on investment is a staggering $42. Coupled with the power of email marketing automation, it has become unstoppable.
You can leverage this amazing potential by using an Email Marketing App and reap the rewards in the form of increased sales and customer loyalty.
This blog will help you choose your best email marketing app for Shopify by weighing the pros and cons. Let's dive in.
Launch a Retainful-powered Automated Email Campaign in minutes with effortless setup and recapture lost sales.
What is an Email Marketing App, and Why do you need one?
An email marketing app is a software platform that helps businesses like ecommerce stores create, send, manage, and analyze email campaigns to a list of subscribers or recipients. These apps are used to promote products, inform and engage subscribers, recover abandoned carts, and maintain customer relationships.
Over the years, an email marketing app has evolved to do more than just send and track emails. Modern apps offer features that cater to your nuanced needs of business and scale it.
By using an email marketing app, you eliminate the need to manually send bulk emails to every customer. You just have to set up the email automation and your email marketing campaign can run on its own.
Automation allows for drip campaigns, welcome series, and other triggered messages, which can lead to a 320% stronger revenue contribution than standard promotional emails.
Another important perk is the segmentation. You can group your customers however you want and send targeted and personalized emails to them. Campaign Monitor reports that marketers have noted a 760% increase in revenue from segmented campaigns.
How to Choose the Best Email Marketing App?
With the overload of email marketing apps at your disposal, you must be clear about what your business needs. There is a choice for every aspect of your email marketing.
Here are some of the questions you should ask before selecting your email marketing app.
Does the app support enough customers you expect?
Does it integrate seamlessly with CRM?
Does it have good email deliverability?
Does it provide enough email volume?
Does it have industry-specific features?
How easy is it to set up pre-built workflows and triggers?
Does it have features to segment your customers into different groups?
How much can you customize the emails?
Is it easy to use despite having amazing features?
6 Best Email Marketing Apps to Grow Your Business
Retainful – Best for Ecommerce Businesses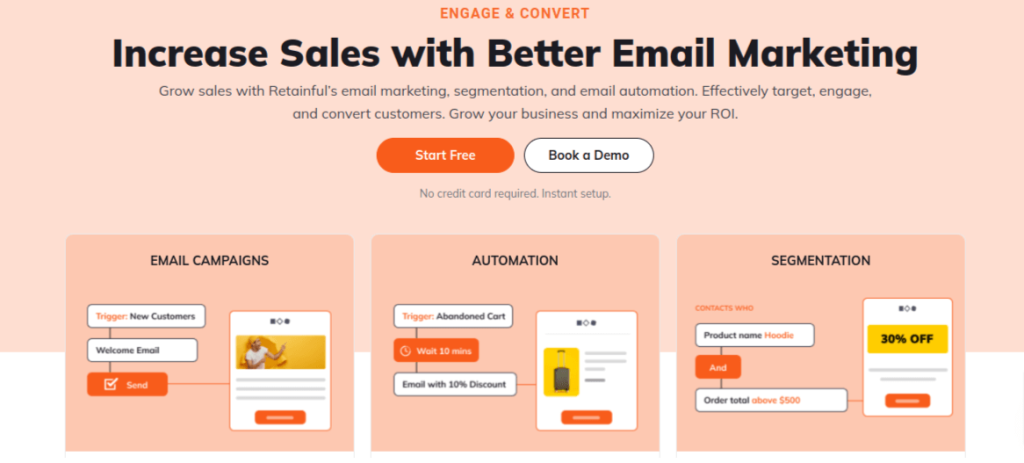 Retainful is a multi-purpose email marketing automation app specifically designed for ecommerce businesses. It is a simple and powerful plugin to cover all your bases in email marketing.
It has automation at its core and is very simple to use – you wouldn't need a 3-page manual to do it. With Retainful's automation feature, you can set up specific triggers – what triggers the email, entry rules – when a customer should enter the workflow, and customer rules – which customers should receive the email. This allows you to send personalized emails to a variety of customer actions.
Its advanced segmentation feature allows you to group your customers based on many pre-defined or custom criteria and send targeted emails. Coming to crafting your emails effortlessly, it has an intuitive drag-and-drop editor – no code required.
On top of that, with its Abandoned Cart Recovery feature, many businesses have seen a significant increase in recovery numbers.
You can integrate Retainful with WooCommerce, Shopify, Mailchimp, Klaviyo, ActiveCampaign, Hubspot, ConvertKit, Mailerlite, and Sendinblue(Brevo) and create informed and efficient email marketing campaigns.
Standout Features:
Abandoned Cart Recovery – Proven success in recovering abandoned cart carts.
Referral program creator – Create referral programs easily with unique referral links and widgets.
Next order coupons – Send a unique, single-use coupon code for the next purchase.
Exit-intent and Add-to-cart popups – Prevent customers from abandoning the cart at the last minute.
Dynamic coupon code generator – Attach unique coupons with emails.
Price tiers and Email Volume:
Free plan: 500 Emails
$9/month: 1000 Emails
$19/month: 20,000 Emails
$49/month: 50,000 Emails
Experience the dual strength of Automation and Segmentation with Retainful and send personalized emails effortlessly.
Mailchimp – Best for startups and small-scale businesses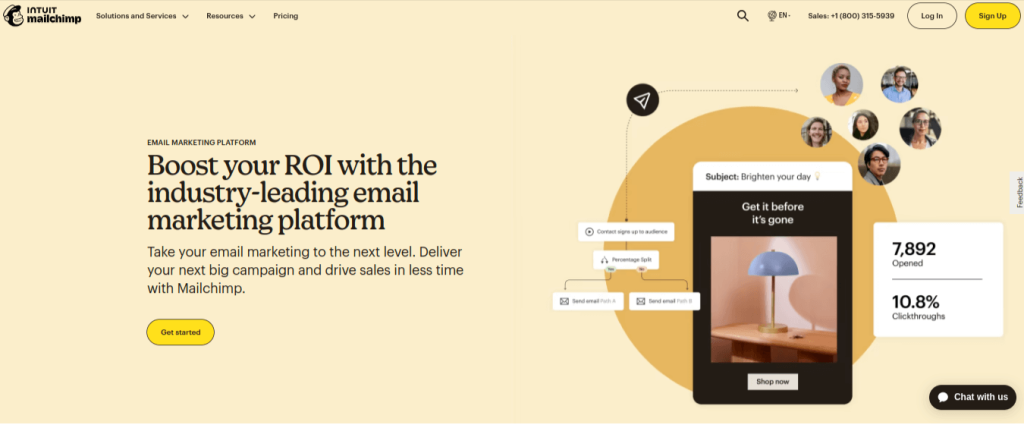 Mailchimp is a full-fledged digital marketing hub, giving you multichannel campaign support, website-building tools, reports, and email marketing automation. It covers almost all of the bases a small business needs to get started.
It boasts advanced automation and segmentation features like multiple triggers, predictive analytics, and more.
One of Mailchimp's most outstanding features is that you can have a taste of almost all its key features with a free plan. You just have to sign up with your email to access the one-step email automation, the marketing CRM, multichannel marketing tools, and pre-designed email templates.
It offers 300+ integrations with the most widely used marketing and e-commerce software providers.
Standout Features:
Enhanced automated customer journey
AI suggestions for crafting emails
Both pre-built and custom email templates
Surveys and feedback creator
Landing page builder
Price tiers and Email Volume:
Free plan: 1000 Emails
$4.60/month: 5000 Emails
$6.87/month: 6000 Emails
$137.41/month: 150,000 Emails
Hubspot – Best for large enterprises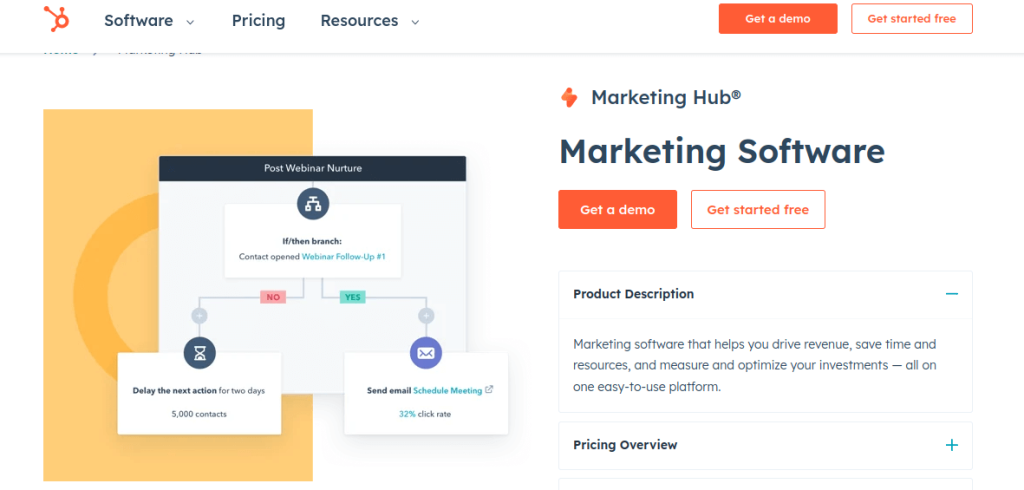 Hubspot is a comprehensive marketing solution where you can implement campaign automation, customer relationship management, and email marketing. As you can do more than marketing, like sales, it is best suited for large companies.
HubSpot allows users to create complex, multi-step, and personalized workflows – all these powering advanced automated email marketing. With its integrated CRM, HubSpot offers deep personalization capabilities. Emails can be tailored based on any interaction a customer had with your company or any behavior they've exhibited on your website.
HubSpot boasts an expansive app ecosystem. Whether you want to connect to your e-commerce platform, a video hosting tool, or a customer support system, HubSpot likely has an integration for it.
Standout Features:
Dynamic list segmentation
Advanced detailed analytics
Integrated CRM
Advanced email automation
Price tiers and Email Volume:
Free plan: 2000 Emails
$18/month: 5000 Emails
$800/month: 50,000 Emails
$3600/month: 200,000 Emails
Omnisend – Best for Ecommerce startups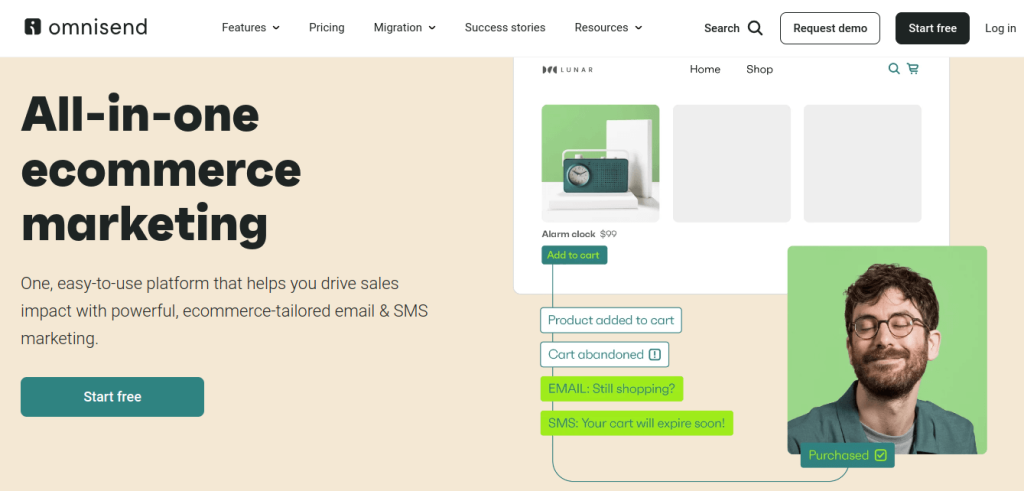 Omnisend is an omni-channel marketing platform specifically tailored for ecommerce businesses. It provides email marketing automation capabilities, allowing businesses to set up workflows for cart abandonment, post-purchase, welcome emails, and more.
It allows you to include dynamic content using customer data and behavior, ensuring each recipient receives a tailored message.
In Omnisend, you can choose from a plethora of email templates, or you can create one on top of the pre-built layout. It also has a drag-and-drop email editor.
Standout Features:
Enhanced customer journey mapping
Dynamic content and advanced segmentation
Comprehensive reporting and analytics
Ecommerce focused features
Price tiers and Email Volume:
Free plan: 500 Emails
$16/month: 6000 Emails
$59/month: Unlimited Emails
Sender – Best for small businesses and startups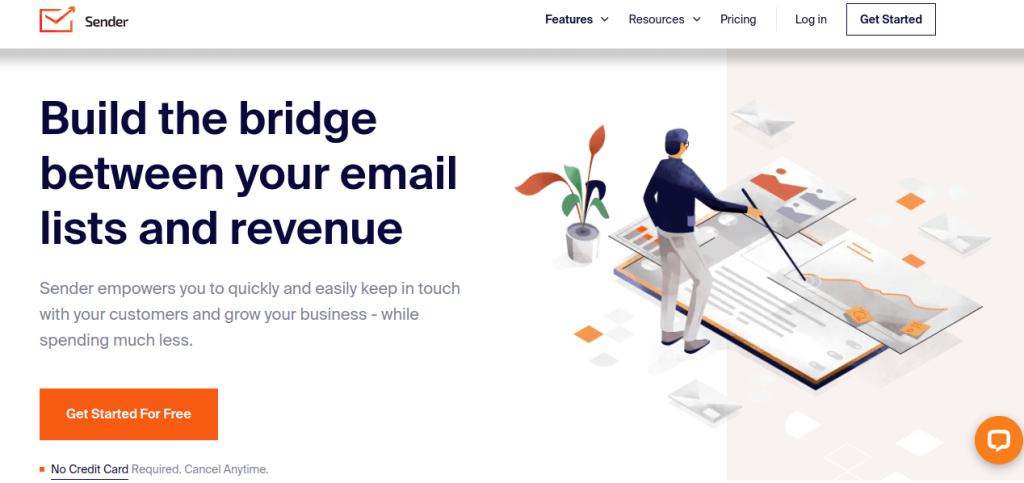 Sender is known for its simplified email marketing features. One of Sender's key selling points is its competitive pricing. It provides a free tier, and its paid plans are budget-friendly, making it an attractive option for small businesses. Like other apps, it also has email marketing automation features like pre-built workflows. It also provides a drag-and-drop email editor and a custom HTML editor.
Easily integrates with CRMs and ecommerce platforms, including WordPress, Shopify, PrestaShop, WooCommerce, Magento, Zapier, and more.
Standout Features:
SMS campaigns and push notifications.
Easy-to-use interface.
Intuitive drag-and-drop editor
Price tiers and Email Volume:
Free – 15000 emails/month
$8.33/month – 12,000 emails
$29.17/month – 60,000 emails
Drip – Best for Ecommerce Businesses

Drip E-commerce Customer Relationship Management tool. It's uniquely built to understand and leverage e-commerce customer behaviors, making it a go-to platform for online retailers.
Drip allows for hyper-targeted segmentation. Users can categorize their audience based on numerous behaviors, such as website interactions, email responses, and purchase history.
With Drip, you're not limited to linear automation. It allows for intricate, multi-branching automation.
Standout Features:
Drip brands itself as an ECRM, focusing on behaviors and actions specific to e-commerce shoppers.
Advanced Workflow Automation
Tag-based system for segmenting customers
Supports SMS and third-party ads.
Price tiers and Email Volume:
Flexible pricing starting with $39/month for unlimited emails.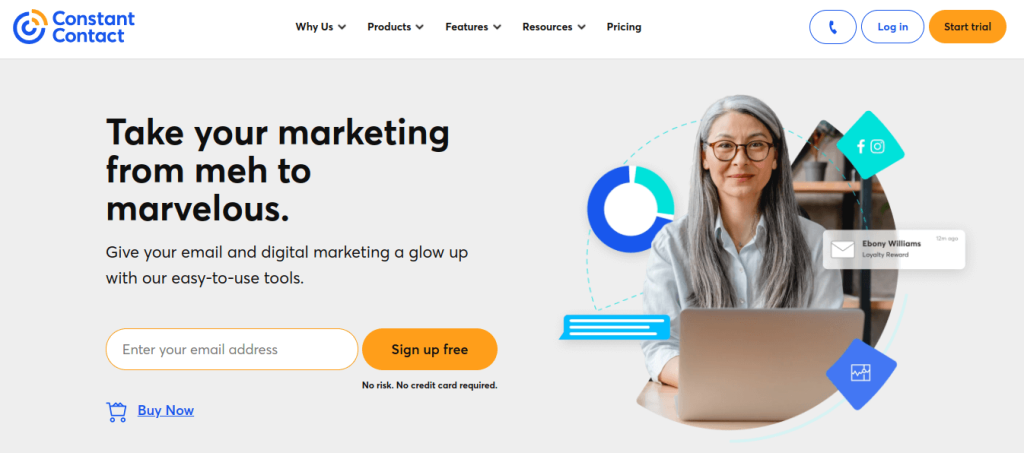 Constant Contact is an email marketing platform offering user-friendly design tools, extensive templates, e-commerce integrations, and robust analytics, catering primarily to small and medium-sized businesses.
Unique to Constant Contact is its event management tool. Businesses can create, promote, manage registrations, and send follow-up emails for events all within the platform.
Constant Contact provides multiple ways to grow your email list, from website sign-up forms to integrations with social media platforms.
Standout Features:
Extensive template library
Event management tools
List building tools
Price tiers and Email Volume
$12/month – 500 emails
$55/month – 1000 emails
$200/month – 5000 emails
Allow email automation to assist you from now on. Use Retainful and send all kinds of personalized emails in minutes
Wrapping up!
We've delved into the top 7 contenders, analyzing its strength and its value for money. Some are specialized in one niche, and others cover all the bases. Some are suitable for small businesses; others for an enterprise. It's your turn now to choose the right one that aligns with your business goals and needs.
Know more about Email Marketing.
What is email marketing automation?
Email marketing automation refers to softwares that automate marketing tasks like sending out emails, segmenting contacts, and tracking campaign performance, making the email marketing process more efficient and personalized.
Is it challenging to set up automated email campaigns?
With the user-friendly interfaces most platforms offer today, setting up automated campaigns is generally straightforward.
What is the most common form of email marketing?
The most common form of email marketing is the newsletter. Newsletters are typically sent on a regular schedule and contain a mix of content tailored to the interests of the recipients. This content can include updates, announcements, promotions, abandoned cart reminders, helpful articles, tips, and more.
How do I measure the success of my email campaigns in these apps?
Most apps provide analytics on open rates, click-through rates, conversion rates, and more to gauge campaign performance.