Referral Program is the best way to acquire new customers at a low-cost by using your loyal existing customers.
But if you want to run a successful Referral program then you need to promote it to your customers as a part of your Referral Marketing Campaign.
With the highest ROI, Emails have proven to be the best medium for Referral promotions. You can send targeted emails to your customers and inform them about your Referral program.
So, here are a few exceptional Referral Program emails you can send to your customers as a part of your Referral marketing campaign.
Invite Referral Email
The best way to get the word out is through your existing customers. Sometimes your customers might not have a clue of what a Referral program is.
So the chances of them joining your Referral program directly from your website is impossible.
What will you do then?
This is where you use your email to promote your Referral program to your existing customers. Send them a Referral Program email with the Referral link that they can share with their friends.
While sending Invite Referral emails you must specify the benefits or rewards that the existing customers can get for sharing the link.
This Referral Program email example by Bombas is a perfect example of an Invite email. It introduces the program right away without gloating over it.
Look how they've used some fancy words like Generous, help your community, there for your friends. These words can create a significant impact on your customers if they are just getting to know the program.
'The perks of Generosity' header at the top shows the benefits that the existing customers can get by referring to their friends. This will motivate them to take part in your program.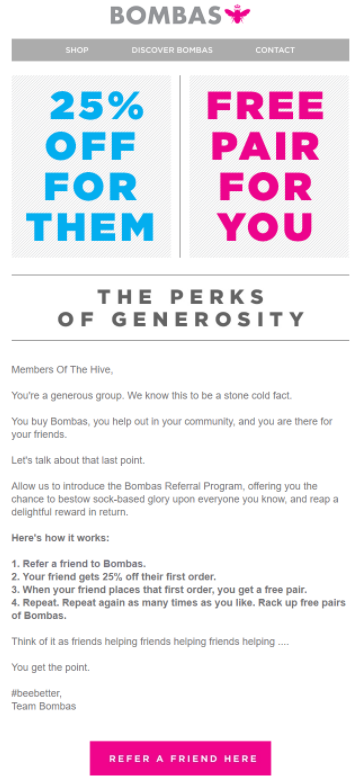 Their CTA will also lure the customer's to click it, these types of CTA that reference the customers what they need to do have better conversions than boring 'Click here' CTAs.
If you just want to introduce your Referral Program to your customers then this is the right way to do it, Simple and Straightforward.

Reminder Referral Email
Most of the time customers will forget your Invite Referral emails. That is why it is essential to send a Follow-up or reminder email to let them know about your Referral program.
Most businesses will avoid sending follow-up emails, thinking it is a waste of time. But they don't realize the potential sales they are leaving.
Since you've already sent an invite referral email that explains the Referral program, now all you need to do is just remind them with a notification.
Yes, don't be sending another invite Referral email. Instead, do as 'Casper' did right here,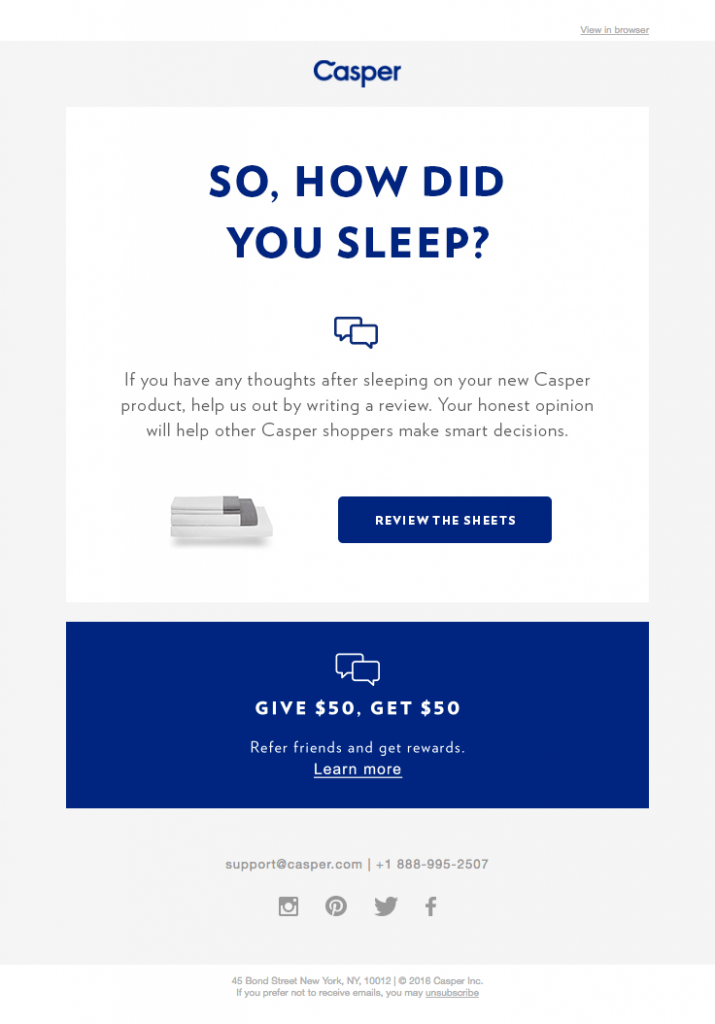 You see how subtle it is, have you noticed the Referral request yet?
Look at the footer of the email, when you first open it, it looks like a usual product email. But when the customer looks at the footer, it will remind them of your Referral program.
Now this will remind your customers and it will encourage them to take part in your Referral program.
So, instead of sending the same referral invite email as a reminder, just add a notification as Casper did on your newsletter, product update, or transactional emails.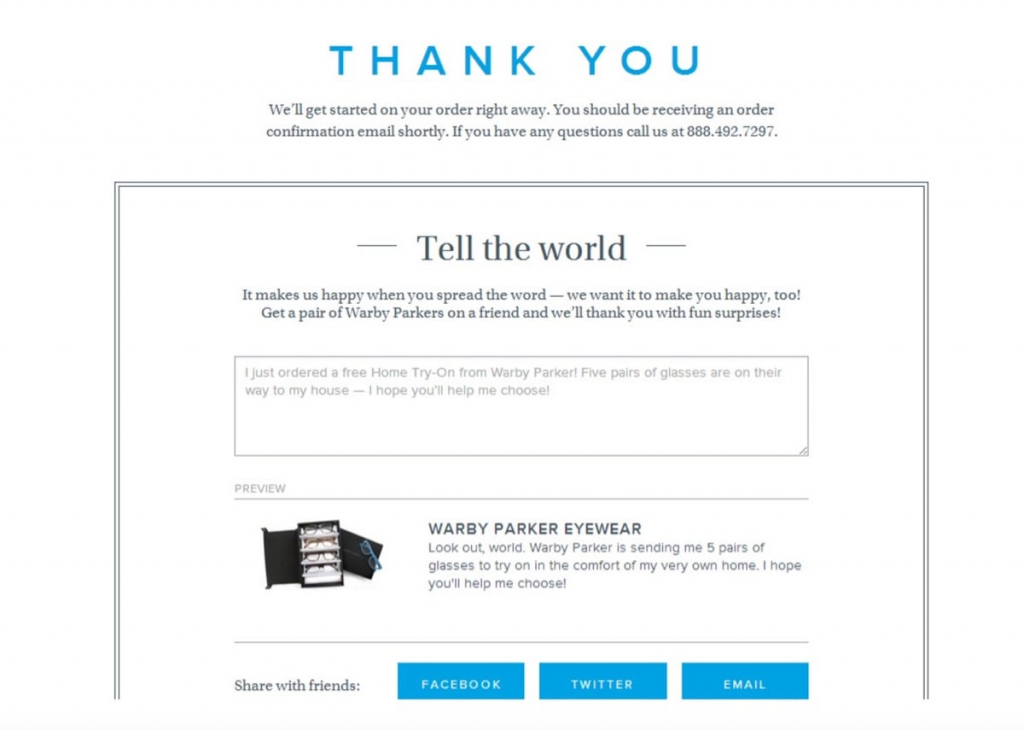 Here is an example of a Referral reminder added on a Thank You email. There are many subtle ways to remind your customers about the Referral program.
Alright, one thing you must remember before sending a Referral reminder is the timing.
Don't send a reminder the very next day of your Invite email. It will look spammy, just wait for a few days or engage your customers in other activities then remind them of your Referral program in a subtle way.
Advocacy Referral Email
Advocacy emails are sent to customers who are active in your Referral program and requesting them to become your brand ambassador.
They might be similar to the invite Referral emails you send to your existing customers but the only difference is, your request this time will only benefit you and the advocate.
Having a group of brand ambassadors for your store requires some investment. So, this might not be suitable for startups.
Remember, Advocacy emails are optional, you can send it only if you have the resources to support it.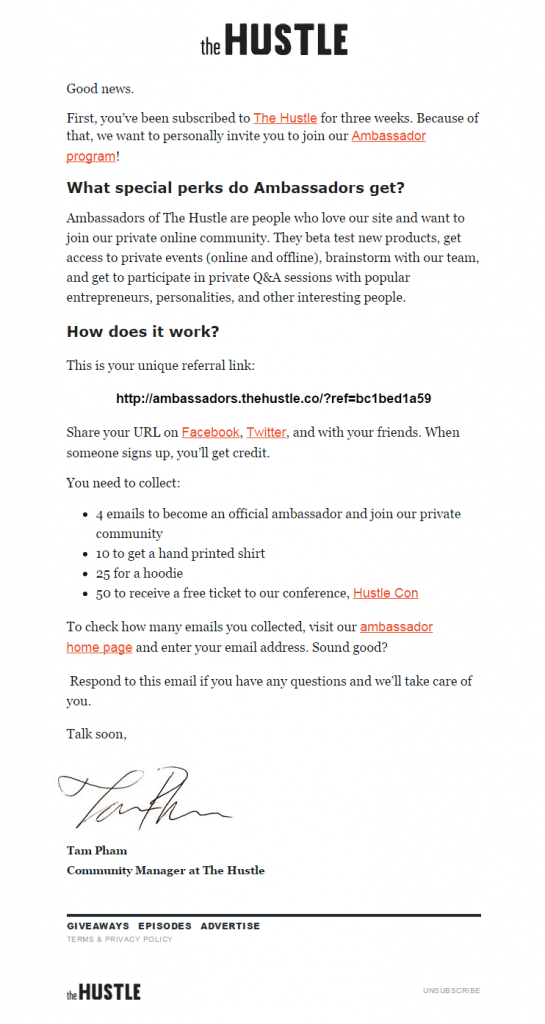 Hustle is one of the brands that have the best ambassador program which allows the most loyal customers to become their brand ambassador.
Not just the ambassador, here Hustle went one step further as it allows their loyal customers to become honorary members of the Hustle team.
Look how they've meticulously explained the perks of enrolling in their ambassador program.
All you need to do is share the Referral link and you can earn the respective credits. The process is still the same as most Referral programs but the benefits here are different.
Perks of having an Ambassador Program,
Boost your customer engagement
People rely on recommendations from brand ambassadors.
Help you acquire new customers effortlessly.
Helps you to skyrocket your sales
But remember, these emails are optional as far as Referral Marketing Campaign is concerned, don't run an ambassador program unless you have the resources to support it.
FOMO Referral Email
If your invite email and reminder email didn't work, there is always a third option, in this case, this is the best one.
Not all the time will a customer be motivated to refer their friends. Sometimes you've got to bring that motivation to them.
How?
Well, in the eCommerce world, nothing gets a customer pumped up like FOMO(Fear of Missing Out). Create a sense of urgency through your Referral Program emails.
Make the customers believe that they'll be missing out on a huge deal if they don't refer their friends sooner.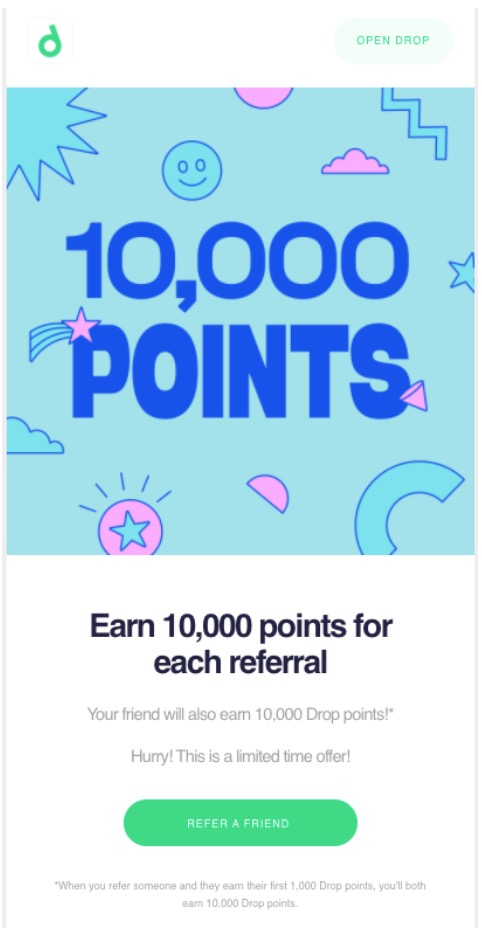 Drop sends a FOMO Referral email to their customers to encourage their customers to refer their friends. In order to create a sense of urgency they just use a 'limited time offer' to trigger the customers.
This is a simple example of a FOMO Referral email. Now the customer will be motivated to refer the friend to earn his reward.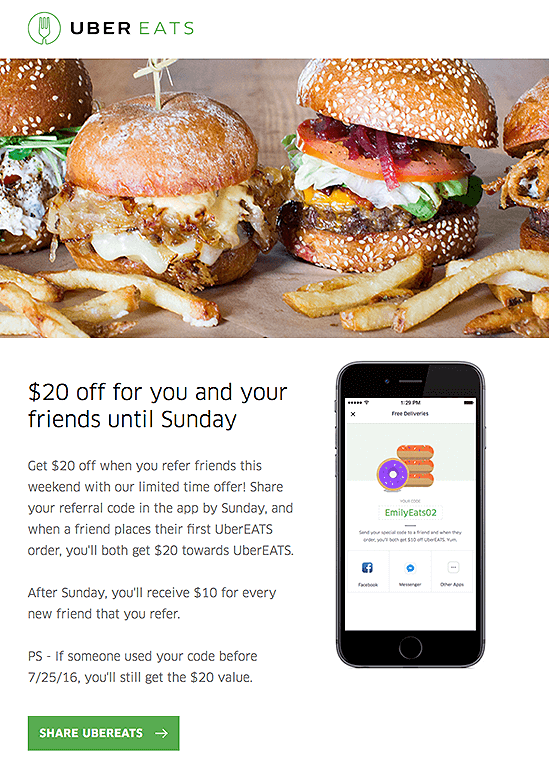 Here is another example of an Urgency Referral Program email. Uber Eats offers a cash discount instead of points but to earn that you must refer a friend before the specified time.'
If you want your Referral program promotion to succeed then you need to find a way to have a better conversion rate for your emails.
These time-sensitive deals are the best way to increase your conversions and bring success to your Referral program.
For these FOMO deals to work, showcase the testimonials of your previous customers who benefitted through these deals. That will trigger the customer to act before the time runs out.
Appreciation Referral email
Ecommerce customers love to be pampered, so if you want to make the customer experience better then show some appreciation after every action they make.
Customer relationships must be nurtured, the success of a Referral program depends on how you keep your customers engaged.
The best way to do that is by continuing the conversation through an appreciation email after they refer to their friend.
By sending a Thank you or an appreciation email, you are not only congratulating them for what they've done, but you're also reminding them of what comes next.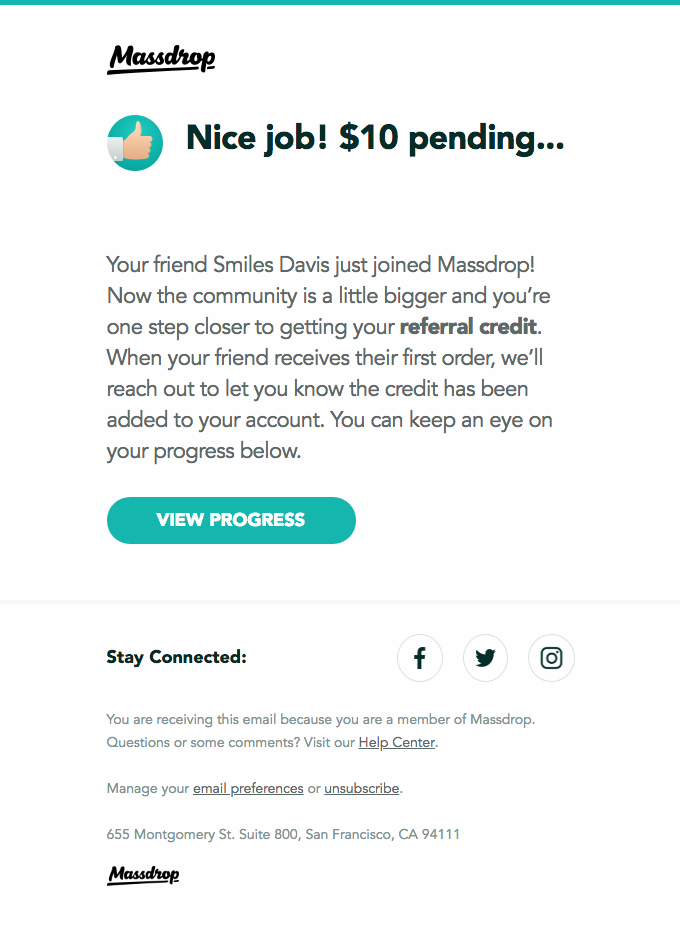 This Thank You Referral Program email is a clear example, you see they've done two things in one email.
They appreciated the customer for referring to their friends.
They also remind the customer that the friend needs to make an order if you want to earn the reward.
This will make the customers feel appreciated but will also motivate them to go all the way to make a purchase and earn the reward.
That's how you design an Appreciation Referral email.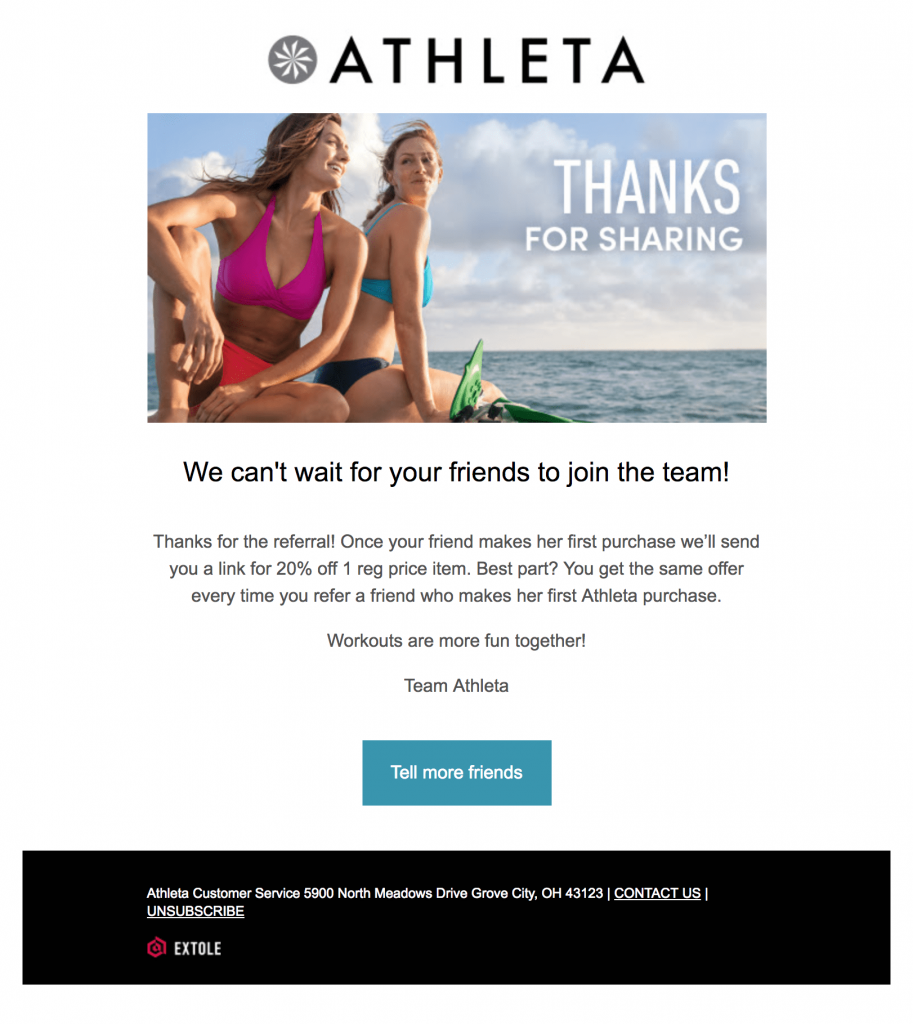 Here is another example from Athena, they follow the same process, Appreciation for referring their friend and a reminder of what will happen next just to keep the customers engaged.
So, this proves that if you want to increase the engagement with your customers then a Referral program is one of the best ways to do it.
Reward Referral Email
Finally, the customer will complete a successful Referral purchase.
What will you do now?
You should keep the conversation going, send them an email about the reward they've earned instead of just sending a simple Thank You.
Show them the reward they've earned and make them feel excited.
Why? What's the point in that?
Yes, you might think like that, but you see, a Referral program is not a one time deal. It is a continual relationship between the store and the customers.
Sending a reward email will motivate them to take part in your Referral program again and again.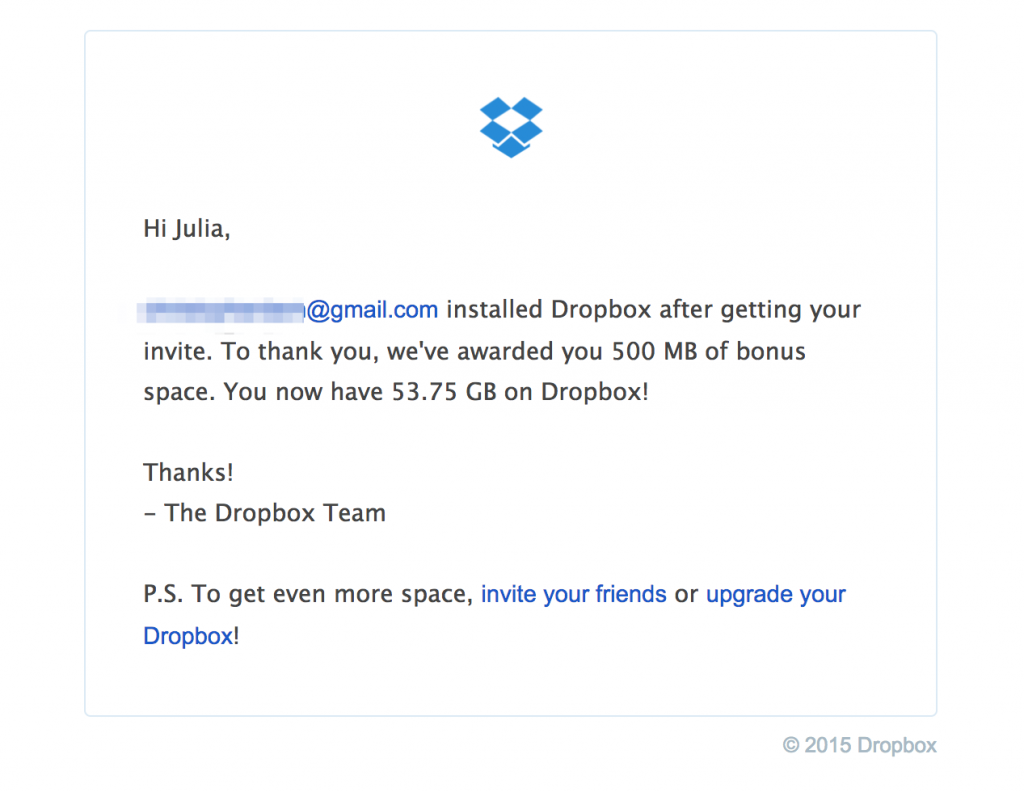 If you don't know about Dropbox's Referral program, they award storage space as a Referral reward.
This reward email by Dropbox shows who installed the app through the advocate's email. It shows the reward they've earned (500mb) and also their entire Referral reward progress(53.75 GB)
It shows how much the advocate has been involved in their Referral program. Showing the total rewards earned is a great way to trigger your customers.
That's not it! Look at the Footer of the email, they're teasing the customer to go on the Referral loop again and earn more rewards.
Emails like these in your Referral Marketing Campaign will bring immense success to your Referral program promotion because it encourages the customers to do it again and again.
Referral Statistics Email
Lastly in our list of emails is the Referral stats email, it is similar to a reminder email.
See, after your customers complete a successful Referral purchase and earn his reward, chances are they might not participate in your Referral program again.
So, how to get them back on track?
The best way is to tease them with something big, show them their Referral statistics, even if they had just one Referral, it doesn't matter.
Just show them the progress and tease them with a bigger offer that they can earn once they complete a certain number of Referrals.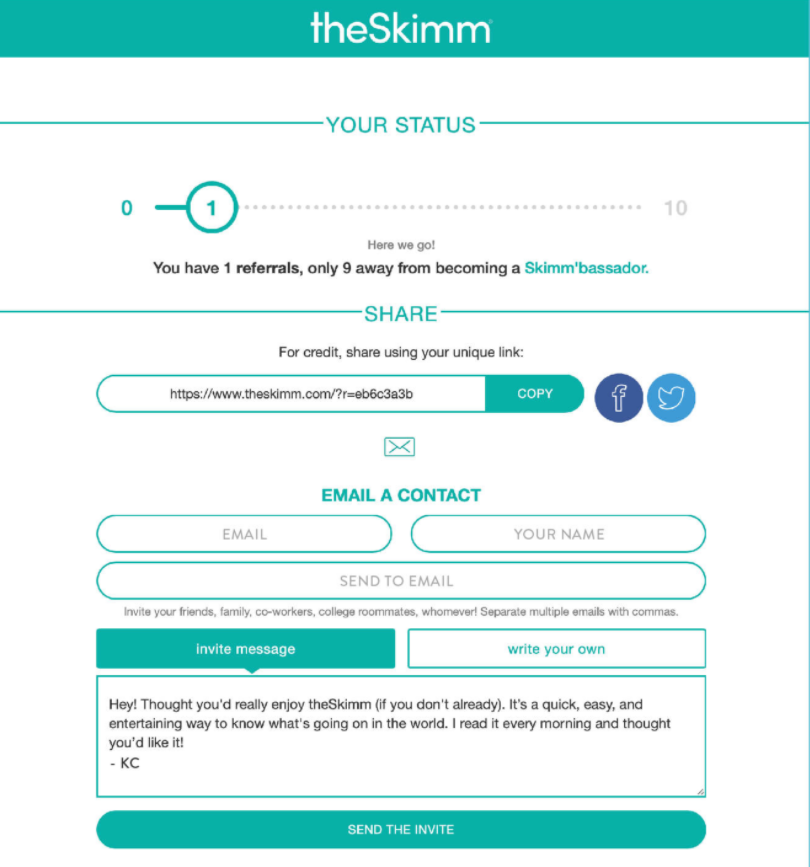 This Referral stats email by Skimm is one of the best examples of how to get your customers to start Referring again.
Even though the customer had completed just one Referral, they still show it and tease them with a Skimm'bbassador status.
The Referral link is just right below the stats, making it easier for the customers to start referring and become a skimm'bbassador.
You can use this email as a milestone in your Referral Marketing Campaign and show your customers how far they've traveled with you.
This will increase the credibility of your brand. Also. it will keep the customers engaged and motivate them to keep sharing.
Conclusion
Referral programs are the best way to increase engagement with your existing customers and acquire new customers through them. But to achieve that you need to promote your Referral program to your customers and motivate them to take part in it.
We showed you the best way is by sending emails throughout the Referral marketing campaign. Increase your engagement at each stage of your Referral program promotion and boost your WOM sales.
The Referral emails discussed here are being used by eCommerce stores everywhere to increase their Referral conversion rate. It's time for you to do it.