The first point of contact you have with your WooCommerce customer is through a WooCommerce welcome email. A well-crafted welcome email sets the tone for a successful customer relationship and drives engagement, loyalty, and sales.
Did you know that a stat by Lxahub has proved that welcome emails have four times more open rates and five times more clicks? This just means that your customers are expecting a welcome email from you.
This blog will walk you through how to send a welcome email, what to include, the best practices, and the best email automation plugin to automate your WordPress welcome email campaign.
Automate personalized welcome emails using Retainful today and increase the engagement rate.
What is a WooCommerce welcome email?
A WooCommerce welcome email is your first email after customers sign up or make their first purchase. It provides an opportunity to express gratitude, set expectations, and deliver essential information about the product, services, or membership benefits.
Why is sending a WooCommerce welcome email important?
WooCommerce welcome emails build a sense of connection and engagement and help foster a strong relationship with the customers. These emails boost brand loyalty and the chances of future interactions.
When you send a WordPress Welcome email to a new customer, it enhances reputation, increases customer retention, and forms a base for a long-term relationship with the audience. According to Invespcro, the average open rate of welcome emails is 50%, i.e., 86% more effective than other emails.
What should a WooCommerce welcome email include?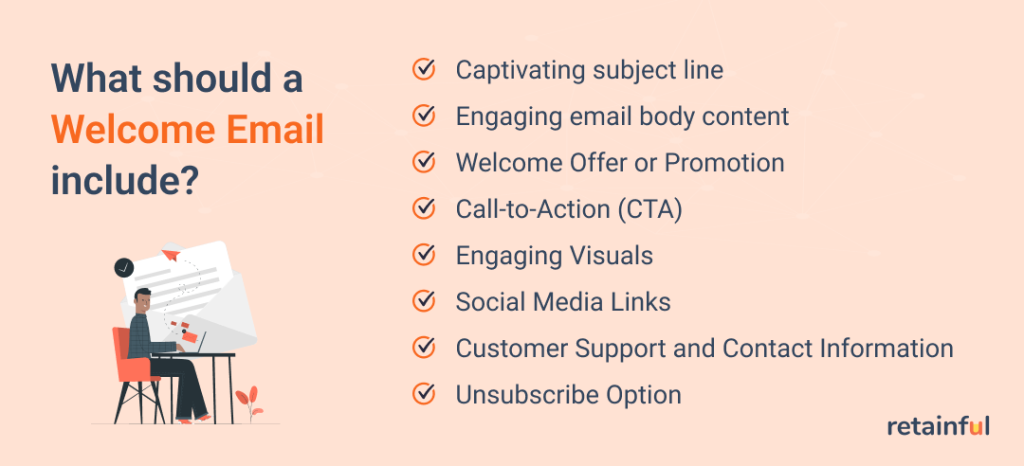 Captivating subject line
The Welcome email subject line is what the customer sees before they even open the welcome email. The subject line should be brief, intriguing, and relevant to the content inside the email. Use action-oriented words to create a sense of urgency in your WooCommerce welcome email.
Avoid spammy words and excessive use of capital letters to not end up in the spam folder. Did you know that a study by Barliance has proved that 64% of the customer's decision to open an email is based on subject lines?
Engaging email body content
The email body content should be clear and visually engaging. Break the text into shorter paragraphs, bullet points, and images to make the content digestible. Highlight the main benefits or value proposition of your brand, product, or service.
Share content that the users will find valuable and useful. A well-planned content in a WordPress welcome email will keep the customers interested and encourage them to continue reading.
Welcome Offer or Promotion
To keep your customers excited about the brand from the beginning, include a welcome offer in your WooCommerce welcome email.
Provide a discount, free trial, or exclusive content encouraging your customers to take immediate action. This strategy will greatly help convert new customers to active users or buyers.
Call-to-Action (CTA)
CTAs direct customers on the specific action you need them to take, such as purchasing or signing up for a newsletter. A strategically placed, well-designed CTA in your WooCommerce welcome email will drive click-through rates and conversions while keeping the customers moving forward in their journey.
Engaging Visuals
Try to include engaging visuals like images, graphics, or videos that match your brand's personality to enhance the appeal of the welcome email to new customers. Visual content grabs the attention of the customers and conveys the message effectively.
Carefully selected welcome email templates complement the written content and make your email more impactful.
Social Media Links
Including social media links is one of the welcome email best practices to keep your customers engaged across different platforms. If you want to foster customer engagement and interaction with your audience, adding social media links is an excellent idea.
Encourage customers to follow your social media, like, and share the content to stay up-to-date with your latest updates, offers, and news.
Customer Support and Contact Information
Including customer support and contact information in welcome emails to new customers shows that you are committed to providing excellent service.
Mention how the customers can reach out for assistance or inquiries, whether it is through an official phone number, email, or live chat support. This easily builds trust and gives a sense of reassurance to the customers that they can get help if needed.
Unsubscribe Option
Including an unsubscribe option may seem counterintuitive, but your customers will feel that you respect their decision.
Giving an opt-out option in your welcome email for new customers shows transparency and maintains email marketing compliance. This transparency maintains a positive brand image.
Best Practices for Welcome Email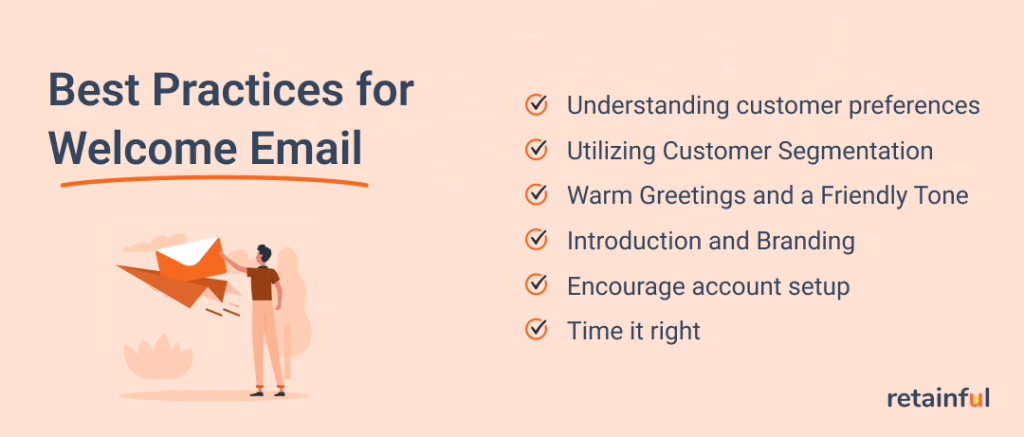 Understanding customer preferences
Understanding the customer's preferences is the first welcome email best practice you should consider. Start by collecting and analyzing data such as their interests, purchase history, and behavior. This lets you create content that resonates with them.
Personalized WooCommerce welcome emails increase satisfaction and the chances of positive interaction, which leads to improved brand loyalty and retention.
Utilizing Customer Segmentation
Once you have enough data, start segmenting your email list based on shared characteristics or behaviors. This helps you create appealing content customized to address each segment's specific needs.
This type of targeted communication increases the chances of recipients engaging with your content, ultimately driving better results for the business.
Segment your email list using Retainful and create personalized welcome emails to engage your customers.
Warm Greetings and a Friendly Tone
Use a tone that you'd want your customers to associate with the brand and one that they will remember. Just keep it approachable and simple, like "Hello" or "Welcome to our community."
The goal should be to make customers feel valued and appreciated. Find a voice that matches your brand's personality and stick to it.
Introduction and Branding
The goal of the welcome email for a new customer is to introduce your brand to the customer. Briefly explain its purpose or mission and unique selling point.
Always incorporate the brand's logo and color scheme to reinforce identity. This ensures that recipients immediately associate the email with your brand and fosters a sense of familiarity.
Encourage account setup
If you are running a membership-based business, your welcome emails have to encourage customers to set up their accounts. Send them the steps to create or set up the account. Keep the steps very simplified.
Highlight the benefits and features they can enjoy by becoming active users or members. When you help customers set up their accounts using the WooCommerce welcome email, it automatically increases user engagement and helps new customers get started with the platform.
Time it right
Send the WooCommerce welcome email immediately or shortly after a user signs up or subscribes. The aim is to engage them while your brand is still fresh in their mind.
Avoid sending welcome emails at odd hours when customers are unlikely to open them. Do a little research on their time zone to optimize your welcome emails' open and engagement rates.
Welcome email examples
Personalized welcome emails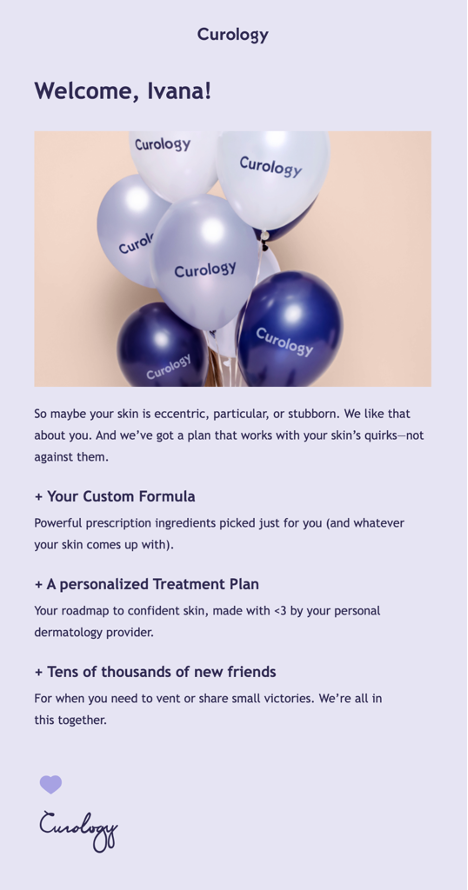 Curology is one of the best welcome email examples in terms of personalizing. When you personalize your WordPress welcome email, it makes your customers feel included.
The welcome email template itself is calm and inviting. The brand has done a good job writing the email copy explaining their customized skincare collection options.
Curology has crafted a solid welcome email with a subtle design to give customers a personalized welcome.
Welcome email with a discount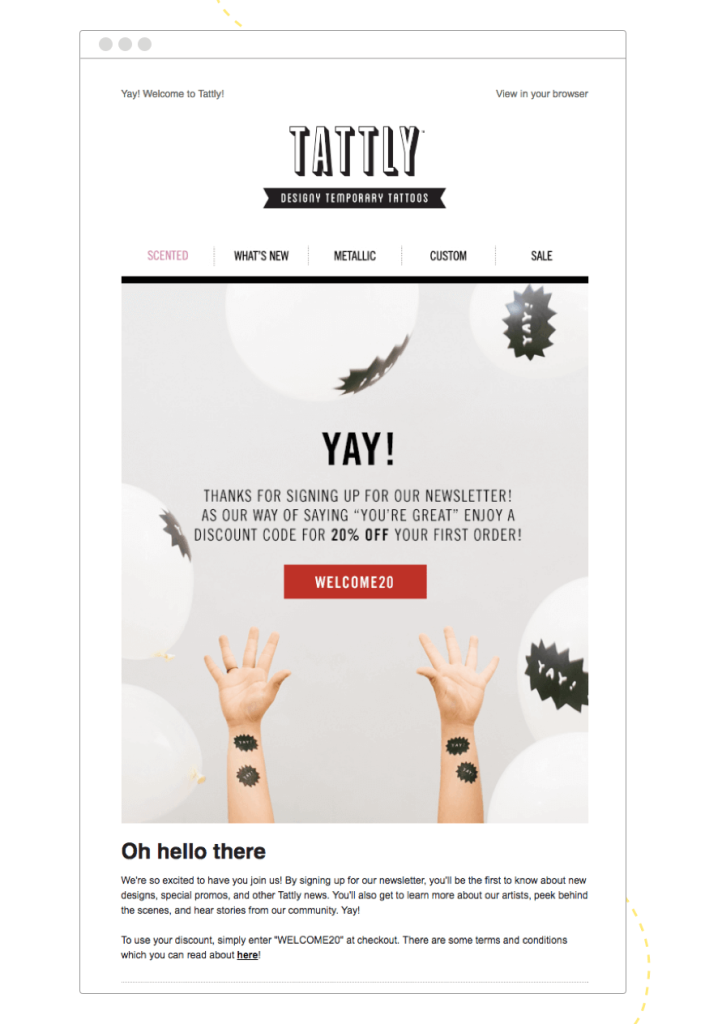 Nothing is more welcoming than a Welcome email with a discount. This welcome email example from Tattly has a personalized discount code for the first order. This easily encourages customers to buy immediately from your brand. First-order coupons usually make customers feel appreciated, and that's exactly what this email has aimed for.
Product recommendation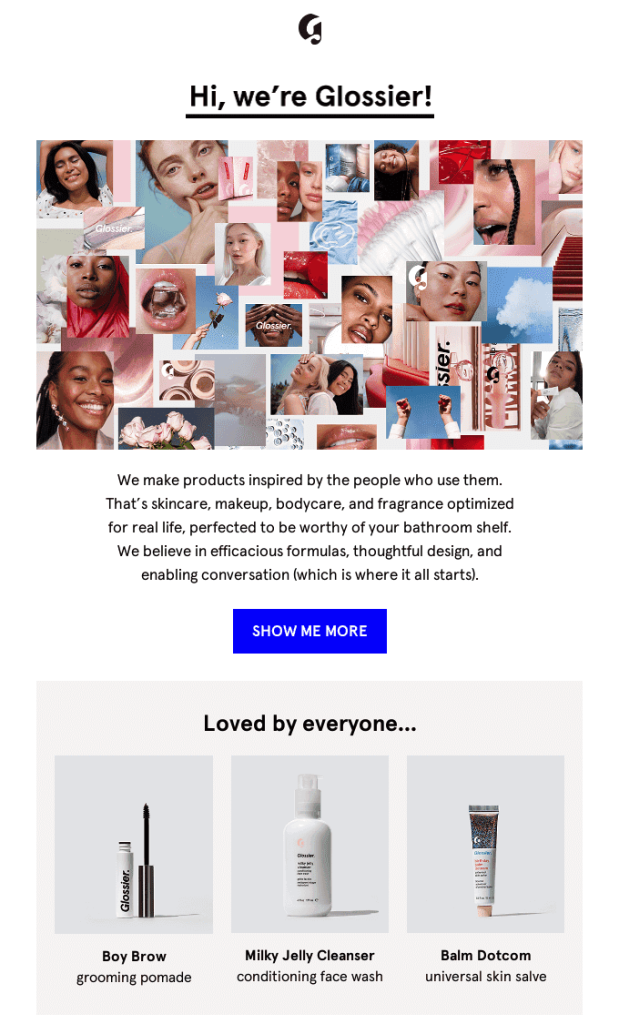 Glossier has killed two birds with one store: brand introduction and product recommendation in a welcome email. The colorful collage of women has filled a big portion of the Welcome email template and looks attractive. A short paragraph that explains just the necessary – who they are and what they do. 
This welcome email example has even bragged about their best products, which will grab the new customers' attention.
Confirmation welcome email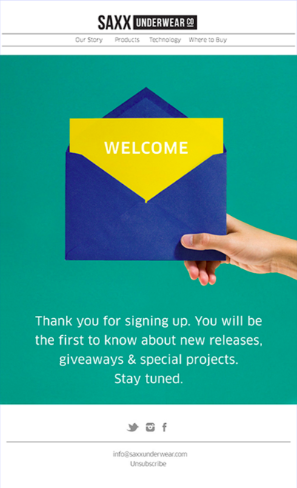 If your brand doesn't need a fancy welcome email, you can send a simple confirmation email. Your customers are going to expect a form of confirmation after they have signed up for your newsletters or your brand's website. The welcome email template has an aesthetic brand color and a simple email copy. This welcome email example is a simple yet effective confirmation that will get the job done easily.
How to automate WooCommerce welcome emails?
Installing Retainful Plugin & activating it
Go to your WordPress dashboard → Plugins → Add new
Search for the 'Retainful' plugin.
Click "Install Now" to install the plugin
Activate the plugin

Let's now Connect your WooCommerce store with Retainful Dashboard using the API Keys.
Connecting your store with Retainful API
After installation, you should connect your WooCommerce store with Retainful to start tracking and recovering carts.
Step 1: Get the API Keys
Login to your Retainful Dashboard (If you do not have an account, Sign up for Free)
Go to Settings -> General
Copy your App ID and Secret Key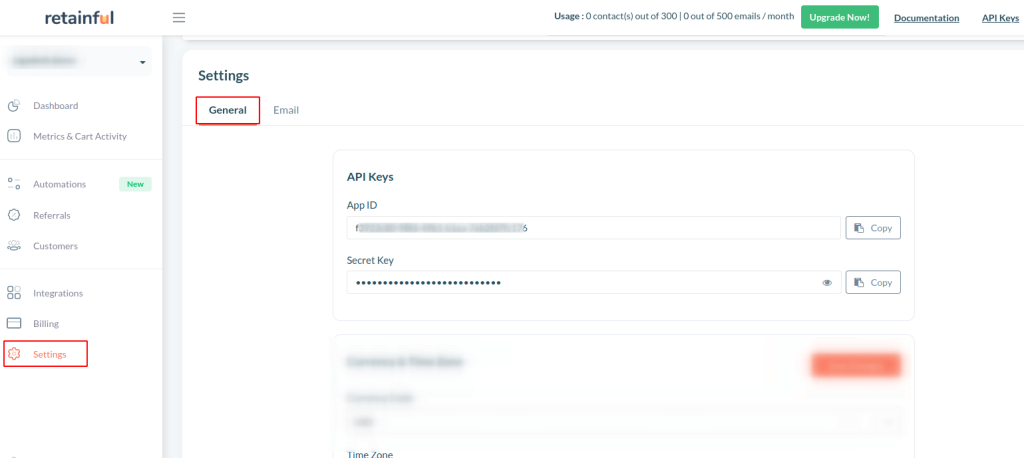 Step 2: Connect your store
Go to WordPress Dashboard → Retainful
Under the Connection tab, enter the keys in the respective field.
Click "Connect."
You'll see a successful message once the connection is established.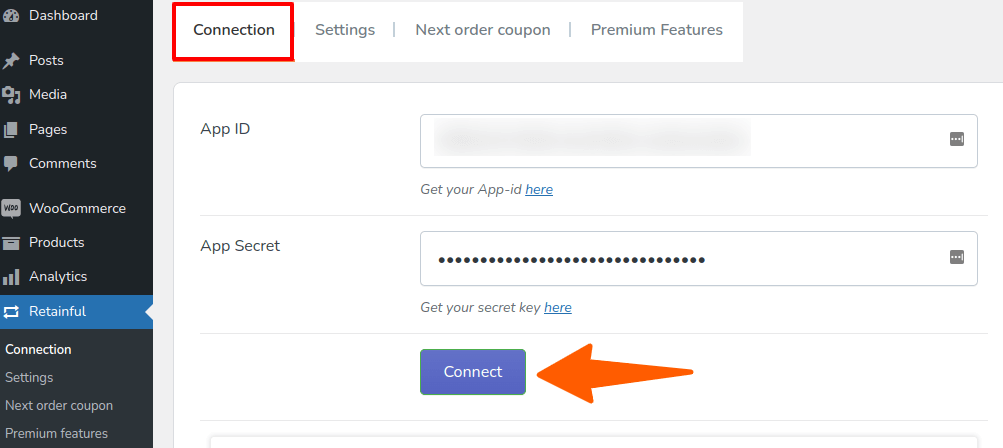 You can now track and recover abandoned carts from your store.
The default settings in the Retainful plugin are sufficient for 99% of the stores. No adjustments will be required. You can use them as is.
Updating the plugin
Updating the Retainful plugin for WooCommerce is easy as well.
Please go to your WordPress dashboard -> Plugins
Find the Retainful Plugin and click on the "Update Now" link
Here is a screenshot:

Creating a Welcome Email Workflow
Retainful lets you create your own WooCommerce Welcome Email workflow with an easy-to-use automation workflow editor. Retainful allows you to focus on other tasks and become more productive. With Retainful's Pre-built Template, you can create a Welcome Email Workflow with a few result-oriented steps.
Follow the below steps to create the Welcome Email Workflow:
1. Log in to your 'Retainful' dashboard
2. Go to 'Automation' -> Create Workflow -> Choose 'First Purchase Email'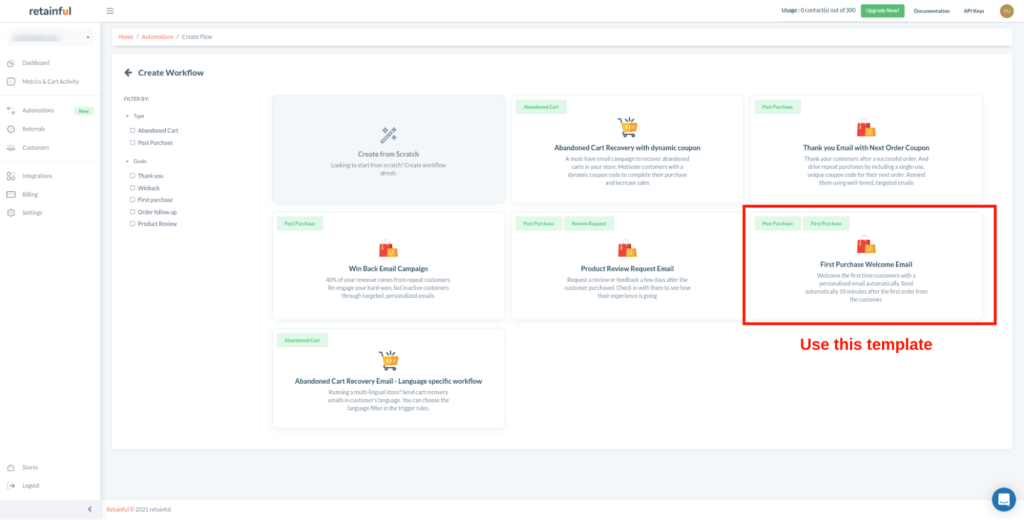 3. Give a 'Name' to your Welcome Email Workflow and click 'Continue' to proceed.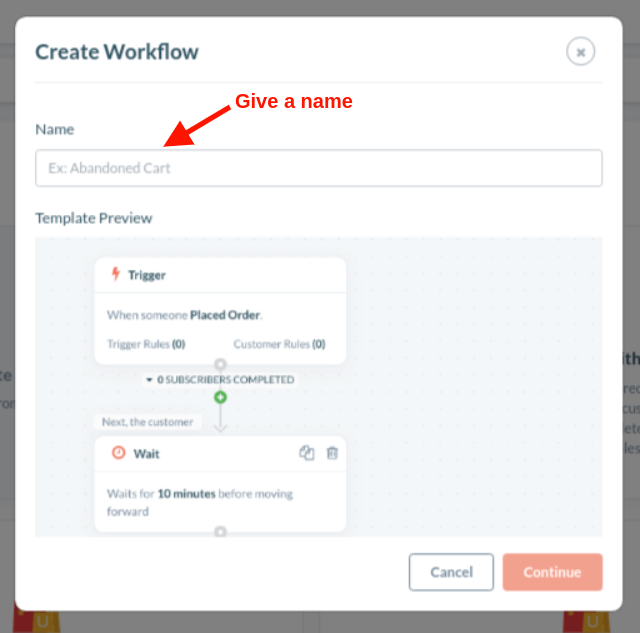 Now, you will be redirected to the 'Automation Workflow Builder.'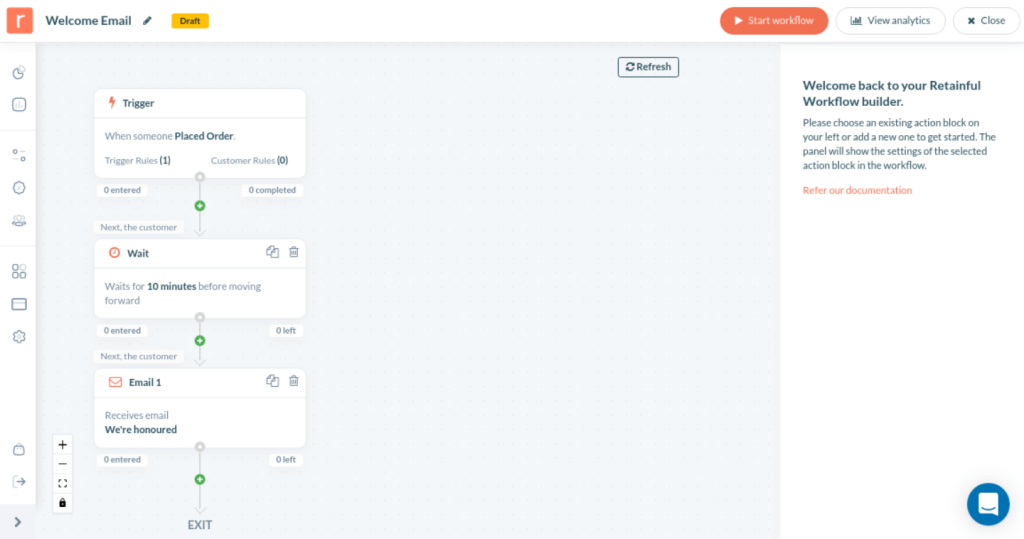 Trigger – You can find the 'Trigger' at the top of the workflow. The trigger lets you determine when a customer can enter into the workflow. The trigger is set so that the first-time customers alone can enter into the workflow.
When you click on the 'Trigger,' you will get a chance to visualize the trigger settings.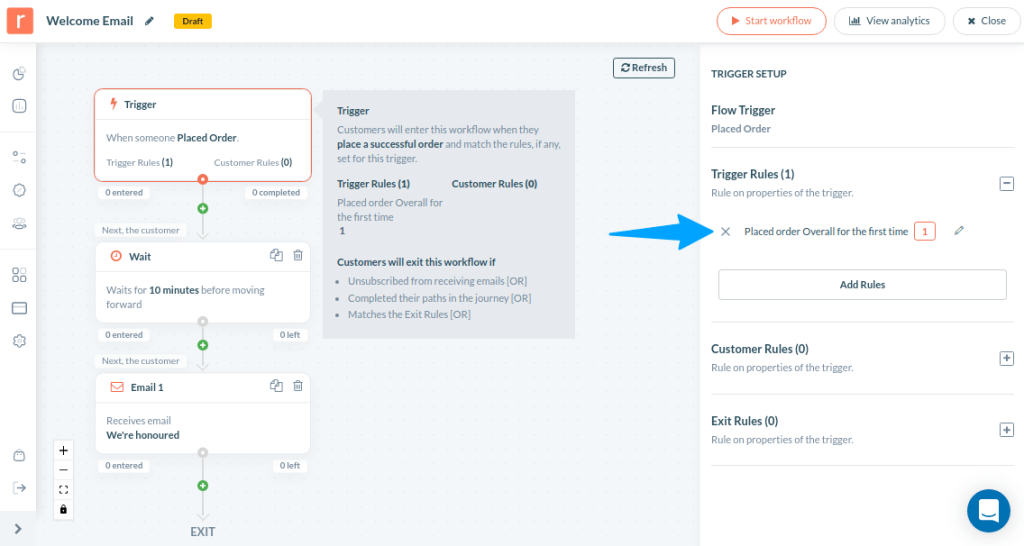 If you want to set up any custom trigger or customer rule for the workflow, you can set it up on the right side.
Wait – The 'Wait' block allows you to set a time delay.
The wait condition can be set to 10 minutes, so you can have the Welcome Email sent 10 minutes after a customer has made a successful purchase. (You can customize the wait condition if you want.)
Set up WooCommerce welcome email workflow in minutes using Retainful and start sending immediately.
Wrapping up
A compelling welcome email for new customers sent at the right time will decide the customer's positive future interactions. Use the best practices mentioned above and create effective WooCommerce welcome email campaigns.
Remember, using the right WooCommerce automation plugin also plays an important role in the success of your WordPress welcome email campaign. Use an easy-to-use email builder like Retainful with loads of customization options.
When you prioritize creating the best WooCommerce welcome emails using cutting-edge tools, you can easily create stronger connections with your audience. This automatically drives higher engagement rates and, ultimately, more sales.
So, seize the opportunity to craft memorable welcome emails and set the stage for long-term subscriber engagement and success.
Does WooCommerce send emails to customers?
Yes, WooCommerce can automatically send customers various emails, such as order confirmations, shipping notifications, and order status updates.
How do I add a welcome email to WordPress?
To add a welcome email to WordPress, you can use a plugin like "Retainful" to create and customize a personalized welcome email sent to new users upon registration.
How do I add an email to WooCommerce?
To add a new email to WooCommerce, you can use plugins like "WooCommerce Follow-Up Emails" or "WooCommerce Email Customizer" to create and customize emails for different events like abandoned carts, product recommendations, or special offers.
How do you start a welcome email?
To start a welcome email, address the recipient with a warm greeting, express your gratitude for their engagement or registration, introduce your brand or business briefly, and provide relevant information or incentives to encourage further interactions or purchases.