Customer success truly depends on how you make your first impression and Welcome emails play a vital role in it.
With a high open rate of 91.43%, it is crucial for your Welcome emails to bring out the 'WOW' factor within the customers and only then will they be excited to hear more from you.
Poor Welcome email design and tone will impact your chance of creating an engagement with the customers. This might result in your business losing potential leads.
Don't worry, many eCommerce stores/businesses have done it before and succeeded greatly. All you need is a few inspirations from the pioneers before you initiate your own Welcome email series as a part of your email marketing campaign.
So, here are some of the best eCommerce Welcome Email examples that can help you create the best first impressions and help you boost customer engagement.
What is a Welcome Email?
Welcome email is the first email you send to your customer, email subscriber or member in a motive to initiate the first interaction. This is usually done after the lead has signed up or shows an interest in your services.
Best Ecommerce Welcome emails usually consist of a simple form, an introductory message or just a casual Hi just to establish the first engagement with the prospect.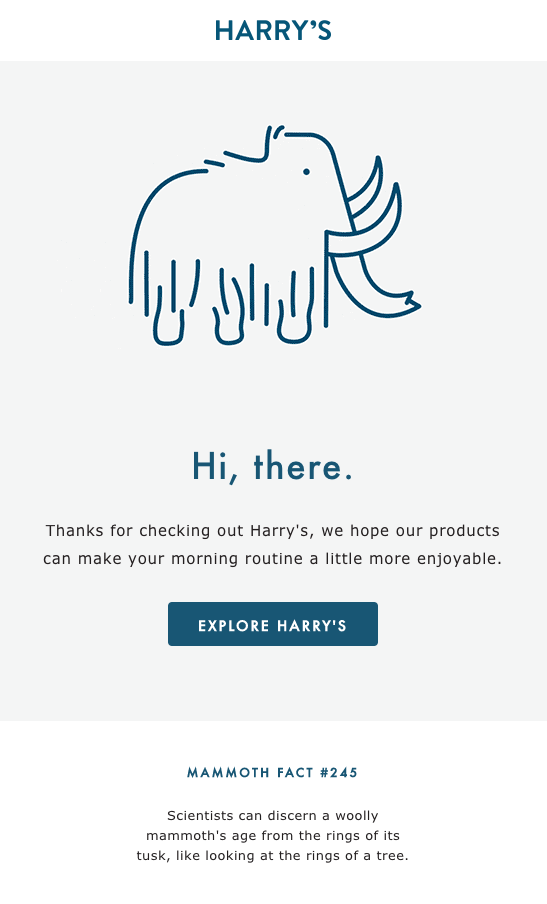 Here is a Best Welcome email example from Harry's, a simple Hi to the user followed by minimalistic content and an interesting fact on Mammoths to grab the reader's attention.
A Best Welcome email series can be as simple as this or you can experiment with the content just like other businesses did which you'll get to know in the following sections.
Why are Welcome Emails important for Ecommerce?
A question that almost every business owners asks is, do I really need to send Welcome emails?
Alright, hear us out, will you be happy when your friend doesn't welcome you inside his house when you go visit him, no, right?
It is the same here too, customers always expect a welcome email when they sign up for a product or service. Best eCommerce Welcome emails will make them develop trust in your store.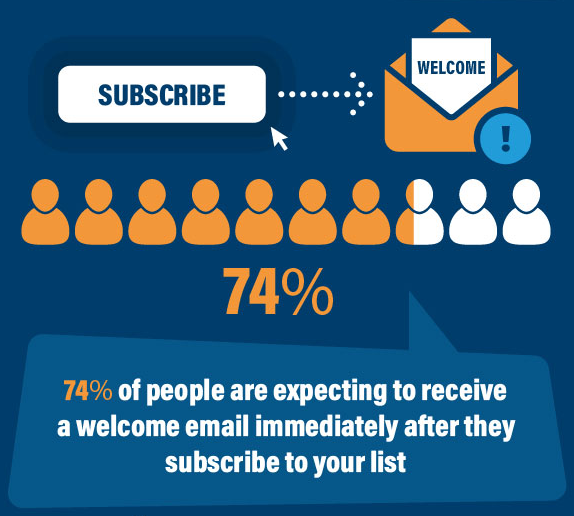 Remember, you need loyal customers for long-term success and Welcome emails offer you the first chance to nurture them and foster loyalty.
Reports also say that customers who receive Welcome emails are more likely to engage with the brand better and become long-term customers.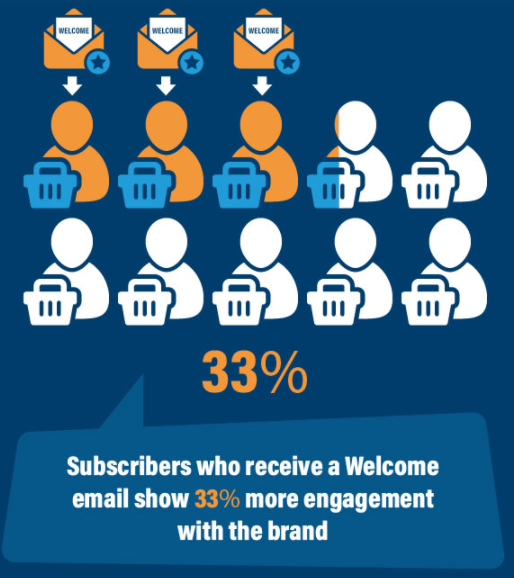 This shows how much Welcome emails can influence customer success. With the highest open rates and click-through rates compared to other emails, it has become an unskippable asset for marketing campaigns.
9 Unique Ecommerce Welcome Email Examples for your inspiration
Welcome emails can easily help you build a strong relationship with your customers when it is done right and these best Welcome email examples and Welcome email templates can help you out with it.
Get started
A welcome email is a perfect way to introduce yourself to the customer and let them know about your services. And what better way is there than sending a Get Started email.
Get Started email is the most commonly sent Welcome email as it helps you to introduce yourself in a more subtle way.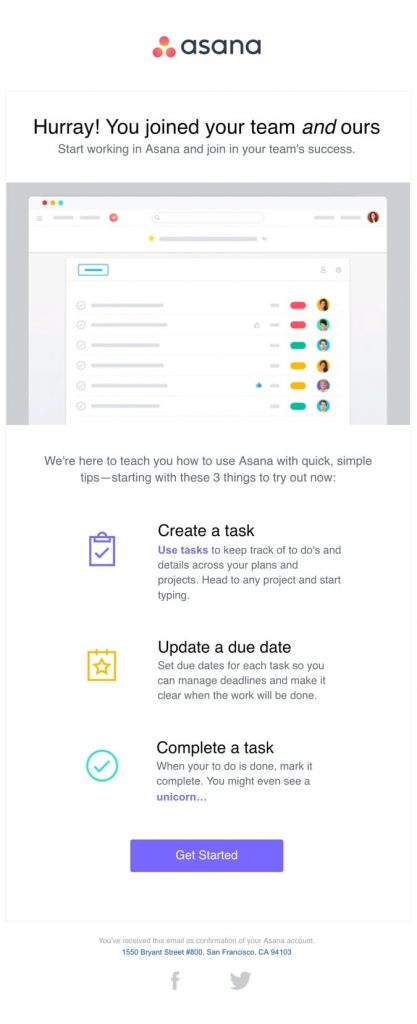 Here is a Get started Welcome email example from Asana, the theme of their Welcome email is parallel to their product which is a much-needed detail to increase your conversions.
Also, the Welcome email design looks neat without any intrusive colors or text and they are offering a little tutorial on how to get things started with their product.
This 1-2-3 formula(tutorial) engages with customers better and it is something a customer would expect too as they are signing up to a new product, it will ease their tension.
Let's not forget about the eye-catchy Get started CTA, it grabs attention and fits perfectly with the Welcome email template.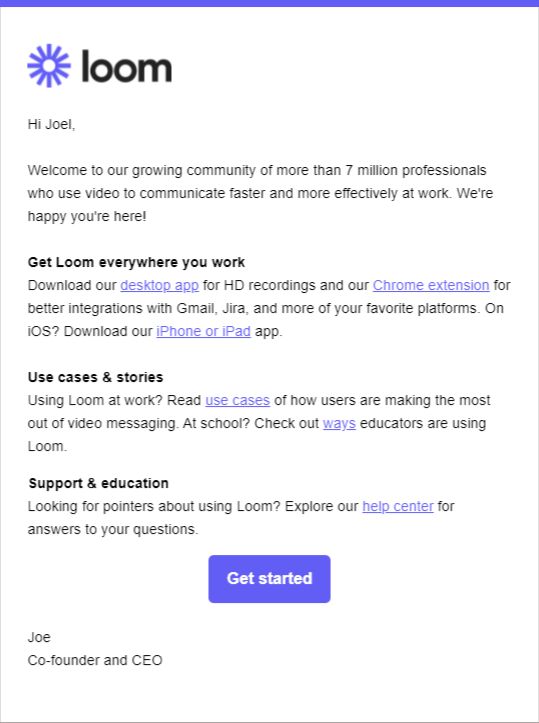 Here is another Welcome email example from Loom. Loom is an app that helps you record your screen so they've provided links to directly download the app.
They've started with a beautiful welcome message and right away provided the links to their apps along with social proof and support. This is a brilliant way to reduce the anxiety of a customer and make them feel comfortable about the product. Their CTA will persuade any customer into clicking it.
So, this is what your Get Started email must consist of, a welcome message, tutorial and other basic resources related to the product along with a dynamic Get started CTA.
Thank You
This Welcome email can be often seen from eCommerce stores when you sign up to the store or subscribe to their newsletter to receive updates.
A Thank you email is a nice way to show that you actually care for the customer's presence in your store/service.
Remember, of all the eCommerce stores and services that are available today, they signed up/subscribed to your service, so it'll be a great gesture if you send a Thank you email to acknowledge their choice.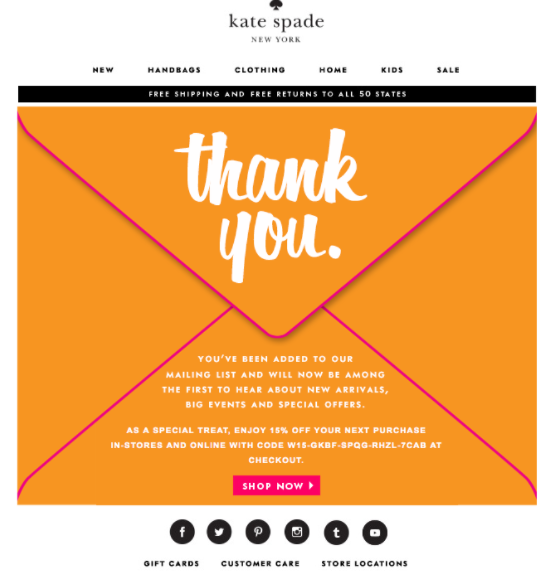 Here is a 'Thank You' Welcome email example from Kate Spade and the most intriguing aspect of this Welcome email design is the design itself.
Designed to look like a letter, vibrant color with a bold heading that reads "Thank you", a subtle nod to the customers for signing up to their mailing list.
It has a well-crafted message and let's not forget the '15% off on the next purchase' discount which will help you drive repeated sales.
So, if you own an eCommerce store and a new customer has signed up, this is how you can welcome them with thanks and a discount to increase your customer engagement.
Offer email
Be it eCommerce or any other digital services, returning customers play a major role in the success and best Welcome emails can help you out there.
Use your welcome emails to send exclusive discounts or offers to the customers to grab their attention and make them loyal recipients of your service before you even get to know them.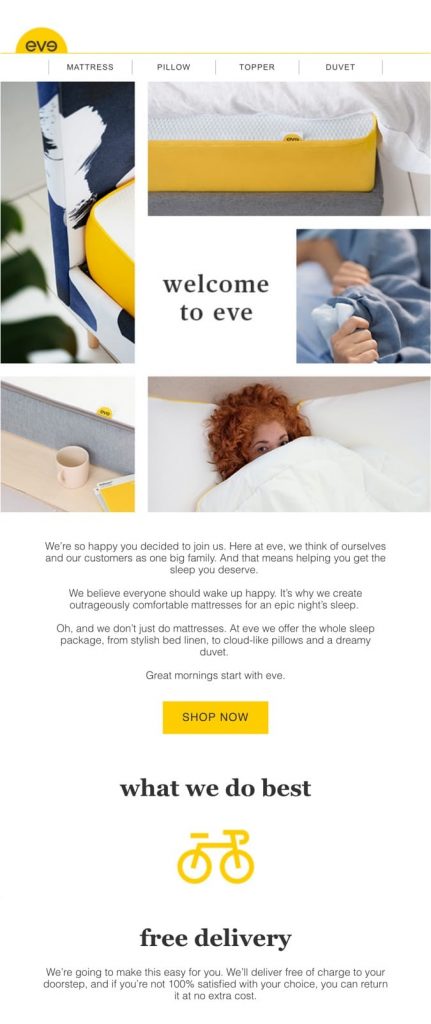 Here is a Welcome email example from Eve Sleep, this Welcome email design looks enticing but what makes this email special is the well-articulated message.
It shows that Eve Sleep considers the customers to be part of the family and with words like "Helping you get the sleep you deserve" they come off as a brand that cares for your well-being.
"Great mornings start with eve", a persuasive tagline that can convince you to purchase the mattress. But what matters here is the offer, now we all know that transporting mattresses is not cheap, we've all experienced it personally in our lives.
So what Eve sleep did here is extraordinary, they are offering Free delivery which will encourage any customer to purchase the product.
A heartwarming message with an enticing discount and a vibrant CTA, Eve Sleep just nailed their Welcome email template in every aspect.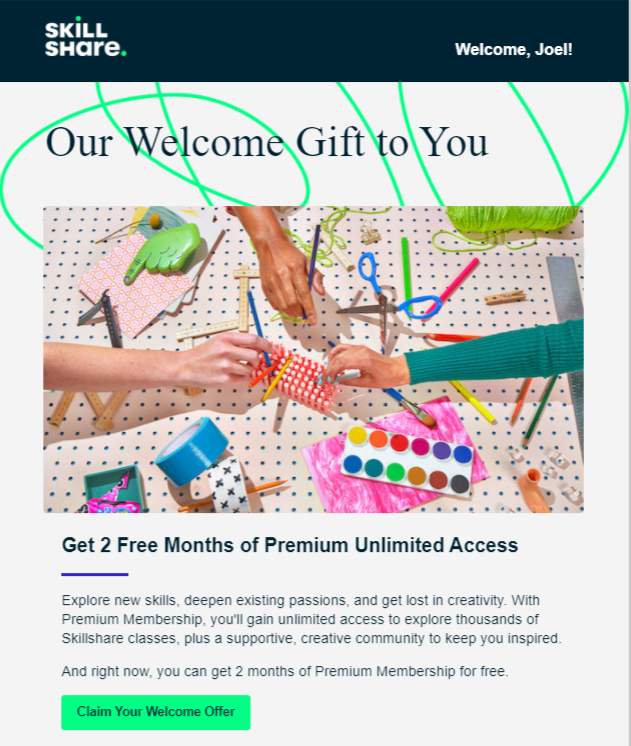 Eve Sleep Offer Welcome email was great which brings us to another brilliantly crafted Welcome email template from Skillshare.
Skillshare is a digital educational platform that offers courses on various technologies. When you signup for educational services like these, the one thing that will run through your mind is how much will it cost me and will it teach me enough?
We all have been there and Skillshare just said, well, "you need not worry about the cost because we are giving it to you for free".
Yes, as soon as you signup, the first email you get is the Welcome offer, a free premium membership through which you can access various resources.
How cool is that from Skillshare? This will encourage their customers to stay longer with them for their services.
As we said earlier, returning customers are crucial, so sending offers like these right away in your best Welcome emails will increase your customer engagement and help you foster customer loyalty.
Video Tutorials
A Welcome email will give you the first chance to communicate with the customer and you should take full advantage of that so that you can boost your customer engagement.
Initially, a customer will be oblivious to your service when they first sign up. They might not know how your service works or how they can benefit from your product.
So, sending them video tutorials of your product is the best way to break the ice and they'll start interacting with your product by themselves using the tutorial.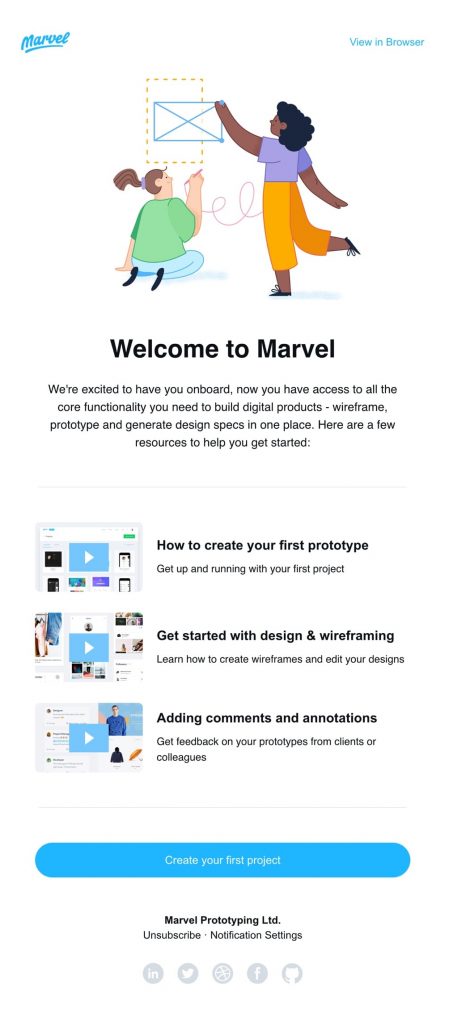 Here is a Welcome email example from Marvel, a digital design platform for your websites and not the Comics.
Their Welcome email template is straightforward, a graphical representation of what they are which is followed by a headline and a simple message.
Then without any gloating around they right away take you to the tutorials that can help you started with their service.
Their approach is compelling, Marvel didn't put up fancy words for persuasion, they knew that whoever signed up for their services will need their help to get started with the design, so they directly included the tutorial videos to help the users.
A simple but effective approach. Welcome emails like these tend to resonate with the customer better.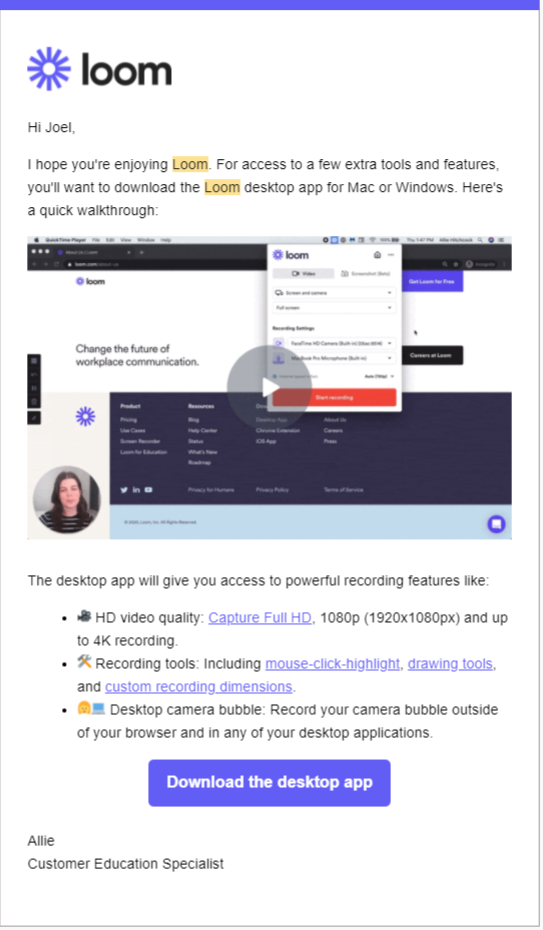 Let's look at loom's Welcome email template, they want to ease up their customer's effort, so they send a video tutorial on how you can use Loom along with some basic documentation links.
This is not the Welcome email you get after signing up, this is a Follow up to the welcome email after you use Loom for quite some time.
All of it is done just to create a positive engagement with the customer and to keep them glued to their services.
So, if you want your customers to fall in love with your services/products then send a video tutorial on how to use your product through the best Welcome emails, it is a brilliant customer engagement tactic.
Social Media
The objective of sending the best Welcome emails to the customers is to interact with the customers and to boost your customer engagement.
When we talk about interaction, it is an injustice to leave Social media out. Businesses have been using Social media to interact with their customers personally and to foster customer loyalty.
So, if you want to increase your engagement with the customers and send Welcome emails linking out to your social media accounts.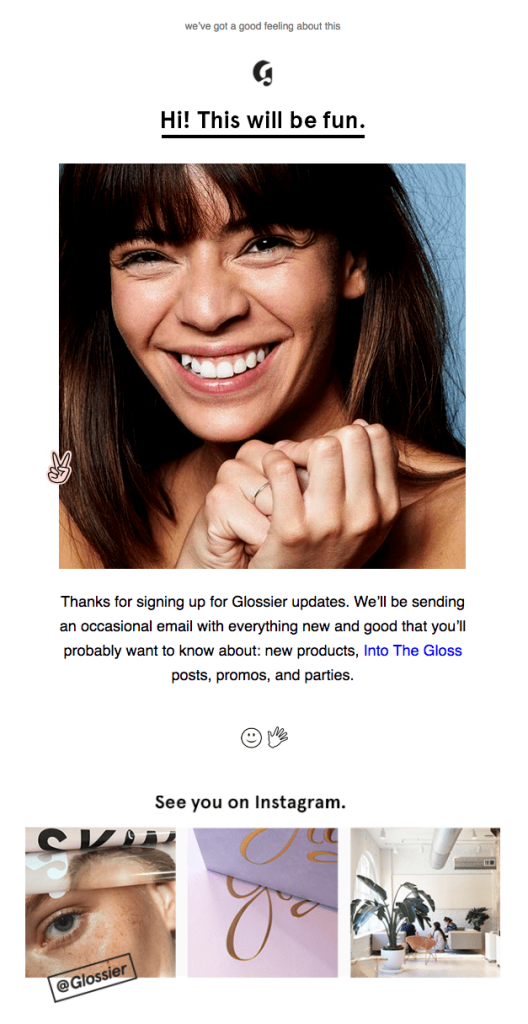 Glossier uses a simple Welcome email template with a Thank you message and the tag "See you on Instagram" will encourage the customer to click on it and check it out.
They want the customers to share their content on Instagram so that they can be a part of the community, a brilliant way to increase your engagement.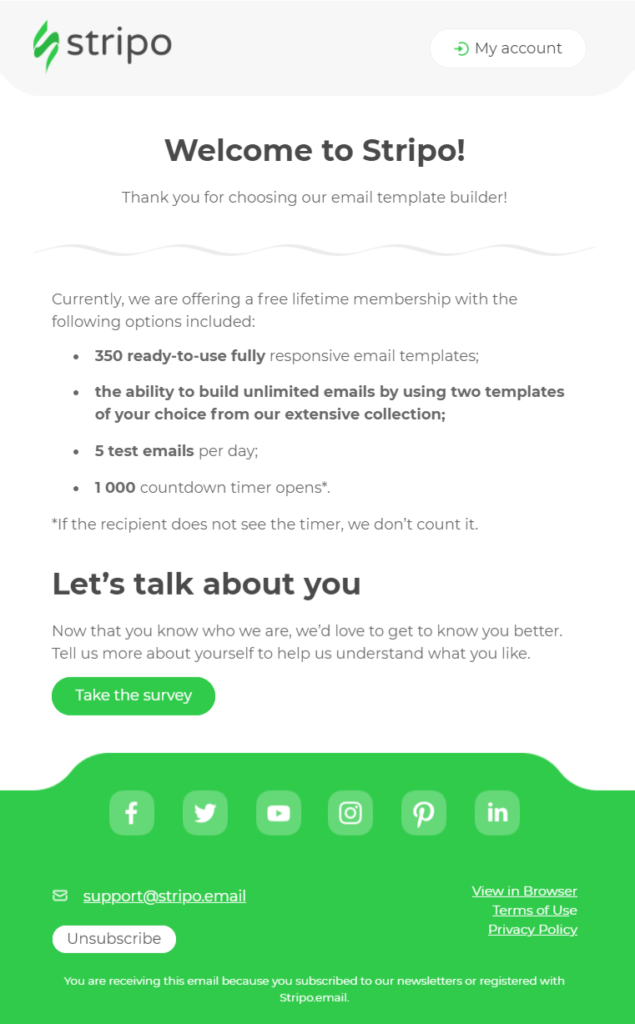 This Welcome email example from Stripo educates the users on the product and what they can do with it.
Unlike Glossier, Stripo is not directly asking their users to join them on social media but rather they just included their Social media buttons. Now, remember, just adding social media buttons like these will work only if you have a compelling email copy that can persuade the readers.
In this case, Stripo nailed it, they have a persuasive email copy that grabs customer's attention with features on bullet points and a "Let's talk about you" headline to make the customers take an action.
This user-friendly approach will make the customers want to engage with the business even more and the social media buttons will take them even closer to Stripo.
So, if you want your customers to engage with you on Social media, just make sure that your email copy is interesting and enticing, If they don't like your email, there is no way they are clicking on the Social media buttons.
Refer a Friend
Boosting customer engagement through meaningful interaction is the sole reason behind Welcome emails.
What if we say there is a way to interact with the customer who signed up to your service and attract new leads simultaneously.
Yes, you can send a Welcome email and ask your customer(who has just signed up) to refer their friends to your store and earn exciting rewards, just like a Referral program.

Here is a Welcome email example from Revuto, the Welcome email template is pretty straightforward without any sugarcoating.
They right away grab our attention with a reward, in this case, Tokens. And then they tease you with a bigger opportunity to earn tokens. They lay out their Referral request, "Refer your Friend and Earn Tokens", this will motivate the customers to act and refer their friends. They get the Tokens and you get a new customer.
Interesting thing is they've added a status viewer CTA, now customers can view their referral status so they'll know what to do next to earn more tokens, a simple but effective tactic to keep the customers engaged.
Remember, if you own an eCommerce store, a customer will not purchase in your store every day. So, involving them in activities like these can help you boost your engagement greatly.
Tutorials
If you think sending a video tutorial takes a lot of effort, you can simply follow what most digital services do, a 3-step initiation process.
How many Welcome emails have you received with a 3-step tutorial process after you've signed up? It clears out the elephant in the room and makes the customer understand your product better.
Sometimes after a customer signs up, he/she will be worried about where and how to get started with your product. So, sending them a quick step tutorial process will clear their mind.

Here is a Welcome email example from Crello, they started off with an enticing headline 'Become a designer in one minute'.
This headline will encourage anyone into taking an action by making them curious. Then it is followed by a neatly constructed 4-step process on how to get started with the designing process along with a vibrant CTA.
It is one of the cleanest Welcome email templates with proper use of white space. It takes you to the objective right away.
Just like the old saying, too much of something is good for nothing, keep your Welcome email design minimalistic so that the reader doesn't find it intrusive.
So, if you don't want to keep your users waiting or call your customer support, then it is a brilliant tactic to show them how it's done right there in the Welcome emails as Crello did.
Brand story
Everyone likes a good origin store or success story, isn't that right? It doesn't matter if it's a superhero or a Digital service, stories can get anybody's attention.
You can use this to your advantage and share your story through the best Welcome emails and increase your engagement.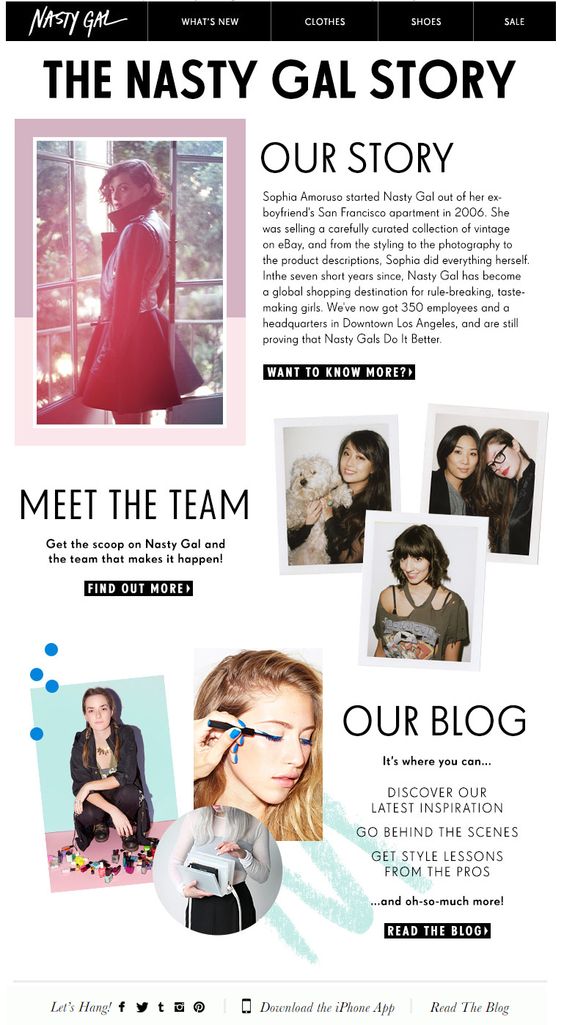 Here is a Welcome email example from Nasty Gal, a Women's clothing store and they knew how to get their customer's attention. Since it is an eCommerce store, sending tutorials will not work. So, they share their story to make a personal connection with their customers.
The Welcome email design starts off with an inspiring origin story and ends with cliffhangers like "Go Behind the scenes" "Get Style lessons from PROS".
This is an excellent tactic to make the readers curious and to persuade them into visiting their blog section to educate the customers.
They didn't simply share a story and offer a discount to make customers visit the store. They made the customer feel like they are a part of the brand by giving them access to behind the scenes and so on. This increases engagement on a personal level and boosts customer loyalty.
So, the next time you think of sharing your story, just make sure to let the customer associate with your brand by giving them access to exclusive updates and information about your store.
Product showcase
Finally, we've come to the most commonly used Welcome email template by eCommerce stores around the world, The product showcase.
Showing the products you sell to the customers in your Welcome emails will have a positive impact on the customers. It will encourage them to rush to your store and check it out.
But make sure to only showcase your prized possession in your Welcome emails.

Here is a Welcome email example from Cox & Cox, a furniture store with aesthetic Welcome email design that goes well with the product that they are selling.
Now, take a look at the banner image, what does it imply? The brand wants the customer to relax and get comfortable before they start shopping.
It is followed by a Welcome message and a Next order discount to encourage the customer to return to their store and drive repeated sales.
Then comes the 'Explore our collections' section where Cox & Cox showcase the products that they offer in a simple beige layout. Customers can visit the respective categories directly from the mail, that's a genius tactic to keep the customers glued to their brand/website.

Not just eCommerce stores, even Fiverr, a freelance service brand uses the same tactic too.
A good welcome message on a simple email template followed by a provocative CTA and then they've listed the jobs that are available so that the users can click on it and get redirected to the website instantly.
Showcasing your products on Welcome emails is a great way to increase your conversions as images speak better than words.
Conclusion
Welcome emails give you the first chance to impress your customers and establish a strong relationship. If you don't nail it here then all of your future engagement might be jeopardized. To build the best Welcome email series you need inspirations and that's why we have compiled these best Welcome email examples to show you how it should be done.
Take what you need from these Welcome email templates and build your Welcome emails and send them to increase the engagement with your customers.