Referral program helps businesses acquire customers who have higher lifetime value than others. Launching a referral program is easy, but if you want to make it successful, you need to follow the best referral program ideas.
The competition in the eCommerce market is at an all-time high. Stores around every corner are running a referral program to acquire new customers. The only way you can succeed is by standing out from the competition. And that's why you need the best referral program ideas to promote and make your campaign unique.
The requisites of a successful referral program are a compelling referral headline, referral rewards, referral promotion, etc. Each referral program will change according to the size of the business. The key is to build a best referral program that suits your existing customer base.
So, follow the best customer referral program ideas discussed in this article to build a referral program that fits your business, stands out from the competition, and helps you gain more customers.
Grow your Word-of-Mouth sales with a Referral program. Create and launch a referral program with Retainful now.
What is a customer referral program?
The customer referral program is a marketing tactic that rewards existing customers for referring their friends to your store. Customers trust recommendations from their friends, making the referral programs a credible channel for quality leads.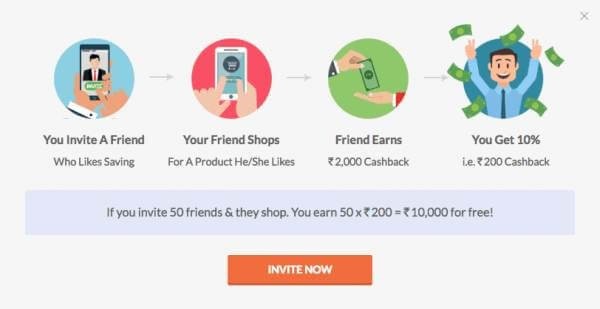 Refer a friend program is one of the few organic customer acquisition mediums that can reduce the cost of acquiring customers and boost your retention rate.
The most common type of referral campaign is the double-sided referral system. You can reward the referral for completing his first purchase using the referral link and the referrer for referring a customer to your store.
Why do you need a Referral program?
Customers will most likely refer their friends to your store if they receive the best customer experience. The best referral program increases customer engagement and allows them to contribute significantly to your store as a brand ambassador.
Wouldn't you be happy if your customers did the work for you?
A referral program serves as a platform where you can turn your customers into brand advocates and acquire valuable leads through word of mouth.
This is not the only reason why you need a Referral program. Here are a few more,
It makes customers feel like they are a part of the company and increases their lifetime value.
Double-sided incentives will help you retain existing customers and encourage new customers to drive repeated sales.
Referral customers have a higher average lifetime value
Referred customers are 18% more loyal than others
Referred customers spend more on their purchases compared to customers acquired through other mediums
72% of marketers have expressed that referral activities generate good leads
Refer a friend program produces high-quality leads that can increase your conversions and revenue. When used right, it can be more than just a customer acquisition channel, and that's why you need it in your store.
So, if you want your Referral program to do more than just acquire new customers, here are some of the best referral campaign ideas that can work wonders for you.
Best Customer Referral program ideas to make your campaign successful
Use the right Referral app.
The first thing you need to run a successful referral program is a Referral app/plugin. There are many best referral apps for both WooCommerce and Shopify stores.
How do I choose the right referral plugin for my store?
Despite hundreds in numbers, only a handful of referral plugins can help you run a high-yielding referral program. Here are the key factors that would help you easily choose the right referral program app for your store. Automated – You cannot manually send rewards whenever a customer refers his friend. Once your referral campaign is live, the app must be able to handle the referral program on its own. So, look for an automated referral plugin.
Multiple rewards – Your ideal referral plugin must let you offer multiple discounts like percentage discounts, a fixed amount,s and free shipping discounts as referral rewards.
Tracking – The only way you can keep enhancing your referral program is by tracking its performance consistently. Your referral plugin must have the right features to keep track of the campaign and display real-time analytics.
Email notifications – You should be able to send email notifications reminding customers of their referral rewards.
Promotion – Choose a referral plugin with multiple branding options to promote your referral campaign to customers.
Only a handful of plugins can check these boxes, and Retainful is one among them.

Retainful offers a referral link to each customer, which can be shared via social media to invite friends. When customers enter the store through the referral link and purchase the product, the referral and referrer will be rewarded.
It can track referral activities and display real-time analytics in the dashboard. You can also communicate with your customers through Referral emails and notify them about the referrals.
The first referral campaign idea is to choose the right referral app, and Retainful will be the perfect choice for your WooCommerce or Shopify store.
Craft a catchy headline
Once you've chosen your referral app, the next referral campaign idea is to craft an enticing headline for your refer a friend campaign that can engage with your audience instantly.
Your referral headline will be the first thing your customers see on your referral promotion page or widget. So it must be catchy, simple, and memorable. Especially, it must say what customers can get from the program.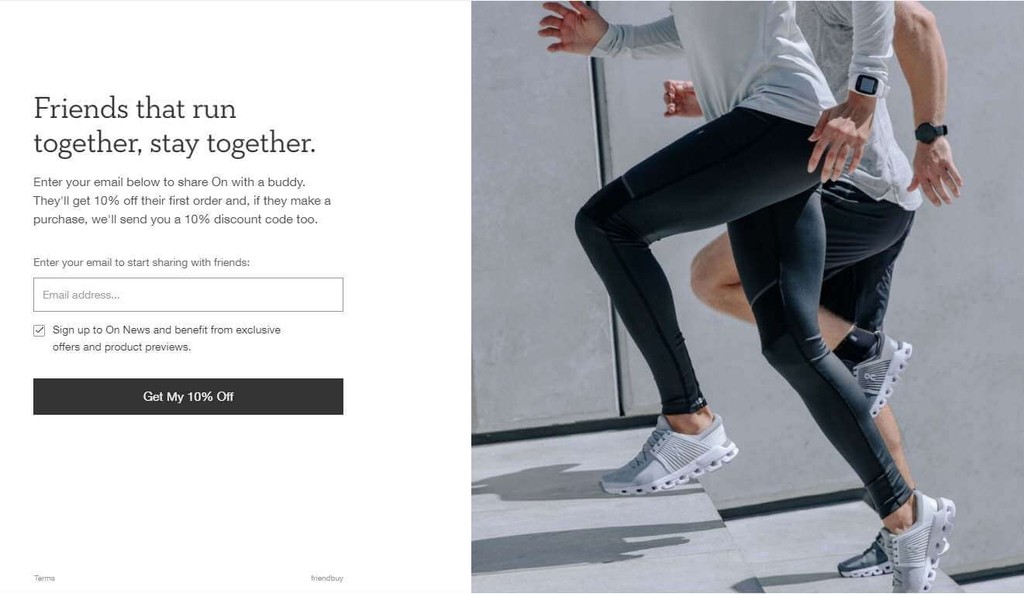 Here is a Referral program example from On running. Their headline says, "Friends that run together, stay together" this can certainly trigger customers into taking action.
Some more headline examples that can make customers take action,
Refer, and you shall receive
Give 50% off. Get 50% off
Reward our friends and Yourself
Be a Good Friend
Get $50 by showing your friends some love
Get $50 for every friend you refer
Share the Love
Tell your friends about us, and you both get $20
Give $100, Get $100 for Yourself
Keep your headline minimalistic and straightforward. Express what customers can do and what they can get within a sentence, don't gloat in your headline.
Design an attractive customer referral program landing page
Creating an attractive landing page is a brilliant referral campaign idea that many eCommerce stores overlook.
Is a landing page necessary for a referral program?
Yes, it is. Most eCommerce stores don't understand the importance of a referral landing page. They just display a popup or a widget in the storefront to let customers know about their referral program.
While displaying popups and widgets is a great promotional tactic, they fail to educate the customers regarding the referral program. Customers prefer to know everything about a referral program before they engage with it.
So, designing a separate referral program landing page is crucial as it can educate your customers.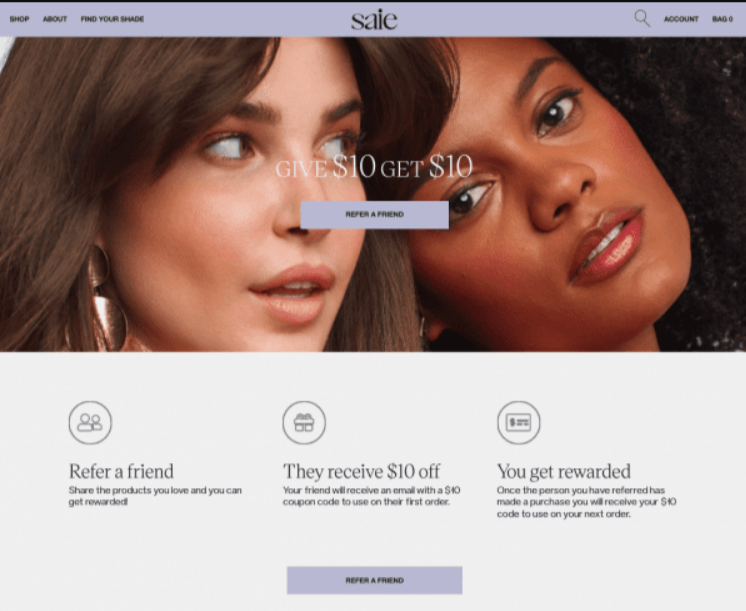 Here is a refer-a-friend program landing page by Saie. Their headline is bold and straightforward and tells the program's value immediately.
The headline is followed by a quick "How it works" to let customers know what they have to do, refer their friends and earn rewards. Images engage with customers better than text, so use attractive images to attract customers to refer their friends.
Always remember, the best referral program idea is to have a separate landing page for your refer-a-friend campaign to increase engagement and boost conversion.
Know when to ask your customers.
Next in our referral program ideas is the value of time. You must know when to ask your customers for a referral; if you do it too soon, you might become an annoying salesman.
Instead of asking customers to refer a friend right after their first purchase, wait for them to have enough engagement with your store and drive repeat purchases. Then you can ask them to refer their friends.
Experts say the right time to ask for referrals is when the customer is most engaged with your brand or satisfied with your service.
The best time to ask for referrals is:
When a customer is driving repeat purchases in your store
When a customer is consistently writing positive reviews on your store
On a special occasion like a customer's birthday
During customer milestones like signup anniversary or first-purchase anniversary
When a customer has just referred a friend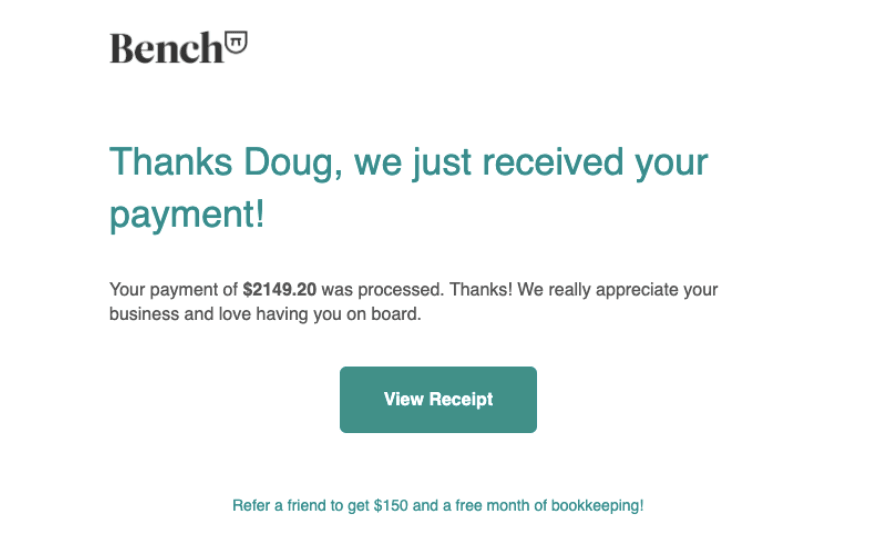 Here is an example from Bench. Notice they've asked their customer to refer their friends in the order confirmation email. Asking for referrals right after they've completed a purchase is known to bring better conversions.
Make sure people can find your program.
What good is a referral program if your customers cannot find it? Keeping your referral program hidden or only displaying it on the footer of your website will not attract referrals.
Most store owners assume that their referral programs don't need any promotion. They believe their customers will find it by themselves.
This isn't the right practice. If you want to attract more referrals to your store, make sure your referral program is easily discoverable. Ensure that your customers are aware of it.
Once your referral program is active, use all possible channels to get the word out to the customers. Here are some popular ways stores use to promote they refer a friend campaign.
Display a referral popup or widget on your homepage
Send emails to loyal customers
Display the program on your page header
Mention it on your blog page, about us page, and landing pages.
Write blog posts about your referral program
Display it on your Social media
Transactional emails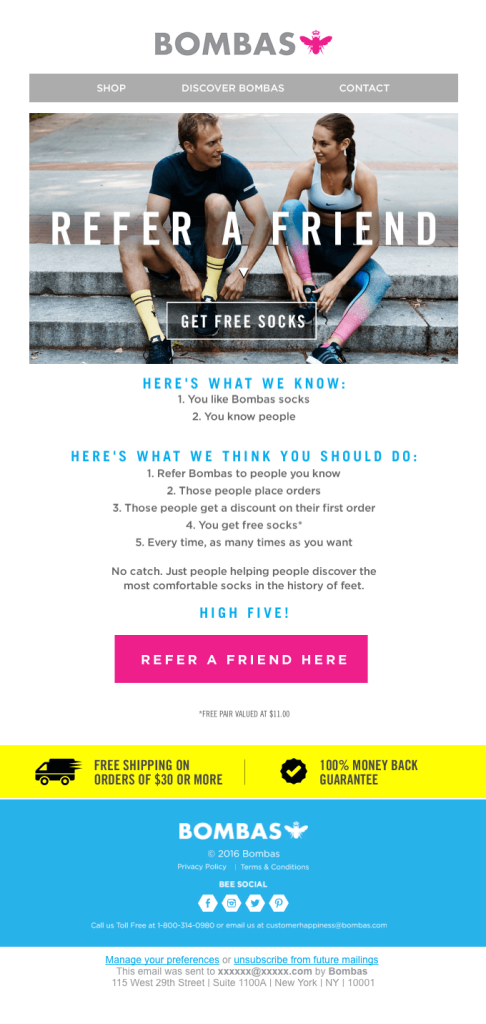 An email from Bombas introduces its referral program to its customers. Promoting your referral program should be part of your referral campaign ideas to spread the word and increase engagement.
Turn existing customers into brand advocates and boost your Word of mouth sales with a Referral program. Acquire new customers by spending less & retain customers through Retainful's referral campaigns.
Double-sided incentives
One of the smart referral campaign ideas is to run a program with double-sided incentives as people love rewarding their friends and families with gifts and discounts.
Customers will be eager to refer their friends if you deliver the right customer experience. Just launch a referral program with two-way rewards, and they'll happily join it.
Double-sided incentives work great because both the referrer and referral get rewarded, which is why it has become the most popular referral system among store owners.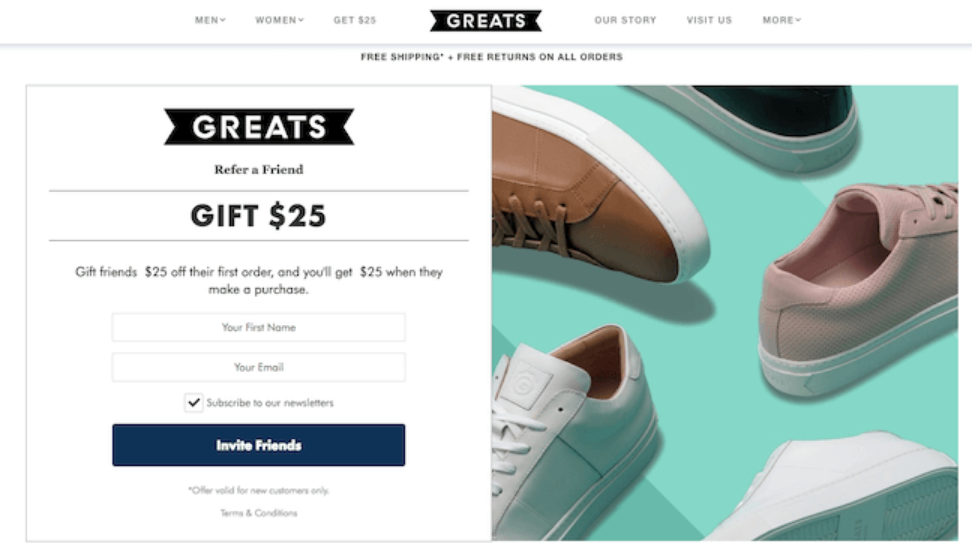 As the new customer gets a discount for his first purchase, it increases loyalty and encourages them to drive repeated sales.
So, two-way rewards are one of the best referral incentives as they will help you retain existing customers and acquire referrals who are likely to spend more than other customers. This is why it is one of the best referral program ideas on this list.
Offer a mystery gift as a reward.
Offering surprise gifts as referral rewards will make your customers more curious, and they'll start paying more attention to your referral program.
As a store owner, surprise gifts will allow you to clear out your stock of under-purchased products. Your customers will be happy either way as it is a freebie.
Mystery gifts will motivate your customers to actively take part in your referral program and bring in new customers to your store.
Sometimes, customers might feel regular discount rewards are boring, so surprise them with a mystery gift and save the day.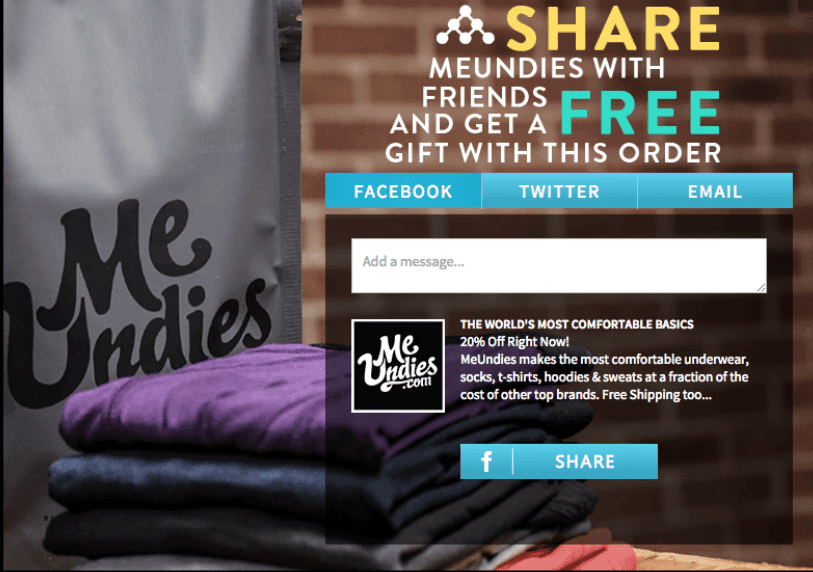 But, what if the mystery gift is irrelevant to the customer?
This is the catch with mystery gifts, but you can easily solve it. You already know about your customer's purchase patterns, search history, persona, and more. Use this data and offer a surprise gift that is relevant to your customers and increase loyalty.
Make the referral process easy.
Many referral programs have failed due to irrelevant navigation and complicated referral process, and it still happens to this day.
Ecommerce stores keep wondering why they refer a friend campaign is not converting enough. They don't realize that the issue lies in front of them.
Simplify your referral process, and avoid pushing customers through needless navigation to get the referral link. Make sure that the customer can refer their friends within 2 clicks. If it goes more than that, the customer will leave your program.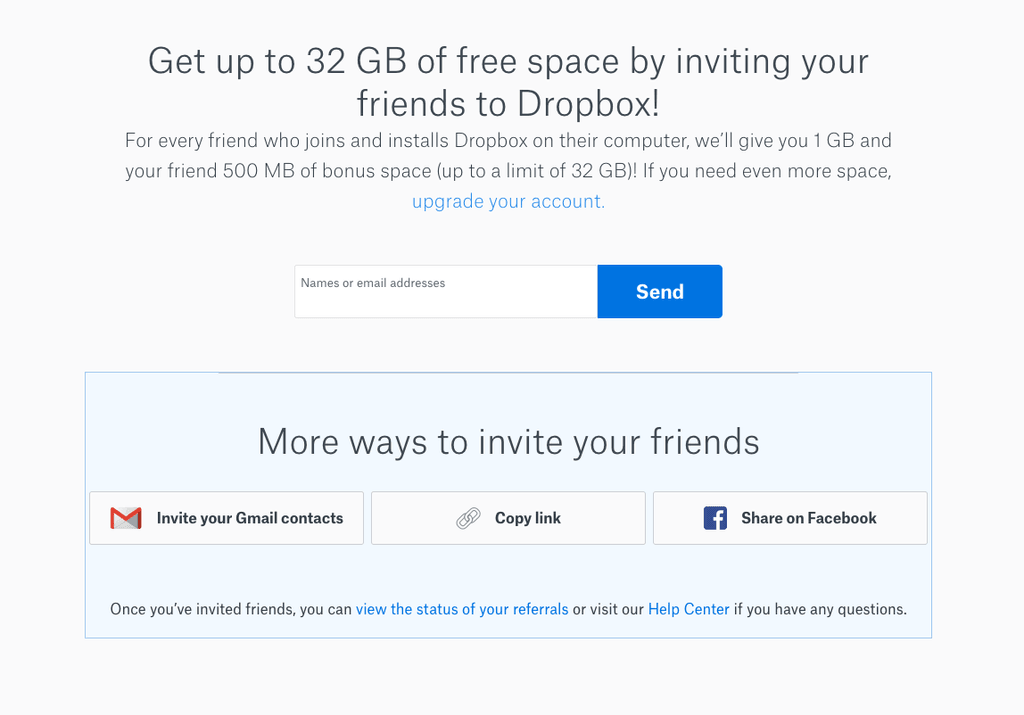 Here is a referral program from Dropbox. To refer their friends, all a customer has to do is enter his friend's email address and click "Send." The referral link will be sent to his friend.
This is how easy the referral process must be. A recommended practice used by popular eCommerce referral programs is the 3-step referral process – refer your friend. If the friend makes a purchase and refers the brand to another friend, the friend gets rewarded.
Offer higher incentives for referrals.
This referral program idea is quite new and is also one of the creative ways to drive repeated sales.
Most eCommerce referral programs offer the same rewards for both the referrer and the referral. Even though double-sided incentives work great, you can still enhance them.
Offer a better incentive to the advocate compared to the referral. As this will be your existing customer's first referral, a higher incentive will help you retain them and encourage them to refer more.
For example: Instead of offering 10% off for every referral, you can offer 30% off for the first referral and 5% off on the subsequent ones.
Offering higher rewards for the first referral will motivate the customer to participate in the refer a friend campaign and keep bringing in referrals.
Offer tiered rewards/points system.
We love a good competition, don't we? Well, the next referral program idea has something to do with competition.
So, how long do you think your customer will be referring his friends to earn the same repeated rewards?
Lack of innovation and change has impacted many referral programs in the past. You need to come up with unique referral program ideas often to make your referral program interesting, and this is where tiered rewards come in.
Instead of offering the same rewards, you can introduce multiple levels just like a game. Once the customer has achieved a certain number of referrals, he gets promoted to the next level.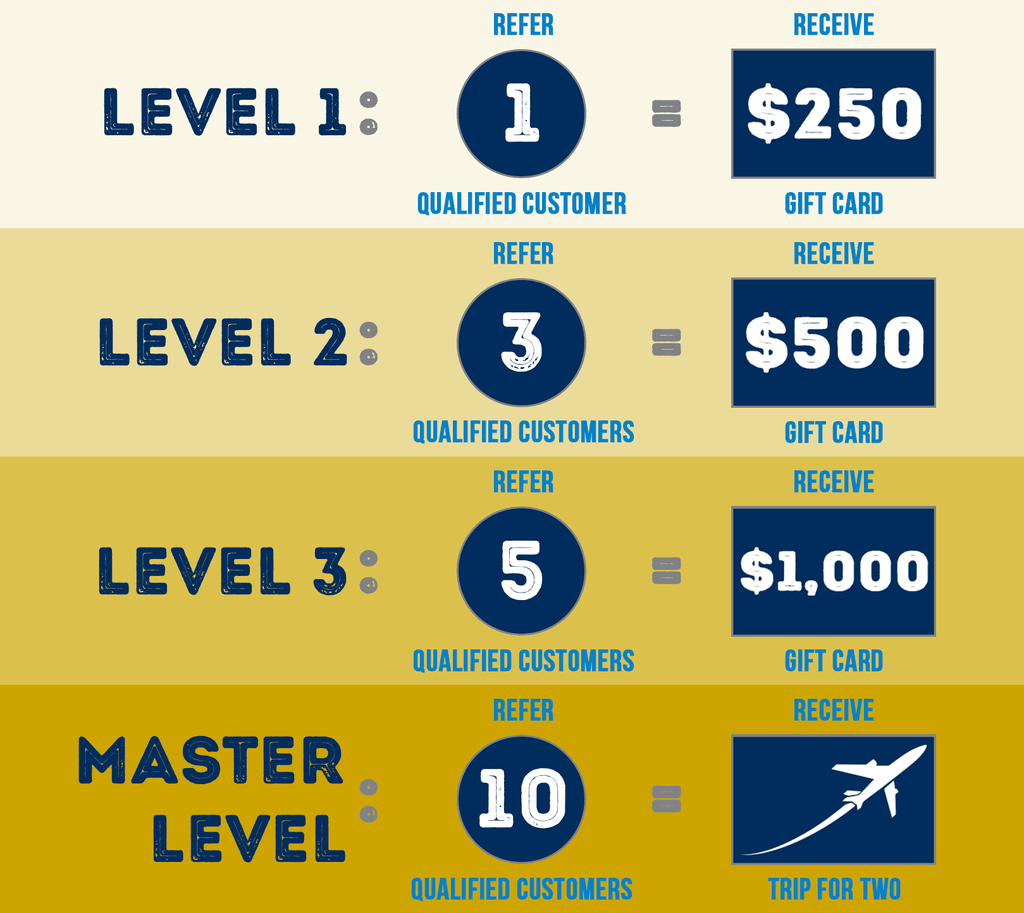 The next level has different and better rewards than the previous level, and levels keep rising and rising. This will introduce a competitive spirit among the customers.
They'll spontaneously bring in more referrals to get to the next level and earn better rewards. Customers get their rewards, and you get your referrals. No one is annoyed or bored in this system, and it's a win-win situation.
Many online businesses use this strategy to get their customers excited about their referral program and gain more customers. One such example is Harry's.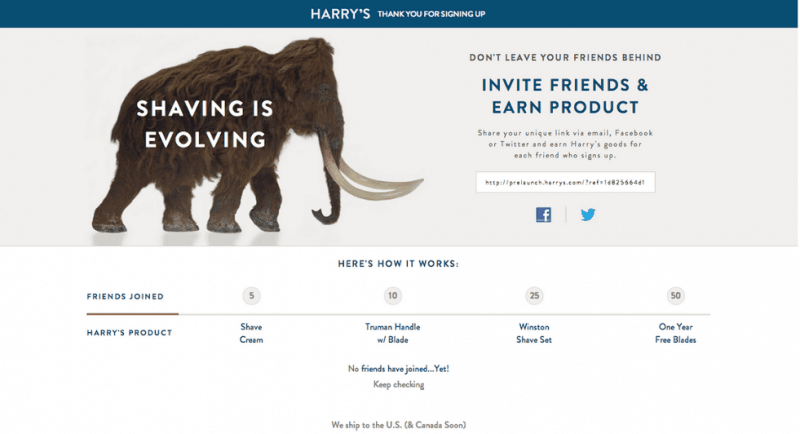 You can see Harry's is offering a tiered reward system. As the customers keep referring their friends, the rewards get better and better as they move up the level.
Customers are impulsive to competition, so use that to your advantage and start gaining more customers to your store using this referral program idea.
Run a Referral contest
Ecommerce customers love contests, which is why many prominent eCommerce stores like Amazon and Alibaba keep running contests to engage with their customers better.
You can use the same tactic to run a Referral contest and offer great prizes. This is one of the creative ways to increase referrals and make people talk about your brand more.
Since it is a contest, rewards must be limited, and rewards will only be offered to customers with the most referrals. You can use this tactic to attract more referrals to your store.
Huckberry ran one such Referral contest,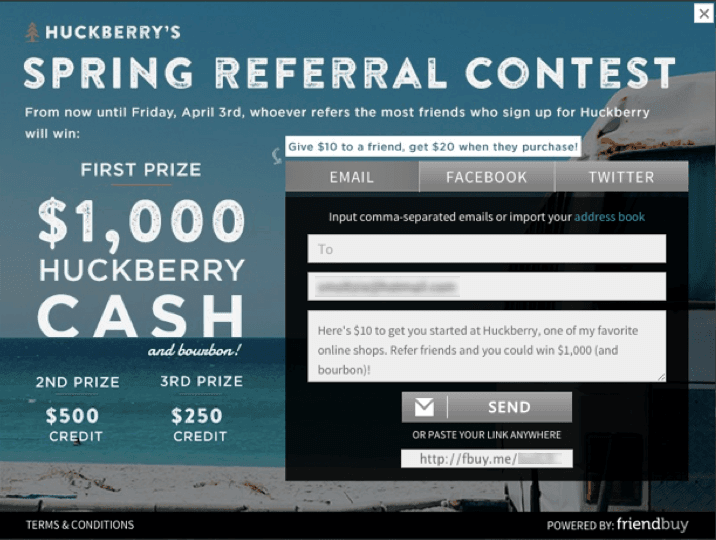 You can see that there are only 3 rewards in this contest, and the customers that achieve the most referrals win the prizes accordingly.
But the smart thing that Huckberry did here was not the prizes but the time limit. Yes, an expiry date for this Referral contest creates a sense of urgency among the customer, which drives them to act swiftly. Now, that's a creative way to increase referrals.
Retarget your customers
We have arrived at our last Referral program idea to gain more customers, Retargeting.
There will be many customers who showed interest in your Referral program initially but didn't join it for some reasons.
You can still retarget or remind them to refer their friends to your store. You can use a retargeting tool to send an email or display a popup days after their first visit to your referral landing page.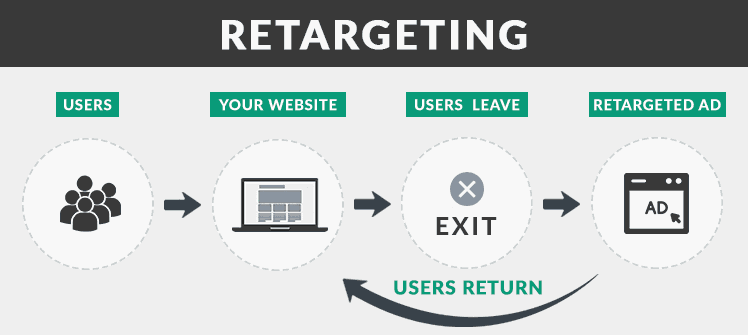 So, if your customer has visited your referral page and hasn't joined your referral program, you can retarget them by displaying your ads when they are on other mediums.
Retargeting will ensure that all your customers are aware of your referral program, giving one final opportunity to attract customers to your
What are the most successful referral programs?
Not just eCommerce stores, businesses all around the world have been using referral programs to acquire new customers through word of mouth. Some referral programs failed but a few stood out as a inspiration for other businesses to launch their referral campaign.
So, here are three most successful referral programs that had a major impact on businesses.
Dropbox
If you ask any expert marketer what referral program had a major impact in the market, Dropbox has to be on the top of the list.
Dropbox implemented one of the unique referral programs. Instead of offering the usual cash/discount incentives, they offered their service as a reward.
Yes, Dropbox is a cloud storage provider that offered free storage space as a referral reward for their customers.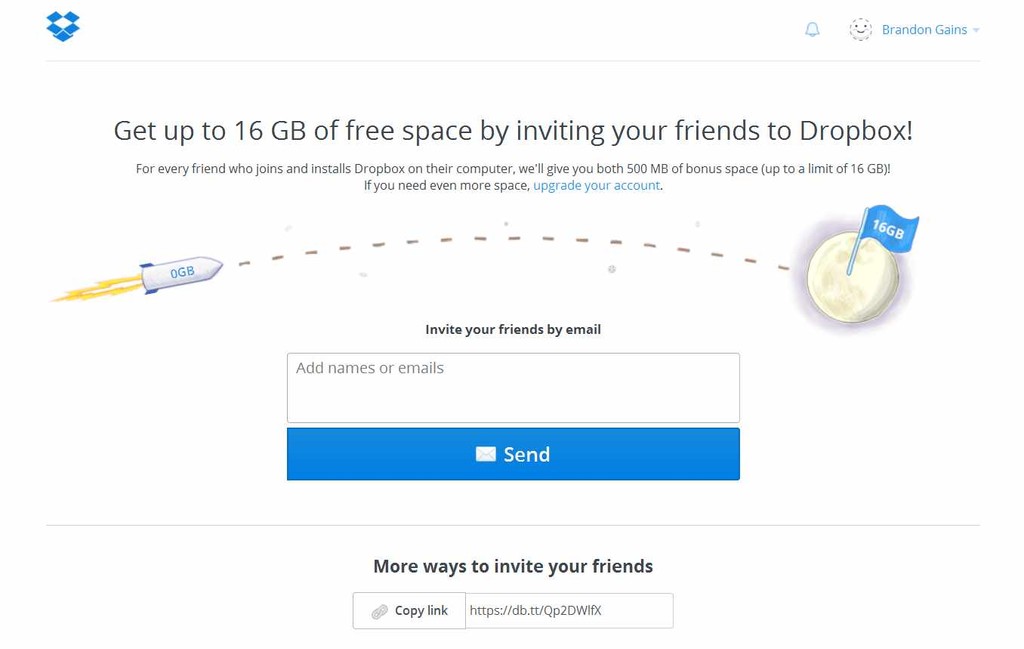 Dropbox proved that you can offer product/service based rewards instead of cash incentives and still people will be excited to refer their friends. The program's results were remarkable; signups jumped by 60% in a short period of time, with almost 2.5 million referral invites sent in one month.
This is why this referral program is considered one of the successful and popular referral program worldwide.
Amazon
We are no stranger to Amazon, but the surprising aspect is that even Amazon has a referral program to acquire new customers.
The reason Amazon's referral program became so successful is that it is available only for Amazon prime users. People that use prime are considered to be a long-time users and loyal customers of Amazon.
Loyal customers tend to generate better word of mouth when offered the right incentives. And this is why Amazon's referral programs success rate is so high as the prime users are willing to refer their friends for rewards.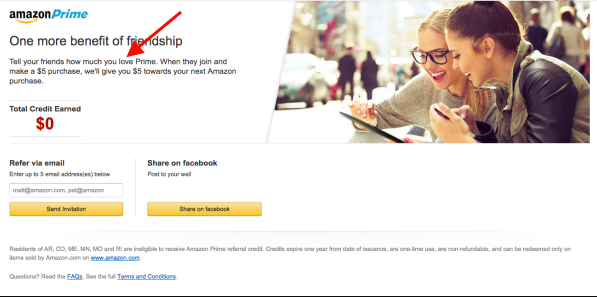 The referral rewards goes like this, when the referred customers makes a purchase of $5 the referrer gets a $5 credit for their next purchase. This simple tactic led to the success of Amazon prime.
Amazon nailed the heading and the referral rewards which are crucial for the success of your referral program.
Uber
Even Uber had their fair share of success in the Referral program. This was a successful referral program because unlike Dropbox and Amazon, Uber had a higher demand as customers were using the service on a regular basis.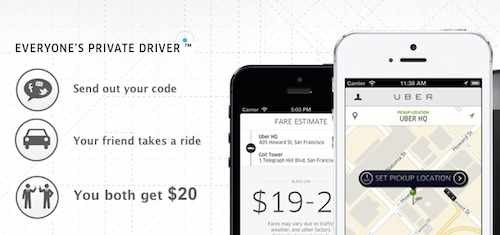 So, when a customers refers his friend to Uber, both the parties earn a $20 credit which could cover a ride or two.
As a result, Uber had a rapid rise in their customer base and the reason that people use Uber on a daily basis made their referral program the most successful one.
So, now you know the most successful referral programs. The common aspect of all these referral programs were the referral rewards. Offering exciting rewards for every referral is the key to make your referral program successful.
Use Retainful to create your referral program and reward your customers for referring their friends. Grow your sales organically.
Wrapping up
A Referral program helps you encourage customers to advocate for your brand. Let them do word-of-mouth marketing for you and bring in new referrals for your store.
But to stay ahead of the competition and to make your referral program successful, you must constantly employ unique referral program ideas to enhance your campaign and gain more customers.
Unique referral program ideas like using a referral app, asking at the right time, offering double-sided incentives, running referral contests, and rewarding for social cause discussed in this article will help you uplift your referral campaign.
Launch a referral program using these referral campaign ideas and encourage customers to refer their friends and acquire referrals immediately.
If you're wondering how to create a referral program to use these ideas, check out → WooCommerce → Shopify.
What Is a Referral Program?
The customer referral program is a marketing strategy in which existing customers get rewarded for bringing their friends to the store. Customers value recommendations from their peers, making referral programs a reliable source of excellent leads.
How does a referral program work?
With real incentives and offers, a referral program makes an impression in customers' minds. Reward your happy customers when they turn into brand ambassadors bringing in their friends and family to expand your customer base.
What are the best practices for referral marketing?
Making the program visible and accessible, choosing a reward that motivates customers to refer your brand to their friends, giving out rewards when a referral is booming, and promoting the program through multiple channels are some of the best practices for referral marketing.
What Are the Benefits of Referral Marketing?
Some core benefits of Referral Marketing include improved customer retention rate, increased customer engagement, remarkable ROI value, and increased brand awareness and reputation.