How much time would you consume for choosing a product of your liking from an eCommerce store?
I know what is crossing your mind.
It probably depends on the store and the quality they deliver. Am I right?
Quality matters here. To deliver this, significant efforts must be put in behind the scenes too, that is, in setting up the store. Quality is the face of your brand and this is must be evident in each and every step of online shopping done by a customer.
Worry not. You have assistance here in the form of Shopify apps for your eCommerce store.
The aim of this post is to present and bring to light the best plugins out of 3000+ ones available today.
You will be introduced to Shopify plugins that belong to the following category.
Email Marketing
Customer Retention
Sales and Conversion
Product & Inventory management
Orders and Shipping
Customer relationship management and support
Currency Conversion
Payments Planning
Email Marketing
Retainful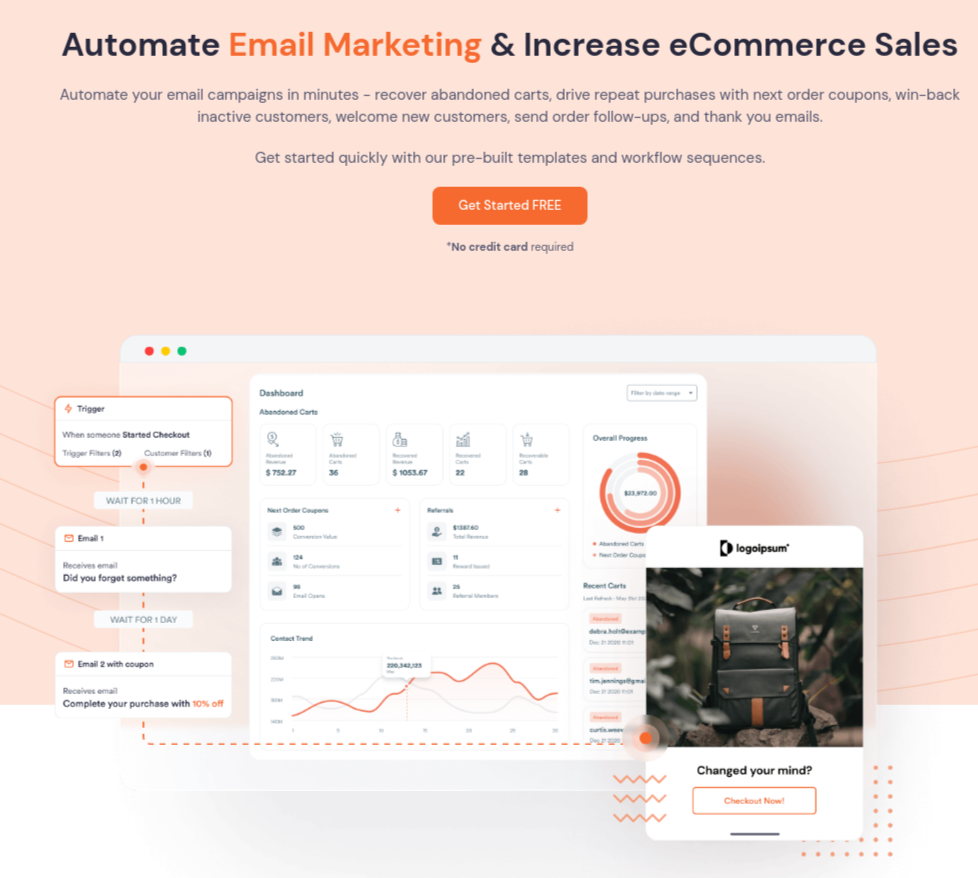 If you are looking to automate your Email marketing campaign then Retainful is the one you need in your store. Send automated Abandoned cart recovery emails, Order follow up emails, Thank you emails , Win-back & Welcome emails & engage with customers throughout their journey.
If you are looking for a solution to deal with abandoned carts, then go no further. Retainful is one of the best email marketing apps that is exclusively dedicated to drafting never-fail abandoned cart recovery emails for your Shopify store.
Having Retainful is like hiring someone else to do the work for you, minimize your workload and concentrate on your core business. You cannot get better email marketing assistance than this.
What Retainful offers?
Abandoned cart recovery emails
Set up automated campaigns to send timed and responsive emails to recover the abandoned carts. All aspects of the email can be pre-set, including the templates, as per the needs of your store.
Order follow up emails
Send automated emails to engage with customers at every step of their journey. Request a review or recommend products by sending Order follow up emails.
Thank you emails
Thank customers for purchasing at your store with attractive thank you emails. Send Next order coupons via emails & drive repeated sales in your store.
Win back emails
Re-engage with lost customers & bring them back to your store with automated Win back emails. Send dynamic coupons to push them to return to your store again.
Welcome emails
Send automated emails welcoming customers after they complete their first purchase. Send first order discounts in these emails to encourage them to return to your store again.
Next order coupons
There is no guarantee that a customer will return after a successful checkout. To make this happen, Retainful allows to send out coupons which can be used for the subsequent purchase.
Referrals
The cost-effective way to acquire new customer is by running a Referral program. Retainful's Referrals features will let you do that. Offer exciting Referral rewards when a successful Referral purchase is made, this will help you retain your existing customers and stabilize your revenue.
Benefits
Customer journey builder
Pre-built automation workflows
Dynamic coupon codes
Fully personalized emails
Drag and drop visual email builder allows for super-easy email customization.
Know customer behaviour from analytics and reports, available in the Retainful dashboard.
Track live carts – see what people shop then and there.
Acquire new customers through WOM marketing.
Track Referral performance in real-time.
Send emails when customers complete a Referral purchase.
Offer Referral rewards and boost your customer retention rate.
Pricing
Free version available
Starter – $19/month
Growth – $49/month
Professional – $199/month
Privy

Privy, one of the best selling apps, has got 21k+ reviews to their credit in the Shopify app store. This creates a sense of doubt initially. Later, I found that this is a marketing strategy – any person who uses the app is asked for a review, multiple times until done, and it is published right away on the Shopify page.
This is one main reason why Privy has so many reviews and a 4.7 star rating. They know their trade and how to go about it. OK, they market themselves well. How is their product? It is pretty good from what the reviewers say.
What does Privy offer?
Build an email list using popup campaign
Privy is popular for list building with the help of popups that can be customized to any extent. In addition, it also offers overlays, banners, flyouts, embedded forms, and a spin-to-win wheel. All of them are for the same purpose – to capture emails.
Send out automated emails
Automated email marketing is taken care of by Privy. It gives the liberty to draft welcome emails, newsletters, follow-up sequences, and abandoned cart emails.
Give discounts to reduce cart abandonment
Offer single-use or bulk discounts for use in both popups and emails.
Benefits
Trigger a popup based on-page time, scroll time, or when the customer is about to leave.
100+ pre-built email and popup templates to choose from that can be customized using WYSIWYG designer.
The performance of campaigns can be tracked using real-time dashboards.
Split-test your campaigns for better customer engagement.
Pricing
For list building
FREE for 5000 average monthly page views
$20/month for 10,000 average monthly page views
For emails
$10/month for 5000 emails
$5 for every additional 1000 emails
Jilt

The message is evident in the above picture. Jilt is all about email marketing for the eCommerce sector.
Let's hear it from the users of this Shopify app.
Lema J Design says, "I used this app to handle my email campaigns as well as other email marketing services. I just started using the "abandoned cart recovery email" option, which successfully recovered what would have been lost sales! Good moves!"
Wanna give it a try? Take a look at the features.
What Jilt offers?
A Shopify eCommerce store can send the following automated emails using Jilt.
Welcome and thank you emails to send out some good vibes.
Abandoned cart recovery emails to recover lost sales.
Follow-up emails, newsletters, and sales announcement emails.
Transactional emails to regulate checkout, shipping, delivery, and returns.
Benefits
Easy-to-use visual email designer.
Customer segmentation to personalize emails and target them in a better way.
Get time-to-time results of campaigns with actionable insights.
One Jilt account can be used to handle multiple eCommerce stores.
Pricing
FREE for 50 monthly contacts
$29/month for upto 1000 contacts
$49/month for upto 2500 contacts
14-day free trial available
Customer Retention
Firepush

Firepush increases the possibilities of customer retention uses 3 other marketing channels other than email. And yes, Firepush does succeed in doing it perfectly.
What Firepush offers?
Web Push and SMS Messages
Web push and SMS message features of this Shopify app, Firepush makes sure that the customer is notified of any message that comes in. In other words, when using these features there are no chances of the message going into the spam or promotion box like the email.
Various messages related to scenarios like abandoned cart reminder, promotions, welcome, countdown, new product launch, product delivery, price drop, cross-sell, and others can be notified to the customer in a jiffy.
Email Marketing
Though Firepush is known for push notifications, the Shopify app does good email marketing too. eCommerce stores have the liberty to send blast emails, abandoned cart emails, countdown emails, win back customer emails, and more.
Facebook Messenger
Facebook Messenger feature is similar to web push, the only difference being that the customer receives the notification via the Facebook Messenger app.
Pricing
There are various pricing tiers for Firepush starting from $5/month – $29/month.
There is also a FREE plan that includes 100k emails for 3 months and 1000 web pushes per month.
Smile: Rewards & Loyalty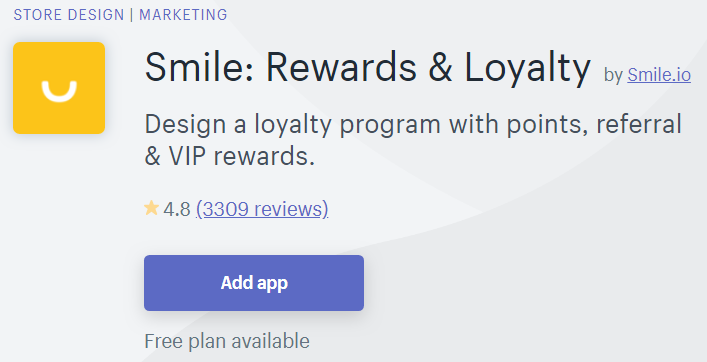 Giving away rewards and incentives is the best way to retain a customer. Smile is one of the best Shopify apps that help make customer retention a reality.
With Smile, rewards and points can be in the form of percentage and dollar discount, free product, and free shipping. This keeps the customer from going away.
What Smile offers?
Points program
The explanation is simple here. Points are given out to a customer for the action he takes like account creation, social shares, and purchases. Going one step ahead, points can also be given for birthdays and anniversaries.
Referral program
Grow the email list by sending discount coupons and other incentives. Claiming the rewards becomes easier for new customers with Smile Shopify app.
VIP program
VIP program is similar to points program but with special perks like contest entries, special invites, and additional gifts. This is available only in the Pro version.
Benefits
Changes can be made to the programs in minutes if they don't seem to work.
Branded programs can be rolled out in the paid versions of the app.
Pricing
FREE plan is available but with restrictions for features and customization.
Starter – $48/month
Growth – $199/month
Pro – $599/month
Spin-a-sale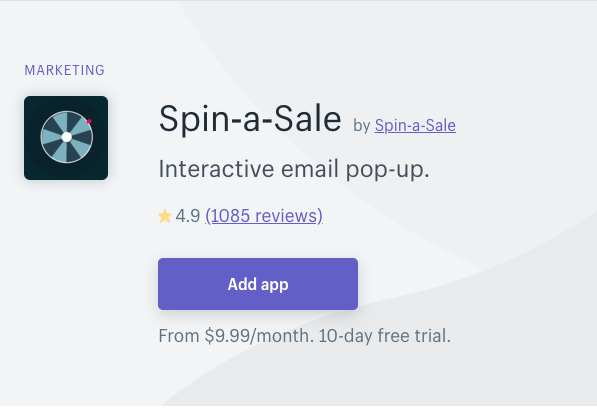 The home page of the website reads 'Take your popup to the next level' and this one-of-a-kind Shopify app remains true to it. With a rating of 4.9 stars, this app is a must try.
What Spin-a-sale offers?
Responsive popups
Spin-a-sale is all about popups that are interactive in nature. These are used for collecting email subscribers but with a difference. The reader is made to subscribe by spinning a wheel with incentives and if he is lucky enough he gets one.
Unique coupon code
Say if a reader gets a 5% off as an incentive by spinning the wheel, the app automatically generates a unique coupon code to make the purchase. To make it more alluring, the time period can also be mentioned to use up the code.
Benefits
Choose popups with multiple triggers like time delay, exit-intent, and clickable tab.
Sends out a unique coupon code that cannot be used ever again.
Liberty to choose the prizes and incentives to be given to customers.
Liberty to choose the page on which the popups must get displayed.
Authority to decide how frequently a person should win a prize.
Compatible with mobile devices.
Language translation is possible.
Insightful analytics for A/B testing.
Pricing
Pro version $9.99/month
Premium version $24.99/month
10-day free trial.
Sales & Conversion
Sales Pop Master – Countdown

Of all the Shopify plugins for sales conversion, Sales Pop Master by Autokeeting stands apart. Get to know why.
What Sales Pop Master offers?
The answer is in the name of the Shopify app. Sales pop ups.
Four different types of sales pop ups can be shown. They are pop ups with
Products that were recently added to cart.
Products that were purchased in the last 2 months.
Countdown timer if the product chosen is part of a sale.
Stock countdown – numbers of chosen product left.
Benefits
Boost sales drastically by helping the customer focus on the product.
Integrates with Klaviyo, Oberlo, Privy, Ali Reviews, and more Shopify apps.
Pricing
FREE Basic version
Pro version – $4.99/month
Loox – Photo Reviews

Loox is the best Shopify app meant to display social proofs. Over 40,000 Shopify merchants have used this to date and so many can't go wrong.
Visuals create a greater impact and get the customers more interested in buying.
What Loox offers?
Photo Reviews
Looking for reviews is common nowadays when shopping online to be sure of the product chosen. Here, reviews with photos perform better because customers will get to know the appearance of the product in real-time as opposed to what is shown online. Hence, photo reviews are considered to be more honest.
Benefits
Display the reviews with a dedicated 'happy customers' page, as a popup, as a sidebar, as a gallery, or as a homepage carousel.
The Shopify app sends out automatic email review requests with a discount.
The option to add textual reviews alone.
Integrates with google shopping to display star ratings on product listing ads.
Fully customized emails including branding, email timing, and design.
Pricing
Basic – $9.99/month
Advanced – $29.99/month
Pro – $59.99/month
Enterprise – $99.99/month
14-day free trial available
Ultimate Sales Boost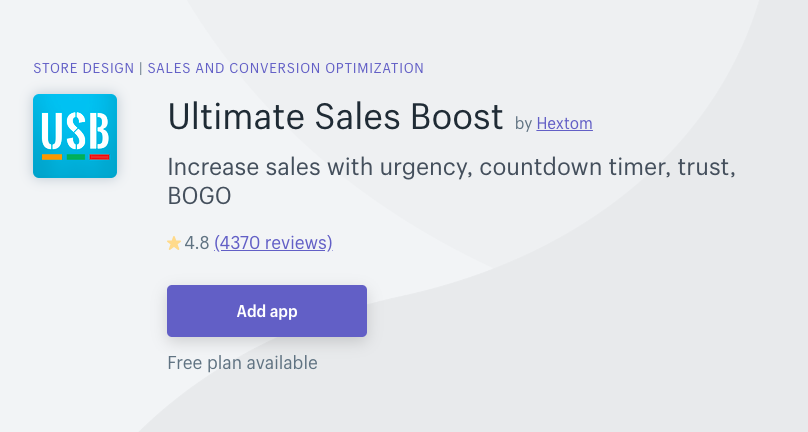 A quick, short message can go a long way in generating better sales.
'Checkout now to avoid using your deal'. I would initiate action on seeing this message on the product page. Wouldn't you? Ultimate Sales Boost makes this possible.
What Ultimate Sales Boost offers?
Improve sales on all stages on shopping, right from the home page to the checkout page.
USB by Hextom helps display message labels related to
Countdown timer
Free shipping
Low stock
Sales sticker
BOGO offer
Trust badges
Benefits
Segment a campaign by geo-targeting customers, only available in basic and higher plans.
'Add to cart' button animation.
Customizable as per the needs of Shopify store.
Pricing
Starter – FREE
Basic – $9.99/month
Professional – $29.99/month
Product & Inventory Management
Oberlo

Oberlo is one of the best selling Shopify apps that has reaped success with dropshipping. Hunting for products to sell online is a tedious task and Oberlo only makes it easier.
What Oberlo offers?
Oberlo allows to add products to your eCommerce store based on your preference from AliExpress.
Oberlo boasts of many success stories. Here's one.
Andreas and Alexander generated $144,110 revenue during the first three months from their dropshipping store that deals with pet supplies. The current figure has gone up to 500,000 a month.
Benefits
Use products statistics to choose the right product.
Know in advance the profit that you will make.
Track the orders until it reaches the doorstep of the customer, even though packaging & shipping is taken care of by the suppliers.
Get updates about stock levels and price changes.
Pricing
FREE Starter plan
Basic – $29.90/month
Pro – $79.90/month
Bulk Product Edit by Hextom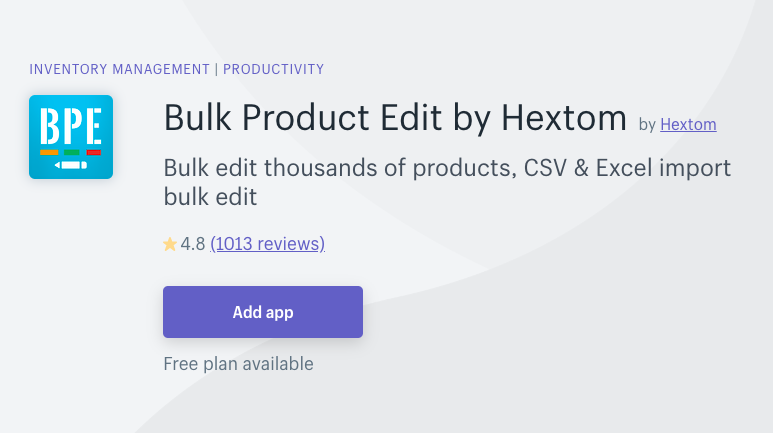 An eCommerce store is a place where tons of work is done to display products on pages. The point is to display the product such that the customer is enticed to buy. There are changes that need to be made to the product information on a daily basis and for this Bulk Product Edit by Hextom makes things easy with bulk editing.
What Bulk Product Edit offers?
This Shopify app allows to edit products by various categories like price, description, meta fields, collection, vendor, sales channels, barcode, and many more.
Benefits
The products can be previewed before editing.
The edits are saved for a period of 30 days.
Schedule editing tasks is possible.
Pricing
Basic – $9.99/month
Professional – $19.99/month
Advanced – $49.99/month
FREE plan available.
In Stock Alerts

You will lose sales and customers when a product-in-demand goes out of stock.
To forbid this to happen, the customers are given an option to get notified when the product is back in stock.
What In Stock Alerts offers?
In Stock Alerts Shopify app displays messages like 'Email me when available' or 'Notify me' on product pages that run out of stock. With this, the customer keys in the email id to get back-in-stock notifications via email. The app can be integrated with most of the ESPs to send restock emails.
Benefits
Customize the messages based on the Shopify theme.
Get to know product analytics in detail to ensure that you are aware of the hot-sellers.
Acquiring the emails leads to list building too.
Pricing
Starter – $14.99/month
Pro – $49.99/month
Premium – $99.99/month
Free plan available
Orders and shipping
Sufio

Brand building is not just about setting up a store and doing good business. Even the tiniest of details reiterate the brand story and invoices are one among them.
What Sufio offers?
Professionally designed automated invoices for every order.
Credit notes, quotes, and estimates.
Benefits
Invoices are created in the same currency the customer shopped, available in standard and higher versions.
Invoice templates can be customized in the enterprise version.
Supports over 30 languages.
Documents generated are compliant with the accounting legislation laws.
Pricing
Basic – $19/month
Standard – $49/month
Premium – $129/month
Enterprise – $499/month
14-day free trial available
AfterShip – Track & Notify

You might lose it when awaiting the package that you ordered online. It might take days and weeks. You will have to keep track regularly.
What AfterShip – Track & Notify offers?
With AfterShip Shopify app, tracking becomes easier than ever. The app is proactive and delivers emails and messages to the customer about the status of the shipment. Moreover, the app is integrated with 500+ carriers such as FedEx and DHL from all over the globe.
Benefits
Create a branded tracking page where you can upsell.
Track all shipments in one place due to integration with carriers.
Better SEO with auto-generated links to track shipments.
Pricing
Starter – Free to install
Essential – $9/month
Growth – $29/month
Pro – $99/month
14-day free trial available
All pricing tiers have charges for extra shipments.
AfterShip Returns Center

Returns management is in fact an art. If not handled properly, the customer might have a bad experience and you gain a bad reputation. AfterShip Returns Center is the best Shopify all to avoid this situation.
What AfterShip Returns Center offers?
Returns can be handled easily with just a few clicks from the customer. The Shopify app sends out pre-paid shipping labels with instructions in email to ship. This can either be automated or done manually.
Benefits
Set up a customized branded returns center.
Refund is made possible through the original payment method.
Return costs can be regulated based on the reason and region.
Supports exchanges too.
Pricing
Starter – Free to install
Essential – $9/month
Growth – $29/month
Pro – $99/month
14-day free trial available
All pricing tiers have charges for extra returns.
PH Shopify Multi-Carrier Shipping Label App

The Shopify Multi-Carrier Shipping Label app offers the best shipping solution. It allows you to save time and money by displaying actual shipping charges at checkout, printing labels with a single click, and tracking orders straight from the Shopify dashboard.
This fantastic app supports all major carriers such as UPS, USPS, FedEx, DHL, Stamps, Aramex, Blue Dart, Australia Post, Canada Post, and many.
You will get a list of leading domestic and international shipping services.You won't have multiple shipping services to send packages to different areas.
What Does Multi-Carrier Shipping Label App Offer:
Multiple Parcel Packing Methods with Complete Control
Easy Adjustment of Shipping Costs
Choose the Lowest-Cost Shipping Services Automatically
Estimate Delivery Date on Checkout
Carrier Pickup Requests & Manifests
Benefits
Get a certified partner of Global carriers like FedEx, UPS, USPS, Canada Post, Australia Post, Purolator, etc
Save money and effort by automating Shopify shipping
Make it simple to handle Dimensional shipment
You can ship your orders with various carriers using a single tool.
Pricing:
14-day free trial to become familiar with the settings and features.
Starter plan- $9/month
Popular plan- $29/month
Premium Plan- $49/month
Enterprise Plan- $99/month
Customer Relationship Management & Support
Tidio Live Chat

Quicker the communication and problem solving, quicker the sales. Tidio is all about making communications with customers effective in your Shopify store.
What Tidio Live Chat offers?
Live chat is the easiest and fastest way to lend an ear. With Tidio, Chatbots replace humans when necessary and not to say, they are bots who can find better solutions to anything, literally.
Benefits
Communicate via chat, Messenger, and emails in one place.
Enable chatbots to improves sales with discounts for abandoned carts.
Choose from dozens of bot templates.
Enable visibility of live typing.
Multi-language support.
Pricing
Free Basic plan with 100 Chatbot triggers a month
Communicator plan – $15/month
Chatbots plan – $15/month with 5000 additional Chatbot triggers
HelpCenter

FAQ pages do help a lot in clearing up some basic and recurring questions that a customer might have regarding online shopping. This, of course, is one form of customer support and Help Center excels in doing it better.
What HelpCenter offers?
Readymade FAQ pages that can be used on all devices can be set up. Help Center Shopify app provides various FAQ customizable templates to choose from. Two other features that add value are the search bar and contact form. The former is to make searches easier and the latter to submit questions that could not be found.
Benefits
Possibility to add pictures in header and footer to make it visually appealing.
FAQ page can be published in any language.
Export and import FAQ page for use in another eCommerce store.
Pricing
Free plan available.
Premium Monthly – $4.95/month
Premium Annual – $48/year
Conversific – Store analytics
Conversific is a Shopify app that documents eCommerce analytics. Wondering what analytics has to do with customers?
Analytics are prime to know where you lag and where you perform well. This helps significantly in dealing with customers and creating a better relationship.
What Conversific offers?
eCommerce reports
Conversific gives the big picture of how the eCommerce store performs.
eCommerce benchmarks
This Shopify app allows comparison of analytical data with that of other stores.
Data insights
Conversific app goes a step ahead by telling you what action to do next based on the data.
Product & customer analytics
Detailed analysis of how a specific product fares in the marketplace and the customers' response to it is calculated by the app.
Benefits
Conversific makes use of the trustworthy source for analytics – Google.
Specifically points out products that are of no use and campaigns that show good performance.
Get weekly and monthly data reports.
Pricing
Free plan available.
Business – $29/month
Growth – $79/month
Scale – $199/month
Currency Conversion
BEST Currency Converter

BEST Currency Converter app is a must-have for Shopify eCommerce stores that sell internationally. When there is no display of product price in the currency that you shop with, it is obvious for sales to drop. This app reverts this negative effect.
What BEST Currency Converter offers?
The app automatically converts currencies on the product and checkout pages based on the location from where the shopping is done.
Benefits
Auto-conversion of currencies. Manual change can also be done if needed.
Supports 160+ currencies including bitcoin.
Rounds off price decimals to whole numbers.
Pricing
Free plan available.
Elite – $9.95/month
Payment planning
Partial.ly Payment Plans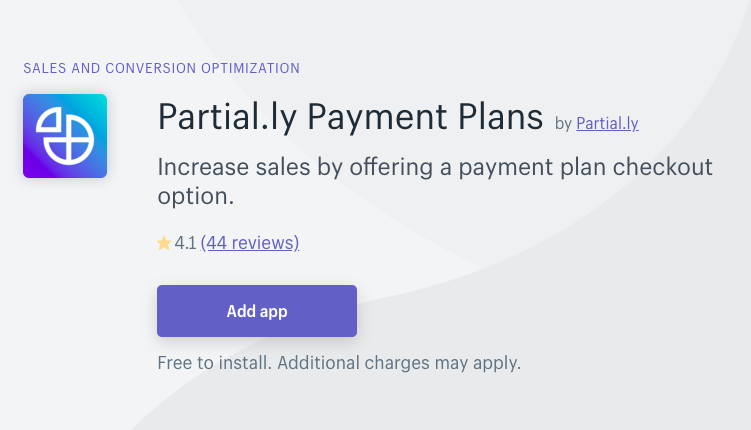 Even though eCommerce sector offers huge discounts, there are still people out there who prefer making payments on an installment basis, especially if the checkout amount is high and unaffordable. This is where Shopify plugins like Partial.ly come in to ease out the pain of one-time payment for the customer.
What Partial.ly offers?
Partial.ly offers payment plans that can either be fully automated or manually operated with the eCommerce site. Parameters like term, down payment, and frequency is fully customizable by the store owner. Here, the payment plan created is satisfactory and beneficial for both the business and the customers.
Benefits
Future payments that come as part of the plans are fully timed and automated.
The customers can also be offered with n number of payment plans.
Pricing
Free installation
5% + $0.30 per transaction
Social Media
Social Media Feed Widget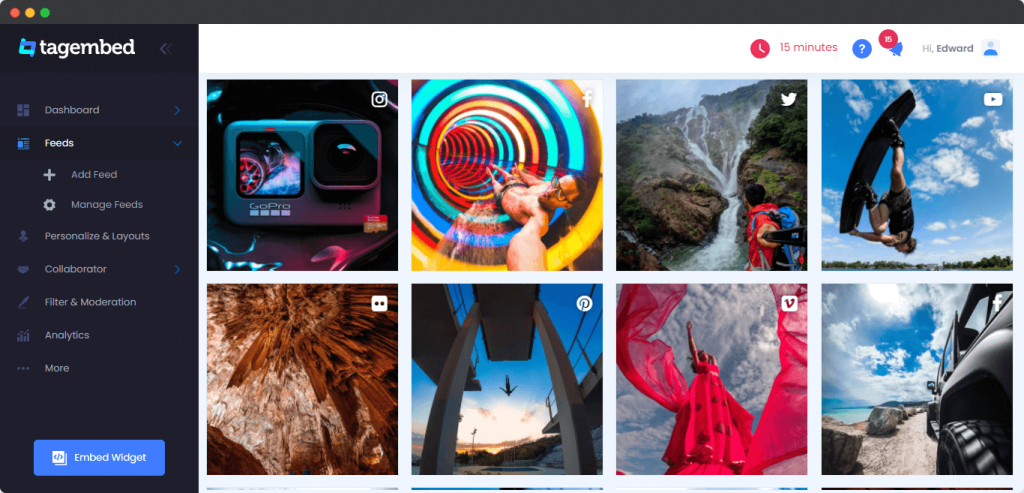 Getting two benefits at the price of one is a good deal, but getting various benefits at the price of none is a great deal, isn't it? And this is where the Social media feed app from Tagembed comes into play. The app allows you to collect social feeds from various social media platforms and allows you to curate and customize them before displaying them on your store.
You have the option to aggregate content from 18+ social media platforms so that you never face a shortage of content on your website. You can utilize these contents to add visuals to your Shopify store and make it appealing to the consumers.
We did mention above various benefits, right? – The app helps you to increase the charm of your website and at the same time increase the functionality with its various features. You can also use the app to showcase the social proofs and display reviews to convince your target customer to buy from your store.
Features:

• Customization helps you to personalize your widget as per your choice.
• Various themes and layout helps you to add grace and professionalism to your store
• Custom CTA allows you to add a "Buy Now" button and encourage your customers to purchase. You can use the custom CTA as you want, you can even add an "Add Review" button and more.
• Fully responsive feed that adjusts itself as per different screen types.
• Compatible to stream any type of media to bring liveliness to the store.
• Analytics to measure the performance of the feed and make plans accordingly.
• Hashtag widget to display hashtag content from different social media platforms.
• Review widget to win the trust of your visitors.
• Auto-sync content to keep the store up to date.
Pricing:
Free Forever
Wrapping up
Ecommerce is a tricky sector to deal with since it involves taking into account the psychological aspects of the audience base. These Shopify apps strategically address this aspect and can be leveraged for creating a seamless eCommerce experience.
An exceptional Shopify store – Happy customers – More revenue.
This is cyclical and never stops until you want it to. Use the Shopify plugins you read about here and add value to whatever eCommerce process you initiate.