Looking for the best Shopify referral app to launch a referral program in your Shopify store? We've curated some of the best referral apps for Shopify in this article.
Referrals' is one the best methods to acquire customers cost-effectively. And customers acquired through referrals are 18% more loyal to a brand than other acquisition channels. It is because customers believe and value recommendations from their friends more than advertisements.
To get the referrals working for your Shopify store, you should reward your existing customers who are your brand advocates and need motivating reasons to refer your brand to their friends.
By default, Shopify does not have a built-in referral feature. You will need to use one of the Shopify Referral apps to create a referral program for your store.
Shopify has many referral apps to launch a referral program. We did our research and listed the 10 best Shopify referral apps for you in this article. Choose the best referral app that suits your business and turn your existing customers into brand advocates.
Launch a Referral program for your Shopify store now with Retainful & drive word of mouth sales. Start Free Today
Why do you need a Shopify referral app?
92% of customers trust recommendations from their friends more than any other conventional marketing technique.
Besides, 77% of customers are highly likely to refer your store to their friends after a positive experience. Rewarding them for each referral will just encourage them to do word-of-mouth marketing for your store.
This is why you need a Shopify referral app, as it provides a platform for your customers to engage in a meaningful referral conversion.
Is that all?
NO!
Here are more reasons why you need a Shopify referral app in your store,
Customers acquired through referrals can bring you 25% more revenue
Referrals are organic. You can greatly minimize your customer acquisition costs
Offering rewards for each referral will increase your customer retention rate
78% of marketers say referral programs generate quality leads
Referrals are ranked as the second-best source of quality leads by marketers.
Most of the shopify referral apps are cost-effective, and you can launch a referral program in Shopify within minutes.
Let's evaluate the Shopify referral apps that can help create a refer a friend program in your store. But before doing that, you will need to consider a few criteria to choose the right referral app for your Shopify store.
Shopify has a number of referral apps, and you might get lost or end up choosing the wrong one if you don't consider some of the following factors before selecting a referral app.
Things to consider while choosing a Shopify referral app
Running a referral program should not be a referral app's only capability. An ideal Shopify referral app must check the below boxes,
Ease of use – An app that is simple to use with no complex navigation and a user-friendly UI and allows you to navigate through and run it efficiently.
Simple setup – Setting up a referral app isn't rocket science; However, selecting the wrong one may take you by surprise with its complicated setup process.
Different types of rewards – Incentives are the driving force behind a referral program. Look for a referral tool that lets you offer multiple discounts to your customers.
Tracking – An ideal referral app must provide you with real-time insights and analytics of your program, so keep an eye on your referral program's performance to achieve long-term success.
Email notifications – Engagement is necessary, and it reflects a holistic customer experience. Select an app that lets you send referral email notifications.
Pricing – Running a referral program will not cost you much, but choosing the wrong app can. Choose the app that has the right premium pricing with the right features.
Branding – Select a referral app that allows you to promote your referral program within your store using multiple branding options like widgets, popups, etc.
Below is the list of best referral apps for Shopify. Prepare a checklist using the above-discussed factors and start your selection process.
What are the top Shopify Referral Apps?
Referral Candy
ReferralCandy is one of the powerful Shopify referral apps that solely concentrates on referral programs and not loyalty features. ReferralCandy can run things on its own, and you'll have more time to run your business as the rewards will be paid automatically with zero manual effort.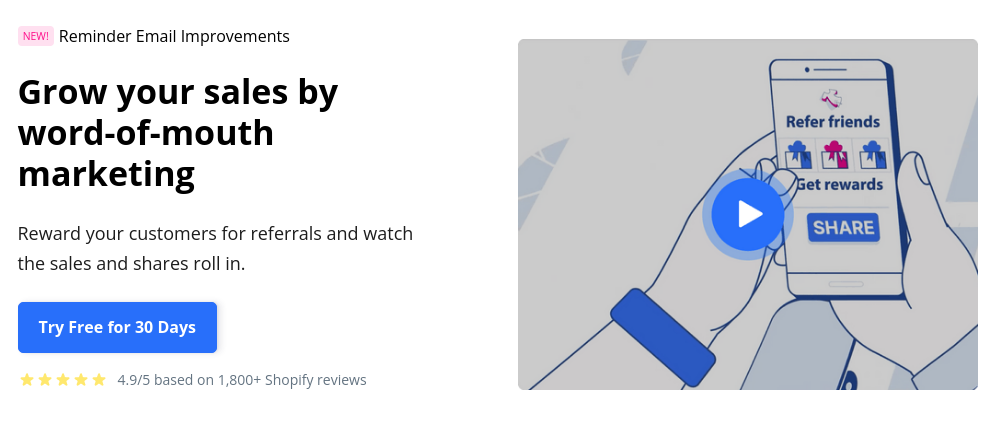 You can offer any type of rewards like cash rewards, gift cards, or coupon codes, just configure the rewards, and they'll be sent when customers bring in referrals. [As stated before, ReferralCandy is automated so that the rewards will be sent directly to the customers.
Referral Candy has an insightful dashboard where you can track your sales that came through new referrals and get real-time insights & analytics that can help improve your campaign. You can also view your top referrers and social shares on the dashboard. With Referral candy, you can analyze your referral program against industry standards and see how it performs.
Enhance your existing marketing strategy like email marketing, retargeting, and site analytics with ReferrralCandy.
Features
Integrate with your favorite ESPs in a few clicks
It is more flexible as it has options like JS integration and API integration.
Third-party apps like ReCharge, ChargeBee, and PayWhirl can be connected
Connect with other marketing apps effortlessly
You can automate your referral program
Customize your landing pages, emails, etc.
Automatically detect successful referrals.
Use the theme editor – no coding knowledge is required
Get notified when referral codes are released on coupon sites
Fraudulent activities will be automatically banned.
Premium Pricing
A 30-day free trial is available. Premium plans of ReferralCandy start at $39/per month.
Retainful
Retainful is one of the best Shopify referral apps that can help you turn your existing customers into brand advocates & acquire new customers. What makes Retainful unique is its discovery features. Retainful offers an elegant chat-like widget so customers can easily discover your referral program and start referring their friends immediately. Retainful helps you reward both Referred Person and Referee (referring person) with a percentage discount, fixed discount, or free shipping discount.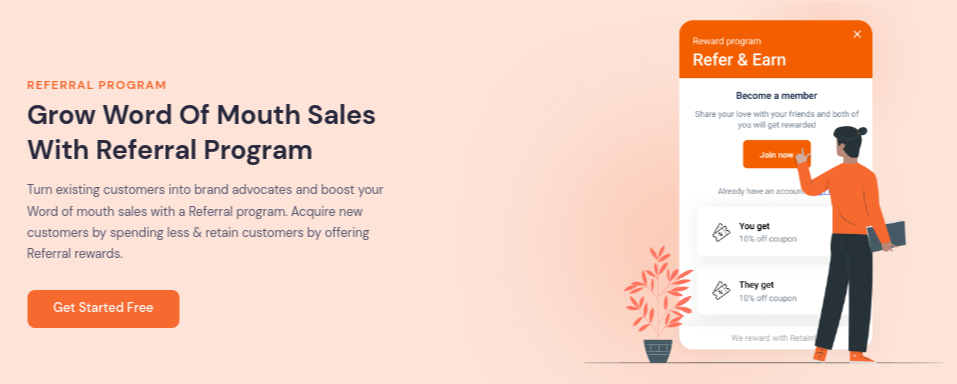 Retainful offers more than what a standard referral app does. It also comes with email marketing automation features. So you can automatically send the unique referral link to a customer when they make a purchase. You can even send automatic email reminders with a referral link after purchase.
Retainful comes with multiple branding options. This Shopify referral program app includes widgets and Thank You page popups to help promote your referral program to your customers.
This is how Retainful's referral program works,
The customer gets a unique referral link when they make a purchase or sign up for an account.
The customer shares the referral link with their friends.
When the friend visits your store using the referral link, they will be asked to enter their email address to check if they are the new customer. Once the email address is entered and verified, they will be given the "friend reward."
When the friend makes the first purchase successfully, the referee (the referring person/advocate) is given the reward.
The friend gets their reward for the first purchase and not for subsequent purchases. And the advocate (the referring person) only gets the reward after a successful referral – one reward per successful referral.
You can offer a percentage discount, fixed discount & free shipping discount as referral rewards.
Key Features
Launch a referral program quickly
Chat like Launcher widget for easy discovery of referral programs and rewards
Unique referral link for each customer
Fully customizable & branding features
Rewards can be a percentage discount, flat discount, or free shipping
Track the referral revenue, activity, and rewards in the dashboard
User-friendly interface
Social media share options for customers to share their referral link
Email notifications when a friend earns a reward when advocates earn a reward
Automatically notify customers with their referral link when they make a purchase.
Pre-built referral email templates are available.
Drag and drop email editor to customize your emails
Personalize referral emails using shortcodes
Pricing
Retainful pricing starts at $19/month.
Referrals by Shopjar
Run a Referral program with multiple reward conditions and unique promotional options using Referrals by Shopjar. This is one of the must-have Shopify referral apps that can offer various referral rewards to both the referrer and referee. Customers get their rewards, and you get a new referral through word of mouth, and it's a win-win situation for both parties.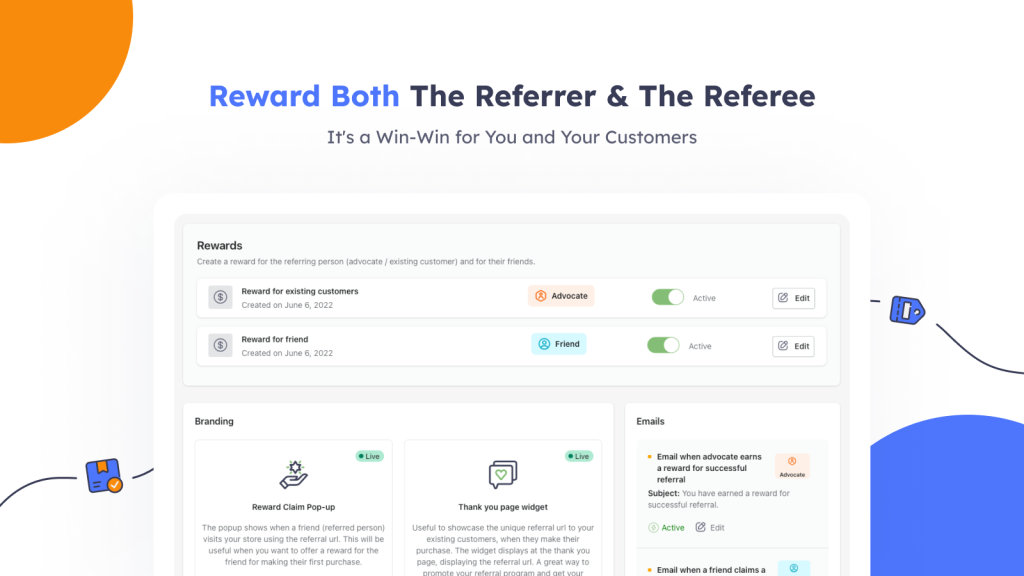 Provide a referral link to customers after their purchase which they can share via multiple social media channels and invite their friends to your store. When the friend visits your store, display a popup so they can claim the discount code and use it to complete their first purchase.
The unique feature of this referral app for Shopify is its multiple reward conditions for both Advocate and Friend. Here are a few conditions,
Friend Email domain – The new customer(referral) will earn only when they sign up using a particular email domain.
The total number of friends referred – If you set the value to 10. Advocates will start earning referral rewards only from their 10th and consecutive referrals.
Total referral sales amount – If you set the sales amount to $500. The Advocate is only rewarded when his referrals generate $500 in sales for your store.
Reward order contains – Products – You can reward the friend only if they purchase the specified product.
Promoting your referral program is key to its success. Referral by Shopjar offer lets you create an individual referral landing page where your existing customers can get their referral links. You can also create a My rewards page for your Advocates to manage their referral rewards.
This Shopify referral app tracks your campaign performance in real-time and displays detailed reports of Advocate, Friends, and the rewards they earned.
Features
Quick campaigns setup, easy-to-use interface
You can set start and end dates for campaigns.
Multiple referral rewards – Percentage, Fixed amount, and Free shipping discount
The friend can earn a referral reward only on his first purchase
Reward claim popup, Thank you widget, Referral landing page
No coding knowledge required
Fraud prevention
Send Referral emails to both Advocate and Friend
Real-time reports on Referral campaign performance
Pricing
Referrals by Shopjar has a Free version.
Smile.io
Smile io is one of the best Shopify referral apps because of its user-friend interface, clean design, and unique popup module that can help store owners track and reward referrals. With this referral program app for Shopify, you can create a custom message with appealing illustrations and send it to your customers so that they can share them and invite their friends to your store.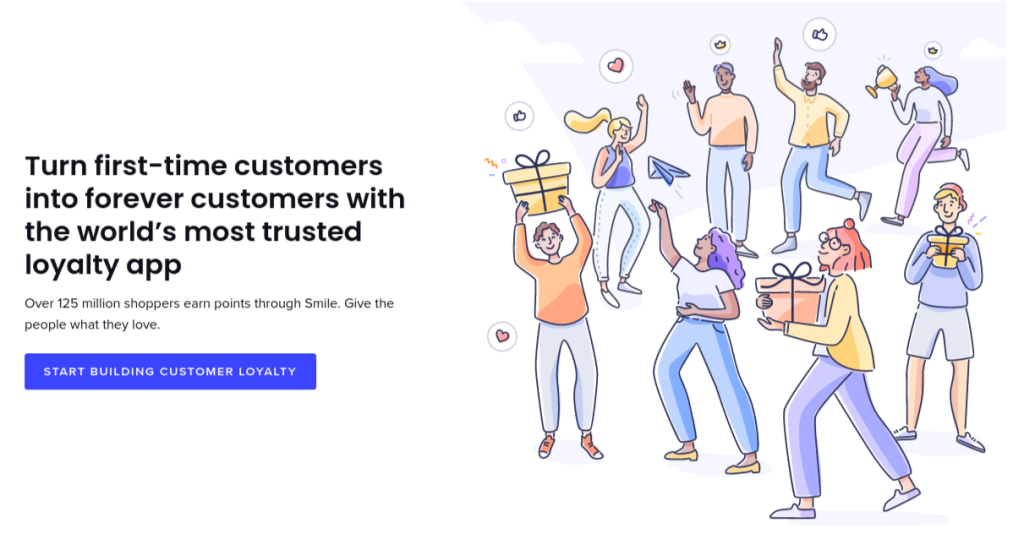 Smile io offers two-way incentives; existing customers can earn points for referring friends. The referral can also earn a reward after making their first purchase using their friend's referral link. This will develop better engagement with your customers, and they will be willing to get involved in any of your store's activities in the future.
You can offer a percentage, fixed amount discount, free shipping, and free products as Referral rewards using this Shopify referral app.
Smile is one of the best Shopify referral program apps that will provide you with complete control over how your existing customers want to share their referral links.
Feature
Achieve WOM sales effortlessly.
Urgencies for bonus points can be created.
Set expiry dates for rewards
Each customer gets a personalized referral link.
Send links through emails and pop-ups.
Referral traffic can be easily monitored.
Referrals are linked with a VIP program.
Options to claim incentives directly from your website.
Send emails and expiry notifications
Easy customization and no coding are required.
24/7 customer support for paid users.
Premium Pricing
The starter plan of Smile io starts at $49/month.
Turn your existing customers into brand advocates & increase sales organically.
Conjured Referrals
Why don't you let your customers do the marketing for you? A recent study suggests that people are more likely to purchase a product that was referred to by their friends. Create a dynamic platform for your customers to refer their friends using Conjured Referrals.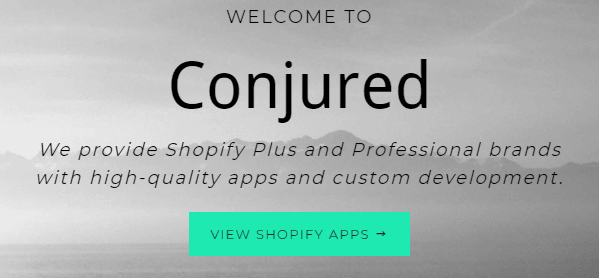 Conjured Referral is similar to the Shopify referrals apps discussed above, where you can turn existing customers into advocates and ask them to refer their friends. When their friend completes a purchase, the referrer will be rewarded.
With Conjured Referrals, you can manage your referral campaign from the dashboard without leaving the Shopify store. Review your performance statistics and view your referral program's success from the dashboard. The conjured referral is entirely automated so that you can send coupon codes or gift cards without any manual effort.
A vital aspect of this Shopify referral app is its fraud management. If you find out that the referral link given to your customers is being used again & again, you can manually disable it. The conjured referral is built-in with a special feature that forbids shoppers from referring themselves, and you can also ban specific users by their IP and email address.
Features
You can prevent self-referrals and frauds.
Easily integrate with Recharge and Bold subscription.
You can send any number of reminder emails.
Options for blocking referrals sent to existing customers.
Every customer gets a unique referral link.
You can limit referrals to one-time redeemable.
Integrates with any currency.
Say no to transaction fees.
Say no to 'Powered by branding.
Premium Pricing
A 14-Day free trial is available. The Pro version starts at $29/month.
Gratisfaction
Unlike the Shopify referral apps discussed above, Gratisfaction is an all-in-one loyalty, referral, instant win, birthdays, anniversaries, promotions sweepstakes, and giveaways platform. And yes, Gratisffaction also lets you incentivize your customers to refer your store to their friends.

Using this referral program app for Shopify, you can make your sweepstakes and contests go viral by making your customers invite their friends through social media to earn additional entries and unlock exclusive rewards. Customers can also collect these points as loyalty points for reward redemption.
Users can share their referral links, customized text, and images on social media to invite new leads. You can view all details about the referrals, the name of the referral, who they were referred by, etc., in your dashboard.
Features
You can activate a double or single-sided referral program.
You can run multiple sweepstakes and giveaways.
You can reward customers instantly when they make a specific reaction.
Reward customers on their special occasions.
Run exciting quizzes and surveys for customers to earn points.
Reward customers for subscribing to your newsletter.
Rewards customers when they share socially.
Pricing
Gratisfaction pricing plans start at $19.95 per month
Gather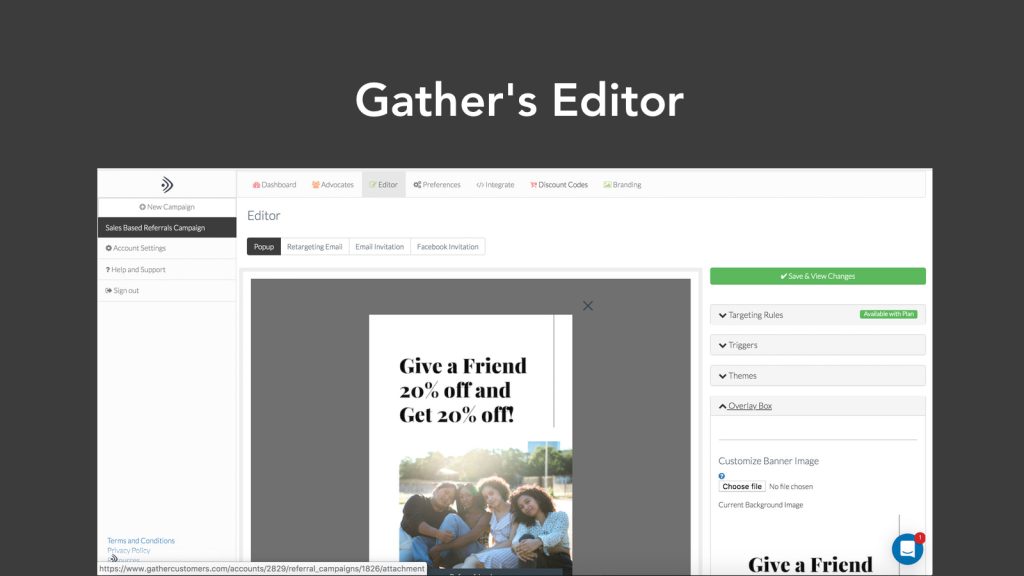 Customers usually listen to other customers' recommendations rather than advertisements, so spending money on ads is unnecessary. Gather can manage an automatic referral program for you, rewarding existing customers when their friend makes a purchase.
Gather is capable of offering you 2 types of referral campaigns,
A referral program solely focused on sales growth.
Referral program focussed on expanding your customer base.
It is one of the best Shopify referral apps with more targeting options for customers to invite their friends to your store. With Gather, you can easily track your customer's referral data, and the app seamlessly syncs with other marketing apps for better targeting.
Gather is simple to integrate and can be easily set up in under a minute, and no coding is required.
Features
Each customer gets a unique discount code.
Provide newsletter referral campaigns.
Referrals through Facebook messenger are supported.
Easy sync with marketing apps.
Provide exit intent, site session timer, and page timer.
You can send referral emails on behalf of customers.
You can manage your referral easily.
Prevent fraudulent activities like self-referrals.
Effortlessly track customer data.
Premium Pricing
Gather has a 14-Day free trial, and the Pro version is priced at $350/month.
Social Boost
Social Boost is one of the Shopify referral apps that allows you to run social media-based viral offers, giveaways, contests, referral marketing & sweepstakes on your website, Facebook, Tumblr, etc. It is a dynamic incentivization platform that enables you to grow email lists, referrals, followers, etc. With the social boost, you can enrich your customer engagement and boost your sales exponentially.

You can quickly turn your store visitors into customers by paying them to share your personalised messages on social media with this best Shopify referral app. Social boost will increase your connections on social media sites such as Facebook and Twitter by showcasing your business to new customers.
Social Boost is one of the best Shopify referral program apps for increasing social media traffic. The setup is very simple, and also It is easy to integrate. Once you've set it up, you can start creating various referral campaigns effortlessly.
Features
Create unlimited campaigns
Single Social media sign-in
Coupons will be automatically created for winners.
You can set multiple restrictions like age, country, and zip.
It has an in-built anti-cheat algorithm.
You can embed it anywhere.
Email deliverability is high.
Campaign templates are built-in.
You can launch a campaign within minutes.
You can translate it into any language.
Pricing
Premium pricing plans start at $9.95 per month
Coopt
Coopt enables your customers to showcase the product they purchased in return for a little discount. You can offer immediate cashback to customers for sharing their purchases on Facebook.

Nowadays, paid advertisements have little impact on customers as they prefer social proof before making a purchase decision. Coopt benefits both customers and store owners as they reach a larger mass of audience through social media promotions.
Features
Partial refund for every successful referral.
Integrates with Facebook.
Rewards will be offered instantly.
Quick check-out time.
Premium Pricing
Coopt has a 14-Day free trial and the Pro version starts at $19/month
BLoop Referrals & Rewards
BLoop Referrals and Rewards is an excellent Shopify referral app for small businesses that want to run a dynamic referral program to increase sales and engagement. This Shopify referral app is considered one of the emerging referral apps offered for Free.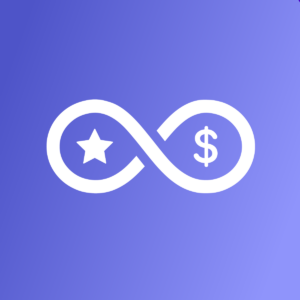 Referral links will be automatically generated and can be shared with customers via widgets and popups. You can create customized referral messages via BLoop and share them with your friends.
Percentage and Fixed amount discounts are the available referral rewards that can be offered to your advocate and the referral after a successful purchase.
You can customize the popups and widgets to suit your branding. Email notifications can also be customized using a simple email editor and sent to both the advocate and the friend.
Features
You can set a minimum order limit.
Set expiry dates to coupons to induce FOMO
Scam detection
You can check your referral program metrics on the referral dashboard
Send customized emails to engage with customers
Pricing
BLOOP Rewards & Referrals has a free plan, and their basic plan starts at $20.
Conclusion
Referral programs help you turn existing customers into brand advocates by rewarding them for referring their friends to your store. But you need the best Shopify referral program app to run a successful referral program.
In this article, we've discussed the best Shopify referral apps to help you launch the best referral programs for Shopify.
You can use referral apps like Retainful, which offers the best features for the pricing, or Smile io if you want to offer points instead of discounts. Each referral app has unique features, and you can see them in the features section.
So, choose the right app that fits your needs and get started with the Referral program within minutes.
Get to know more about creating the best referral programs for Shopify using Retainful. So, what do you think of the best Shopify referral apps listed in this article? Do you think we left out something? Share your thoughts.
Does Shopify have a referral program?
Shopify has an Affiliate program, not a referral program, that can benefit store owners. However, Shopify has many referral apps in its store that can help you run a referral program.
How do I add a referral on Shopify?
Offer referral links to your existing customers and encourage them to share them via social media. Offer referral rewards to every customer that completes a purchase using the referral link. That's how you add a referral to your Shopify store.
What is the best referral program?
The best referral program should possess the following capabilities – multiple referral rewards, two-way discounts, email notifications, email customization, and branding options. Retainful and Smile io are some of the apps that can help you run the best referral programs.
How do I create a referral program?
Download and install the referral app to your store

Configure advocate and friend reward

Choose the discounts you want to offer as rewards

Customize your email notifications

Configure the brand options to promote your referral program

Launch your program.

Follow this guide to create a referral program within minutes.
How do you reward customers for referrals?
Retainful lets you offer a percentage discount, fixed amount discount, or free Shipping discount as referral rewards. The referral must complete a purchase using the referral link to earn rewards, and both the referral and referrer will be rewarded.