Here at Retainful, our team works hard to constantly upgrade our product to provide the best experience to our users.
Switch from manual email marketing and sell more with Retainful's Email Marketing Automation feature.
Automatically send the right emails at the right time to engage with customers at every part of their journey. Build a personalized email experience that automatically adapts to your customer behavior and increases conversions.
It is like having someone else do the work for you even in your absence.
Get started easily and launch email automation campaigns in minutes using our Pre-built workflows. You can automate,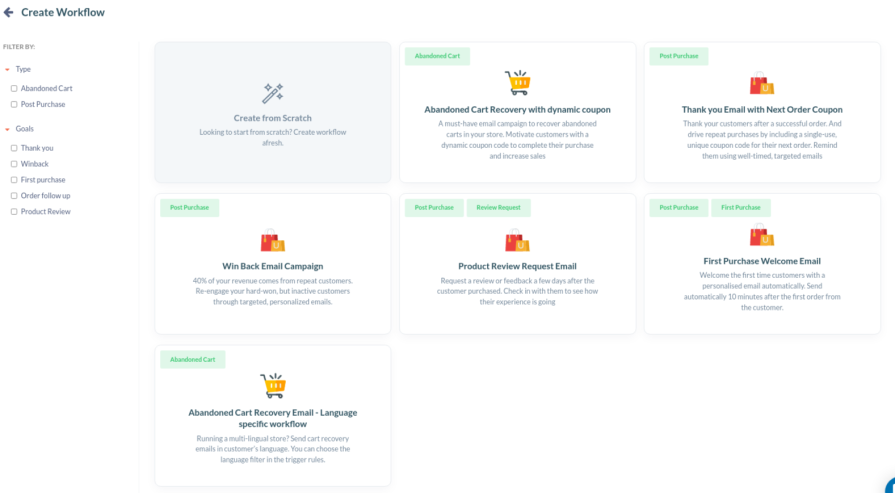 Abandoned Cart Emails
Recover Abandoned carts and double your sales with automated Abandoned Cart emails. Send dynamic coupons to encourage customer return.
Order Follow-up emails
Send automated Order Follow up emails to engage with customers throughout their journey. Ask for their feedback, recommend products & send them re-order emails.
Thank You emails
Thank customers for purchasing with automated Thank You emails. Send Next Order coupons and drive repeated sales.
Win-back emails
Re-engage with lost customers and bring them back to your store. Encourage them to return by sending dynamic coupons.
Welcome emails
Welcome new customers with beautiful emails after they complete their first purchase. Send First-order discounts to encourage them to purchase again.
Email Marketing Automation includes:
Customer Journey Builder
Visualize your customer's journey and build personalized sales funnels using our intuitive Visual Customer Journey Builder. Provide the best customer experience by taking them through custom conversion paths based on their interactions.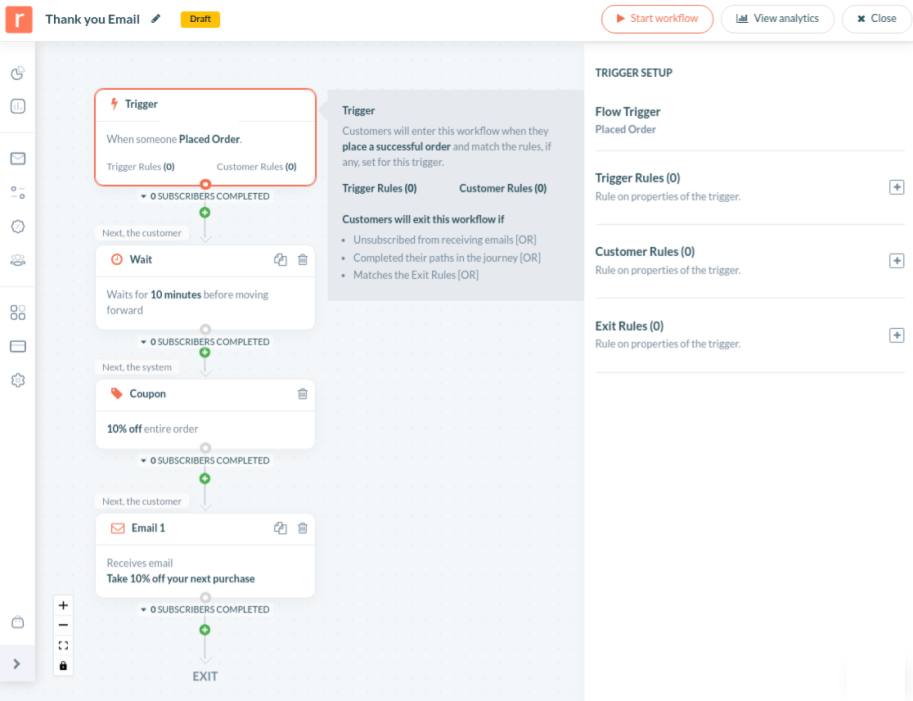 Pre-built Workflows Templates
Why build a workflow from scratch? This new feature is packed with Pre-built Workflow templates for all the email automation campaigns. Use these ready-to-roll workflow templates and launch your automation campaigns within minutes.
Trigger & Conditional Splits
Trigger rules & Customer rules will let you select the condition that will trigger the automation when a customer enters the checkout. Avoid manually triggering the automation every time.
Take customers through different email paths with a simple Yes/No split. Avoid sending the same emails to customers with these conditional splits.
Drag & Drop Email Editor
Create professional-looking emails easily for your online store.
Use our simple Drag & Drop email editor to customize your emails to suit your style. Only beautiful emails can increase conversions, and our email editor has all the necessary options to make your emails convincing.
Add logos, content blocks, product images, dynamic coupon codes, social media icons & more to your emails using our email editor.
No coding knowledge is needed to edit your emails.
Pre-built Email Templates
Make use of our Pre-built email templates and save time. We have included email templates for each email automation campaign, precisely segmented for easy selection.
These templates can also be customized using the Drag & Drop email editor to add customer name, company name & other visual elements.
Save time by choosing the right pre-built email template for your email automation and launch your campaign instantly.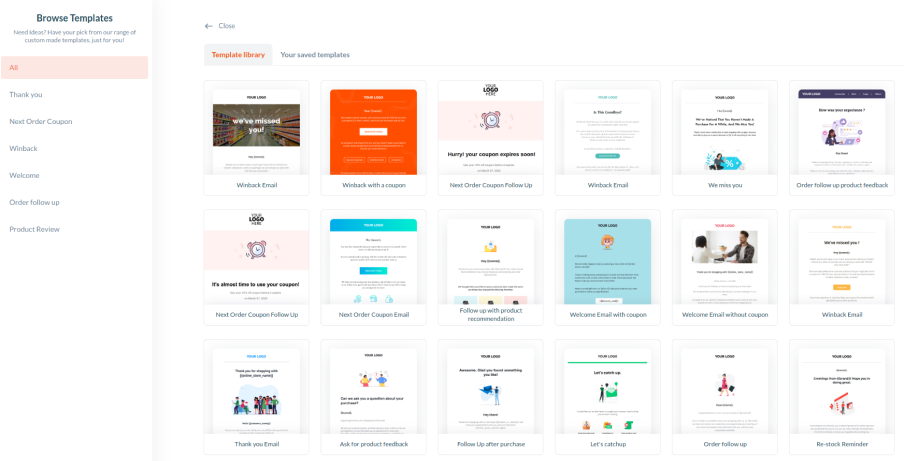 Dynamic Coupon Codes
Generate dynamic coupon codes without leaving your email editor. Include them in your automated emails, encourage customers to return, and drive repeated sales.
Offer Fixed amount discount, Percentage discount & Free shipping discount via Dynamic coupons.
You can set Coupon value, Coupon expiry date & Minimum spend limit to earn the coupons.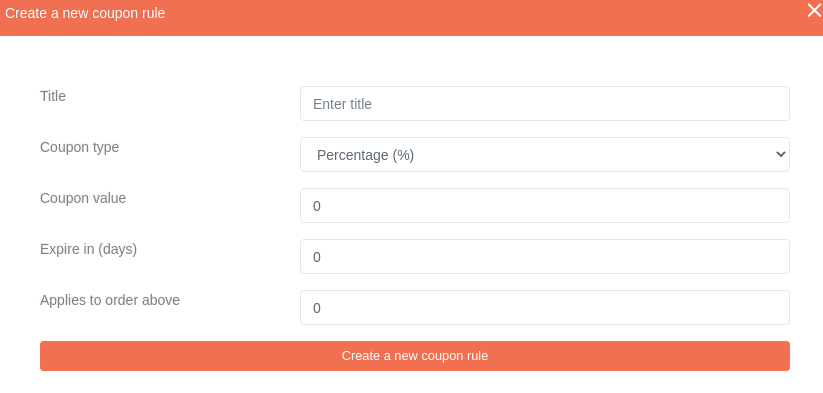 Analytics
Get real-time reports of your automation workflows. See how many customers entered and exited the workflow. Check the number of customers who opened, clicked & unsubscribed your emails. Compare these data to the number of emails sent, and you can determine your conversions.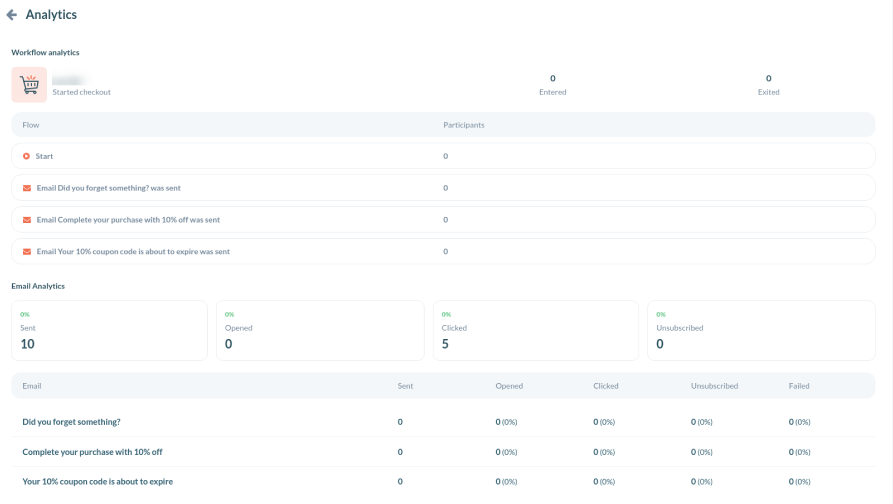 Click here to get started with Email Marketing Automation.