With competition rising from every corner, eCommerce marketing automation has become a necessity for WordPress stores.
Why put in hours of manual effort for lead generation, marketing campaigns, lead nurturing, conversions, etc when you can easily do it by automating those activities and skyrocket your sales.
To do that, you need the best eCommerce marketing automation plugins that can take care of your marketing activities all by themselves even when you are not there.
But the problem here is, finding the right marketing automation tool. We have narrowed down the 7 best marketing automation plugins to help you choose the right one easily. Dive into this article and select the right tool that suits your business needs.
What is eCommerce marketing automation?
Ecommerce marketing automation is the process of letting your marketing campaigns run on their own without any manual interference.
You can do this with the help of WordPress marketing automation plugins which are variable in WordPress. Automating your marketing campaign can help you engage with your customers more dynamically and especially at any time of their convenience.
All you have to do is initiate your automation and it will do the work for you while you can sit back and relax. But first, you need the right automation tool that can help you with your marketing campaigns.
We've listed some of the best eCommerce marketing automation plugins to help you in choosing the right plugin.
Best Ecommerce Marketing Automation plugins
Retainful
If you are looking for a user-friendly WordPress marketing automation plugin then Retainful is the one you need. It can help you automate all your marketing activities and boost your sales without spending much manual effort.

Automating your marketing campaign is like making someone do the work for you while you can carry on with your other business activities without being worried about this one. You can easily engage with your customers at any time and tailor your marketing campaigns with precision.
If your store is suffering from cart abandonment, this eCommerce marketing automation plugin will offer you the perfect solution. Retainful can help you automatically recover your abandoned carts by sending a series of emails.
All you have to do is define the workflow and Retainful will take care of your abandoned carts without any hassles. You can also continue engaging with your customers even after they purchase by sending order follow-up emails.
Retainful lets you build your automation easily using our Workflow builder, you don't need any coding knowledge to build it. You can use triggers and path splits to send your customers in different email paths and get converted easily.
Features
Automated cart recovery series
Pre-built email templates
Workflow builder
Triggers, customer rules and path splits
Automated Win back series
Real-time analytics
Dynamic coupons
Shortcodes for personalization
A/B test for emails
Automated order follow up emails
Drag & Drop email editor
Thank you email series
Pricing
Free version available
Starter- $19/month
Growth – $49/month
Professional – $199/month
Omnisend
Omnisend is one of the most popular eCommerce marketing automation plugins available for WordPress stores. This marketing automation plugin lets you drive sales automatically across various channels without any manual effort.

This marketing automation plugin comes with a pre-built automation workflow that can be customized easily using an automation editor. Using these pre-built workflows, you can launch your automation within minus and set your marketing campaign on auto-pilot.
Using Omnisend, you can automate these campaigns,
Welcome email
Cart abandonment
Product abandonment
Order confirmation
Shipping confirmation
Cross-sell
What makes these eCommerce marketing automation plugins special is their targeting and personalization options. You can add email content blocks, display recommendations, etc as per the customers.
You can use automation splits to send your customers in different automation paths. Omnisend lets you track your sales, workflow performance, engagement data and more via a real-time reports dashboard.
Features
Pre-built workflows & templates
Automation splits
A/B split testing
In-built reports & analytics
Multiple integrations
Personalized product recommendations
Email, SMS & push notifications
Triggers & path splits
Automation editor
Customization options
Pricing
Free version available
Standard – $16/month
PRO – $99/month
Klaviyo
Next in our best eCommerce marketing automation list in Klaviyo. Create and send enticing emails & text automatically using Klaviyo. You can easily run multi-channel marketing without any hassles using Klaviyo.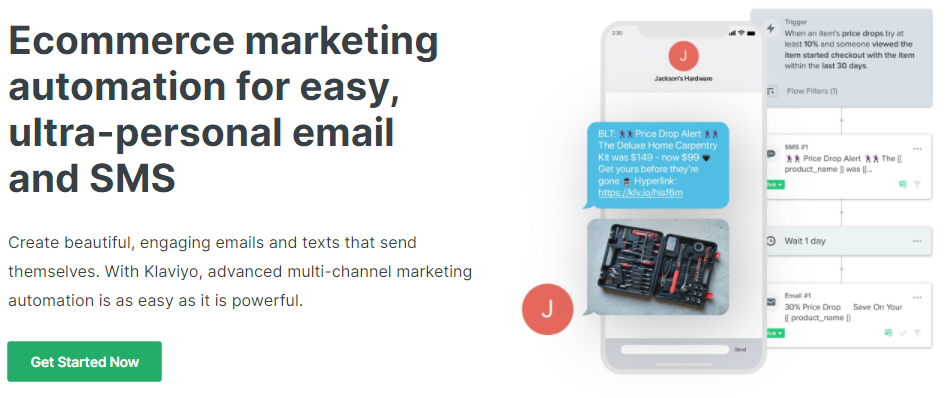 You can get started with your email and text message automation right away using this WordPress marketing automation plugin as the workflows are already pre-built. You can A/B test your emails and text messages to see which one converts better.
Here are the campaigns you can automate using Klaviyo,
Price drop trigger
Next order prediction
Cross-sell and Upsell
Welcome series
Browse and cart abandonment
Back in stock
The best aspect of this eCommerce marketing automation plugin is that there is no limitation in workflow customization. You can customize workflows as per your preference, add triggers & splits to send customers in different campaign paths. All can be done without breaking a sweat using Klaviyo.
Right from the email open rates to the number of sales completed, Klaviyo will provide you real-time data of every workflow. This can help you compare your email campaigns and boost their performances.
Features
Emails can be personalized
Pre-built automation
Drag & drop email editor
A/B testing
Customizable workflows
Automated email and SMS campaigns
Triggers and path splits
Pre-built templates
Workflow builder
Real-time analytics
Pricing
Free(varies as per the email list)
Hubspot
Hubspot is one of the finest WordPress marketing automation plugins that stands alone when it comes to offering the best features. This eCommerce marketing automation plugin lets you scale your campaigns easily without spending much time and effort.

Hubspot can help you run your email campaigns on auto-pilot and push your customers deep down the sales funnel. You can build integrated workflows and email campaigns without any coding knowledge.
Once your email campaigns are created, you can use triggers, conditions and actions to send those emails to the right leads at the right time. What makes this WordPress marketing automation plugin special is that it can be created, customized & personalized without any hassles using a visual editor.
Not just emails, you can use Hubspot workflows to create webhooks, score leads, rotate leads and manage your data easily by updating values, properties and more.
Features
Visual workflow editor
Seamless integrations
In-built analytics
Live chat
Split testing
Drag & drop email builder
Pre-designed email templates
Forms and popups
24/7 chatbots
Triggers, conditions & actions
Pricing
Starter – $45/month
Professional – $800/month
Enterprise – $3200/month
ActiveCampaign
ActiveCampaign is the next tool in our best eCommerce marketing automation plugins that offers automated email marketing and CRM solutions for WordPress stores.

ActiveCampaign is loaded with some of the best marketing automation features which makes it an all-rounder plugin on this list.
It comes with a dynamic drag & drop workflow builder that lets you create your workflow within minutes. Also, the segmentation lets you target the right campaigns to the right customers which make your marketing campaign more effective.
This WordPress marketing automation plugin lets you track your site visitors and target them with triggered messages based on the actions they take in your store. It will also furnish real-time reports so that you can track your marketing automation campaign performance effectively.
Features
Custom sign up forms
Easy migration
Real-time analytics
Splits and triggers
Multiple integrations
Automation map
A/B test for workflows
Pre-built templates
Drag & drop automation builder
Segmentation and targeting options
Pricing
Lite – $9/month
Plus – $49/month
Professional – $129/month
Enterprise – $229/month
SendInblue
If you want your customers to stop jumping out of your sales funnel, you need to automate your marketing campaign. Only through marketing automation can you keep your customers engaged any time you need and it'll also free you from the manual effort.

Gone are the days where you had to manually create and send emails as part of your marketing campaign. With WordPress marketing automation plugins like Sendinblue, you can set your marketing campaign on auto-pilot and concentrate on your business while the plugin will do the job for you.
You can effortlessly create workflows using a visual editor. It is also loaded with customizable workflow templates that can help you launch your automation campaign within minutes.
Just like any other WordPress plugins you can track your performance in real-time using insightful analytics and A/B test your workflow to know which one suits best for your business needs. You can easily devise your ROI based on your conversions.
Features
Confirmation emails
Subscription options
Pre-built email templates
Monitor email metrics
Segmentation options
A/B test
Website tracking
Real-time analytics
Customizable workflow templates
Pricing
Free
Lite – $20.6/month
Premium – $53.14/month
Drip
Drip is an WordPress marketing automation plugin that allows you to run multi-channel marketing to boost your sales. The best part of Drip is that you can use all of its features without any coding experience.

Drip comes with pre-built workflows for welcome series, abandoned carts & post-purchase campaigns that can help you boost your sales and engagement effortlessly without any manual effort. Drip can easily integrate with prominent eCommerce platforms like WooCommerce, Shopify & BigCommerce.
Experts say that most marketing campaigns fail due to poor segmentation and targeting. But with drip, you can easily segment your customers and automatically target them with the right personalized content.
Features
Multi-channel campaigns
Powerful workflow builder
Seamless integration
Segmentation and targeting
Pre-built templates
Pricing
Starter – $19/monthly
Conclusion
Ecommerce store owners often wonder why their marketing campaigns are not converting enough. It is majorly due to poor engagement as you cannot be there for your customers all the time. But by automating your marketing campaign, you can not only minimize your manual effort, but you can also engage with your customers better.
Better customer engagement will reflect better sales and conversions. To achieve it, you need to run an automated marketing campaign and that's why we compiled this list of best eCommerce marketing automation plugins to help you reach your conversion goals through automation.