Are you looking for ways to make your store better and get more people to buy from you? If you answered yes, then you're in the right place! One of the best ways to achieve this is by using plugins to extend the functionality of your WooCommerce store. However, with so many plugins available in the market, it can be overwhelming to know which ones are worth investing in.
You'll learn about plugins that make your store look better, work faster, and be easier for people to use. So, if you want more people to buy from your store and make more money, keep reading to learn about these must-have WooCommerce plugins!
In this blog, we will talk about the 13 most needed WooCommerce plugins to increase conversions. These are the best WooCommerce plugins to increase conversions that will help your store become more successful.
Check out Retainful, the ultimate solution for increasing conversions! Try it now and see the difference.
13 Most needed Woocommerce Plugins
Retainful
How many times have customers added a product to their cart and abandoned it at checkout?
Abandoned carts have been a growing concern for shop owners, it hinders both your conversion and sales.
Retainful is one of the best WooCommerce plugins that can help you recover abandoned carts effortlessly and convert them into revenue. This recommended WooCommerce abandoned cart plugin will help you create an automated cart recovery campaign and send a series of emails at regular intervals until the customer recovers his/her cart.
Retainful is not just a Cart recovery plugin, it is complete Email marketing automation platform that lets you send automated emails to engage with customers throughout their journey.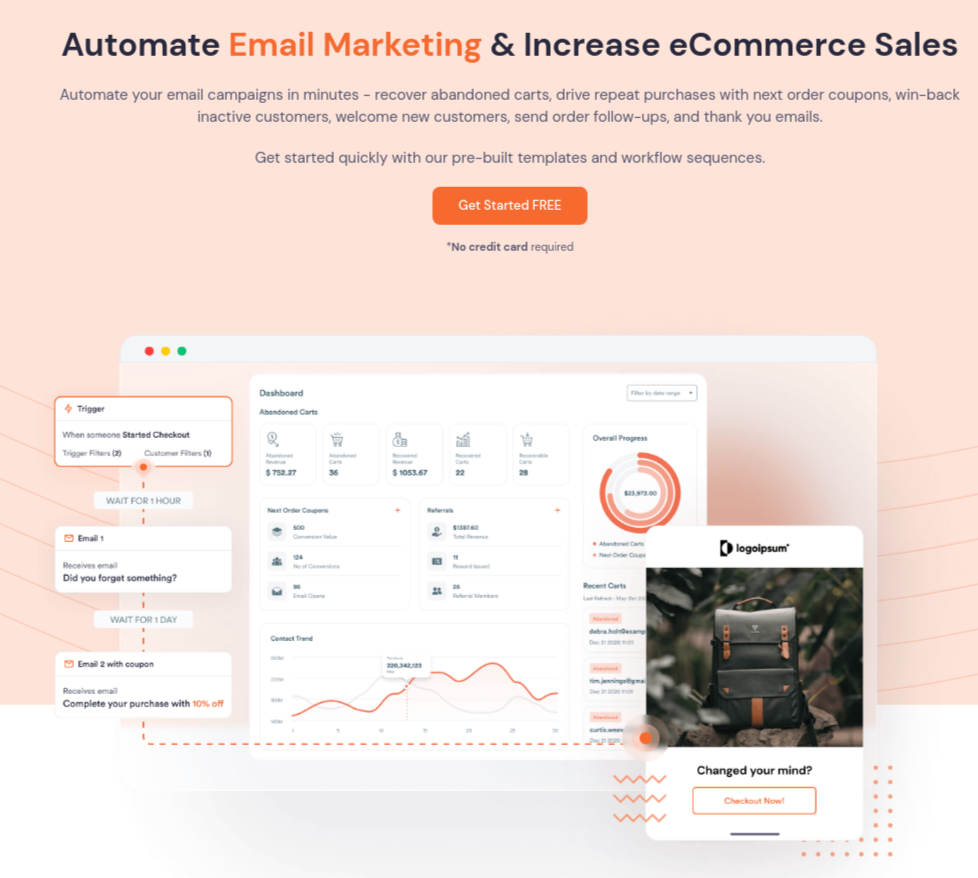 On average around 60-70% of customers abandon their cart, using the automated Abandoned recovery emails from this top WooCommerce plugin you can recover 45% of them, sleek, isn't it?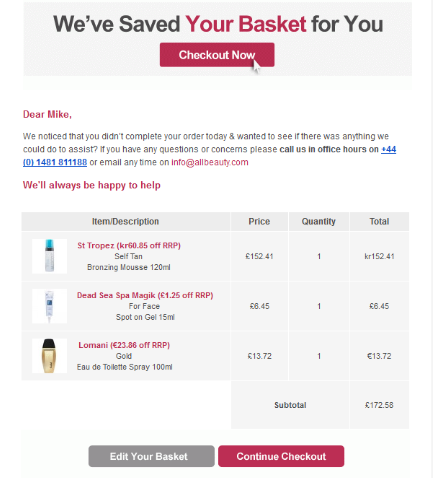 Personalize your cart recovery emails with our easy drag and drop email builder, or you can choose an email template and customize it to suit your style, exciting, right?
Retainful's exclusive feature is the Dynamic coupons codes, with which you can drive repeated sales. You can encourage your customers to return to your store by offering a discount for their future purchase.
Let's look at even more exciting features of this must have WooCommerce plugin,
Track every single cart.
Capture emails in real-time.
Sends recovery emails automatically.
Pre-built cart recovery email templates
Pre-built automation workflows
Customer journey builder
Customers can recover their cart in a single click.
Uses a countdown timer to create FOMO.
Uses exit-intent popup to prevent abandonment.
See the items let out by customers.
Powerful drag and drop email editor.
Send a coupon code to encourage customers.
Schedule the email sequence.
Unlimited cart recovery templates.
User-friendly interface.
Emails are loaded with customizable options
Pricing
Free – Lite Version
Starter – $19/month
Growth – $49/month
Professional – $199/month
Discount Rules for WooCommerce
Discount Rules for WooCommerce is a powerful discount plugin in the WooCommerce platform with 100,000+ active installations. The success of any online store largely relies on the discount plugin that you use. There are a number of discount plugins available in the market. Hence, it might be confusing for you to choose the right plugin. Without any doubt, Discount Rules is the plugin that you are searching for. Creating discounts is easier with the easy-to-use interface of this plugin.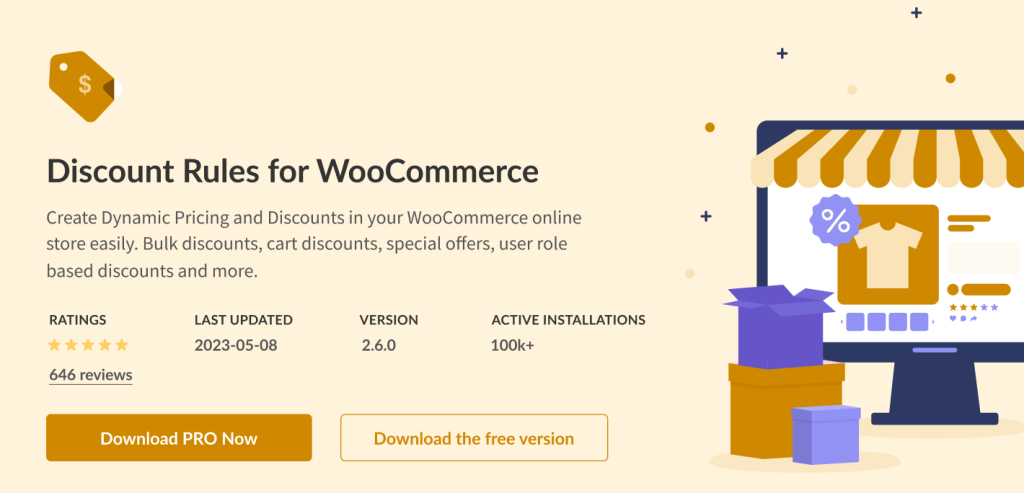 With this plugin, you can create 100+ discount rules. The plugin has everything you need, be it simple discounts like percentage discounts or fixed discounts or complex discounts like Bulk discounts, Bundle discounts, or BOGO deals. Also, you can give discounts for all the products or specific products. The notable feature is you can create a number of variations based on conditions like user role, purchase history, payment method, subtotal value, and more.
What makes discount rules unique from the other discount plugins is its ease-of-use and flexibility. You can create a number of discounts with variations in a few clicks. You have convenient options to create coupons, set usage limits, set time limits, or even offer your customers free gifts. Earning customer loyalty with its convenience and increasing the overall conversion in your WooCommerce store is easy.
Features
Simple and easy-to-use layout.
Include/Exclude specific products or categories.
Set simple discounts like Product based discounts, cart-based discounts, and free shipping.
Set advanced discounts like Bulk discounts, Bundle discounts and BOGO deals.
Set discount conditions based on purchase history, user role, payment method, subtotal and more.
Offer smart coupons.
Customize and Display sale badges and tags.
Display bulk discount table on the product page.
Set usage limit and time limit.
Multiple setting positions to display discount bar.
Send alert messages to users when the discount is applied.
Compatible with WPML.
Pricing
Single site – $69/year
5 sites – $99/year
25 sites – $169/year
WPLoyalty – Points and Rewards for WooCommerce
There is no better way to increase your conversions than rewarding your customer with loyalty points. WPLoyalty is one of the best WooCommerce plugins that lets you offer points for customer loyalty and when they perform specific actions like purchasing, signing up, or writing product reviews.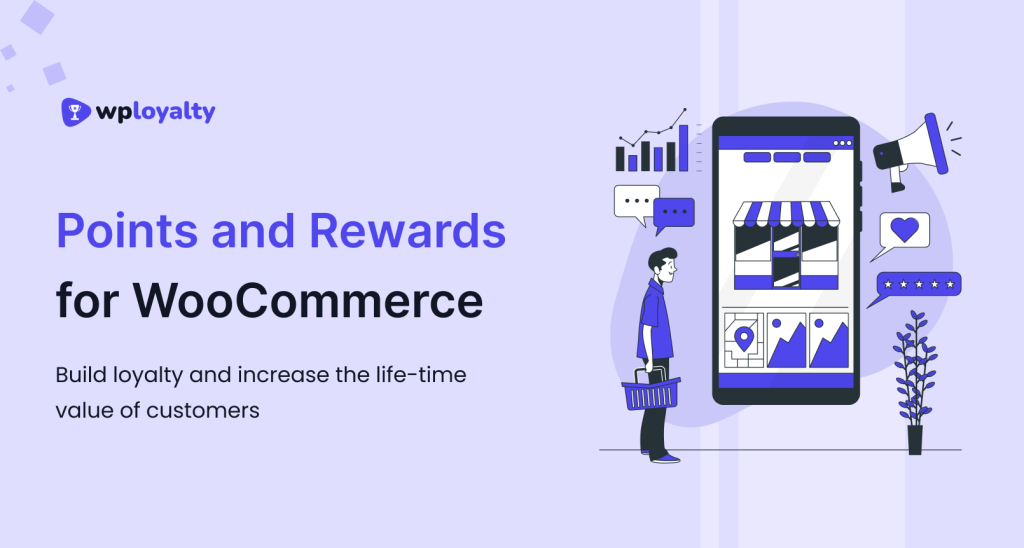 This is one of the best marketing plugins for WooCommerce because it not only increases your conversion by offering points but also it helps you acquire new customers through a referral program.
The inbuilt referral program encourages existing customers to refer your store to their friends for exciting points and rewards. Using this WooCommerce plugin you can not only reward existing customers but also reward new customers with exclusive deals.
One of the interesting features of this popular WooCommerce plugin is the launcher widget, a chat-like popup. It allows you to showcase the discounts and helps customers easily discover your loyalty program.
Features
Create levels/badges for VIP customers
Launcher-widget to easily discover rewards
WPML support
Integrates multi-currency
Import/export customers
Set custom expiry dates for points
Keep track of customer's activities
Customize rewards
Unique referral URL for each customer
Pricing
$99/ year for Starters
$129/ year for Professionals
$199/ year for Agency
Booster for WooCommerce
If you're looking to increase your brand awareness, then Booster for WooCommerce is the recommended WooCommerce plugin for you. This is one of the best marketing plugins for WooCommerce that can supercharge your store with features that can make your store appealing to every audience and increase your conversions globally.

The most dynamic aspect of this top WooCommerce plugin is that you can customize your WooCommerce store without writing a single piece of code using Booster for WooCommerce.
Localization is the best thing about this plugin, this plugin can translate your website, contents, products into any language that suits the target audience, this aspect can make your store convert like crazy.
Apart from the language, this must have WooCommerce plugin can automatically change your product prices based on the local currency. Booster for WooCommerce will give you a user-friendly experience on the front-end and a dynamic online store in the back-end.
Features
Bulk price converter.
Add 159 types of currencies in your store.
Automatic currency exchange rates.
You can set different currencies for external products.
Display your products in different currencies.
Add global discounts with this plugin.
Change prices and currencies automatically.
Customers can set prices for the products.
Customize the add to cart button.
Set product availability by date and time.
Set meta for products with the editor.
Customize product images and thumbnails.
Display products by customer's country.
Display products by user-role.
Add multiple payment gateways.
Add multiple shipping methods.
Pricing
Premium – 49.99$/year
Optinmonster
Optinmonster is one of the best popup builders and best marketing plugins for WooCommerce. Used by 1,000,000 websites around the world, this plugin helps you to create illustrious popups that can skyrocket your conversions.

Optinmonster was built with a motive to convert the website visitors and those who abandon the websites into customers and subscribers.
With this top WooCommerce plugin, you can create popups, sticky announcement forms, subscription forms in minutes, and achieve conversions effortlessly by attracting more traffic to your store.
A distinct aspect of this plugin is the targeting features that let you tailor the content for the right customer at the right time. The user experience of this recommended WooCommerce plugin is great, it is mobile-friendly and it is optimized for both web and server performance.
Features
Create customized popups to grow an email list.
Create sticky heady bars to display news and updates.
Create dynamic slide-in popups.
Create welcome mats(full-screen popups) to increase conversions.
Create an illustrious coupon wheel popup.
Signup forms in blogs, age content.
Add an email newsletter sign up in the blog's sidebar.
Create FOMO with countdown timer popup.
It allows you to create mobile-specific popups.
You can create device based popups.
Customize popups based on cookies.
You can create click to load and exit-intent popups.
Add customized sound effects to popups
Capture attention with popup animations.
Pricing
Basic – 9$/month
Plus – 19$/month
Pro – 29$/month
Growth – 49$/month
Extra Product Options (Custom Addons) for WooCommerce
WooCommerce extra product options and custom product addons plugin provide 16+ different custom field types for us. Easily customize your product page and let your customers personalize their purchases. Add, edit, modify and rearrange the custom and default product fields based on your need.
Custom product options like text boxes, radio input, dropdowns, colour picker, date picker, and some others are there to explore. Dynamic fields feature and custom price fields serve a wonderful experience for users.
File uploading options are there to increase your sales conversion rate. Easy to use and well-performing one. Comes with a user-friendly interface.
Features
16+ different custom field types
Multi-select & Help text features
Custom price fields
Dynamic fields options
Multiple file uploading feature
Enable / Disable fields
WPML form translation
User-friendly UI
Section positioning
Easily customizable options
Mobile friendly
Pricing
Single Site – $49/year
3 Sites – $79/year
10 Sites – $129/year
Want to make the most out of your WooCommerce store? Install Retainful today and watch your conversions soar!
TI WooCommerce Wishlist
The TI WooCommerce Wishlist plugin is a powerful WordPress tool designed to enhance the shopping experience on your WooCommerce-powered online store. The plugin allows users to create, manage, and share their personal wishlists, thereby helping in boosting your sales and customer retention.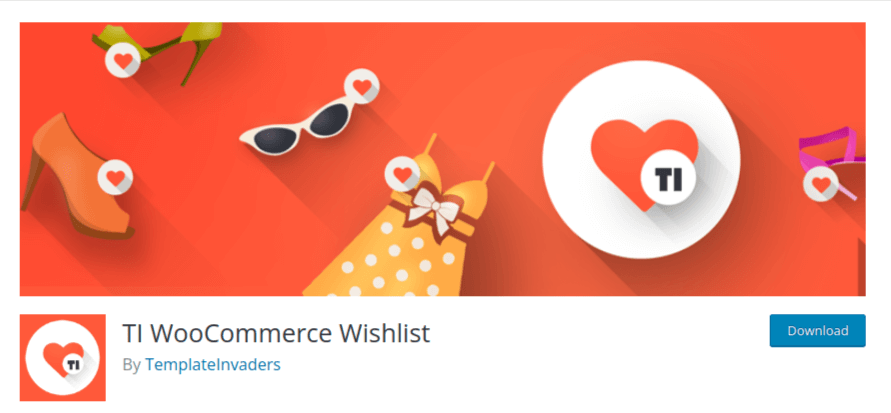 The plugin supports shortcode functionality, enabling you to place the Wishlist button anywhere on your website, ensuring strategic visibility and easy accessibility for users. The plugin keeps a count of the number of products added to a user's wishlist, providing a clear indication of customer interest levels. Products are automatically removed from the wishlist once they've been purchased, ensuring the wishlist remains up-to-date and relevant.
The plugin also allows users to upload a personalized icon for the Wishlist feature, catering to the aesthetic appeal of your online store. The plugin allows users to share their wishlists on popular social media platforms like Facebook and Twitter, driving traffic and potentially increasing sales.
It offers a fully customizable interface, ensuring that the Wishlist feature aligns with the overall look and feel of your website. It includes responsive CSS styles, ensuring optimal display and functionality across all device types, including high-resolution Retina displays.
Features
Shortcode support for wishlist button.
Wishlist product count feature.
Auto-removal of purchased wishlist items.
Customizable Wishlist icon.
Social media wishlist sharing.
Customizable interface.
Responsive design.
Multilingual and WPML compatible.
Editable wishlist table columns.
Pricing
$79 annually for single site
YOAST WooCommerce SEO
YOAST WooCommerce SEO can help you to rank your store higher in the search engines like google and bing. This plugin can help you push your products to stand out from the cluster and boost WooCommerce sales conversions.

YOAST SEO is one of the best WooCommerce plugins as it can attract more customers to your store by placing your top on the search results.
WooCommerce and YOAST SEO are a great combo, but they were developed by different developers. That's why YOAST WooCommerce SEO was created to make use of both the features and provide the SEO optimized content for your store.
Since YOAST SEO is a WordPress plugin you've to enhance your WordPress SEO before making changes to your online store.
Features
Preview your page on Social media.
Get automated internal links.
No more dead links.
It offers 24/7 dynamic support.
Say goodbye to ads.
Find the best rankable keywords.
Title and meta description templates.
Advanced XML sitemaps in one push.
It offers insights into your content, readability analysis.
Bulk editor to make large scale edits.
Cornerstone search engines.
Pricing
1 site – $129
2 sites – $245.10
3 sites – $367.65
4 sites – $490.20
5 sites – $580.50
10 sites – $1,096.50
Ryviu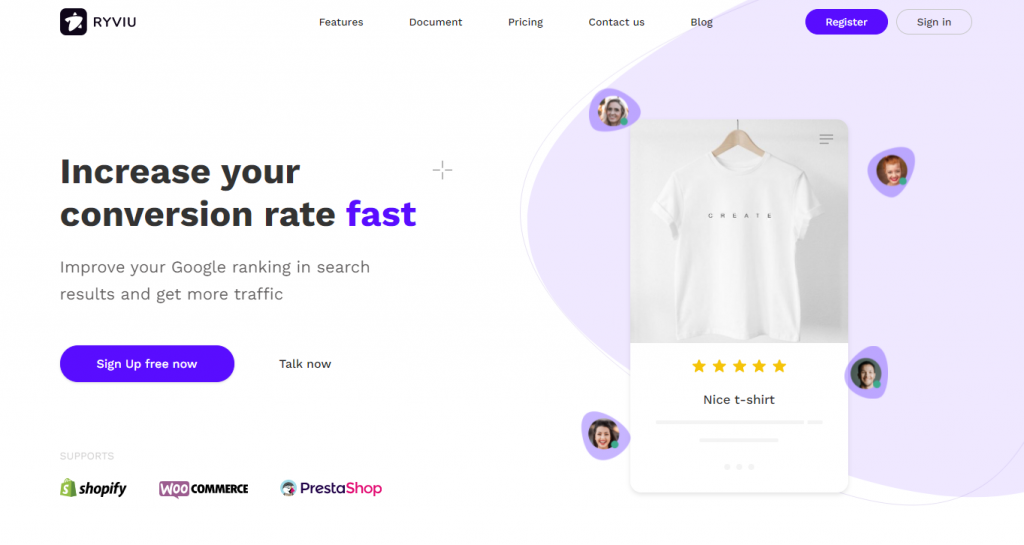 Ryviu is one of the best WooCommerce plugins that allows you to build social proof for your store easily & fast. It helps store owners collect product reviews and manage all reviews on your site.
With this recommended WooCommerce plugin, you can show featured reviews on any WooCommerce single product page, and send request emails to grab reviews from customers who have received their orders.
Features
Collect and show product reviews on each product
Offer multiple layouts to display reviews
Show featured reviews on any shop page
Allow you to import reviews from the big marketplaces, namely: Aliexpress.com, Amazon.com, Etsy.com, DHgate.com, to your online store.
Allow customers to write questions and answers about any product easily.
Allow customers to vote for the questions and answers they like
Send an email to customers to ask for reviews after each order is completed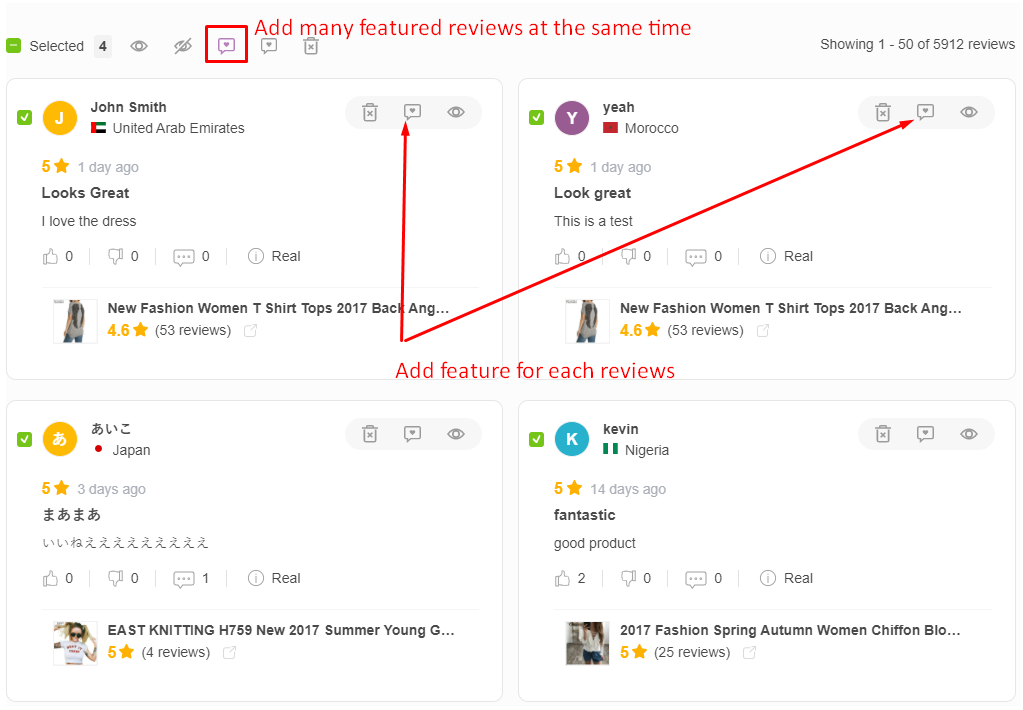 Ryviu is the best plugin for your WooCommerce store that can help you boost conversion rate and boost WooCommerce sales for your business, and thereby, expand your business. This review platform also works well with Shopify and Prestashop.
Pricing
Free version available
Simple plan: $4.99 per month
Advanced plan: $9.99
Unlimited Plan: $19.99
Mailchimp for WooCommerce
With 800,000 active installations, Mailchimp is one of the largest automation platforms that provide dynamic marketing strategies for online stores and one of the best marketing plugins for WooCommerce stores.
Mailchimp integrations allow you to sync all your customer's data to run more personalized campaigns.

Using this top WooCommerce plugin you can sync with your audience in Mailchimp to remind them of the items they left in the cart or viewed in your store.
You can increase your sales by creating a landing page using Mailchimp and start selling your products right away.
Boost WooCommerce sales by showcasing product recommendations based on their purchase date.
The best thing about Mailchimp is that it allows you segment customers based on their purchases, this helps you to create better buyer personas to tailor your marketing campaigns.
Features
Track your marketing campaign performance in an insightful dashboard.
Automatic sign up popups to convert visitors into subscribers.
Build attractive landing pages.
Pre-designed templates to publish pages with ease.
Create social ads to promote your landing page.
Send postcards in emails with special offers.
Mobile optimized emails.
Manage your subscribers effortlessly.
Track your analytics and ROI.
Track your website visitors.
Easily find customers with similar interests.
You can create integrated marketing campaigns
Pricing
Free version available
Essentials – 15$/month
Standard – 25$/month
Premium – 420$/month
WebToffee WooCommerce Gift Cards
When it comes to increasing conversions on your WooCommerce store, there is nothing more rewarding than WooCommerce gift cards. Gift cards offer a win-win situation for shoppers and store owners. Not only can they help increase sales, but they also provide an attractive incentive for shoppers to make a purchase.

If you are looking for a reliable gift card plugin for your WooCommerce store, look no further than the WebToffee WooCommerce gift cards. The plugin is rich in features and provides an intuitive interface that makes it easy to set up gift cards on your WooCommerce platform with minimal effort.
Apart from WooCommerce gift cards you can manage store credits with this plugin. You can provide instant refunds to store credits for your customers. The plugin lets you manage user credit balances on your store from a single page.
Features
Create unlimited gift cards
Email gift cards to customers
Category-wise template listing
Provide refunds to store credit
Choose fixed and custom gift card amounts
Add usage restrictions for gift cards
Pricing
Single Site: $99 per year
5 Site: $199 per year
25 Site: $399 per year
WooCommerce Fast Cart
If you are losing most of your potential customers to a long and complex checkout process, you need to simplify it. For this, we recommend using the Fast Cart plugin for WooCommerce.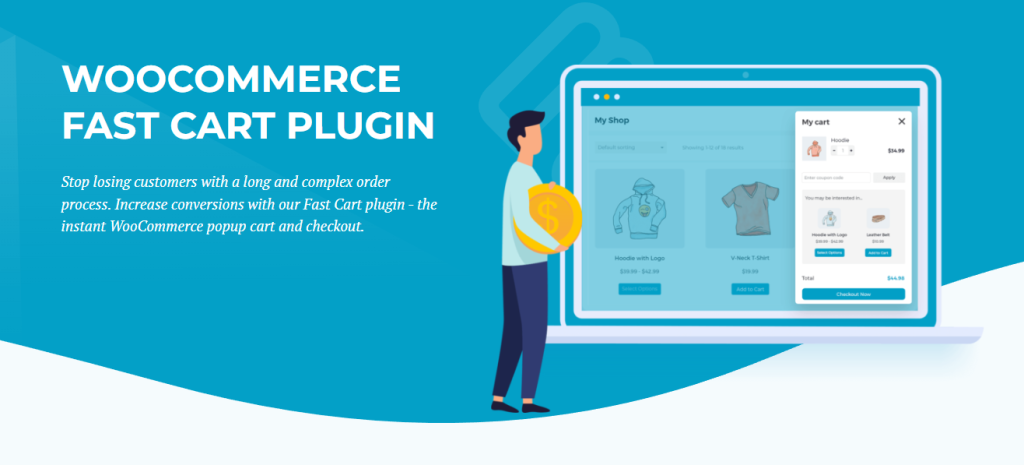 This is one of the best plugins for simplifying the WooCommerce checkout process. The plugin adds a popup checkout mechanism to your existing WooCommerce store, and you can set it up in minutes. You can choose from the popup and floating cart options and can further customize them to fit your store's design.

To increase the order value, you can enable upsells by cross-selling related products in the popup cart. Even though the cart hosts multiple elements, the design is simple and straightforward to avoid any distractions from the checkout process.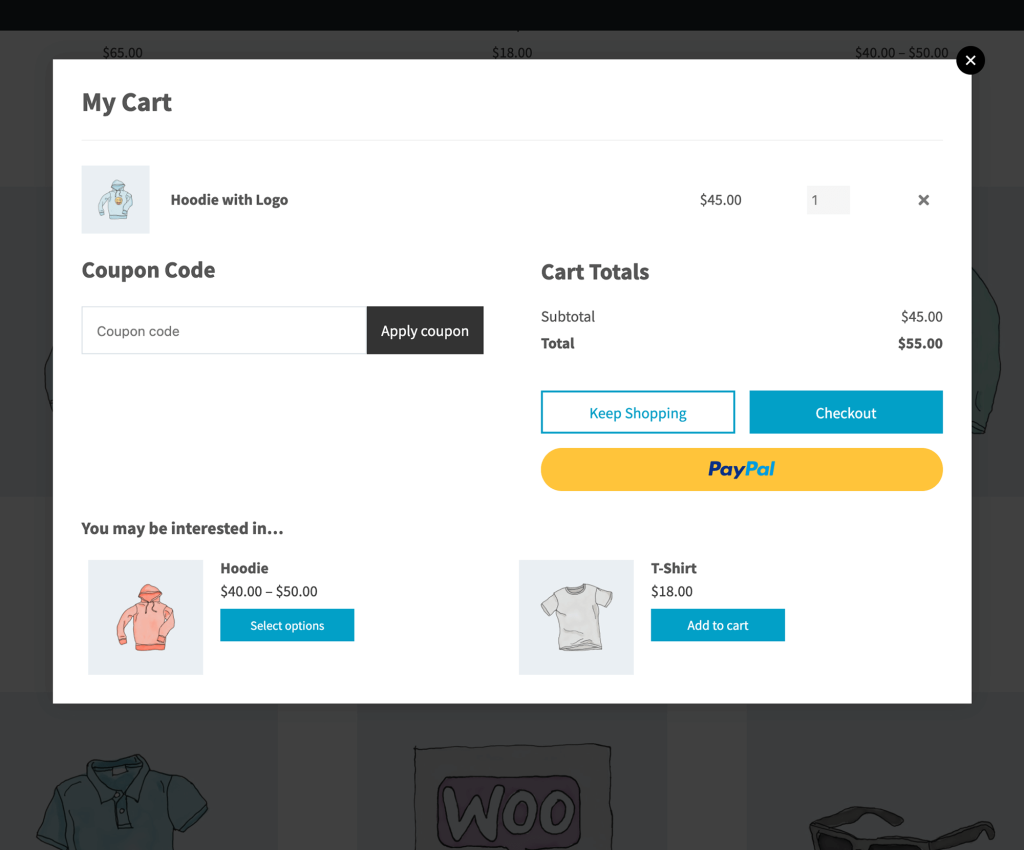 With the WordCommerce Fast Cart plugin, you can set up one-click checkouts to further accelerate the checkout process. The Fast Cart also supports popular payment gateways such as PayPal, Stripe, Amazon, Braintree, and more. You can select the one you want, and your users will be able to place orders without leaving the product page in just a few clicks.
Features:
Simple and intuitive checkout
Popup and floating cart options
Instant on-page checkout
Fully customizable design and layout
Multiple payment gateways supported
Options to enable upsells and cross-sells
Compatible with most themes and plugins
Easy to set up and get started
Detailed documentation
Expert Barn2 support team
Pricing
Premium – Starting from $79
Referral Candy
Referral card is one of the best WooCommerce plugins that allows you to automate your customer referral campaigns and minimizes your manual effort so you can focus that effort on running our business seamlessly.
Referral candy helps you to expose your store to new customers and increase your conversion.

Referral candy is a must have WooCommerce plugin for 2022 as you can reward your customer for referring their friends to your store. you can offer any kind of prizes like cash awards, gift cards and coupon codes.
Customers will be given a special referral link that they can share with their friends thus exposing your store to new frontiers.
With this best WooCommerce plugin, it's a win-win situation, how? Your customer gets a reward for referring and the referral gets a reward for completing a purchase and you acquired a new customer and made more sales, that's how!
Features
Easy integration with WordPress.
JS integration and API integration makes it more versatile.
You can connect third-party applications such as ReCharge, ChargeBee, PayWhirl.
Link seamlessly to your marketing devices.
Your referral program can be automated.
Even after check-out, customers can be automatically invited.
Detect successful references automatically.
Fraudulent activity is automatically prohibited.
Pricing
Free – 30-day trial
Premium – $49/month
Enterprise – $3999/month
Looking for a powerful plugin to help you increase conversions on your WooCommerce store? Look no further than Retainful!
Conclusion
WooCommerce is a great platform to initiate your online business because of the best WooCommerce plugins it holds in its ecosystem. That is why we crafted this blog to show some of the recommended WooCommerce plugins that can increase your conversions and boost your WooCommerce sales.
How do I increase conversion rate in WooCommerce?
To increase the conversion rate in WooCommerce, businesses can optimize their product pages by using high-quality images, providing detailed product descriptions, simplifying the checkout process, offering multiple payment and shipping options, providing customer reviews and ratings, and using targeted marketing strategies to attract and retain customers.
What is the best WooCommerce conversion tracking plugin?
There are several good WooCommerce conversion tracking plugins available, including Google Analytics for WooCommerce, WooCommerce Conversion Tracking Pro, and MonsterInsights. The best one for a particular business will depend on their specific needs and budget.
How do I increase sales in WooCommerce?
To increase sales in WooCommerce, you can optimize your website for better user experience, offer promotions and discounts, upsell and cross-sell products, and leverage email marketing and social media to reach out to potential customers.
Which are the best WooCommerce plugins for eCommerce business?
Some of the best WooCommerce plugins for eCommerce businesses include Retainful, WooCommerce Subscriptions, and WooCommerce Bookings. These plugins can help enhance the functionality and features of your online store, improve the overall user experience and boost sales.
How do I optimize my conversion rate?
To optimize conversion rates in WooCommerce, you can start by improving website design, simplifying checkout process, offering clear product descriptions and images, providing customer reviews and ratings, enabling guest checkout, and using abandoned cart recovery and email marketing plugins. Additionally, you can analyze website traffic and sales data to identify areas for improvement and test different strategies to see what works best for your specific audience.
How can I make my conversion rate better?
Improve website speed and optimize for mobile devices.
Optimize product pages, use high-quality product images, clear product descriptions, and call-to-action buttons.