The average abandoned cart rate has jumped to 70% as of 2022 with Retail and Fashion stores topping the list.2
Shopify abandoned carts have been a menace to store owners for the past few years, impacting their sales and revenue.
Let's face it, preventing cart abandonment requires a lot of resources, so the only way you can bring back those lost sales and convert them into revenue is by recovering those Shopify abandoned carts.
To do that, all you need is a Shopify abandoned cart app that can recover your lost carts by sending a series of abandoned cart emails on Shopify
And this article is all about it, find out how to setup a Shopify abandoned cart email campaign using a Shopify app and start recovering your lost sales by yourselves.
What is an Abandoned cart email campaign?
Shopify Abandoned cart recovery campaign is where you send abandoned cart emails on Shopify at regular intervals to the customers who have abandoned their shopping carts.
The objective here is to remind the customers about the cart they've abandoned and to encourage them to return to your store to recover their carts.
Like we said earlier, to do this, you need a Shopify abandoned cart recovery app that is capable of capturing customer's email addresses and send best abandoned cart emails automatically as soon they abandon their carts.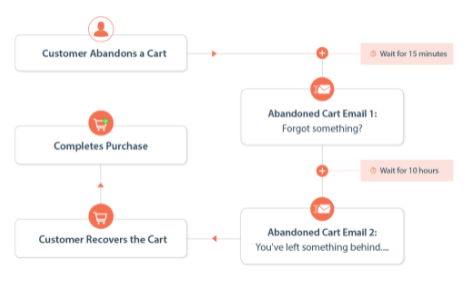 Retainful is one such app that can recover Shopify abandoned carts by sending a series of cart recovery emails to the customers.
All you need is to create a Shopify cart recovery campaign and Retainful will help you recover your Shopify abandoned carts and convert them into revenue. You can also edit Shopify abandoned checkout email as per your preference using Retainful and increase your conversion rates.
What is the average checkout abandonment rate?
This is where cart abandonment gets tricky as it is hard to track and giving it a specific number can be troublesome.
But a recent study by Freshrelevance shows that the latest cart abandonment rate as of 2022 stands at 60.7 percent. To put that into perspective, around 7 if 10 shopping carts are being abandoned by users.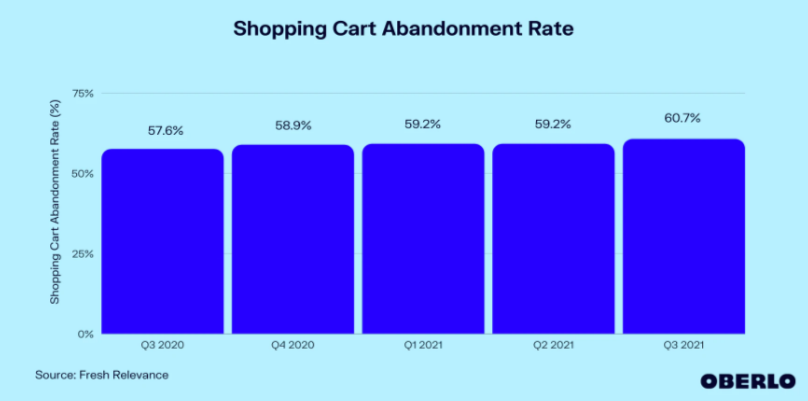 A surprising factor is that 85.65 percent of abandoned checkouts in Shopify occurred in mobile devices compared to desktop devices which stand at 73.07%.
The major reason for higher mobile abandonment is that many platforms do not optimize their stores for mobile devices. Desktops are their primary priority. If stores can optimize it for multiple devices, there'll be a reduction in cart abandonment rate.
What should I write in an abandoned cart email?
Store owners have now realized the true potential of Abandoned cart emails. They are highly motivated to send Abandoned cart emails to recover their cart than looking for a way to stop cart abandonment from happening.
But one major question that most Shopify store owners ask is, what should I write in an abandoned cart email?
You don't need to wrap your head around it. It is pretty simple.
Let us list out things you should include in an Abandoned cart email.
A simple yet actionable email copy. But it must be precise and to the point.

A social proof or a comparison as to why customers should purchase the product

List out how the product can benefit the customer.

List of products abandoned by the customers.

A vibrant Call-to-action to push customers to take action.

Personalized content to increase conversion

Discount coupon to encourage customers to recover their cart.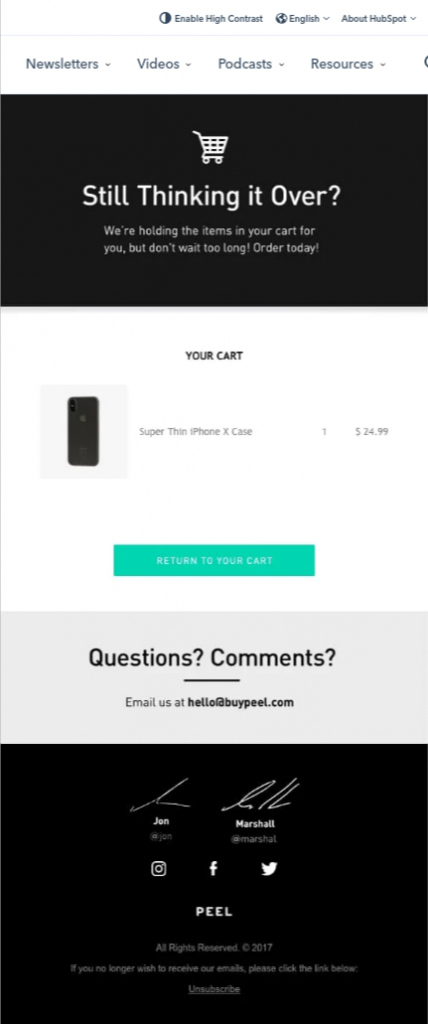 So, this is how you write an Abandoned cart email for Shopify.
How do I send Shopify Abandoned cart email Shopify?
Creating a Shopify abandoned checkout recovery campaign for your Shopify store is pretty simple. So, let's get started with it by installing Retainful in your Shopify store.
Installation
Login to your Shopify store and search for Retainful in the Appstore.
In the Retainful section, click 'Add App'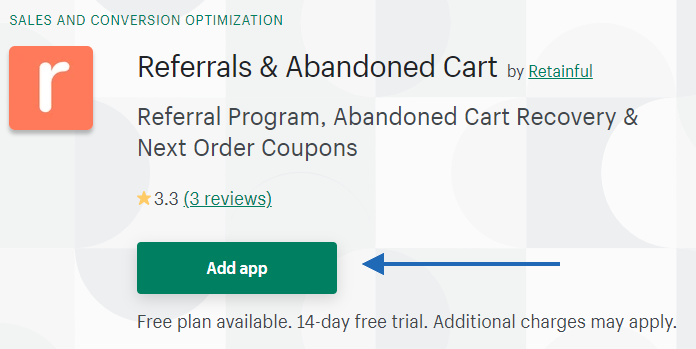 3. Once the installation page is opened, Click 'Install app' to install Retainful.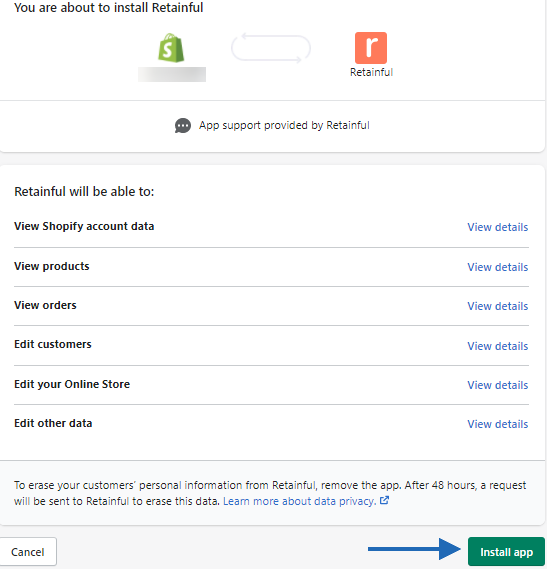 You'll be redirected to the Retainful dashboard right away if you have already created your Retainful account.
If you haven't created a Retainful account, the 'Create your account' box will appear.
Enter a password to create your account and the next time you can directly log into Retainful from here using your Shopify address and the password you created here.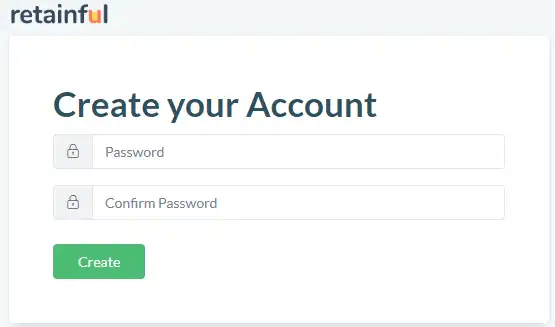 After entering the password, click 'Create', this will take you to the Retainful dashboard.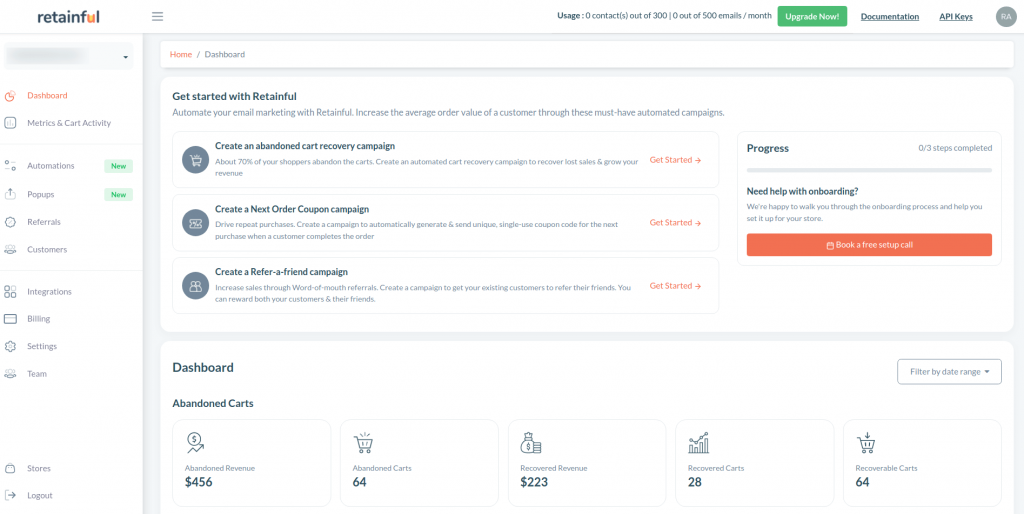 Creating and sending Cart recovery emails
Creating Cart recovery email automation is simple, just takes a few steps.
1. Click 'Get Started' next to ' Create an abandoned cart recovery campaign' section.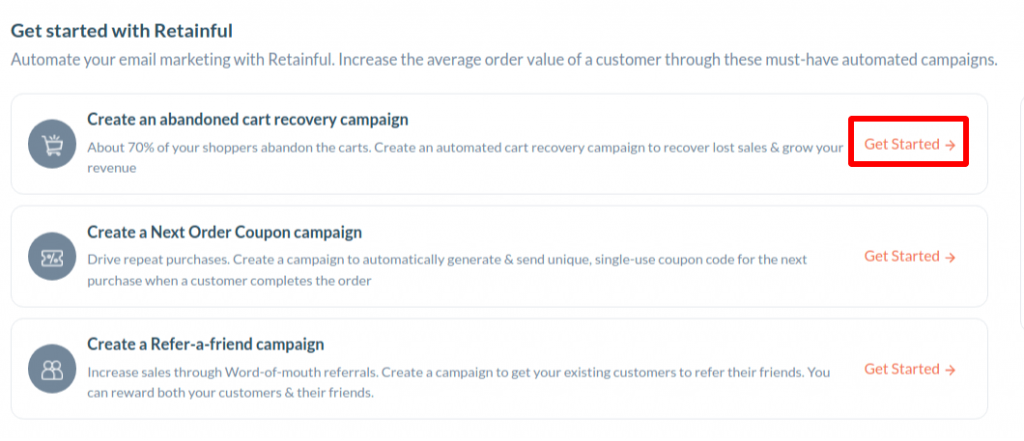 2. Workflow page will be displayed. To get started right away, select 'Abandoned Cart Recovery with dynamic coupon' workflow.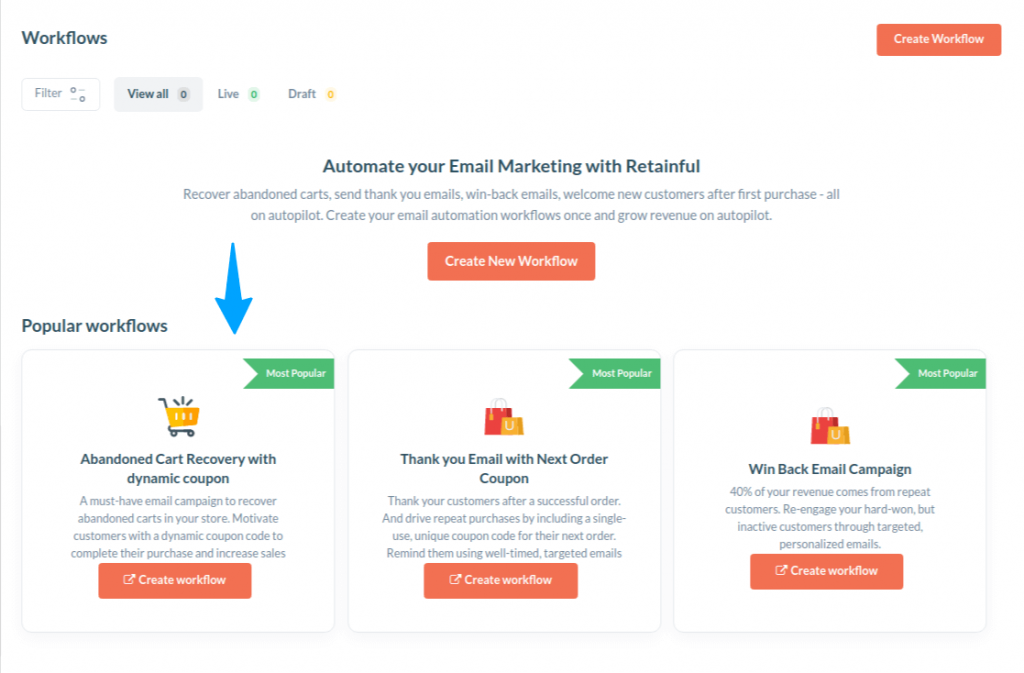 3. Name your workflow. Click 'Continue'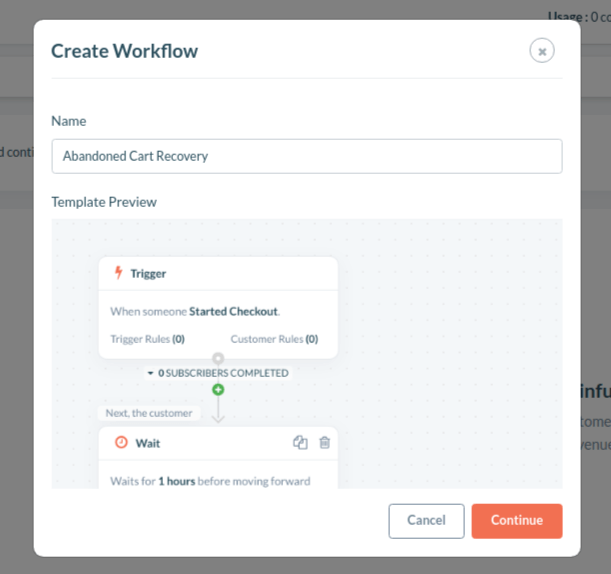 4. Customer journey builder page will be displayed with your Abandoned cart recovery workflow.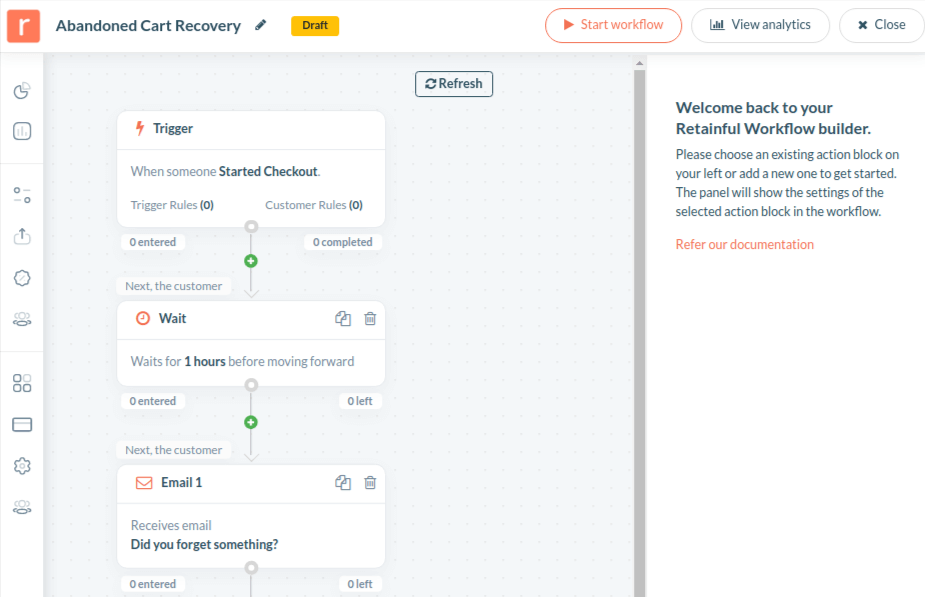 Customer Journey builder is where you can configure your cart recovery emails & coupons.
5. You can find these elements in a workflow.
Trigger – Choose when a customer enters a workflow
Wait – Set the time interval to send emails
Email – Configure Abandoned cart email
Coupon – Add a coupon to your email
Now lets configure the workflow.
6. By default, trigger lets customers enter the workflow when they start the checkout process.
Now configure 'Wait', set the time as 1 hour before you send the 1st email.

Note – If the customer enters checkout & completes the purchase he'll exit the workflow
(Or)
If a customer does not complete the checkout, the 1st cart recovery email will be sent after an hour.
7. To configure the 1st Cart recovery email, click the 'Email' block, you can see the menu on the right side once clicked.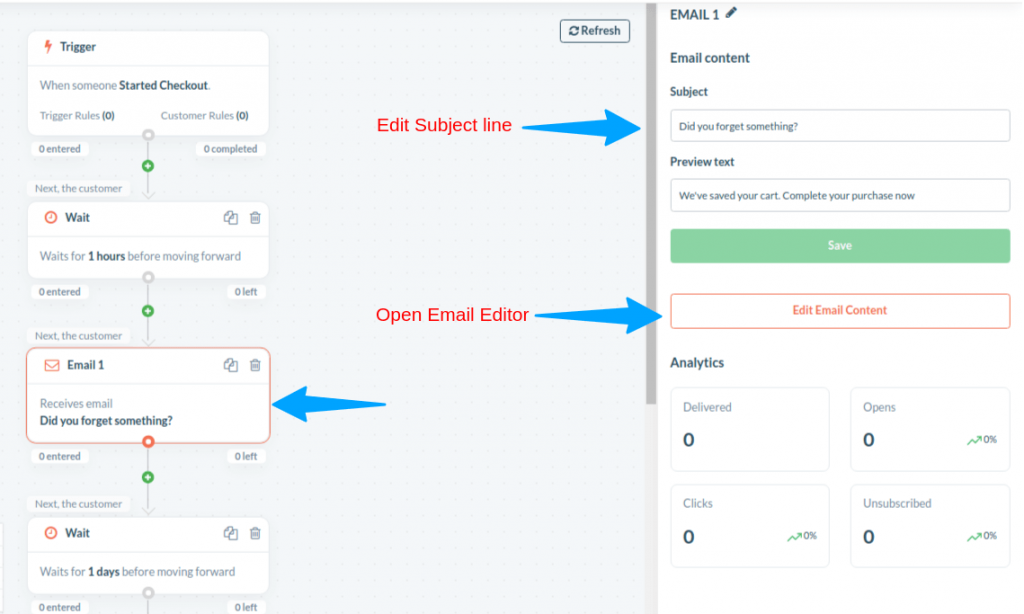 You can customize the subject line, make it persuasive to increase open rates.
Write a catchy preview text and click 'Save'
To edit the email, click 'Edit email content'.
8. Drag & Drop email editor will be displayed.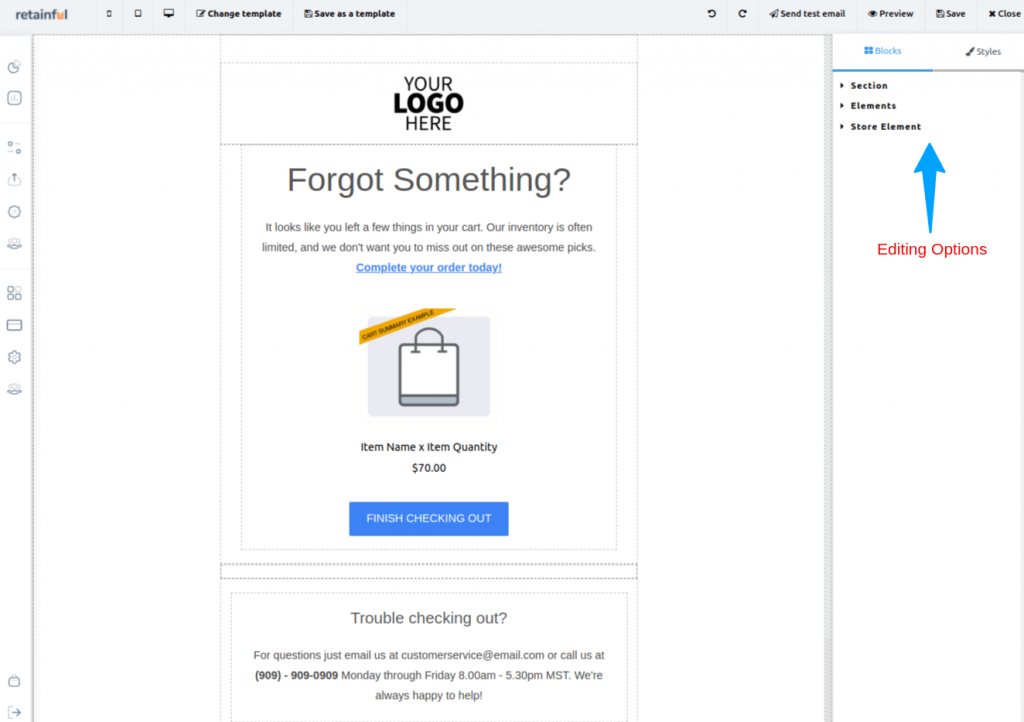 You can add content blocks, logos, images, address, social buttons & more by just dragging & dropping it from the editing section to email.
Learn more about editing your emails by clicking here.
9. Click 'Change template' if you want to use a different template.

Save the template and reuse it again & again with the 'Save as a template' option.
You can also see how your email will look on other devices with the multiple-device view option.
10. Once you are done editing your email, click 'Save' to set it live.
Email 1 will be followed by a Wait action and 2nd Cart recovery email.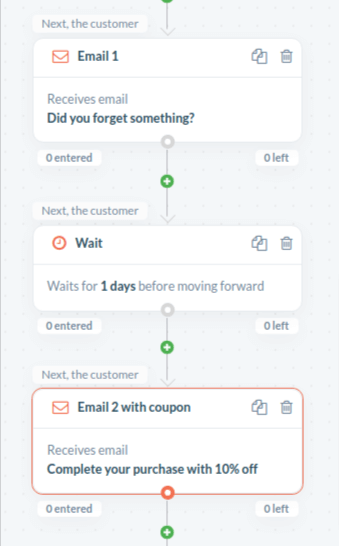 Set the time interval. Follow the previous step to enter the Drag & Drop email editor for the 2nd email.
11. 2nd Cart recovery email includes a coupon code. You can configure a coupon from the email editor.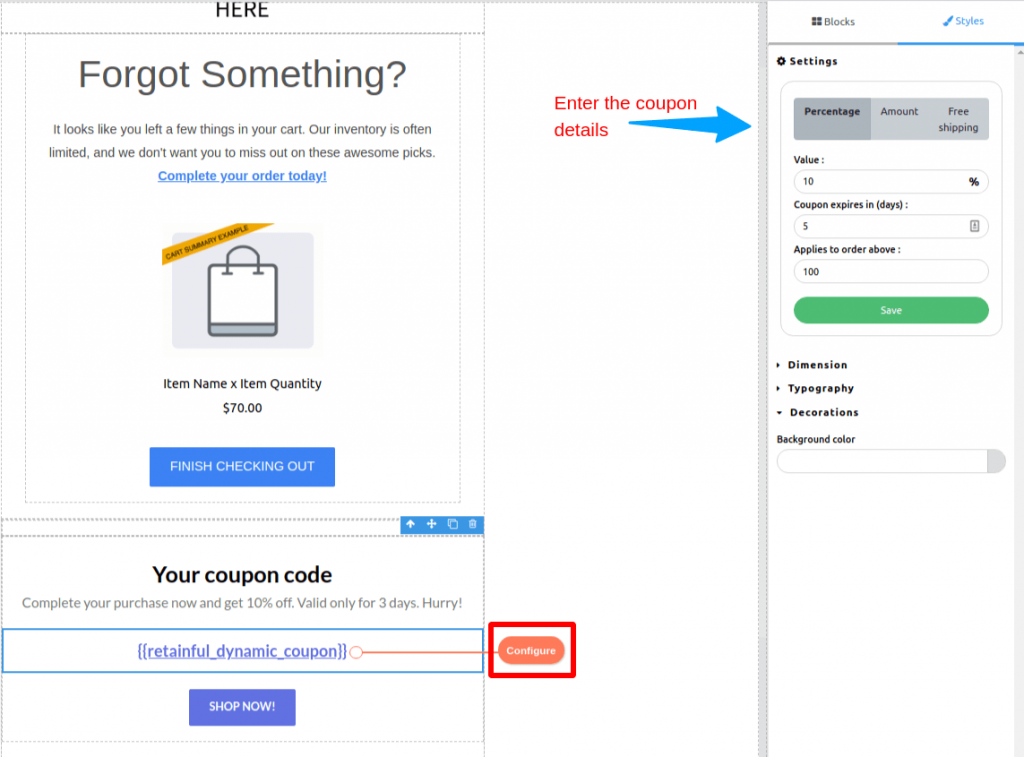 Click 'Configure' to open the coupon configuration menu.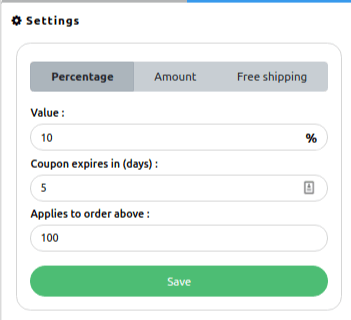 Choose the discount you want to offer, set the value, expiry & minimum purchase limit and click 'Save'.
Now the coupon will be included in the email. Click 'Save' & close the editor.
12. 2nd Cart recovery email will be followed by another Wait action and 3rd email.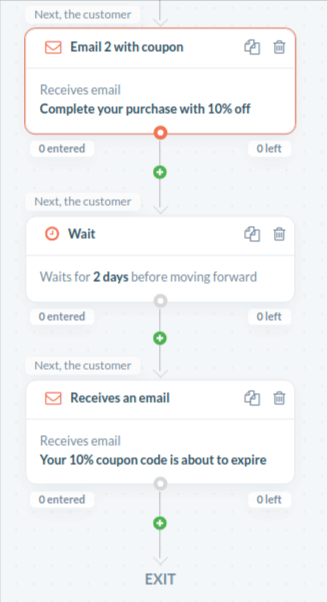 The 3rd email will be a coupon reminder email. Configure it the same way you did for the 1st and 2nd email.
13. Now your workflow is configured with 3 Cart recovery emails. Set the campaign live.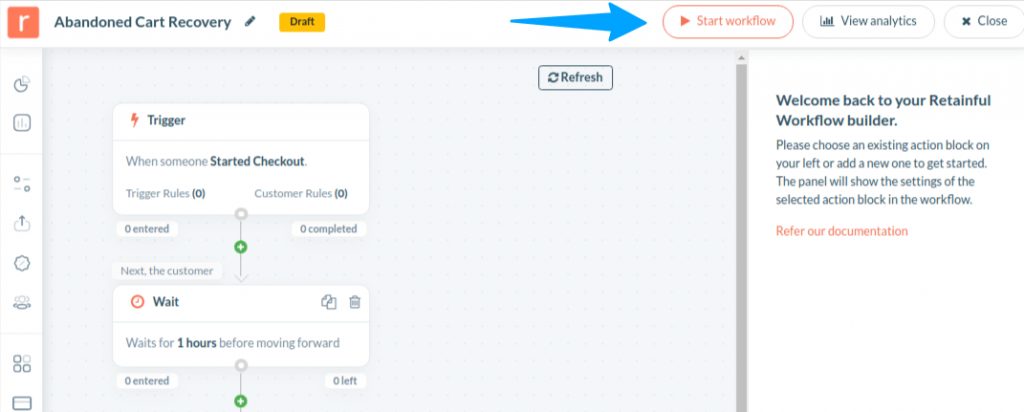 Customers will receive Cart recovery emails when they abandon their cart.
This is how you can send Shopify Abandoned cart emails.
We configured 3 Cart recovery emails for this tutorial but you can add countless emails as part of your cart recovery campaign. Or you can refer this article to know how many Abandoned cart emails to send.
Testing your emails
It is always a good practice to test your email templates before your set it live, Retainful lets you send abandoned cart emails on Shopify to your own address so that you can check how your campaign is working.
1. We hope you do know the steps to get into the email editor, so after you've customized your email, click 'Send test email' on the top.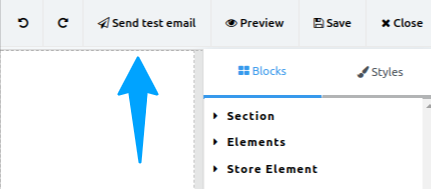 2. You'll be asked to enter a test email id, enter your email address and click send.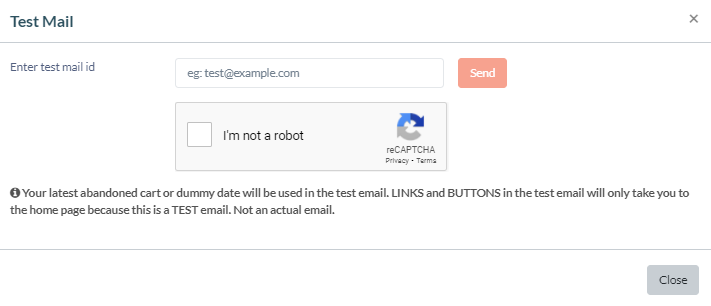 3. Check your email address, the Shopify abandoned cart email will be received and you are good to go.
Wrapping up
Shopify abandoned checkouts have been bothering stores for a long time, what makes it rough is that it is hard to prevent them. And that's why most stores have moved on to Shopify abandoned cart recovery apps.
The cart recovery apps help you recover your abandoned carts by sending abandoned cart email on Shopify and convert them into revenue. It also helps you retain your customers by fostering loyalty.
So, the best way to stop lost sales due to online cart abandonment is by recovering those Shopify abandoned carts using the best Shopify abandoned cart recovery emails.