If you want to attract more customers to your store then a customer referral program is the right way to do it.
Both the merchants and the customers love referral programs because it increases the sales of the store and users get their rewards for every successful Referral.
Running a Referral program in your Shopify store is the best way to retain your customers and increase your brand awareness.
All being said, let us take you through a guide on how to set up a customer referral program for your Shopify store using a Shopify Referral plugin.
Launch a Referral program for your Shopify store now with Retainful & drive word of mouth sales. Start Free Today
What is Customer Referral program?
Customer Referral program is a process of turning your loyal customers into brand advocates and rewarding them with discounts or offers when they refer your Shopify store to their friends.
An interesting aspect of a Referral program is that everyone involved in it can get benefitted.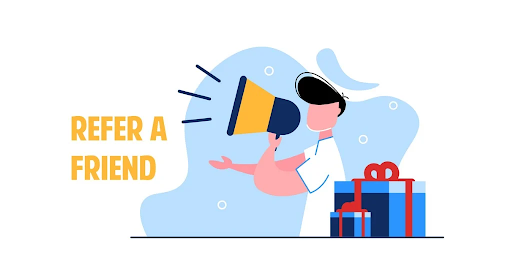 The loyal customer gets a reward for referring his friend, the friend who got referred gets a reward for his first purchase, all of this contributes to more sales and customers which benefits the store owner.
Acquiring new customers is costly, with the Shopify Customer Referral program you can retain your customers and get new customers through Referrals.
Does Shopify have a Referral program?
Yes, you can install a Customer Referral program app on your Shopify store and run a Referral program.
Shopify's inventory is loaded with Referral apps, choose the right one that suits your need. In this article, we are going to discuss how to set up Customer Referral program on Shopify using Retainful.
What are the benefits of a Shopify Referral program?
A referral program offers many benefits to an eCommerce store and one such important benefit is it minimizes the need to acquire new customers by retaining existing customers.
Let's look at some other benefits of the Shopify Customer Referral program,
Customers trust Referrals, so it increases the credibility and brand awareness of your Shopify store.

The shopify referral program boosts your customer retention rate and stabilizes your revenue.

You can increase your reach and expose your store to a new audience using your customers as brand advocates.

The customer referral program has the highest ROI.

Increase your engagement with existing customers.

Helps you avoid the costly process of customer acquisition.

Increases your WOM marketing.

Referral program fosters customer loyalty.
How do I create a Referral program on Shopify?
There are many plugins in Shopify that will allow you to run a Referral program in your Shopify store. Retainful is one such Shopify app with which you can create & launch a Referral program instantly using Retainful.
Creating a Shopify Referral program only takes a few minutes in this app compared to any other apps. Now, let's look at the process of how to set up a Shopify Referral program.
Installation
1. Go to the Shopify Appstore, login to your store, and search 'Retainful'
2. Click "Add app"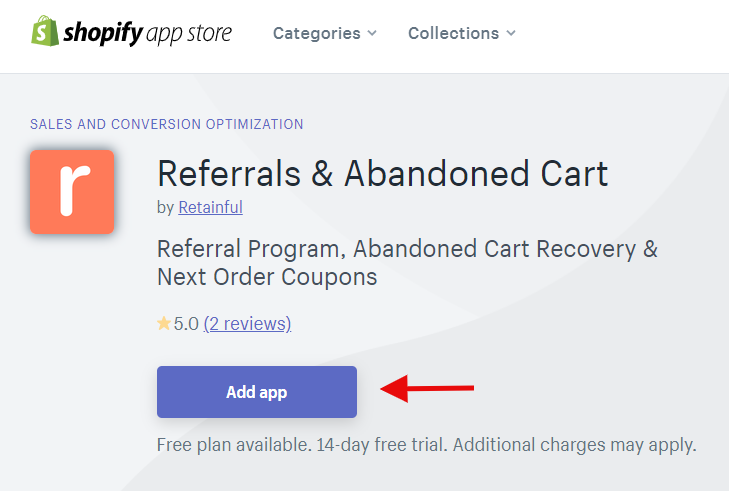 3. You'll see a 'Login to your Shopify store' popup, enter your store's URL and click 'login'.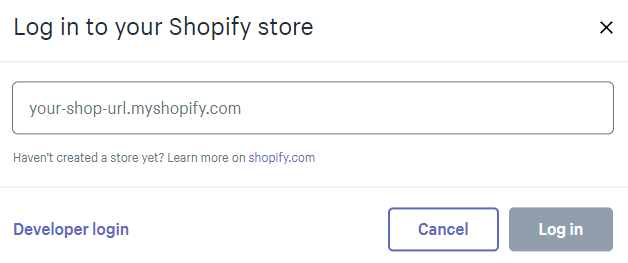 4. Once logged in, you'll see this menu in your store, click 'Install app' to install Retainful.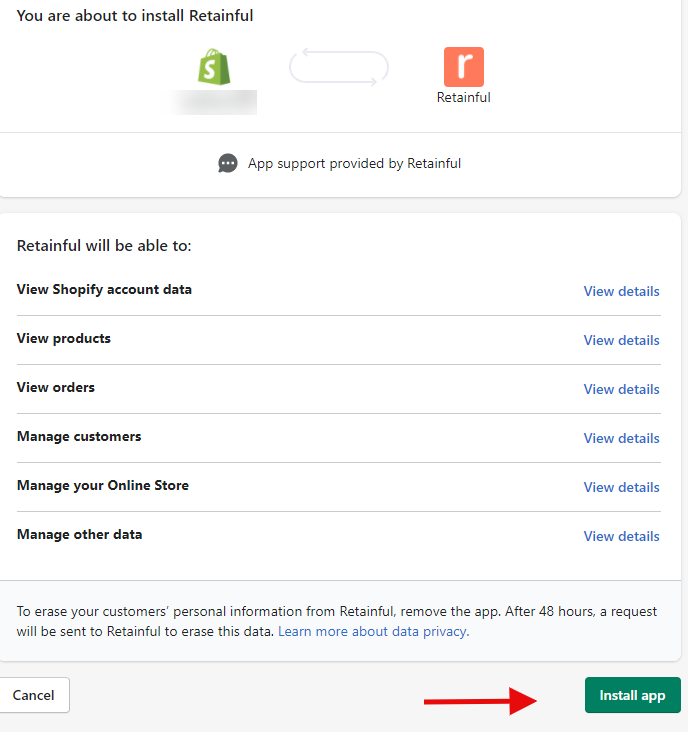 5. But before that, make sure you enable the account creation option for customers.
Go to Settings → Checkout → Customer accounts.
Enable 'Accounts are optional' as in the screenshot.

6. Once Account creation option is enabled, click 'Install app', you'll be redirected to the Retainful dashboard.
7. Make sure you enter your password in the 'Create your account' box. This will help you to directly login to your Retainful dashboard from here.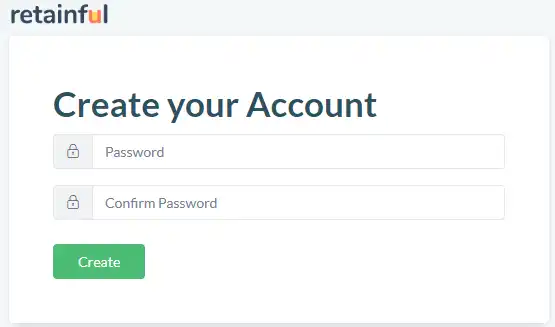 Once you've entered your password, your account will be created and you'll be redirected to the Retainful dashboard.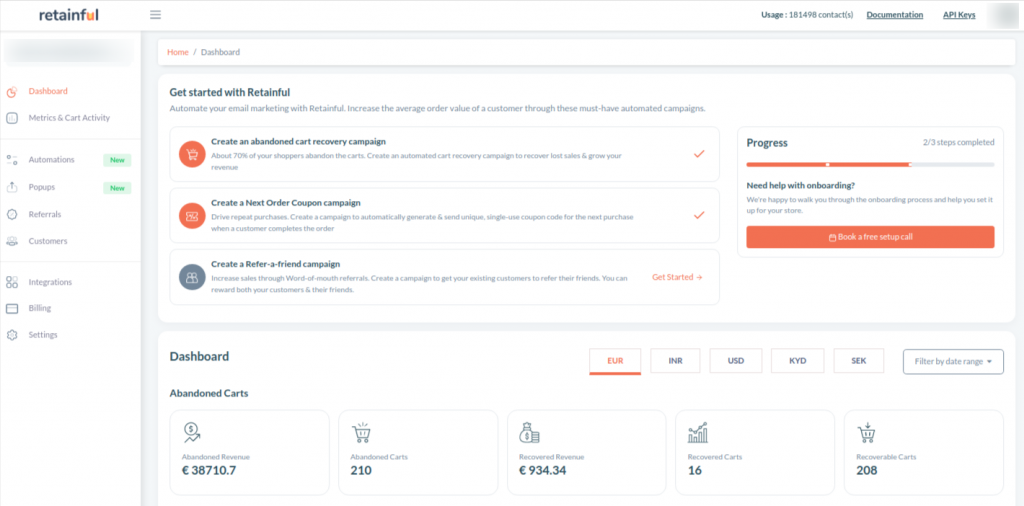 Creating a Shopify Referral Program in Retainful
Once you are logged in to Retainful, follow these steps to create a Shopify Referral program.
1. Click 'Referrals' on your Retainful dashboard menu.

2. The Referrals section will be displayed,

3. Here you have to specify the rewards you want to offer,
Advocate – Your loyal customer who is going to refer his friend.
Friend – The referred friend who visits your store for the first time by clicking the referral link.
4. Click 'Add Reward' in the Advocate reward section to configure the Advocate reward. The process is the same for both the Advocate and Friend. 

5. Configuration page will be displayed. Here you can configure the Referral reward you want to offer.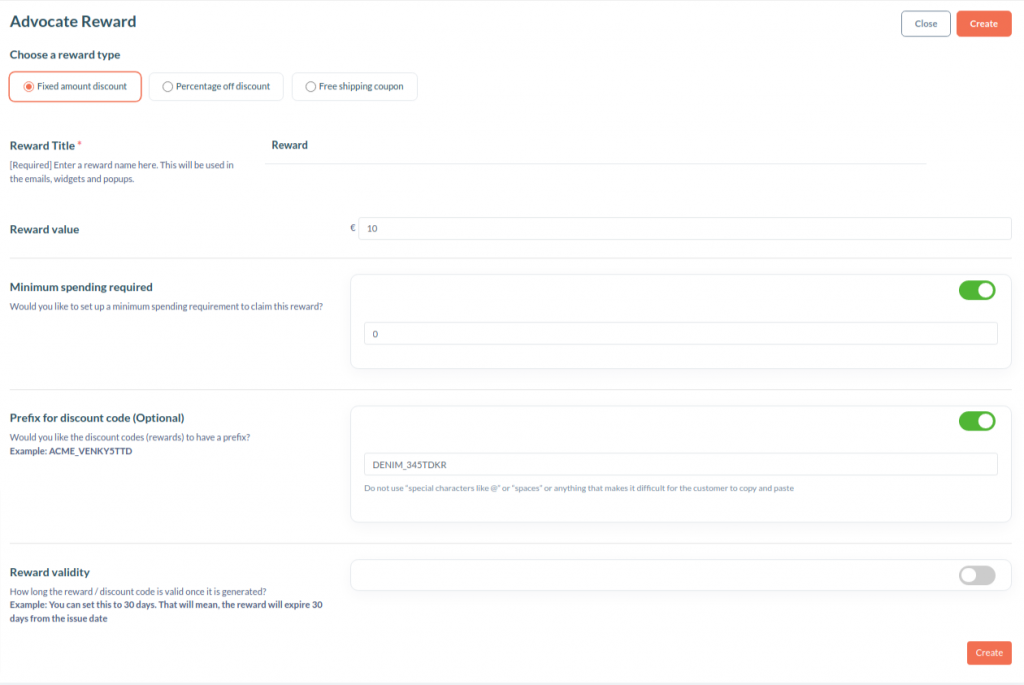 In this page, you can choose the reward type, whether you want to offer Fixed amount, Percentage or Free shipping discount.
Each reward has its own configuration section, enter the details as per your requirement.
Once you've defined all the fields click 'Create', your advocate reward will be created.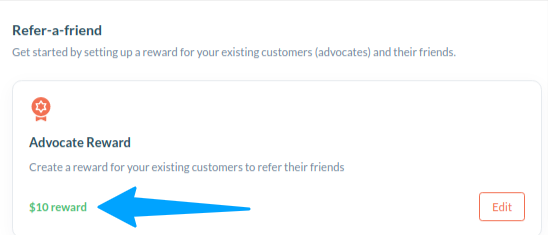 This is how your Advocate reward will look after the reward is created.
7. Repeat steps 5 and 6 to create the Friend reward. This is what you'll see once both the rewards are created.

8. Your referral program has been set live. Now customers can share their Referral link to their friends and earn rewards. Now let us see what's in the Referral dashboard
Turn your existing customers into brand advocates
Referral Dashboard and Referral emails
The referral dashboard will have all the details you need regarding the referrals. Track your Referral issued, Referral revenue and Referral members in real-time.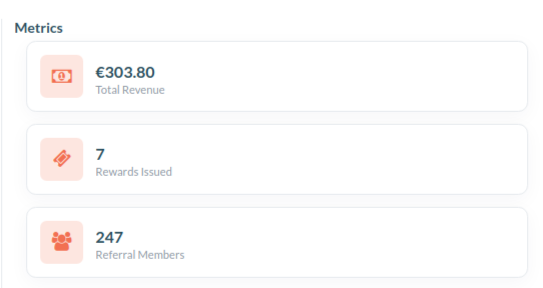 Retainful lets you send Referral emails to notify customers about their Referral rewards. Configuring these Referral emails is a straightforward process.
1. In the Referral dashboard, under 'Referral email notification' you can find Referral emails.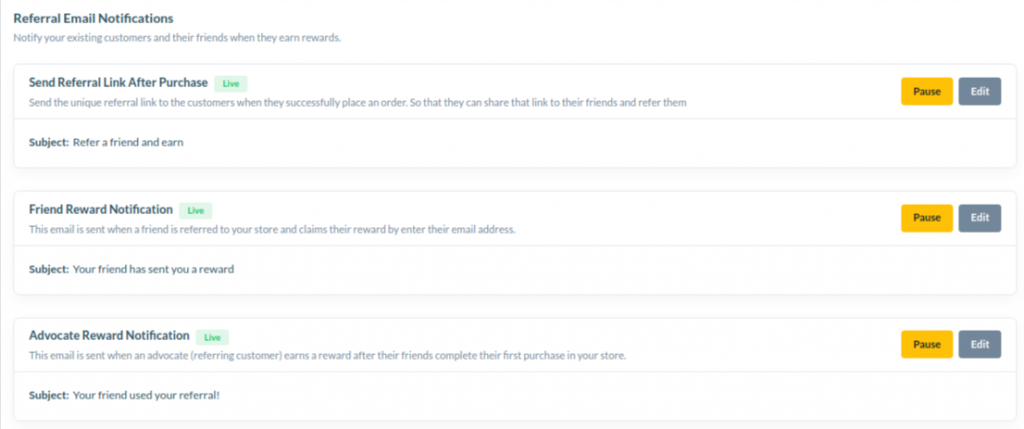 Here you can change your subject line and set the time interval to send your emails.
Click 'Customize' to open the email editor where you can customize your email.
3. Drag & Drop email editor will look like this. Here you can add content blocks, Name, Logo, Address & more. Make your emails look enticing using our visual editor.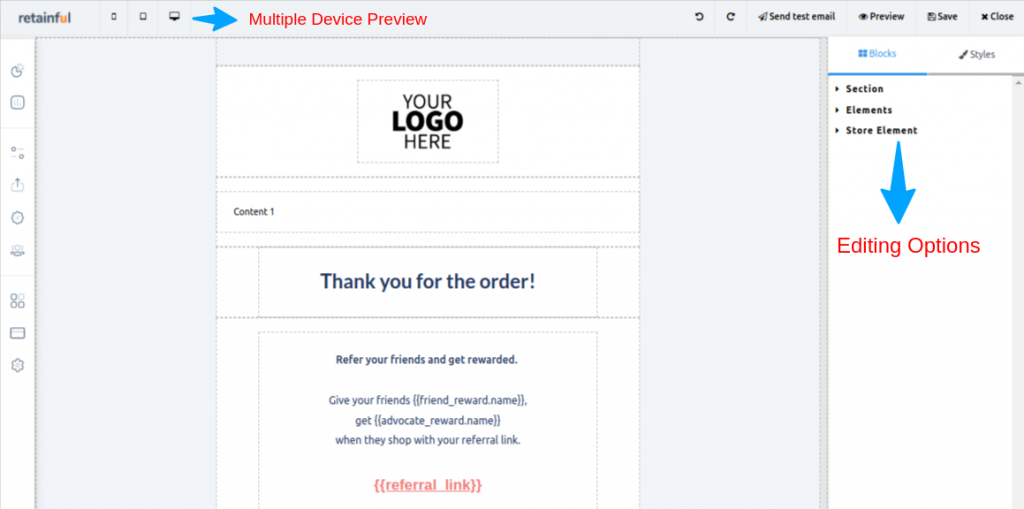 Once you are done with the editing. Click 'Save' and 'Close'
You will return to the Referral email page, click 'Save & Set live' to make your emails live.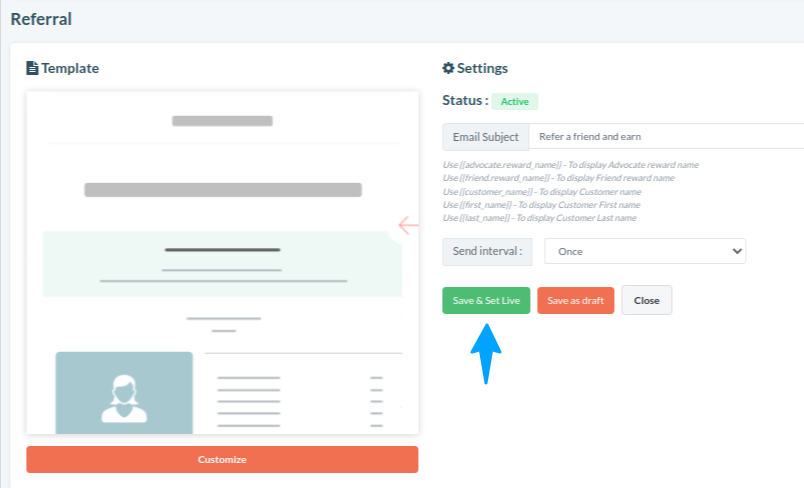 Your email template will be set live and sent to customers at the specified time intervals.
The process is the same for all your referral emails. The email will be sent at the right intervals once your referral is up and running.
Branding
Retainful lets you inform your customers about the Referral program you are running in your store.
Make use of our popups & widgets to inform customers. Display them on your website, so your customers can easily find your Referral program.

You can customize these widgets to fit your brand style.
How does the Shopify Referral Program work?
Like we said before, Retainful's referral program is very intuitive and user-friendly. We showed you how you can set up a customer referral program within minutes and now let's see how the customer referral program works.
Your customers get a unique link with a Referral code that they can share with their friends.

The friend/referral visits your Shopify store using the Referral link.

The Referral gets his Referral code with a discount of 5%(as offered in the process before) and completes his first successful purchase.

As the Referral completed his purchase, your loyal customer also gets rewarded with a percentage discount of 5%( as offered in the process above) for their next purchase.

Both the advocate and the Referral gets rewarded. Thus you acquired a new customer and retained your existing ones without spending much.
Now, this is how a shopify customer referral program works.
Conclusion
Why spend so much on acquiring new customers when you can simply run a customer referral program in your Shopify store. You can turn your customers into brand advocates and expose your store to many potential customers and increase your sales.
That's why we wanted to show you how to set up Referral program in your Shopify store and boost your customer retention rate.
Hope you found out how a shopify customer referral program works. Now, It's time for you to run a Shopify Referral program and stabilize your revenue.
Create a referral program for your Shopify store now with Retainful & grow sales organically Start Free Today