Marketing automation Tools have become necessary to stay ahead of the pack in eCommerce. On average, only 2 to 3% of eCommerce visitors convert into customers; the rest, 97 to 98%, leave without purchasing. The solution to this problem is finding the right eCommerce marketing automation tool to keep your customers engaged and drive more sales.
You need eCommerce email marketing automation tools to take care of your business because you cannot keep track of every customer's need. In fact, there are automation tools for every aspect to keep your online business running smoothly.
But there are so many marketing automation tools out there, and it must be difficult for you to find the right one. This blog talks about the best WordPress marketing automation tools for eCommerce, their features, and pricing. Read on to find out the tool that matches your store's needs.
Unlock the full potential of your email marketing efforts with Retainful. Automate Ecommerce Marketing and watch your revenue soar.
What is eCommerce marketing automation?
eCommerce marketing automation is a type of software that performs all the marketing tasks across multiple channels without human intervention and results in increased revenue generation.
It takes care of all the time-consuming manual activities like generating leads, keeping customers engaged, sending personalized messages, and monitoring website traffic.
If the manual tasks are not automated with an eCommerce marketing automation tool, it will tire you out, and there is also a risk of human errors. But when you know how to use an eCommerce marketing automation tool, you get to increase engagement rates and conversion rates. It will ultimately increase overall productivity as you concentrate more on other important aspects.
Importance of using eCommerce Marketing automation tools
Saves time and resources: You can automate all the redundant and time-consuming tasks. These tools send personalized promotional emails, product recommendations, and abandoned cart reminders. WordPress automation tools will help you free up your time and resources, which you can use for other pressing aspects of your business.
Increases customer engagement: Effortlessly create personalized and targeted email campaigns to reach your target audience. It leads to a higher engagement rate and increases loyalty to your brand.
Boosts sales and revenue: When you have got your hands on a WordPress marketing automation tool, you can reach out to your customers at the right time with the right message. This increases customer satisfaction and ultimately drives more sales and revenue.
Improves customer experience: These tools offer a more seamless and personalized experience. For e.g, when you use a WordPress email marketing automation tool, you can send personalized product recommendations to your customers or a personalized thank you email, which would make your customers feel valued and appreciated.
Provides valuable insights: These automated marketing tools for eCommerce can help you get valuable insights into customers' behavior and preferences. It will help you improve your overall business strategy.
Best Ecommerce Marketing Automation plugins
Retainful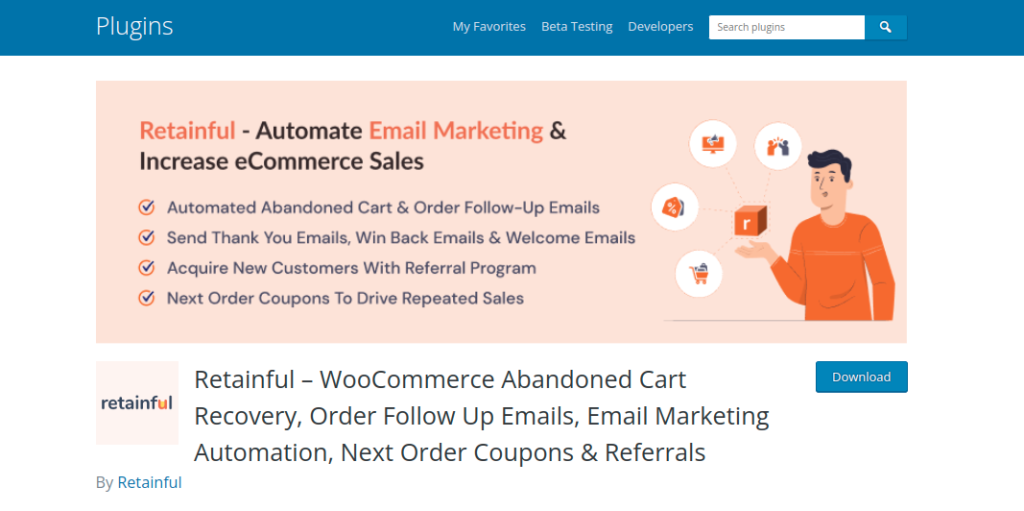 Retainful is the best WordPress email marketing automation tool because it is a user-friendly plugin that helps you automate all complex marketing activities. You can easily engage your customers anytime and customize your marketing campaigns.
The biggest issue you could face as a WordPress store owner is cart abandonment, and Retainful specializes in automatically recovering your abandoned carts by sending a series of emails. If you think that isn't enough, you could send Dynamic Coupons to motivate your customers.
Just define the workflow, and you are all set to recover lost sales and increase your revenue. The best part is that you don't need coding knowledge to set up email workflows. If you want to keep your customers engaged, send them follow-up emails to keep them feeling valued. It would lead to a boost in conversions and sales.
This email marketing automation tool also helps you run Referral programs that reward the referrer and the referee for each successful referral. This helps you retain existing customers and acquire new ones at the same time.

Features
Automated cart recovery emails
Automated follow-up emails
Welcome and Thank you emails
Winback emails
Next order coupons
A/B testing
Drag and drop email editor
Real-time analytics
Workflow builder
Shortcodes for personalization
Referrals
Pricing
Free version available
Starter- $19/month
Growth – $49/month
Professional – $199/month
Omnisend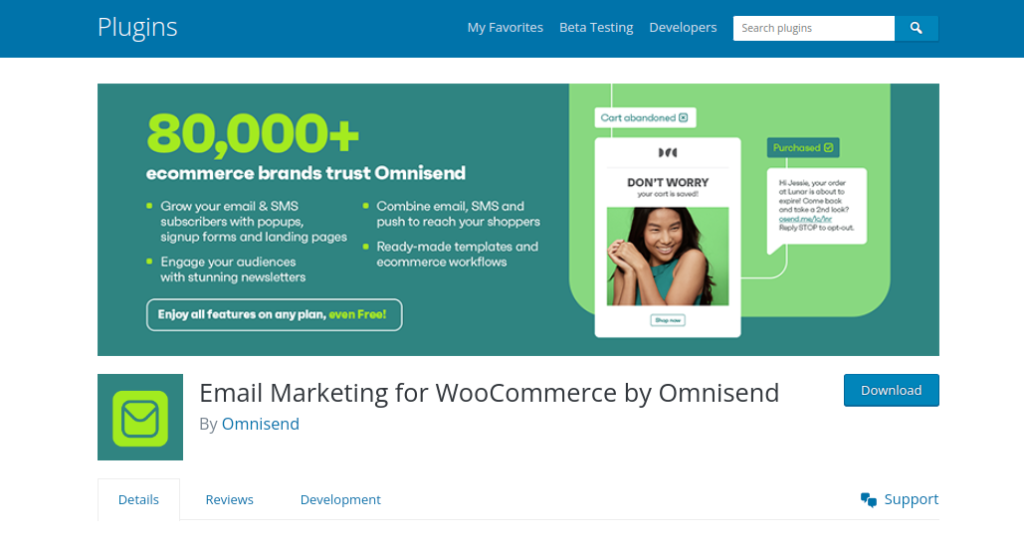 Omnisend is a WordPress email marketing automation tool that helps you reach out to your customers through email as well as SMS. It has got prebuilt workflows and customizable templates that make creating complex automated workflows a breeze.
You can create and send abandoned cart reminders, win-back campaigns, and product recommendations in minutes. These emails are personalized, automated, and are sent promptly. This easily boosts sales and customer engagement.
You can easily sync your customer data and automate your marketing efforts. And, of course, you need an analytic feature to track the performance of your campaigns and re-strategize, and Omnisend has got you covered.

Features
Cart abandonment emails
Welcome emails
Order confirmation emails
Customization
Pre-built workflows
Email and SMS automation
Multiple integrations
Pricing
Standard $16/month
Pro $59/month
Free version available
Klaviyo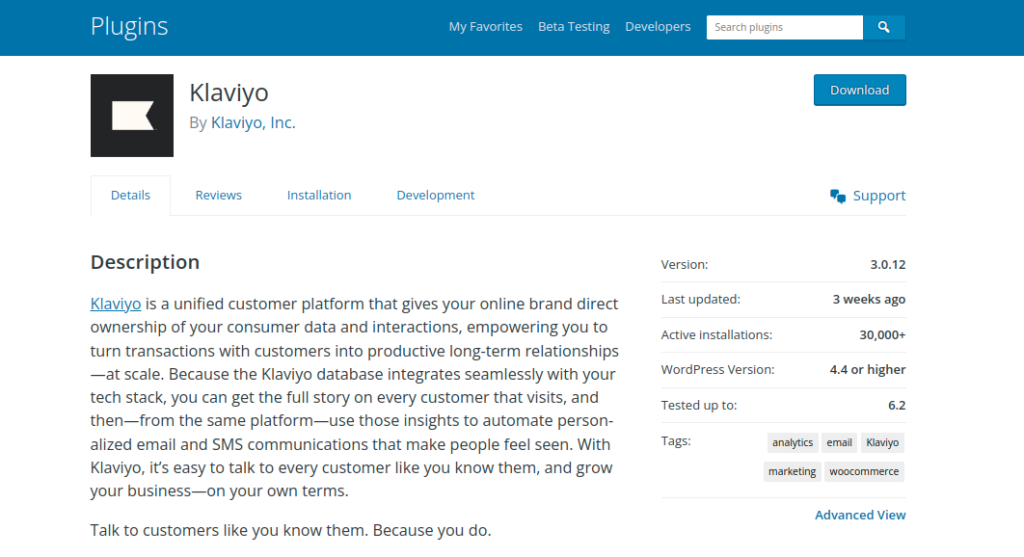 Klaviyo is a WordPress email marketing automation tool with attractive templates for visually stunning emails. These emails are sure to capture your customers' attention and drive sales.
This WordPress email marketing automation tool helps in multichannel marketing. You don't need to code the workflow because the tool has pre-built email and SMS workflows. You can tweak these workflows as per your needs. The best part is that this automation tool can track customers' behavior and trigger automated responses. This results in higher conversion rates and happier customers.
Also, you can use A/B testing to experiment with different email strategies and find out which one works out the best for you.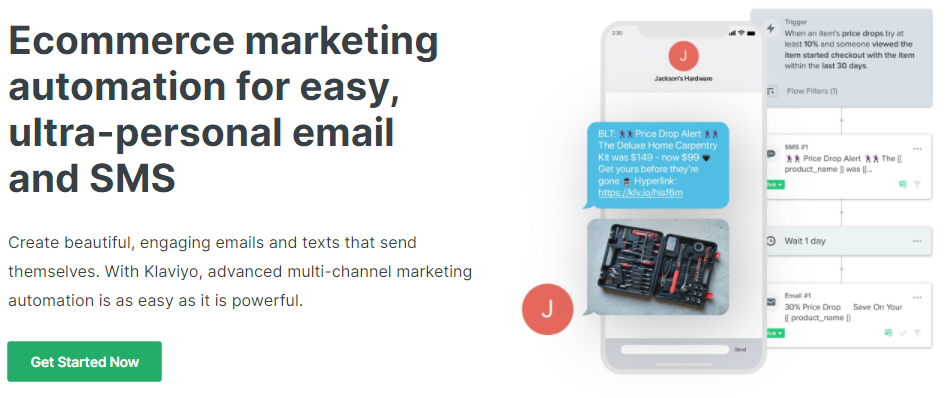 Here are the campaigns you can automate using Klaviyo,
Price drop trigger
Next order prediction
Cross-sell and Upsell
Welcome series
Browse and cart abandonment
Back in stock
Features
Emails can be personalized
Pre-built automation
Drag & drop email editor
A/B testing
Customizable workflows
Automated email and SMS campaigns
Triggers and path splits
Pre-built templates
Workflow builder
Real-time analytics
Pricing
The free version allows you to send 500 emails for 60 days.
Starts at $45/month for 1001 to 1500 contacts.
Experience the ultimate boost in your revenue with Retainful's email marketing automation tool!
Hubspot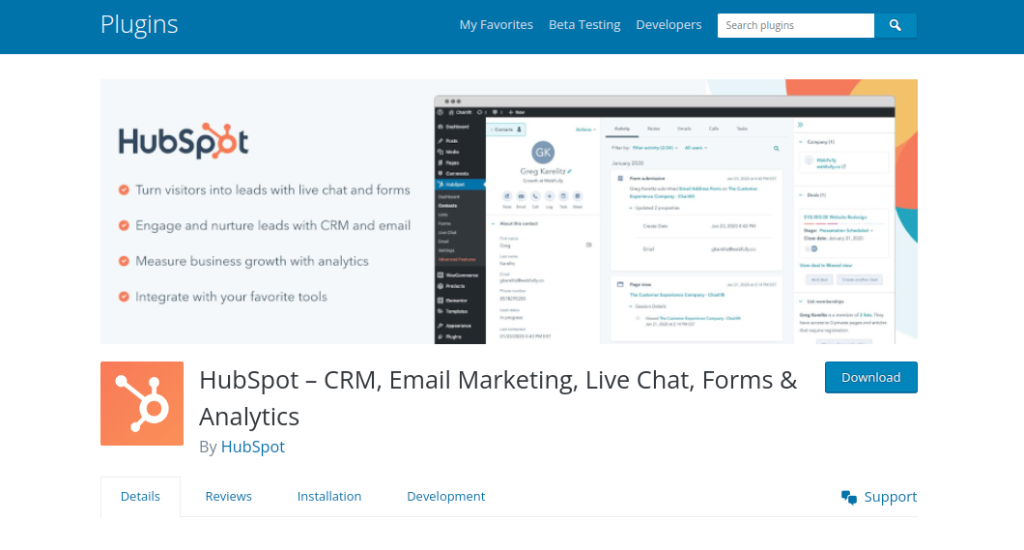 Hubspot is one of the most popular WordPress email marketing automation tools that send automated emails. These emails are highly engaging and turn prospects into long-term customers. You don't need any coding knowledge to automate the workflow. You can set triggers, conditions, and actions in the workflow to send automated emails to customers at the right time.
Hubspot also supports omnichannel marketing automation, custom reporting, and campaign reporting. This marketing automation tool for ecommerce lets you automate email marketing, lead generation, and social media posting. It also keeps track of the website analytics to let you make data-driven decisions.

Features
Seamless integrations
In-built analytics
Live chat
Split testing
Drag & drop email builder
Pre-designed email templates
Forms and popups
24/7 chatbots
Triggers, conditions & actions
Pricing
Professional $800/month
Enterprise $3600/month
Drip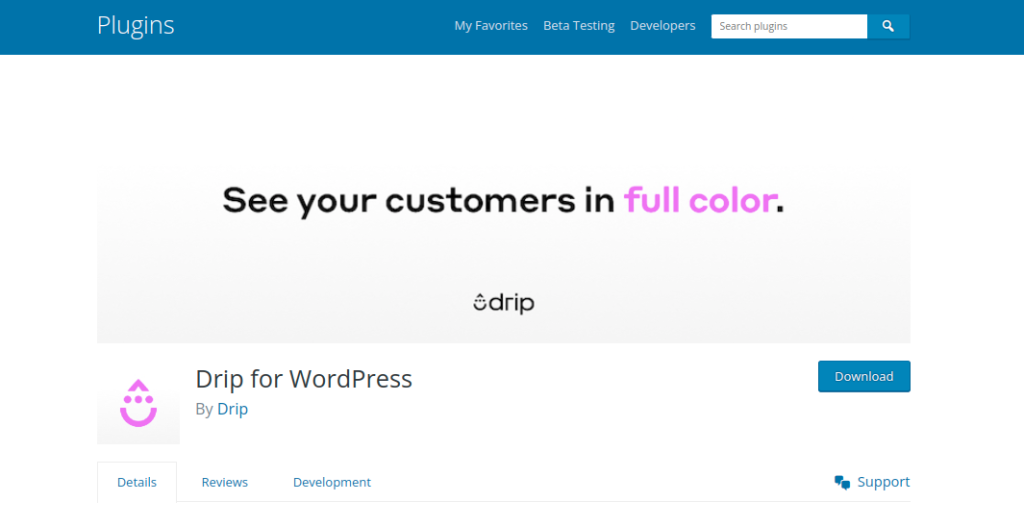 Drip is an eCommerce marketing automation tool that helps in multi-channel marketing and boosts sales. It has pre-built workflows to create welcome email series, abandoned cart emails, and post-purchase email campaigns. Creating attractive emails is a breeze with a visual builder. Drip's automated email campaign is triggered by user behavior, making the emails more engaging.
All emails can be automated without any coding knowledge or manual effort. This automated marketing tool integrates seamlessly with WordPress and has strong segmentation and targeting, making marketing campaigns immensely successful.

Features
Multi-channel campaigns
Powerful workflow builder
Seamless integration
Segmentation and targeting
Pre-built templates
Pricing
$39/month for 2500 people
ActiveCampaign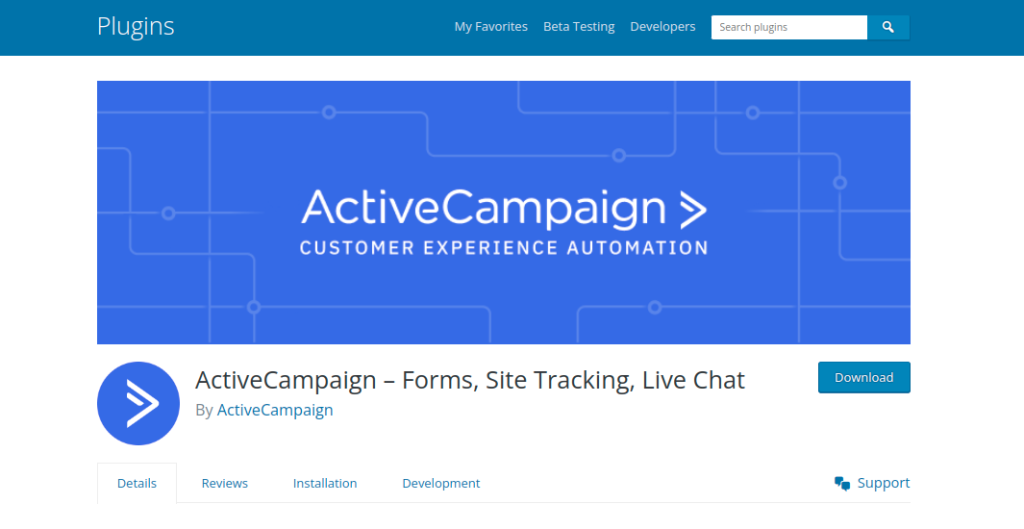 ActiveCampaign is next on the list of the best WordPress email marketing automation tool that makes it easy to create advanced email workflows and automate the entire marketing process. It has an intuitive drag & drop automation builder to create complex workflows without coding.
Its email marketing feature has advanced segmentation and personalization, which allows businesses to make emails more targeted and send them at the right time. This WordPress automation tool keeps track of your visitor's actions and sends personalized messages based on the action. The tool also has advanced analytics that tracks your marketing automation campaigns and gives you insights into what needs tweaking.

Features
Custom sign-up forms
Easy migration
Real-time analytics
Splits and triggers
Multiple integrations
Automation map
A/B test for workflows
Pre-built templates
Drag & drop automation builder
Segmentation and targeting options
Pricing
Plus – $49/month
Professional – $149/month
Enterprise – Price customized based on the requirements
Rejoiner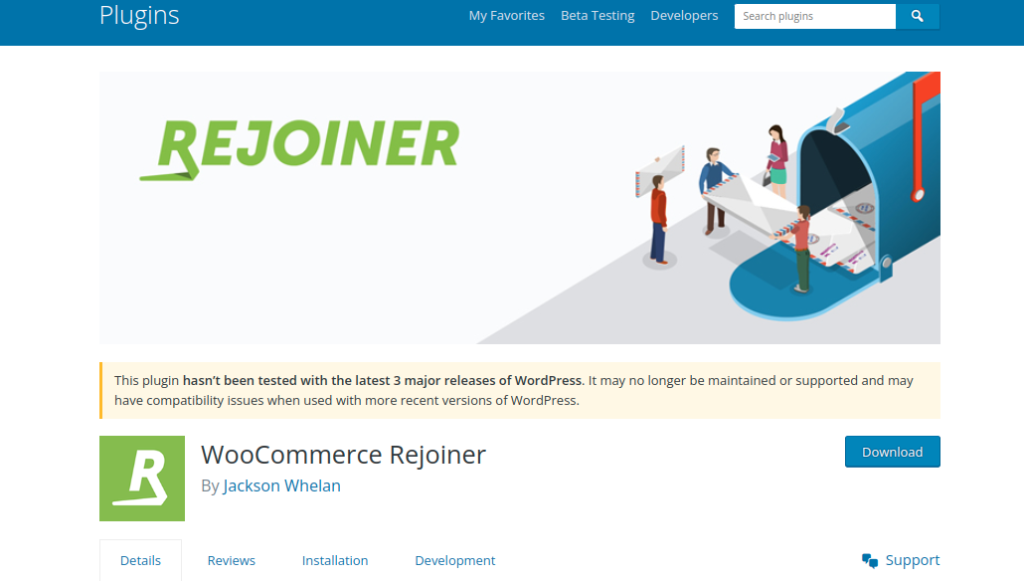 Rejoiner is another WordPress email marketing automation tool that makes automating emails and SMS easier. It has got drag & drop email builder, which creates engaging emails. And it's segmentation and personalization features let you create targeted campaigns that resonate more with your customers and drive more sales.
This automated marketing tool integrates seamlessly with WooCommerce, making creating abandoned cart emails and boosting conversions even easier. And if you are ever confused about which marketing strategy would help your business more, you can always run A/B testing and experiment with different strategies.

Features
Automated email marketing campaigns
A/B testing feature
Integrates with WooCommerce
Enables abandoned cart email campaigns
Powerful segmentation
Drag-and-drop email builder
Offers excellent customer support
Bi-weekly account reviews
Pricing
Core $25/month
Scale $1500/month
The free version is also available
Sender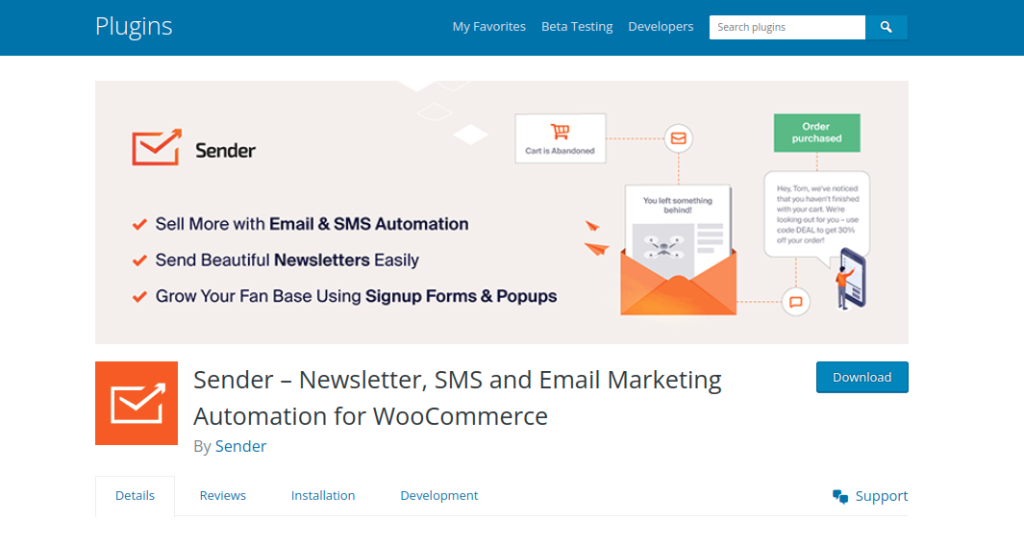 Sender is a WordPress email marketing automation tool with a user-friendly interface and beginner friendly. Sender makes it easy to create emails with custom email templates, schedule them, and send them. You can also set up triggers and easily create complex workflows for emails and SMS.
The segmentation and targeting of this email marketing automation tool make the emails more relevant and customized based on the customer's behavior. The powerful analytics tracks the performance of your emails and helps you make data-driven decisions to optimize your automation strategy.

Features
Schedule and send emails
Set up triggers to automate tasks
Create complex workflows
User-friendly interface
Seamless integration with other Wor
dPress plugins
Customizable email templates
Email list segmentation
Advanced analytics for tracking performance
Pricing
Standard $8.33/month
Professional $29.17/month
Custom price for enterprise
The free version is also available.
How to choose the best email marketing tool?
Assess your needs and goals
First things first, list out why you need the best email marketing tool and what goals do you need to meet. This would give you a clear idea of what marketing automation tool you need. For e.g, Do you want to create email campaigns, segment your audience, track user behavior, or all of the above? Start looking for a marketing automation tool that offers those features.
Look for tools that fit your requirements
Once you have a list of your needs and goals, look for an email marketing tool that offers features that align with your business goals. Make sure it is compatible with the version of WordPress. It is always wise to read reviews and check the rating of the tool to get an idea about its performance. Do your research, read reviews, and check the compatibility.
Compare prices and features
Compare the prices of different email marketing tools that offer more or less the same features. Ensure you get all the features you need for your price. Some tools might seem like a bargain, but they might not offer all the features you need. On the other hand, some email marketing tools might be too expensive for what they offer.
Take advantage of free trials
Now that you have compared the price of a few email marketing tools you have in mind, you should check if the tool has a free trial. Most email marketing tools do have a free trial period. You can make use of that to see how user-friendly a tool is. This will help you make informed decisions about whether or not the tool will suit your business.
Consider customer support
You must also consider customer support, especially if you are new to email marketing tool. Because what if you need help setting up or troubleshooting?
Boost your marketing efforts and skyrocket your revenue with Retainful, the leading marketing automation tool. Start maximizing your marketing potential now!
Conclusion
The most common reason why marketing campaigns fail is because of poor engagement. If you want your website to grow, you need to automate. The more you automate, the more engagement and growth you'll see. Automating all the manual tasks is essential as it saves time and resources, boosts sales and revenue, and provides valuable insights into customer behavior.
Just ensure that the email marketing tool you choose offers features that drive sales and increase customer loyalty. Make use of the best WordPress email marketing automation tools to handle everyday work to increase efficiency, conversion rates, and sales.
What is marketing automation tools?
Marketing automation tools are software solutions that automate repetitive marketing tasks. These tools allow businesses to market effectively. They help with lead generation, lead nurturing, email marketing, social media management, analytics, and more.
What are the different types of marketing automation?
There are various types of marketing automation, including email marketing automation, social media automation, lead generation automation, lead nurturing automation, and customer segmentation automation. These types of automation can be used to optimize marketing workflows, improve customer engagement, and increase conversions.
What can you automate using marketing automation?
Marketing automation can be used to automate various tasks, such as email marketing campaigns, social media posting, lead scoring and nurturing, customer segmentation, personalized messaging, analytics and reporting, and more. This helps businesses save time and resources, streamline marketing processes, and improve overall efficiency.
What is an example of ecommerce automation?
An example of ecommerce automation is abandoned cart email automation. An email is automatically sent to customers who have left items in their cart without completing the purchase, reminding them to finish the transaction. This automation can help increase conversions and reduce cart abandonment rates.
What's the best marketing automation tool?
Retainful is the best marketing automation tool that offers features such as abandoned cart recovery, email marketing automation, customer segmentation, and loyalty programs. It has received positive user reviews for its ease of use, affordability, and effectiveness in improving customer engagement and sales. It's up to the user to decide which marketing automation tool suits their business needs best.
What is automation tool in marketing?
An automation tool in marketing is software that automates various marketing tasks and processes, such as email marketing, social media scheduling, lead nurturing, and campaign management. These tools improve efficiency and effectiveness in reaching and engaging with target audiences.
Why use marketing automation tools?
Marketing automation tools automate repetitive tasks, which enables efficient lead nurturing, personalized customer journeys, and improved campaign performance. They save time, increase productivity, and enhance customer engagement, ultimately driving revenue growth for businesses.